There was never a greater need to find the better half than the situation we are going through right now. With the world in a state of complete lockdown, the search for the other half is only picking up pace. More people could now be seen flocking to dating apps.
But the thing is there are so many apps belonging to the said domain, that it becomes more challenging to pick up the right app than then efforts needed to pick up the right partner! On a serious note, today we will list out some of the best dating apps for Android and iOS. Some of them could also be used from your desktop as well, with some functionality being curtailed in the latter.
Furthermore, each app has its own set of pricing strategies. While some lets you easily browse profiles and even send messages for free, others might ask for a long term subscription fee if you are aiming for a long-term relationship. In this regard, all our reader-base might have different criteria and hence the choice of their apps selection might differ as well.
Therefore, in this guide, we will list out around 15 different types of dating apps, each with its own unique features. Base your decision only after you go through the complete list. So without further ado, let's begin.
Best Free Dating Apps
Here are the Best Dating Apps for Android and iOS to find a New Friend Online
1. Tinder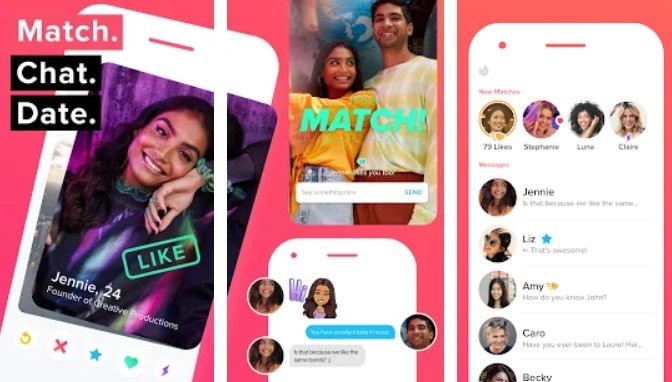 One of the most popular dating apps, without a shadow of the doubt. Most of the people who enter into the dating world start with this app. It holds a short profile of each user, which some find it useful as they can make their decision much quicker. But on the other hand, it could also turn out to be quite challenging, due to the absence of in-depth knowledge about each user.
Talking about the profile, you could set up a short bio of 500 words and upload up to six images. The app has an easy to use and intriguing UI, giving you the ability to swipe right if you end up liking a profile and left if it doesn't meet your expectations.
Each profile shows a photo, name, and age. If the other person has swiped right as well, Tinder will then notify you and will unlock the ability to exchange messages. On the flip side, you get a limited number of swipes, so you have to sign up for a Tinder Plus account to get unlimited swipes and the ability to send out super likes. The best part about this app is the fact that the ability to send messages only gets activated when your swipe matches with your counterpart. This makes sure that you don't end up getting unnecessary spam messages.
2. Bumble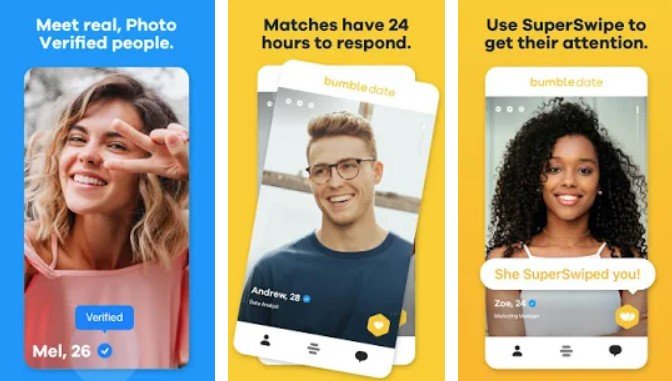 Bumble also follows the footsteps of Tinder, with one glaring difference. The thing with Bumble is that it gives a lot of onus to women. It works only if the woman messages first. Furthermore, if the guy doesn't end up responding within 24 hours, he will have to bid adieu to the match.
This feature is always up for debate, not only because of the women-first initiative but also because most men feel that the 24-hour window is just not enough. They might feel a little bit hurried in responding to the fear of time expiry.
Anyways talking about the app and its UI, it has taken a clue or two out of Tinder's book. You could see a short profile with a maximum of six photos of each user (the same rule applies to the uploader as well). It is an app that puts females in the driver's seat and the procrastinating males might fail to catch the bus!
3. OKCupid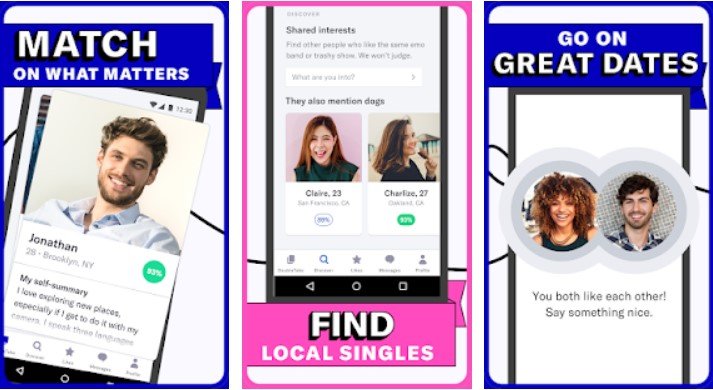 OKCupid is a pretty old and experienced player in this domain. It consists of detailed user profiles, giving out complete information about each user. This will save you from the blushes of an awkward first date. You could make all your answers public as well. This will help you to find a perfect match, as the interesting ones will only contact you once they get to know you fully. Furthermore, you could also link your Instagram account with OKCupid.
As far as sending messages goes, you could send it to anyone, even if you haven't matched with them. However, the recipient will only be able to view your messages once they have connected with you. So unless there is a match, it rather wouldn't make much sense in sending messages. This also acts as a pretty nifty barrier against spam messages. There are just a few complaints regarding not so user-friendly UI. Apart from that. Everything else seems to fall in place.
4. Coffee Meets Bagel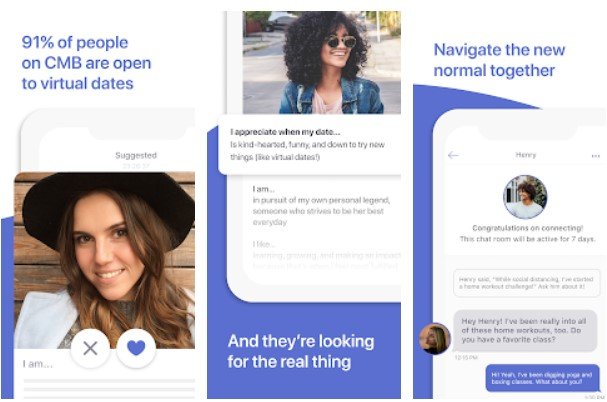 Although the name is slightly wired, to begin with, it still manages to perform decently. When the clock strikes noon, you get a Bagel notification or a potential match recommendation. You have a total of 24 hours at your disposal, you have to act within this stipulated time frame. Once the connection from both sides has been established, you could then exchange messages. But here's the catch.
The chat room expires after 8 days, it doesn't matter whether you're having a conversation with your match or not, you cannot expand this time limit. This creates a sense of urgency from both the parties and hence might create an unwanted pressure to exchange messages and phone numbers, till the room is active. So though it holds more information than Tinder regarding each user and also allows you to upload up to 9 images, the time limit that it has put into its functionality, might persuade a few to look out for other alternatives.
5. Plenty of Fish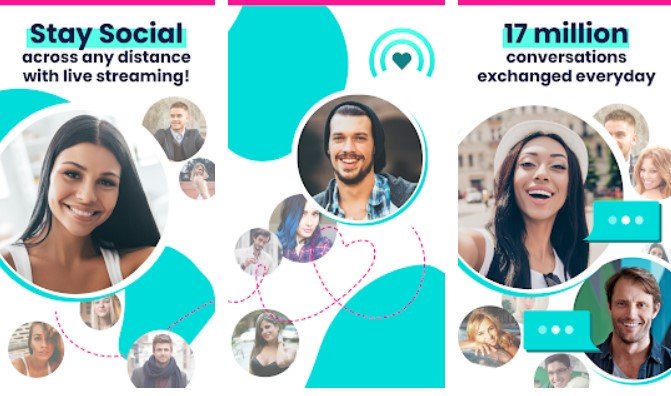 This is the oldest app in the dating category and as a result, boasts of the maximum user base. As of 2017, it had around 90 million users. This ultimately spells out as a higher probability of finding your perfect match. Been there since 2003, it has witnessed some major changes throughout the years gone by, both feature-wise as well as visual UI interface.
Talking about the former, it has incorporated features of Tinder's swiping functionality and Happn's geo-location features for matchmaking. Just log in to the app, answer a few questions about yourself and that's it. Most of the features are still free up to this date. But on the flip side, there's just one slight issue. Many bots and fake profiles are creeping up now and then, although not much but it is relatively higher than the other apps in the list.
6. Happn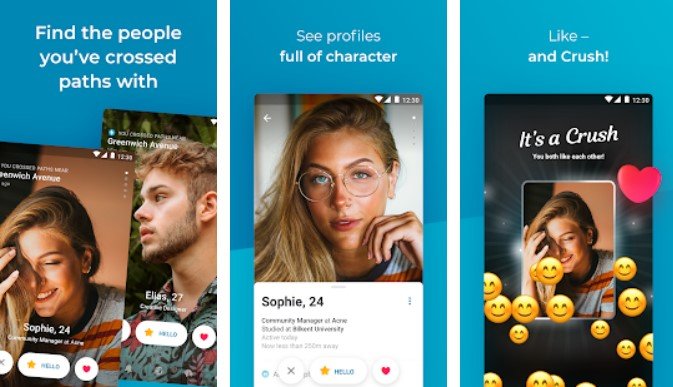 If you have crossed paths with a certain individual but didn't manage to gather enough courage to start a conversation, Happn is here to help you out. It lists out all the users that you might have crossed by and identifies them as a potential match. If you wish to take it a step further, hit the Charm button on the app and the recipient will be notified about your interest in him/her.
Furthermore, it also offers some pretty interesting integrations. These include adding your Facebook account to automatically fill up your profile information, use Instagram to automatically add photos, and even integrate the Spotify app to let others know your taste in music.
From the privacy point of view, it doesn't show the live location of an individual. Rather if you have been within 800 feet of a match, it will display their profile. On that note, if you feel that someone is using an unfair advantage of your location or stalking you for that matter, you could block them all together as well.
7. Hinge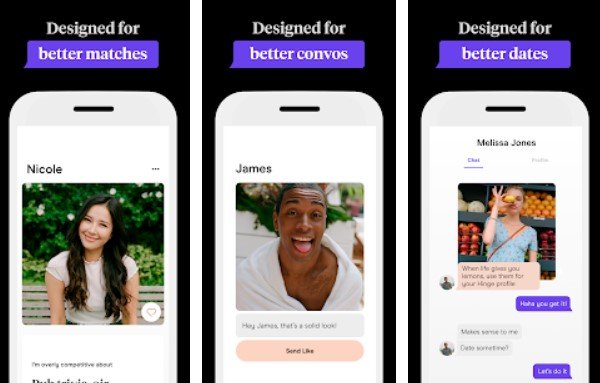 Initially, the app was based on a model that wasn't liked by many. It used to find potential matches via mutual connections on Facebook. However, it has now deviated from this practice and for good. Again, you might find the app's UI and features to be eerie similar to Tinder, but one aspect where it differs from the former is the level of details of each user.
Right from your notion about having children to the number of drinks you would like to have, it has quite a lot of interesting information. If you are serious about a relationship, then you should consider giving its paid version a try, which unlocks the ability to view the complete profile of everyone who liked you, apart from some other goodies.
8. eHarmony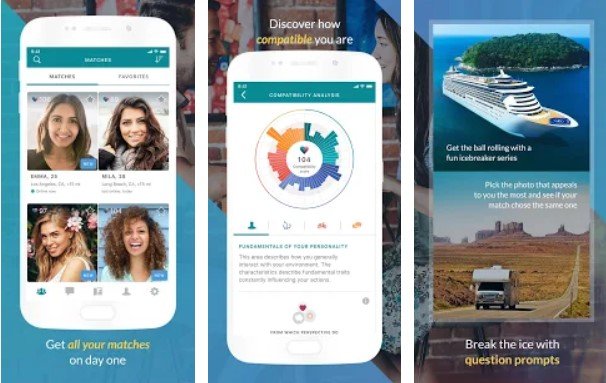 If you aren't in a hurry but wish to find your other half with ease, then this is the app to have a look at. When you launch the app, you could either manually enter your details or add your Facebook account, in which case the app will automatically fill up the data.
There's also a short questionnaire that needs to be filled. Make sure to answer them correctly, as the app will show in recommendations based on your entries. You could then send Favorites or Smiles to your potential matches.
The thing is at one go you will only be given a few recommendations and there will be no expiry date for these suggestions. You could act on them as per your convenience. And if you are ready to shell out a few bucks ($60 a month for the 1-year plan, or $30 for 6 months plan), then you will get a slew of additional benefits as well. This includes the ability to view an unlimited number of images or see every user who has viewed your profile to date.
9. The League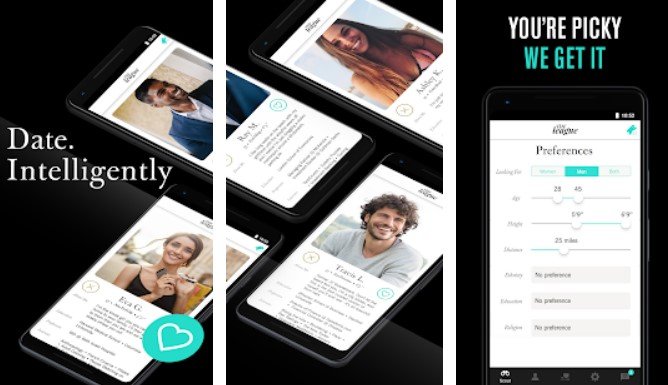 If you ever were looking for a match from the Ivy League, then this might come in handy. It focuses on one major aspect: the user's educational qualification, career prospects, and jobs. For that matter, it requires you to connect your LinkedIn account with it. Once that is done, the app will then verify your information, which could take the form of three possibilities- accepted, rejected, or on the waiting list. The first one is quite rare and the third one is where most of the users end up. It might take days before your 'application' gets accepted.
After acceptance, you could find your prospect and start messaging them within the next 21 days. This period is still acceptable, because if you have fallen for someone, you wouldn't have 3 weeks to bring up the chat, or will you? So if your yardstick for choosing a perfect partner is based on his or her career prospects, then this app is a no-brainer. For others, they might give it a skip and check out some of the other apps on this list.
10. Facebook Dating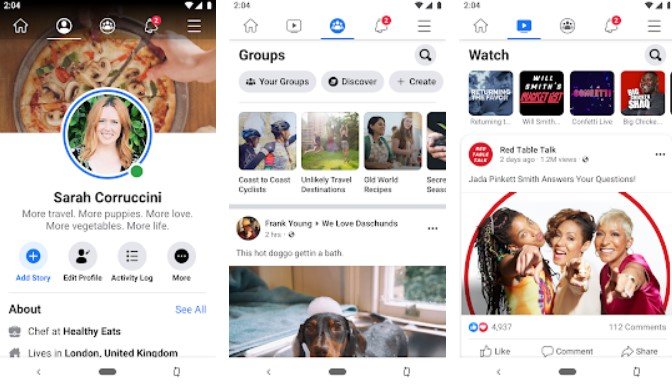 There are quite a few reasons why you might actually use this app. To begin with, Facebook already has tons of information about you, so it might end up giving you pretty genuine recommendations. Furthermore, linking your Facebook account with any other dating app always has some associated risk. But since you are carrying out all these activities right inside the Facebook app itself, you don't have to worry much about this aspect.
Moreover, most of you might already be having the app installed on your device. This eliminates the need to download any additional third-party app on your device. Just launch the app and head over to the menu situated at the top right. Then tap on See More followed by the Dating option and hit the Get Started button.
There's also a Secret Crush feature wherein you could add up to nine Facebook friends or Instagram followers and then if you get to revert back from any one of them, it's time to start a new journey in your life! Do keep in mind that the feature is only live in the US as of now.
11. Her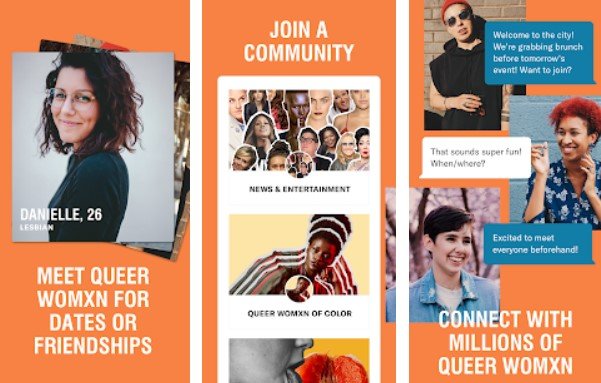 While other apps in this list don't differentiate the people belonging to the third gender, it doesn't provide any extra features for them too. However, Her is an app that is focused on lesbian, bisexual, and queer women. It claims to do a verification check of every account, so you could be sure that any man doesn't sneak up with a fake profile. Signing up to the account is pretty easy as well. You could also integrate your social media accounts including Facebook and Instagram.
Furthermore, if you wish to shower love for the better half, all that is needed is sending a like. You could also post, read, write, and view queer videos uploaded by other members. The Queer Event section will keep you updated with any events that are about to happen nearby your locality. However judging by the Play Store it seems a lot of work needs to be done, at least in the Android app. There have been numerous reports of the app being glitchy and somewhat buggy as well. If you echo this feeling as well, then you could give its web version a shot.
12. Tastebuds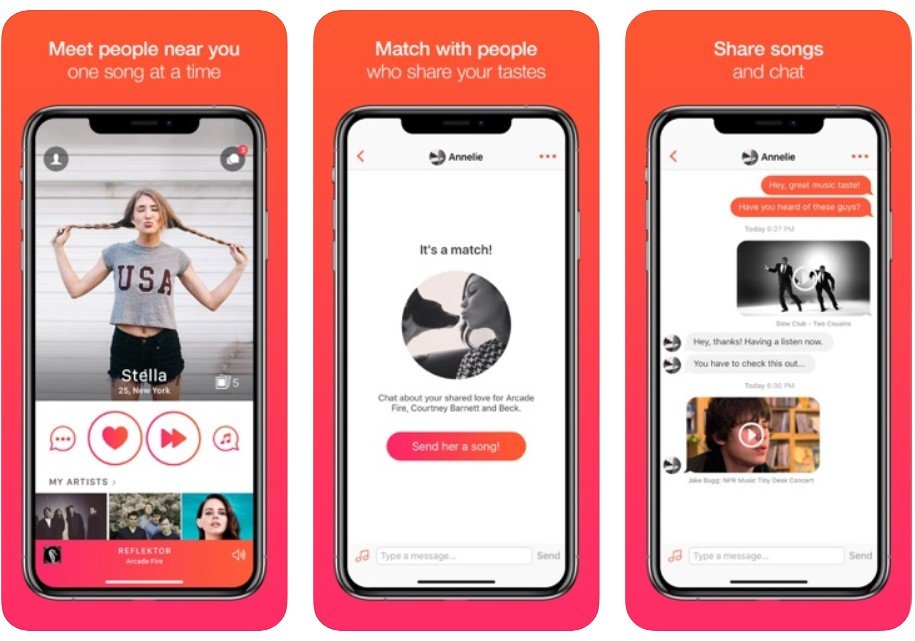 If you are always looking out for someone that shares the same 'taste buds' in music, then look no further. Introducing a new way to date, you will have to specify your favorite music, the genre you prefer listening to, your favorite band and individual singers, and other related information. The app's algorithm then works out in the background and will only set your profile against other user profiles having similar tastes in music.
You could even add your Spotify account and let the potential match know your music interests. There is just one thing worth mentioning, the app is only available for iOS, hence the iPhone users might only find fewer matches. As far as Google's OS users are concerned, they could try out any of the other apps mentioned in this list.
Download: iOS
13. Match
Match is one of the best dating apps that we could try out. But then why is it placed so bottom in our list? Well, the reason stems out from its pricing strategy. While other apps allow you to use most of the basic features free of cost, and only charges for some additional benefits, that isn't the case with Match. You have to shell out quite a few bucks even to try out the basic features ($24 a month, if you are committing to a full year plan, or much higher for 6 0r 3 months).
Anyways talking about the app itself, there are quite a few features worth discussing. You could send out a wink to your other half, indicating you're interested in them, then there is a personalized dating coach that will send you recommendations based on your bio and the information you entered for yourself. Apart from that, there is also a Match, Search Mixer, and Viewed Me features that deserve a look. So if you are ready to go on a spending spree in search of a loved one, then this app is worth a shot.
14. Clover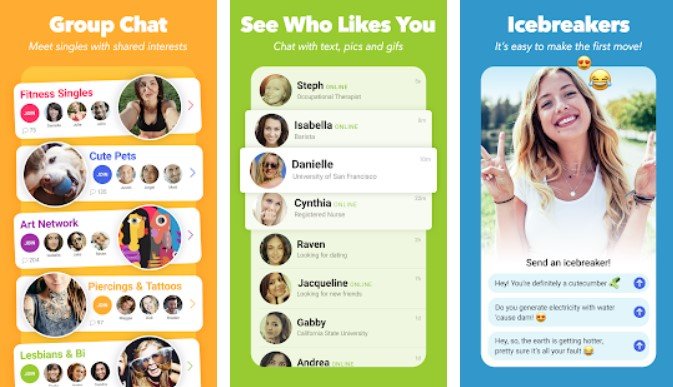 The app is based on search filters functionality: you could trim down your search based on intention (whether you are looking for a serious long-term commitment or just a short hookup. Well, not only that, you could even filter your search based on body type, height, ethnicity, occupation.
Based on all these data, it shows a match percentage, and will then help you in deciding your perfect partner. Some other features include adding your Instagram and Twitter ID, sharing photo messages, restricting your search to a certain region or parameters mentioned above, or even post up to 100 profile pictures at one go.
You could also organize, search, and join online groups and local meet-ups via this app. Likewise having a group chat with persons of similar interests is also a possibility. Although the app does perform quite well, yet some of the important features are hidden behind a paywall. So keep this in mind before trying out the app. The app calls itself a combination of Tinder + OkCupid + Bumble + Match, well try it out and decide for yourself!
15. Ship
The app with the most unique and interesting dating concept. Rather than the one on one matchmaking, you could create a Crew (group) of friends and then send in your choice to them. They will go through that user's profile and let you know if he or she is the best match for you.
Likewise, you could also play the role of the dating guru and help your friend in deciding the perfect partner for them. You could create many different types of Crew and add numerous friends in each of them. So if you cannot decide on your own and need friendly advice, you no longer need to send the screengrab of that user's profile. Just welcome your peers to this app and add them to your preferred Crews.
Conclusion: With this, we conclude the list of best dating apps. Since choosing a perfect life partner couldn't be left to an app or two, therefore, have mentioned around 15 different types. Each has its caveats and USP, as mentioned in their respective sections. On that note, do let us know which app you ultimately settled down for. And hey, don't forget to invite us on your special day, if everything works out pretty well in the end!
If you've any thoughts on Best Dating Apps to Find New Friends, then feel free to drop in below comment box. Also, please subscribe to our DigitBin YouTube channel for videos tutorials. Cheers!