Chrome Extension for Android is most demanded request by many tech enthusiasts bringing in the popular Add-on Support over mobile. You can get the Extension support for Kiwi Browser and Yandex. Google Chrome is the worlds most popular browser and the Chrome Web Store is one of the most popular browser extension and utility store. You will find Chrome Extension usage on a large scale when it comes to the Desktop browsers but Google doesn't have any such auxiliary support for Chrome Web Store for its Android Browser. And there seems no plan from the Google to roll out any such support in future.
But today I will tell a very simple and reliable method to install Chrome Extensions on Android Browser without any root or tweak. Just with the help of a different browser which accepts add-on installation from Chrome Store. The browser may not support all the Chrome extensions which is very much obvious due to different natures of Desktop and Mobile phone web.
You can use Two Browsers to Run Chrome Extension on Android with Stability;
Kiwi Browser (Recommended)
Yandex Browser
So, below are the steps by which you can install Chrome Web Extensions on your Android and enjoy the web experience to the fullest.
Install Chrome Extension on Android Browser
Kiwi is a Chromium Based Browser which looks exactly like Chrome Browser with inbuilt Ad Blocking and Night Mode. Thanks to Google's Open Source Chromium project it releases the source code of Chrome for the developers to play around. Many independent developers use this code and develop Browser. And one such is Kiwi.
The Kiwi is a Chrome-Based Browser which runs on Google's Blink Engine and Webkit. Thus, you can expect the same speed and page loads. It also supports Chrome Web Extensions for you to Install Chrome Extensions in Kiwi Chrome Browser for Android.
Here are the simple steps to download and install Chrome Extensions on Android Browser.
Step #1. Download Kiwi Browser from Google Play Store.
Step #2. Open Kiwi Browser and enter chrome://extensions in the address bar.
Step #3. Enable developer mode. (If it doesn't show up, you may need to reload the tab.)
Step #4. Now Visit chrome.google.com/webstore in Desktop Mode.
Step #5. Look for your desired extension and install. Done!
Here is a Small Video Tutorial on Chrome Extension Installation on Kiwi Browser.
How to Install Chrome Extensions on Android Using Kiwi Chrome Browser?
Demo Example Installing Ghostery Extension on Kiwi
1. Open Chrome Web Store on Kiwi Browser
2. Search for Ghostery
3. Add Ghostery, the Plugin will be added, you may see some error message just ignore it.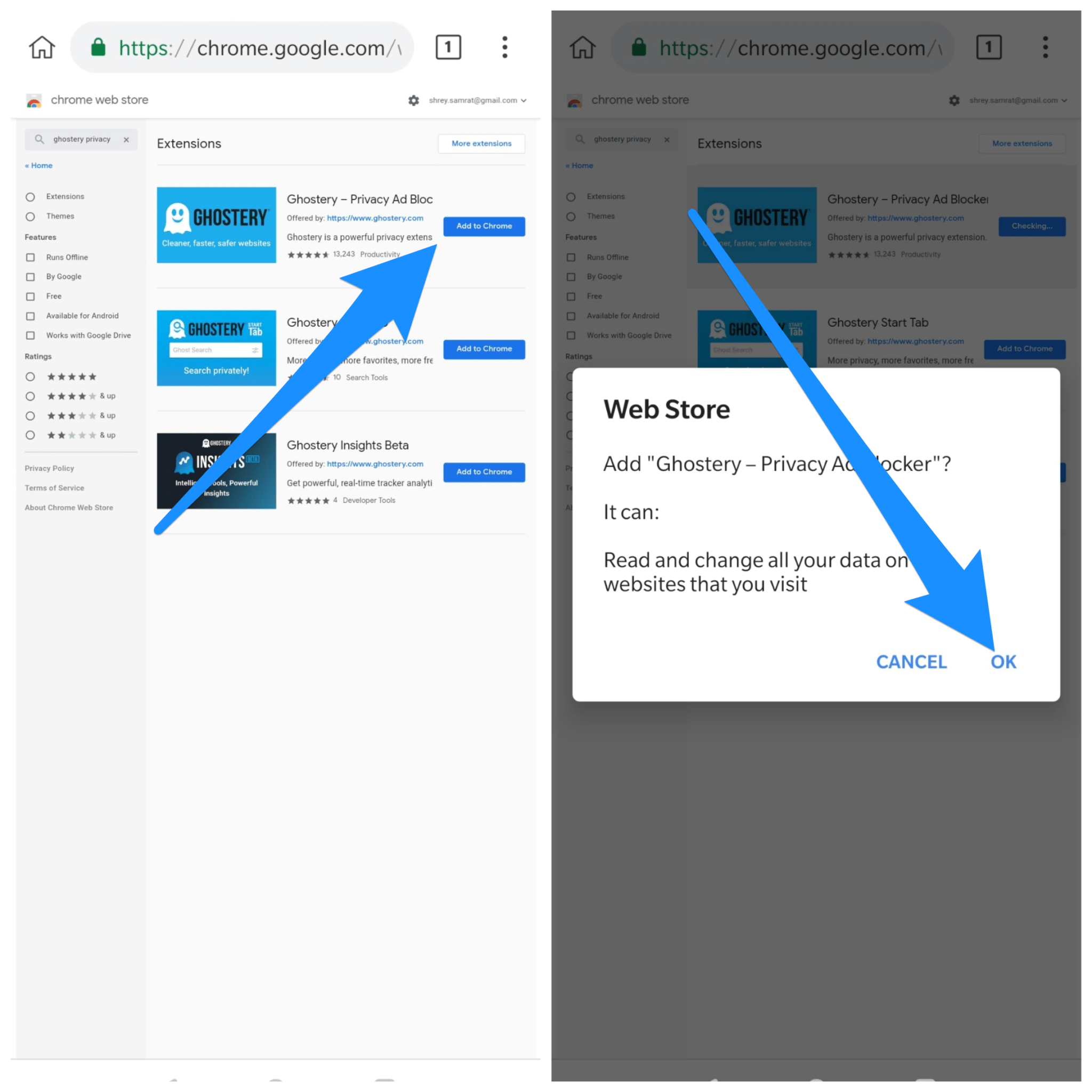 4. Once the extension is added a New Tab with extension details will open.
5. The Extension is added to your Kiwi Browser and Ghostery will do its job.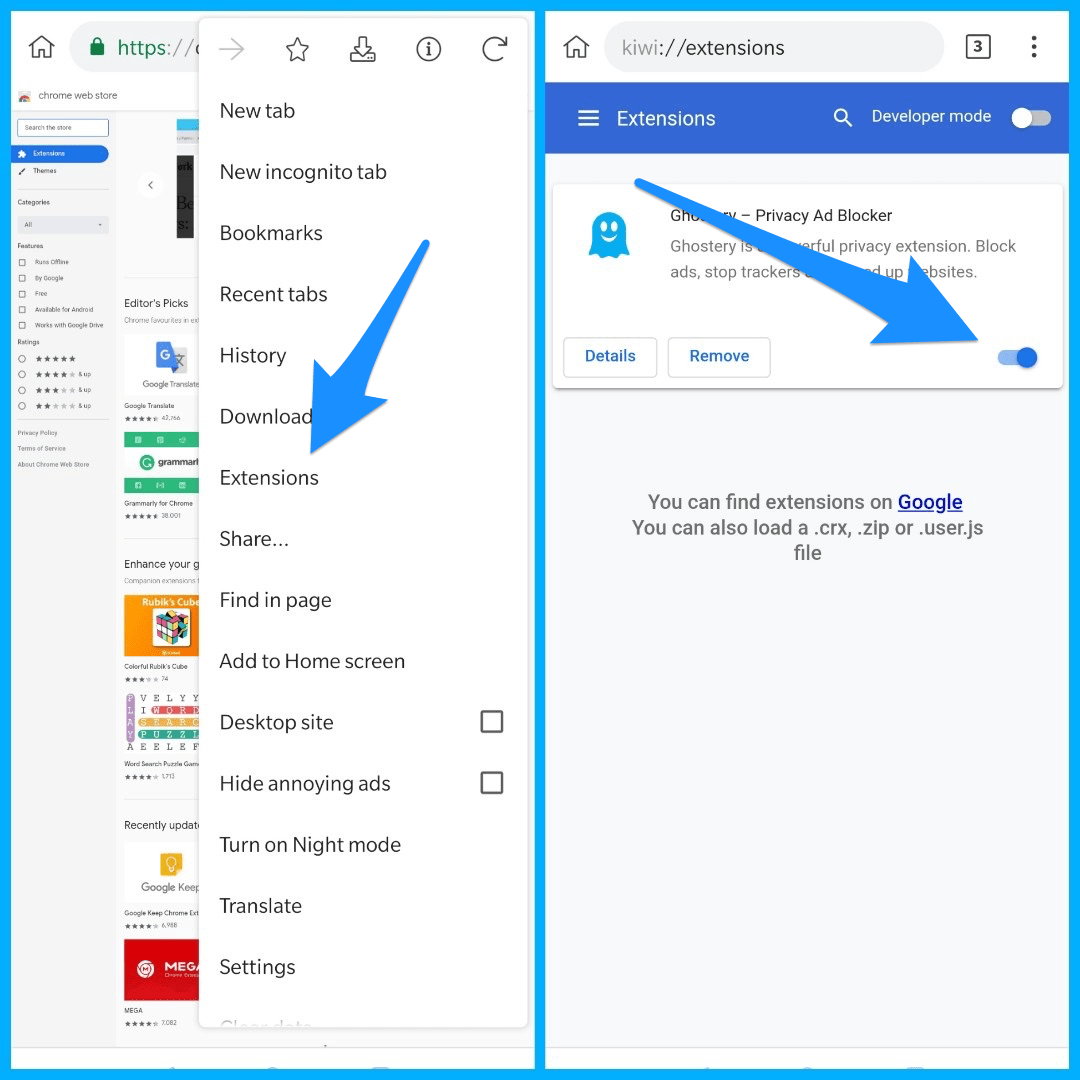 Extensions like Stylus, YouTube Dark Theme, Bypass Paywall, and even uBlock are working, according to the developer. You may even be able to install scripts from TamperMonkey/ViolentMonkey. It is the second chromium-browser which supports Extensions for Android after Yandex.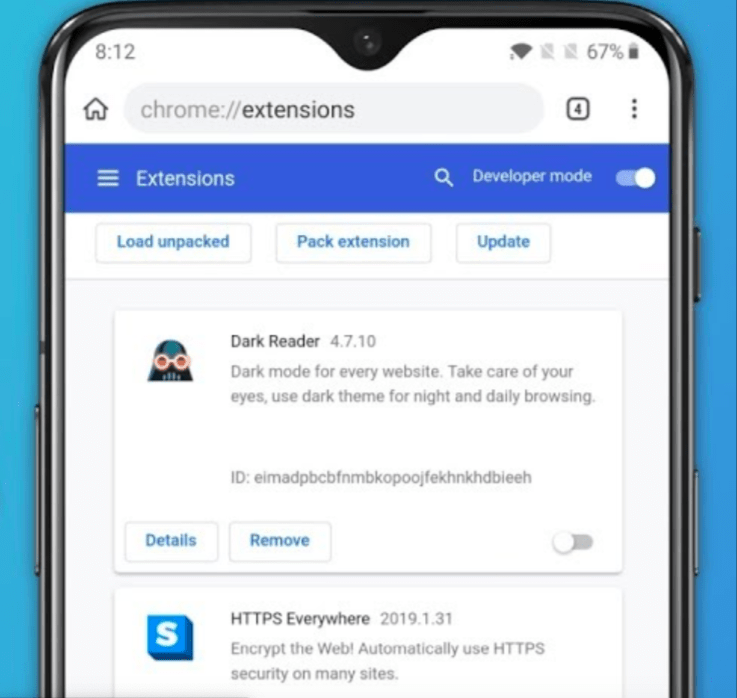 What if Browser Doesn't Support any Extension?
As I said above, some extension may have limitations due to smartphone web limits. If the extension is not supported by Browser then I recommend you to download any other extension of the same nature.
The Yandex Browser also has its own plugin add-on store in case the Chrome Web Store extension doesn't support the Browser. The new Kiwi Browser is a Complete Chromium Browser for Android which supports more Extension which has mobile compatibility.
Chrome Extensions are the potential source of utility available for users which can make the work pretty much easy, the chrome extensions can also be installed on the Mozilla Firefox and the steps are briefed below.
Why Kiwi Chrome Browser?
The Kiwi is a Chrome-Based Browser which runs on Google's Blink Engine and Webkit. Thus, you can expect the same speed and page loads. Apart from speeds, the Browser also has the interface much like the Chrome Browser with inbuilt Ad Blocking and Night Mode. And with Chrome Extensions Support for Android is becomes a complete Chrome Browser.
Here are the Chrome Extensions which are supported Kiwi and Yandex Browser – web.chrome.com/feature/android
Features of Kiwi Chrome Browser
Built on Google Chromium Code
Chrome Extension Support
Has core features and interface as Chrome Browser
Inbuilt Ad Blocking and Night Mode.
Data Saver and much more.
How to Install Chrome Extension on Yandex Browser?
Here are the Steps to Install Chrome Extension on Android Using Yandex Browser.
Step 1. Download and Install the Yandex Browser from the Google Play Store
Step 2. Open chrome.google.com/webstore in the URL box.
Step 3. Search for any Chrome Extension of your wish and hit the button "Add to Chrome"
Step 4. The Browser will download the extension and Add it to your Yandex Browser.
You can check for the extensions under the settings of the browser.
Why is Yandex Browser?
Yandex Browser is one of the most popular web browsers on Android with over 50 Million downloads. is a freeware web browser developed by the Russian web search corporation Yandex that uses Google's Blink web browser engine and is based on the Chromium open-source project.
The browser checks WebPage security with the Yandex security system and checks downloaded files with Kaspersky anti-virus. The browser also uses Opera Software's Turbo technology to speed web browsing on slow connections.
The Yandex has a turbo mode in case of slow internet speed, inbuilt invasive AdBlocker, web extension support and much more. The Web Tool has its own store in case if you wish to install any plugin on your Android Browser.
Adding Chrome Extensions on Firefox Browser
You can alternately also install Chrome Extension on Mozilla browser using a Firefox Addon.
Download Mozilla Firefox or Firefox Nightly Browser from Play Store.
Here first request the Desktop View.
Now under Tools, click the option "Browse for All Add-ons". A new Firefox Addon Tab will open.
Search for Chrome Store Foxified and enable the plugin.
Now go to the Chrome Web Store and search for your favourite extensions.
You will see a message Add to Firefox. Just install the Chrome extension on Firefox Browser for Android. Done!
Using Mozilla to install Chrome Plugins may be a little complicated due to many incompatibilities and speed issues. It is, therefore, better to go with Yandex Browser for its simple and convenient installation. But the Firefox browser may support more Chrome extension on Android. Therefore I recommend you to try both the Browsers to test which one works well.
Some Useful Plugin Extensions
Data Saver – This nature of extensions help to save internet bandwidth.
Adblocker – Most popular types of extensions to block Ads.
Password Manager – Manage the Password and store the password info for various websites.
VPN – Virtual Private Network can be used to deceive the location of your device.
Conclusion: With Yandex Browser, you can download and install the Google Chrome Extension on your Android phone and enjoy the web to the fullest. The Chrome Web Store Extensions can be downloaded on Yandex and make the web experience more productive.
I hope the post was helpful. Do comment below for any assistance or support if needed. Cheers!
If you've any thoughts on Install Google Chrome Extensions on Android Browser, then feel free to drop in below comment box. Also, please subscribe to our DigitBin YouTube channel for videos tutorials. Cheers!