Hey there, welcome to MSN Hotmail mail account usage and management guide. I've crafted this blog post to give extensive information about Hotmail and it services alongside with few important tips. A lot of people claim that Hotmail is dead and is no longer available, but, I disagree with this. Hotmail is not dead but, it's reborn as Microsoft Outlook. All the existing users and features are moved to a new home and the users can happily continue their service from thereon using the same Hotmail login ID.
Today I'm going to share all information about how to register, login and use email Hotmail ID in new Outlook home without any issue. Microsoft has also added a lot more additional feature that was lacking in the old home. Without any further delay, let's jump directly into this comprehensive guide.
Hotmail create an account or register for free
Learn more about how to create a Hotmail account and register an account for free.
You can register Hotmail account for personal use for free of cost. All you need is to sign up yourself for account creation and within a few minutes, your account will be completely set up.
Steps to create and register a new Hotmail account:
Visit www.hotmail.com login home page
Hit on Create account link (screengrab above)
Choose the desired email address with

@hotmail.com

extension
Choose a strong password
Register yourself with all requested details on the registration page
You'll need to enter your active mobile number and alternative email address for verification
Complete verification and you're done with a new Hotmail account registration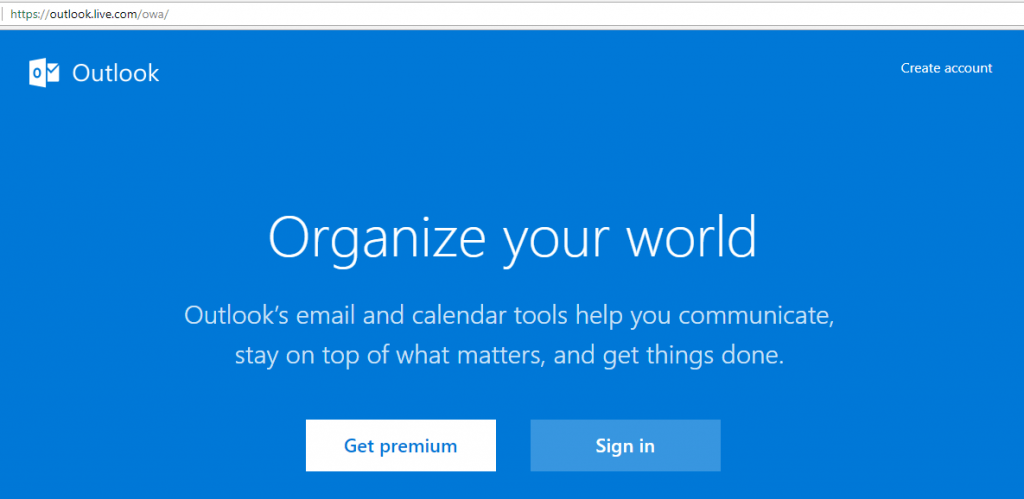 MSN Hotmail login or account MSN sign in
Learn about how to login Hotmail email box account to access your emails.
Sign in to Hotmail account in 2019 is pretty simple and straight. Once you completed verification of your details, you can use the same Email ID and Password that is used while registering the account.
You can easily login Hotmail email ID using the mentioned steps below:
Visit www.hotmail.com home page
Hit on Sign in button (screengrab above)
Enter your MSN Email ID
Enter your Password for the same Hotmail ID
Hit Enter keyboard button and that's all!
You'll be automatically redirected to Hotmail inbox after successful authentication of credentials. In case if you forgot your password, then using the alternate email ID and phone number that you've filled in the registration form will help in regaining the access.
Note: It's good to memorize the login ID and password rather than writing on a paper or saving it online, stay secure.
Hotmail vs Outlook difference
Understand the difference between Hotmail and Outlook mail.
Microsoft acquired Hotmail in 1997 and named as Windows Live Hotmail, and that was later rebranded to Outlook.com in 2011 that we see today. There is no much difference in terms of look and feel, however, there have been a lot of upgrades since launch.
The Microsoft Outlook is nothing but the same Hotmail with improvised rich feature and rebranding. Even if you lookup for hotmail.com in the browser, it will redirect you to outlook.live.com sign-in page.
In short – there is no difference but both the platforms are the same and integrated into each other. Any user with [email protected] can log in into Outlook sign-in page with existing credentials.
Check MSN Hotmail mailbox
Learn how to check your Hotmail emails received in your inbox.
You can check your Hotmail mailbox either using the desktop version of Microsoft Outlook or even using mobile apps.
Both the Hotmail version will allow you to access: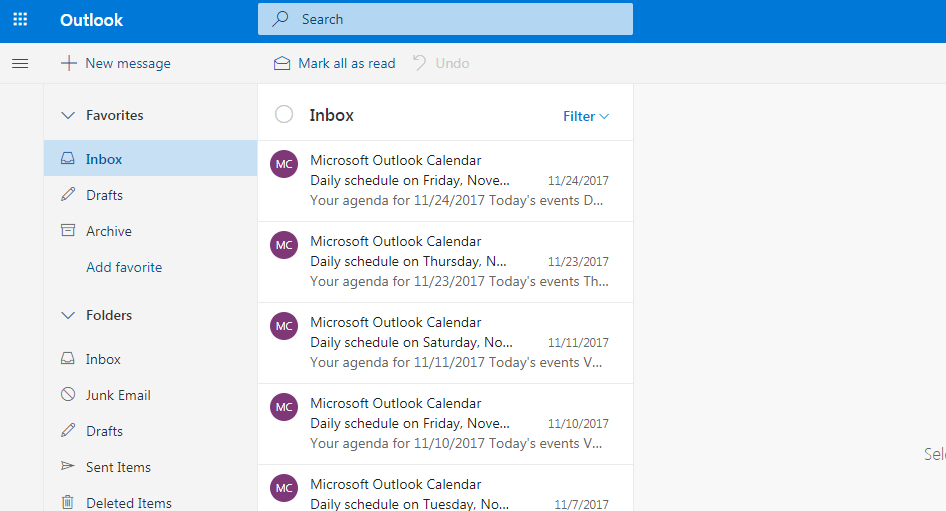 Hotmail Inbox
All the incoming emails to your Hotmail ID will be stored in this Inbox folder. You can also create Hotmail inbox rules to move these emails to different predefined folders or categories.
Hotmail Draft
The emails that you're drafting or temporarily save before sending out will be available in here. In-case if you unknowingly close the Hotmail website browser or hit back button, the written email will be available in draft sections.
Hotmail Archive
The Hotmail emails that you've archived in the past will be listed in this section. Those emails won't be deleted but will be lying inside here permanently.
The searching any Hotmail will also fetch results from the Archive box, making it a friendly unclutter secondary option to the inbox.
Hotmail Sent Items
All the emails that were sent out using this Hotmail mailbox will be available here. If you can't find any recently sent email in this folder, then probably it's still being queued in the Outbox folder.
Hotmail Junk Email
All the spam or junk email that is recognized by Microsoft AI will be stored in the Junk mail section. You can visit junk mails and move any important mail to Inbox or any other folder you desire.
If any email that is not junk but still automatically moving into this folder can be stopped by creating a rule or by adding sender email ID into your Hotmail contact list.
Deleted Items
All the emails that you've deleted from Inbox, Archive, Draft or any other folder will appear in the Deleted Items section. The trashed emails will be temporarily kept on hold for 30 days after which the Hotmail will auto-delete on the 31st day.
You can also restore the deleted emails within the grace period of 30 days.
Hotmail send emails
Learn how to send emails using a free Hotmail account.
You can send Hotmails to any email id without any restriction, given that you're not spamming the receiver or sending too bulky files in a go.
Microsoft allows sending plain text as well as HTML formatted emails. You can send email attachment up to 25MB file size or upload the heavy files in OneDrive and send the direct link.
After Hotmail account login on a desktop browser, you'll see the all the tabs in the left-hand pane. At the very top of the pane, look for and hit on "+ New Message" command.
This will open a new inline window with mail drafting/writing pane like below.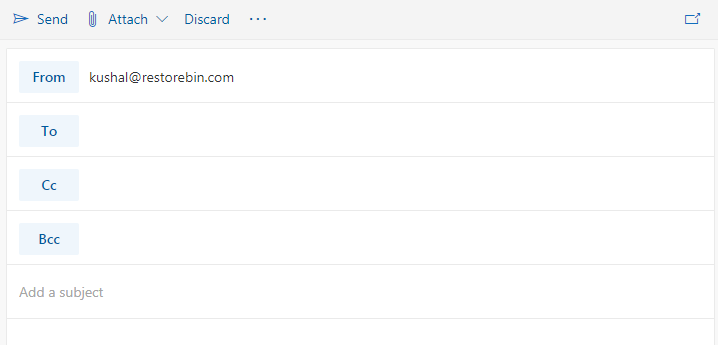 From: The email ID from which the Hotmail is being sent
To: The list of email ID to whom the email is sent (receiver)
Cc: a Carbon copy of your mail will be sent to email ID mentioned here
Bcc: Blind carbon copy of your email will be sent to the mentioned mail ID, however, the receiver won't be able to see this email ID is being copied
Attach: This command invokes the option to add attachments in Hotmail from the computer or your cloud i.e. OneDrive
Discard: This option will delete the drafted email in this window
Send: This command will finally send the Hotmail to people you marked in the above options
You can also add the pre-configured signature, set importance, switch between HTML and plain text, or even save the Hotmail in as Draft under three-dot […] options available next to discard command.
MSN Hotmail account settings
Understand different settings and options available in Hotmail settings page.
Hotmail or Outlook has added a lot more options than I remember from the last visit to the settings page. They've added a bunch of integrations and also the different options to customize the look of Hotmail UI.
You can quickly visit the email Hotmail setting page from the gear icon available near your profile picture at the top-right corner. Hitting the gear icon will open a lightbox popup window on the same page with Settings options.
Basically, there are three different settings options available in Hotmail:
General Settings
Mail
Calendar

Hotmail General Settings
The general settings have basic settings of the entire platform. Like Language and Time, Appearance, Notifications, Categories, Configuration (keyboard shortcuts), Skype notifications, mobile app access, and storage.
There is also an option to Export your entire emails which would take around 48 hours to complete the processing.
You can even export or delete the Search History from the Outlook's database which I think this is a pretty cool feature.
Mail Settings
The mail settings allow you to customize the layout of an entire inbox, along with emails options like the signature, formats, attachments, email categorization rules.
The mail settings also provide the capability to sync your any other mailbox like Gmail, Yahoo, etc. to integrated and receive emails directly into Hotmail inbox.
You can also set up an email forwarding from your Hotmail mailbox to any other email ID along with maintaining a copy of an original email.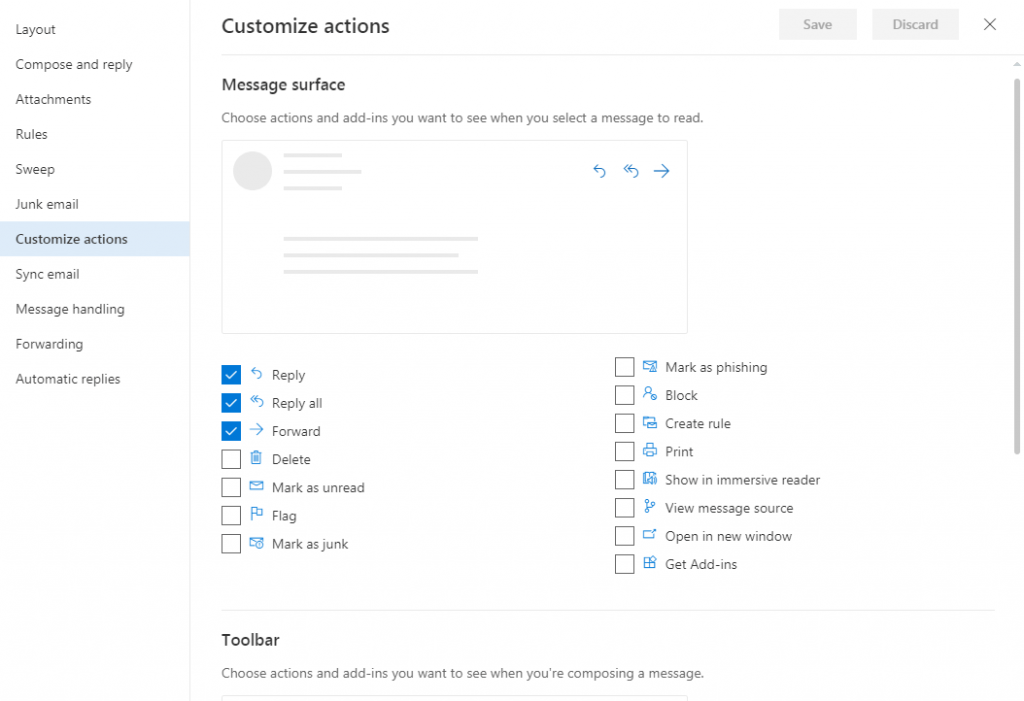 Mail settings also give an option to mark or unmark an email sender to the Junk box which will furthermore help in fighting with spammers at ease.
Hotmail Calendar Settings
This calendar settings page is pretty simple that provides options to view Hotmail calendar and events within your emails at one place.
The Hotmail calendar automatically fetches all the events like Flights, Hotel reservation, car rentals, dining reservation, and mark them on your calendar.


There are also few options around configuring Weather report in calendar UI.
Hotmail mobile app and desktop software
Check out the Hotmail desktop and mobile apps for different device operating system.
Hotmail or Outlook mobile app is available in all the mobile device app store as well as a desktop store. Below are quick download links for same:

I don't think you'll need an installation guide on this. It's pretty simple like any other apps. Just use your existing Hotmail account credentials to login into account and check your emails on GO.
There are a lot of third-party apps available on these online app download store that use SMTP and IMAP server to connect and fetch the emails. However, I recommend going ahead with a company build app instead of safety.
Lastly, don't get confused between Microsoft Outlook and Microsoft Outlook 365. These two are different variants, Office 365 is paid business version of Outlook for enterprise subscription users.
If your work email uses Microsoft Outlook, then Office 365 will help you to connect with your corporate emails.
Sign out Hotmail account
Learn how to log out Hotmail account from your web browser and app completely.
Let look how logout will work on different versions of Hotmail; desktop browser and mobile apps.
Logout from a desktop browser
If you're using a shared laptop or desktop then I'd strongly recommend sign out your account before you leave the machine. The sign out link is easily accessible in the web version of Hotmail.
In the top right-hand corner of the browser view, you'll find your profile picture. Hitting on the picture will invoke options with a link to Sign out the account. Hitting this command will automatically log out of Hotmail Account on the browser.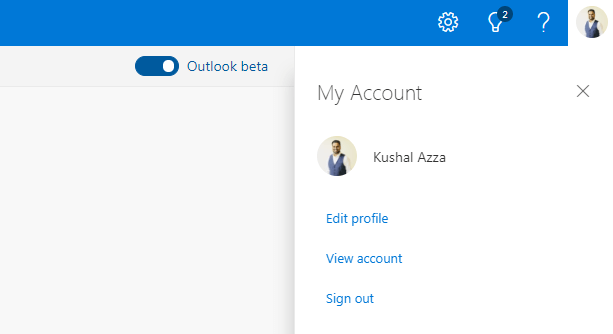 Logout from a mobile app
I don't consider myself sign-in and log-out frequently. However, when you're completely wiping out email data from the phone, then log out will be useful before uninstalling the app. Also, I think the logout options will be the same irrespective of the mobile OS.
Below are the steps to log out from Microsoft Outlook Android App:
Open Microsoft Office Outlook app
Hit on 3 horizontal bar for options
In the bottom of options page, you'll find a gear icon – hit on it
You'll now be able to see your Hotmail ID under Accounts section (screengrab below)
Tap on to open Advanced options
Lastly, at the bottom, you'll see "DELETE ACCOUNT" command
Hit the command and finally uninstall your app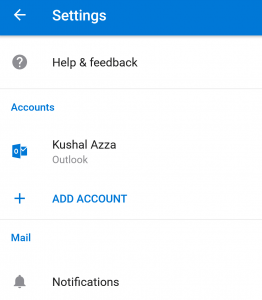 Delete and close Hotmail Account
You can also close your Hotmail account and delete it permanently. Learn more about how to delete and close the Hotmail account.
Note: There is a lot of stuff need to be taken care before closing an account, recommend reading the article completely.
How about your experience?
I have been using Hotmail emails for my personal purpose and it's been a long time now (maybe more than 8 years, don't remember exactly!). I really enjoy the recent upgrades to UI making it more fluidic experience. Also, the email account alias feature that I don't find in other free mail service providers.
Also like Google Accounts, Hotmail is readily integrated with Microsoft product and its single sign-on feature make easier to access all MS tools and office products.
Please feel free to share your experience, and also drop if any questions related to Hotmail account in below comments.
If you've any thoughts on Hotmail Account Usage and Power User Tips (Extensive 2019 Guide), then feel free to drop in below comment box. Also, please subscribe to our DigitBin YouTube channel for videos tutorials. Cheers!