In this guide, I'm going to share with you a few tips and tricks to improve iPhone battery health. Apple iPhones are known for their powerful hardware and year-long software support. This makes them a great choice for smartphone users. Now, with all the cool features embedded on the iPhone, it is natural for users to drive their iPhones to their fullest potential. This of course comes at the price of running out of battery fast.
Besides, Apple is well known for deploying smaller capacity(yet efficient) batteries on its iPhones. So, the question here is how to improve the iPhone battery health so that the Apple smartphone is used for a long duration without any performance hiccups.
The battery of the iPhone may or may not last for a long time depending upon how the iPhone is used. It is the battery that takes all the responsibility for running all kinds of apps, software updates, and whatnot. So, the battery life will reduce over time.
Tips to Improve iPhone Battery Health
Now, let us check out the various tried and tested tips that can help prolong the life of the iPhone battery.
Don't Leave your iPhone Without Charge
Always ensure to never end up with zero battery power on your iPhone. When you regularly face zero battery power on the iPhone, it will decrease the half-life period of the Lithium-ion battery. The best move is to set your device on recharge right when around 30 percent of the charge is left.
Never Set Your iPhone on Charge All Through the Night
Let us understand this clearly. You can set your iPhone at night or day for that's not the issue. The real issue is keeping the iPhone on charge even after it has attained full battery charge. This then leads to something called trickle charging.
The batteries of your iPhone already have their required charge. Still, with charging on, more charge is being forced onto the battery.
The iOS has a smart feature baked into it. If you set your iPhone on charge and stop the charging at a certain time every day, then iOS will follow this pattern and stop the charging of the battery at around 80%. This happens due to the AI algorithm followed by the iOS.
It will mention that for your daily use sufficient battery is now available and no more charging is required. In some cases, if the algorithm determines that more charge is required the battery charging will go up to 100 percent.
Here is how you enable the optimized battery charging feature on your iPhone.
Open the Settings.
Navigate to the Battery and tap on it.
Then tap on Battery Health.
Under that scroll to Optimised Battery Charging and tap the toggle beside the option to enable it.

Close the Browser Tabs that Are Lying Unused
You do use Safari for browsing various websites. Once you are done with the web pages, make sure to close them. Otherwise, with the internet active on your iPhone, the browser tabs with active web pages will suck out the juice of your iPhone.
I even suggest closing the apps from the app switcher that you are not using. Otherwise, keeping the application active for nothing will drain out the battery. I have tried these tricks and it has indeed worked for me to preserve some amount of battery on my iPhone.
Do Not Turn on Low Power Mode When Sufficient Battery Power is Left
I have experienced this most of the time. If the iPhone has a sufficient charge of around 60% or more, then enabling the Low power Mode will drain the battery faster. Out of curiosity, I did this intentionally a few times and saw the juice vanishing as Low power mode is enabled manually with battery charge available.
Why I'm saying this, is because most users may think keeping the low power mode on will allow iPhone to sip less battery when it is at work. That's not the case.
Usually, the low power mode kicks in when a 20% or lesser battery charge is left on the iPhone. That conserves the battery extending the time before the juice entirely runs out so that in the meanwhile you can find a power outlet and set the iPhone on charge.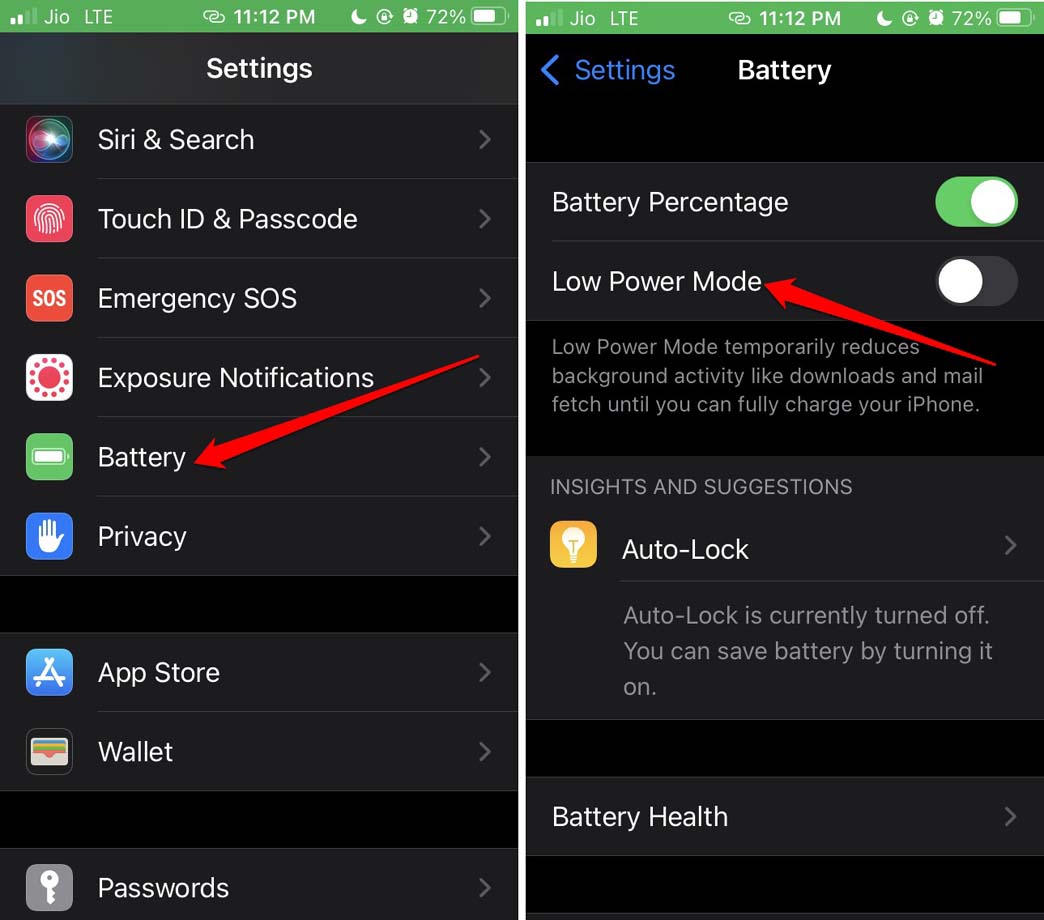 Always Ensure to Use Official Power Adapters of Apple
We all know Apple gadgets are expensive and so are their related accessories. That doesn't mean you will risk your iPhone by using a cheap copy of an Apple power brick to charge your iPhone. Every time cheap may not be good. As much as I'm saying this for preserving the battery life of the iPhone that much it is important for your safety.
Cheap and copy adapters may explode when subjected to heat caused during battery charging. That is dangerous for you, the iPhone, and anything else near it. Apple quality control is next level and a cheap knock-off power adapter would never come closer to that.
You Maybe Facing Low Battery Life Due to Bug in the iOS
Usually, those who use the beta version of iOS may see various bugs and glitches including loss of battery on their iPhones. So, make sure to timely install iOS updates on your iPhone.
Launch the Settings app.
Tap on General.
Then tap on Software Update.
Wait for a new iOS update to show up.
Tap on Download and Install to begin updating your iPhone to this new iOS build.

After upgrading to the new iOS check if your iPhone is running out of battery faster or it can conserve battery better than it used to do on the previous iOS build.
Try Not to Reach the Maximum Charging Cycle of an iPhone
It is estimated that after 400 to 500 times of charging the battery power of the iPhone starts to reduce. So, to minimize the charging you need to understand and figure out how to efficiently use the iPhone so that your important work gets done and still you manage to conserve around 30 to 40 percent of battery before you set the iPhone on charge.
You can turn off the features of the iPhone that you do not use every day. The longer you go without completing the estimated charging cycle of our iPhone, the more your device will last and perform efficiently.
iPhones are not only just smartphones. They are smart devices that can help serve multiple purposes with all those useful features stacked into them. So, it is important to carefully use the iPhone so that its battery lasts longer before you switch to a newer model of the iPhone. I hope these tips to improve iPhone battery health will be helpful to you.
If you've any thoughts on How to Improve iPhone Battery Life?, then feel free to drop in below comment box. Also, please subscribe to our DigitBin YouTube channel for videos tutorials. Cheers!