Every year number of TV Shows and Web Series are Released. If you wish to stream and download the series on your device. I will be listing some of the best free TV. There are countless websites that offer free media streaming content, whether it can be Tv shows or movies or Web series. But most of these sites are filled with ads and fake survey pages. Here we have a list of clean Vumoo alternatives that will work best for you and for your media consumption needs.
Free TV Series Streaming Sites
Here are the Best Free TV Shows and Web Series Stream and Download Sites
1. FMovies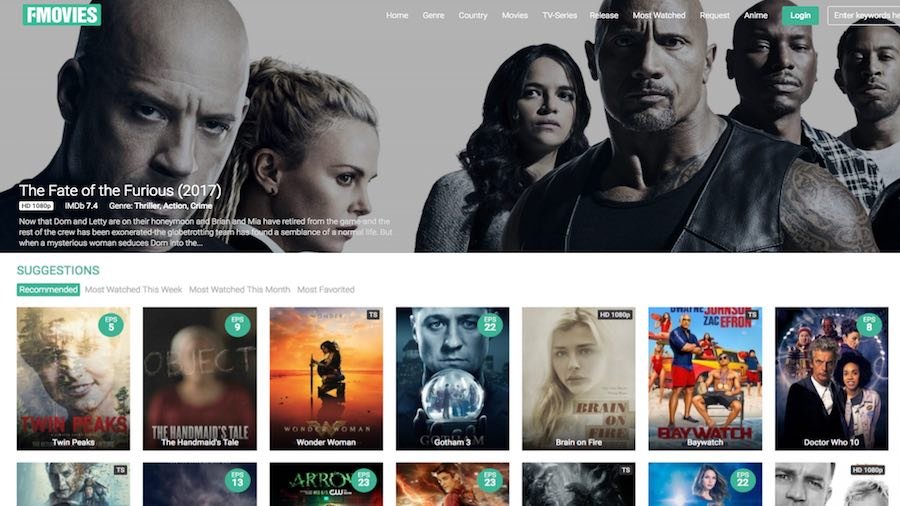 FMovies is another excellent website to stream TV Series. It has a beautiful user interface. The movie library is immense, and you will find almost every tv show here. One of the factors FMovies got a sweet spot in this list is because of its watching experience.
It is great. You will feel like you are in premium territory. Here you can get access to content from different countries. And the best thing is you won't get bothered by pop up ads on this website. FMovies merely show pop-ups when you click an ad. No sign-up stuff, just visit the site, find a movie, and grab your snack.
Copy: FMovies.wtf | fmovies.sc
2. Yes! Movies
Yes! Movies is a website that is always updated to the latest and recent content, including TV series. However, the service is not totally free; there is premium content available you can watch only if you are a premium member. But most of the movies and Tv series on the sites are free to watch with good quality.
It has a clean interface; the homepage is presented with a big advanced search box. Yes! Movies movies and TV series databases are huge, and you will definitely find your favorite movie there. Also, there is a Genre tab, which is a category of various genres like Action, Adventure, Comedy, and much more.
Copy: yesmovieshd.to | yesmovies.mom
3. Tubi TV
This free service is available globally and houses a bunch of movies and TV shows which is difficult for you to find elsewhere. With a library now surpassing 50,000 titles, second only to Netflix, Tubi TV is the best source of Movies and TV Shows.
The site hosts thousands of Movies and TV Shows for all the age groups and that too without any subscription and as a necessity, it runs on Ads. Tubi TV has something to offer for everybody with content ranging from comedy, drama, kids, classics programs, and even Korean dramas, anime, and British series.
4. SolarMovie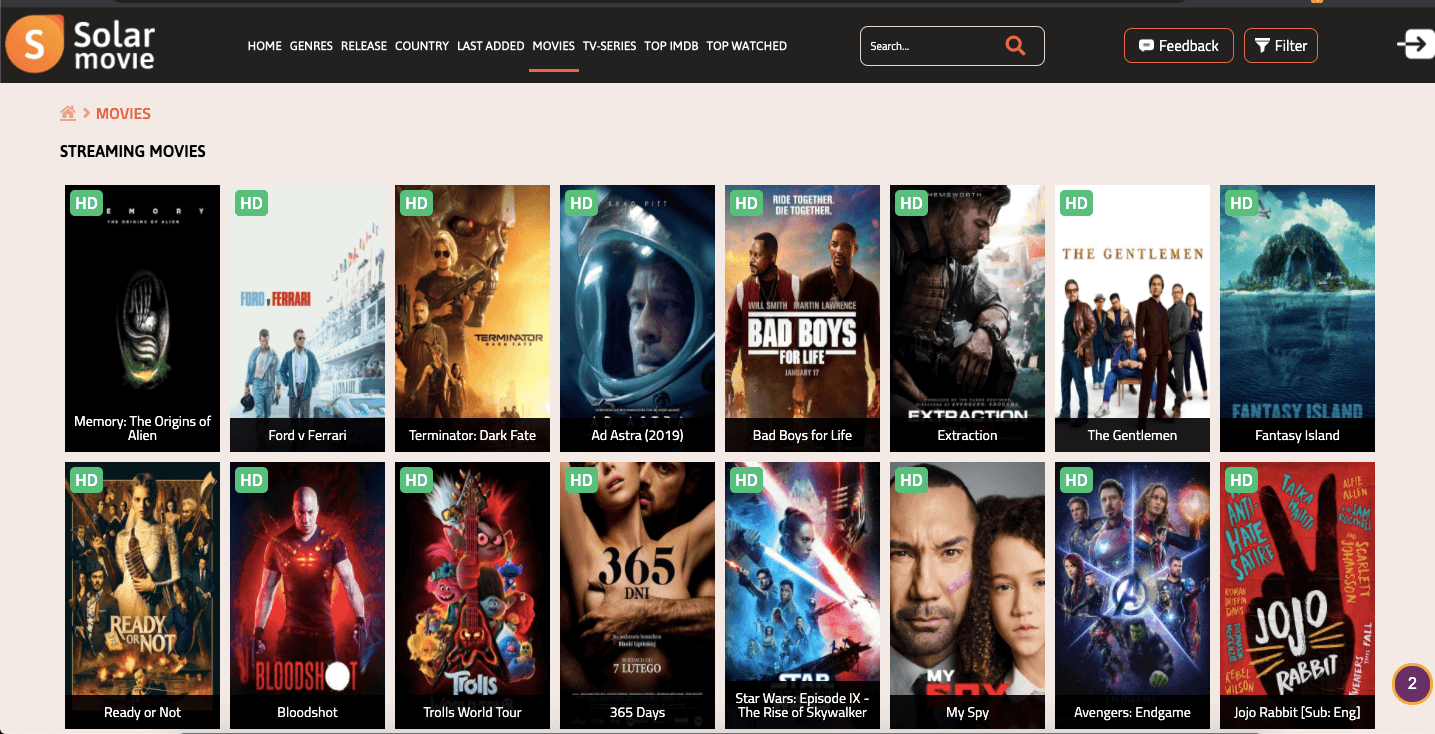 SolarMovies is another similar site that lets you watch movies and TV shows for free in HD by means of torrents and pirated stuff. SolarMovies hosts a number of shows from the UK, USA, and from all across the globe. The content may take some time to load but once it starts you can enjoy some uncluttered watch experience. The service along with programs also offers all the content from on-demand services Amazon, Hulu, Netflix, etc. The site has a very clean interface with quick navigation and simple UI.
5. Netflix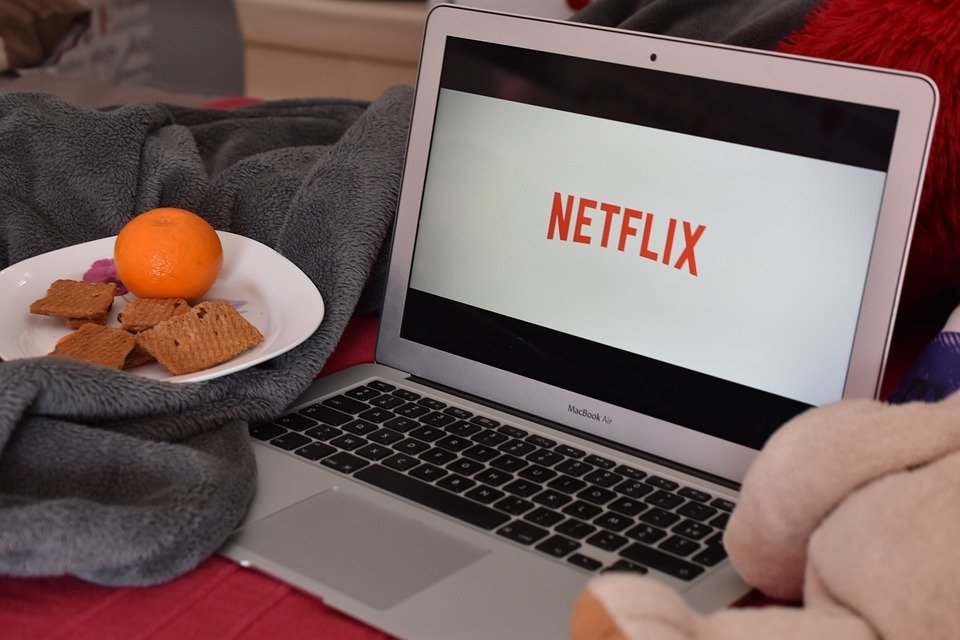 You would be leaving in the stone age if you have not heard about Netflix. Netflix is the best place to binge-watch shows, watch movies, and other highly rated programs. The service hosts most of the popular TV shows along with classics, animations, animes, movies, documentaries, and its own originals. Netflix may be called as the epitome of online entertainment given its reach and quality of content offered.
If you are seriously looking for some high-quality TV Shows, Movies, Drama, and Info-dramas, I recommend you to go with Netflix. Tough Netflix is paid there is an option for Free Trial for one month. The website gets over 1.5 billion visits each month, which itself describes its reach and popularity.
6. Primewire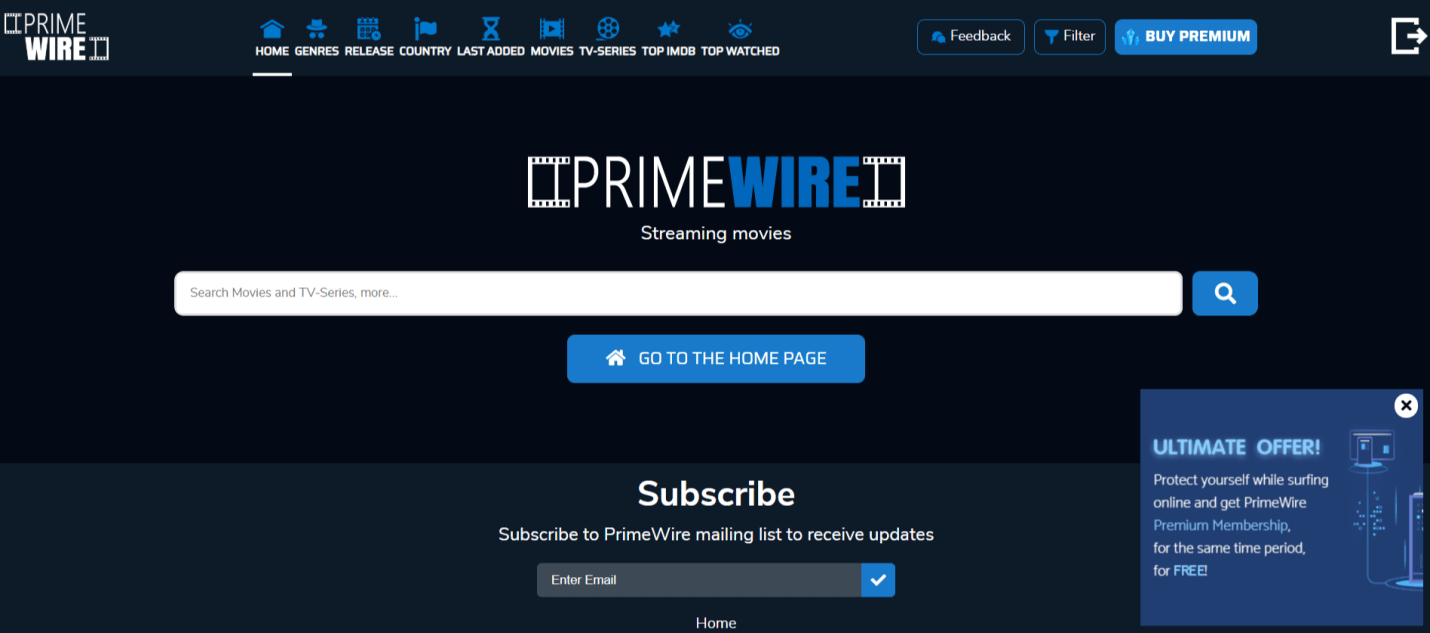 Primewire is a beautifully designed online movie streaming website. It is aimed to render a striking user experience. From the outlook, the website seems user-friendly and exploring it won't defy the former statement. It has an immense library of content movies, and tv shows are distributed in sections at the top.
The sections include "Genre," "Released," "Country," "Last Added," "Top Watched," and more. The tabs, sections, and search make it easy for a user to navigate the website and relish the stay. Again no registration is demanded to enjoy the content of Primewareshow.
Copy: primewire.show | primewire.st
7. Disney Plus
Disney Plus is subscription-based video-on-demand which is dubbed as the biggest rival to Netflix. Considering it just started its operations quantity of content is pretty much low but the quality it offers is very impressive. You get some of the hard to find movies on Disney Plus like Star War Series and the very popular Marvel Movies.
Since Disney bought Fox Studios you can expect a large number of movies from Disney and Fox. You get premium content from Disney, Pixar, Marvel, Lucasfilm, 20th Century Fox, and National Geographic, as well as original television series and films from Disney Channel, Freeform, and select titles from 20th Century Fox Television and ABC Studios. It just costs $7 per month and it's worth it.
8. Zmovie
Zmovie is a website that is designed for high-quality, full-length movies streaming for free. TV shows are also available on the website. It has the world's best collection of movies and TV series. There is no login and signup, and you can just watch without any registration fee.
The website offers various categories that you can explore, and it also has a history tab, which is very convenient sometimes. Each category has its movies to watch, and it has genres like Action, Horror, Biography, and a lot more. The UI of Zmovie is clean and simple, very easy to navigate.
Copy: zmovies.cc
9. Amazon Prime
Prime Video by Amazon is an On-Demand subscription service. The Prime Video bagged rights to movies from some of the biggest production houses worldwide. It also acquired digital rights for Live Sports streaming like NFL, ATP, and Premier League generally country-specific.
Amazon Prime serves worldwide and holds country-specific rights to some of the premium local content and movies. Prime offers the option to set video quality and customize captions. The programs are categorized according to languages, nature, genre, and other in-depth sortation. If you are looking for regular new movies and original TV shows than Prime is the best option to go for which cost $12.99/month
10. Vumoo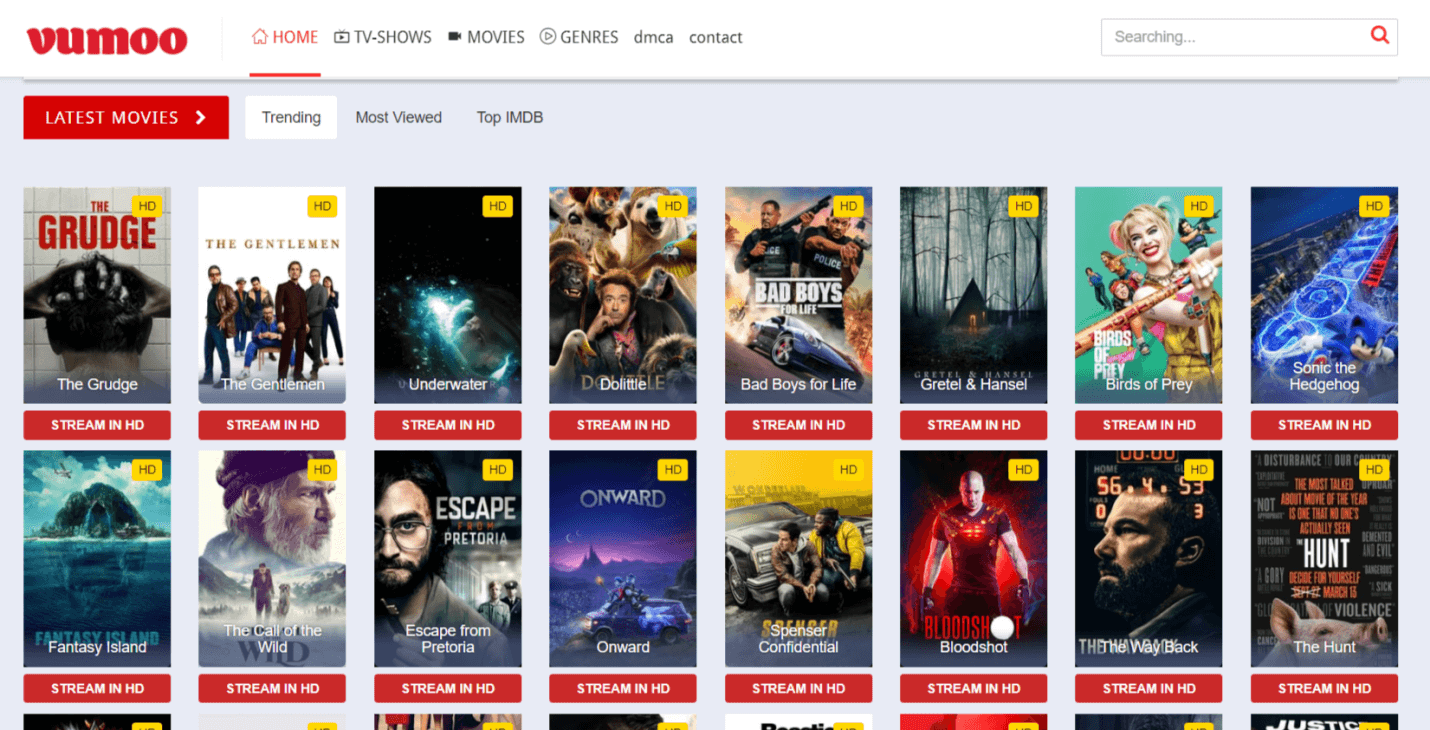 Vumoo has the best quality of movies and tv shows. Its content library is enormous. Content is sorted in merely two sections: Movies and Tv Shows. No registration is required. However, to watch unlimited movies, you have to register yourself.
Besides famous or newly released movies and the latest tv shows, Vumoo also presents documentaries. Vumoo is a free site, and one of its best attributes is the site free from craps like pop-up ads. You won't get disturbed watching your movies/show.
Copy: vumoo.life | vumoo.to
11. Movie Gaga
Movie gaga is a website that provides free movies and TV shows streaming. You can find, according to the year, the latest TV series. The service also provides recommendations to watch for and has a huge collection of all the latest movies and TV shows. However, you won't find movies in HD and FHD quality on this site.
The homepage is very dynamic, and it allows you to sort movies by most viewed, most favorite, top ratings, and top IMDB ratings. Also, it has an advanced search box, and there are various movies and TV series categories like Action, Drama, Horror, Comedy, and more. The site is also updated with the latest TV shows.
Copy: moviegaga.to
12. Hulu
The Hulu is a subscription-based online streaming platform but you can opt-out to pay and watch limited content for free which includes more than 150 movies and TV Shows. The services of Hulu into Live TV started in 2017, prior to that it just use to host a series of TV shows both old and new, movies, and other infotainment programs.
It works as a hybrid of Sling TV and Netflix, offering both TV Shows as well as Live TV to its users. The content and presentation of the App vary with the cost, low price will offer you content with Ads while a high package offers Live TV with no Ads. Hulu TV Pricing starts at $7.99  Though you may find the cost on a higher side I believe it's worth a buy.
13. IOMovies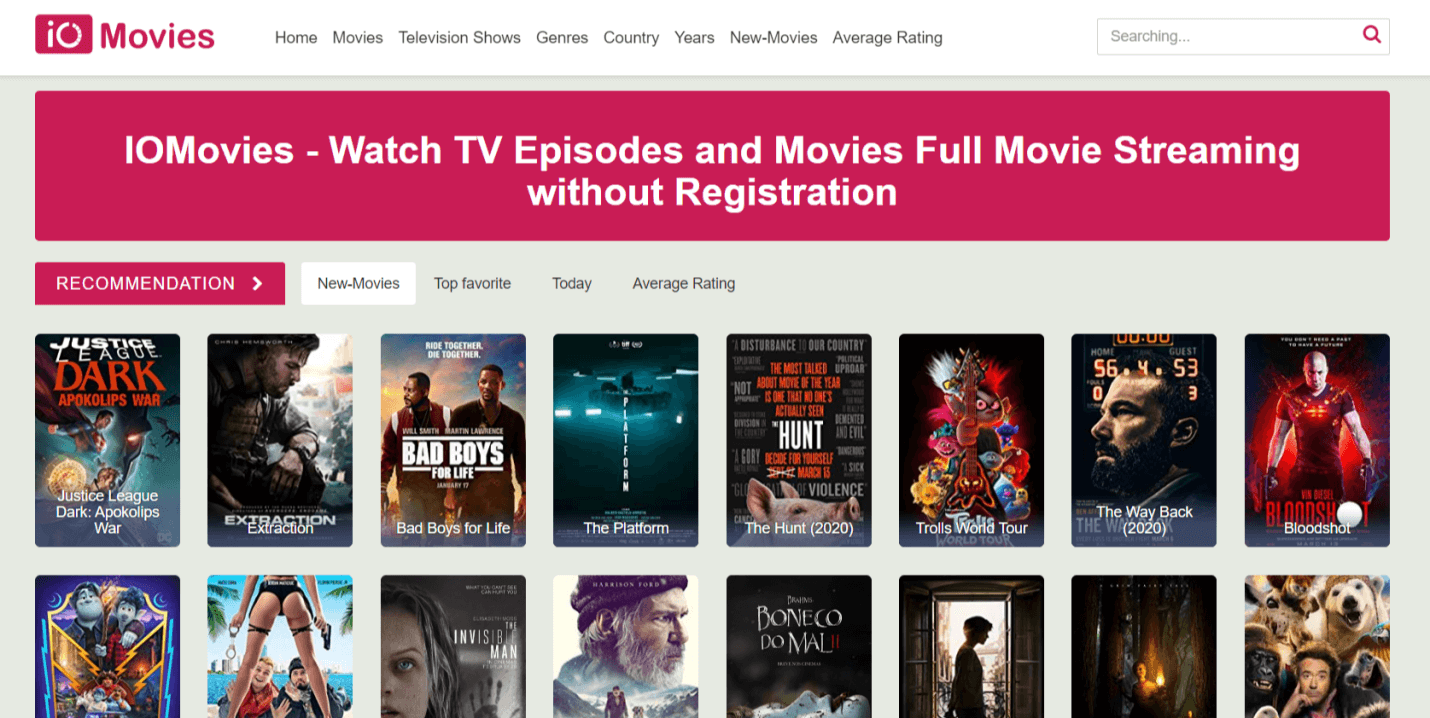 IOMovies another free streaming website that allows you to relish its content without any registration required. Sometimes when you are not sure what to watch from an enormous library of content on streaming sites, and you end up spending an hour deciding what to watch.
IOMovies provides you with a feature 'Suggest me a Movie" where the site will suggest to you some best movies to watch. The content is classified in such discipline, so no user can find it difficult to find a movie. The content arsenal holds the latest movies, tv shows, animated movies, documentaries, and much more.
You can easily share the links of movies and shows to your friends who want to watch the content. Furthermore, the navigation menu is simple and elegant. The whole site holds a beautiful design. IOMovies can be a significant SolarMovie alternative if you consider two factors one: the site saves your time in choosing a movie, second the streaming quality is as good as SolerMovie's.
Copy: IOMovies.me
14. MoviesJoy 
MoviesJoy is a streaming website with lots of content to watch under "Country," "Genre," "Tv Shows," and "Top IMDB" tabs. Scrolling down, you will find a section "Trending Now," which holds the latest movies and tv shows. The interface of MoviesJoy is pretty simple and user-friendly.
MoviesJoy's enormous content library includes not just movies and tv shows. You will find kids shows, reality tv shows, documentaries, sci-fi movies/shows, and much more.
Navigating the site is so easy with sorted tabs and sections. If you like to watch Top IMDB movies, a section is right at the top, with just a few clicks you'll be bingeing on movies. Furthermore, registration is not mandatory, and there are no hidden ads on the site.
Copy: www1.moviesjoy.net | moviesjoys.in
15. YIFY TV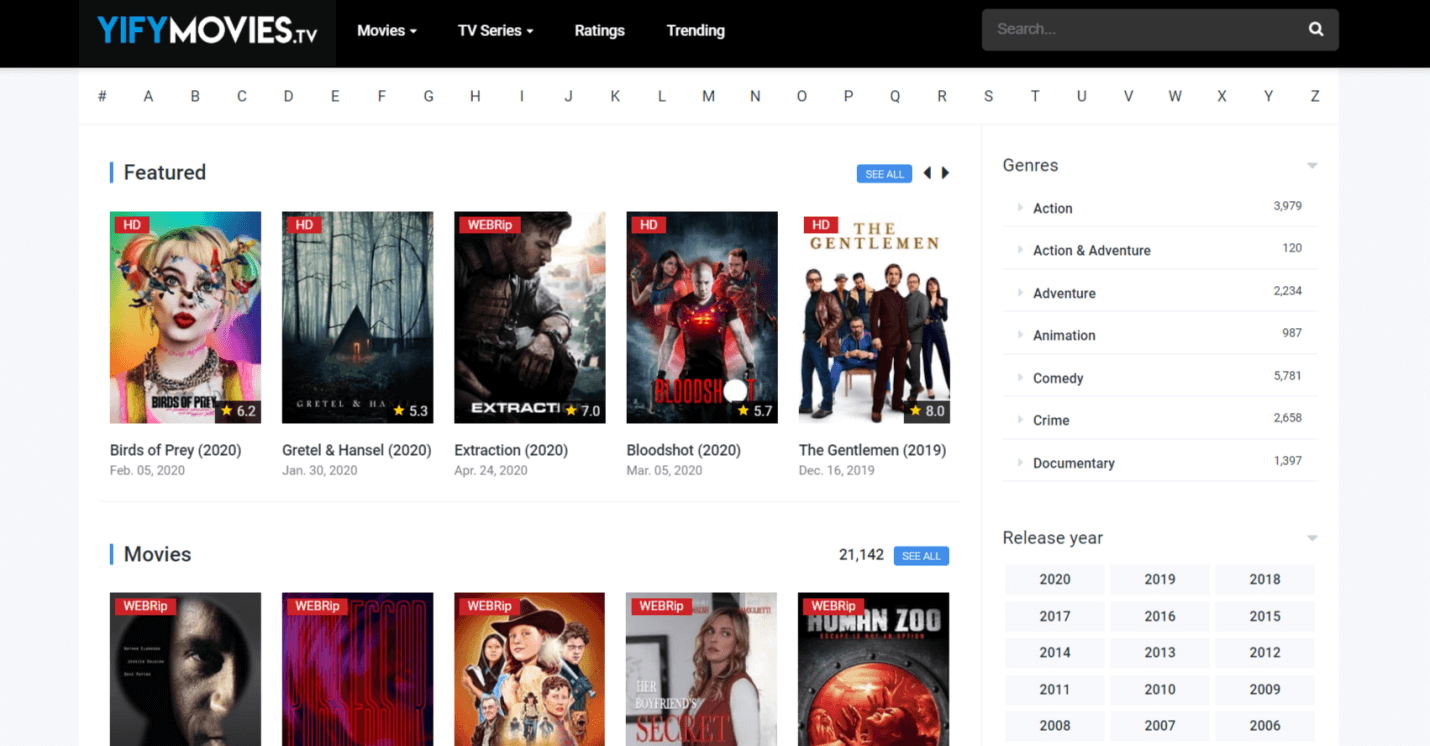 Yify Tv was previously known as a torrent-based streaming website. Due to its growing popularity, the site got dragged down to merely an online movie streaming site. The user interface of YifyTv is simply impressive and far better than SolarMovies or any other website on this list.
You will find movies sorted in sections, genres, tabs such as Trending, Popular, Top Hit, and Ratings. The website provides an incredible user experience, and I think that's what makes it one of the best alternatives for SolarMovies. Yify Tv is entirely free and does not require registration.
Copy: yifymovies.tv | moviesyify.online
Data Security and Privacy Concerns
The free streaming websites which are not the legal content providers are always on the critical due to data breach and privacy invasion issues. The cyber rouges are always in search of innocent netizens who could fall prey. The use of free non-legal streaming services may also be a crime in your region due to litigations imposed by law. You may need a VPN in case the site is not working or blocked.
The litigations vary from country to country, it also depends on the material being presented. Streaming copyrighted material that you don't own without permission or paying for it is illegal. But mostly the governing bodies target the developers of the site.
Conclusion: Watch Free TV Shows and TV Series with the help of this best free TV Shows and web series Streaming and download site.
If you've any thoughts on Best Sites to Stream TV Shows and Series for Free, then feel free to drop in below comment box. Also, please subscribe to our DigitBin YouTube channel for videos tutorials. Cheers!