One of the best things about having an open-source operating system is the ability to install 3rd party Apps without any credential issues. In the case of iOS, which has restricted access, it is not an easy task to install a 3rd party App without jailbreak. But on the Android platform, just granting the persimmons for 'Unknown Sources' is enough to sideload any App on the OS. And one of the most popular and demanding classes of Apps is Streaming Apps. Predominantly Live Sports Streaming Apps are highly imperious; Football, Baseball, Cricket, Tennis, Badminton, Golf, Wrestling, etc., are always running on any corner on this planet.
Many online streaming apps on the internet are deceiving, and they just try injecting malware into your device. These apps ask for permissions that are not required for their normal functioning. For example, apps may ask for contact permissions which, of course, is not required to stream your favorite channels.
Today I will tell you about some of the best apps for Android to enjoy Sports Live without any fee. So, without much delay, let's dive into the best free Live Sports TV Apps for Android.
| | | |
| --- | --- | --- |
| 1. | Oreo TV | 💥💥💥💥 |
| 2. | Live NetTV | 💥💥💥💥 |
| 3.  | ThopTV | 💥💥💥 |
| 4.  | AOS TV | 💥💥💥💥 |
| 5.  | beiN sports | 💥💥💥💥 |
| 6. | Dazn | 💥💥💥 |
Note: Apps listed below generally work, but I recommend you download and test a few apps to find which one works smoothly. Make sure you have enabled unknown sources on your device. To do so, simply go to Settings -> Security and just right-check Unknown sources.
---
Disclaimer: The apps and services listed below are independant and DigitBin do not endorse the apps or affilated with them in any form. The apps are available in public domain on web. Use the apps at your own discretion.
---
Free Live Sports Streaming Apps
Watching Sports is the best leisure time for any fanatic. The adrenaline rush for our favorite side and occasional goosebumps are enough for any game lover to throw himself into the play.
Here are the Best Live Sports Apps to Stream and watch live sports action for free on Android.
Live NetTV
Live NetTV App is a general-purpose entertainment App that hosts 700+ Live Channels, Movies, VOD, TV Shows, Live Sports, and all popular programs from many more than 8 countries. The service is absolutely FREE. It is so simple to use that you will instantly love it.  The App hosts channels from many countries, including the UK, the US, Middle Eastern Countries, India, Iran, Pakistan, Turkey, and many more countries.
Look for the stream or channel, and you will be provided with links; click on them to play the video on an external player. If any of the links are not working, you can switch to another link to see if it works well.
The app is in a legal grey area, it is solely responsible for any damages.
PikaShow
PikaShow is a live streaming and entertainment app that caters to Indian audiences. Using the app, you can enjoy Bollywood movies, Hollywood movies, and Indian live TV channels. If you are looking to stream live sports viz; Cricket, or any other Global Sporting event like Football (La-Liga, European League, UEFA, English Premier League, FIFA), Badminton, Boxing, Wrestling, Racing, etc. or any other sporting event, then PikaShow is a good choice.
The live channels that are available on PikaShow have streaming rights for all the major Global Sporting events. You can seamlessly enjoy any sporting event on the app. Just check who has broadcasting rights for the event you are looking for.
beIN Sports Connect
The beIN SPORTS app is the most powerful Sports App offering Live Sports broadcasts from popular leagues along with related news, videos, highlights, scores, standings, etc.
You can also Log in with your participating TV provider and watch live events exclusive to beIN SPORTS. Original programming is available in English and Spanish languages. With the App, you can access all the channels and networks under beIN Sports to fulfill your Sporting anguish. The beIN Connect has rights to a large bouquet of popular Sports Programming.
Soccer – LaLiga (2), Real Madrid TV, LaLiga TV, Serie A, Ligue 1, Turkish League, CONCACAF, CONMEBOL, and CAF World Cup Qualifying, Football League Championship, Copa del Rey, Coupe de la Ligue, Coupe de France, Swiss Super League, Champions League, Europa League
Conference USA – Football, Basketball, Baseball
Motorsports – MotoAmerica, MotoGP, WorldSBK
Other – Track & Field, Boxing, EHF, MMA, Rugby.
Sony LIV
Liv App by Sony is the ultimate sports App to watch live games on your Android. Sony India and Cricket also have broadcasting rights for other premium sports, including football, rugby, racing, MMA, etc.
You can watch these games for free even without any subscription, but there is a trick, the streams are delayed by 5 minutes if you use them without a subscription. Not a bad deal looking at the content it offers. The App is exclusively for India, so if you wish to use it outside India, then you have to use a VPN App with Servers in India. If you are seriously looking for a sports App, then I surely recommend you to go with Sony Liv.
Note: If you are outside India just use a VPN with Indian Servers, this app is perfect for free Live football streaming.
Offers: Cricket, UEFA, La Liga, EPL, WWE, FIFA World Cup, Copa América, The FA Cup, Italian Serie A, The Rugby Championship, Super Rugby, NFL, NBA, The Masters, PGA Championship, and other programs.
AOS TV | Live Sports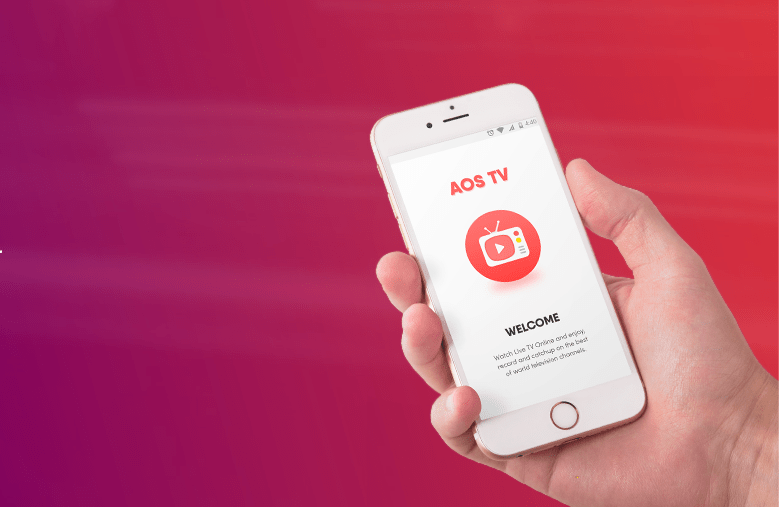 AOS TV is a free live TV app that lets you watch tv channels for free on your Android supported device. The app claims to host more than 1000 channels. The interface is simple; just search for your favorite channel that you wish to watch, and you will see multiple links below the player. If any of the links are not working, you can switch to other links present.
You can watch live tv from the UK, US, India, Europe, South America, Australia, Canada, and more. You can also stream live sports from across the globe. An easy-to-use quick app for your live tv needs. It offers live sports from the US, UK, India, Europe, Brazil, Argentina, and more.
Offers: Live Sports Channels for Live Football, Cricket, Rugby, NFL, NBA, WWE, Tennis, and more.
Disney+Hotstar

If you love Indian content, then Hotstar by Disney is the best choice. If you live in India, then you should definitely for the Hotstar. It also offers some of sports programs with 5 minute delay without any subscription and live streams with the subscription. Some of the sports shows are free and live.
The online platform has a huge library of top Indian Dramas, Soap Operas, Movies, and TV Shows making it a premium place for top-notch Indian Programs. As Hotstar has several Hollywood movies, it is launched in the USA and Canada by disseminating content libraries to avoid any infringement of digital rights. You can access it on the web by visiting us.hotstar.com.
Most of the Streams are Free, so a Indian VPN will just do fine.
Offers: Cricket, Premier League, Bundesliga, Wimbledon, US Open, French Open and Formula One, and more.
Goods About Hotstar
Simple UI
Number of Indian Regional Movies
Soap Operas and Dramas
Options to set video quality and Subtitle support
Need a VPN to stream from other countries
Oreo TV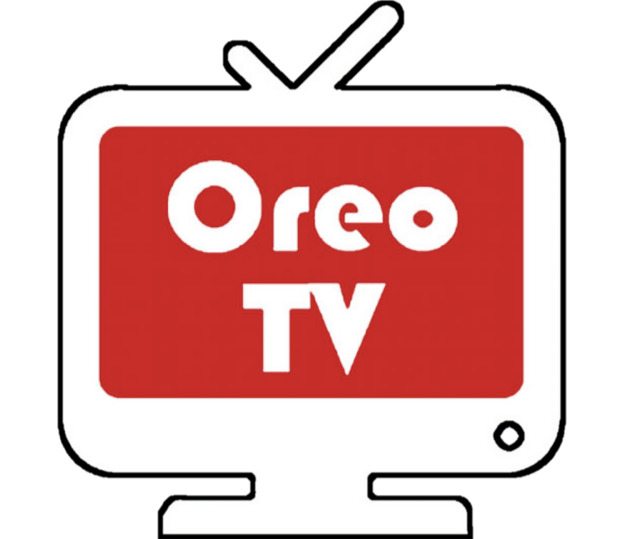 Orea TV is live TV and Movie Streaming App for Android. Oreo TV offers an immaculate and uncluttered app experience, unlike other streaming apps. The app is well polished with proper navigation and options to quickly access the content without any login or subscription issues.
Just click on the Live TV option to filter channels or directly search for your tv station to stream live sports. The app streams Live TV in HD quality if available. You get a number of live sports channels from beIN Sports to Fox. You can stream Football, Cricket, Hockey, Tennis, and other significant events instantly. It is one such premium streaming app you cannot miss having on your Android-supported device.
Offers: Premium Live TV and Sports Channels from Across the Globe
DAZN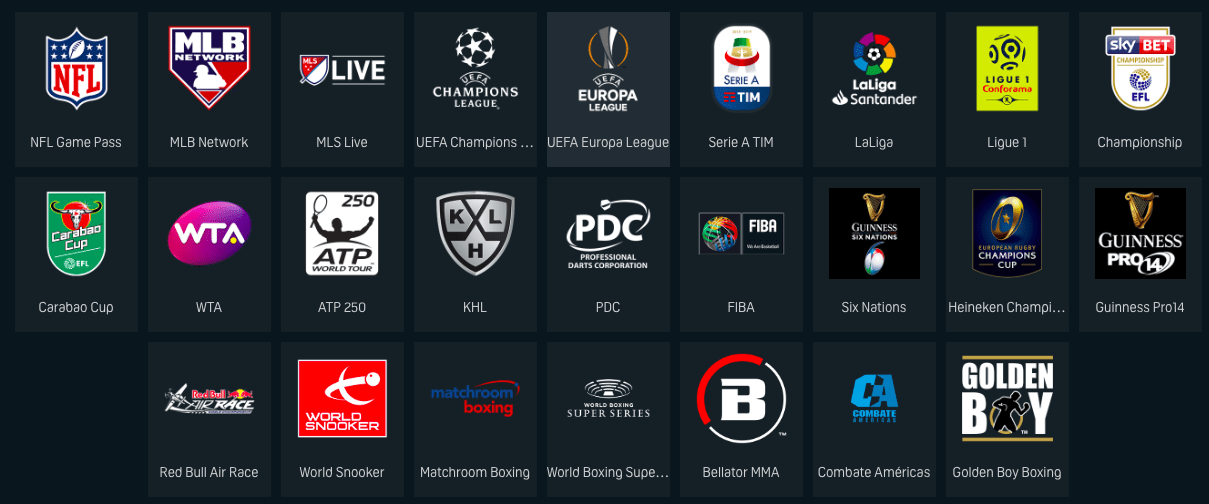 Dazn is a subscription-based video streaming service. The sports service offers live and on-demand streaming of events from various properties. Dazn is operative in Austria, Germany, Japan, Switzerland, Canada, the United States, Italy, Spain, and Brazil. It has digital rights for all major sports events to be broadcast in Austria, Germany, Japan, Canada, and Switzerland.
You can enjoy UEFA, FIFA, La Liga, and other sporting events on the DAZN. The service offers a 1-month free trial which you can cancel anytime. DAZN is compatible with TVs, smartphones, tablets, game consoles, and many other devices. You can download the App from the Play Store.
Goods About DAZN
Legal and Free
Rights for all significant events
HD Support
Multiple device support
Free Trial for 30 Days
Kodi
Sports Repo
Kodi is not a live streaming app but a media center where you can add various file repositories and enjoy free TV, Movies, music, and programming. You can install Sports Addons Like Sport 365 Live, Joker Sport, Supremacy Sport, etc., and enjoy Live Sports on Kodi.
There is also a popular Kodi Addon by the name  IPTV Addon can show you more than 1400+ channels. It is very easy to install the Mad Titan Sports add-on on Kodi.
You first need to download the Kodi App from Google Play Store. Then add the Mad Titan Sports Add-on on Kodi. I have provided the video tutorial to install the IPTV Add-on on Kodi – 
Fubo TV
Fubo TV is the best option to go for if you are a Sports Lover. The App primarily focuses on live sports. The TV is good for a sports fanatic, but the channels are not limited to only sports (NFL, MLB, NBA, MLS, and international soccer). The App has a bunch of other channels, including news, network television series, and movies. The App is available on the App Store and can also be streamed on the web. The packages vary from basic to extra with added features and channels. A basic package can cost you $20 per month.
YouTube TV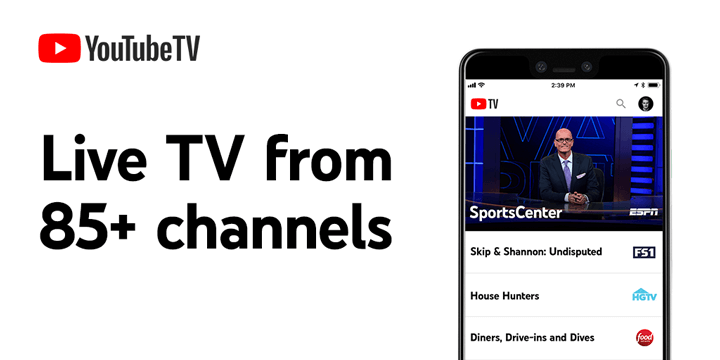 YT TV is an over-the-top content (OTT) streaming subscription service available in the United States.  It includes ABC, CBS, The CW, Fox, NBC, and other networks. The service offers Cloud DVR without DVR storage space limits.
6 YouTube TV accounts with individual login and DVR. The App offers more than 60 channels from the US, which can be directly streamed on the phone or Apple TV without any cable box. You can access top content-providing networks on the TV App.
Sports – CBS RSN Channels, ESPN Network, FS, Golf Channel, MLB Network, NBA TV, NBCSN, NESN, Olympic Channel, Tennis Channel, etc.
Now TV
Now TV is a contract-free subscription-based internet TV service for the UK, Ireland, and Italy. It is owned by Sky plc. Therefore, Now TV has all the TV Channels, Live Sports, Programs, and Movies owned by Sky Network. You can access Sky Network's Sports Channels, live sports channels, and other entertainment shows.
The service is paid, and you may need to pay £9.99 every month, but there is a 14-day free trial. You can access up to 10 Sports Channels. Now TV is available on 60+ devices, including consoles and Smart TV. If you are serious about streaming some critical sporting events, then you can try a 14-day free trial plan.
Offers – Premium League, Major League Soccer, Cricket, PGA, Rugby Union, and more.
Features of Now TV
Live Sports Programming
No Contracts
 Support for 60+ Platforms
14 Day Free Trial
Available only in the UK, Ireland, and Italy
ESPN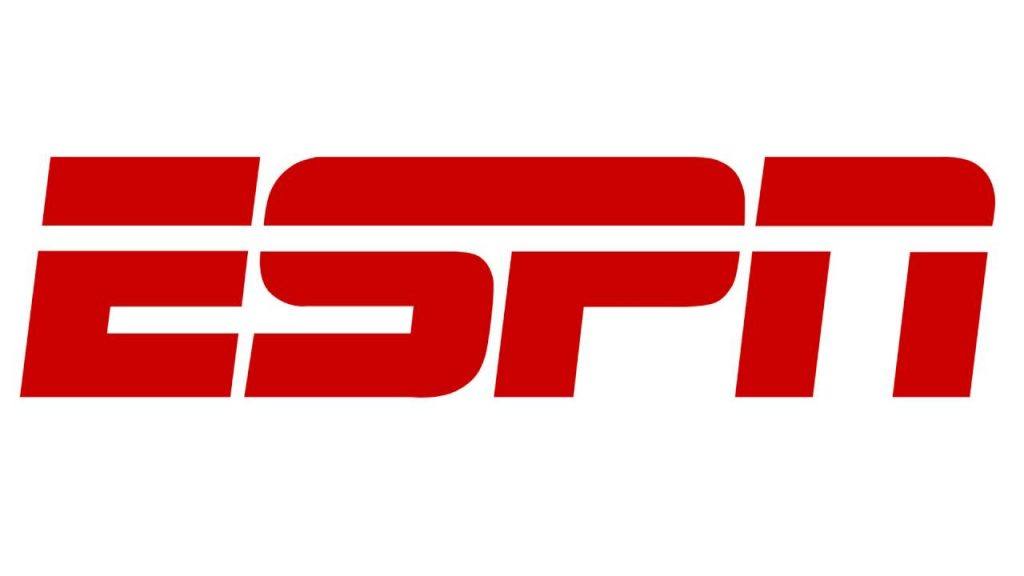 ESPN is the standalone Sports Streaming App for effective sports programs. ESPN has broadcasting rights for many programs. By subscribing to ESPN+, you are eligible for thousands of live events with access to ESPN, 2, 3, U, SEC Network, Plus, ESPNews, and Longhorn Network are all available to stream live in the ESPN App.
The App has an excellent interface and works well even at normal internet speeds. If you are looking for a legal way to stream live plays then you should consider ESPN.
Fox Sports Go
With GO, you can watch live sports and shows from the FOX Sports network, namely, FS1, FS2, Regional Network, Big Ten Network, FOX Deportes, FOX College Sports, and FOX Soccer Plus. The app is simple to use and hosts a number of live programming for any sports fanatic. The app makes it easy to watch a Fox Sports stream no matter where you are, what device you're using, or what Fox Sports channel you're interested in—all at no additional cost to you.
Offers: NFL, MLB, NBA, NHL, NASCAR, MMA, UFC, NCAA, FIFA Women's World Cup, France 2019 TM, Bundesliga, and MLS.
**FOX Sports GO is free to download. All you need to do to watch is sign in with your TV Provider credentials.
Hulu

The Service of Hulu into Live TV started in 2017; it works as a hybrid of Sling TV and Netflix, offering both TV Shows as well as Live TV to its users. Catch Live NFL sports on Fox, CBS, ESPN, FS1, NBC, and regional sports. The content and presentation of the App vary with the cost; a low price will offer you content with Ads, while a high package offers Live TV with no Ads. Hulu TV Pricing starts at $5.99. A cheap service to stream premium sports.
B/R Live
Bleacher Report Live is a streaming service that offers some of the premia sports programs free and paid. You get live streams, free replays, and highlights for popular sports like UEFA, Europa Leagues, NBA, and more. The platform is simple to use and has most of the programming paid, with a few of the live shows for free.
As the service is relatively new, you can expect improvements with more premium and free shows under the hood as time passes. I found the pricing to be on the higher side, but it is worth a pay, looking at the number of shows and live sports offered. It is exclusively available for the US and offers popular Wrestling AEW and other programs for free.
Offers: UEFA Champions, Europa Leagues, The Dan Patrick Show, The Rich Eisen Show, NBA League Pass, National Lacrosse League, ONE Championship, NCAA, PGA, World Armwrestling League, ELEAGUE, International Field Hockey, number of international club soccer leagues, etc.
Lepto Sports
Lepto Sports APK is a great app for watching and streaming live matches. It's free and doesn't require any subscriptions or charges. If you're a sports fan, you'll love this app. Plus, you can also watch movies, TV shows, programs, and series.
Lepto Sports stands out from other apps due to its unique features. Let's explore its uniqueness. If you open the app before the match starts, you'll see a countdown that displays the exact time the match will begin. This allows sports fans to watch their favorite sports anytime and anywhere they want.
Data Security and Privacy Concerns
The free streaming Apps, which are not legal content providers, are always critical due to data breaches and privacy invasion issues. The cyber rouges are always searching for innocent netizens who could fall prey. The use of free non-legal streaming services may also be a crime in your region due to litigations imposed by law.
How to Be Safe?
Some of the Apps listed above have a lot of programming with copyright infringement under their hood; you may be under the scanner by your government for streaming content that is not bided by the law. But looking at the nature of the App, there may be very few who could resist using it. You can stream safely by using a VPN service. There are several VPN Apps and services covering all types of devices.
What is a VPN?
VPN is an online service that hides your data by sending your web usage to another secure location. It forms a secure tunnel to provide end-to-end protection. Therefore, your ISP will not know what you're up to. In other words, it sends your data to a 3rd party country, making it difficult for the service provider to determine the user's internet behavior.
Miscellaneous Details
If you wish to use the apps anonymously, then, you can try any VPN services like OperaVPN, which is available on Google Play Store.
In case any of the streams show any error or issues while loading, you can also try proxy servers like VPN to stream the content.
If the app is not working or causing some issues, then I recommend you Clear the Data & Cache of the app to fix it.
Conclusion: With the above Apps, you can watch live sports right on your Android mobile and enjoy the world's most recreational activity. If you are facing any issues downloading or using apps, then feel free to comment below. Also, provide your valuable suggestions and thoughts in the form of comments in the section below.
If you've any thoughts on 15 Best Android Apps to Stream Live Sports for Free, then feel free to drop in below comment box. Also, please subscribe to our DigitBin YouTube channel for videos tutorials. Cheers!