Looking for some cool sites to watch free live TV on your device? Then today, DigitBin has come up with the best of the list consisting of free and paid TV streaming sites. The Internet is on Crackdown to remove all the websites which stream illegal content for free without any licensing. Watching illegal streams that do not have any authorization is a crime, and you may end up in jail. Some countries have very strict litigations on unethical online streaming; the accused and the perpetrator may face the judicial system's wrath. In most cases, the developer of the website is the one who is punished.
But there are a good number of online Websites that let you watch Live TV for Free without any legal complications. Almost all, non-legitimate sites do not broadcast the stream from their own servers but search web directories and openly available links to provide free streams.
Many online streaming websites on the internet are deceiving in nature, and they just try to inject malware into your device. The free broadcast of copyrighted content costs the entertainment media and film production industry billions of dollars. Production houses are raising their voices against all the unethical online content providers.
Illegitimate websites are potentially harmful and malicious for your system and data, as they are capable enough to harass privacy and collect sensitive information from your device. So, today I have come up with some of the best websites to watch Live TV online for Free and Paid without any copyright infringement issues*.
Free Live TV Streaming Sites
Here are the Best Free Live TV Sites to Stream and Watch Live TV Channels on any Supported Browser.
DaddyHD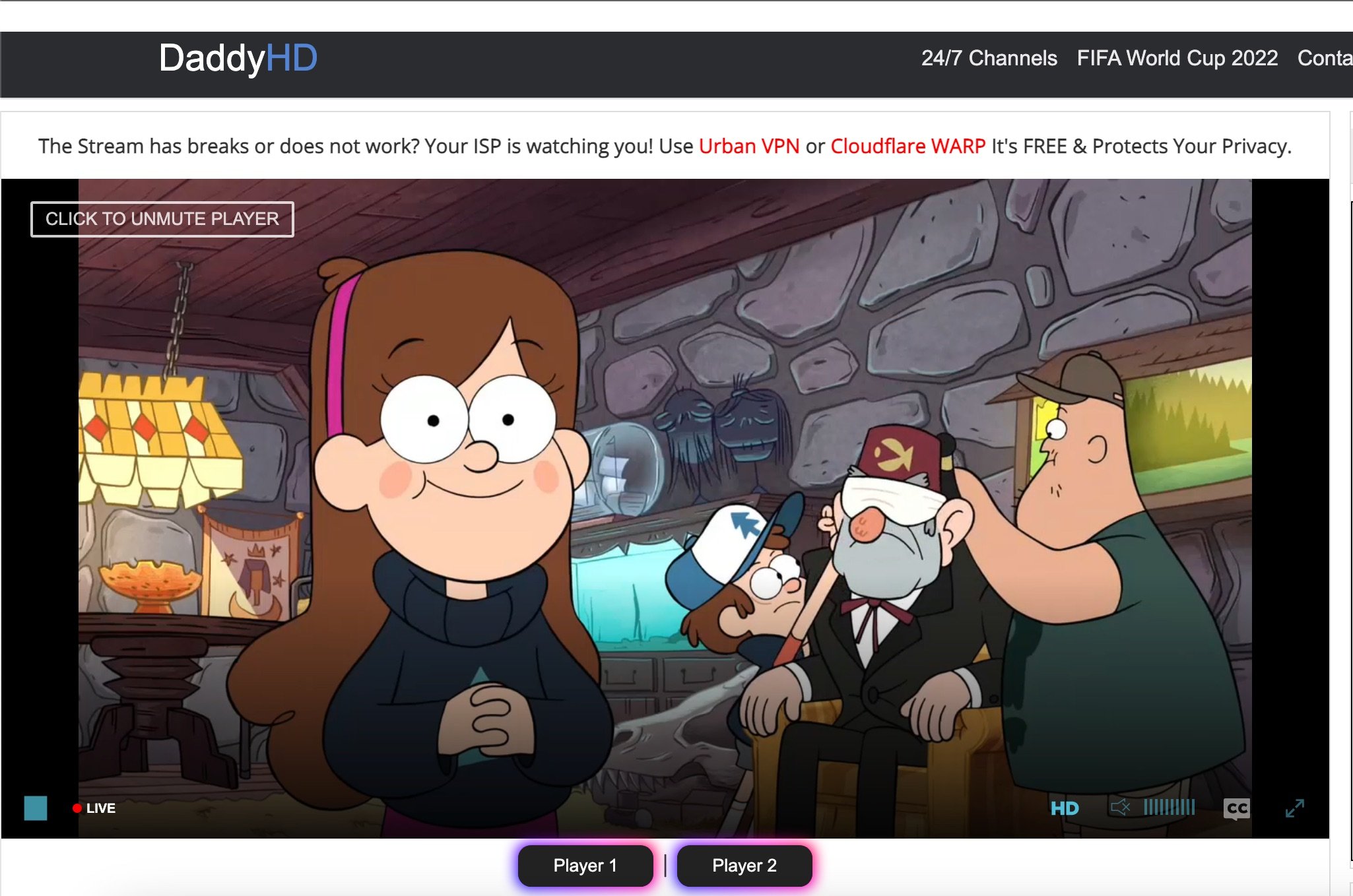 DaddyHD.com is the Best Live TV Streaming Site that offers over 120+ live tv channels and other sports programming from the USA and Canada. It is one of those streaming sites that offer free streams and can be dubbed as a premium chord cutter for all your streaming needs. The site of us to streaming links in case one of the streams is not working.
The best part about DaddyHD is that it's clutter-free and smooth with a clean interface. You are not bombarded with any ads like click Ads, pop-up ads, or third-party adverts, giving you an immaculate viewing experience.
TV247 US
If you want to watch Live TV from a US television program exclusively, then TV247 US is the site you would love. Unlike many other sites with clumsy UI and heavy Ads, the USTV is a very clean site with fewer or no Ads. The site offers over 80 premium live tv channels like Cartoon Network, ESPN, Fox Sports, NHL, NFL, Discovery, NGC, Nicktoons, History TV, ABC, Showtime, Science, NBC, TCM, CBS, CMT, Cinemax, CNN, Disney, HBO, and other popular channels.
Some of the streams may not work due to technical issues from the developer's end, but you can still watch most of the live sports and other TV stations like kids, movies, and other infotainment channels for free on TV247. Below is a small information guide on the service.
Note: The Popular USTVGO site is gone for good and its sister site USTV247.TV is also closed with the same error message "Sorry, we are Closed". The USTVGO Twitter account is also suspended. The discord server is also gone.
Free IPTV Player
This is the best option to watch live TV on your mobile. An IPTV can help you access live channels from across the globe for free. You can add *.m3u or *.m3u8 to IPTV and stream the live TV on your browser. Just look for online IPTV players or free IPTV player apps for your PC, like Kodi, VLC, Plex, etc. Simply paste the IPTV URL into the IPTV player and enjoy your live tv channels for free.
USTVGO Live
USTVGO is dead, but there is a mirror site named USTVGO Live that provides free access to live streams of various television channels. It includes popular channels from the US; though the number of channels is less, they still work fine. The website is not affiliated with the channels it streams, and the availability and quality of the streams may vary.
The channels include family entertainment, Movies, sports, and news. You can watch and stream for free over 80 channels on the website. Some of the popular channels that you can stream on USTVGO.Live include Bloomberg, Sundance East TV, Outside TV, Reelz Channel, VH1 Music, PBS Kids, AWE, etc.
Plex Live TV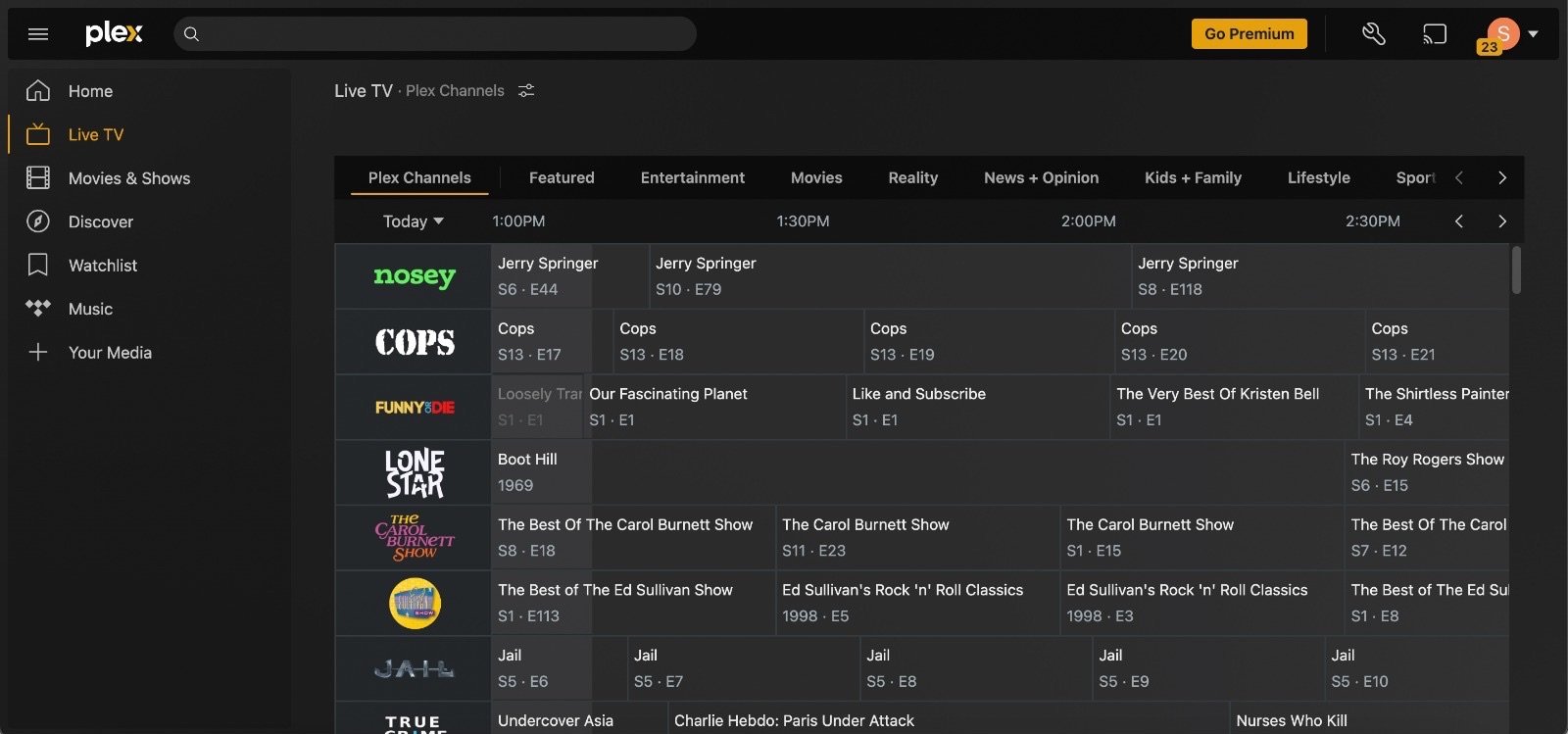 Plex is subscription-free streaming that brings over 600 channels of your favorite TV shows, free movies, and live TV straight to you. With over 300+ live TV channels, the ability to record your favorite shows, and the Chromecast cast support are definitely a treat for the users.
Along the same lines, you could also make use of its Picture-In-Picture Mode to multitask while watching your favorite shows. You can stream dozens of live TV channels for free through Plex from movies to sports, kids to entertainment; you don't even need a Plex server to get started.
StreamWink
StreamWink, formerly Wizler TV, is one of the cleanest live TV streaming services offering free live channels ranging from movies, kids, documentaries, infotainment, entertainment, and more. The video player is super simple and clean and looks like something can be a clutter-free YouTube player.
The site comes with a simple interface and TV guide to check what's playing now and the upcoming programming schedule. StreamWink is the best live tv streaming network for watching the USA live channels; check it out now.
YouTube TV

YT TV is an over-the-top content (OTT) streaming subscription service available in the United States.  It includes ABC, CBS, The CW, Fox, NBC, and other networks. The service offers Cloud DVR without DVR storage space limits. 6 YouTube TV accounts with individual login and DVR. The service offers more than 80 channels from the US, which can be directly streamed on a phone or PC without any cable box.
Sports – CBS RSN Channels, ESPN Network, FS, Golf Channel, MLB Network, NBA TV, NBCSN, NESN, Olympic Channel, Tennis Channel, etc.
Entertainment – AMC, BBC America, Bravo, Comet, Decades, E!, Freeform, FX, FXM, FXX, IFC, MyNetwork TV, Nat Geo, Nat Geo Wild, and many more.
News –  BBC News, Cheddar News, CNBC, CNN, Fox News, HLN, MSNBC.
Kids –  Cartoon Network, Disney, Universal Kids
FreeInterTV
FreeInterTV is a live tv streaming site that allows users to watch live channels from across the globe. The site interface has a fundamental interface and looks a little shaggy, but you can stream your favorite TV programs live using FreeInterTV. Not all streams will work, but any popular show or tv channel will work perfectly. If the service is not loading or the site is not working, use a VPN or proxy to bypass any ISP restriction.
TVPlayer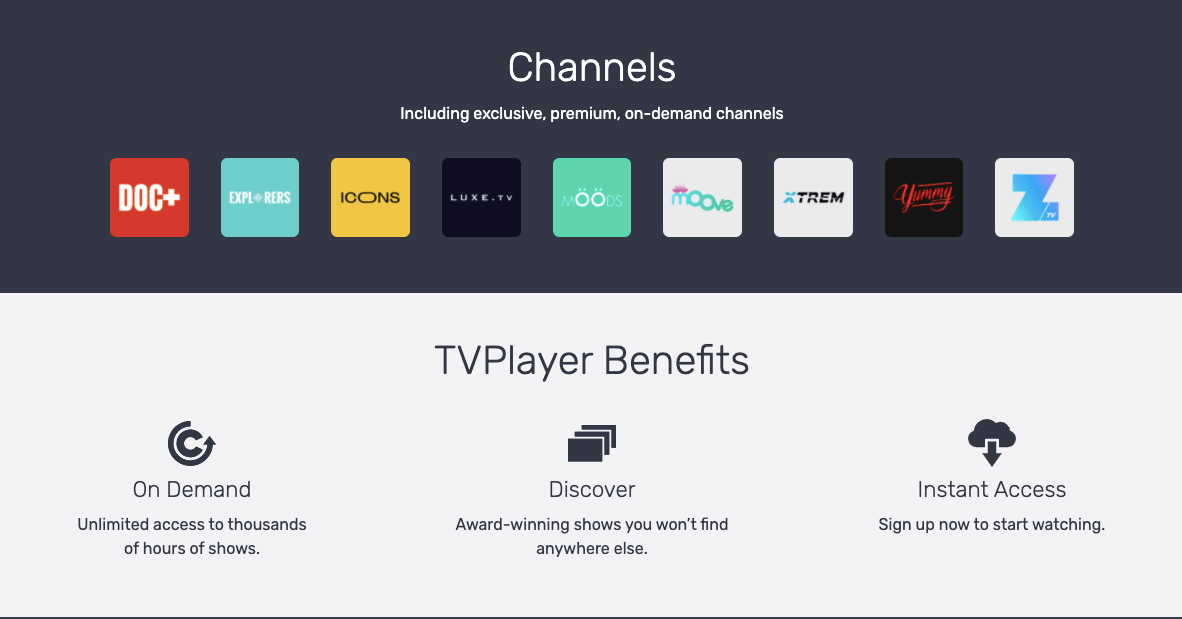 TV Player lets you watch over 80 Live TV channels on your for free on the Web or any Mobile App. Youaccessss to 60+ free channels, which you can watch with any pay. The premium version ($9/mo) of the App supports more demanded channels which can be accessed by paying some amount. Presently the service serves the UK market only, but the team is working on expanding the network to the US, Canada, and other European counties. You can enjoy live tv with catch-up and live recording features making it a well-crafted TV service.
Features of TVPlayer App:
Watch all the best UK channels.
Live and Catch Up TV
Record your favorite programs to watch at any time
Use your TVPlayer plus subscription on up to 5 devices at one time
Stream2Watch
Stream2Watch is a free live tv streaming website that hosts links from a number of resources on its platform. You can watch live tv channels from the UK, US, Canada, Italy, Russia, Spain, and more European CountThe site also has an option to switch to Sports Streaming Channels with a Click.
As the site hosts live Channels from unreliable sources, many of the streams may not work. But the site provides multiple links for a single stream. You may encounter aggressive Advertisements on the site. But this little pain is worth bearing given the number of Channels it Offers for Free without any Subscription or Account.
Copy stream2watch.watch  | Free
Sling TV

Sling TV is a pretty decent Live TV Streaming service available in the market. The ease of customization, number of channels, and just OK pricing make it a favorable platform for all the supported devices. Sling's Orange package is $15 per month for 31 channels. It has a good mix of basic sports, news, and entertainment Channels. The Blue package is $15 per month and consists of 45 channels. The Orange and Blue can be combined into one package for $25 a month.
DAZN

Dazn is a subscription-based video streaming service. The sports service offers live and on-demand streaming of events from various properties. Dazn is operative in Austria, Germany, Japan, Switzerland, Canada, the United States, Italy, Spain, and Brazil. It has digital rights for all major sports events to be broadcast in Austria, Germany, Japan, Canada, and Switzerland. You can enjoy UEFA, FIFA, La Liga, and other sporting events on the DAZN.
The service offers a 1-month free trial which you can cancel anytime. DAZN is compatible with TVs, smartphones, tablets, game consoles, and many other devices. To ensure the best viewing experience, use an internet-connected device that is compatible with streaming high-quality video.
Goods About DAZN
Legal and Free
Rights for all major events
HD Support
Multiple device support
Free Trial for 30 Days
DirecTV Now

DirecTV by AT&T is quickly gaining vast colossal subscriber base. These internet TV services with 150+ channels streams Live TV. With TunerMedia under its hood, you can expect more and more TV Channels along with a mammoth collection of the vast media library for access.
The service, along with living tv, also offers Movies and TV Shows. There is also an App that itself has some issues and bugs, which is actually making it very unlikely with respect to User Experience. But said that DirecTV hosts a powerful blend of entertainment, music, sports, news, and many more general channels pack a mighty full punch in the online content streaming industry.
Yupp TV
YuppTV is a great platform to watch Indian Content like Live TV, Shows, and Movies. The App is available in many counties which include the USA, UK, Australia, Malaysia, Middle East, Canada, Singapore, etc. The App has all the popular channels ranging from Entertainment to Movies. Yupp TV hosts a number of live TV Channels, which include national and regional Channels from India and are listed below. The premium channels cost $3.99/Month with some top TV Channels and Movies.
Hindi: Star Plus, Colors TV, Sony TV, Zee TV, UTV Movies, Star Bharat, Set Max, Zee Cinema, SAB, MTunes
Telugu: Gemini TV, Star Maa TV, Zee Telugu, ETV, NTV, TV5, ABN, Star Maa Movies, Star Maa Gold, ETV Plus
Tamil: Sun TV, Star Vijay, Jaya TV, Kaliagnar TV, Raj TV, Sirippoli TV, Puhtiya Thalaimurai, Seithigal, Thanthi TV, Chithiram TV
Malayalam: Asianet, Surya TV, Kiran, Asianet Plus, Jai Hind, Mathruboomi, Asianet News, Reporter, Kaumudy TV, India Vision
Kannada: Zee Kannada, Asianet Suvarna, ETV Kannada, Raj Music Kannada, Suvarna News, Janashri news, News9, Sri Sankara Kannada
Punjabi: PTC Punjabi, Zee Punjabi, PTC Chakde, 9X Tashan, PTC News, Alpha ETC Punjabi
Marathi: Star Pravah, Zee Marathi, Saam, 9x Jhakaas, ETV Marathi, Zee 24 Taas
Bengali: Star Jalsha, Zee Bengali, ETV Bengali, Rupashi Bangla, Planet M, Dhoom Music, Sangeet Bangla, Newstime Bangla
YuppTV offers 7 days free trial, following which it charges $6.99 for the first month and $3.99 per month thereafter.
Now TV
Now TV is a contract-free subscription-based internet TV service for the UK, Ireland, and Italy. It is owned by Sky plc. And hence, Now TV has all the TV Channels, Live Sports, Programs, and Movies owned by Sky Network. You can access Sky Network's Sports Channels, live sports channels, and other entertainment shows.
The service is paid, and you may need to pay £9. monthly, but there is a 14-day free trial. You can have Entertainment Pass, Kids Pass, and Movies Pass. You can access up to 10 Sports Channels. Now TV is available on 60+ devices, including consoles and Smart TVs. If you are serious about streaming sporting events, then you can try a 14-day free trial plan.
Features of Now TV
Live Sports Programming
No Contracts
 Support for 60+ Platfor14-DayDay Free Trial
Available only in the UK, Ireland, and Italy
Hulu

Hulu is a subscription-based online streaming platform, but you can opt out to pay and watch limited content for free which includes more than 150 movies and TV Shows. The services of Hulu Live TV started in 2017, prior to that, it just use to host a series of TV shows, both old and new, movies, and other infotainment programs.
It works as a hybrid of Sling TV and Netflix, offering both TV Shows as well as Live TV to its users. The content and presentation of the App vary with the cost; low prices will offer you content with Ads, while a high package offers Live TV with no Ads. Hulu TV Pricing starts at $7.99. Though you may find the cost on the higher side, I believe it's worth a buy.
Pluto TV
PlutoTV is a TV platform with over 100 TV Channels, a Number of Movies, and TV Shows which can be watched for free. TV generates revenue from video advertisements between programming. Apart from Live TV, they also have On-Demand Movies that you can select right away.
The content is directly licensed from the provider, and Pluto has partnered with over 80 distributors. You can also enjoy movies on Live TV Channels. Pluto TV is the best service offering both On-Demand Movies and Live TV. The TV has a dedicated App for all devices like Android, Roku, iOS, Apple TV, and more devices.
Goods About Pluto TV
On-Demand Free Movies
Live TV Movie Channels
Supports all devices
Bads About Pluto TV
Few Live TV Channels
Long Video Ads
Time4TV
Time4TV.net is an online platform that lets you watch channels worldwide. You can watch UK Channels, US, Sports Channels, News, and Hindi Channels all for free without any issues. Just search for the TV Station you are looking for you are good to go. The site is heaven for the sports lovers' channel.
You get access to 60+ sports channels which include Sky Network, BT Sports, Sony Network, Star Network, Fox Network, ESPN, MU TV, NFL Network, MLB Network, WWE Network, NBA TV, and more. Each channel is provided with multiple links in case any of the links fail to load. It is the best source to watch live  TV channels without any country restrictions and accounts.
The only thing annoying about the site is it offers aggressive pop-ups and intrusive Ads. But if you are comfortable dealing with it, then you are good to go. You may need a Proxy/VPN in case the site is not working in your country.
Offers: Live Live Channels from Around the World (UK, US, India, Football, Cricket, Canada, and more)
Copy Time4tv.stream | Free
Squid TV
SquidTV is a global streaming site that will simplify your search for live tv. The platform gathers all the available streams from across the globe, which are further classified according to county, language, and genre. Most of the streams are openly available legal streams from around the world. You can access the channel of any country on Squid TV if available. Squid will reduce your effort for channel search with its simple-to-use guide. The service will redirect you to the regional website or player to stream the content.
Disney+Hotstar

If you love Indian content, then Hotstar by 21st Century Fox (Now Disney) is the best choice. The service has a huge library of top Indian Dramas, Soap Operas, Movies, and TV Shows, making an excellent place of top-notch Indian content. As Hotstar has a number of international movies, it is launched in the USA and Canada by disseminating content libraries to avoid any infringement of digital rights.
The service is presently available for Android in the USA and will soon be released for iOS and Apple TV, but you can access it on the web by visiting us.hotstar.com. If you live in India, then you should definitely go with Hotstar. You can access all the Live TV Channels from Star India, which include Hindi, Telugu, movies, News, and Infotainment Channels like Nat Geo and much more.
Free TV
Free TV is an online free and legal streaming platform that curates all the free Live TV channels from around the globe. The site looks for all the openly available sources for Live Streaming on YouTube, respective websites, or other 3rd part sources. On Free TV, you won't get any premium channels. But if you are looking for a source to watch FTA channels without any account or subscription, then Free TV is the right choice.
You get all the genres of channels from Entertainment, Kids, News, Movies, Music, Sports, and more. You get channels from Africa, the US, Canada, the Indian Subcontinent, SEA, the Middle East, China, East Asia, Latin America, and European Countries. If you are looking for a free legal source of Live Streaming, then Free TV is best.
Goods About Free TV
Legal Source
FTA Channels from Around the Globe
All the Genres
Easy navigation
Very few Ads
Bads About Free TV
No Premium Channels
Links may be dead or not available
---
What If You Want to Save the Streaming Video for Offline View?
If you want to save the streaming video for offline viewing, you can use VideoProc Converter to record or download it. Please remember to fair use.
What is a VideoProc Converter?
VideoProc Converter is an all-in-one video toolkit that gathers downloader, recorder, converter, compressor, and editor in one go. With its help of it, you can save live streaming videos offline in seconds, with 1080P/4K quality. What's more, you can download audio, subtitle, M3U8, playlists, and channels quickly. It supports downloads from 1000+ sites and batch downloads of 999+ URLs.
How to Save the Streaming Video for Offline View?
Download and Install

VideoProc Converter

Run the Downloader feature
Copy the link of the streaming video to 'Downloader'
It will start to analyze and download it immediately
---
Data Security and Privacy Concerns
Free streaming websites, which are not legal content providers, are always critical due to data breaches and privacy invasion issues. The cyber rouges are always in search of innocent netizens who could fall prey. The use of free non-legal streaming services may also be a crime in your region due to litigations imposed by law. You may need a VPN in case the site is not working or is blocked.
The litigations vary from country to country, it also depends on the material being presented. Streaming copyrighted material that you don't own without permission or paying for it is illegal. But mostly, the governing bodies target the developers of the site.
What if the Site is Not Working?
If you find the site is not loading or is restricted, you can try a VPN or Proxy site to load the content. This will bypass any restrictions or network limitations if present and will let you access the site and content.
What is a VPN?
VPN is a type of online service that hides your data by sending your web usage to another secure location. It forms a secure tunnel to provide end-to-end protection. Therefore, your ISP will not know what you're up to. In other words, it sends your data to a 3rd party country, making it difficult for the service provider to determine the user's internet behavior. Also, you can access websites that are country-restricted by using proxy services.
Miscellaneous Details
If you wish to use the sites anonymously, then, you can try any VPN service like Hola VPN, which is available on the Chrome Store.
If any of the streams show any error or issues while loading, then you can also try proxy servers like VPN to stream the content.
If the site is not working or causing some issues, then I recommend you Clear the Data and cache of the Browser to fix it.
Conclusion: The post compiles some of the best websites to watch Live TV Channels, paid and free, without any account or subscription. Please comment below if you are facing issues accessing or using the link. Also, provide your valuable suggestions and thoughts in the form of comments in the section below.
The sites are legal to use, and you can use them without any privacy or data leak issues. Also, you are not bombarded with all the creepy Ads that you face while on 3rd party streaming sites. The services above are free to use and host a large number of a movie on their sites to watch.
If you've any thoughts on 15+ Best Sites to Stream and Watch Live TV | Free & Paid, then feel free to drop in below comment box. Also, please subscribe to our DigitBin YouTube channel for videos tutorials. Cheers!