USTVGO.TV is a Live TV Streaming Site that offers 80+ live channels for free. You do not need any subscription; just click on any channel on USTVGO that you wish to stream, and done. The video player is simple, and the buffer time is meager. Though the site is not a very legit streaming platform, it offers some premium live tv channels for free.
What is USTVGO?
If you want to watch Live TV from a US television program exclusively, then USTVGO is the site you would love. Unlike many other sites with clumsy UI and heavy Ads, the USTVGO is a very clean site with fewer or no Ads. The site offers over 80 premium live tv channels like Cartoon Network, ESPN, Fox Sports, Discovery, NGC, History, ABC, Showtime, Science, NBC, TCM, CBS, CMT, Cinemax, CNN, Disney, WWE Network, Fox, HBO, truTV and other popular channels.
The best part of the app is it offers a straightforward video player that loads quickly and offers a buffer-free stream with decent internet. USTVGO is a popular streaming platform for free streaming any live TV from the USA.
Note: USTVGO Shut Down. USTVGO is gone for good and its sister site USTV247.TV is also closed. The USTVGO Twitter account is also suspended. The discord server is also gone.
Features of USTVGO
Over 80+ Live Channels
Simple Video Player
No redirects or pop-ups
Smooth interface and easy navigation
Live Channels from all categories
Program Guide
Top Best USTVGO TV Alternatives
Here are the Best Free USTVGO Live TV Sites Alternative to Stream TV Channels from the USA
1. DaddyLiveHD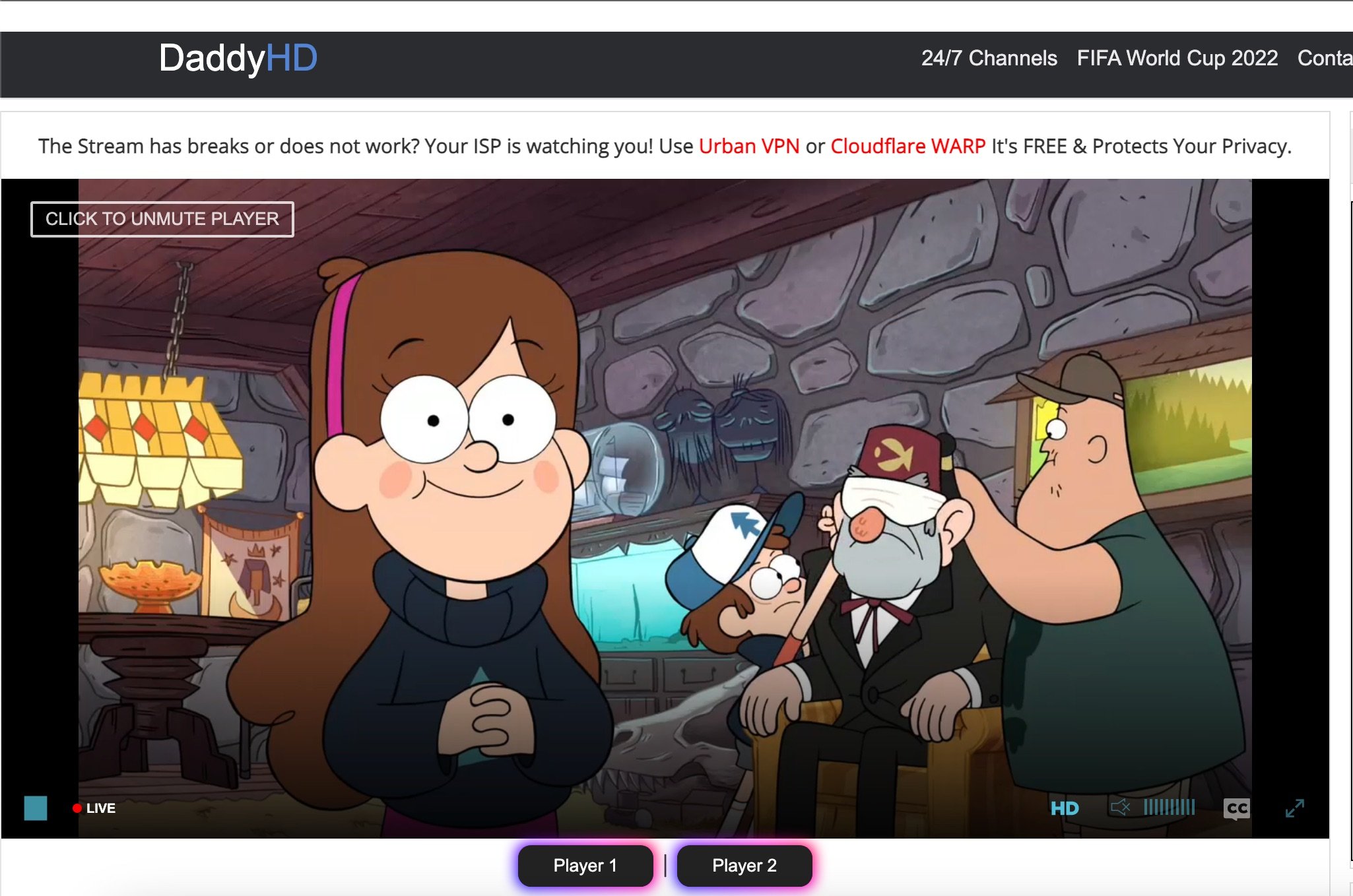 DaddyHD.com is the best USTVGO alternative, which offers over 120+ live tv channels and other sports programming from the USA and Canada. It is one streaming site that offers free streams and can be dubbed as a premium chord cutter for all your streaming needs. The site of us to streaming links in case one of the streams is not working.
The best part about DaddyHD is that it's clutter-free and smooth with a clean interface. You are not bombarded with any ads like click Ads, pop-up ads, or third-party adverts, giving you an excellent viewing experience.
2. TV247 US
TV247 US is a Live TV Streaming Site with a significant content focus on the USA. It is a mirror site to USTVGO and streams the channels from the same platform. TV247 hosts more than 80 tv channels for live streaming. Though the site is not a very legit streaming platform, it offers some premium live tv channels for free.
Some of the streams may not work due to technical issues from the developer's end, but you can still watch most of the live sports and other TV stations like kids, movies, and other infotainment channels for free on TV247.
3. USTVGO Live
USTVGO Live is a website that provides free access to live streams of various television channels. It includes popular channels from the US. The website is not affiliated with the channels it streams, and the availability and quality of the streams may vary.
The channels include family entertainment, Movies, sports, and news. You can watch and stream for free over 80 channels on the website. Some of the popular channels that you can stream on USTVGO.Live include Bloomberg, Sundance East TV, Outside TV, Reelz Channel, VH1 Music, PBS Kids, AWE, etc.
4. StreamWink
StreamWink, formerly Wizler TV, is one of the cleanest live tv streaming services offering free live channels ranging from movies, kids, documentaries, infotainment, entertainment, and more. The video player is super simple and clean and looks like something can be a clutter-free YouTube player.
The site has a simple interface and TV guide to check what's playing now and the upcoming programming schedule. StreamWink is the best live tv streaming network for watching the USA live channels; check it out now.
5. TVZinos
You will fall in love with the site. No Registration, No Stupid Ads, and No Pop-Ups. Simply choose the channel you wish to watch and click the play button. A smooth video player resembling YouTube will quickly play the desired channel. The site also offers the schedule of running and upcoming shows.
Most of the channels are from the US and UK, you get news, sports, entertainment, kids, movies, and other infotainment shows all for free without any bullshit ads and redirects. If you are seriously looking to stream live tv on your devices, then I strongly recommend Wizler TV.
6. UStream
UStream is a free live tv streaming site with over 200+ premium channels for sports, movies, entertainment, and more. Though the site offers some good channels with decent quality streams, the only issue you may face is pop-up and click Ads. Though an adblocker can do the job. But if the stream is not loading, then you can disable the ad blocker to check if the stream is loading.
The channels you get access to include; ESPN USA, Sky Sports, Disney Jr, Eurosports, BT Sport, TSN, NBA TV, NFL Network,  MU TV, and a number of other Sports Channels and general entertainment channels, and more.
7. Sling TV

Sling TV is a pretty decent Live TV Streaming service available in the market. The ease of customization, number of channels, and just OK pricing make it a favorable platform for all the supported devices. Sling's Orange package is $40 per month for 31 channels. It has a good mix of primary sports, news, and entertainment Channels. The Blue package is $40 per month and consists of 45 channels, but the channels are different. The Orange and Blue can be combined into one package for $55 a month.
8. DirecTV Now

DirecTV by AT&T is quickly gaining a huge subscriber base. These internet TV services with 150+ channels streams Live TV. With TunerMedia under its hood, you can expect more TV Channels and a mammoth collection of the vast media library for access.
The service and living tv also offer movies and TV Shows. There is also an App that has some issues and bugs, which makes it very unlikely concerning User Experience. But DirecTV hosts a powerful blend of entertainment, music, sports, news, and many more general channels packing a mighty punch in the online content streaming industry.
9. FreeInterTV
FreeInterTV is a live tv streaming site that allows users to watch live channels from across the globe. The site interface has a fundamental interface and looks a little shaggy, but you can stream your favorite TV programs live using FreeInterTV. Not all streams will work, but any popular show or tv channel will work perfectly. If the service is not loading or the site is not working, use a VPN or proxy to bypass any ISP restriction.
The channels, as already mentioned, range from family entertainment, Movies, sports, and news channels. You can watch and stream for free, over 90 channels on the website. Some popular channels you can stream on 123tvnow include ESPN, Fox Sports Channels, NBC Sports Network, Nick, Comedy Central, NBA TV, NFL TV, TBS, TNT, USA Network, WWE Network, etc.
Conclusion: With these free USTVGO TV alternatives, enjoy live streams on your mobile or PC to watch TV Channels from the USA
If you've any thoughts on 8 Best Sites Like USTVGO.TV Live Streaming Sites, then feel free to drop in below comment box. Also, please subscribe to our DigitBin YouTube channel for videos tutorials. Cheers!