There are quite a few reasons why one would prefer to stream torrent files without directly downloading them onto their PC. For example, there's always a concern that Torrent files might contain potentially harmful programs such as malware or virus. Well, you could now bid adieu to this concern as the file wouldn't be allowed to make a permanent abode on your PC.
Likewise in some instances, you might not be really sure of a movie or series that you need to get hold of. But by directly streaming it online, you would get a perfect idea as to whether it was the same file that you were looking for or not. You could then decide accordingly whether it needs to be downloaded or skipped.
Talking about downloads, you might get bugged with the slow download speed when leechers tend to outweigh the seeders. In those cases, the torrent streaming service will again come to your rescue. All in all, the reasons to carry out the aforementioned task are quite a few ones, and so are the options. So without further ado, let's check out some of the best ones that we have in our hands.
How to Stream Torrent Videos Online?
Here are the Best Apps and Methods to Stream and Watch Torrent Files on your Windows PC without Downloading the Magnet File
Web Torrent
This open-source torrent streamer comes with a plethora of useful features. To begin with, you could access its source code in GitHub and hence double-check that there are no hidden trackers or malicious codes. Coming to its feature side, it makes use of the prioritized segment stream. This means that even if it isn't able to load the required segment, then it moves over to the next frame to load, thereby minimizing the buffer time.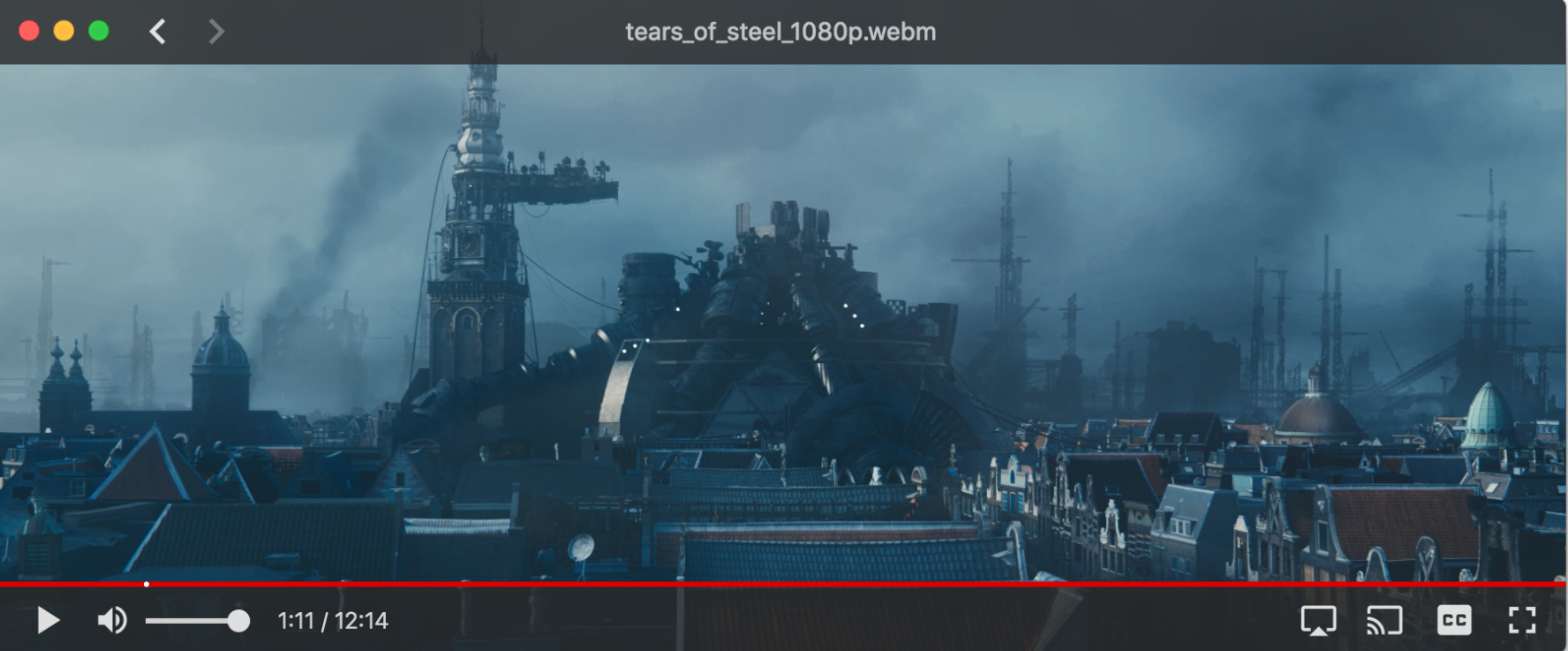 Likewise, there's also the option to stream your videos to AirPlay or Google's Chromecast. The fact that it supports WebTorrent protocol makes it compatible with most of the popular web browsers. The only downside is that it's still in a beta stage, so you might witness a few ups and downs. With that said, it's the only entry in this list that has support for Mac and Ubuntu as well (apart from Windows). So it gets a thumbs up from our side for its cross-device support.
Download Web Torrent: Mac | Ubuntu | Windows
Soda Player
The biggest plus point of using this torrent streaming service is the fact that it uses the SOCKS5 proxy. This straightaway translates to dual benefit: you will be able to bypass the maximum throttling limit set up by your ISP and your Privacy stands secure from other peers. Since you are using a Proxy, you could easily access the geo-restricted contents as well.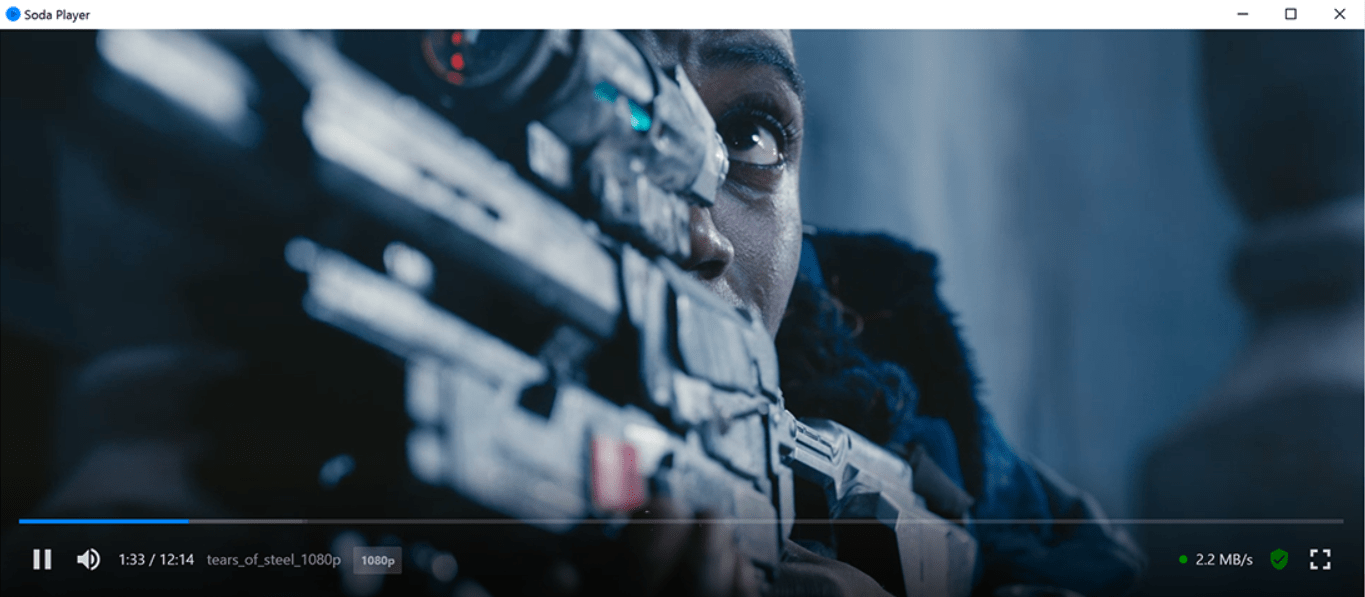 Talking about contents, it supports HEVC/H.265, AC-3, DTS, WebM codecs. Likewise, you could also stream videos up to 4K (if your display supports it). Another pretty nifty feature that we got hold of is its ability to automatically grab the subtitles from OpenSubtitles if the torrent file you loaded doesn't have one.
Download: Soda Player
WatchTorrent
While the above two in this list require you to download a standalone app, that's not the case with this entry. Just copy the Magnet URL (right-click on the Magnet Download button on the torrent site of your choice and select Copy Link, the copied link will be something along the lines of magnet:?xt=urn:btih:), paste it in the space provided and click Start Stream.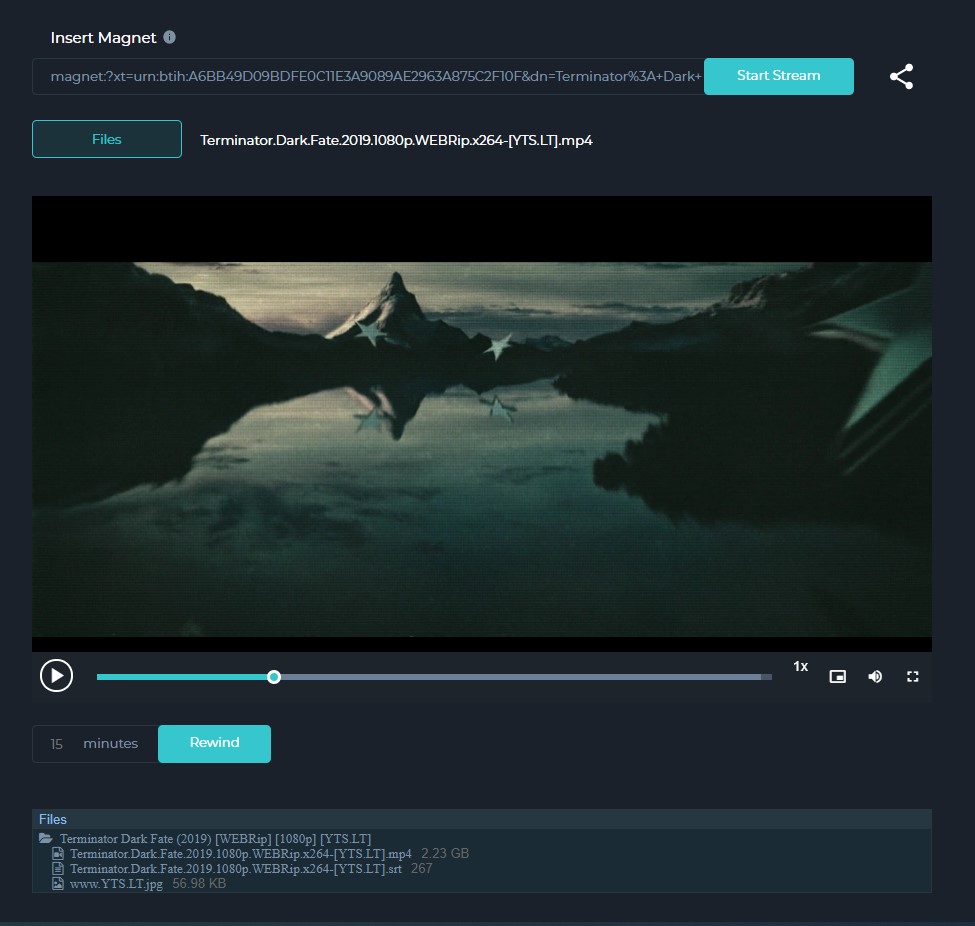 Shifting our focus towards its features, it comes with a file explorer that lists out all the associated files of that torrent. You could also increase or decrease the playback speed, fast-forward a particular time frame(default is set to 15), or rewind the clip.
Visit: WatchTorrent
Webtor.io
Another decent torrent streaming site, it beholds two different options of viewing your video. These include the option of copy-pasting the magnet URI or loading the downloaded .torrent file from your PC. Apart from streams, it also comes with the option of downloading the torrent file in a ZIP format. This would not only save the storage space but also consumes less bandwidth in case you prefer to download the files.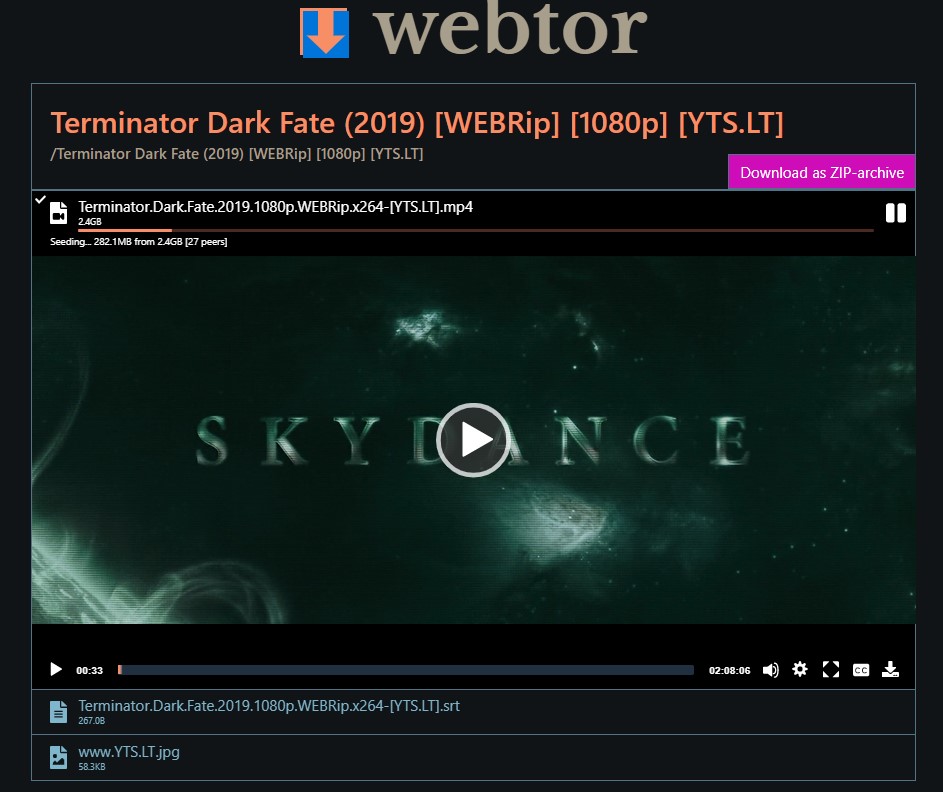 It also has a Chrome extension, so if you are using a Chromium browser, then this integration shall streamline the torrent streaming capabilities. Furthermore, its auto-generated captions feature works out much better than expected. However, in our testing, it turned out to be a tad slower as compared with WatchTorrent (keeping all the other yardstick the same).
Visit: Webtor.io | Download: Chrome Extension
Rox Player
This popular media player comes with a built-in torrent streamer. Be it the .torrent files, magnet links, or the direct download link of the file, it could easily fetch the required information from any of these sources. As far as its usage instructions go, you just need to click on the Magnet Torrent link and select this player when the browser prompts appear. Or you could download the .torrent file and manually load it to this player as well.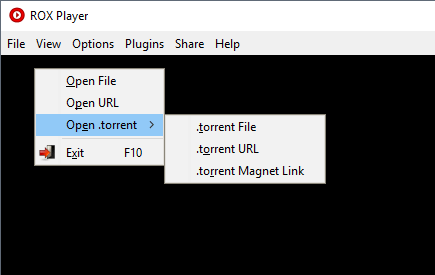 There aren't many media players that come with this support, so it manages to stand out in this domain. However, there is a major drawback- it doesn't support Windows 10. Since a majority of users have already adopted the latest Windows build, not many would be able to give this media player a shot.
Download: Rox Player
Magnet Player
One of the most minimalist entries in this, it comes with a clean and easy to navigate user interface. And don't get confused with its name, it's a streaming site and not a standalone player. With that said, it accepts the magnet URI, the .torrent file, the URL of the file, or even the info hash string, something that not others could claim of. Making use of the WebRTC, it gets easily incorporated with many web browsers.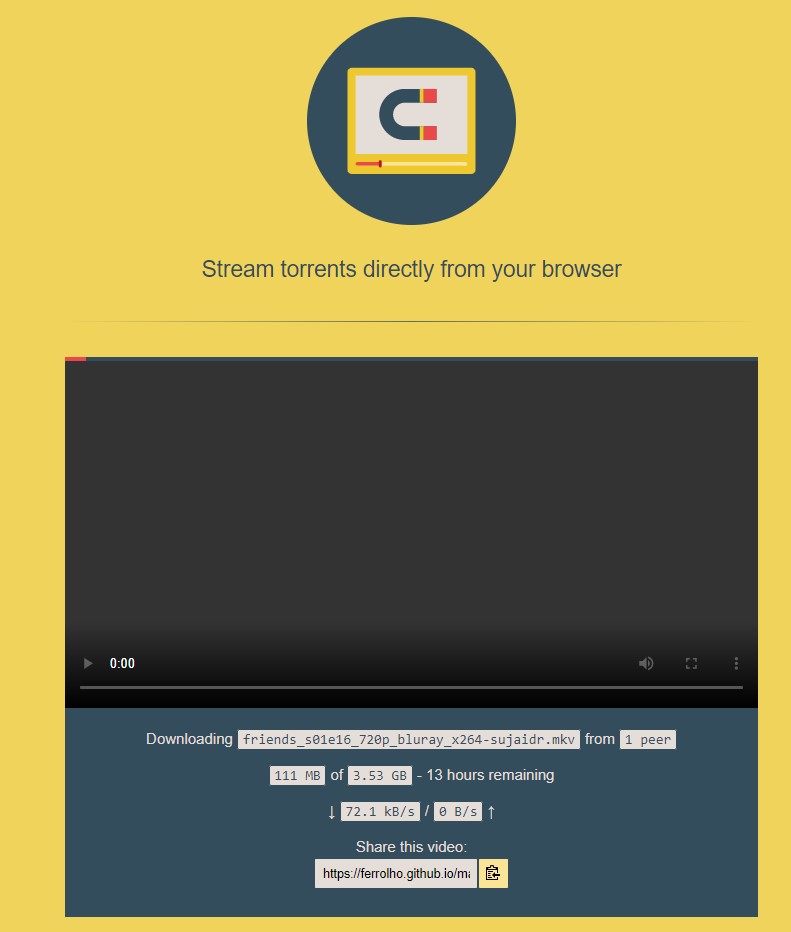 However, the number of WebRTC-capable torrent clients is quite limited in numbers (with Web Torrent being the most popular ones). Since a large chunk of clients still uses the TCP/UDP (such as BitTorrent and μTorrent), the number of torrents that you could stream as of now is limited. But being open source in nature, it has active support and development going on at GitHub, so you could expect more clients to be added soon.
Visit: Magnet Player
Torch Browser
Part of the Chromium source engine, this browser comes with a baked-in Torrent Downloader and a Streamer. And it is the latter one that we are going to talk about here. To try out this feature, launch the browser and click on the Green download button situated right of the address bar. This shall bring up the Add Torrent dialog box.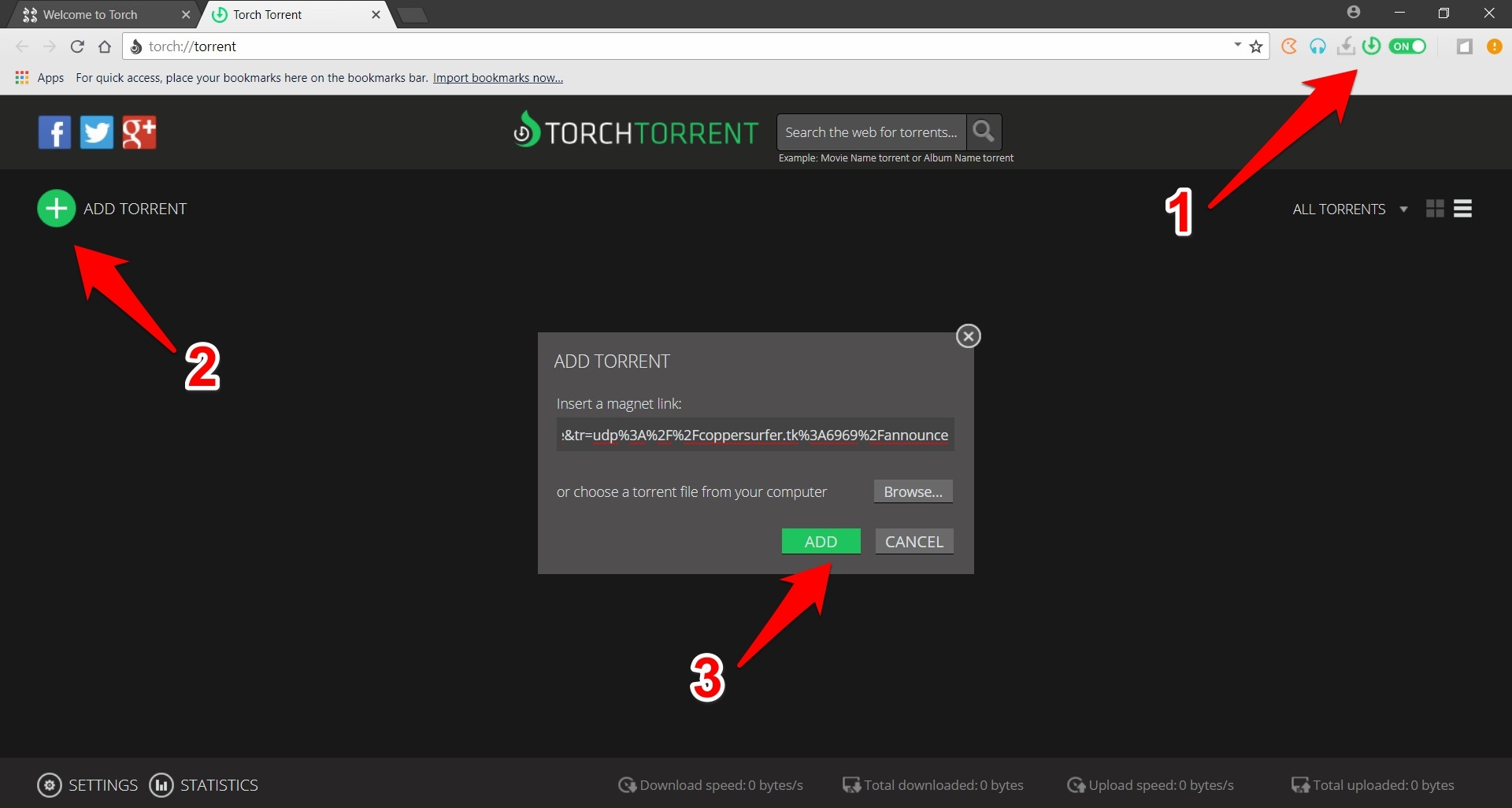 Just copy-paste the magnet link and hit Add. You should now see a thumbnail of the associated torrent file, click on its Play button and the video shall start streaming. Do keep in mind that by default, you will only be able to stream the torrent file once it has downloaded 3%. If you wish to change this, go to Settings and input the desired value under "Enable playing files when downloaded (%):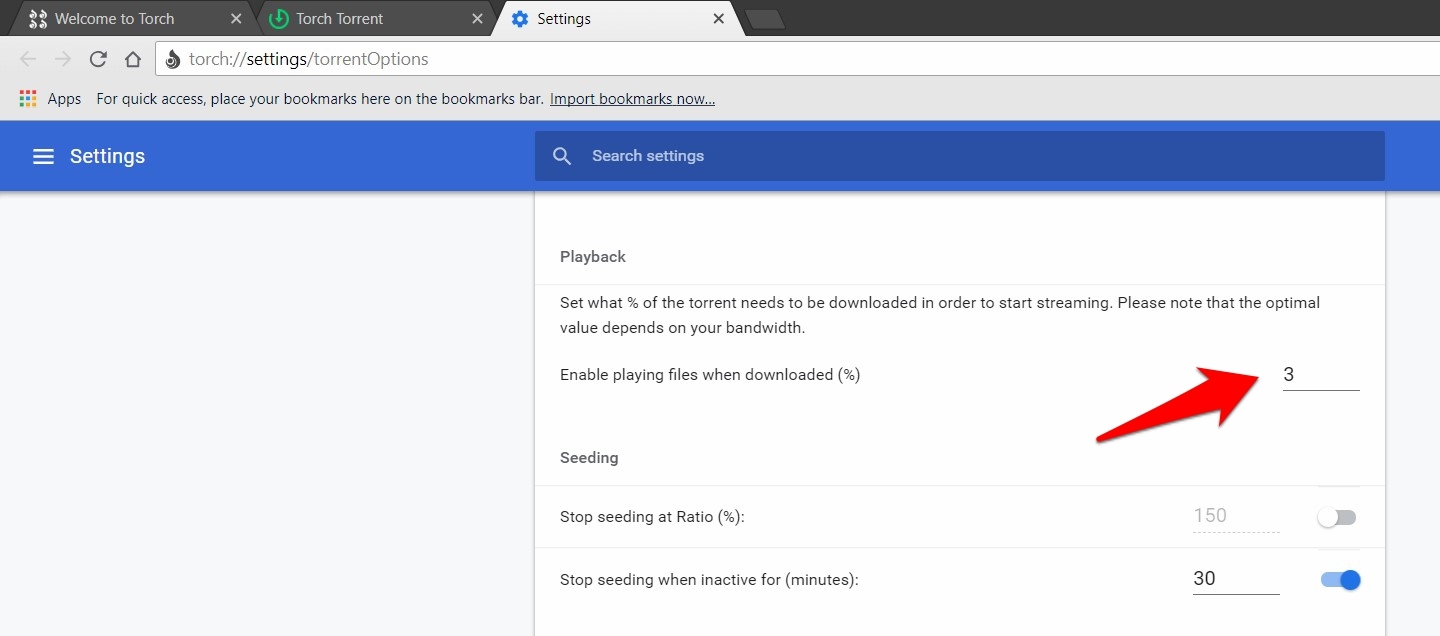 If there's more than one video, then you will have to right-click on the thumbnail, select the desired video, and then hit the Play button. On the flip side though, it has still some way to go before being called a full-fledged browser. So you cannot count it as a Chrome/Firefox alternative yet, but its torrent streaming functionality is something to look forward to.
Download: Torch Browser
Conclusion
So this was all from this guide on how to stream torrent files without downloading them onto your Windows PC. We have listed seven entries from varied domains, ranging from a standalone app to Chrome extension and even a web browser. Do let us know in the comments section which one managed to checkmark all the prerequisites in your case.
If you've any thoughts on Stream Torrent Videos Online without Downloading on PC, then feel free to drop in below comment box. Also, please subscribe to our DigitBin YouTube channel for videos tutorials. Cheers!