When it comes to the most popular web browser, Google Chrome is undoubtedly the world leader with over 50% of market share. A decade ago Microsoft's Internet Explorer was the most popular browser but with the release of Chrome and its ease of use, the Internet Explorer became a mockery and it slowly got limited to official use.
But with the release of Windows 10, Microsoft launched its new web browser revamping the browser with number enhancements and improvements to release a completely new browser package. However, early released Microsoft Edge was also not able to compete with the giant Google Chrome, chrome caught its claws in the market very tightly, a year ago 67% of market share was of Google Chrome.
Microsoft Edge was far better than the old gun Internet Explorer and that what the only reason some customers were jumping of the Chrome to ship onto Edge, liking its smooth functioning and better power management features, but still, after a few years of struggle and continuous changes, Microsoft Edge wasn't standing up to the company's hope.
Major reasons could be that Microsoft Edge was not as rich in extension as Google Chrome was. Other reason would be its lack of compatibility across various platforms, poor loading speeds and fewer features compared to Chrome. Microsoft Edge wasn't compatible with many websites, as Google has a monopoly over how sites should be to rank in the google search engine, and these lead to less popularity and fewer customers.
Finally, Microsoft made a huge change and announced it will run on Chromium and a New Edge Browser was born. Google Chrome also uses the same open-source Chromium Project. And with this enhancement and change, Microsoft Edge is trying hard to gain its prominence in the browser market.
In this article, we will discuss each and every aspect of Microsoft Edge and Google Chrome, we will compare both web browsers on the basis of various characteristics, and at last, we will try to find which browser is best on the basis of each individual factor.
Introduction
Microsoft Edge
Microsoft Edge was originally developed and published by Microsoft, Inc. for Windows 10 operating system and Xbox One. It was launched in the year 2015 with the release of Windows 10 and later the browser was launched for Android and iOS in 2017 and for macOS in 2019.
Microsoft Edge originally built with Microsoft's browser engine EdgeHTML and their Chakra JavaScript Engine, later in 2019 Edge was rebuilt on Blink and v8 engine and Chromium-based browser, and the latest upgraded version of Microsoft Edge was released on Jan 15, 2020
Google Chrome
Google Chrome is a cross-platform (that is implemented and used on multiple computing platforms) web browser developed by the tech giant Google. It was first launched in the year 2008 for Microsoft Windows XP and later it was released for Linux, macOS, Android, and iOS too.
Originally, most of the codes are taken from Google's open-source Chromium project and designed with a WebKit rendering engine, but ultimately Google forked it and created the Blink engine, now every Chrome variant uses Blink engine except the one on iOS.
Real Usage Comparision
Both the Softwares are tested on Macbook with the latest version at the time of writing. (Results may vary on different systems)
The Browsers were opened after the system restart to check there start time.
Strat-Up Time
Chrome Start-Up Time – 1.12 Sec
Edge Start-Up Time – 1.15 Sec
Web Rendering Time
We loaded AndroidAuthority on both the sites without any use of Extensions and noted;
Chrome – 4.2 Sec
Edge – 4.1 Sec
Conclusion: As both, the browsers are using the same browser engine Blink. The speeds are very much congruent.
Default Settings
Microsoft Edge
Microsoft Edge's default settings include Bing as a default search engine, also Microsoft News powered by Bing will appear at the homepage. For casting Microsoft Edge uses Miracast or DLNA protocol. DLNA protocol is compatible with more number of devices for screencasting.
Google Chrome
Google Chrome's default settings include Google as a search engine, and on the home page, you will have quick access to Gmail and other Google's products. Google Chrome uses Chromecast for screencasting purposes.
Conclusion: All other default settings are fine and identical. But when it comes to casting, Chrome lacks behind Microsoft Edge, because Chrome only supports Chromecast while Microsoft Edge supports Miracast, and hence Microsoft Edge will be much more compatible for screencasting with other devices, including smartphones, etc.
Features
Microsoft Edge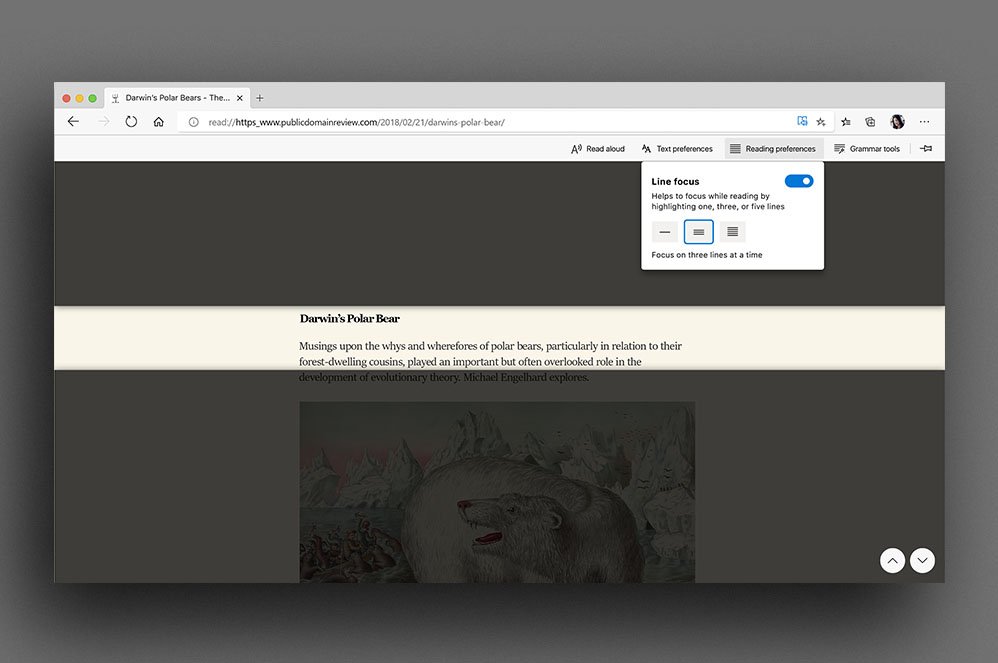 After updating to Chromium source code Microsoft Edge started supporting all the extensions supported by Google Chrome. Also, it has some other smart features, like reading mode and comes up with excellent voice support, if you are reading or viewing any document over Microsoft Edge, you can use "Read Aloud" feature to listen what has been written, this feature works excellently with the English language but might show some terrible results with other languages.
Also, you can choose "Text Preference", with this feature you can change text size and even it offers several themes for the page. You can use Grammar Tools for checking the grammar. Microsoft Edge also offers a number of customization options, you can enable "Dark Mode" in the Web browser settings. With all these features Microsoft Edge is surely taking a spotlight in the browser industry.
Google Chrome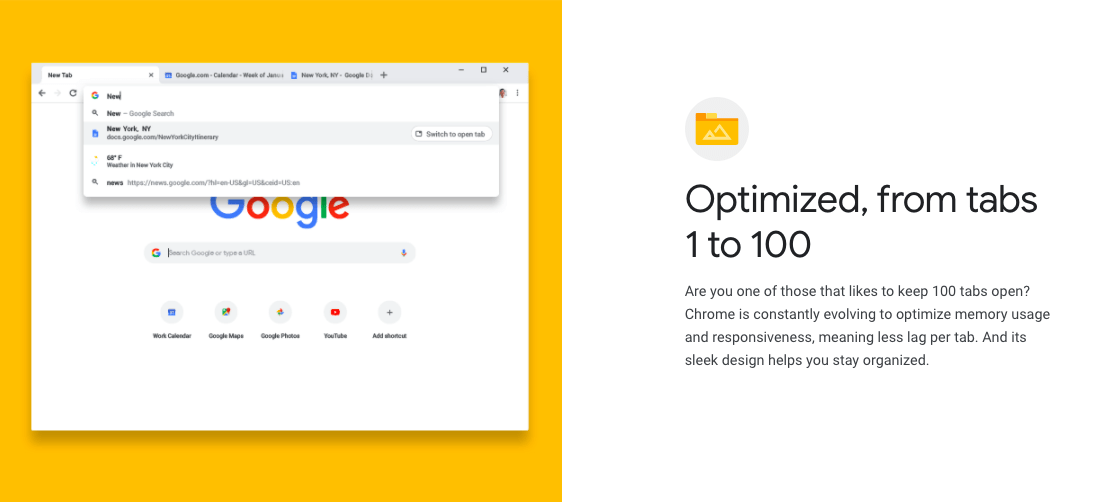 When it comes to the features of Google Chrome, it is among the fastest web browser, it offers a lot of customization options. You can go to Chrome web store for trying different themes and using extensions available for chrome to enhance the web browser. It also offers Chrome Flags which are experimental settings to add some extra features to your Browser. Also, with Chrome, you can use all other Google products. You can view and check notifications from the other Google apps thanks to cross-platform support.
Conclusion: If it's about features, both browsers are best at their own pace, I simply can't refer to any one of them on my preferences, you can choose your browser according to the features you need the most.
User Interface
Microsoft Edge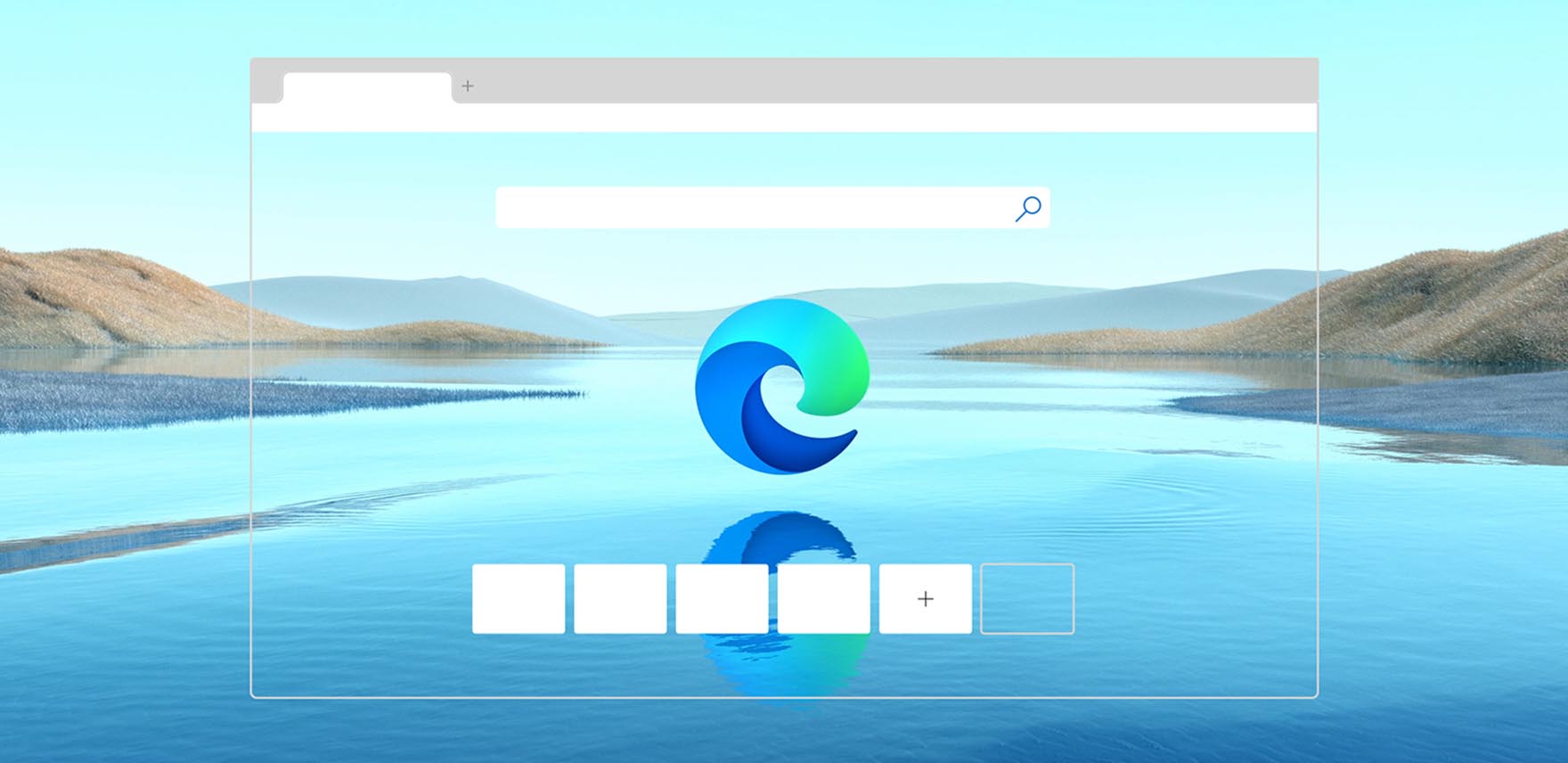 Microsoft Edge now comes with a completely different look, it has bing as a default search engine and its background is updated with bing daily wallpaper, you will see the most visited websites in a series, and it is integrated with Microsoft news. It has a completely new designed User Interface which is clean and neat which you can even customize.
Google Chrome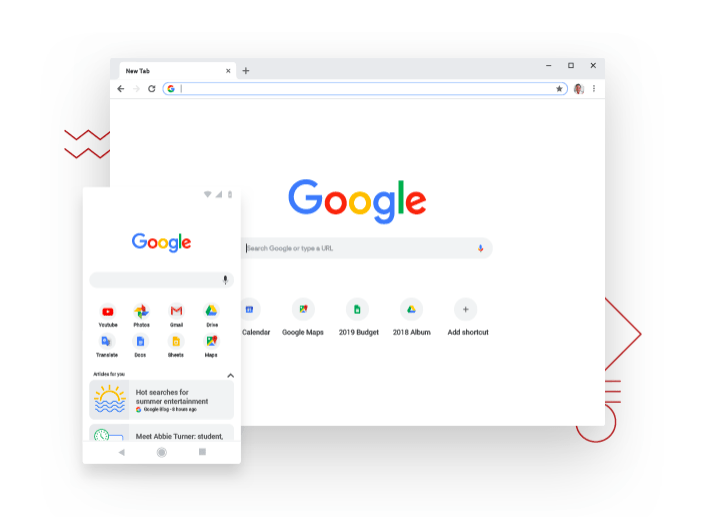 Google has its old and quite a simple homepage, which has Google as a default search engine with all the most visited websites at the bottom in the form of featured buttons. Moreover, you can customize it too and access all other Google products from the homepage.
Conclusion: In the case of UI, Microsoft edge offers a very much interactive and beautifully laid out homepage as compared to Google Chrome, I will prefer using Microsoft edge if it is about user interface because Microsoft edge offers a user-friendly and well-designed UI. If we are talking about scrolling smoothness I will prefer Microsoft Edge over Google Chrome.
Performance
Microsoft Edge
Microsoft Edge has to face a lot of struggle and customer resist before being launched with Chromium version. Now with the newest version, Microsoft edge comes with numerous features and functionalities. With the new version and certain enhancements, Microsoft Edge offers world-class performance and compatibility with all the websites, also you will experience a huge difference in the speed of the browser, earlier Microsoft edge was a little slow compared to Google Chrome, but thanks to Blink Engine now it has good loading speed.
Google Chrome
Google Chrome is already optimised with Blink Engine and was launched with Chromium and all of us familiar with its features and working. Whenever it comes to the performance of Google Chrome it is always considered as one of the best browsers. It offers various extensions to make your browsing easy and more productive.
We opened a 10 tabs with different pages fully loaded and noted that Chrome has conusmed 1200 MB of Space While Microsoft just 628 MB.
Conclusion: Since, both Chrome and Edge working up on same source codes, so there is not much difference between the performance of both the browser, but if we have to choose one among both, I will prefer Microsoft edge as it uses less of computer's resources, which Chrome is very notorious for hogging. Response and load time of both the browser shows identical results.
Synchronization
Microsoft Edge
In synchronization, Microsoft Edge may be lacking because you can't sync all of your data including bookmarks, history in the Microsoft Edge from google account, but yes you can sync all your data using Microsoft account.
Google Chrome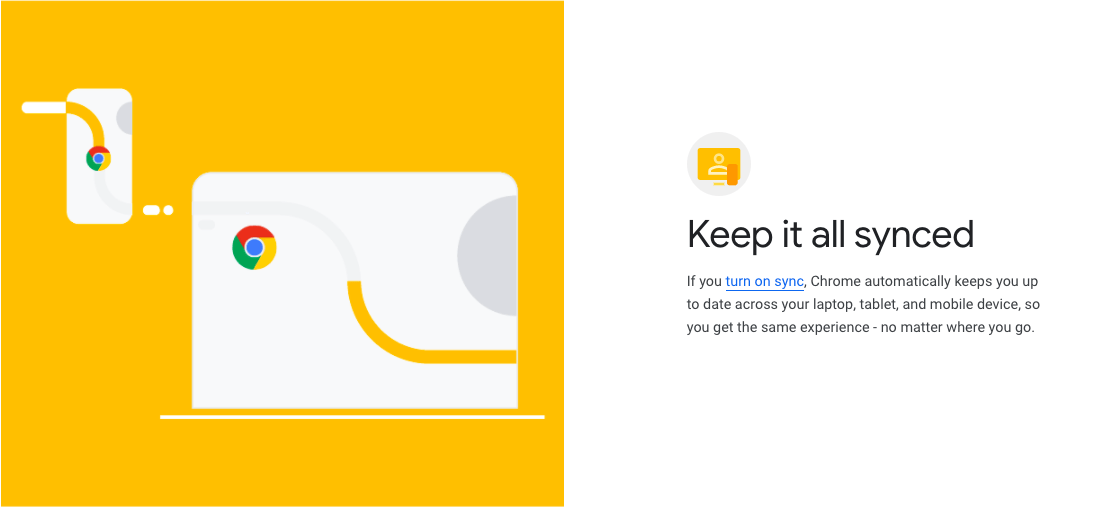 Google Chrome is best in case if you wish to synchronize all your browser data, you can sync all of your history, bookmarks, extensions, open tabs, and many more things at one place.
Conclusion: There is not much to conclude over this point, because it is clearly mentioned that Microsoft Edge is lagging behind Chrome in case of synchronization, as everyone uses Google account for most of their work, so if you need to sync all of your data across browser devices than you should prefer Google Chrome. But, if you prefer a Microsoft's account then you can sync all the data without any hassle with Microsoft edge.
Disk Space Usage
Microsoft Edge 
In terms of Disk Usage, on I Windows system, after I have cleared all the cache, Microsoft Edge took 319 MB.
Google Chrome
At the same time, I checked chrome for occupying the disk space it was talking about 440 MB, which is much more than other browsers.
Conclusion: Many testes showed that it is good to prefer Microsoft Edge for saving your disk space because Chrome eats too much RAM and due to this a sudden drop can be seen in the overall system performance. Chrome is considered a bulky web browser.
Extensions
Microsoft Edge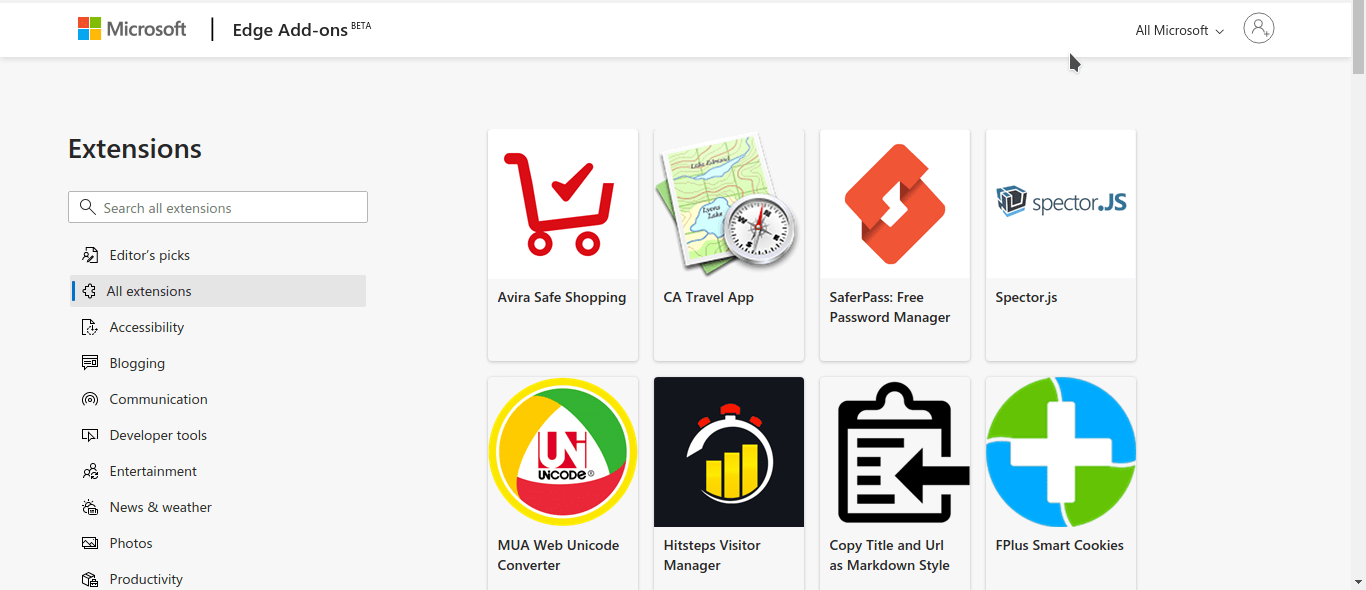 Microsoft Edge with the new update offers various popular extensions under its own Addon Store; AdBlock, Amazon Assistant, Ghostery, Honey, Microsoft Personal Assistant, LastPass for Microsoft Edge, and more than hundreds of extensions are available in Edge Add-On Store.
Microsoft Edge also supports all of Chrome's extensions available at Chrome web store. So that means you can use extensions from both Microsoft Edge store and Chrome web store.
Google Chrome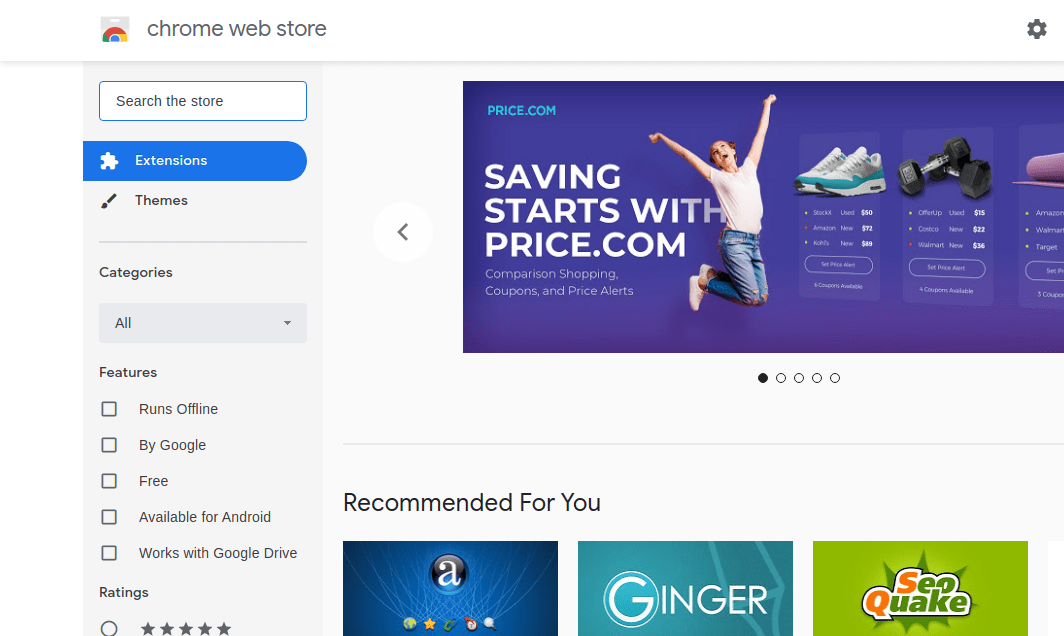 Google Chrome offers various extensions to add more features into your browser, you can easily find them from Chrome Web Store and add them to chrome. You get all genres of extensions ranging from video assistant tools to productivity, from writing tools to professional support plugins on Chrome Store.
Conclusion: Now, here with the new Microsoft Edge it offers a lot more than other browsers do, you can have extensions from both Microsoft Store and also from Chrome Web Store. Microsoft Edge holds a little upper hand over Chrome.
Security
Microsoft Edge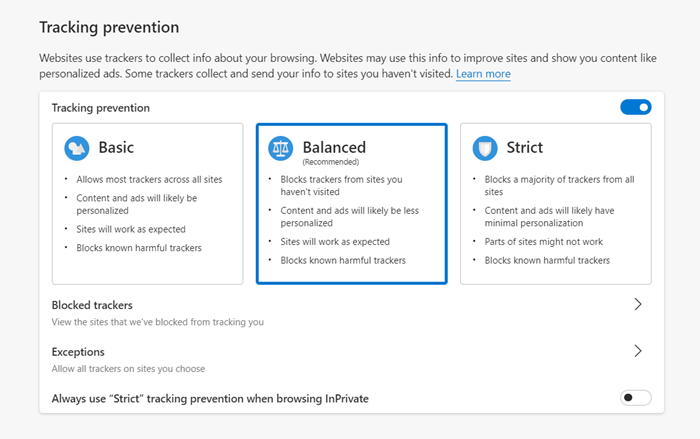 Microsoft Edge is working way ahead in terms of Security, the browser is based on open-source Chromium code and Chromium get updates in every 6-8 months but still, Microsoft added a tracking prevention option this will keep you, safe from trackers, you can enable it in simple steps,
Go to Settings of your browser.
Go to Privacy and Services
Switch the option ON and set it to balanced mode.
By doing this, the trackers will be blocked from the sites you visit.
Also, Microsoft edge consists of a SmartScreen system, which displays when you enter any website using HTTP service rather than secure HTTPS.
With InPrivate mode in the new Microsoft Edge, your browsing history and searches are not attributed, giving you greater control over your data.
Microsoft has replaced and improved more than fifty of Google's services from the Chromium code, they enhanced security measures and included some more features into it, they include ad blocking, Google Now, Google Cloud Messaging, Services related to Chrome operating system. Microsoft is providing its complete set and trying to replace Google's services.
Google Chrome

As mentioned earlier, Google Chrome is completely based on Chromium browser code, and the Chromium browser gets an update every 6-8 months. Google updates all the new features quickly, and hence Chrome doesn't offer any other security service.
Chrome also provides a warning when we enter into the website using HTTP rather than HTTPS. However, it is not as effective as Microsoft's SmartScreen system.
Conclusion: If you are a programmer or someone whose most of the time passes out in surfing through the internet, visiting on different websites, so prefer Microsoft edge to prevent yourself from anonymous websites and trackers. It's certainly worth trying the new Edge if you are more concerned for your Privacy and Security.
Password management
Microsoft Edge
Microsoft Edge provides an excellent password management system inside the browser. Anyone can access the password by going to the Settings → Profile → Password Menu. Microsoft also provides a dedicated password manager with the Office 365 subscription.
Google Chrome
Google Chrome offers a very amazing password management service within the browser. The feature is known as Chrome password Manager, which offers auto-fill password to the corresponding email. If you have a Google account on your Android smartphone, so it will sync all the data including history, bookmarks, and passwords too, it provides strong password suggestions wherever needed.
Conclusion:  For Password management, Google Chrome will be considered over any other web browser including Microsoft Edge. Google Chrome provides a much better password management facility to its users. As it syncs across various platforms.
Compatibility
Microsoft Edge
Microsoft Edge is compatible with Windows, macOS, iOS, and Android. Maybe it will be available for the Linux operating system in late 2020.
Google Chrome
Google Chrome is compatible with most of the operating systems including Windows, macOS, Linux, iOS and Android.
Some Benchmarking Test Result
After comparing both browsers based on some individual property, we have some benchmark results to have an overall comparison between both browsers and know which browser is best.
Jetstream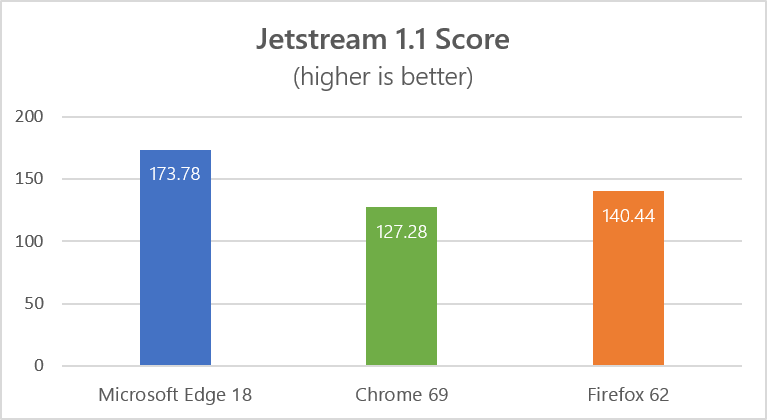 Futuremark  Peacekeeper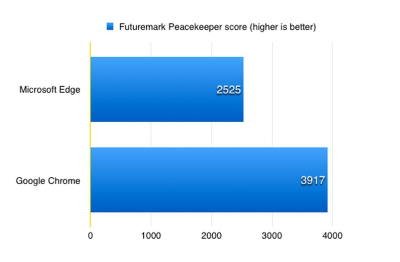 Octane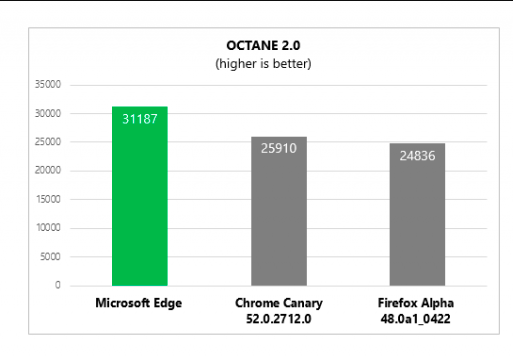 SunSpider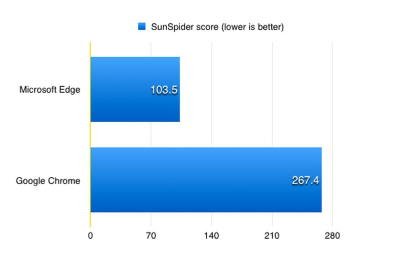 Final Verdict
We compared Microsoft Edge and Google Chrome comprising across all major point. But it's tough to prefer one over another, both the web browsers are best at their own place, Google Chrome is the fast, accessible and mostly used web browser. While Edge also is fast but is more secure and ensure more of your privacy.
Microsoft Edge was struggling to be among the top browsers and now with its update to Chromium, results are surprisingly different. Microsoft Edge showing interestingly very high performance and offering all the available extensions and many more features.
So the choice is completely yours, you can choose any one of them, both are best with their own advantages and disadvantages. But if you are privacy concerned than Edge has an edge over Chrome. And if cross-platform accessibility is your need than Chrome is the best choice.
If you've any thoughts on Microsoft Edge Vs Google Chrome | Comaparing the Best Browser, then feel free to drop in below comment box. Also, please subscribe to our DigitBin YouTube channel for videos tutorials. Cheers!