Is the Character AI login/sign-up not working on your device? I have a few quick troubleshooting tips in this guide that will help you gain access to the character AI interface. As the world is progressing in the path of Artificial Intelligence, we are seeing many innovations in the domain. One of the recent offerings is the Character AI.
Available in beta format for everyone, Character AI enables humans to make conversations with AI models. Users get to design and customize an AI bot as per their preference. Character AI has been making waves in the tech world for quite some time.
Recently, in one of our articles, we discussed if Character AI is free to use. The beta version of this AI tool is free for everyone, but you need to sign up for the platform.  As a guest user, you are allowed to exchange a few messages with your choice of AI bot. After a certain number of messages as a guest, you will be asked to sign up or log in. Instead of separately signing up, you can log in using your Gmail ID/Apple ID/Facebook ID/Discord.
Reasons Why You Are Unable to Sign Up to Character AI
The browser may have a cache full of junk data, or it may be some issue at the end of Character AI. Also, an unstable internet connection may cause login issues while trying to access Character AI.
There may be some issue with the particular browser that you are using, Usually, due to certain bug issues, any website that you access on that browser becomes unresponsive or certain features like log-in or sign-up issues may arise.
Best Tips to Fix Character AI Login/Sign Up Not Working
Now, let us go through the necessary fixes that you can apply if you cannot log in to Character AI.
1. Clear the Browser Data
I have explained the steps to clear the browsing data on the Chrome browser. The steps are pretty much the same on other prominent browsers such as Edge.
Open the Browser.
Press the hotkeys Ctrl+Shift+Delete. You will see the clear browsing data dialog box
Set the Time Range to All Time.
Next, click on the checkboxes Cached images and Files and Cookies and other Site Data.
To refresh the cache, click on Clear Data.

Relaunch the browser and try using Character AI.
2. Switch to Some Other Browser
Instead of your current browser, switch to some other browser app. Go for this if you are repeatedly facing the login/sign-up issue with Character AI on your current browser. This solution has worked for many users interacting with AI models on the Character AI website.
3. Reload Character AI on Your Browser
There may have been some issue with the current tab on which Character AI has loaded. To fix that.
First, close the tab on which Character AI is open. [If possible, close the browser and launch it again]
Open a new browser tab.
Enter beta.character.ai in the URL box and press enter.
Once on the home page of the character AI beta, click the login or sign up buttons to proceed.

3. Check VPN and Fix the Internet Connectivity
Always connect your device to a strong WiFi network to use apps on the web smoothly. Also, to fix recurring network issues, get in touch with your ISP. Register a complaint with the support team. With the from the ISP support, reset the router and reconnect your device to it.
VPN is good for protecting your online activity and also bypassing any restrictions. Though Character.ai works fine with a VPN, it might sometimes trigger an error and prevent account login. Therefore, it is good to stop any proxy or VPN service.
4. Manage the Email Verification for Character AI
Most probably, you used an email ID to sign up and access Character AI. Visit your email inbox and check if there is an email from Character Ai that asks you to verify your email ID. Check in the spam folder as well. There may be a link in the email that you have to click to verify your registered email ID and start using Character AI.
5. Sign In with Another Account
Character AI offers multiple ways to log in to its interface. Let's suppose you are trying to log in using your Gmail ID. If the login is failing for any reason, then use any other ID, such as Apple ID or Facebook ID, to log into Character AI.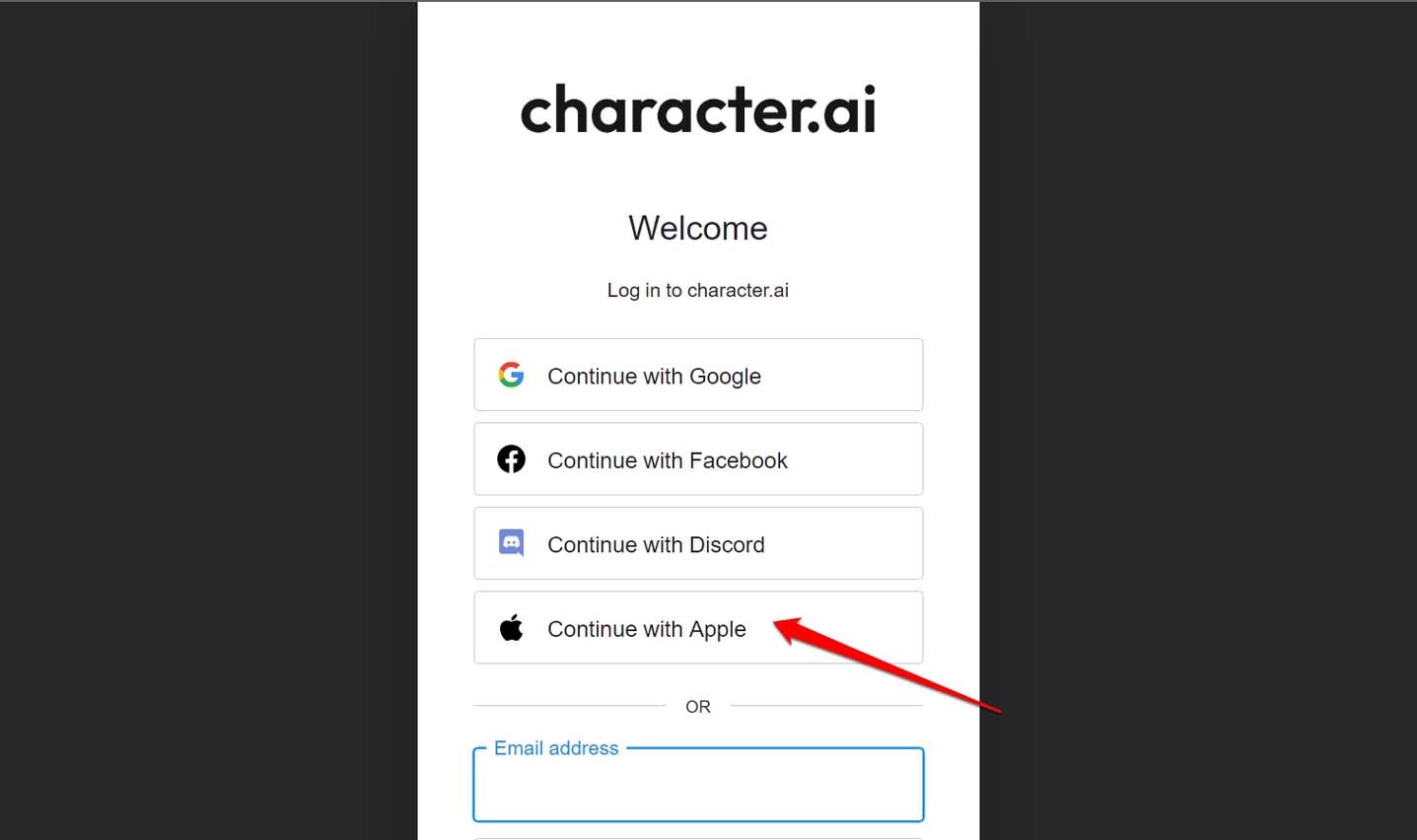 4. Report the Issue to Character AI Support
If any of the above tips did not help you resolve the log-in or sign-up issue with Character AI, I suggest reporting it to the support team of  Character AI. It could be a bug at the Charcter AI's end. The AI tool is in its beta format, and we know the beta version of products usually has a fair amount of bugs on them. A wise user should always report the bugs to the concerned tech support team of the product.
You can click here to contact the support team of Charcter AI.
Otherwise, right from your email inbox, shoot an email to [email protected] complaining about the login and sign-up issue you have been facing.
Wait for the support team to reply. Maybe they already know of this issue and are trying to patch it. So, take a break from your conversations and let them handle the issue. Meanwhile, if you are encountering the issue of conversation with AI bots freezing all the time, check out our troubleshooting guide and solve that.
It is time to wrap up this guide on how to fix the Character AI login/sign-up not working. The conversation with AI always gets interesting, and you should not miss out on the experience. Resolve the issue now and continue engaging in talks with your AI counterpart.
If you've any thoughts on How to Fix Cannot Login or Sign Up to Character.AI?, then feel free to drop in below comment box. Also, please subscribe to our DigitBin YouTube channel for videos tutorials. Cheers!