PUBG is the most popular Multiplayer Online Battle Arena (MOBA) game. PUBG Stands for PlayerUnknown's Battlegrounds which means unknown players fight in a battle royal mode. The game is very popular and has more than 400 million installs with 20 million active daily users. The PUBG is compatible to play on Xbox One, Android, iOS, and Windows with Play Station 4 support in the near future.
The players may either fight as a solo member or in a small group with the winner being the last man alive. The success of the game led to the development of many other similar battle royale games one popularly being Fortnite. Tencent the publisher of the game regularly releases updates related to improvements and new features for the game.
The game is free to download from Google Play Store for Android and also the developers released a lite version of the game for mid-range smartphones. Today in this post I will tell you all the methods to download and play PUBG on Laptop PC and enjoy the most popular online multiplayer game on the big screen.
What is PlayerUnknown's Battleground PUBG?
It is an online multiplayer shooter game, the players have to locate the weapons, vehicles and kill every player in the battleground that shrinks with time. The players can fight as a team or can jump into combat individually.
The game runs on powerful Unreal Engine 4 gives you a visual treat with rich detail, realistic gameplay effects, and a massive HD map for Battle Royale. PUBG is the best MOBA game with good quality 7.1 surround sound and stunning 3D audiovisual animation.
Features of PUBG
High-quality Graphics and HD Audio
Realistic Weapons
Fight as a team & Real-life inspired battlefields.
Anti-cheat technology keeps the game fair and simple.
7.1 Surround Sound & Stunning Animation
Clutter-Free Motion & Huge Map for Gameplay
Can Play as a Team or as a single survival mode
Lite Version for low-end smartphones
Download and Install PUBG on Computer PC
Download the PUBG on Windows and Mac PC legally with the methods listed below. The PUBG can be easily installed on Windows but for Mac, you need to workaround. The game is on rage and is highly addictive in nature.
The gameplay and features on PUBG PC are more or less similar to PUBG Mobile but the big difference is, PUBG Mobile is free while the PC version is paid.
Here are the best ways to download and play PUBG Mobile on Windows and Mac PC.
---
1. PUBG Mobile on Gameloop
Playing PUBG Mobile on Windows PC is very simple and easy. All you need is an emulator that can handle the play on your system smoothly. Gaming Buddy by Tencent for Windows who are also the developers of PUBG created the emulator specifically catered towards the game.
The Gaming Buddy is able to handle the PUBG mobile and is well optimized to run even on low-end Windows PC. Though there is a PC version of PUBG, it is paid therefore an emulator is a very good option to play the game for free.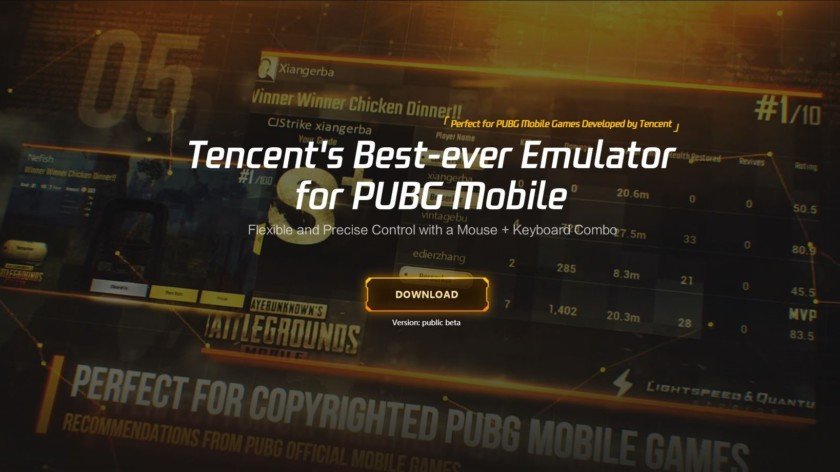 It is important to note that if you are on the emulator then you will only be paired with other players who are using the emulator to avoid matchmaking issues. And also depending on the power of your system the resolution can be changed as 720p, 1080p, and 2K.
Min System Requirements
Windows 7 and above
CPU: Dual-core from Intel | AMD @1.8Ghz
GPU: Basic NVIDIA GeForce | AMD Radeon
3 GB of RAM
2 GB of free storage
How to Download the PUBG Mobile on the PC?
Here are the steps to Download and Install PUBG Mobile on Windows PC with Gameloop Emulator.
1. Head Over to Gameloop Gaming Buddy Tencent Website.
2. Download and Install the EXE file on your Windows PC.
3. Open the emulator and it will start downloading the files required to play PUBG mobile on PC.
4. Open the game and start playing on the PC with direct controls to keypad and mouse clicks.
5. You will also regularly receive updates for the App which makes it the best place to play the PUBG.
If you want to carry over your progress from your mobile device, log in using the same Facebook or Twitter account on both platforms.
Control, Settings and Miscellaneous Information
Learn more to optimize the PUBG on PC
PUBG Mobile Controls on Buddy
The default key mapping for PUBG Mobile on the Buddy App is pretty solid and makes the gameplay easy. These are the default controls that are ready to use after a fresh install.
Button W – A – S – D | Directionals Keys: To Move
Left Click: Fire and Punch
Right Click: ADS (Aim)
Spacebar: Jump, swim
Keys 4, 5, 6: Throwable Items
Keys 7, 8, 9, 0: Healing Items
Key F1: Displays controls
Alt: Free Look
Key C: Crouch
Key Z: Prone
Shift: Sprint
Press the keyboard button on the top-right of the display in case if you wish to change the controls
Enhancing Games Performance
You can improve the performance of the game by tweaking the Buddy settings, as the emulator is still in Beta Phase there is much for room improvement. In the settings, you can set the resolution as SD (720p), HD (1080p), or 2K. Also, you can set the display quality as Auto, Smooth, Balance, or HD.
It is better you do not make any changes to the engine settings if you do not have much knowledge. The game works smoothly on a low-end system and requires basic specs to clutter-free play.
Best TGB Settings for PUBG Mobile
1. Make sure to Run the 'Program as Administrator'.
2. If your system is running on Windows 7 download and Install DirectX from Google Search. Win 8/10 have them pre-installed.
3. Close all the Tabs and open TBG, open settings in the TBG.
4. Here Click on Engine, select OpenGL if you have a good GPU and OpenGL+ if a strong graphics processor. And select DirectX for good CPU and DirectX+ if a very strong CPU.
5. Right, check all the boxes available but you have a dedicated GPU card like Nvidia and AMD you can select Priotorise Dedicated GPU. If not then uncheck that box.
6. Keep Anti-aliasing Close, set memory less than your device RAM and keep the resolution low or high based on system hardware specs.
7. Now Click on the Game Tab, set resolution HD or SD, and display quality as smoothly. Hit Save Button and enjoy the game clutter and lag-free on your PC system.
[Read]: Fix all Errors on Tencent Gaming Buddy
---
2. PUBG on the Steam App
The PUBG PC version is exclusively available for Windows and as I said earlier it is paid, unlike PUBG Mobile which is free to Play. The PC Version is not a standalone app that can be directly installed on Windows but you need a Steam App and buy the game for $30.
Min System Requirement
OS: Windows 7 and above (64-bit)
Processor: Intel Core i5-4430 | AMD FX-6300
Memory: 8 GB RAM
Graphics: NVIDIA GTX 960 2GB | AMD R7 370 2GB
DirectX: Version 11
Network: Broadband Internet connection
Storage: 30 GB available space
How to Download and Install PUBG on Steam App?
1. Go to the PUBG Product Page.
2. Add the item to Cart
3. Make payment and buy the PUBG Game
4. Download and install the Steam Now App if not already installed. (Few Click Process)
5. Log in to Steam App
6. Now click on the library and select the PUBG Game
7. Click on Play and let the game download.
8. After the game is downloaded, click play again.
9. Now install the game by clicking a few YES and AGREE options on the Steam Client App.
10. Once the game is successfully installed. Enjoy the game. Cheers!
Below are the default Controls for the PUBG on the Steam App. The PUBG PC version is similar to the PUBG Mobile with some gameplay differences.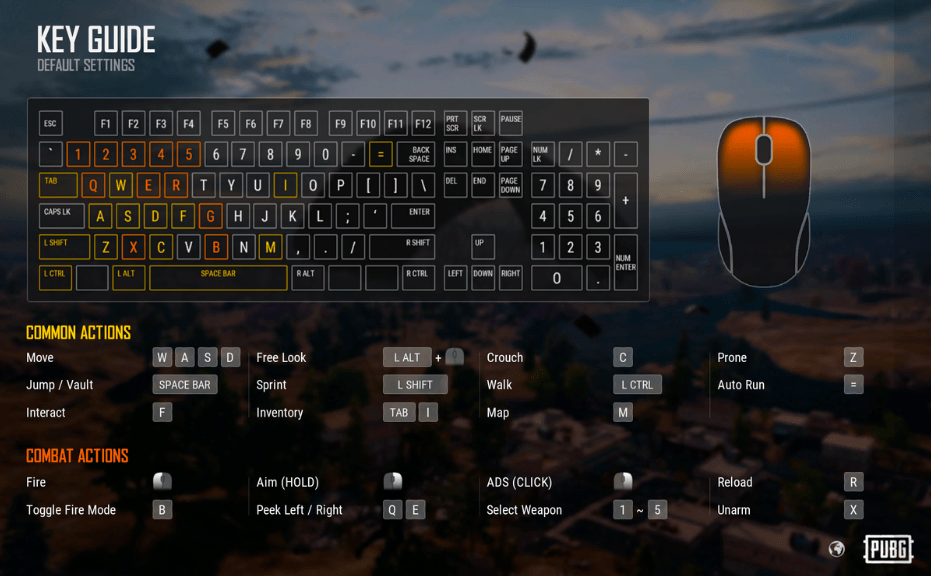 ---
3. PUBG on Nvidia GeForce Now
You can play PUBG on Mac using GeForce Now. GeForce is a cloud-based service which lets you play games like Fortnite or PUBG. The game is played on the GeForce server, while your computer serves as a monitor. So, the processing and graphics handling is done by the servers itself and you just have to control the game on the screen. Thus reducing the load on the hardware of your Mac. As the game is not yet released for the Mac, the GeForce Now is the best option to play the game on your Apple Mac Book.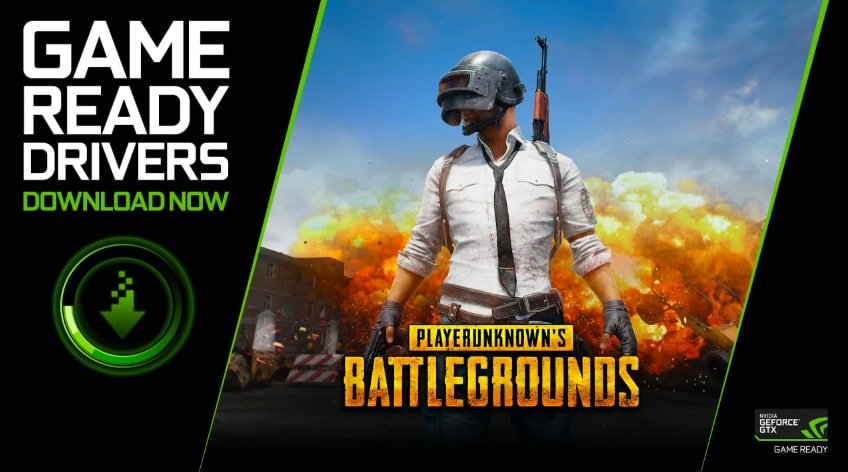 All you need a very good internet speed and everything is controlled servers. You need to buy the game on the on the Steam which is $3o of worth and log in with the steam account on GeForce Now App to enjoy the game. As I said the game runs on the cloud, therefore, a basic Mac computer is enough to play.
Min Requirements
25 Mbps Internet
2 GB RAM
Basic Computer System
How to Install and Use PUBG on GeForce Now?
1. Connect your Mac with a very good Internet with min speed up to 25 Mbps.
2. Install GeForce Now on the Mac with simple double-click process.
3. Make adjustments for the play by going to the Settings in the GeForce app. Turn on the 'Ultra Streaming Mode' to minimize power consumption giving better gaming experience but little poor visual play.
4. In the App, you will see a number of games including PUBG, login to Steam Account in case if you already bought the game. If not create a Steam Account and buy the PUBG for $30.
5. Once Done enjoy the game. Cheers!
Download Nvidia GeForce Now (Mac) | Paid
---
4. PUBG Mobile on Nox Player for PC
Nox Player is the of the best Android Emulator for Windows and Mac. The only motive behind the development of the emulator is for playing games. Nox6 can handle high FPS games without any clutter and supports keypad, gamepad and scripts. Nox Player would turn out to be the best place to play the PUBG on Windows or Mac, though it may take some time for you to get acquainted with the controls. You can customise the controls in the settings and also optimise the quality in case if you feel the graphics are higher than your PC standards.
How to Install and Use the Nox Player?
1. Download and install Nox Player from the Official Site. The process will take a few clicks.
2. Once successfully installed you will see the Play Store App on the main screen of the Nox Player.
3. Open the Google Store and log in with your Google ID and Password.
4. Search for the PUBG game and install it on the emulator.
5. Open the game and Enjoy it on Windows or Mac for free. Done!
Download Nox Player (Windows & Mac) | Free
---
5. MEmu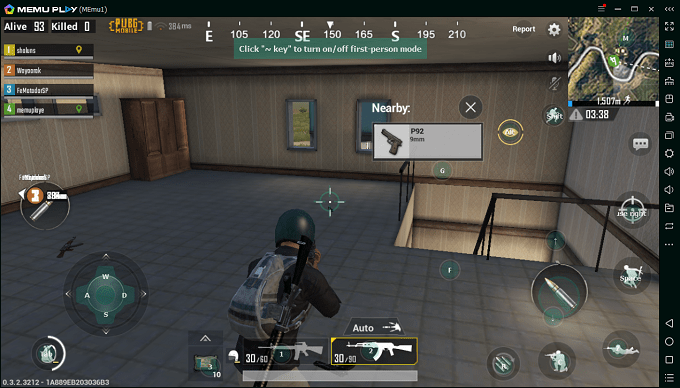 The emulator offers good features that make gameplay easy on PC. MEmu allows high keyboard mapping customisation making it easy for mobile gaming control needs. The emulator can enable virtualization for your PC and it also gives great performance for integrated and dedicated graphics. The best thing about the emulator is it is compatible with Intel, Nvidia and AMD powered Windows.
The PUBG Mobile played flawlessly on the app without any issues. Though you may need a modern computer system running on Windows 8 or above. If you run into any graphic issue in MEmu Player, you can try to switch graphic render mode. When you enter into PUBG mobile in MEmu Player, the default key-mapping will be loaded automatically which you can later customise according to your need.
---
6. PUBG Mobile with Remix OS Player
Remix OS Player is heavily optimized for gaming. Specifically, you can map keyboard buttons and control the game to your every comfort. The developers potentially looked onto improving the software more inclined towards gaming.
It is important to note that the emulator doesn't support AMD chipset and requires Virtualisation Technology enabled in your BIOS. The App has a very clean and fresh interface appealing to the users.
How to Use the Remix OS?
1. Download and install Remix OS on your Windows PC.
2. Look for Play Store App and add your G-Account.
3. Download PUBG and enjoy the game on your PC with clutter-free and smooth play.
Download Remix OS Player | Windows
---
7. Andy
Andy is a simple yet powerful emulator for PC and Mac. It lets you integrate your device more intimately with PC. A good thing about the Application is it syncs across all the devices connected thus no need for transfer of game progress. You can also transfer the Apps from mobile to Emulator hassle-free.
You can use the Phone as a joystick and enjoy the games on the Big Screen with your smartphone as a controller giving you a whole lot of good UX for play. You can enjoy PUBG Mobile with Andyroid without compromising the graphics or game experience.
Features of Andy
Sync data between desktop and mobile devices
Connects Win/Mac with Android apps for launching, push notifications and storage
Enables app download from any desktop browser direct to Andy OS
Runs almost all the Android Apps on PC and Mac
Simple Setup with mobile joystick support
Download Andy | Windows and Mac
---
8. PUBG Mobile for Chromebook OS
Chrome OS allows you to install APK files on the laptop. Recently many Chrome OS-based laptops have started supporting PUBG mobile via Google Play Store Download. If you wish to install PUBG Mobile your PC then you can get then also try to sideload the App on OS.
Download PUBG Mobile on Chromebook
1. Enable Developer Mode in Chromebook.
2. You'll now need to enable apps from "Unknown Sources" on the Android settings screen on your Chromebook.
3. You will need to install the File Manager from Google Play.
4. Download the PUBG Mobile from APKMirror or similar sites.
4. Open the file manager app and go to the downloaded APK file.
5. Select the "Package Installer" when prompted and install the APK.
---
9. How to Download PUBG Lite on PC
1. Head to the PUBG Lite website.
2. Download the PUBG Lite Launcher setup. Run the file to install the app.
3. Now, you need to click the 'Apply for ID' button on the top right of the website and enter the required credentials to create your account.
4. Open lite and let download the resources worth 1.9GB. Login to lite with your login ID and Password you created, Done!
---
10. PUBG Mobile on PrimeOS
PrimeOS is not an emulator in itself but an Operating System that boots itself after creating a partition in the computer storage. So, you will see dual-boot options when you boot your PC, Windows OS, and PrimeOS. The interface of Prime OS is very clean and clutter-free having a nice feel of a desktop with the power of Android.
For gaming, there are some dedicated features like Decapro key mapping tool, custom control settings, dedicated gaming center to manage your games, CPU & GPU support tools, and more. The OS is capable of running all hardcore games like PUBG Mobile smoothly due to its deep bond with the hardware.
Download PrimeOS | Windows and Mac
Conclusion: Download and install PUBG on Windows and Mac legally and safely. There are two versions of the game, one for Mobile and one for PC, you can play both on your PC using emulators and 3rd party clients.
The game runs fairly smoothly but it is preferable you play the game on Computer with the latest hardware and software installed to have a clutter-free gaming experience.
Gameloop which is particularly catered for playing PUBG Mobile even on the low-end PC while Steam may need some good hardware specs. GeForce Now works on cloud servers, therefore, a basic system is enough for playing a high-end game.
DigitBin is not affiliated with the game or software. I hope the post was helpful. Do comment below for any suggestions or support. Cheers!
If you've any thoughts on How to Download PUBG for PC Free?, then feel free to drop in below comment box. Also, please subscribe to our DigitBin YouTube channel for videos tutorials. Cheers!