PC games are reaching new heights every day. Not only in the entertainment factor, but in the specifications too. And it's the latter that's holding many users from trying out their favorite games. With such absurd RAM, processor, and graphics card requirements, the latest releases are slowly getting out of hand. But fret not. In this guide, we have provided some of the best browser games, that don't do any harm on your PC. These are the perfect time-killers and score high on the entertainment front too.
But the best part about them is that they are capable of running on nearly all laptops, without worrying a tiny bit about the specs sheet. The only prerequisite? Well, decent internet connectivity and an updated browser (Google Chrome, Edge, Mozilla, Yandex, Opera, or any other modern browser with the popular engine) are all that's required to get your hands on the Best Browser games that are hereby listed in this guide. So without further ado, let's start with the list.
Free Addictive Browser Games
Here are the Best Browser Games you can Play Right Now over the Internet to Kill Time.
1. Abobo's Big Adventure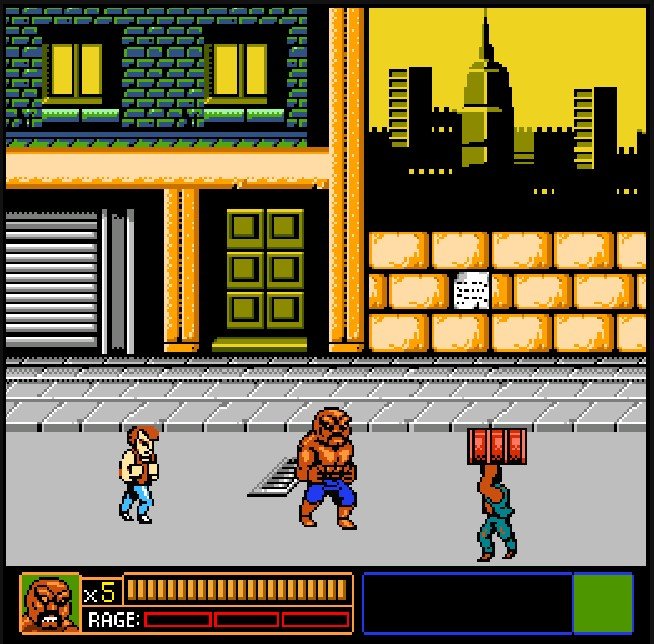 If the word NES takes you down the memory lane, then this game is all that is required. Abobo's Big Adventure will surely give you a complete Nintendo-NES experience. The game takes on the action RPG style and you are sure to love every bit of it. You play as Abobo from Super Dragon and the goal is to destroy as many enemies as possible. But it's not as easy as it may sound.
Tons of different types of villains make your every second difficult to survive in the game. Even different Nintendo franchisee villains like Donkey Kong or the mushrooms from Super Mario make a surprise appearance now and then. On the other hand, the controls are pretty simple. Use the keys A and S to punch, kick and throw nearby objects onto your enemies for greater damage. Overall, worth a try.
Tip: Attack as many enemies in as little time as possible to fill the Rage Meter and then experience the beast mode of your character!
Play: Abobo's Big Adventure
2. Street Skater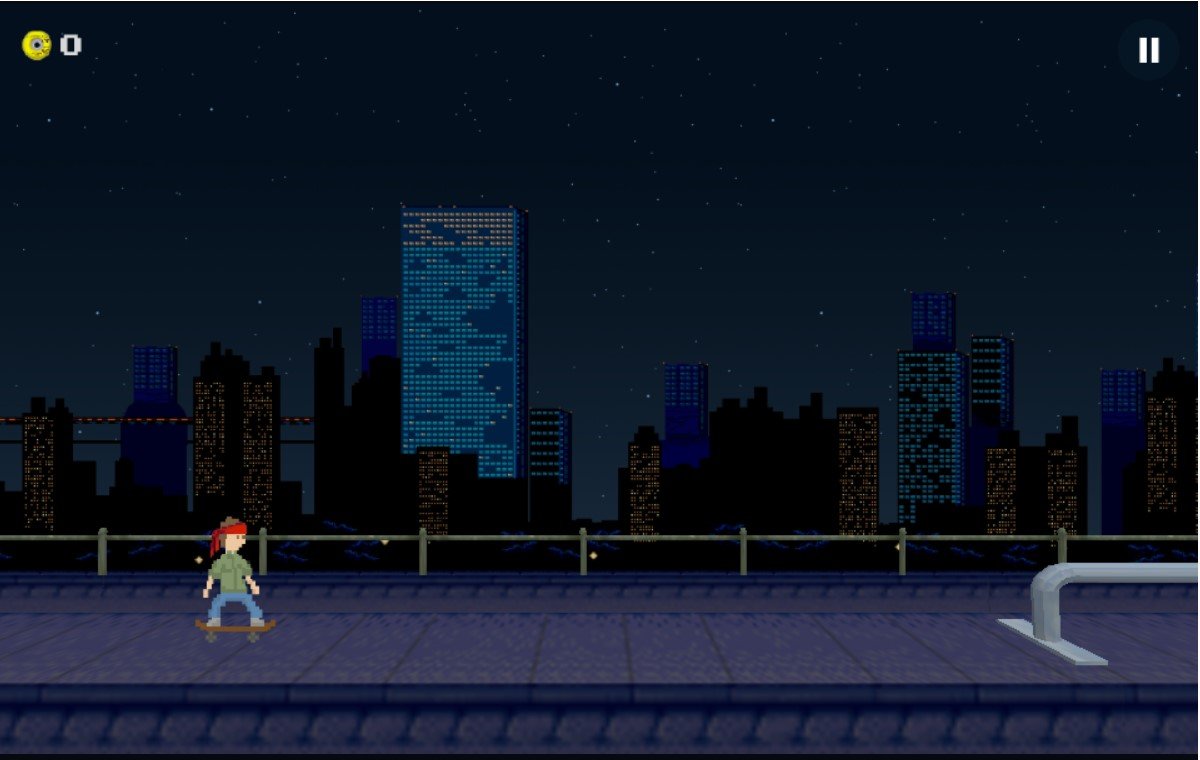 Among the more interesting games on this list, Street Skater is a retro-style skating game. You have to jump over obstacles, perform stunts like backflips and ollies and collect as many gold coins as possible. Just don't the character die. It dies a quite painful death, with his head flying to one side of the screen and blood being scattered all over the screen. The game scores quite high in entertainment value and will manage to impress you to the core.
Furthermore, the game is controlled using two keys: Spacebar and Shift. The skateboard moves on its own. Pressing the Spacebar once is required for the normal jump, whereas pressing it twice gives you a higher jump. On the other hand, the Shift key lets you perform tricks, but this also increases the risk factor, so trade accordingly.
Play: Street Skater
3. Linerider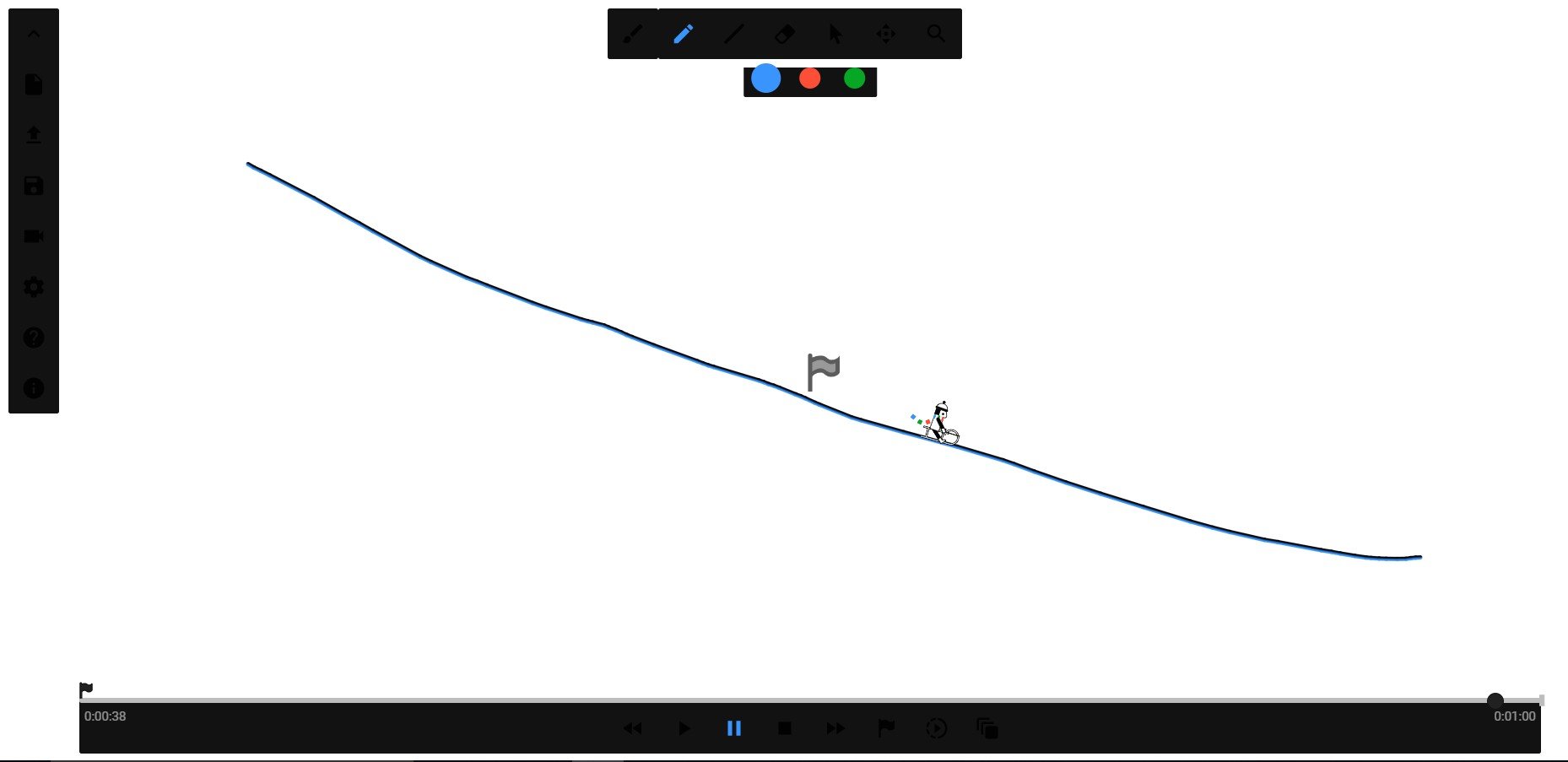 A game purely based on Physics, you'll be required to create a path on which the character who sits on the sled will move. Gravity and Laws of motion? Well, you don't need to get into much about all that, but do remember, what goes up must come down! On a serious note, make sure to draw a realistic path otherwise the character very quickly goes off track.
Once you have drawn the path, you could even test it before setting off the character for the final run. Because once it is up and running, you cannot change its path in between. Apart from that, there are tons of other customizations available. Do check them out as well. All in all, a short, quick, and interesting time-killer game.
Play: Linerider
4. Sunset Bike Racer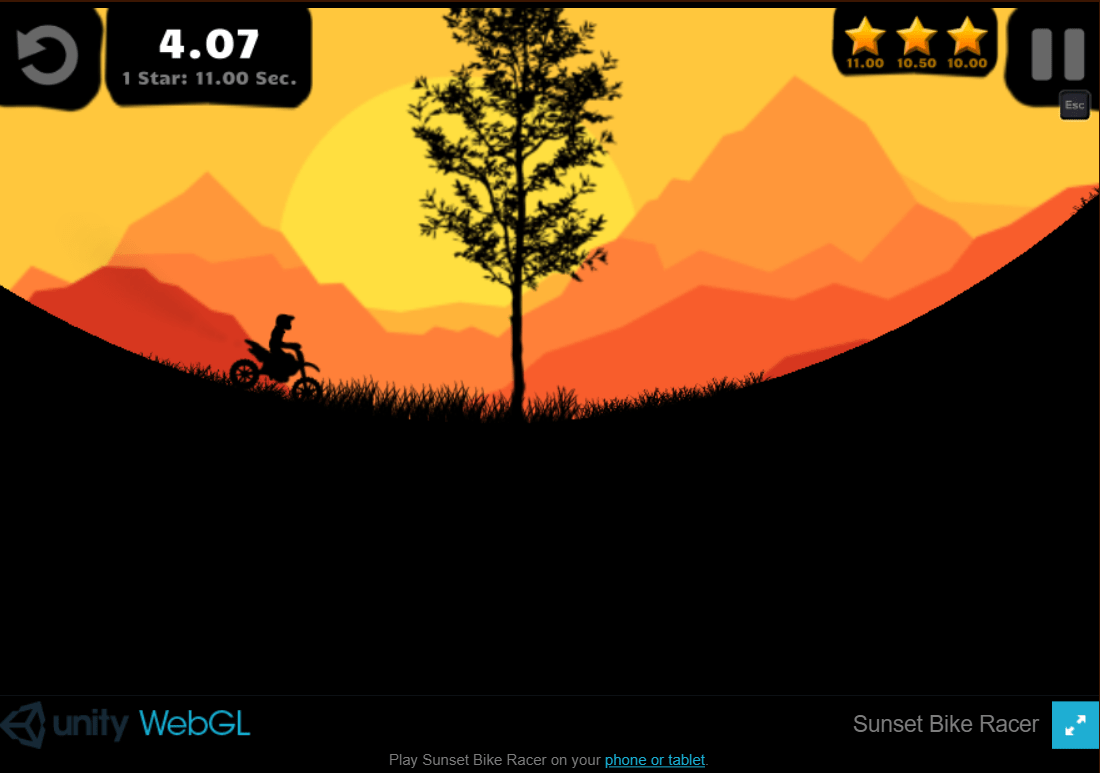 Remember Nintendo's famous ExciteBike? Well, Sunset Bike Racer manages to bring back that old feeling, and in style. You will be having a dirtbike that you have to control in uneven terrain. The picturesque location of the sun slowly setting up while you perform the stunts in the foreground altogether gives a euphoric aura.
The controls are pretty simple too. The bike moves on its own. The Space bar gives it speed while the Shift fires up the Nitro booster. On the other hand, the Ctrl key applies the brake. To steer the bike left or right, you might take the help of left and right arrow keys.
Tip: While landing the bike, try to keep it in equilibrium. Even the slightest of forwarding or backward bent while landing might make matters much worse.
Play: Sunset Bike Racer
5. Revenge of the Kid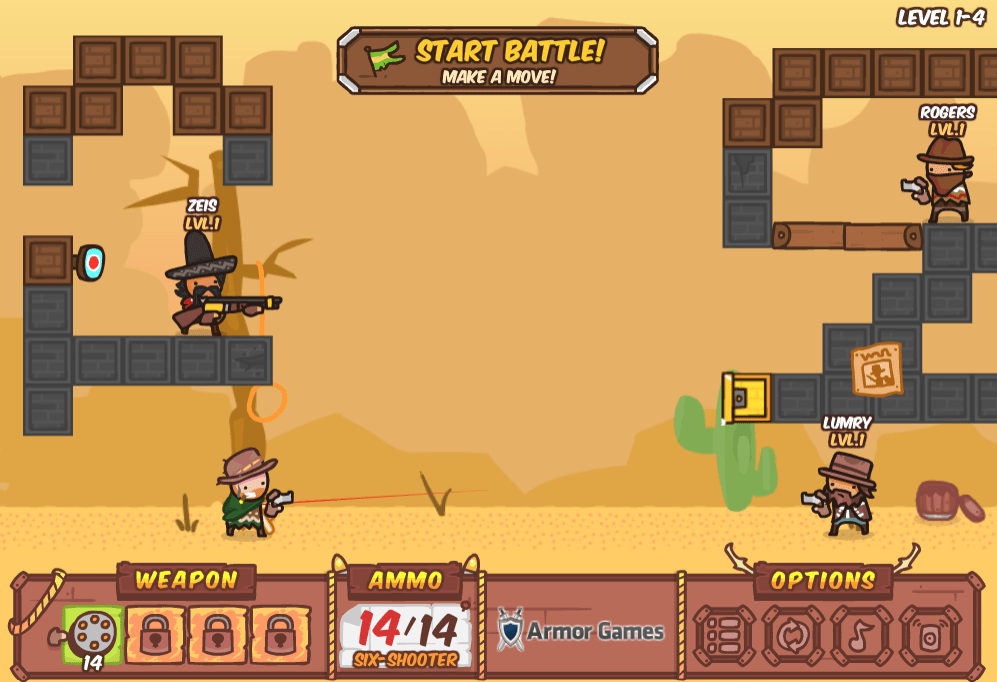 Part of a bandit group, everything was going great until your team caught a great fish (i.e truckloads of money) and ran away. Feeling betrayed, you are onto an act of revenge-taking mission. Set in the Deserts, you will be given some basic and some rather interesting weapons at your disposal. The trick is how well you aim, right from your spot. This is because the character is fixed at the spot and cannot move either forward or back.
Use your sense and a little bit of knowledge of trajectory to get a perfect aim and make all your enemies extinct. The game is an interesting one and becomes more so as you progress further in the game. Along with that, you also get new weapons in your arsenal as you keep on making progress. Definitely an interesting game on this list, without a shadow of a doubt.
Play: Revenge of the Kid
6. Tetris
The only game that probably needs no introduction whatsoever. Tetris revolutionized the gaming industry since its inception in 1984. If for any reason you still don't have any idea about this game, then here is what needs to be done. You have to arrange falling pieces of blocks (Tetris) in such a way that none of the empty spaces is left.
As soon as a horizontal space is filled, it's getting cleared. You have to clear as many horizontal spaces as possible by arranging and placing the blocks in the best possible manner. Doing so increases your score, the level, and subsequently the speed at which these blocks fall. However, if you fail to clear a block of lines, these Tetris gets mounted one over the other until the highest point of the playing field, after which you lose this game.
As far as the controls are concerned, the upward arrow makes the block rotate right, the Z key makes it rotate left, the right and left arrow makes it move in the respective directions, Space Bar makes the Tetris falls faster whereas the downward arrow makes for a slow drop. Although these controls are weirdly mapped, you have the option to change them from the in-game Options menu.
Play: Tetris
7. Vector Runner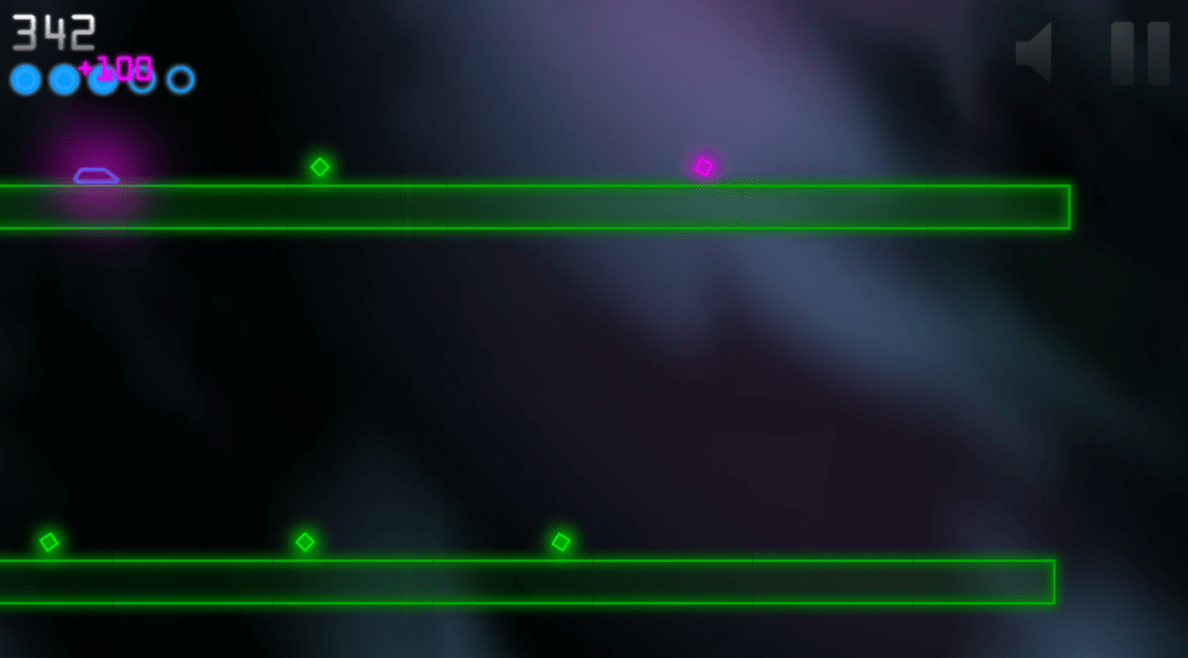 One of the simplest and relaxing games on this list. The aim is simple: jump and avoid obstacles. And the jump is carried out via a Mouse click. A single click makes for a smaller jump whereas two continuous clicks give you longer leverage and jump. The car moves forward on its own, so you don't have to worry about the acceleration part. But as soon as the game progresses, the speed drastically increases and after a certain checkpoint, a huge storm comes your way.
This shakes the entire platform to the core giving you a high degree of uncertainty and instability. But to be frank, this is where the real challenge of this game lies. Up until that point, everything seems quite monotonous. So if you have some time up your sleeves, consider giving this game a try, wait for the storm to appear, and grab the challenge with both your hands.
Play: Vector Runner
8. DOOM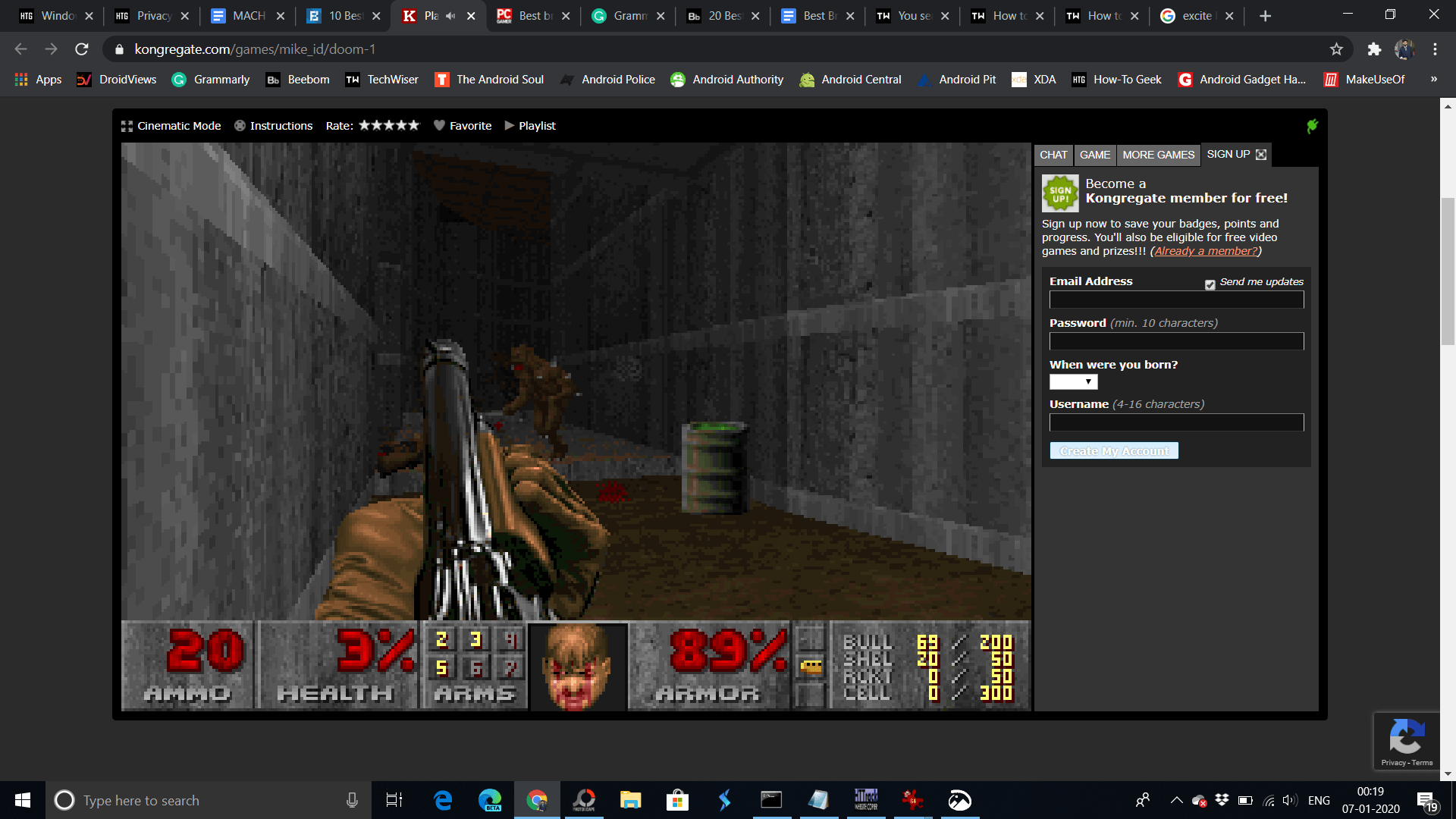 Highly regarded as the pioneer game that completely revolutionized the FPS (First Person Shooter) section of the gaming industry, DOOM hardly needs an introduction of sorts. You play inside a dungeon filled with enemies, most of whom are aliens. In the beginning, you are given the most basics of guns and a handful of ammo to play with. These get recharged and you also get new, improved, and more powerful from the enemies or at hidden places as the game progresses further.
This game has probably seen countless spin-offs that one probably can't even imagine. Although you could download and play this game even on your Windows 10 PC (via the Dosbox), you will witness considerable frame-drops throughout the game, thereby making it unplayable. Therefore, this online version of DOOM is worth a try.
Play: DOOM
9. Pocket tanks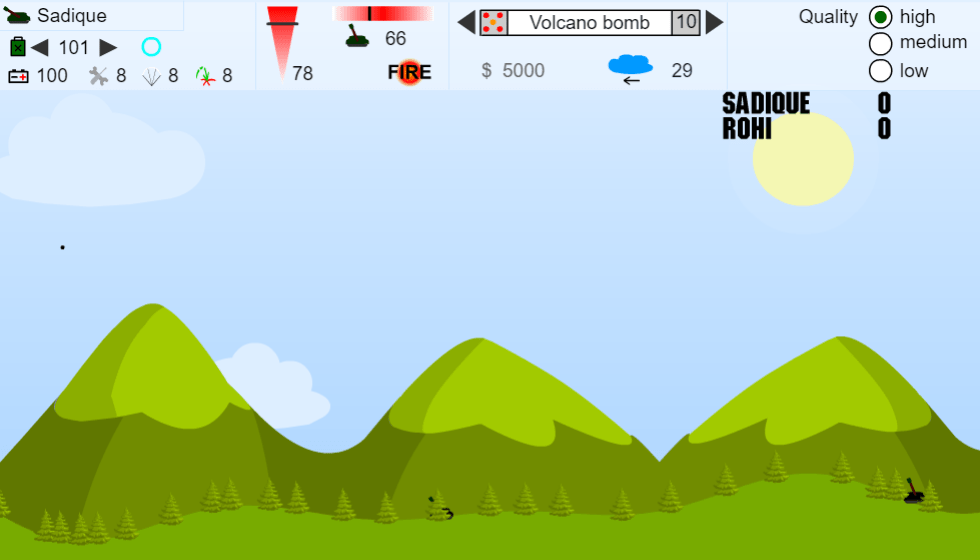 Remember the old and classic Pocket Tanks Deluxe that we fired upon our XP PCs? Well, you could get the same experience in your browser with the help of the Pocket Tanks flash game. Although the graphics leave a lot to be desired, that's the case with most of the browser games. As far as the level of excitement goes, well, you wouldn't be left disappointed a little bit. Initially, you'll only be given two weapons, but it goes on increase as the game progresses. You can increase the power of these weapons via the Page Up key and decrease them using the Power Down keys.
The Up and Down arrows are used to rotate the cannons rotate whereas you could move the tank left or right using the said arrow keys. Moreover, the keys Q and W are used to switch between weapons, and when everything is set, use the SpaceBar to fire up your loaded weapons.  The only caveat? You'll require another player to play this game. It currently doesn't have a CPU mode. With that said, still a nice time-passer.
Play: Pocket Tanks
10. Blast Arena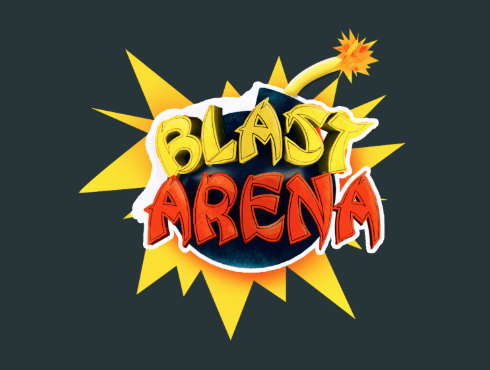 A callback to yesteryear's Bomberman, this game is one for the ages. For the unknown, the game starts inside a maze or bricks of walls. You'll be handed a bomb, to begin with. The aim is to place the bombs at such strategical places that apart from breaking walls, your opponents get killed. Don't worry about the limited bombs.
These bombs hold different kinds of power-ups, from increasing your bomb's explosive radius to making you run faster. But the most useful of them is the one that allows you to carry more than one bomb. But it's not that easy. Your opponents will constantly be looking for these power-ups and could easily steal these bonuses if you don't reach the spot first. The game also allows you to chat with your opponents in the form of emojis. Go try it out now!
Play: Blast Arena
11. Slither.io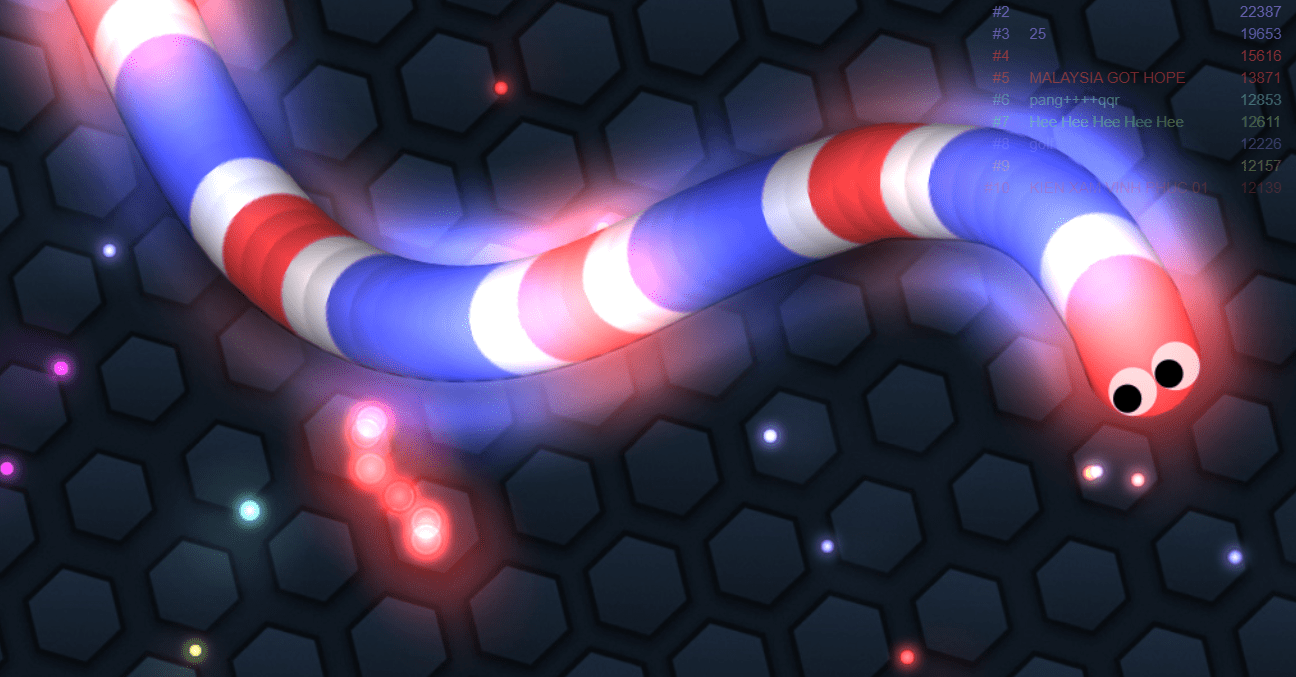 In Slither.io, the snake's hungry for dots. Eat the dots, make him grow longer, and avoid touching your opponents. Well, does this ring any bell? If yes, then you're not alone. It's an old reminiscence of the Snake game that we used to play on our Nokia devices. There are some changes though. As you eat more dots, your body gets more elongated and wider.
And if you time your run well, you could even eat your opponent. As soon as you do so, their body gets decomposed into hundreds of dots scattered all over.  Apart from that, it also holds some customization options. For example, you could re-design its skin, play the game at an increased pace or even buy some merchandise for your snake.
Play: Slither.io
12. Hexar.io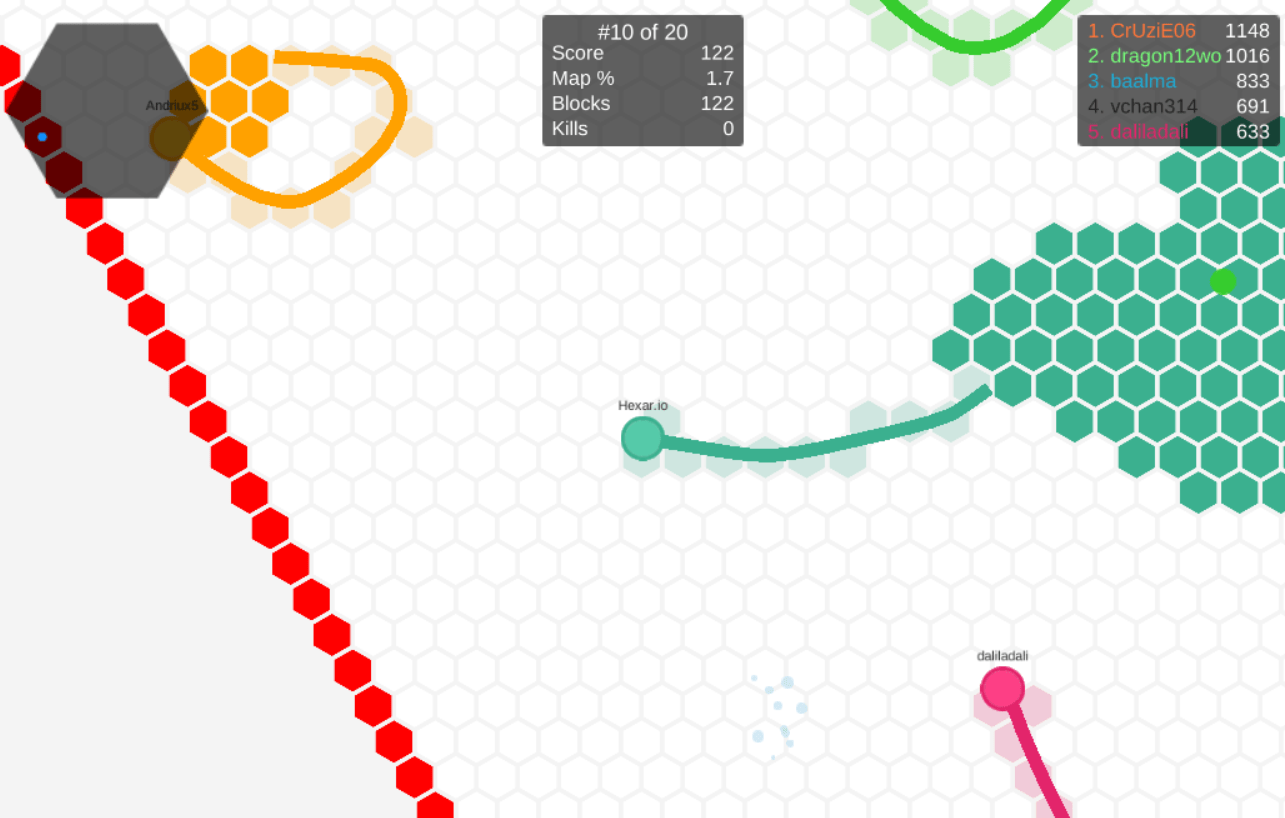 One of the more relaxing games on our list of best browser games, this game also takes a page or two from the Snakes game, but only just. You begin as a small kind-of-snake creature, with a particular assigned color, on a white hexagonal board. You have to cover all these tiles with the color of your own body. This is done by moving over to those tiles and linking them back to your base.
As you keep on moving to occupy newer territories, your opponents might over to yours and make it neutral. Yes, it won't go to their section but would become a neutral ground for anyone to occupy. Similarly, if you move over to someone else's area, it neutralizes and the area becomes open for all to occupy. The ending of the game is similar to what other similar games have in store. If you come in contact with other snakes, you die.
Play: Hexar.io
13. War Broker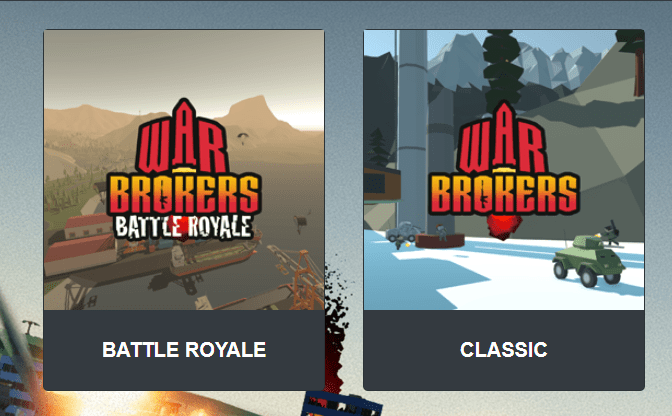 Ready for the Ultimate Battle experience? Most of the games on this list qualify for being relaxing and tense-free in nature. But not this one. War broker is a first-person shooter game. You start the game with two weapons, a pistol, and a rifle. But as the game progresses, you could get your hands on tons of different weapons.
Well, that's just the tip of the iceberg. You could also find helicopters and tans roaming around the map. Kill the person inside those vehicles and make it your own. And if you create an account and then start the game, some goodies might be waiting for you then. These include some extra rewards and interesting short missions.
Tip: Before beginning the game, you'll have to choose a server. Always try to go for your country-specific server for the best optimal experience. Otherwise, some may experience a lag or two in the case of average internet connectivity.
Play: War Brokers
14. Gartic.io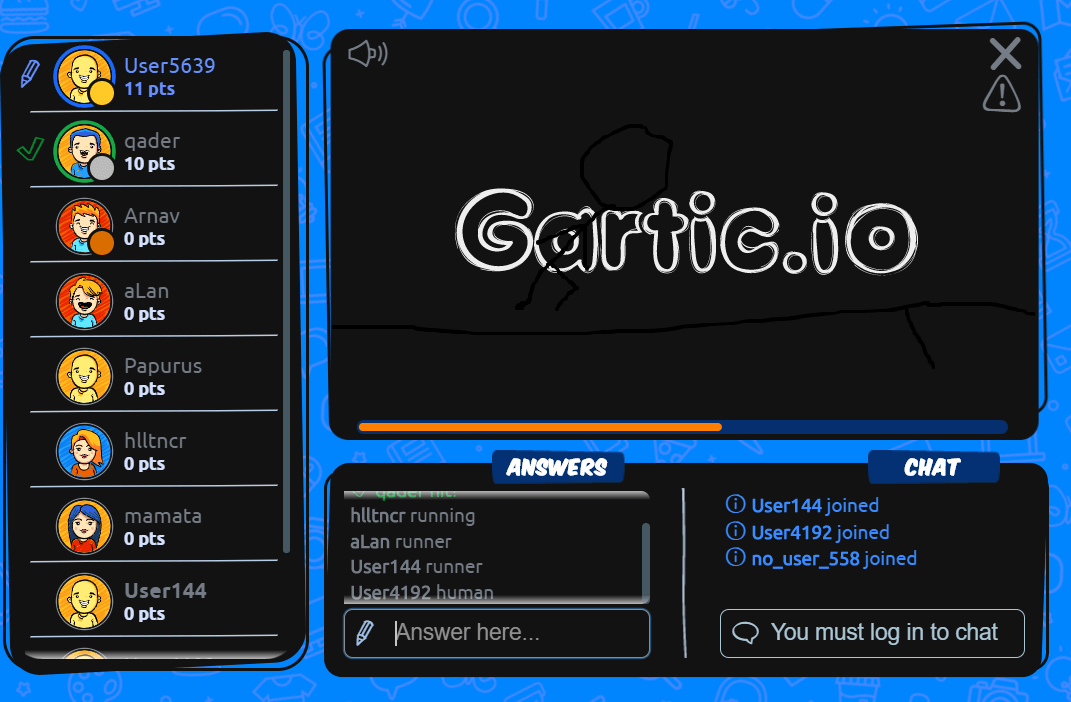 For some reason, you'll love this game. It has one of the most interesting yet weird concepts among all the available games mentioned in this list. In this game, around 10-12 users participate. One of them would draw something, this could be, well anything and you have to guess it right, within the stipulated period. The earlier you guess, the more points you get.  There are hints to let you know if your guess is near to the stipulated answer or not. When your turn comes to draw, make sure not to draw any alphabet or symbols, otherwise, you might be booted right away. Show your artistic skills right away!
Play: Gartic.io
15. LaserSharks.io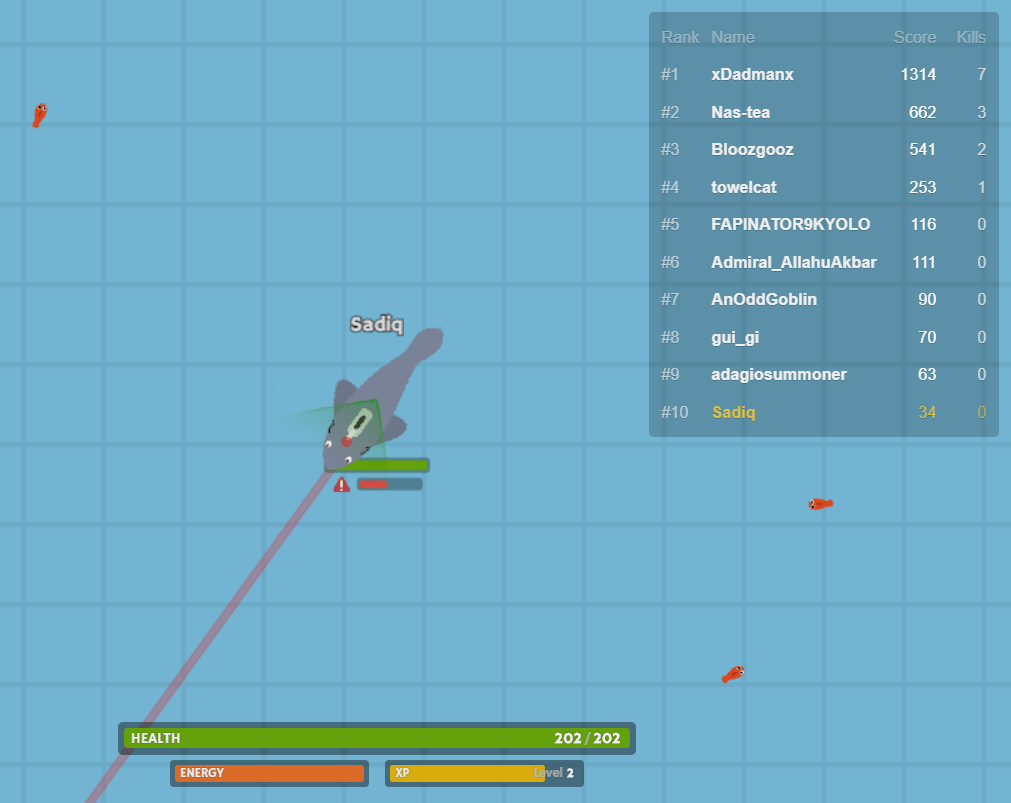 In this game you play as a Shark, having a laser attached to the head. The shark moves on its own, you'll have to make it swim left or right. Moreover, small fish are swimming around. Try eating as much as possible to get bonuses and special powers. These allow you to swim faster, give you more power, more XP (experience). However, the laser only works for a second or two, after which you'll have to wait for it to recharge.
But be aware of your surroundings. Other players (aka sharks) are always lurking around and waiting for the perfect opportunity to attack, and what better way to do so than when your lasers are waiting to get recharged. Stay alive for as long as possible to occupy a higher possible on the leaderboard.
16. Wars.io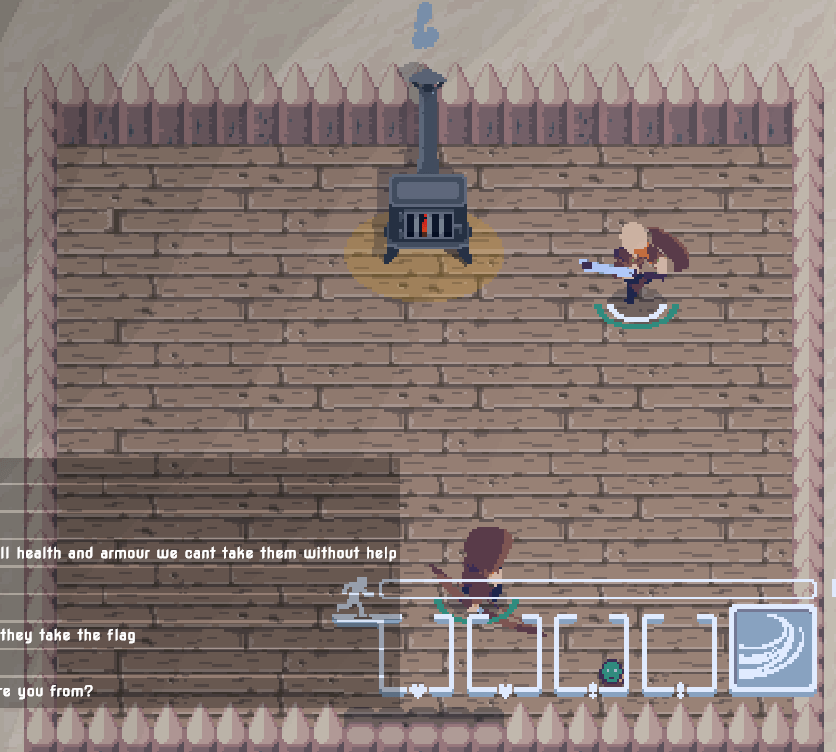 The core principle of this game stands simple: to kill as many of your opponents as possible. This is because the game progresses based on how many bones you can consume of your opponents. Yes, it paints a gory picture, to begin with, but still qualifies to be an interesting game. You'll be part of a team, and there will be two other such teams competing against you. Roam around the map, find hidden loots and some decaying bodies lying around. That's the only way of getting more weapons points and bonuses. If you get enough bonuses, you'll be crowned the king of that region.
As far as controls go, use the W, A, S, and D keys for movement, Keys 1, 2, Q, and E to switch between weapons, R to use a special weapon, H to throw a weapon, and the Spacebar to jump. Apart from that, the left mouse click makes the character jump whereas the right click makes him run faster. Yes, the control is somewhat confusing and difficult to learn at first go, but take nothing away from this game.
Play: Wars.io
17. Little War Game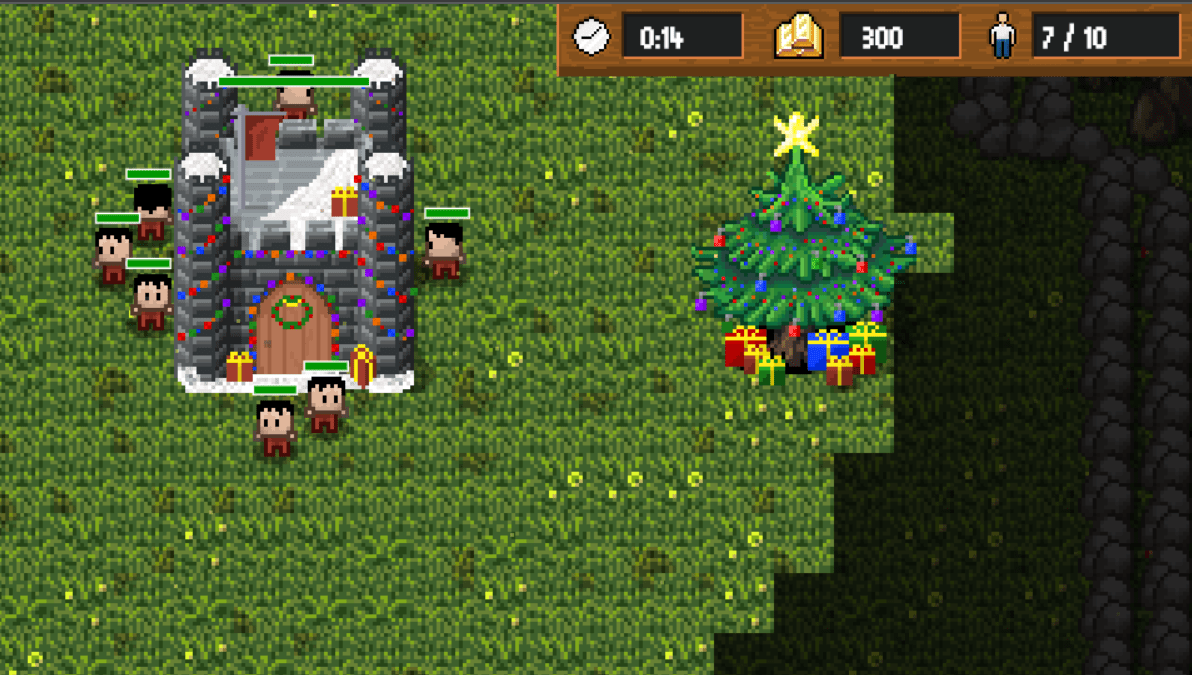 Every one of you might have played Age of Empires in your childhood. It's now time to welcome the same (well sort of) in a pixelated experience. Keeping the graphics aside, Little War Game manages to take a lot of the from Microsoft's famous strategy-based war game. Talking about the game, you could either play against an online opponent or vs CPU. The game starts with you having just a small hut and a few resources in hand.
You'll have to explore the map as much as possible to capture most of the limited resources at hand. The more resources you have, the more you will be able to build houses, building, offensive, and defensive weapons. But don't take too long or the attacks might happen any time and your enemies might run away with the loot. Moreover, the game holds tons of maps for you to try out.
Play: Little War Game
18. Pokemon Showdown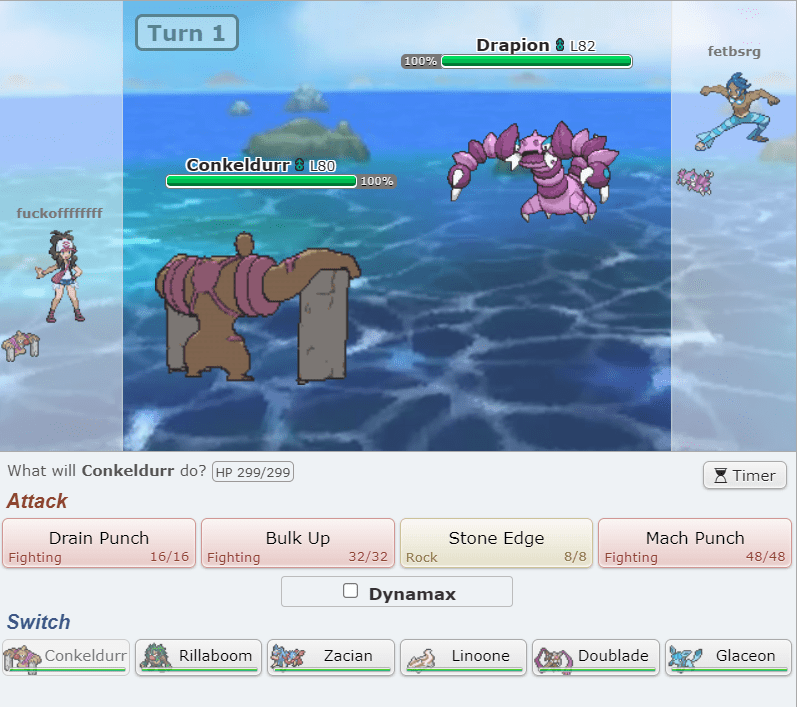 Let's end the list of best browser games with a game that hardly needs any introduction of sorts. The best part about this game is that you don't need to complete any side missions of sorts. The game directly begins with you being a Pokemon trainer having a random Pokemon at hand. Don't worry about the opponent. Initially, you will be placed alongside an opponent having a Pokemon with identical strength, XP, and special power. As the game progresses, so will you and your opponent's ability to inflict damage.
All the powers of your Pokemon will be given right there under the Attack section. The game also allows you to switch between Pokemons. This could be done from the Switch section. And if you lose, you won't be taken out of the server room. A new match begins within seconds with a new Pokemon at hand. The only downside? The graphics could have been slightly better and there should have been an option to play in fullscreen mode. Still, a pretty interesting game nevertheless.
Play: Pokemon Showdown
19. Stick Games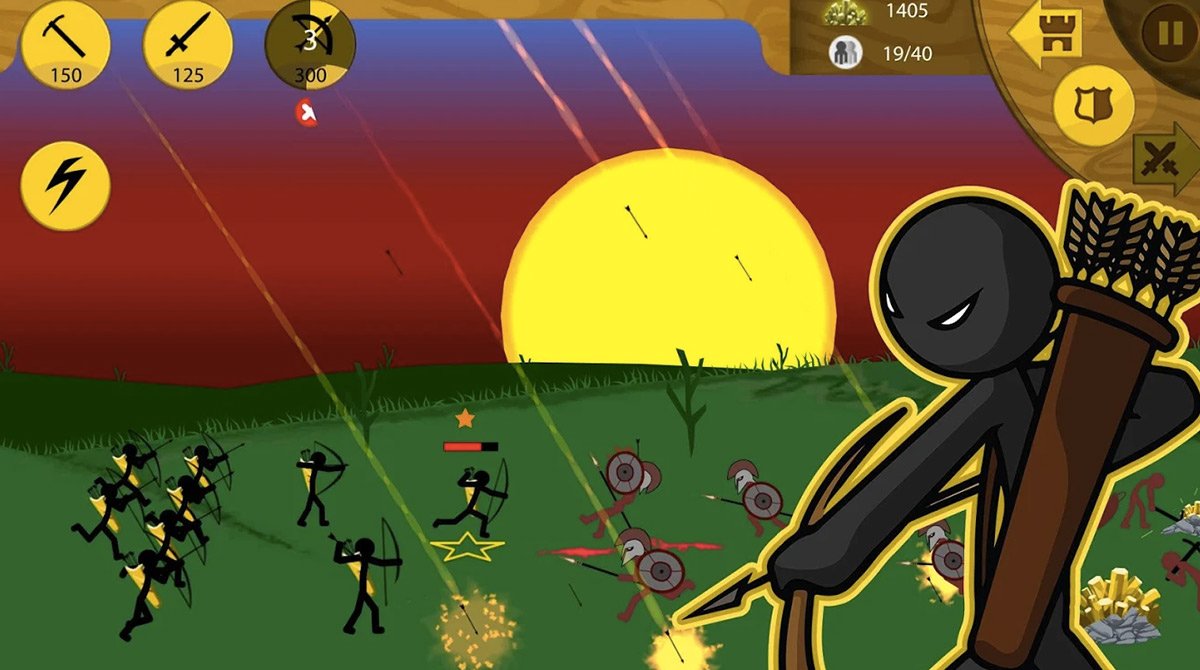 Stick Games is a classic browser gaming genre where you need to control the character. The Stick Games genre has several games to play, the game consists of is a 2D line diagram based on characters to whom you need to control. Stick games is a fun game with a pinch of blood and gore. You get all the action-packed gaming from sniper to adventure, puzzle platformer to fighting games. To talk about the kind of games you get on Stick Games, there is a stair and you need to drag the character down the stairs causing maximum blood damage.
If you are interested in the category of games with some cool time-killing games without much brain involved then stick games is the best platform. The kind of games you get on stick games include Free Rider, Stair Fall, Torture Chamber, Snipper Assasin, Shootout, and more.
Play: Stick games
20. The Impossible Quiz
The Impossible Quiz is a classic brainteaser quiz game that will confuse you until your head starts spinning. The game is designed on the same puzzle-based game we might have played in our childhood. It's still around and still as confusing as ever. TIQ is an online game that is full of twists and jokes that will get you frustrated but also make you laugh. Try to solve the entire quiz as quickly as you can.
This is a quiz-style game with multiple choices for certain quizzes while others require you to think outside of the box. Select the answer you think is right or more appropriate as some answers require some cleverness while few just require luck. You only get three lives so use them wisely.
Play: The Impossible Quiz
21. Akinator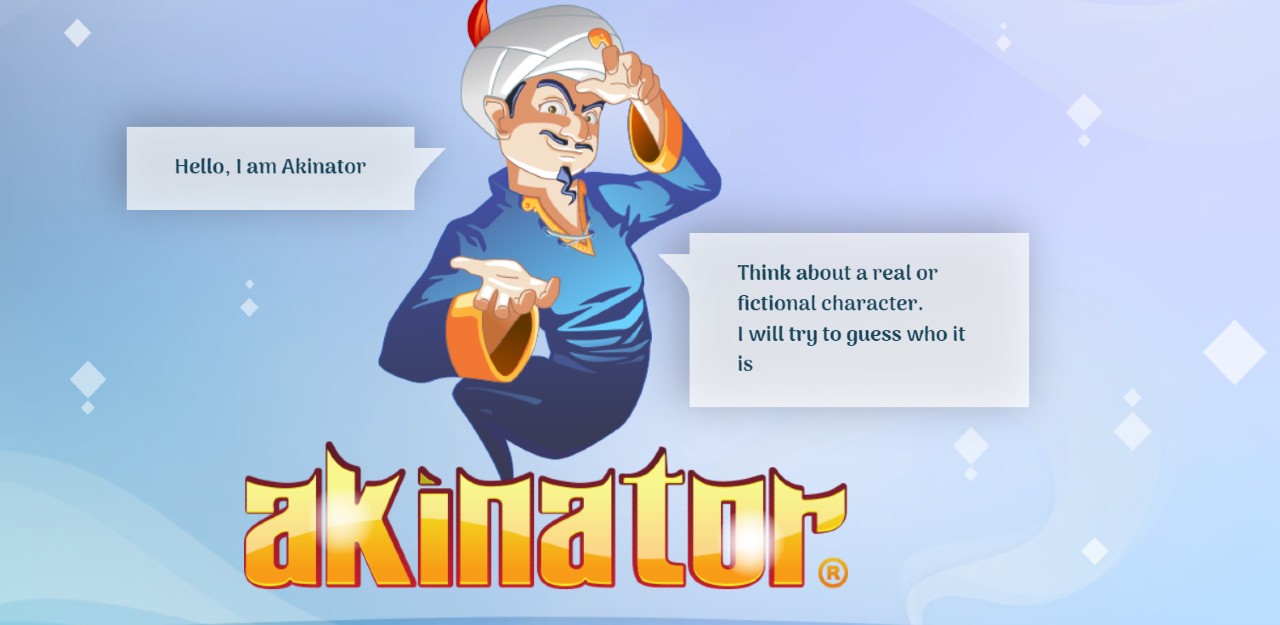 Akinator is one of the most popular games that you can play for hours without getting bored. Just think of a celebrity in your mind, and the intelligence of the game will try to guess the name by asking you some simple questions. The intelligence will beat you almost every time if you are thinking of a popular name and giving the right answers.
Play: Akinator
22. GeoGuesser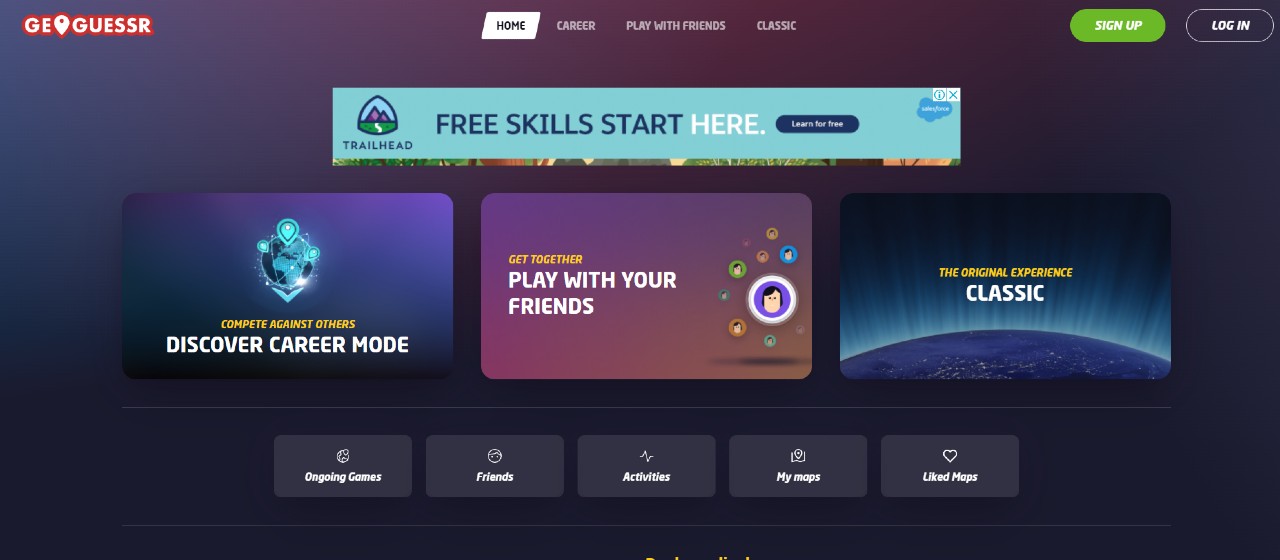 GeoGuesser is a geographic browser game that you play to kill your free time. The concept is very simple, you will be virtually placed in a random location from anyone in the world, and you will have to discover your exact location. You can use the clues offered by the game to help you out in the situation.
Best on the accuracy of your guessed location, the game will give you points. And eventually, the person with the most point wins the game.
Play: GeoGuesser
Conclusion: With that, we conclude this guide on the list of best browser games. All these games are pretty interesting in their rights. The best part about them is the fact that you don't need high-end PCs to try them out. On that note, we would love to hear your opinions on these browser games. Which one of them stands your favorite? Do let us know in the comments section below.
If you've any thoughts on 20 Best Free Web Browser Games to Play Right Now, then feel free to drop in below comment box. Also, please subscribe to our DigitBin YouTube channel for videos tutorials. Cheers!