Weather app has become one of the basic necessities in a smartphone like the other necessary apps like Dialer, Messages, etc. Most of us are fond of weather apps, we always check the weather forecast before planning any outing, tour, etc.
We might not spend as much time as we spend with other services like dialer or messaging services, but the time we spend in a weather app is crucial for many tasks that we ought to do that day.
Apple App Store is filled with a ton of weather apps, and searching for a good weather app is kind of tough, we did the tough task and made a list of the best weather apps for the iPhone.
Best Weather Apps for iPhone
1. AccuWeather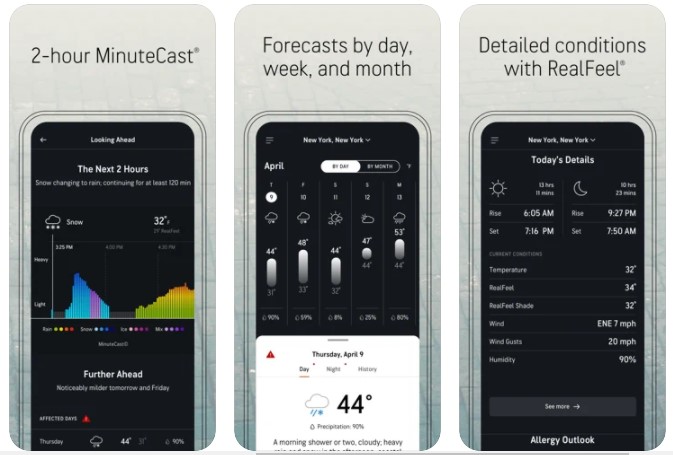 This is one of the best and most accurate weather apps in the Apple App Store which can be downloaded on an iPhone. It has all the features that a person needs. The app generates its own forecast data from various sources like TV, newspapers, etc.
Features
Beautiful and Modern User-Interface,
Feature to Get Live Weather Forecast,
Warning and Greetings according to the Weather Status,
Precise Data Because of the Collaboration with TV, Radio Stations, and Live Websites.
Download Now (Free, $3.99 for Ad removable)
2. The Weather Channel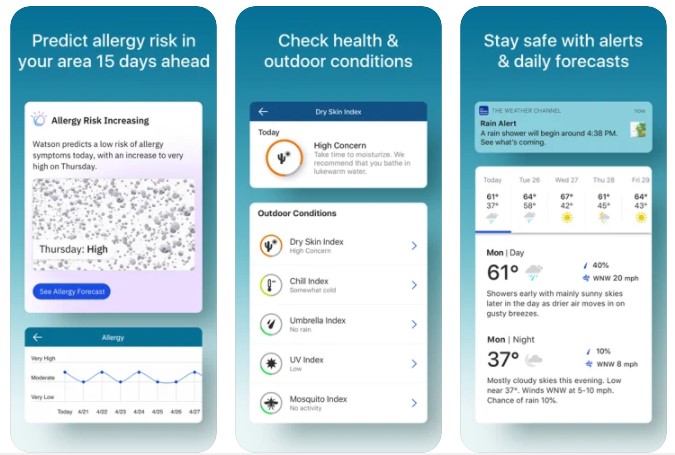 This is another decent app with a #1 rating in the Apple App Store in the Weather category. The app is the intellectual property of The Weather Channel owned by IBM. It has many unique features that actually differentiate it from other apps and make it one of the best apps.
Features
Local Forecast via GPS,
Weekly, Daily and Hourly Weather Forecast,
Up to 15 Days Weather Prediction,
Alerts Based on Local Weather Broadcast,
Other Useful Features like Allergy Tracking, Air Quality Forecast
Real-time Rain Alerts, COVID-19 Tracker
3. Dark Sky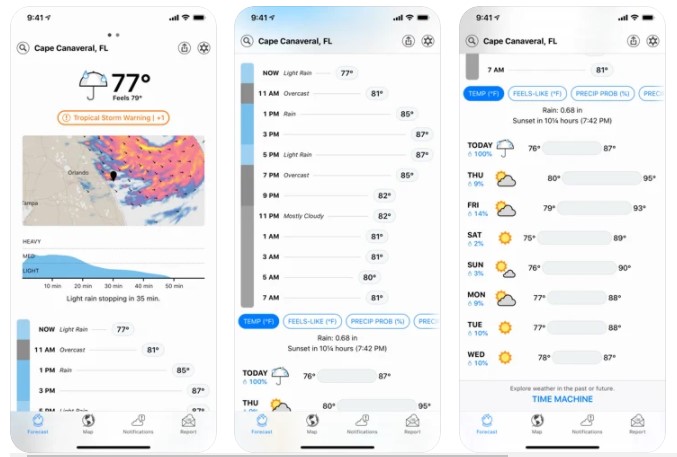 The Dark Sky Weather app is known for its precise forecast and weather information. Although this app doesn't have a free version, the price is $3.99, and let me tell you that it is worth every penny. This is also a community-driven app that allows users to upload weather reports of their native place.
Features
Simple UI with all the necessary information on the homepage,
World Map Feature to Navigate Anywhere,
Self Weather Reporting for Native Area,
Ability to Stop Sharing Personal Data,
Weather Alerts, Rain Notification, Per Minute Forecast,
Maintained by Apple
Download Now ($3.99 & $3 Per Year for More Features)
4. Awesome Weather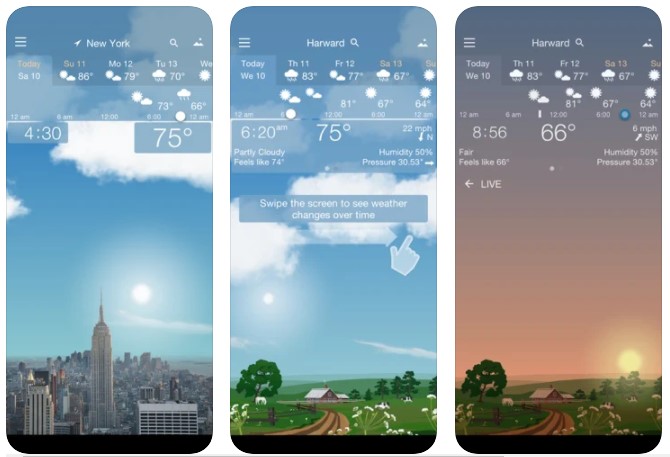 As the name suggests, the Awesome Weather app is a beautifully designed app with precise astronomical predictions. It has a unique feature that depicts the weather situation in the app with the living landscape, for example, if it is raining outside, then the app will change its theme to rain.
Features
Interactive UI with Custom Background Images,
Precise Astronomical Predictions,
Realistic Animations,
Per Minute Weather Forecast,
Sources are taken from  (NWS), Weather Underground, Foreca (nowcasting), yr.no (met.no), METAR, etc,
Up to 14 Days Weather Predictions,
5. Weather Underground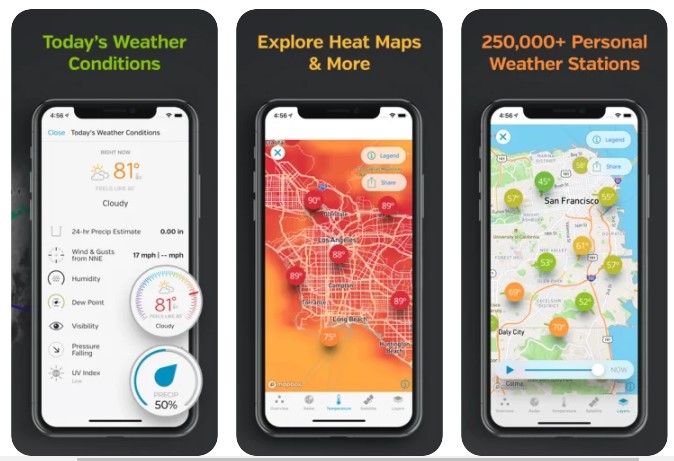 Weather Underground is also owned by IBM. It is one of few apps which fetches data from a large number of weather stations (200,000+) to provide a precise report. The app also allows a crowd reporting feature which helps the system to cross verify the data and report.
Features
Interactive Radar and Satelite View,
Flu Outbreaks, UV Index, and Dew Point,
Hourly, Daily and Weekly Forecasts with Severe Weather Alerts,
Privacy Focused App,
More than 200,000 Personal Weather Stations,
Real-time Report from Nearby Station,
Self Weather Reporting for Native Areas,
Other Features like Electricity Outage Report, Flood Report, etc.
Download Now (Free, Ad-free Version at $4/m or $20/a)
6. Hurricane by American Red Cross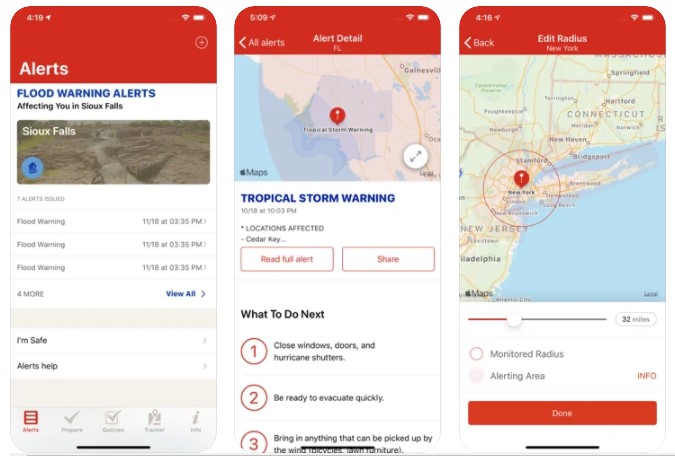 It is more of an alert app than a weather app. The app is developed and maintained by the American Red Cross society. It is an app for tracking Hurricanes in the area but can also be used as a weather app, as it has many features NOAA weather station reports, alarm facility, and much more, which makes it a perfect weather app as well.
Features
Best for Hurricane-Prone Areas,
Other than Hurricanes, Alerts for Earthquakes, Tornadoes, and Wildfires,
Instead of Current Temperature, it alerts when Hurricane or Storms are headed,
Loud Alarm Facility, Flashlight/Strobe Lights, Automated Texts to Contacts,
Results are fetched from NOAA Weather Radio Reports.
7. Weather Line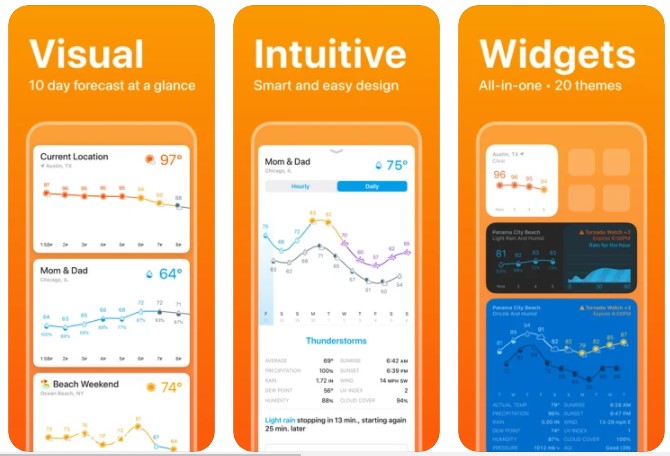 We found it more exciting than others as it is a mixture of the best weather apps. It takes different features and data from the specialized apps like it fetches weather forecasts from AccuWeather, similarly precipitation reports from  DarkSky, etc.
Features
Weekly Update from NOAA,
The mixture of All Major Weather Apps,
Weather Predictions and Forecast from AccuWeather,
Precipitation Data from DarkSky,
Radar and Satelite View from RadarScope,
Don't Store or Sell Your Data,
Beautiful Icon as well as Theme Option with Widget Support,
Beautiful Card Design for Various Info.
Download Now (Free, $1.99/m, $9.99/a, $44.99 lifetime)
8. Windy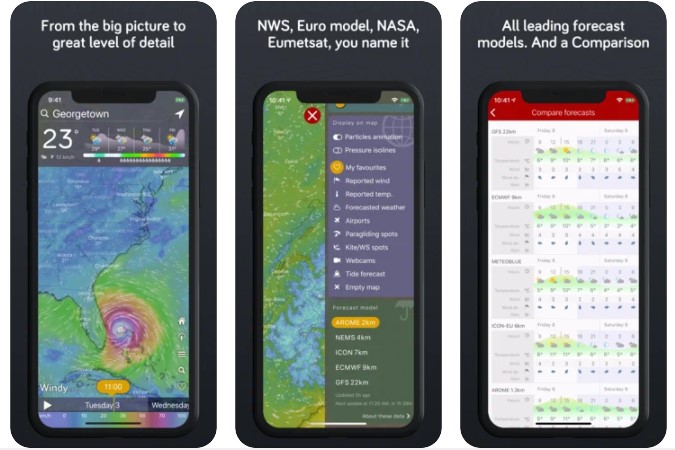 As the name suggests, it specializes in wind prediction and report. It has a ton of features, and it will take another article to cover all those features. It depicts the report with the help of graphical visualizations on the map. From Weather prediction to Air Quality Index, it covers everything in one app.
Features
Radar and Satelite View,
Graphical Representation of Wind Flow,
Rain, Thunder and Snow Prediction,
Visualization of Temperature with Different Colors,
Air Quality Index (NO2, PM2.5, Aerosol, Ozone Layer),
Airport Status and Paragliding Spots,
Representation of All Data with Different Color Palettes.
9. CARROT Weather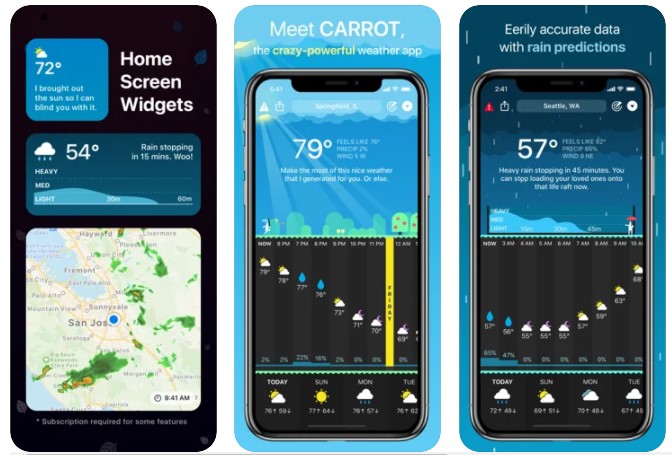 If you need a good time with sarcastic comments while enjoying the weather app, then the CARROT Weather app is your one-stop destination. For instance, each time you open the app, an AI bot will greet/address with sarcastic yet mean stuff like "meatbag", other comments include "It's springtime, meatbag! You can thank me for taking winter out behind the toolshed later," "I hope you get a sunburn," "Your heating bill is going to bankrupt you," etc.
Features
Fetches Weather Report from Dark Sky and Weather Underground,
Hourly, Daily and Weekly Forecasts,
Built-in Geography-related Game,
Hilarious and Sarcastic Comment Statements,
More Usages Reveals Secret Locations,
Works with AR as well,
AI Robotic Voices,
Loaded with a Ton of Customizations
Download Now ($4.99)
10. WeatherBug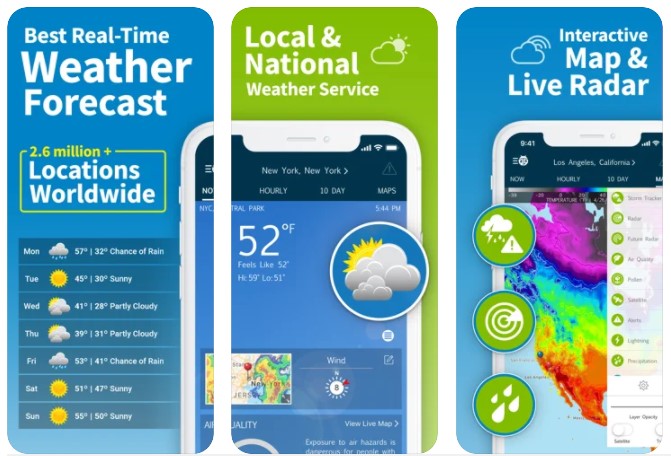 WeatherBug is one of the most fun apps to use, the app includes a lot of unique features like Per-minute, Per-mile Lightning Alert, and report of live local traffic which makes it one of the best in the category. The Doppler Radar is supported in various locations from the US, Canada, Mexico, Alaska & Hawaii.
Features
Up to 10-Days Forecast with Hourly, Daily and Weekly Tracking,
Pollen Counts, Air Quality Index,
Hurricane Forecast,
Per-minute and Per-mile Lightning Alert,
Global Fire Database with Alerts,
Real-time Local Traffic Report,
Doppler Radar Support in various locations like the US, Canada, Mexico, Alaska & Hawaii,
Reports from 10,000+ Weather Report Stations
11. NOAA Radar Pro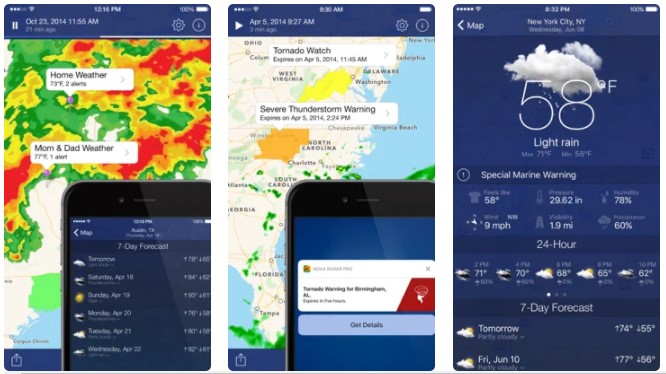 NOAA Radar Pro is a beautiful yet productive app to use as your on-the-go weather app. The app is among the only few apps to show the data of local and global snow layers. So, before traveling, just have a look at the app and you are good to go.
Features
Real-time Animated Radar and Satellite Data and Images,
Weather Alert Notifications,
Local as well as Global Snow Data,
Storms and Hurricane Tracking,
Precipitations, Wind Speed, Humidity, Pressure Tracking
Download Now ($4.99)
12. Hey Weather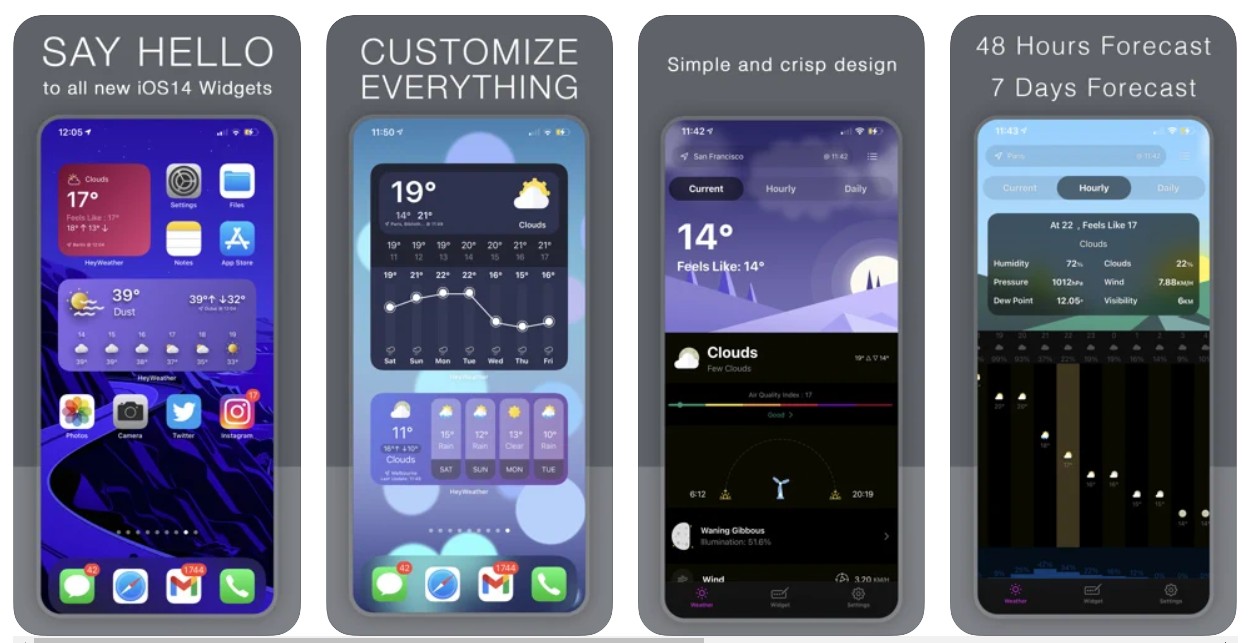 Hey Weather is a great solution if you want to keep track of your surrounding weather without spending dollars on any platform. It has a huge collection of widgets as well that you can customize as per your choice. Although, the app is completely free to use, but at the same time, you'll have to make an in-app purchase to unlock additional widgets, colors, icons, and much more features.
Conclusion: Looking to Check Temperature and Weather on your iPhone Mobile. Here are the Best Free Weather Apps for iPhone
If you've any thoughts on 10 Best Weather Apps for iPhone, then feel free to drop in below comment box. Also, please subscribe to our DigitBin YouTube channel for videos tutorials. Cheers!