The Chrome Web Store (CWS) is an online store for the Chromium web browser developed by Google. It has thousands of free extensions and web apps to install on the Web Browser. The Chrome Addons make the browsing highly productive reducing time and making the web smooth.
So, if you are looking to use Chrome Web Store on your Android mobile then there is away. Though some of the Chrome Extensions may not work on Mobile due to mobile limitations, you can surely use most of the popular Chrome Web Addon on the mobile.
Install the Chrome Web Store on Android
Here are the simple steps to download Chrome Web on Android Mobile Browser.
Step 1. Download Kiwi Browser from Google Play Store.
Step 2. Open Kiwi Browser and enter chrome://extensions in the address bar.
Step 3. Enable developer mode. (If it doesn't show up, you may need to reload the tab.)
Step 4. Now Visit chrome.google.com/webstore in Desktop Mode.
Step 5. Look for your desired Plugin and install it. Done!
Here is a Small Video Tutorial on Chrome Extension Installation on Kiwi Browser.
How to Install Chrome Extensions on Android Using Kiwi Chrome Browser?
Demo Installation Showing Ghostery Extension on Kiwi
1. Open Chrome Web Store on Kiwi Browser
2. Search for Ghostery
3. Add Ghostery, the Plugin will be added, if you see some error message just ignore it.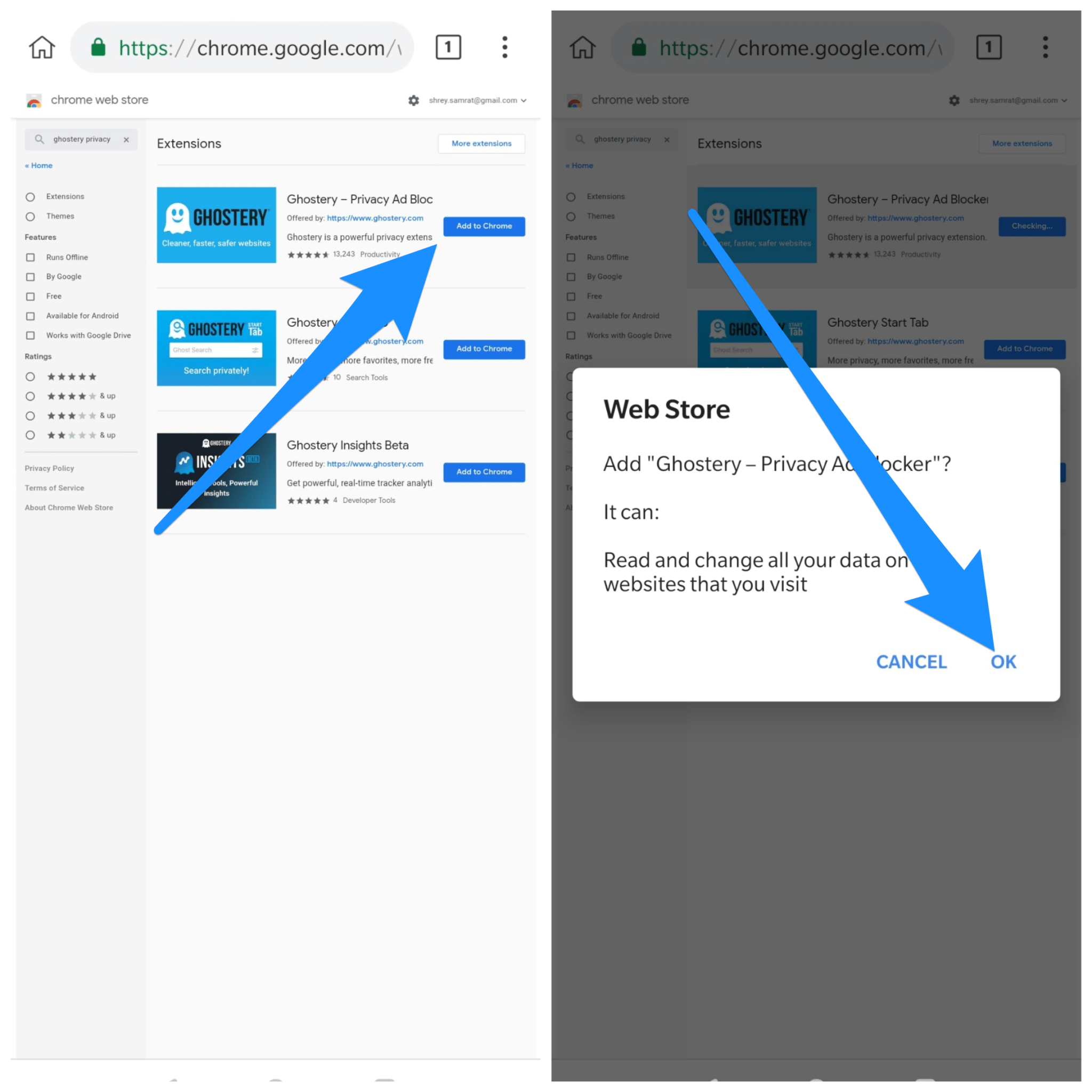 4. Once the extension is added a New Tab with extension details will open.
5. The Extension is added to your Kiwi Browser and Ghostery will do its job.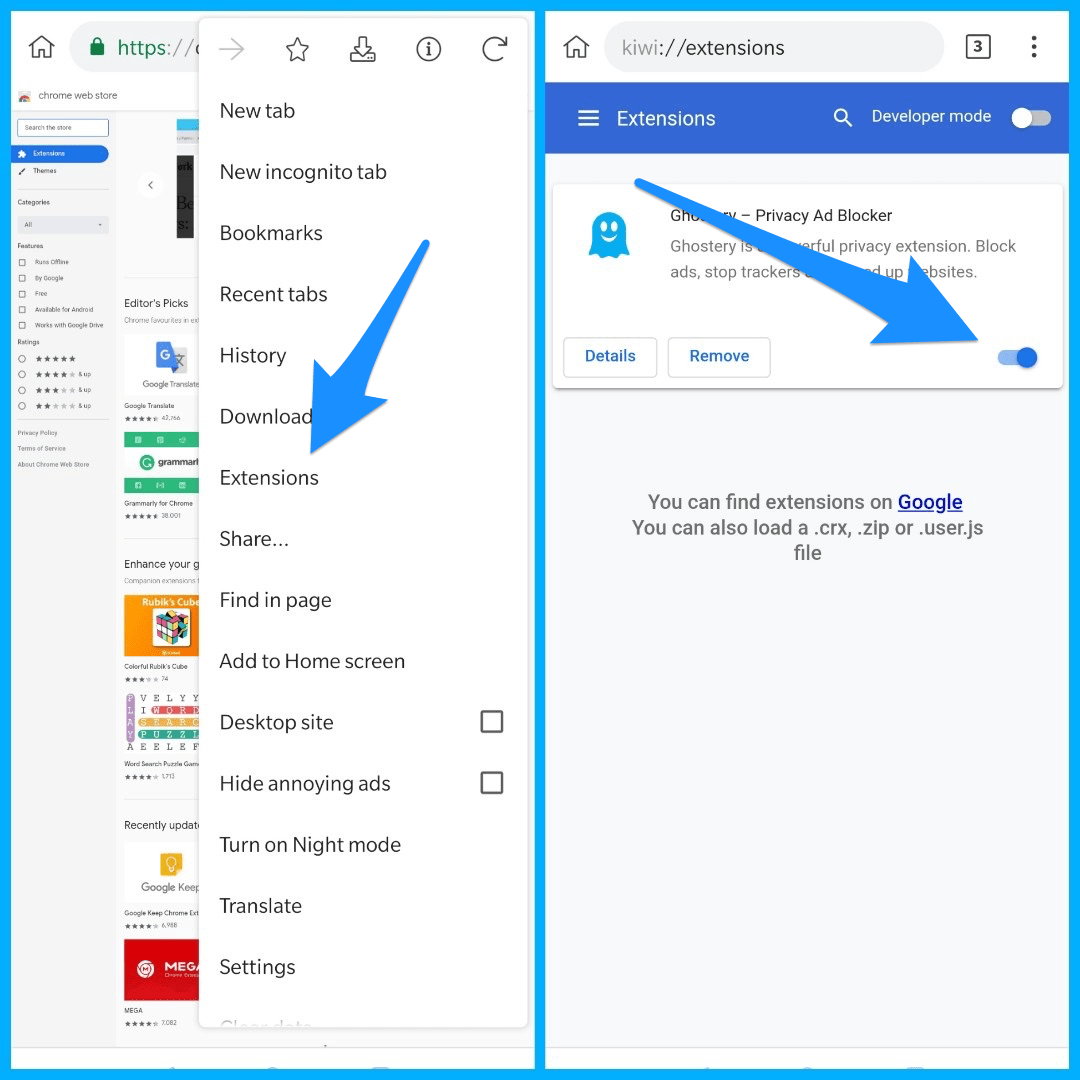 Extensions like Stylus, YouTube Dark Theme, Bypass Paywall, Grammarly, Honey, Video Downloader, and even uBlock are working, according to the developer. You may even be able to install scripts from TamperMonkey/ViolentMonkey.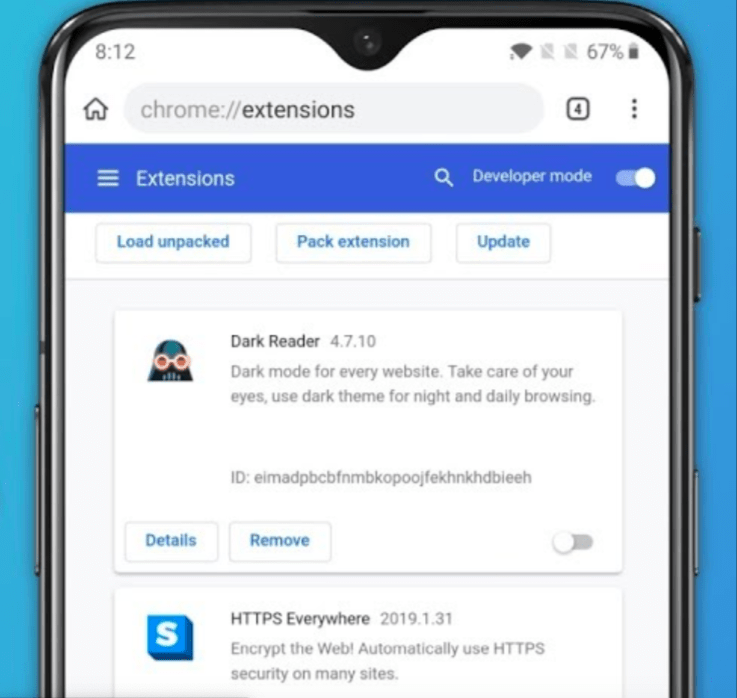 What if Browser Doesn't Support any Plugins?
As I said, some extensions may have limitations due to smartphone web limits. If the extension is not supported by the Browser then I recommend you download any other extension of the same nature.
You can also try refreshing the tabs to check of the browser is installed. Some of the browsers are designed for desktop experience only therefore you may not be able to use than on mobile.
Why Kiwi Chrome Browser?
The Kiwi is a Chrome-Based Browser that runs on Google's Blink Engine and Webkit. Thus, you can expect the same speed and page loads. Apart from speeds, the Browser also has the interface much like the Chrome Browser with inbuilt Ad Blocking and Night Mode. And with Chrome Extensions Support for Android is becomes a complete Chrome Browser.
Here are the Chrome Extensions which are supported Kiwi – web.chrome.com/feature/android
Features of Kiwi Chrome Browser
Built on Google Chromium Code
Chrome Extension Support
Has core features and interface as Chrome Browser
Inbuilt Ad Blocking and Night Mode.
Data Saver and much more.
Conclusion: You can download the Chrome Web Store on Android and use all the Extensions and Plugins on Mobile for Free.
If you've any thoughts on Chrome Web Store for Android Mobile, then feel free to drop in below comment box. Also, please subscribe to our DigitBin YouTube channel for videos tutorials. Cheers!