A couple of months back Signal was only being used by a handful of people across the globe. But then all of a sudden, there was a mass exodus of users jumping ships from WhatsApp over to this platform. So what was the reason behind this unexpected spike in Signal's user base? Well, the world's most popular instant messaging service WhatsApp recently updated its privacy policy.
As per which, users had to agree to the fact that they are allowing the parent company to have access to most of the user data. While your chats were still end-to-end encrypted, other data such as your Status updates, Group Details, Profile Pictures were all now within reach of Facebook and the companies it owns (Instagram, etc). Then taking the WhatsApp Business accounts into perspective, and your data might be within third party's access in no time whatsoever.
Since it is a well-known fact that Facebook and Data Privacy doesn't usually go hand in hand, many users took the ultimate step of bidding adieu to WhatsApp and started looking out for alternatives. And for them, Signal quickly became the go-to choice. But what was the reason behind this tectonic shift of users to this app rather than a plethora of other available options? More importantly, how good is it in respecting user's privacy? Well, let's check it out.
Everything you need to know about Signal
In simplest terms, Signal is a privacy-focused instant messaging app. On one hand, you would be getting all the prerequisites that you could have asked for from an app belonging to this domain. These include the ability to send text and voice messages images, videos, and other files. Likewise, you could also carry out audio and video calls via the app.
But all this is found in other apps as well, so what is its differentiating factor? Well, it manages to outdo its competitor by providing a highly secure environment. First and foremost, it is an open-source app whose entire source code is available on GitHub. Since it isn't working behind closed doors, it automatically answers quite a lot of privacy questions.
Furthermore, all your chats stand end-to-end encrypted. So only you and the intended recipient will be able to view these chats. Even the Signal servers wouldn't be able to decipher them. This is just one of the plethora of privacy measures that it has incorporated. Let's make you aware of some of the other noteworthy ones:
Signal's Approach Towards User Privacy
To begin with, not only your chats but your profile name, and profile data are encrypted as well.
Talking about encryption, it even encrypts the metadata. What about chat backup? Well, Signal stores all your chat backup locally on your device. Since it doesn't involve any third-party cloud service such as Google Drive, so there is one less privacy issue to concern about.
You could also implement a lock screen on this app via the device lock pattern or the fingerprint scanner. Then there is also an option to block users from taking screenshots of your conversations.
Talking about confidentiality, you would occasionally get a notification to verify your identity.
Turning our attention towards calls, Signal has added the Relay Call functionality. This feature relays your call via their servers thereby hiding your IP address.
Well, this might have given you a decent idea regarding the app's privacy measures. Now let's address another important query: how it treats your data.
What Data Does Signal Collects?
Signal's major USP lies in the way it deals with user data. To begin with, it only has your phone number stored with them. Apart from that, all the other components including your chats, profile name, and pictures as well as backups are end-to-end encrypted by default, hence they can't decrypt or access them.
There is just one thing that deserves your attention though;
queues end-to-end encrypted messages on its servers [Source: Signal Legal]
These messages remain on their servers for a temporary period and are encrypted in nature. The reason for this brief period of data holding is required when you send someone a message but they are offline at that point in time.

As soon as they come back online, the messages will be permanently deleted from Signal's server and will be delivered to the intended recipient. With this, we have painted a near about perfect picture of the Signal and its data handling mechanism. Let's now have a look at some of its in-app feature-set.
Signal Messenger Features
While the app might not be counted among the most heavily customizable instant messaging apps, it does give users some degree of customization. Here are some of the striking yet important features of this app that deserves your attention:
Custom Chat Settings
There are quite a few methods of setting up custom alerts for individual contacts. This will easily help you in identifying the person who has called or messaged you without you even having a peek at your display.
In this regard, you could set custom notification alerts for different users, both for calls and messages. Along the same lines, if your device has a LED, then you could instruct it to light with a specific color for a certain user. Then you could even set a custom chat background color for different individuals.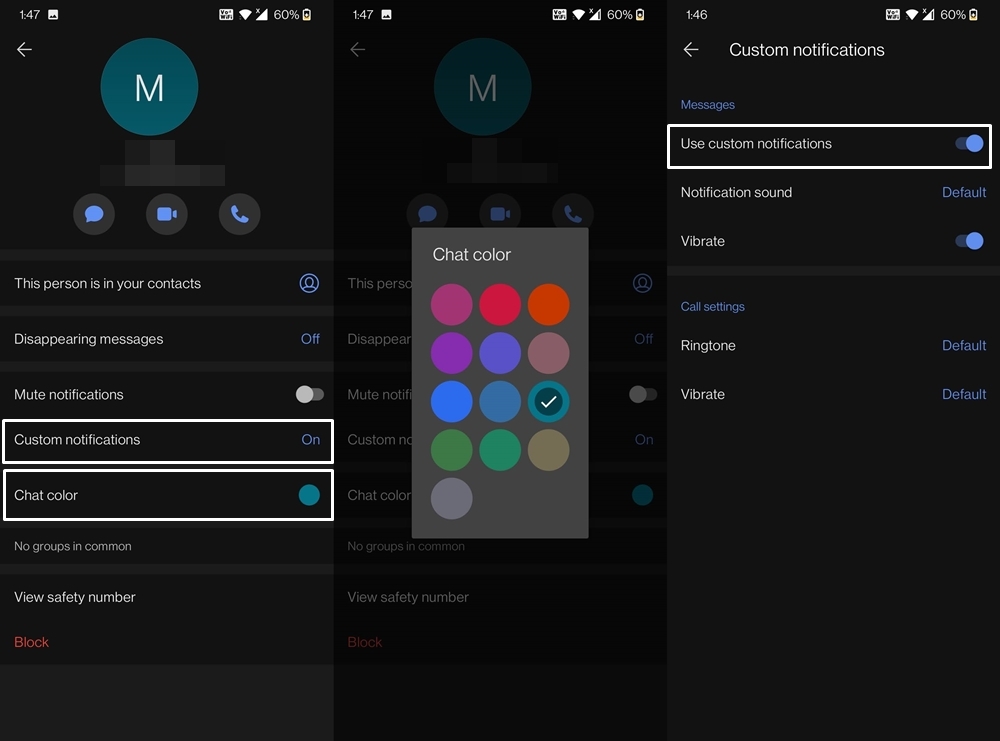 To try it out, go to the intended user's chat screen.
Tap on its name and you should find a few options related to that user.
Go to Custom Notifications and enable the Use Custom Notifications toggle.
Now select the desired tone for Notifications and Calls.
Now go back to one screen and you should see the Chat Color option.
Tap on it and select the desired chat background.
Disappearing Messages
Another pretty nifty feature of Signal is the ability to send self-destructing messages. As the name suggests, these messages will be automatically deleted after an allocated time. And what is this period? Well, it depends on the time that you have chosen, ranging from 5 seconds to one week. By default, it is turned off, to enable it you need to follow the below steps: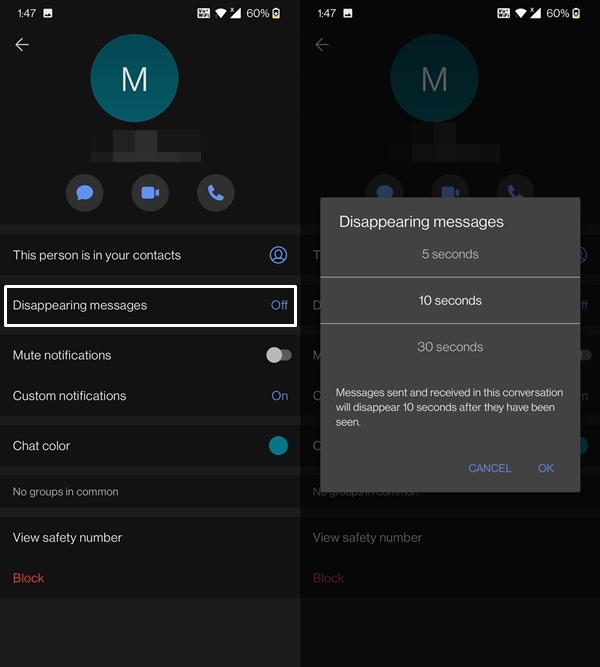 Head over to the individual user's chat screen.
Then tap on its name situated at the top menu bar.
Go to the Disappearing Messages section
Now just select the desired time limit.
Adding More to your Chats
While it mostly focuses on stringent privacy measures, yet it is a messaging app at its core, and it has given due diligence to the same. In this regard, here are some nifty features to make your conversations more interesting:
Using Stickers: To break the monotonous text chats, you could use built-in animated stickers. However, if they fall short of your expectations, then you could create your own as well or download the preferred ones from the store. And yes, these stickers are encrypted as well!

Tags in Group Chats: It is quite common to get lost in the sea of conversations, especially when you are part of a group chat. The app seems to have taken a note of the same and introduced the ability to mention another member of the group by using the @ tag. In doing so, that user will be notified of his/her mention so that they could directly refer to the message meant for them.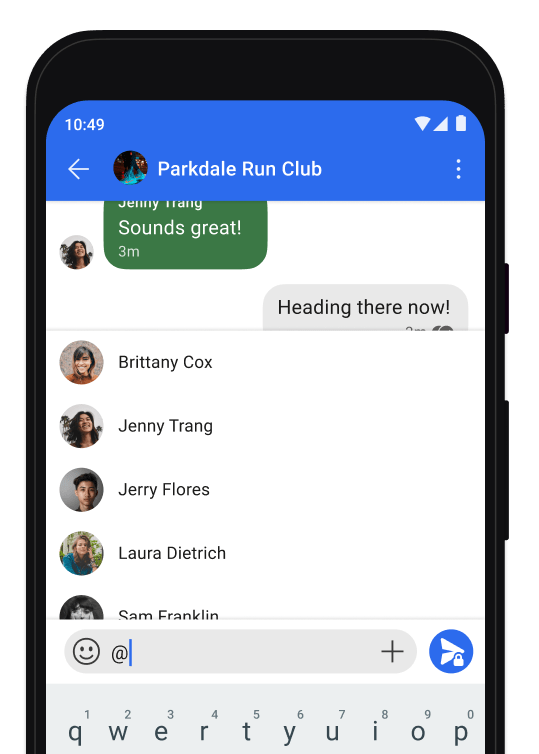 Message Reactions: Similar to other social media platforms, Signal allows you to react to any message using various emoji reactions. So if you were planning to replace your monotonous text replies with reactions, now seems the perfect time for that.
Note to Self
This is one feature that I find quite useful, but don't think it gets the appreciation that it deserves. For many, the quickest way of taking notes is by sending them to themselves. While WhatsApp required quite a few workarounds to get to this point, Signal has incorporated this feature by default.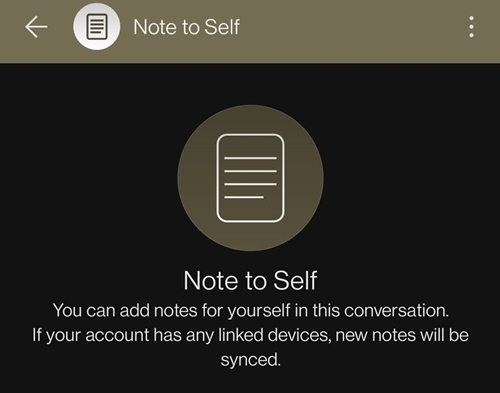 Furthermore, it acts as a regular chat screen: you could send texts, messages, audio, and all types of files. Just tap on the Type icon, search for Note to Self and jot down all your important stuff there.
Link Previews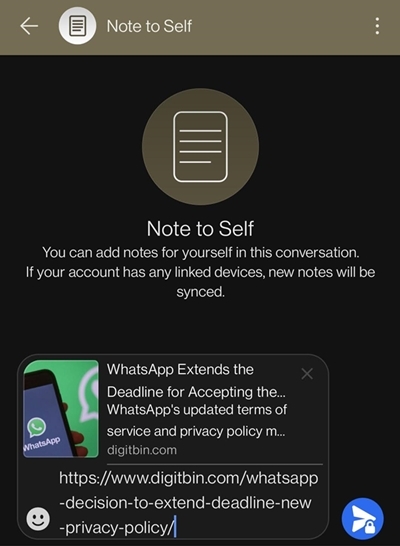 When you send an URL to any user, Signal will automatically generate its associated metadata as well. So apart from the URL, the recipient will also be able to get hold of the featured image, title, and a short description associated with that link. However, if you just want to send it in its bare form, then you could easily disable this feature via Settings > Privacy > Link Previews.
App Privacy Features
Since we are discussing Signal, including this section was among the most obvious things for us. You can also block Screenshots. Most of its privacy-centric features have already been covered in the earlier section, here we would be looking at some of the other underrated ones: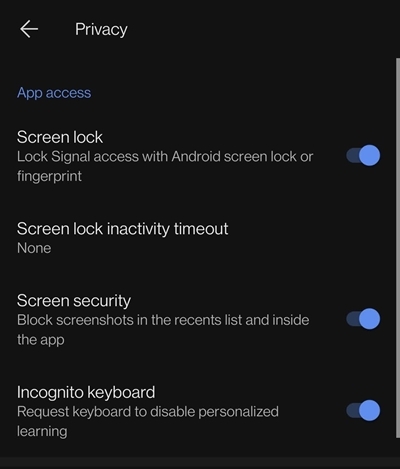 Screen Lock: Enable this feature and the app will respect your device's security, whether it is just a normal screen lock or fingerprint authentication.
Screen Security: If you don't want the intended recipient to take a screengrab of your chats with them, then you should consider enabling the Screen Lock feature.
Incognito Keyboard: Your smartphone keyboard usually remembers your input type to improve recommendations or its autocomplete feature. However, if you consider it as a security flag, then you could easily disable this keyboard behavior, at least inside the Signal app. On the downside though, your typos and errors might not be automatically corrected after enabling the Incognito Keyboard option, so decide accordingly.
Desktop Version
Signal also has its desktop build as well, and setting it is a piece of a cakewalk. Furthermore, as opposed to other messaging services, you don't need to be online from your device while accessing its desktop app. All that is needed is scanning the QR Code from Settings > Linked Device and then linking your smartphone with the PC's version of the app.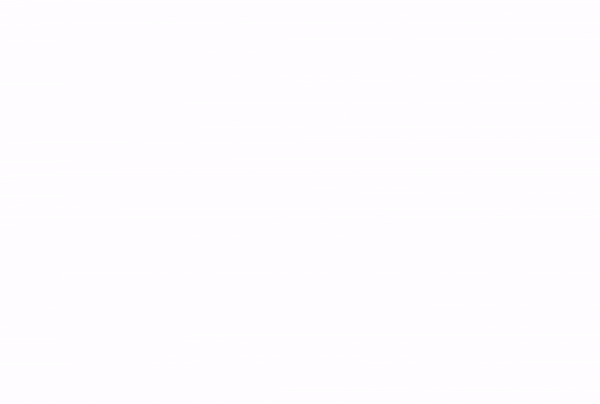 Features that Missed the Cut
While Signal indeed has some pretty nifty features in its arsenal, there are still quite a few useful ones that aren't yet available. If you are coming from WhatsApp or Telegram, then the need for them might grow exponentially. Some of the missing Signal features that need a callout include the inability to share live location, check user's online status, absence of About Me section, not able to share status updates, and no web version (you have to use its standalone app).
However, most concerning is the lack of a user ID system in place. For the unaware, it means that you could only connect with someone on Signal after you have shared your personal mobile number. An app that has its roots firmly held in the privacy domain requiring you to share your contact details seems to be contradictory. Fortunately, this isn't going to last long as the Signal Team is already working on it, as per their response to this query on Reddit.
So with such a long list of impressive features (and a few misses), there seems to be no room for any caveats? Well, there are some, and until and unless I make you aware of both sides of the coin, we wouldn't be doing full justice to this article. With that said, let's check out some of its shortcomings.
Signal's Drawback: Privacy over Ease of Access?
No matter how polished an offering is, there has to be a few rough edges. And that seems to be the case with this app as well. The first one might be temporary in nature (fingers crossed) but since it is bugging quite a few users, we thought of including it here. Due to a massive and sudden influx of users from WhatsApp to Signal, the latter's servers aren't able to handle all this traffic quite efficiently.
Some users have complained that they are unable to send messages but are rather being greeted with this error message. Well, Signal is already aware of this issue and is "busy adding new servers and extra capacity". So this might be a temporary blip in the radar.
The next issue (if you would like to call one) is regarding how it deals with chats backup. As we have already mentioned, it doesn't store any backup on its server or any other cloud service. Whatever data is created is stored on your device only. So if your device gets corrupted or it had to undergo a factory reset, then you would lose all your conversations to date.
The only workaround for this is that you will have to manually keep a copy of this backup and store it on your PC or SD Card. So while this local backup feature manages to score on the Privacy factor, it might not rank higher on the ease of usability scale. Talking about ease, its method of handling chat backup might be a cause of concern for some.
The first time you create a backup, you will be given a 30-digit passkey. This passkey will be needed the next time you are about to restore your Signal data and chats. If you end up forgetting this key, then there is no way of getting back your data. In my opinion, they could have instead chosen a middle ground and allowed the user to set up their password.
Or if that isn't possible, then they could have limited this passkey to around 5-6 digits. But this is how things stand at this very moment and a slight mistake in dealing with your chat backup might have disastrous consequences for some. All in all, it ultimately depends on how willing a user is to accept this trade-off between data privacy and ease of access.
Concluding Remarks: Is the Hype Justified?
So all this leads to a pretty important question: is the hype surrounding this relatively newer player in the market justified? Or is it just another one of those short bubbles that might soon burst? Well, as things stand, it is inclined towards the former.
While it's majorly taking a privacy-centric approach, but at the same time, it has also given equal weightage to all the required features that a user could have asked from an app belonging to this domain. Considering the fact that the app's only caveat arises due to its being overprotective and deeply engrossed in dealing with user's privacy, it speaks volumes in itself.
Rounding off, there goes a popular saying that "Online Privacy is a Myth". Well, it seems there is finally a player that is about to put this myth to rest. With that said, we would love to hear your opinions about this. Are you willing to make a switch from WhatsApp to Signal? Or are you now firmly interconnected with Facebook's offering and aren't looking for a change anytime soon? Drop-in your valuable feedback in the comments section below and keep us aware!
If you've any thoughts on Everything you Need to Know About Signal Messenger, then feel free to drop in below comment box. Also, please subscribe to our DigitBin YouTube channel for videos tutorials. Cheers!