Talking about Google Earth, then you can see satellite images of our planet with Google Earth Engine, a cloud-based geospatial analysis platform. Google offers the program for free, and it has been updated regularly since it was introduced in 2005. However, as per the recent records, over one billion copies have been downloaded of Google Earth.
Despite the many valuable features of Google Earth, some users like me still desire to explore and find out alternatives to the Earth Map service. So, below you'll get a complete listing of the top Google Earth alternatives to this. Therefore, if you're still looking for this, be sure to read this guide until the end.
What Are The Best Google Earth Alternatives?
Here are some Google Earth alternatives that you can use. Therefore, in case you are seeking such alternatives, make sure to read this guide until the end.
1. Maptitude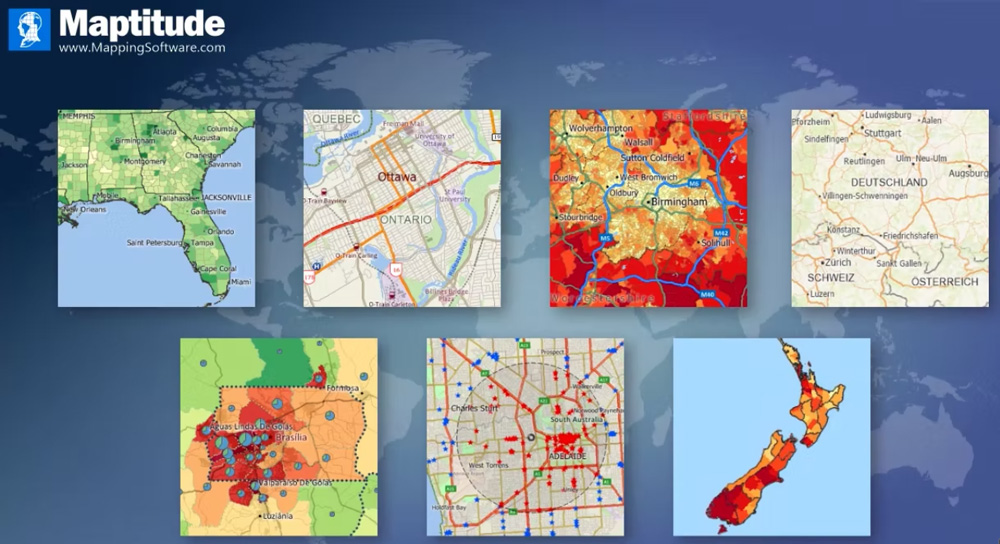 This type of GIS enables mapping software to be used widely. However, using this alternative, Geographic data can be managed, shared, and analyzed by multiple users at a single time.
Moreover, this desktop mapping software has some comprehensive features. For example, it provides many new and enhanced features that simplify your work for creating and editing maps.
In addition, the maps can be customized with your own data, which allows you to analyze certain regions' geographic information. However, that's the reason why this software easily manages to get the number one spot in our recommendation.
Features: 
Locate your customers exactly where they are.
Track sales by location.
Discover new revenue streams.
Analyze trends and patterns in geographic data that can't be hidden in spreadsheets and databases.
Most elements displayed on a map can be controlled with transparency.
Icons are based on images.
Determine which geographical questions affect your business.
2. QGIS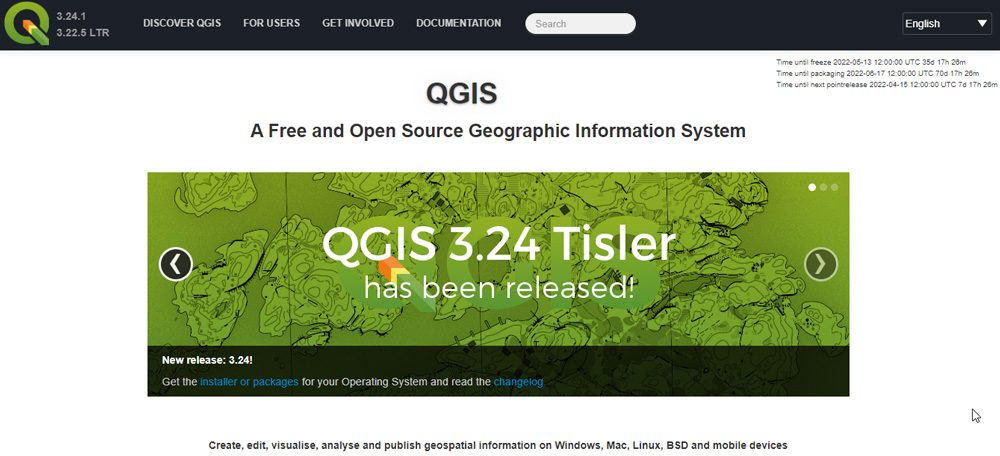 QGIS a useful tool for increasing spatial visualization and analysis utility. Moreover, it is an open-source software package that facilitates geospatial analysis, viewing, and editing of data based on the contributions of technical experts around the world.
So, in my opinion, this will be the right choice if you are looking for software that can easily replace Google Earth on your PC. Nevertheless, a significant advantage to QGIS is the fact that it is a vector-based program, meaning you can draw any geospatial data you want in it.
With QGIS, no matter how much you zoom, the terrains or maps will always look good. Moreover, using QGIS 3, you can digitally transform Google Earth, Google Terrain, Google Maps, Google Satellite, etc.
Features:
QGIS supports nearly any vector or raster GIS data format.
No SQL language is needed to manage the database.
Easy user interface.
3D vizualization and modeling.
Integrated with Python.
3. ArcGIS Earth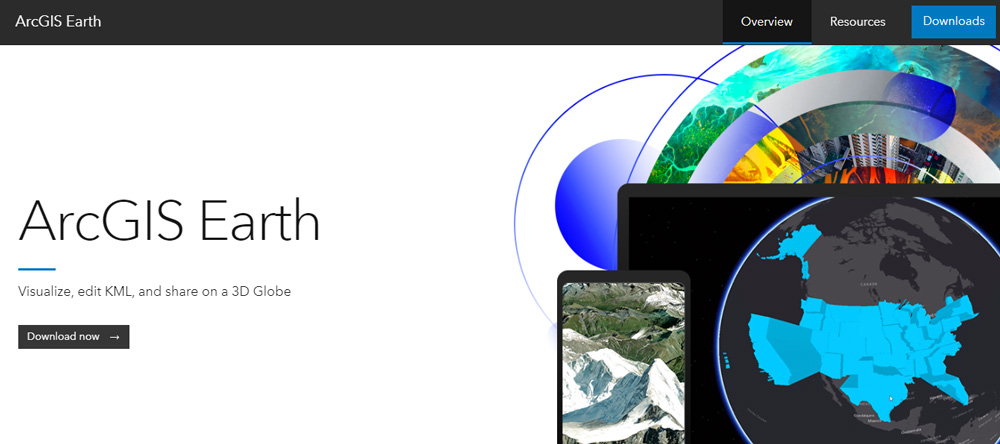 ArcGIS Earth offers an interactive 3D environment for planning, visualizing, and evaluating events all around the globe. However, this free and easy-to-use tool provides enhanced decision-making in a way that doesn't rely on the Internet. I think ArcGIS Earth's best feature is its ability to import data from its other sources, such as the ArcGIS Living Atlas, ArcGIS Online, etc.
So, no matter what device you own (Android, iOS, Windows), you can download their official app and use the next-gen features that you may not get on Google Earth. Hence, it will be one of the excellent Google Earth alternatives available on the Internet.
Features: 
On desktop and mobile devices, it provides situational awareness for better decision-making.
It can read data in various formats, including 3D models of our mother Earth.
KML editing workflows are supported in ArcGIS Earth.
Totally free-to-use.
4. AutoCAD Map 3D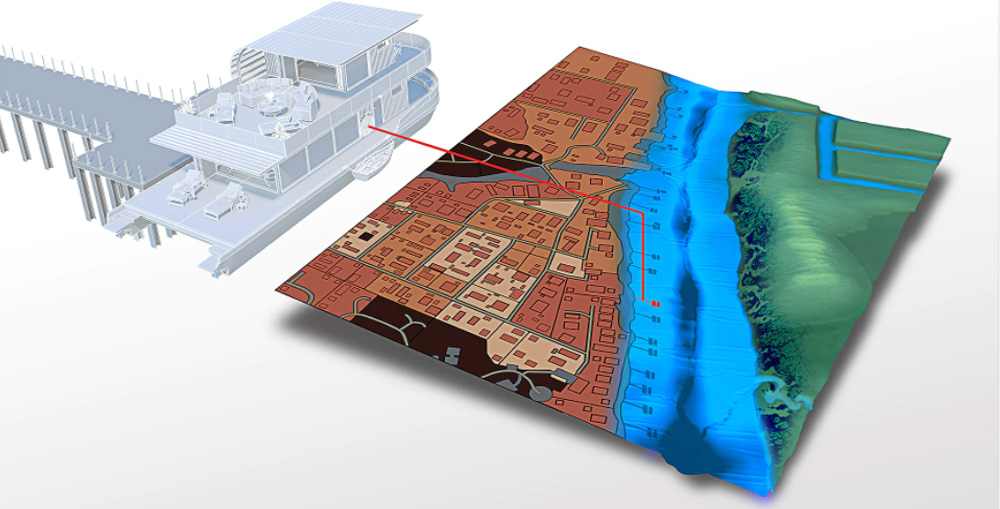 As the name suggests, AutoCAD Map 3D is a user-friendly GIS software developed by Autodesk. Using this tool in GIS mapping is a great way to improve your business. Moreover, it is very useful since you are able to create models for analysis by using topographic details from GIS and CAD data.
It basically bridges the gap between CAD and GIS in engineering design and geography. AutoCAD Map 3D's main advantage over Google Earth is the ability to design thematic maps. But, to use this tool, you have to purchase it first from Autodesk's official website as they didn't offer any free services.
Features: 
Editing, COGO, and topology tools are integrated into one package.
Mapbooks with grids of indexes for different themes.
Ideal for Autodesk users.
LiDAR and surface point clouds included.
Logic-based interface.
CAD/GIS integration.
5. Global Mapper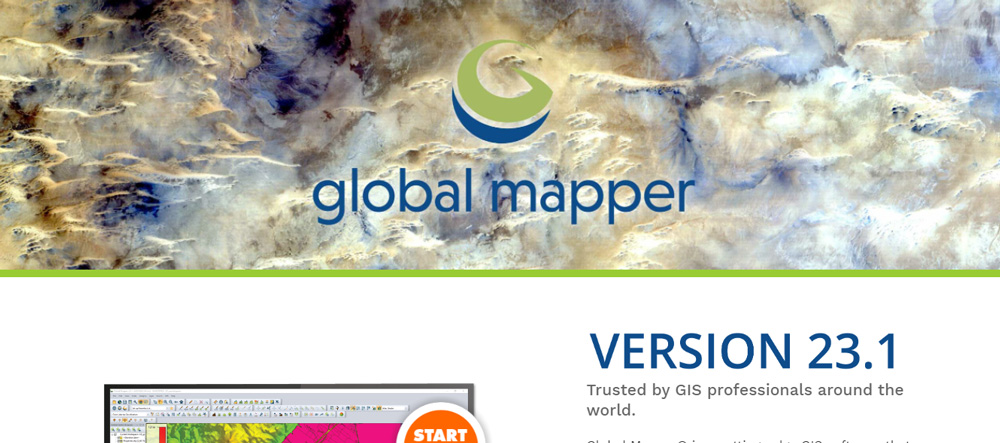 Global Mapper is a GIS software developed by Blue Marble Geographics. Using this tool, you can visualize, edit, and analyze any format's Lidar and point cloud data.
In addition to supporting point clouds of virtually any size, the software provides tools for easily evaluating this information. Unfortunately, you didn't get many features in the free version compared to the pro version.
You need to purchase the Global Mapper Pro to access the extensive set of tools for editing, creating data, performing advanced 2D and 3D analyses, scripting for workflow automation, and many more premium features.
Features: 
Able to import/export data.
Online data accessibility.
User-friendly interface.
Automating.
3D rendering.
Topographical analysis.
Web-based mapping and publishing.
6. MapInfo Pro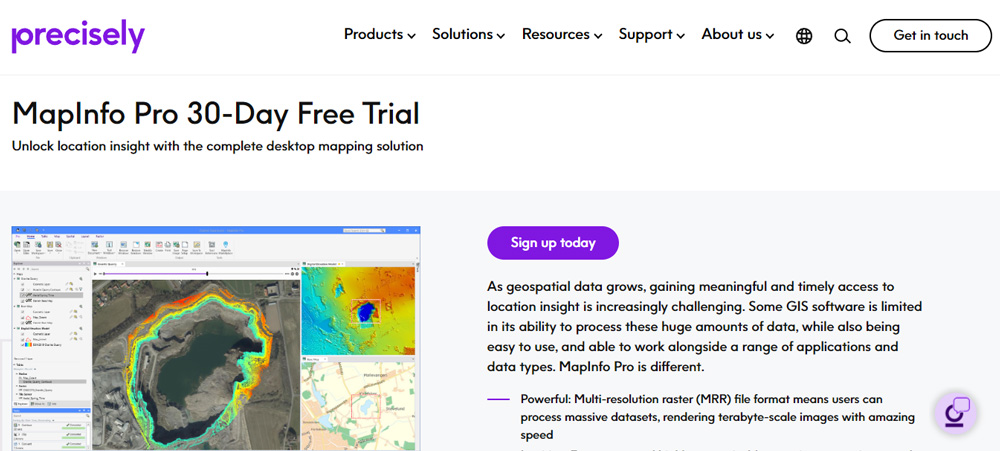 The MapInfo Pro desktop GIS application is produced by Precisely and is used to map and analyze geographic locations. There are many professional geospatial analysts who use this GIS software.
Using this software, you can view the thematic maps, manipulate the raster data, make spatial queries, and, if needed, then generate maps, all in one place.
Also, it is 64-bit software that is highly optimized for Windows users. Therefore, if you are a Windows PC user and looking for some best Google Earth alternatives, you can consider MapInfo. More importantly, it comes with a 30-days free trial which allows you to first try it before deciding whether to purchase it.
Features: 
Options for visualizing data.
Integrated location intelligence.
GIS analysis of raster data.
Create and edit data.
Allow data sharing.
7. NASA World Wind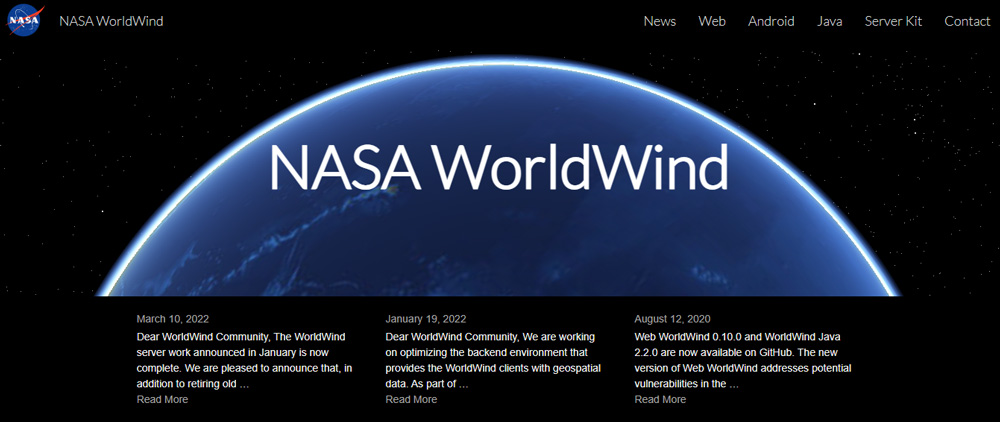 In 2003, World Wind was developed by NASA itself as a communal part of open-source as a virtual globe for use by general people. The World Wind is basically based on .NET Framework, which could only run on Microsoft Windows.
However, the more recent Java version of World Wind Java supports cross-platform integration. So now, why does this have the potential to replace Google Earth? Well, this program overlays NASA and USGS satellite imagery, aerial photography, topographic maps, Keyhole Markup Language, and Collada files which make it far better than the Google Earth Map.
The World Wind also has the added benefit of NASA magic over Google Earth. So, you can consider this as it is totally free to use and there is no hidden charge.
Features: 
SDK and API for creating 3D virtual globes.
Easily integrates 3D geography into any application.
Support Windows, Mac OS X, and Linux.
A government initiative.
Development and runtime licenses are free.
Unrestricted use across multiple devices.
Stunning images and terrain from NASA servers.
8. Zoom Earth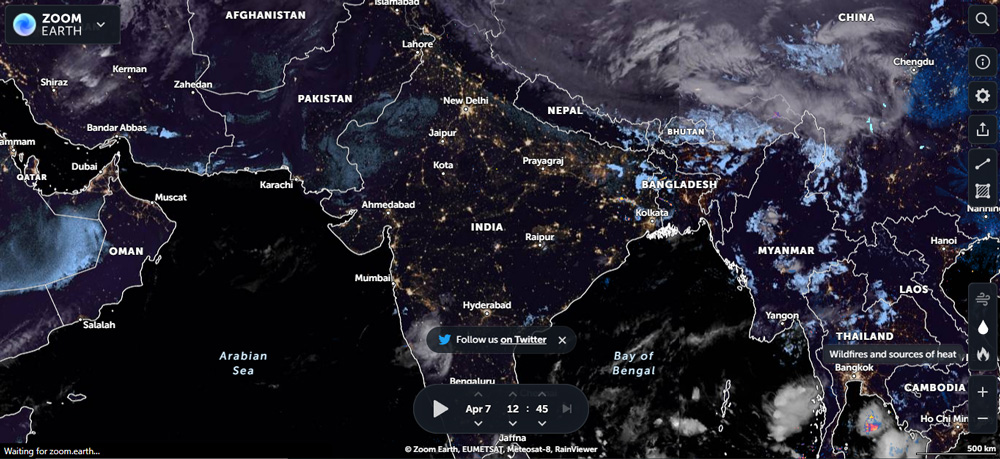 Zoom Earth is the best alternative to Google Earth because it offers great imagery of the Earth without any involvement from Google's services. Instead, it is totally a web-based service that shows real-time updates on fires, storms, weather, and other information, similar to any other service.
It allows you to zoom maps with high-resolution aerial views of many of the places shown in the picture. You can also see images of the history of any place. So, you must consider this great service as one of the best Google Earth alternatives.
Features:
Radar images of rain and wind speeds for real-time weather visualization.
A fast, zoomable weather map with live global satellite images.
You can find out about hurricanes, volcanoes, earthquakes, etc.
9. 2GIS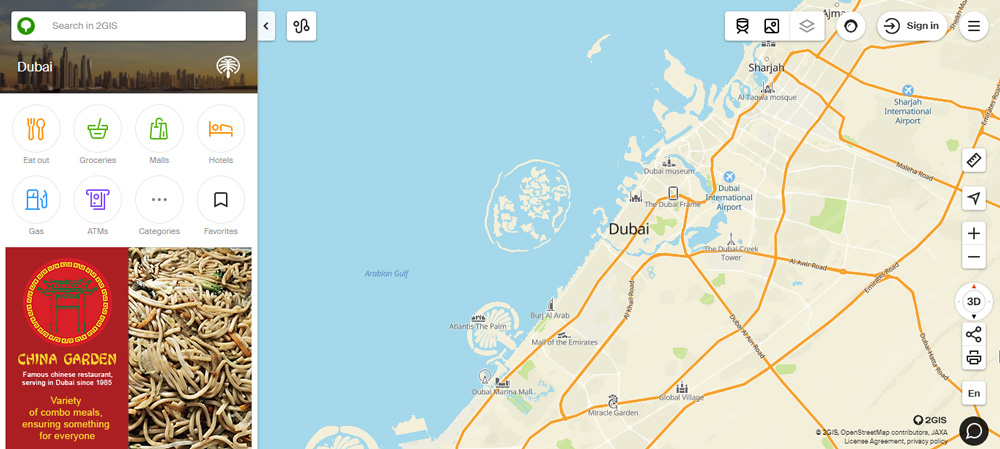 2GIS is basically a directory that has a map and navigator. You can access this directory without an active Internet connection, which makes it one of the most interesting things about it.
But, to use that feature, you must have to download the city or any particular region's database, then use it on the plane, subway, or wherever you are roaming.
There are more than 180 cities included in 2GIS, and 1.5 million companies are listed and directions to cars and public transport routes. So, I think this could be a great Google Earth alternative, but it depends on your needs.
Features:
The site has more than 42 million monthly active users.
Download 2GIS free of charge from 2GIS.com, the AppStore, or Google Play.
No Internet connection is required.
3D maps of more than 180 cities.
Offline navigation and mapping.
10. ESRI ArcGIS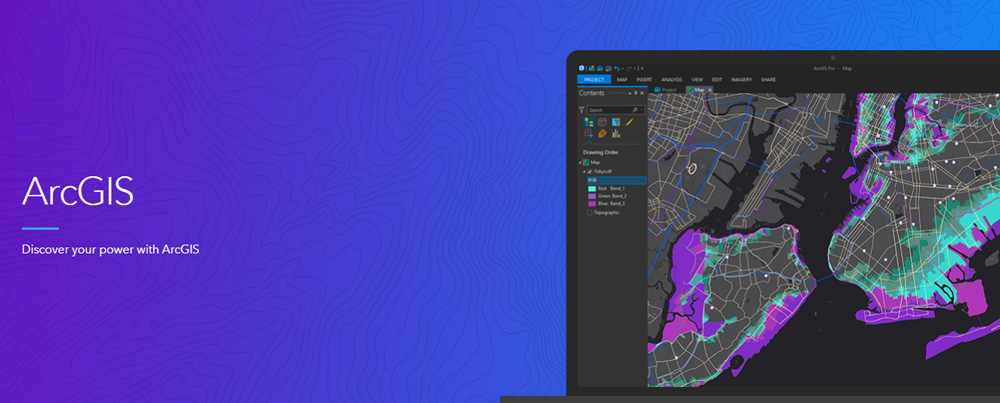 ArcGIS by ESRI provides every component that is required to extract and manage information from imagery and remote sensing data. In addition, however, it provides imagery tools that maintain workflows to visualize and analyze an extensive imagery collection.
However, since ArcGIS has been around for quite some time, it still remains one of the most widely used GIS software packages despite stiff competition from so many other open source and commercial GIS tools.
In addition to healthcare, ArcGIS offers navigation, engineering, transportation, geology, and more applications. So, in my opinion, the ESRI ArcGIS is one of the best Google Earth alternatives.
Features: 
Providing data hosting services.
Population statistics.
Analyzing data.
Searching and geocoding.
Finding routes and directions.
Geographic analysis.
Wrap Up
In conclusion, we have covered a number of alternatives to Google Earth that you can use to view the entire globe from above with satellite imagery and terrain 3D views of hundreds of cities.
If you've any thoughts on 10 Best Google Earth Alternatives, then feel free to drop in below comment box. Also, please subscribe to our DigitBin YouTube channel for videos tutorials. Cheers!