Instagram is a highly favored social networking site around the globe. It allows individuals to share pictures, videos, and stories with their followers. Nonetheless, some users might struggle to sign in to their Instagram accounts. This article will detail common reasons for login troubles and suggest ways to resolve them.
Reasons Why Can't I Log into Instagram?
Incorrect login credentials: One of the most common reasons users cannot log into Instagram is incorrect login credentials.
You've violated Instagram terms: Instagram may restrict access if you have just opened an account and followed many users or liked many posts. This could occur if you have linked your Instagram account to third-party applications.
Changed Location: If you have used a VPN or Fake GPS app, Instagram may block the login citing suspicious login.
Poor Internet Connection: If your connection is weak or unavailable, you will likely be unable to access Instagram.
Server issues: Sometimes, Instagram may experience server issues that prevent users from logging in. If this is the case, you can check the status of Instagram's servers by visiting Instagram's Twitter account or the DownDetector website.
Account has been hacked or disabled: Another reason you may not be able to log into Instagram is that your account has been hacked or disabled. If your account has been hacked, you cannot access it until you recover it.
Instagram Disabled:  If Instagram detects that your Account has violated one or more of their community guidelines or terms of service. Instagram has strict policies regarding what type of content is permitted on its platform, and breaking these policies can result in your account being disabled or permanently banned.
Top Ways to Fix Can't Log in to Instagram Account
1. Find the Correct Instagram Username and Password
The prime reason Instagram Won't Let you log in to its app is an incorrect login ID or password. Make sure you use the correct capitalization, as passwords are case-sensitive. In case you forgot your password, request a reset link via mail or SMS.
Sign in to the email account that you used to register for Instagram.
Navigate to your email inbox and locate the email that was sent to you by Instagram. The email should contain your Instagram username.
It is not possible to retrieve a forgotten password. However, you can reset your password using your email or phone number.
Open the Instagram app on your phone.
If you are using an Android device, tap on "Get help with Signing in", or on an iPhone, select "forgot password" from the login screen.
Please check your email and follow the instructions to reset your password.
2. Check Network Connection/Disable VPN
Ensure your device is connected to a stable Wi-Fi network or cellular data. If your network connection is weak or unstable, you won't be able to access Instagram or any other internet-based apps. Try restarting your Wi-Fi router or resetting your cellular data connection if it seems unstable.
When you enable VPN, the device is routed to a different server. This may cause Instagram to believe a suspicious login attempt and may prevent you from logging into your account. Therefore, it is better to disable the VPN or Proxy.
Open the Settings app
Scroll to the option VPN.
Tap on the switch beside VPN to disable it.

3. Login with Facebook Information
You can log into your Instagram account using your Facebook login details, but this can only be done if you have linked both accounts.
To do this, go to the Instagram login page and select 'Login with Facebook.' If you're already logged into the Facebook app, you will automatically log into Instagram.
However, you must enter your Facebook login details if you're not.
4. Check if the Instagram Server is Down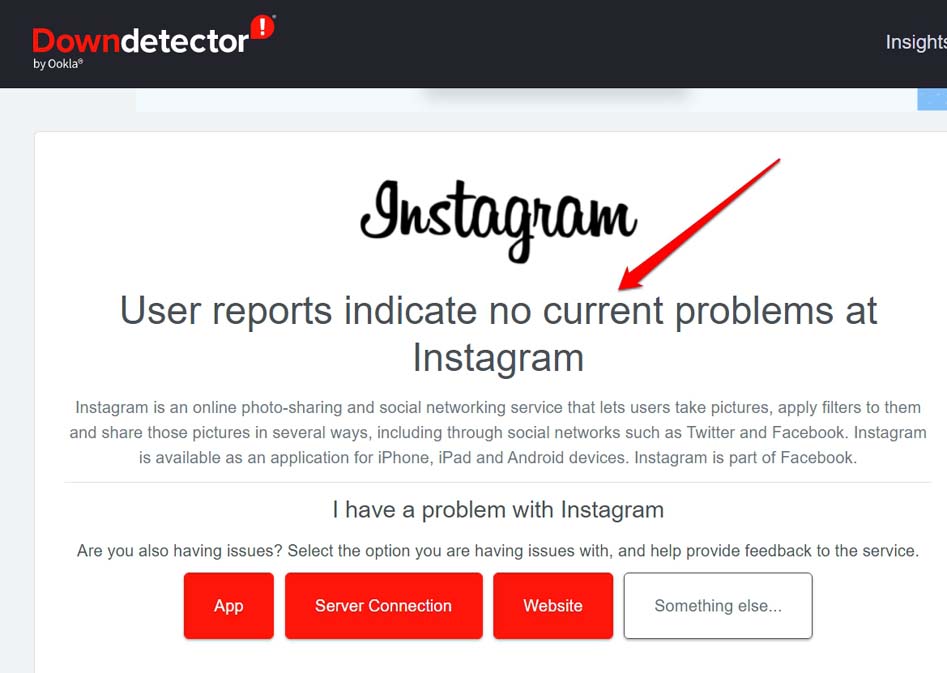 If Instagram's servers are experiencing problems, you may encounter difficulties logging into your account. Downdetector is a website that monitors service disruptions for various providers, including Instagram.
You can check Downdetector on your computer or mobile device to determine if the issue is related to server errors.
5. Clear the Cache of Instagram (Android)
Cache build-up is one of the reasons for the app to crash or malfunction. Here are the steps to clear the junk data from the cache of the Instagram app.
Long press on the Instagram app icon by going to the Android app drawer.
From the shortcuts menu, tap on App Info.

Under the app info section, tap on Storage & Cache.
Then tap on Clear Cache.

The app crashing issues should be fixed.
6. Update the Instagram app
Using an outdated Instagram version can permanently block your login attempts, but upgrading to the latest version can resolve many issues.
To update the app, you can visit Google Play or App Store or search for Instagram, and if you're not already using the newest version, an update option should be available alongside the app.


7. Log in via Instagram desktop
An alternative solution for resolving the inability to log in to an Instagram account is to access the platform through its website. This method can help determine whether the problem lies with the app, the phone, or other factors.
Simply use the direct login link in your web browser to access the application and check if you encounter any issues while logging in.
It is worth noting that the browser version of Instagram is similar to the app, but there are differences regarding features such as posting stories or pictures.
Furthermore, the browser version is generally slower than the app and lacks some of its functions. However, the app can sometimes have glitches that are more challenging to fix than those on the browser version.
There are steps you can take to address these issues. For instance, if you log in to Instagram on a laptop or computer, the first step is to refresh the page by clicking on the reload icon in your browser. On Windows, you can use the shortcut keys CTRL + R to refresh the browser screen
8. Restart the Device
If you have attempted all the methods above and none have worked, the final option is to reboot your device's operating system. Occasionally, the operating system may prevent applications from functioning properly.
Rebooting the device is a simple process, though it may vary depending on your device. Hold the power button for several seconds for Android phones, and select the Restart option. In a matter of seconds, your phone should be operational again.
On iOS devices, press and hold the Power and Volume Down buttons simultaneously for several seconds, then click on the Restart button.
Frequently Asked Questions
Why is my Instagram not working?
There could be several reasons why your Instagram is not working. Firstly, check your internet connection, as poor connectivity can cause issues.
Next, restart the app or log out and log back in. If these don't work, check for any updates and install them. If the problem persists, there may be a temporary outage or technical issue on Instagram's end, so wait it out or contact their support team for assistance.
Why did Instagram suspend my account?
Instagram may suspend an account for several reasons, including violating community guidelines, spamming, using bots, buying followers or likes, or engaging in suspicious or fraudulent activity.
If your account has been suspended, you should receive an email from Instagram with details about the suspension.
You can appeal the suspension by following the instructions in the email, but remember that it may take some time for Instagram to review and respond to your appeal.
What data do you lose if you uninstall Instagram?
Uninstalling Instagram will remove the app and all associated data, including your account information, profile, posts, likes, and comments. However, your account information will not be deleted permanently from Instagram's servers.
Final Word
If you cannot log in to Instagram, it could be due to several reasons. Check if you have entered the correct login credentials, have a stable internet connection, and if Instagram servers work correctly.
If the issue persists, try resetting your password, login in with Facebook details, or updating the app. If none of the solutions works, contact Instagram support for assistance.
If you've any thoughts on How to Fix Cannot Login to Instagram: Android and iPhone, then feel free to drop in below comment box. Also, please subscribe to our DigitBin YouTube channel for videos tutorials. Cheers!