With popular faces like Elon Musk and Snoop Dogg openly accepting that they hold a certain amount of cryptocurrencies, everyone now wants to dive into the Crypto market. But to be a part of this decentralized world, you will need a Crypto exchange.
Crypto exchange is nothing but a place from where you can buy and sell digital currencies like Bitcoin, Ethereum, Solana, Cardano, and even Elon's favorite, Dogecoin. To help you out in choosing the right platform, here's a detailed guide on the best Crypto exchanges.
We have covered everything in the below-mentioned list, from the availability of coins, offerings, charges, and rank by volume. So, without any further ado, let's get straight to the topic. Here's a list of the best crypto exchanges to buy and sell cryptocurrencies. 
CoinBase and CoinBase Pro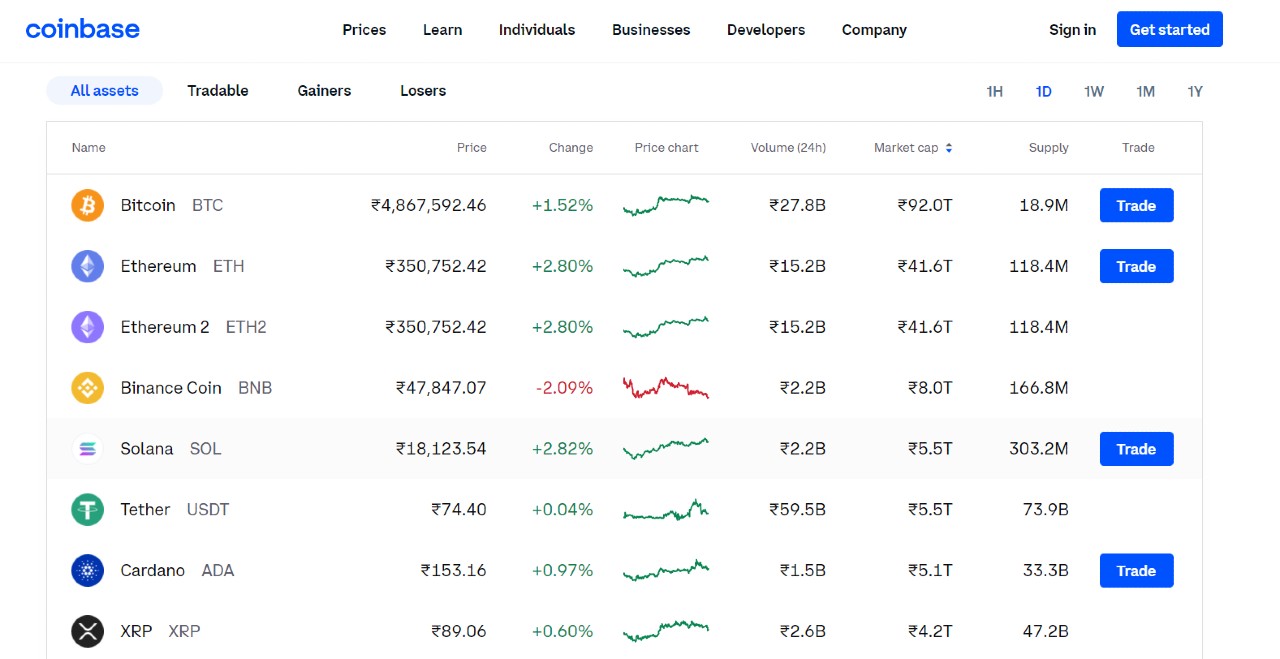 It wouldn't be wrong to say that the Crypto market is full of fraudulent coins and screened exchanges, but CoinBase is among such platform that has avoided being a part of any controversy till now. CoinBase is one of the most easy-to-use exchanges, making it almost a cakewalk for users who are just getting into the train of the cryptocurrency market.
CoinBase stores your investments in Federal Deposit Insurance Corporation Bank (FDIC), and also has insurance against any kind of data breaching and hacking. Even though you can see the pricing of almost all the coins available in the Crypto market, but only 107 are tradable on CoinBase.
CoinBase also has a pro version called CoinBase Pro. It is only recommended for smart traders, who are aware of the ups and downs of the Crypto market.  It comes with advanced features like trading bots, plenty of charts and indicators, and a cheaper fee structure. Talking about fees, CoinBase transaction fees is $0.99 to $2.99. Whereas, the pro version, i.e., CoinBase Pro, has a transaction fee of up to 0.50%.
Binance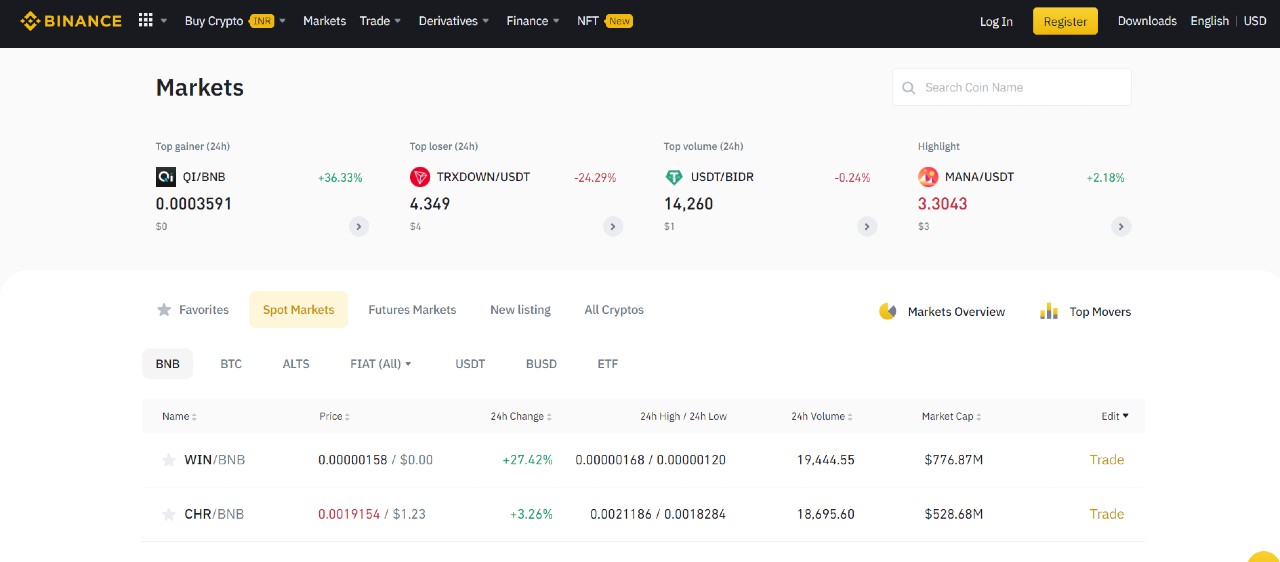 If you are more into "Altcoins" like Ethereum, Solana, Cardano, and more, rather than being a Bitcoin maximalist, then Binance will be an ideal option for you. And with a market cap of $75.29 Bn, Binance is the most popular and trusted Crypto exchange.
On Binance, you can buy, sell, and trade cryptocurrencies by paying a 0.1% transaction fee. It also comes with the option of stalking your coins and earning interest through them. The interest rate varies between 0.5 – 10% and totally depends on the coin you are stalking.
There are a lot of payment options as well. From bank deposits, Bank transfers, credit/debit cards, to UPI, there are plenty of options to deposit money to your Binance wallet. However, you will have to pay a hefty 4.5 % fee on every deposit via your debit card.
In terms of security, Binance has insurance to back any kind of breaching or stealing. Further, it also relies on 2-factor authentication to keep your wallet safe. Lastly, when it comes to the availability of coins, there are 100+ coins to choose from.
Kraken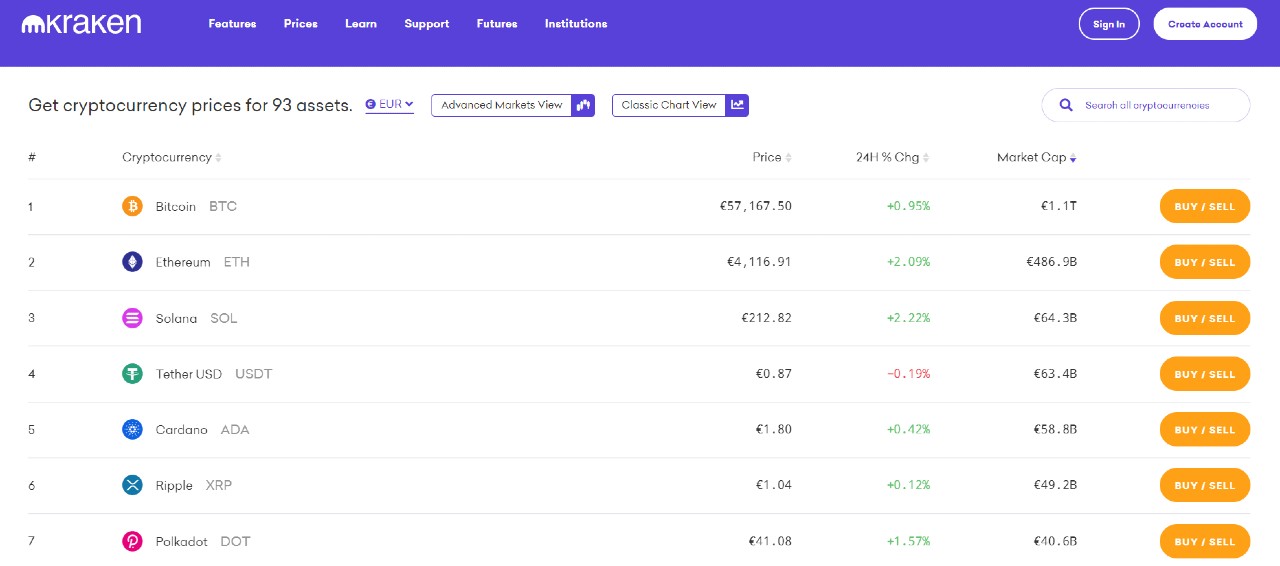 Kraken is a leading US-based Crypto exchange where you can buy and sell 93 different cryptocurrencies. It also has plenty of options for margin and futures trading. With its margin trading feature, you can take leverage up to 5 times your current wallet balance and trade in different crypto assets.
Kraken has three different plans to choose from, starter, intermediate, and Pro. However, the starter pack will be enough, if you are just getting into the Crypto market.
Kraken has a very cheap trading fee. To be precise, the fees lie between 0.9% – 1.5% depending on your trading account. On the negative side, there are very bad reviews when it comes to customer support.
KuCoin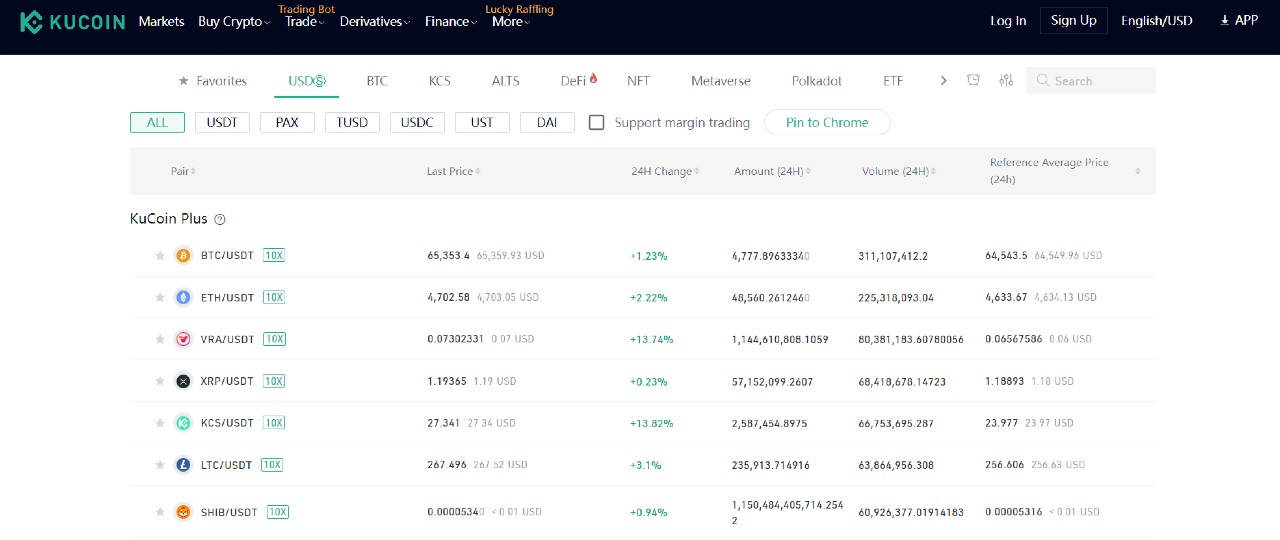 KuCoin is one of the best Crypto exchanges to trade cryptocurrencies. Even though it is yet to be licensed in the US, it has huge popularity worldwide.
KuCoin is available as both web and app interface. It also comes integrated with TradingView. It is one of the most important features if you are more into charts.
When it comes to the availability of coins, there are hundreds of coins to choose from. Furthermore, you can even trade-in Metaverse and NFTs, another asset that is gaining huge popularity nowadays.
KuCoin also has the option of margin and futures trading. So, if you are more of a trader rather than a holder, then KuCoin can be an ideal Crypto exchange for you.
WazirX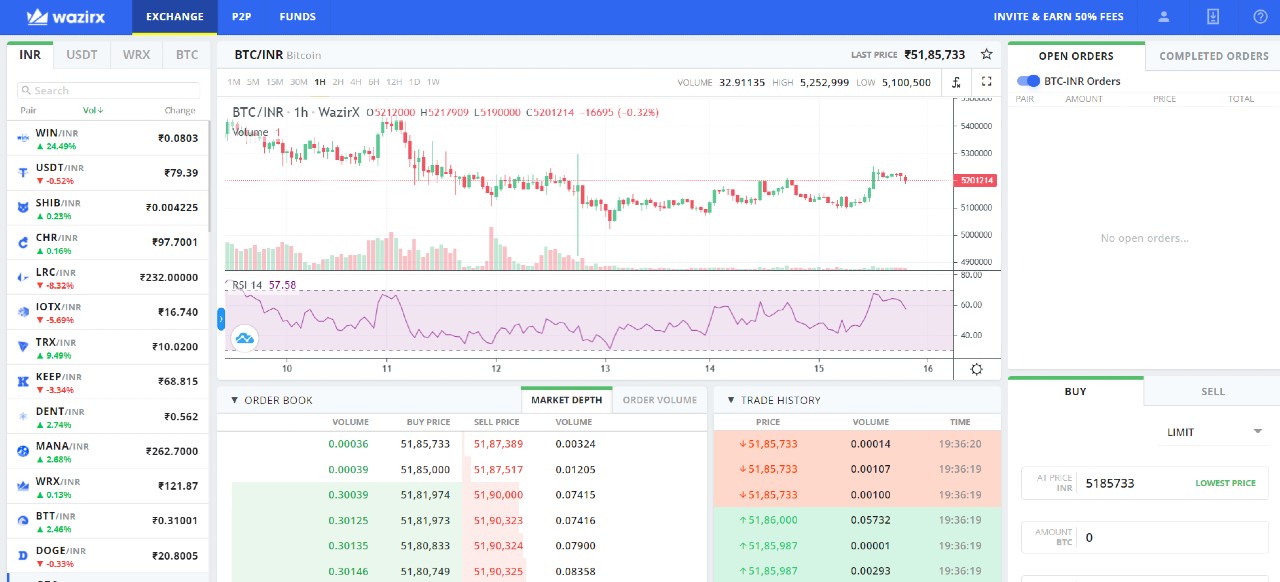 WazirX is the leading and go-to exchange for Indian Crypto traders. And even though it is mainly popular in India, it has a market cap of $178.88 m.
On WazirX, you can trade in US dollar, BTC, INR, and even P2P. WazirX has its native token as well, WRX. In fact, you can use WRX to trade in other cryptos.
In terms of security, you can use 2FA or app passcode to keep your WazirX wallet safe from any unauthorized access. WazirX asks for just a 0.2% transaction fee, which is comparatively cheaper than other Indian Crypto exchanges.
If you are resident in India, you can start trading on WazirX with a minimal amount of Rs. 100. And you come deposit balance to your wallet via NEFT, RTGS, IMPS, and UPI.
Gemini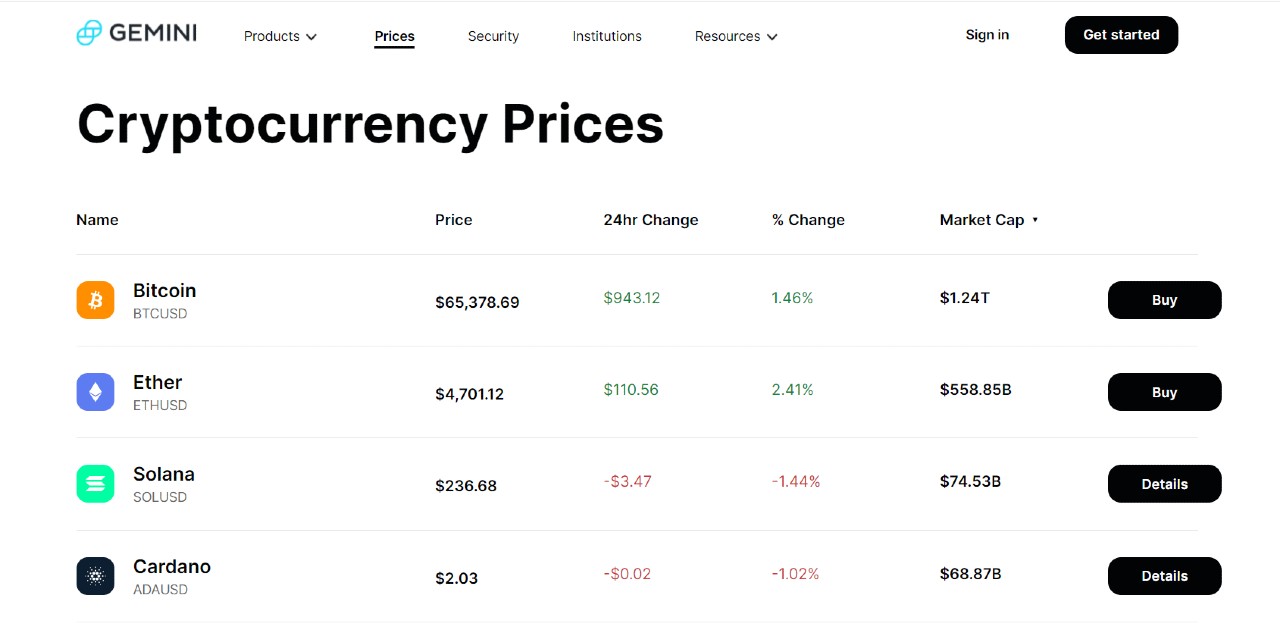 With the availability of all the popular Crypto assets, Gemini is a secure and simple platform to start your journey in the Crypto market. You will get a reward of $10 for buying or selling Bitcoin worth $100. The exchange also has its own contest called Gemini Earn promotion where you can stake your Bitcoins to earn up to 3.5 % interest.
However, on the negative side, the exchange just has a daily deposit limit of $5000. And a monthly deposit limit of $30,000, which is very less compared to other exchanges. Further, you can only withdraw up to $100,000 daily. So, if you are a high roller, Gemini can't be an ideal option for you.
To keep your investment safe, Gemini is backed by FDIC. Lastly, the exchange charges 0.5 % on each trade. You will also have to pay a transaction fee of 0.99% to 1.49 % on each deposit.
Robinhood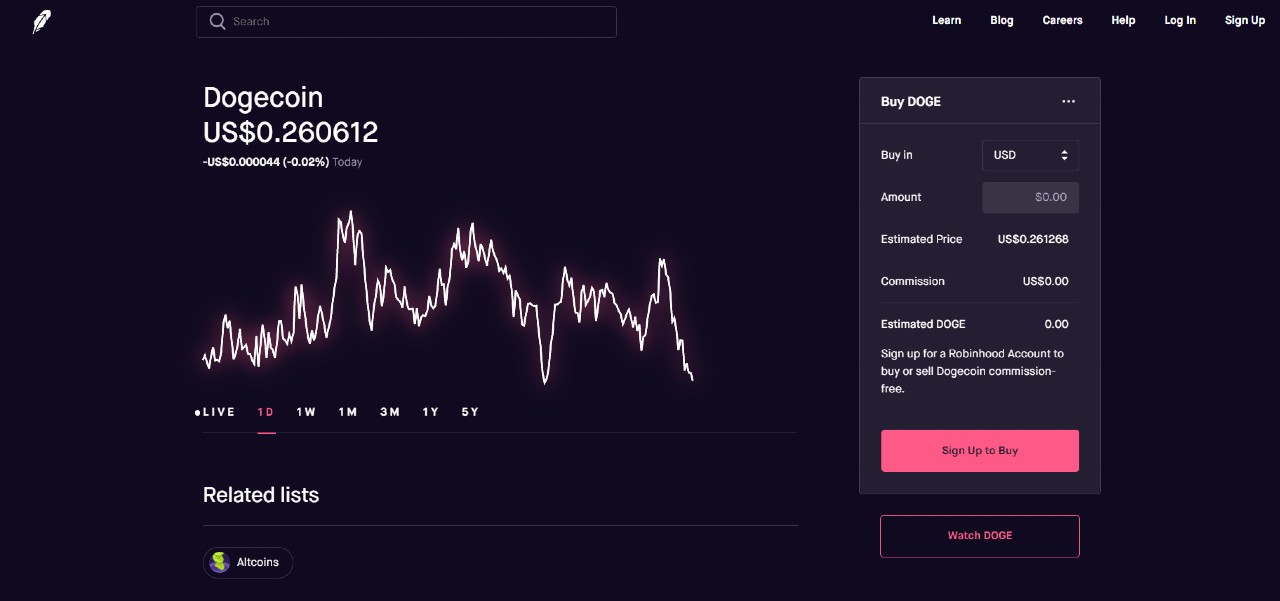 If you are more into "meme-coins", to be specific, "Shiba-Inu", then you must have heard of the petition going around the world of listing Shiba Inu to Robinhood. Nevertheless, Robinhood is a US-based crypto exchange that has a very user-friendly interface and is good in terms of security as well.
Robinhood is mainly popular because of its user-friendly mobile app, and most importantly, unlike other exchanges, it doesn't charge any fee for trading into crypto assets.
Security-wise, Robinhood is a go-to Crypto exchange. It relies on two-factor authentication to stop any unauthorized access to your Crypto wallet. On the negative side, you can't withdraw Crypto funds directly. In fact, you will have to transfer your funds to an external account and later withdraw it to your bank.
BitBns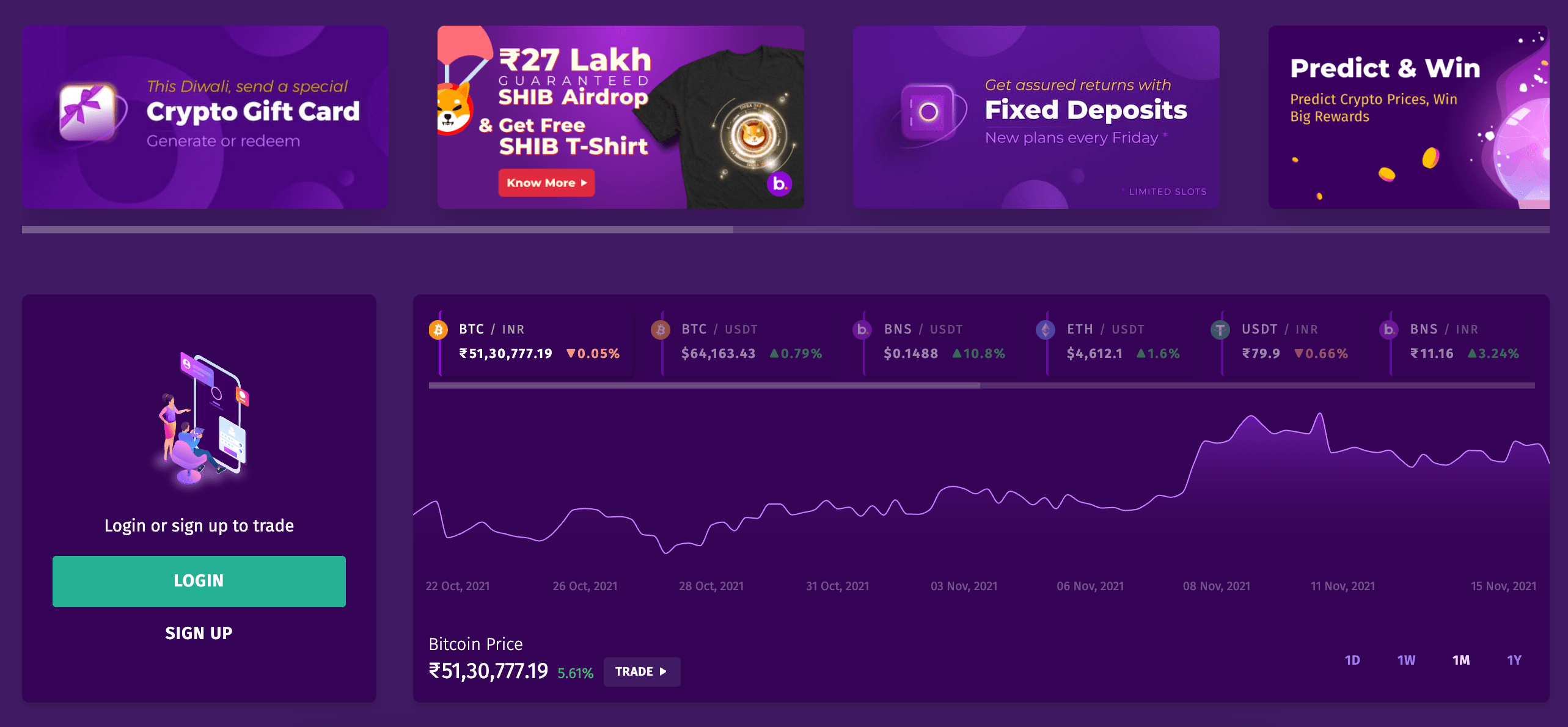 BitBns is another popular Crypto exchange that is very popular among Indian users. The platform is available as both web and app interface, however, most of the users prefer to go with its official app. BitBns is recommended if you are more into NFTs, Metaverse, and Altcoins, rather than being a BitBoy Crypto fan.
BitBns also comes with the option of staking your cryptocurrencies and putting money into fixed deposits. Among all, the "My Order" section is the reason why Indian Crypto traders prefer BitBns over any other Crypto exchange like CoinDCX. This section helps you in setting "Stop-limit", an important feature that stops you from getting liquidated.
On the negative side, they are very bad reviews regarding the price alert feature of "BitBns". Other than this, it is a great Crypto exchange to trade in cryptocurrencies.
FTX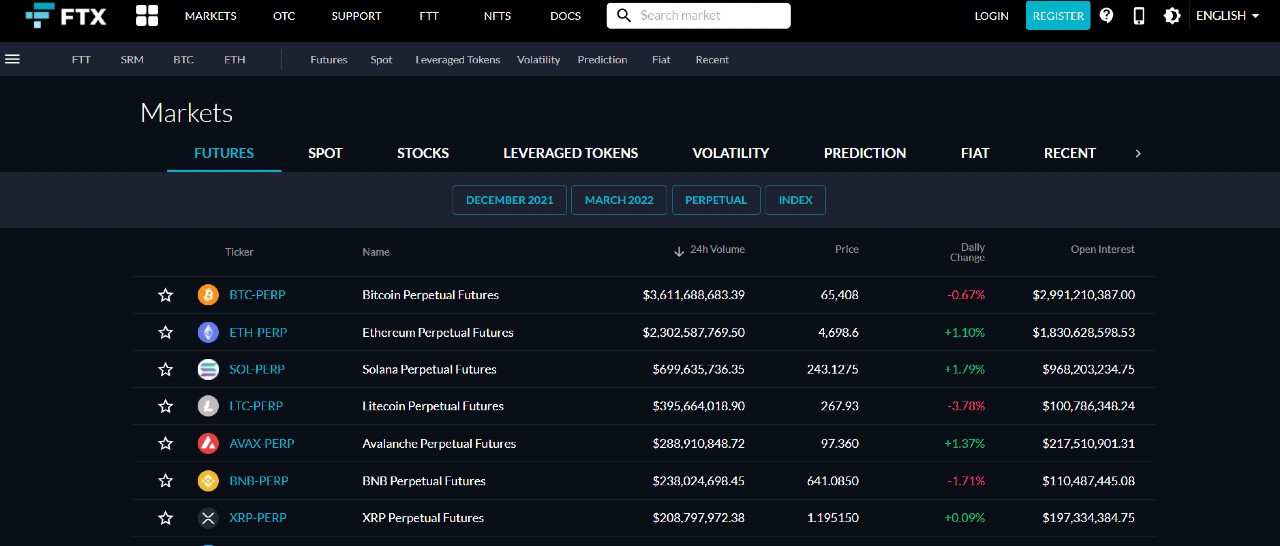 FTX, which was formerly known as Blockfolio, is a feature-rich Crypto exchange. Here, you will find almost all the Crypto assets, even those that are newly launched to the market.
Future traders mainly prefer FTX. So, if you're ready to take the risk of future trading, FTX can be an ideal option for you. FTX also has a prediction section, where you can predict the price of certain coins and earn rewards accordingly.
Bittrex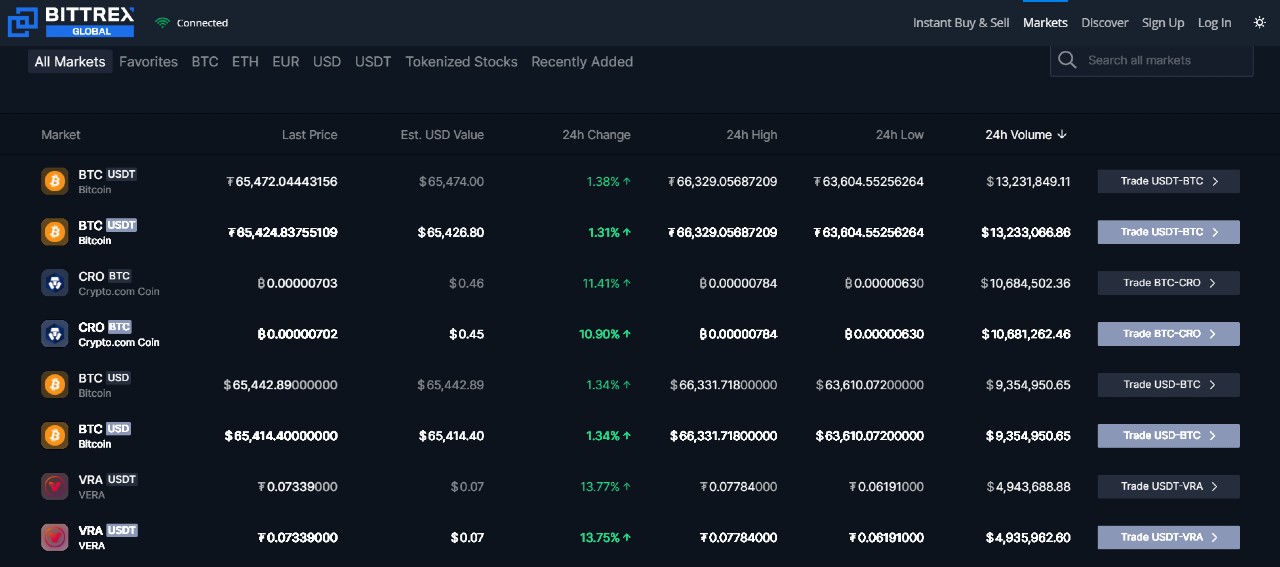 If you are concerned about the security of your Crypto funds, Bittrex will be an ideal option for you to remove any kind of hesitation from your mind regarding cryptocurrencies. Along with 2FA, Bittrex boasts a multi-stage wallet strategy to keep your phone safe and secure.
One of the selling points of Bittrex is that it charges absolutely nothing for USD deposits and withdrawals. However, you will have to pay a small network fee for withdrawing different blockchain and cryptos.
The instant buys and sell feature of Bittrex helps in the quick exchange of Bitcoin and other assets. Furthermore, the exchange is available on both Android and iOS.
Bittrex is available for use in New York, Vermont, Hawaii, and Connecticut on the negative side.
Final Words
So, these are the leading and best cryptocurrency exchange to kick start your Crypto journey. Let us know in the comments which platform you will use to help you out in getting retired in the next five years. Above all, always remember "WGMI".
If you've any thoughts on 10 Best Cryptocurrency Exchanges to Invest Safely, then feel free to drop in below comment box. Also, please subscribe to our DigitBin YouTube channel for videos tutorials. Cheers!