Have you heard about Cryptocurrency yet? It is volatile, it is decentralized, and a future digital currency unregulated by any country (at least for now). There are thousands of cryptocurrencies that you can invest in, hold, and sell to earn profits but make a mistake, and you will risk losing it all.
Cryptocurrency is trending nowadays with its constant dumps and pumps, highs and lows. The question is, how do you buy and sell cryptocurrency in India? Well, the answer is CoinDCX. It is one of the most popular crypto exchanges in India where you can buy, sell, hold, and trade a few dozens of cryptocurrencies, including Bitcoin, BTT, Ethereum, Hedera Hashgraph, to name a few. Here's how you can use the app on your phone and how to buy, sell, and trade in cryptocurrency in India.
The UI
CoinDCX (earlier CoinDCX Go) is a simplified version of CoinDCX Pro and offers an easy-to-understand interface for those who want to deal in cryptocurrencies, i.e., buy, hold, and sell.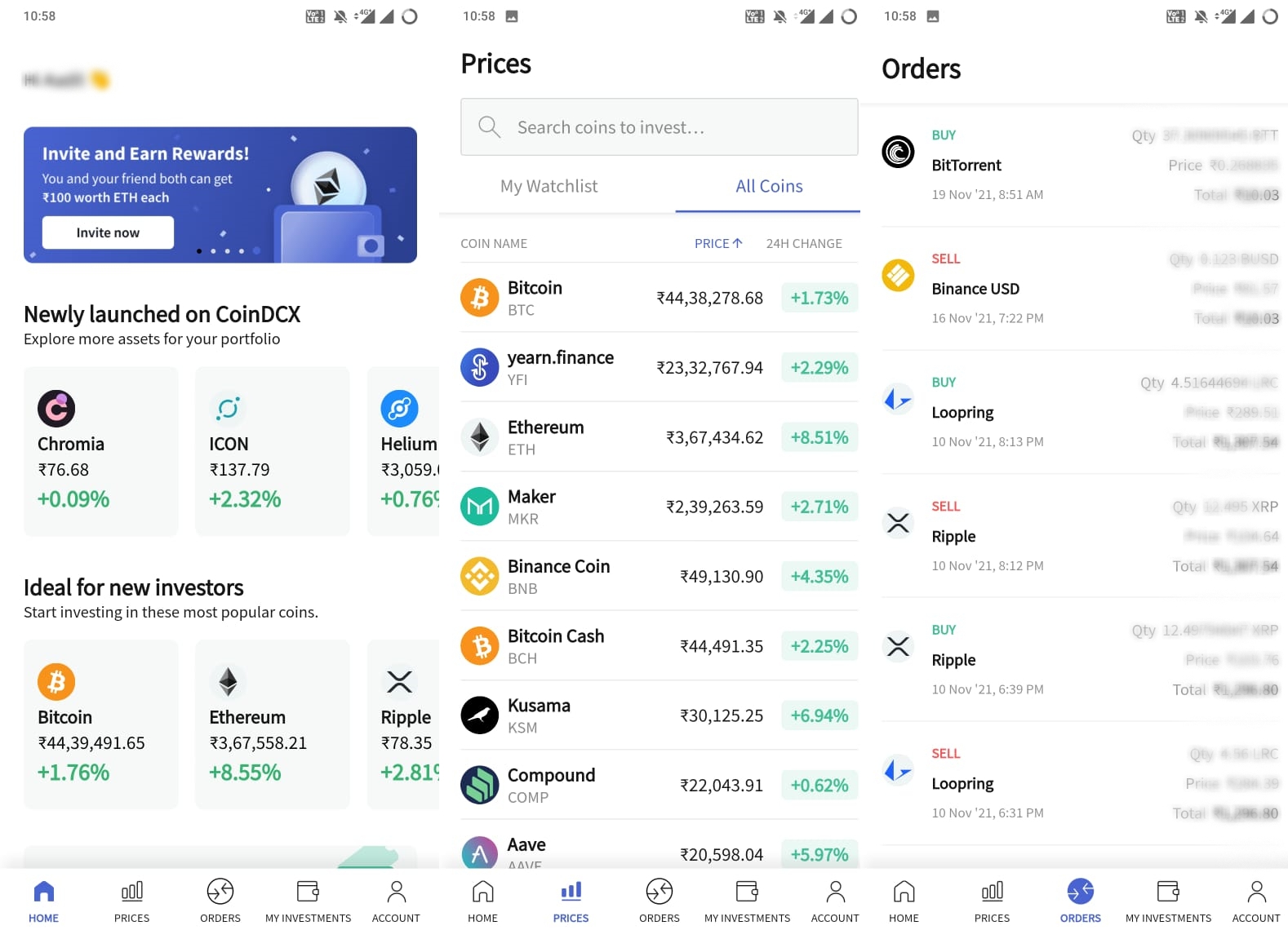 Home: It shows tabs of coins (shortcuts) with the current pricing, couple code field, and Help Center.
Prices: This section deals with tracking all the cryptocurrencies and tokens on CoinDCX. It shows the current pricing, 24H change, pricing chart, and option to buy and sell cryptocurrencies, and add funds.
Orders: All your buy and sell orders are listed here with quantity, price, and total.
My Investments: You can check out all your previous and current transactions, their values, and total portfolio value.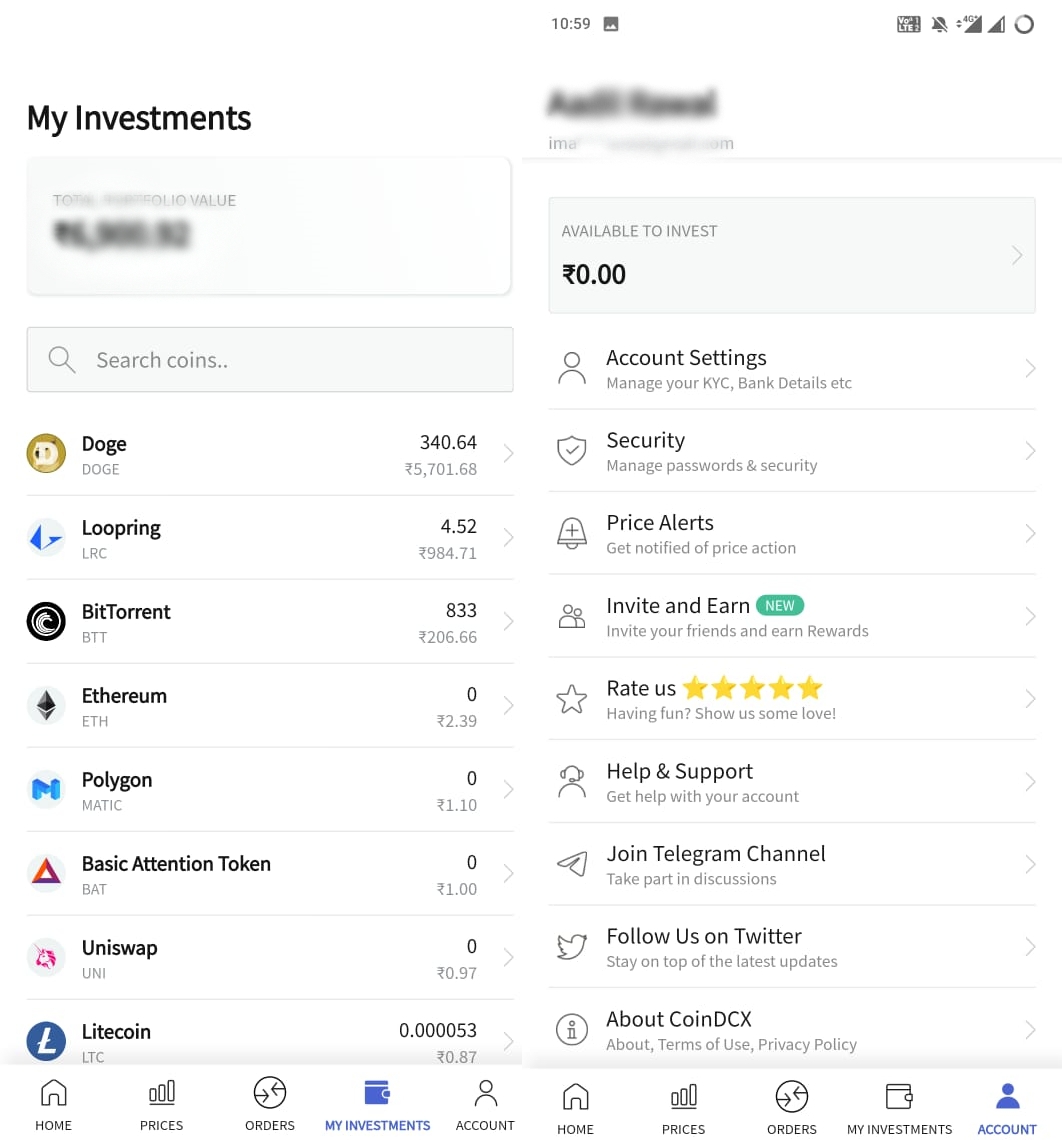 Account: This contains everything from account settings, help center, wallet, and logout option.
How To Use CoinDCX for Cryptocurrency?
Here is a Simple Guide to Buy, Sell and Use Cryptocurrency on CoinDCX App on Android and iOS
Part 1: Create an account & KYC
Install the app and use login credentials to create an account. You can transact on CoinDCX without KYC with a Rs 10,000 deposit & withdrawal limit. Doing a KYC unlocks limitless trading. You can complete the KYC via Account >> Account Settings >> Complete Your KYC. Take a selfie, upload a photo of an Aadhaar card, passport, and pan card, and once the verification is done, you have unlocked limitless trading now.
Part 2: How To Buy Cryptocurrency on CoinDCX?
Here are step-by-step instructions on how to buy cryptocurrency on CoinDCX.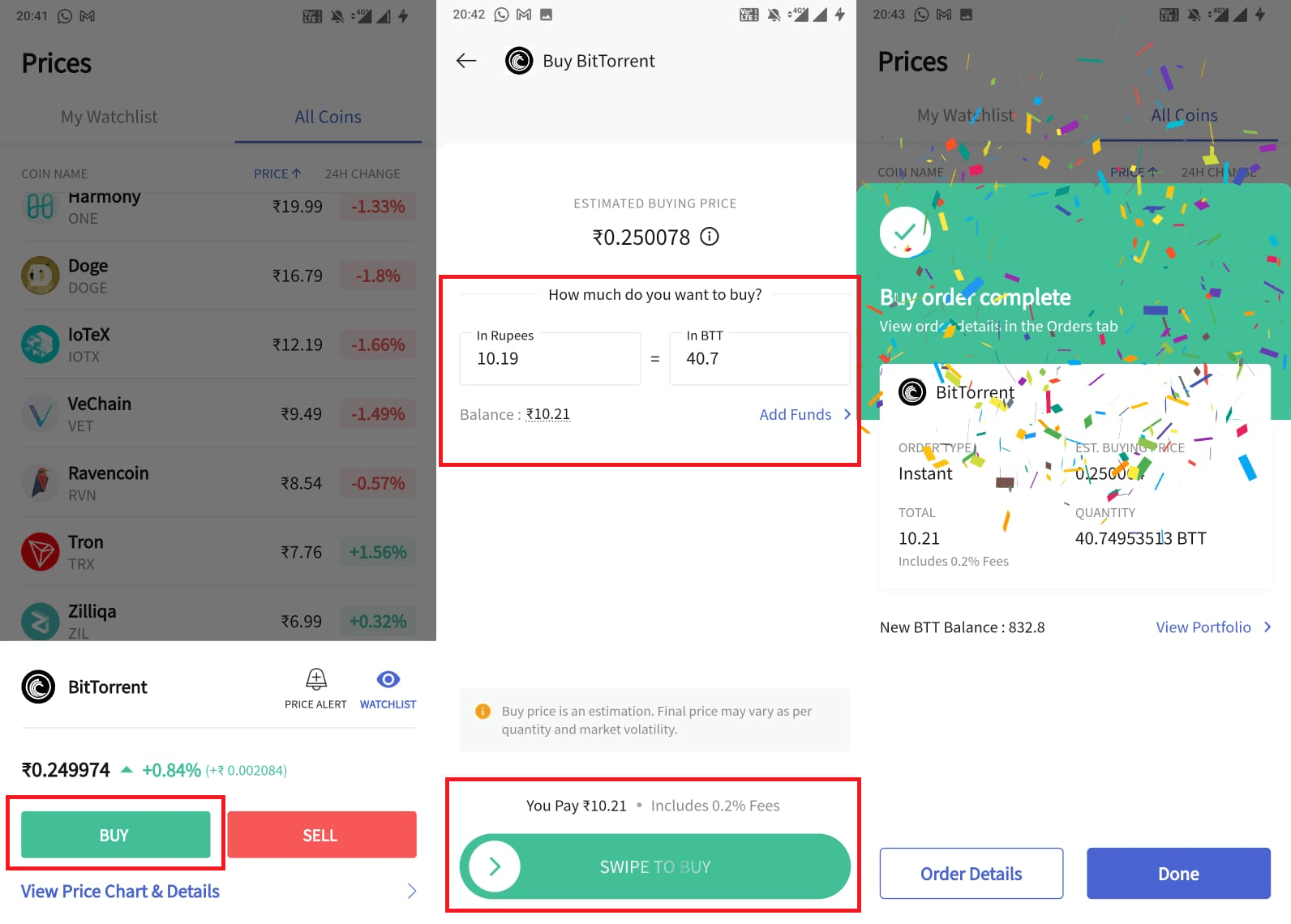 First up, launch the CoinDCX app.
Proceed to the "Prices" tab on the bottom of the screen.
Navigate to "All Coins."
Assuming that you want to buy BitTorrent (BTT), tap on it to open a small window.
Tap on the green-colored "Buy" button.
Enter the value of BTT you want to buy in INR, say 1,000 (INR), or enter the quantity of BTT, say 5 BTT coins. The system will auto-populate the current price.
Tap on "Add Funds".
On the next screen, you will get a prompt, "How much do you want to add?". You can enter any amount between INR 100 to 51,00,000/-. Hit "Continue" after you have added the amount.
Select the mode of payment, i.e., Bank Transfer, Mobikwik, UPI, or others, and add the said amount.
Once you have made the transaction, back up to the home screen and proceed to "Orders" to track the latest purchase and its current value.
Part 3: How To Sell Cryptocurrency on CoinDCX?
You want to sell coins you purchased on CoinDCX, Here's the method to follow.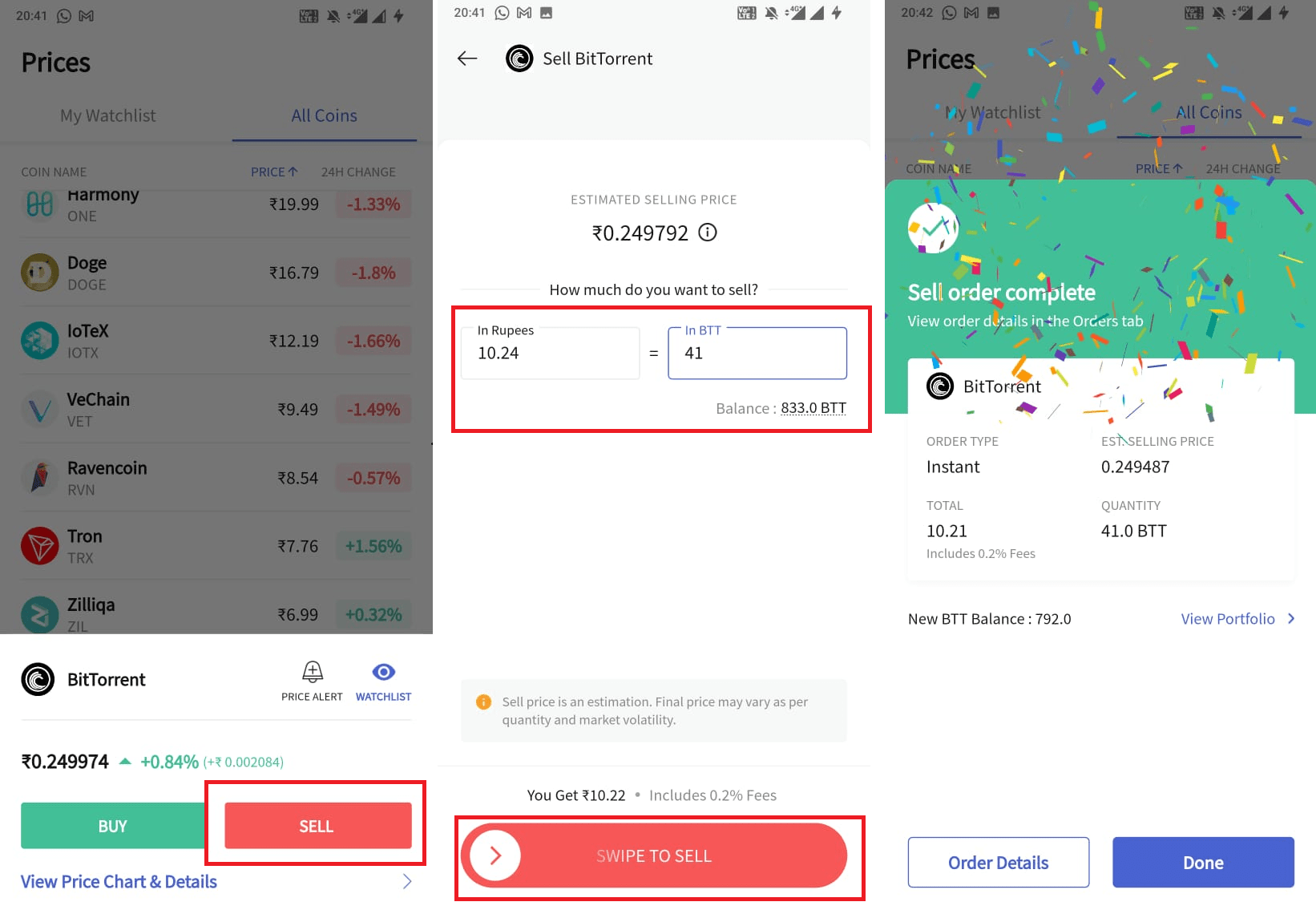 Go to the "Prices" tab on the bottom of the screen and navigate to "All Coins."
Tap on the coin that you were invested in earlier such as BTT in this case.
A small pop-up on the screen will appear with options to "Buy" and "Sell" the coins, select the red-colored "Sell" button.
Under "How much do you want to sell?", you can enter the amount in INR or the quantity of BTT coins or select "Balance" to select all the coins available.
Drag the swipe titled "Swipe to Sell" from left to right, and you are done. The number of BTTs or the amount you sold will be credited to your wallet on the app.
Finally, go to your wallet, tap on "Withdraw Funds," select the amount you want to withdraw, and hit "Verify."
The said amount will be automatically credited to the same bank account added on CoinDCX.
Closing Words
CoinDCX makes it easy to deal with cryptocurrencies; however, there's a factor of risk associated with it, so user discretion is advisable.
If you've any thoughts on How to Use CoinDCX for Cryptocurrency? Buy and Sell Crypto, then feel free to drop in below comment box. Also, please subscribe to our DigitBin YouTube channel for videos tutorials. Cheers!