Apple Fitness Plus, which is going to launch on 14th December, is Apple's foray into the fitness industry. It is a fitness resource powered by the Apple watch. The fitness service will have a variety of workout routines that the users can access through the Apple Watch and other Apple devices like the iPad and iPhone.
Apple Fitness Plus is going to be a complete fitness experience rather than just a fitness service. Every aspect of this service is of premium quality. The workout routines will be curated by top-class fitness experts. These workouts will be of different types and intensities.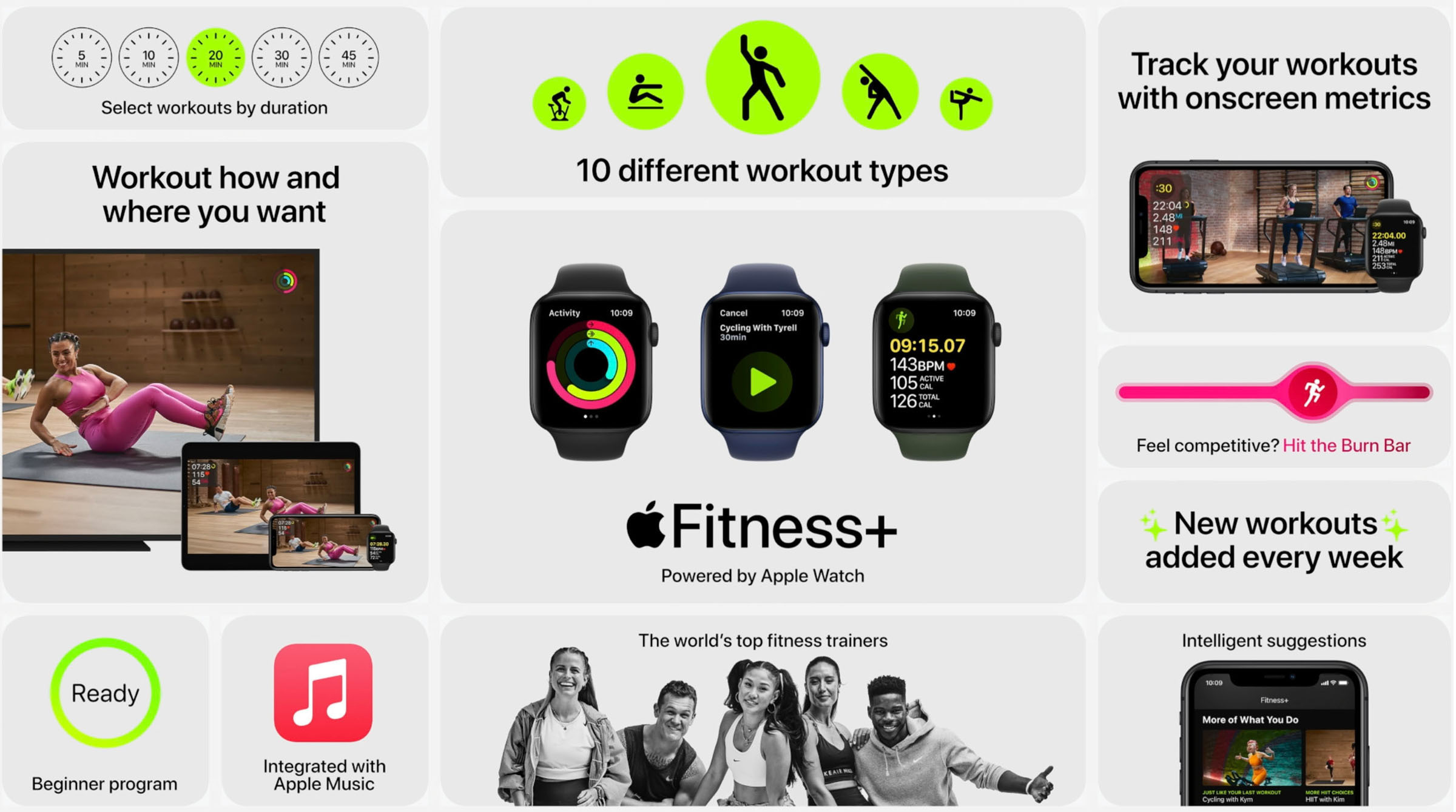 Specifications
The service will have the ten most popular exercise forms that include Yoga, Dance, Core, Cycling, High-Intensity Interval Training (HIIT), Strength, Cycling, Treadmill (for running and walking), Rowing, and Mindful Cooldown.
Music will also play a huge role in this service. Apple music incorporated with other metrics like heart rate, a timer, and animations of celebrations of completing milestones. Users will also be able to compete with other users with the Burn Bar feature that will let users know where they stand in comparison with others.
The Fitness Plus program will recommend workout suitable for users. Workouts that have previously been done will also be considered to provide better recommendations to the users. Apart from this, users can also select the time, the trainer, workout style, and the music that they want to use for the workout.
This service will be available only on compatible iOS devices. Your apple watch should be at least a Series 3 watch, while your iPhone should at least be in the 6s category to be able to access the Fitness Plus service. It is also compatible with iOS 14.3 and tvOS 14.3. The service will appear automatically in the Apple Watch under a new tab, but it will have to be downloaded on the other devices.
Availability
The Apple Fitness Plus service will be available in the US, Canada, Australia, and New Zealand from 14th December. It will make its appearance in other countries in the coming months.
Price
The Apple Fitness Plus will be available in different packs ranging from a monthly pack to a yearly pack. The monthly pack is priced at 9.99 USD, while the annual pack costs 79.9 USD. Existing Apple Watch users will get a one-month free subscription for the service, while buyers of the Apple Watch 3 series will get three months free.
The Apple Fitness Plus service seems remarkable with its many sublime features. Although it is currently unavailable in India, it is worth trying when it does arrive in our country.
If you've any thoughts on Apple Fitness Plus to Launch on 14th December, then feel free to drop in below comment box. Also, please subscribe to our DigitBin YouTube channel for videos tutorials. Cheers!