If you own an iPhone, you might be using the Safari browser to surf the internet. The Safari browser is a competent browser with all the basic tools one would need out of a browser. However, there are more advanced and more feature-rich browsers available, which are not only available for Android but are also available for iPhone users via the App Store.
And using these browsers will not only increase your productivity but will also provide you with a slew of features that you will appreciate when browsing the internet. So, in this guide, we bring to you a list of some of the best Safari alternatives for the iPhone that you can opt for. Without any further ado, let us get right into it.
1. Google Chrome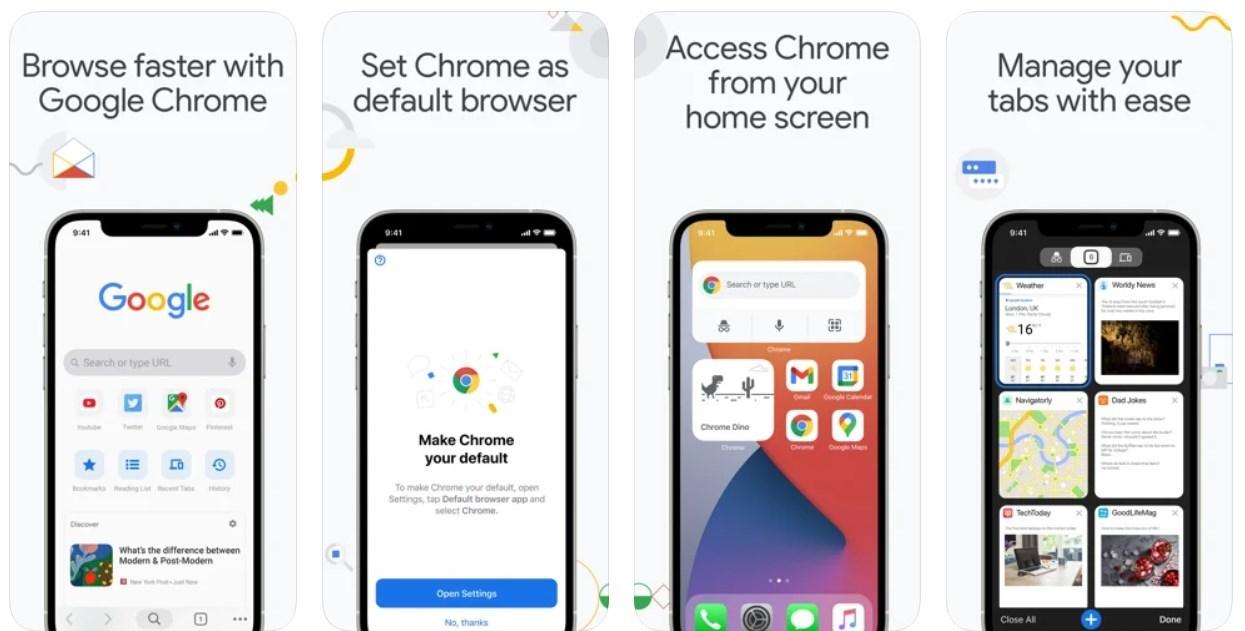 Without a doubt, one of the most used browsers across platforms and devices is Google Chrome. Not only does it have the familiar look and feel of the browser we all love, but it also gives you access to multiple features that you were not able to use in Safari.
One of the best features of Google Chrome is the seamless sync across all your connected devices. This means you get your bookmarks, history, saved pages, saved passwords, etc. accessible across all devices connected to the same Google account. Moreover, other features that make it a better alternative to Safari are better tab management, built-in Google Voice support, data saver mode, experimental flags to enjoy some unreleased features, and much more.
2. Opera Browser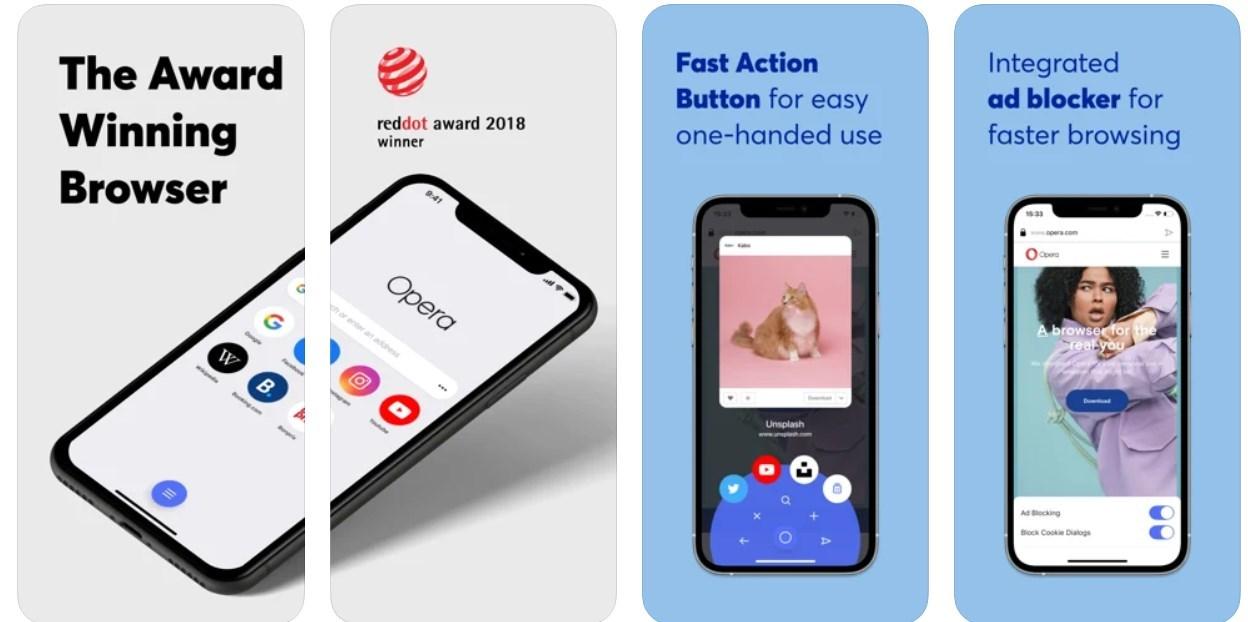 Opera is another good alternative for iOS users if they want to switch over from Safari. Recent updates for Opera have brought multiple new features to the table. The browser is fast, gives you access to an in-built VPN, has a native ad-blocker, and offers a fast action button, allowing for one-handed usage.
The browser interface is great and easy to maneuver. There is a dark mode also for giving your eyes a breather during the night time. It also comes with a built-in QR code scanner. Overall, a decent alternative to the Safari browser.
3. DuckDuckGo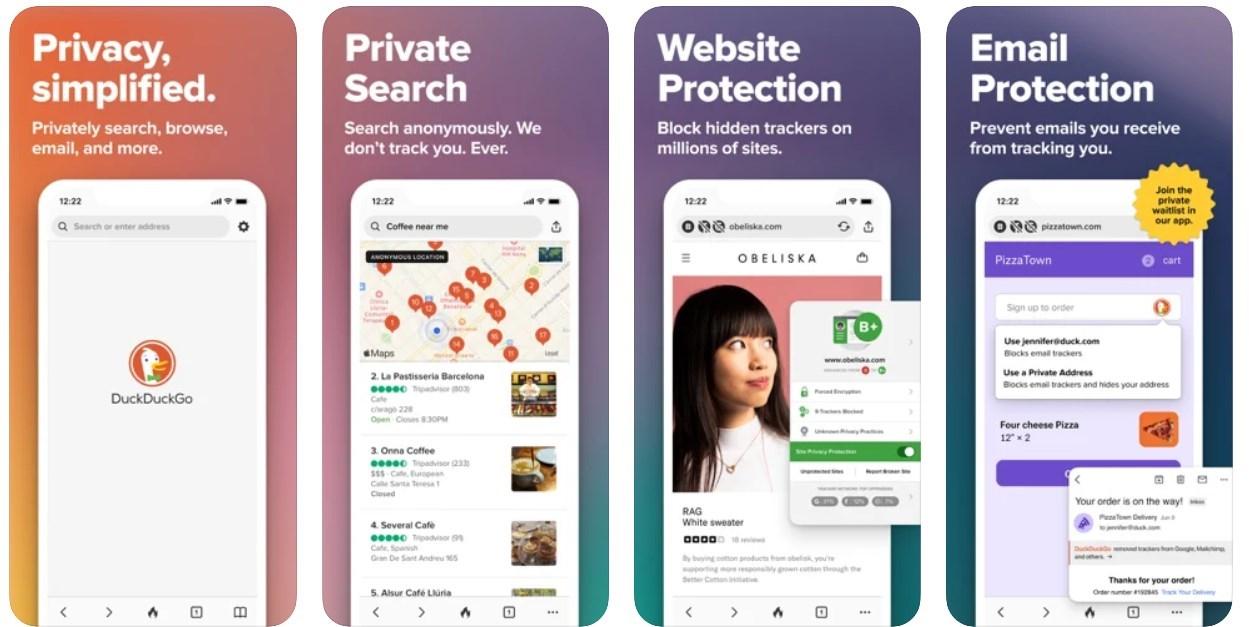 One of the simplest and most focused on giving you a secure internet environment is DuckDuckGo. Along with safety, this browser also gives equal attention to customization as well. You can change the icon and change the mode from light to dark.
There is a built-in search engine that does not track your input data, like Google does. It has a robust third-party tracker and it enforces encryption on unsecured sites (opens the HTTPS version of the website with HTTP) and shows you the privacy scores from A to F for each site.
4. Cake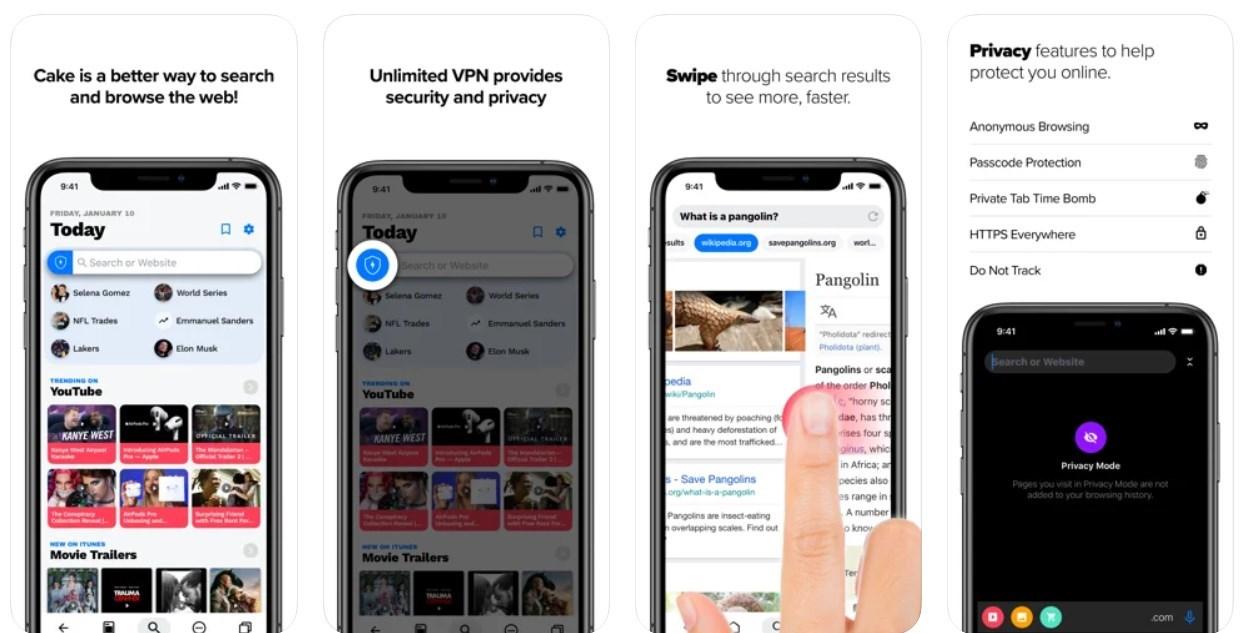 Cake is a new browser on the block but has higher ratings compared to other browsers. It comes with all the basic features that you would want from a browser, and it also offers advanced features as well. It comes with a built-in VPN app, which negates the need to install a third-party VPN app to access restricted content.
There are other security features such as Anonymous Browsing, Private Tab Time Bomb, Passcode Protection, Https Everywhere, Do Not Track, and Ad & Tracker Blocking. It also comes with a dark mode, voice search, and ad-blocker.
5. Aloha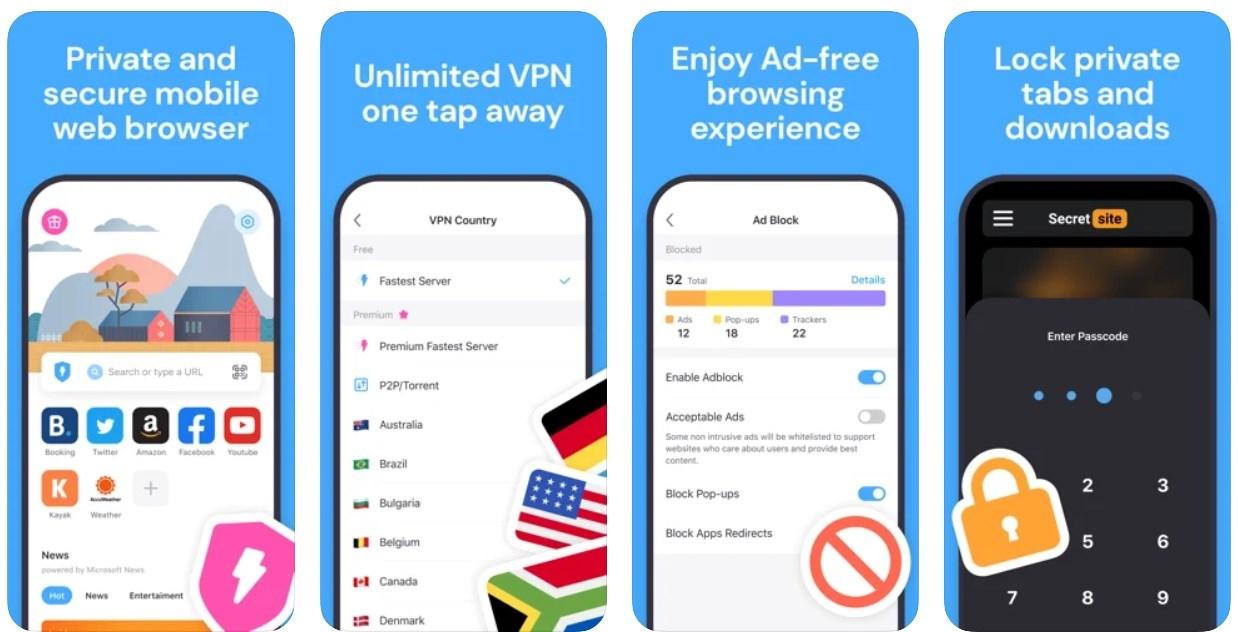 Another browser that focuses on privacy and safeguarding user data is Aloha. It does not store any of your activity, meaning you can browse the internet without any hassle. The interface is similar to Google Chrome and also gets a hint of the Microsoft Edge browser, You can play videos in the picture-in-picture mode and it comes with a VR player to play all of your VR content. There is a paid version of the Aloha browser that also features some advanced features such as VPN, and other security features.
6. Brave Browser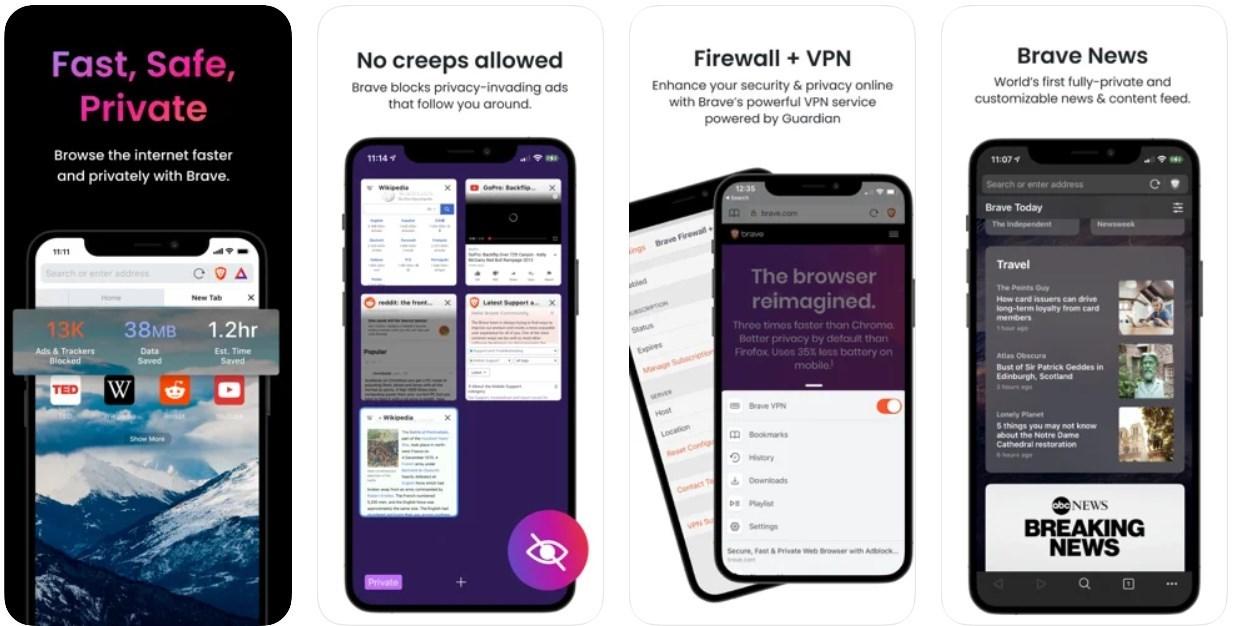 Brave Browser claims to be one of the faster browsers out there, as it reduces the page loading time. It comes with an ad-blocker out of the box, and is also known to be a browser that doesn't strain your battery. Brave Browser supports publishers by compensating the website owners whose ads it blocks at the end of each month.
It opens the secured website of every unsecured website, i.e. adds HTTPS to HTTP. You can also make use of TouchID or FaceID to lock or unlock this browser. It features an in-built firewall and VPN, and gets you going through the day via its Brave News section.
7. Microsoft Edge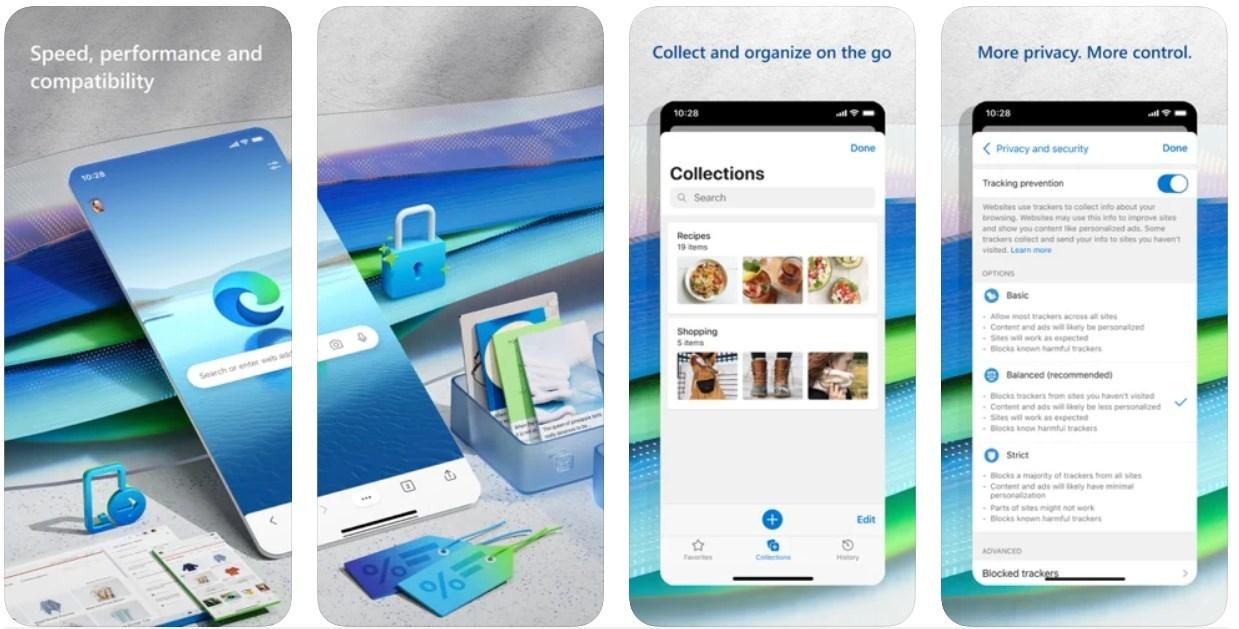 Last but not least, we have the Microsoft Edge browser. Microsoft Edge is totally redesigned and there is no trace of Internet Explorer. It has a clean user interface, with features that will help you, such as private tabs, swipe gestures, translating webpages, and picture-in-picture functionality for videos that supports almost all websites.
There is a "read aloud" feature as well that reads the content or text on the page. It blocks ads using the adblocker, offers an immersive reader mode, and has a tracking prevention feature.
If you've any thoughts on 7 Best Safari Alternatives for iPhone, then feel free to drop in below comment box. Also, please subscribe to our DigitBin YouTube channel for videos tutorials. Cheers!