YouTube is by far the most popular video sharing and hosting service. You can watch billions of minutes of Audio-visual content for free from any supported device with active internet connectivity. YouTube has millions of monthly active users and a very powerful system to convert visitors into money. To earn money Google sells Ads on YouTube. Though Ads may be disturbing, they are the necessary evil. YouTube shows a number of Ads to users ranging from video ads to sponsorship cards and banner ads. The ads are important for the content developers to create more powerful videos as they serve as the source of income for the YouTubers. Google serves interest based Ads which are less intrusive and irritating in nature.
Aggressively presented Ads can be vexatious. Google also has an aggressive mode of advertising and when they are injected during video play it is surely going to irk the users. Though for the desktop you can block ads using AdBlock extension there is no such provision for Mobile App. Today I will Tell you a few methods to Block Ads on YouTube App for Android without Root.
YouTube Ad Blocker App on Android
Here are the Best Ad-Blocking Apps for YouTube App to remove all Annoying Adverts without Root.
1. YouTube Vanced (Premium)
YouTube Vanced is a Premium YT App with all the features offered by subscription-based YouTube along with same core UI and App design along with powerful features like Video and Audio Downloader directly to device storage with multiple resolution support.
The App has all core functions of the original YouTube App with added features which will make you glued to the YT Premium App for your Android. You can sign-in with your Google Account and also sync your Data with existing account and data to keep your info safe.
Features of iYTBP
Completely video ad blocking.
Background Playback enabled.
Set Preferred Video Quality.
Enable/Disable annotations.
Enable/Disable Suggestions Cards on videos
White/Black Themed versions
2. OGYouTube | Mod AdBlocker YouTube
OGYouTube App is a forked version of the original YouTube App with AdBlocker, Direct Download Links, Background video play, Dark Mode, Pop-Up window and much more. The OGYouTube has the same UI as the YouTube App with some added features.
The App has all core functions of the original YouTube App with added features which will make you glued to the Mod YouTube App for your Android. You can sign-in with your Google Account and also sync your Data with existing account and data to keep your info safe.
Features of Mod YouTube App
Works as YouTube – The core functionality and UI is basically the same as the official YouTube App.
Video Downloading – You can download videos directly from the Mod App with the desired quality. It also has the feature of multiple videos downloading.
No Need of Root – You do not require any root access to the App
Background Play – You can play YouTube videos in the background with one click button.
Ad Free – The App is ad-free so you can relax and watch your favourite content without much disturbance.
Multitasking (Video Restore Down) – You can reduce the video to take a small portion of your screen so that you do other stuff on your device.
Dark Mode – You can use YouTube Dark Mode on your Android Device.
Support and Stability – Support Android 4.4+ and app is highly stable.
Run Parallel with Default YouTube App
3. DNS66
DNS66 is one of the most popular repository based Ad Blocker App for Android. The DNS66 creates an encrypted server filtering all sort of Ads from intrusive Ads, Pop Ads, Web Ads, App Ads etc.
The DNS66 not only blocks ads on YouTube but all other Ads which you encounter while using your smartphone.
Just download the DNS66 App from F-Droid and open the App. Here click on Domain Filters → Adaway Host Files.
Tap the power icon on the home screen of the App and download any missing files if prompted. Done! Adblock activated.
Apart from this, you can also keep your privacy at high security with various options available in the DNS66 App including, Malware Host, Ad Tracker Host, DNS Host etc.
I recommend this app if you want to make your phone high on privacy.
[No Root] Block Ads on your Android Smartphone
4. NewPipe
NewPipe is a Freeware Open Source lightweight YouTube App. It has a frontend youtube interface. The best thing about the App is you can run it without any Google API or the irritating Google Play Services.
Basically, the NewPipe App just collects YT websites URL source and displays it in the form of the App. But this App can prove to be very powerful if you have a low-end Android phone with limited power.
Features NewPipe App
Runs without Google Play Services
You can set and change the quality of video play.
Download the video and audio at various different resolutions.
You can play the video as a Pop-up box for multitasking
Play the video in the background.
Lightweight and consumes low storage space and RAM
5. AdClear
AdClear is non-root ad filtering App developed by XDA developers. It creates a VPN on your device to filter out ad traffic before it reaches you on the web or in apps. It also filters the encrypted Ads. The Adclear is capable of blocking all types of intrusive and non-intrusive Ads on all the Apps.
Blocks encrypted ads
Works with Wi-Fi and cell data
Blocks ads in apps
Selective app filtering
Support for multiple browsers
Non-root
Log of blocked ads
6. Free Adblocker Browser 
It is a browser with the core intention to block Ads. Free Adblocker Browser is developed by Rocketshield Inc. who specialises in this technology. The browser is built with the notion to just eradicate web ads and other intrusive trackers. With this browser, you can have ad-free web experience and enjoy fast & secure browsing. The browser is capable of blocking all sorts of advertisement which includes but are not limited to, banners, video ads and pop-ups, text ads and many more. It blocks all the Ads on YouTube but you need to play the YouTube inside the
Blocking ads will save data and increase privacy. They will also help in optimising the battery. You can browse safer and faster. If you are looking for an all in one Ad Block Browser for Android than I recommend you to go with Adblocker Browser.
7. Ad-Free YouTube for Rooted Phone
Download this YouTube File on your Device.
Uninstall Stock YouTube App using Titanium Backup.
Now head to /system/app in the file manager and create a new folder named 'YouTube'
Long-press the folder you created, choose "Permissions" from the menu. Set the "Owner" category to Read, Write, and Execute and other categories to just Read and Execute.
Copy the Download YT APK to the New Folder & Reboot. Done! Enjoy Ad-Free YouTube.
8. Tubemate
TubeMate, the most popular YouTube video downloader app for Android. The TubeMate app has many great features including pause/resume downloads, background download, multiple downloads, inbuilt player and much more interesting. The TubeMate not only allows you to download videos from YT but also from other popular video streaming App like Vimeo, Dailymotion etc.
Features of TubeMate
Change the preferred location to save videos on-device storage
Create your own playlist of your favourite music videos and play them using the inbuilt media player.
Easily download multiple video files simultaneously
You can easily pause, resume or cancel a download.
MP3 Media Converter to convert files into required formats.
Download videos in MP4 or FLV formats also AAC format
Enhanced downloading technology
9. AdLock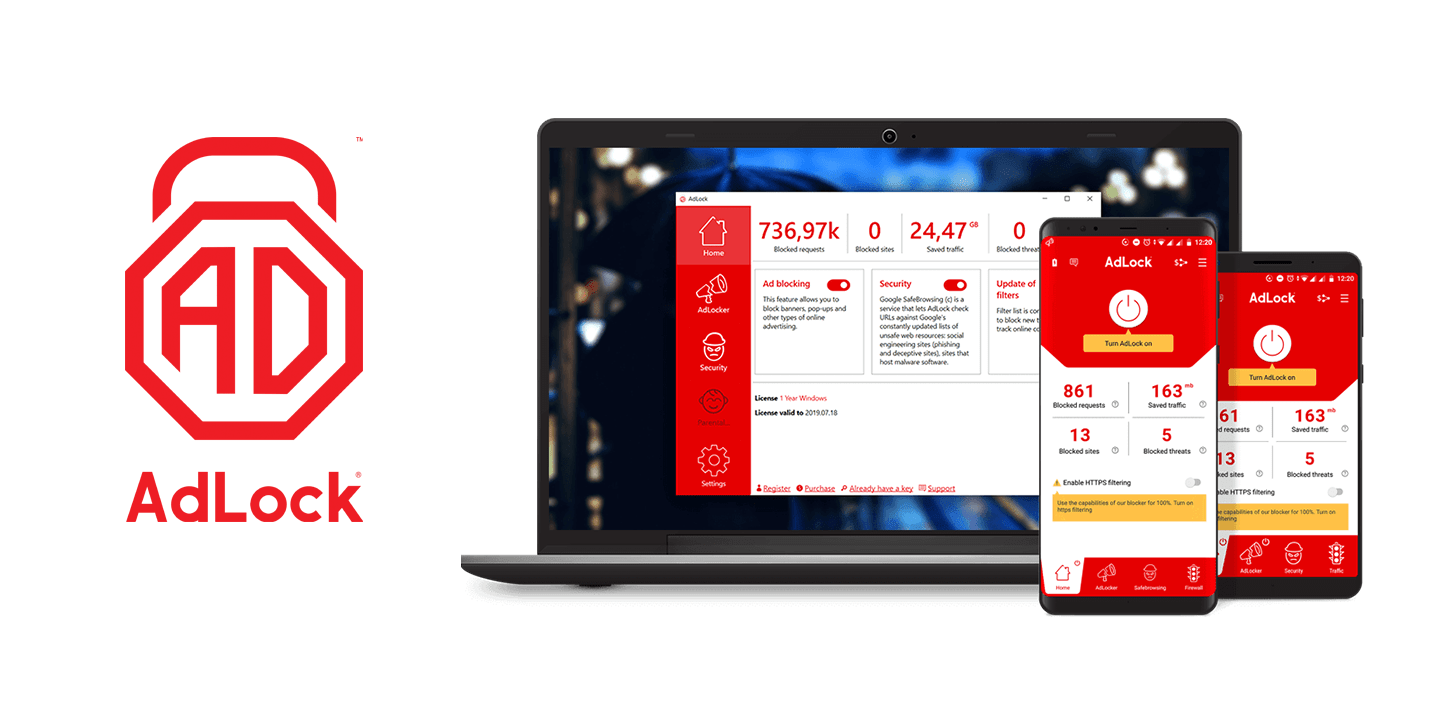 AdLock is a comprehensive ad-blocking software that meets all user's requirements at once. It's a sophisticated product encompassing robust functionality and an intuitive user interface. The app works by creating a host VPN network which filters all the Advertisement tags before reaching your device. Instead of paying for each individual app for its premium ad-free version getting not-so-expensive premium subscriptions of AdLock can do the trick. If you want to pare down expenses for numerous premiums, then AdLock is for you. AdLock works systemwide and makes browsers, apps, games, and instant messages utterly and completely free of commercials. You've got it right — one ad-blocker handles it all. Free 14-day trial period and 30-day money-back guarantee.
Features of AdLock
No need for root — download, install, run;
Pure content only — browser adverts and their placeholders vanish
Ad-free apps and games.
Ad-free YouTube and other streaming services.
Data security and personal firewall to protect against phishing attempts, suspicious requests, or malware attacks succeed.
Compatible with Android 5.1 and above smartphones and tablets.
Conclusion: With the above Apps you can block the Ads on YouTube with direct App installation or with the help of 3rd party Ad Blockers. OGYouTube is a forked version of the YouTube App. DNS66 is an Ad Block filter for Android. And NewPipe is a frontend YouTube App with some excellent features along with Ad Blocking.
I hope the post was helpful. Do comment below for any assistance or support. Enjoy seamless entertainment without any advertising disturbance.
If you've any thoughts on YouTube Adblocker App for Android | Ad Blocker for YouTube, then feel free to drop in below comment box. Also, please subscribe to our DigitBin YouTube channel for videos tutorials. Cheers!