Anime refers to Japanese Animation. It is a phenomenon with a huge fan base across the globe. Anime is a form of Japanse Art wherein each action is drawn and then composited using a computer to develop a motion cartoon. Japanese Anime has been a long favorite among kids and adults.
Anime offers emotions, colors, abstract culture, stunning characters, and addicting stories making them among the most popular forms of entertainment. Basically, Anime is released in the Japanese Language with English Sub. But few of the popular anime shows and movies are dubbed in local languages more popularly in English.
Disclaimer:I do not encourage Piracy. Few anchor links below are not legitimate. Use them on your own discretion. DigitBin is not liable for any issues or Damaged if caused. I recommend you to buy subscription and watch content.
Watch Anime Free Online with these Best Apps & Sites to Stream Animation 
| | | |
| --- | --- | --- |
| Service | Price | Features |
| AnimeXStream (App) | Free | All Anime Shows and Movies (Dubs & Subbed) |
| AnimeHeaven (Site) | Free | All Animes Shows and Movies (Dubs & Subbed) |
| Animania (App) | Free | All Anime Content (Direct Download Available) |
| AnimeLab (App & Site) | Freemium (Australia) | Free Subbed & Paid Dubbed |
| Retrocrush (App & Site) | Free | Classic popular Animes |
| Netflix (App & Site) | Paid | Popular Anime in Dubbed and Subbed |
| FUNimation (App & Site) | Paid | All popular Anime (Subbed and Dubbed) |
| Freeflix HQ (App) | Free | All Anime Content |
| Tubi TV (App & Site) | Free | Popular Anime (Ads) |
Sites to Watch Anime Free Online
Here are the Best Free Websites to Watch Free Anime Online 
1. AnimeHeaven
AnimeHeaven is one of the fastest updated anime platforms. Though you may be greeted with some annoying banner Ads, an ad-blocker will just work fine. The AnimeHeaven is regularly updated with new Anime shows and movies pretty quickly. You get eng subs and dubs if available.
The site uses JWPlayer for playing video content. It uses two or three servers for each video and one of the servers has a direct video download link icon at the bottom of the JW Player. Making it a very useful platform to stream and download content.
2. Crunchyroll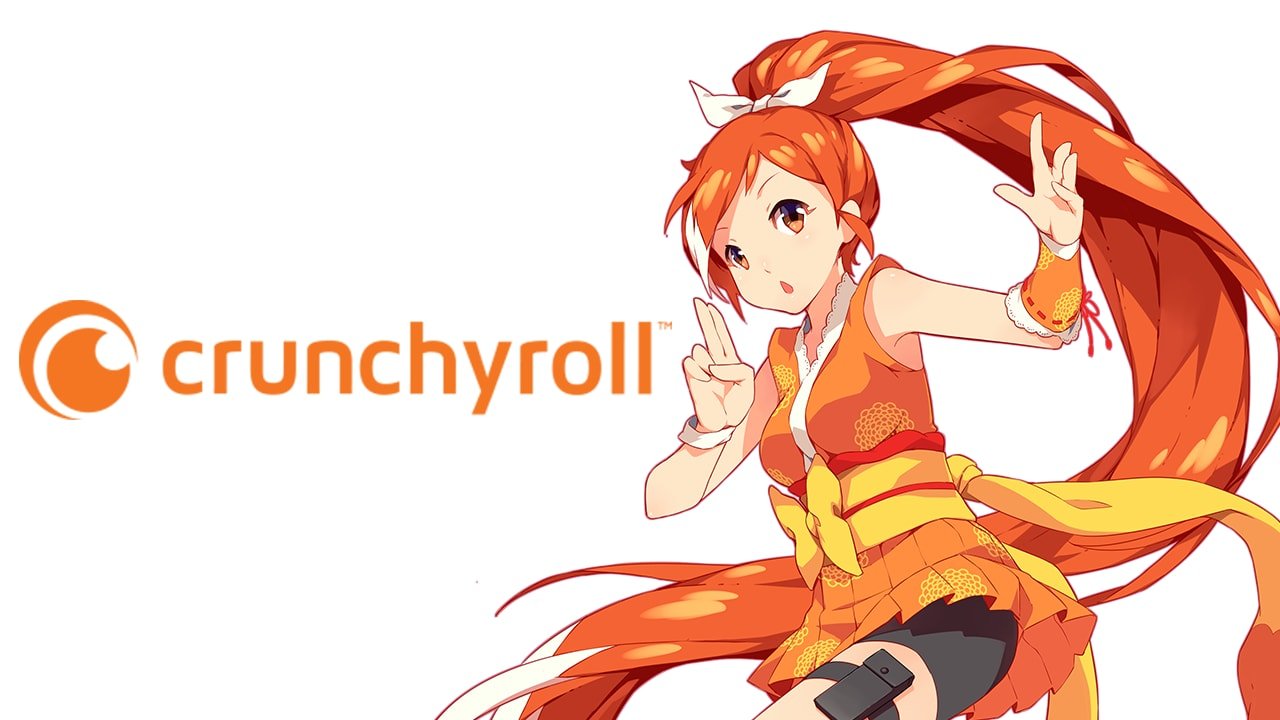 Crunchyroll is a popular anime site with over 50 million monthly visits which majorly focuses on east-Asian content primarily on Anime, Manga Series, Music, and Shows. A legal and simple way to stream all your favorite animation. The service has rights to popular Anime Series like Naruto, Dragon Ball, Titan, Ace of the Diamond, Bleach, etc.
Though all the content is not free, you get a free trial to access the shows and programs. Here's the list of English Dubbed Anime Available on Crunchyroll
3. GoGoAnime
GoGoAnime can be dubbed as a free streaming nirvana which offers all the Anime Movies and TV Shows for free. If you are seriously looking for a free anime streaming service without any limitations then GoGoAnime is the right choice. You get all the popular Animation for free without any account or pay. Just search for any show or movie and start watching the content without any restriction.
The site offers download options, you can grab your favorite anime and enjoy them offline without any worry of network issues. GoGoAnime is the oldest and most popular anime site available.
4. RetroCrush TV
As the name suggests Retreocrush is a home for old classic anime. It is a free Anime app that starts with the go. No registration needed but if you wish you can create an account for making a watchlist and access some restricted content. The site though has a very small library but most of the shows are classic popular Anime shows which you can watch on the go. You also get all kinds of Anime from each genre with the English dub and English Sub Support.
Few of the popular titles available on the site include Great Teacher Onizuka, Flame of Recca, Bubblegum Crisis, Fushigi Yugi, Ultra Maniac, Deltora Quest, Blue Seed, and Many More. You get some of the favorite classic Japanese Anime of the Platform for free. The app also has a very basic and simple video player that can load even with decent internet speeds.
5. AnimeLab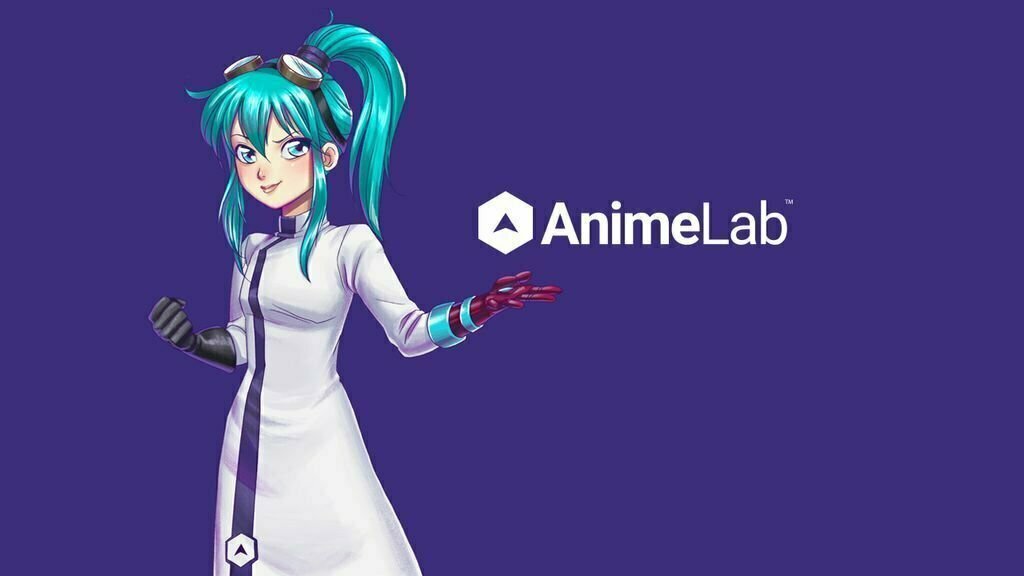 AnimeLab is a free and legal anime streaming service. It offers you all the popular and demanding Anime in one place. The site has a very clean and easy to use interface. The platform is available for Australia and New Zealand users but a VPN will do the trick. You get free anime shows and movies subbed and dubbed. Stream the latest episodes as soon as one hour after broadcasts. The basic version comes with pre-roll and mid-roll ads with standard quality and only sub support.
A premium version that costs around $7.99 will offer you English Dubbed Anime. You get some of the best Anime on the platform like Attack on Title, Tokyo Ghoul, Black Clover, Berserk, Kenichi, One Man Punch, Boruto, Death Note, Haikyu, and more. Here is the complete list of English Dubbed Anime on AnimeLab.
6. Tubi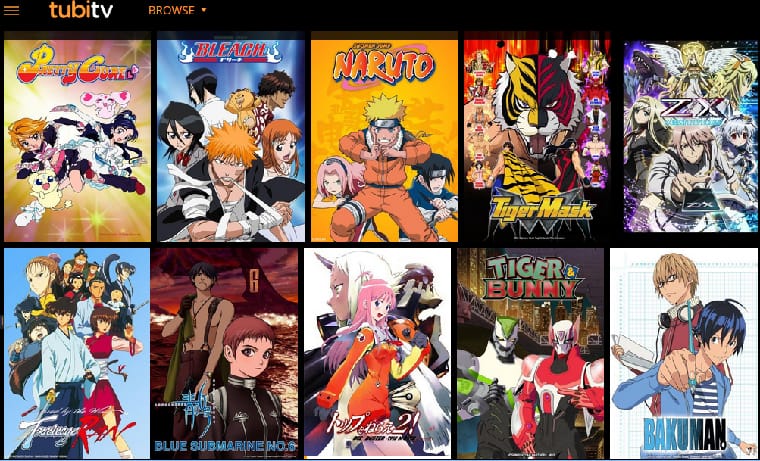 This free service is available globally and houses a bunch of movies and TV shows which is difficult for you to find elsewhere. You can watch Japanese Anime either subtitled or dubbed on Tubi TV. The Tubi offers shows like Sola, Angel Sanctuary, Yukikaze, Spider Riders, etc. The Tubi is regularly updated with anime movies and shows.
With a library now surpassing 50,000 titles, second only to Netflix, Tubi TV is the best source of Movies and TV Shows. The site hosts a number of anime movies and TV Shows for all age groups and that too without any subscription. But as a necessity, it runs on Ads.
Apps to Watch Anime Free Online
Here are the Best Free Apps to Watch Free Anime Online 
1. Anime X Stream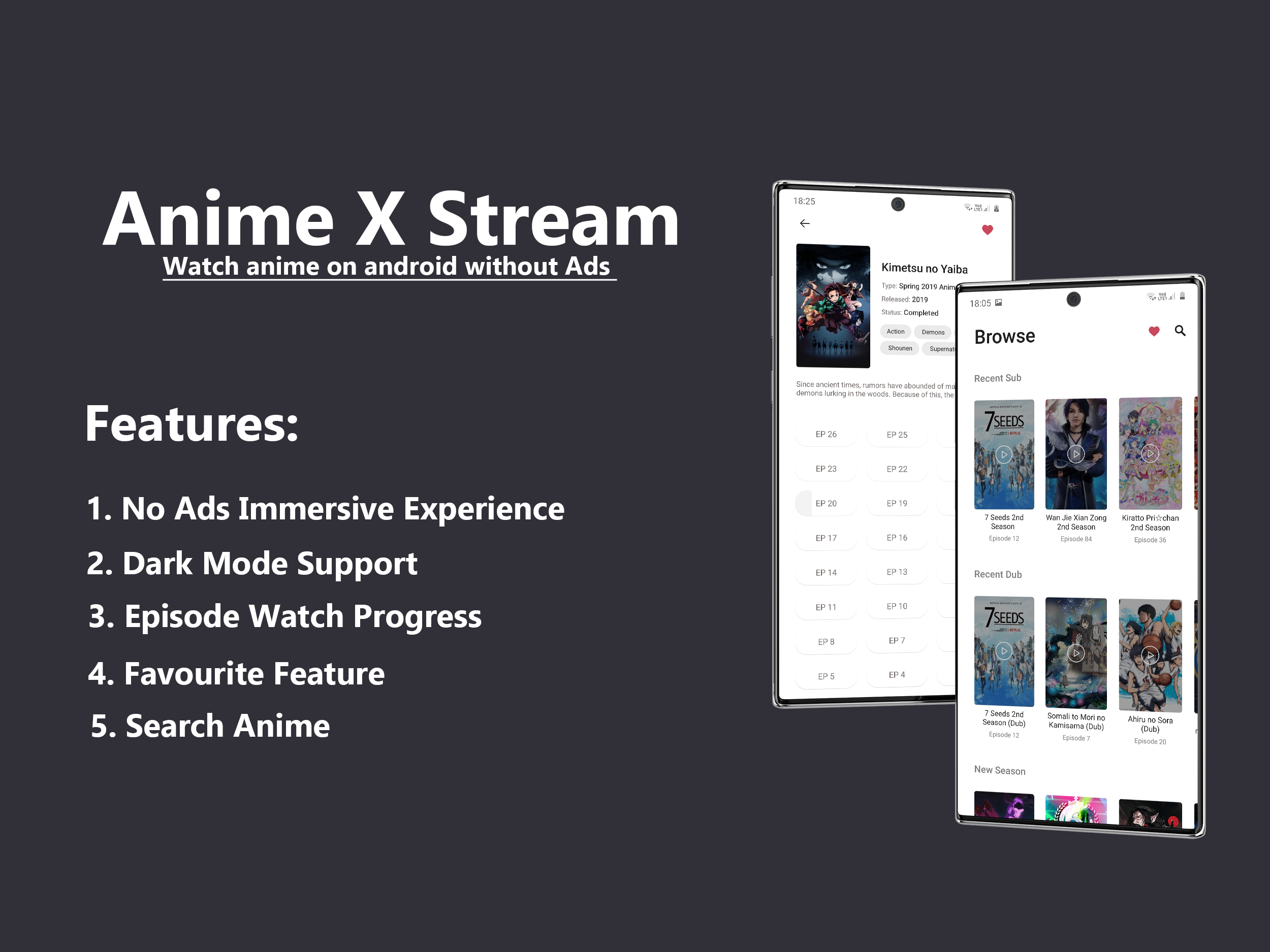 Anime X Stream is an illegal Anime streaming app specifically built for Anime Lovers, specially designed and crafted to watch anime at ease. Search for any of the anime you are interested in watching, click on the title. You can either download the movies and shows or stream them right in the app with English dub and/0r sub.
You can stream or download the latest anime for free without any complications. The interface is pretty simple smooth and you will love the app. Just search for the anime and click on the episode to load. The app supports PiP mode and has HD video support.
2. FUNimation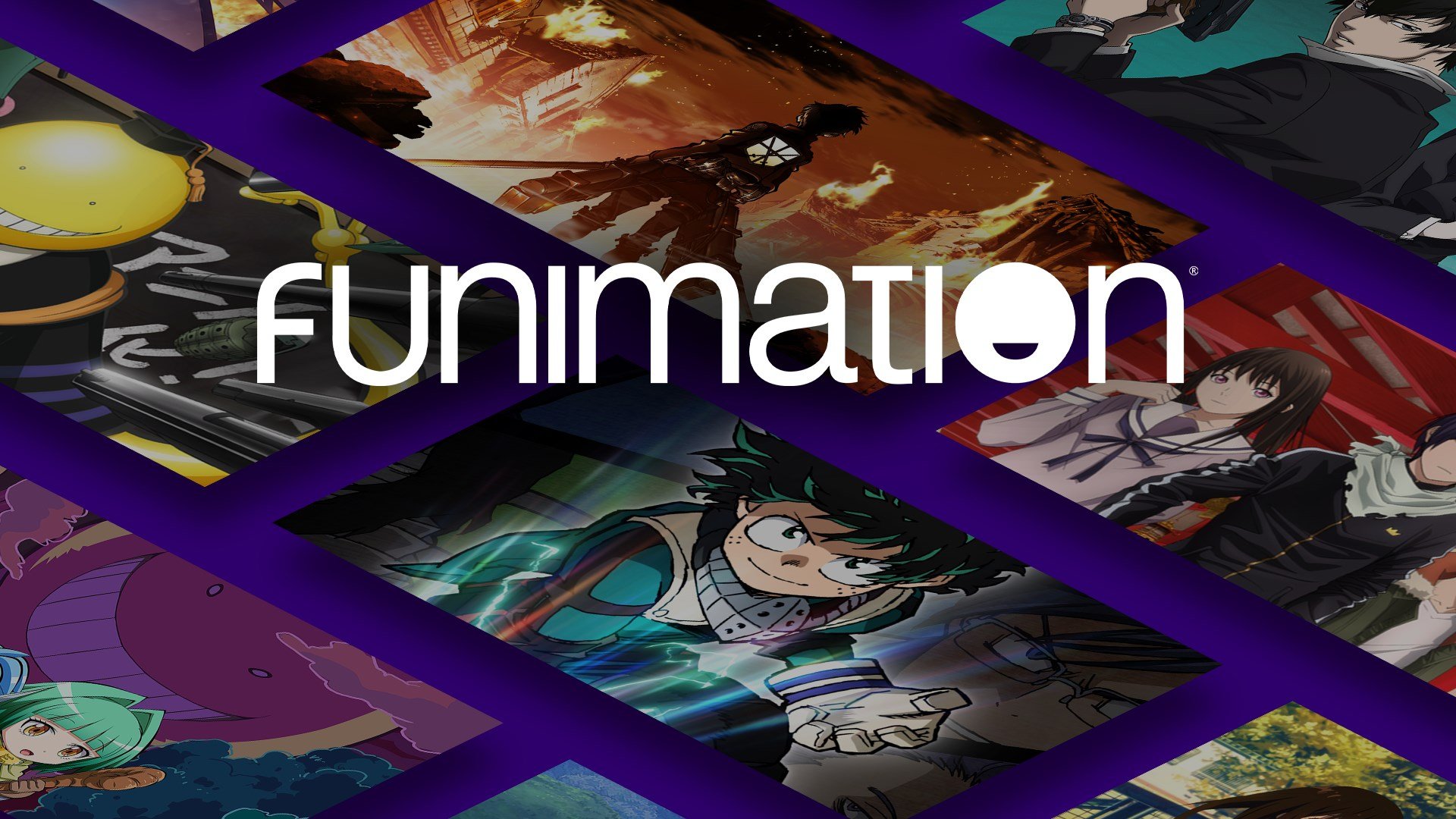 The Funimation streaming service has an impressive collection of anime series and feature-length films, including many hard-to-find titles. Funimation offers curated content with dubs and subs. You get plenty of shows for free with Advertisements and for a few premium Shows, you need to subscribe to the service.
Funimation is owned by Sony, so you can expect all the Sony-owned Anime to be available on the platform. Currently, the simulcast lineup consists of D.Gray-Man, The Disastrous Life of Saiki K, Izetta: The Last Witch, Puzzle and Dragons, and Tales of Zesiria the X. You get all the popular series and content with a 14-day test trail which is easy to cancel. Here is the Complete list of Shows in English.
Download Funimation | Paid ($5.99/mo)
3. AnyMe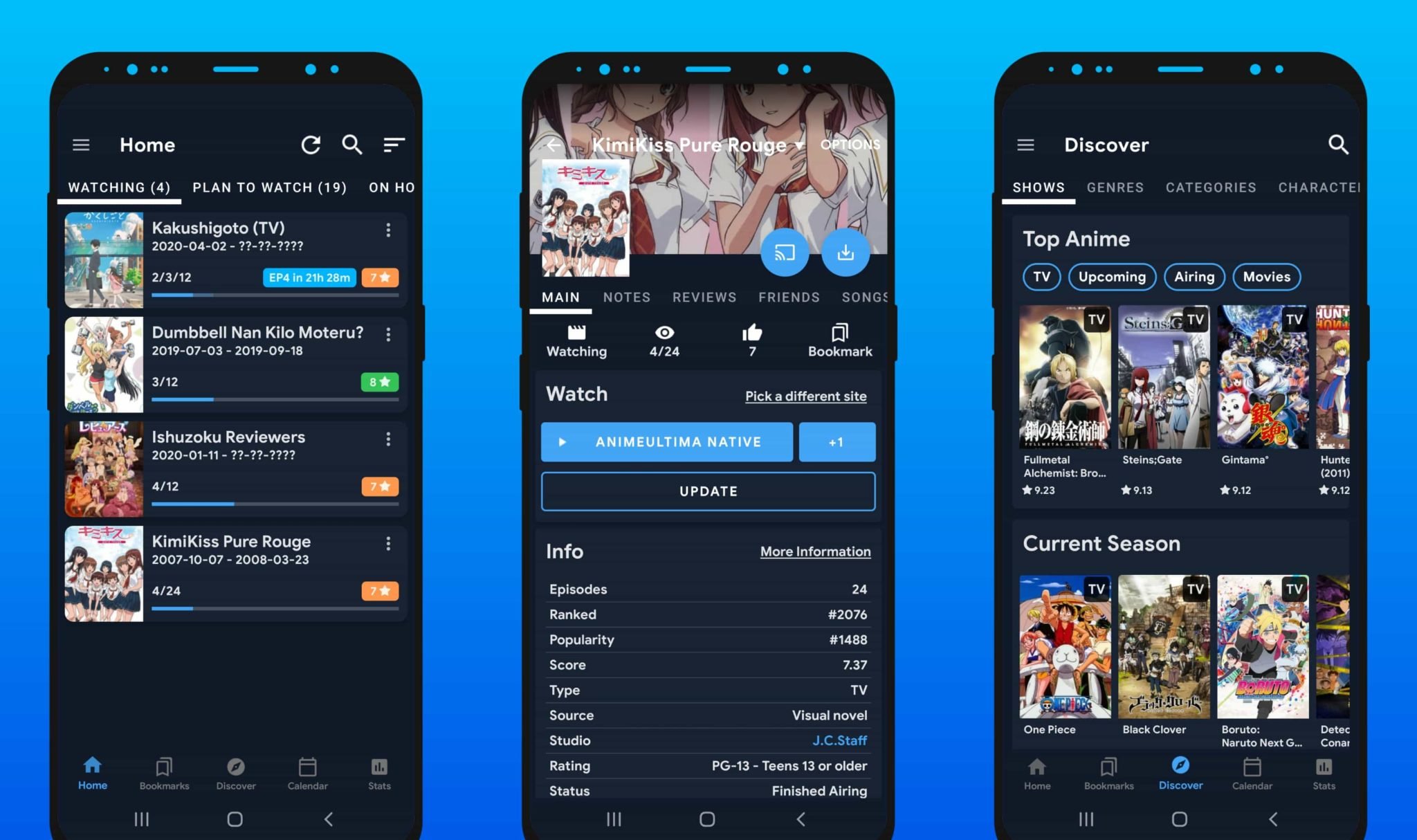 If you are an Anime fan than AnyMe is the App for you. AnyMe is a free Anime Streaming Platform and can be dubbed as Netflix of Anime. You get all the Japanese Animation in one place. Get access to thousands of episodes, movies, and anime OVAs, directly on your Android smartphone. A simple to use app which provides Anime in Subbed, English and Spanish Dub. The site loads streams from global resources.
You can either directly play the video in the app and if not supported then the app lets you stream the video in any video player like MX Player. Best Anime App if you wish to stream Dubbed and Subbed Anime for Free.
4. Netflix
You would be leaving in the stone age if you have not heard about Netflix. Netflix is the best place to binge-watch shows, watch movies, and other highly rated programs. The service hosts most of the popular TV shows along with classics, animations, animes, movies, documentaries, and its own originals.
If you are seriously looking for some high-quality anime movies and series, Netflix is the destination to reach out. The platform offers popular series like Naruto, Clash of Titans, My Hero Academia, Hunter X Hunter, Stein Gates, Robotech, Kill La Kill, Violet Evergarden, Soul Eater, etc and movies like Blame!, Miss Hokusai, Naruto, and more. Netflix is a paid service with Free Trial for one month. It may be called the epitome of online entertainment given its reach and quality of content offered.
Download Netflix | Paid ($9/mo)
5. AnimeBoya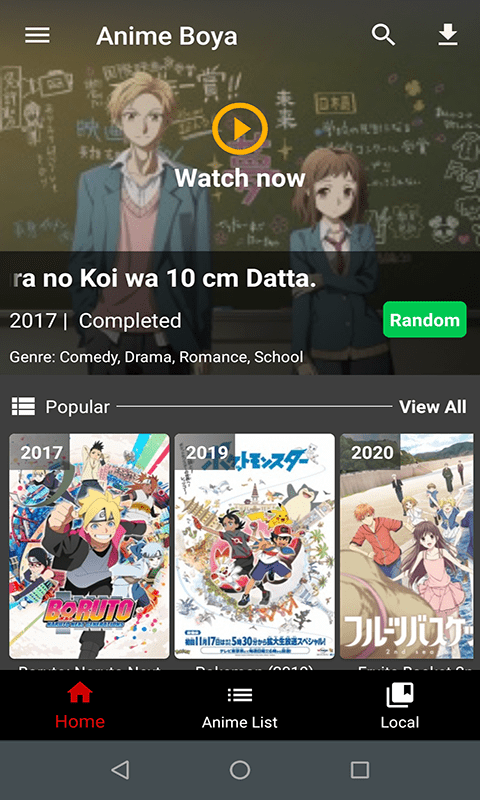 Anime streaming and downloading android applications developed by Tu2l by using Jsoup and other open-source libraries. The app offers a comprehensive catalog of all the popular anime, recent, ongoing, and completed anime.
All you have to do is browse the catalog and discover anime, whether by exploring the categories or by using the search function. All of the material features technical specifications and credits so that you always know what you are about to watch.
Conclusion: Watch Anime Shows and Movies with these Free Apps and Sites to Stream Japanese Animation Online
If you've any thoughts on Watch Free Anime Online [Apps and Sites], then feel free to drop in below comment box. Also, please subscribe to our DigitBin YouTube channel for videos tutorials. Cheers!