YouTube Music is rolling out a new feature on its platform. It is called Samples. Based on your streaming history, you will see a 30-second preview of tracks on YouTube Music. It is just a similar approach to short-form content as you see on Instagram Reels or YouTube Shorts.
Samples in YouTube Music are a great way to discover new music, artists, and albums. Once you come across a sample music, you can watch its full music video or listen to the complete track/album.
Along with knowing how to use YouTube Music samples, I will explain to you the steps to add a sample to the YouTube Music library.
How Does YouTube Music Sample Feature Work?
Update the YouTube Music app on your device to the latest build to enjoy the Samples feature on it. It is a new attribute of YouTube Music and is still rolling out to users around the globe.
Open the Play Store app and tap the Gmail account avatar.
Tap on Manage Apps & Device > See Details.
If YouTube Music has an update pending, tap on Update.

Once you launch YouTube Music, you can see the tab Samples at the bottom of the screen. Tap on it to explore various music and related videos.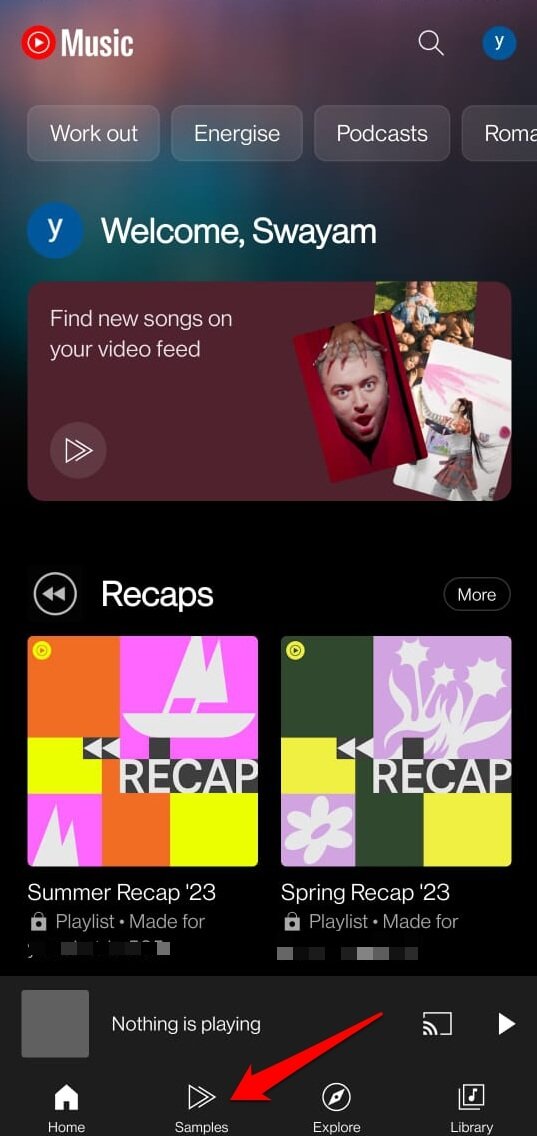 The process of exploring YouTube Music samples is the same as YouTube Shorts. Swipe up to move on to the next Sample. Swipe down to go back to the previous Sample.
If you press Like on a sample, it will be saved to the Liked Videos sample.
You may also share the Sample by tapping on Share.
Tap on Play to view the full-length audio/music video of the sample.
To view the Shorts posted by the same artist on the YouTube channel, tap on Shorts.

Download a Sample
To download a sample for offline listening/viewing,
Press the 3-dot icon at the bottom right corner when the Sample is playing.
From the menu, tap on Download.

In the same menu, you can tap on Go to Artist to visit the artist profile. If you find a YouTube Music sample offensive, from the menu, tap on Report.
How to Add a Sample to a YouTube Music Playlist?
By default, a Sample is added to Liked Music when you press the Like button. Apart from that, you can add a Sample to a pre-existing custom playlist or create a new playlist.
Open YouTube > tap on Samples.
When a sample is playing tap on Save.
Tap on the existing playlist to which the Sample will be saved.


To create a new playlist, tap on New Playlist.
For the new playlist, set a Title and description. Set its visibility to public or private.
Tap on Create to validate the playlist.

YouTube Samples is Not Working: How to Fix
The Samples feature on YouTube Music is a new addition and may have bugs on it. I have encountered an issue where the Samples freeze followed by YouTube music crashing or reopening. Some other users complain that they are not seeing the Samples feature on the bottom tab of the homepage of YouTube Music.
I have explained a couple of tips and tricks that you can use if the Samples feature is unavailable or doesn't work. Always start the troubleshooting by updating YouTube Music to its latest version. The steps for that I have already explained in a previous section. Also, use a WiFi network and connect your phone to that for a swift internet speed to stream Samples on YouTube Music.
Force Close YouTube Music
Force closing is a useful trick to fix any random errors on an app.
On Android,
Swipe up on the screen to reveal the Recent Apps section.
Navigate to the YouTube Music app and swipe it up. That will force close the app.

Go to the app drawer and launch YouTube Music.
On iPhone
Depending on your iPhone model, swipe up on the screen or double-tap the home button to bring up the App cards.
Scroll to YouTube Music and swipe it up to force close it.


From the iOS App library, open YouTube Music.
Enable Music Video playback  on YouTube Music
Some users have been complaining that they cannot watch music video teasers in the Samples feature of YouTube Music. If you have a similar complaint, I suggest enabling the Music video playback feature in the settings.
Open YouTube Music.
Tap the profile icon at the top-right corner and select Settings.

Select Playback & Restrictions > disable the switch beside Don't Play Music Videos.

Checkout Samples on YouTube Music
Discovering new music and artists is always so much fun, especially for music enthusiasts. The new Samples feature from YouTube Music just adds to the excitement of scrolling through interesting songs and music videos. So, try it out and explore a new dimension of music streaming.
If you've any thoughts on How to Use Samples on YouTube Music App?, then feel free to drop in below comment box. Also, please subscribe to our DigitBin YouTube channel for videos tutorials. Cheers!