If you are someone looking to create a great resume to get a job, you are at the right place. In this article, we will look in detail at how you can use AI to create a quality resume and get hired for your dream job.
A resume is the first thing to strike our minds when it comes to applying for a job. In today's unsettled job market, having a high-quality resume is a necessity to stand out from the rest. However, piling up all your experiences, education, achievements, etc., in a few pages can be quite a daunting task. And this is exactly where most individuals fail to showcase their strong and optimistic personalities. But thanks to AI, now you can easily get ready with an astounding resume in just a matter of time.
Our resume is our first impression in any interview, which carves the rest of the journey. Certainly, a strong resume holds the potential to even lend us our dream job in one go. However, writing an eye-catching resume is no piece of cake. There are a lot of factors to be taken care of while writing a resume. Fortunately, with the power of AI, today we have quite a few great options that could build us a job-ready resume in a few seconds. Moreover, it doesn't matter if you are a fresher or an experienced worker; AI can instantly come up with an amazing resume based on your past skills and experience.
Using AI to Create Resumes
Resume writing is an art that requires creativity and straightforwardness to bring out the best results. Fortunately, the AI-based tools available today can generate a resume based on the data you provide. Not only that, they can even help you with ideas to create a more appealing copy, scan and find errors or typos, and most importantly, remind you of every essential stuff you should mention in a resume. It is only after all these steps that you can create a piece that catches the eye of the reader and also stands out among other applicants.
Here we have shared a step-by-step guide containing everything you need to know and create better resumes using AI. We have also highlighted some great AI tools that you can refer to create yours. So, without any further ado, let us get started with our topic of the day.
1. Generating a Sample Resume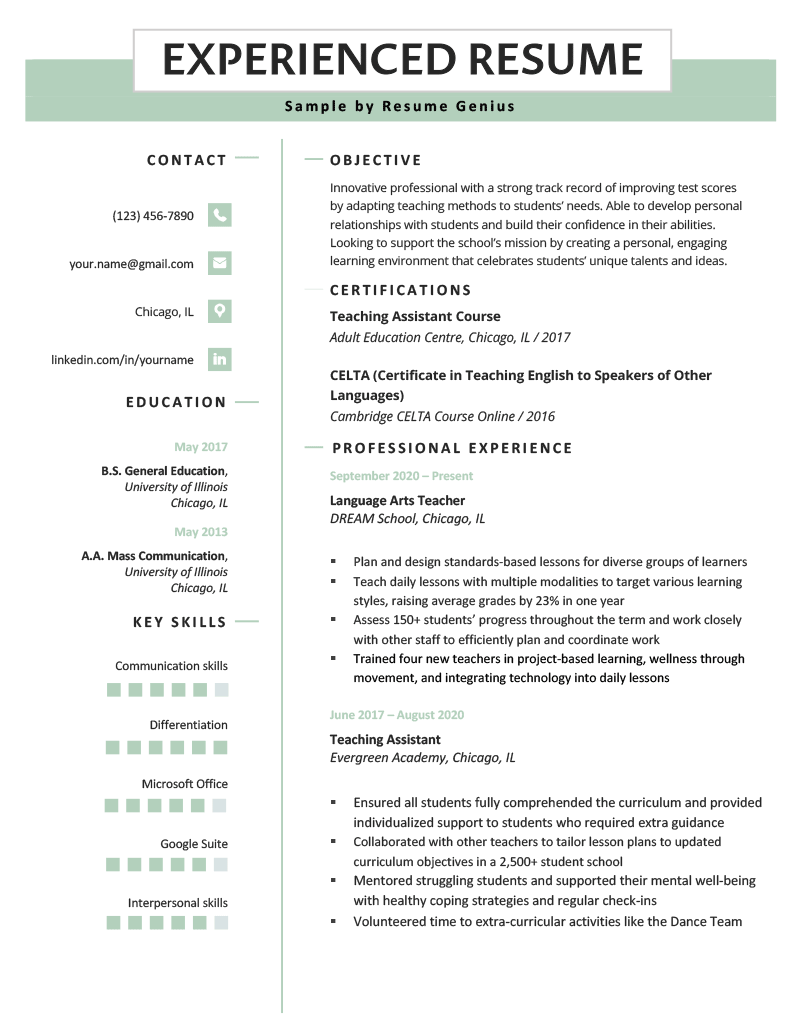 As you take your first step, make sure to start with a sample piece. While creating the sample copy, you need to be very clear with your objective. Know where you currently stand and what your final goal is. Now, based on your destination, provide the AI with all the relevant information that you think can help you land the job you are looking for.
Even if you are a fresher, you can mention your qualification, skills, achievements, and so on. So, make sure to put more effort into highlighting these parts to catch the attention of the interviewer. Since you are using AI to write your resume, all you need to do is mention the things you want to see on your resume and ask the AI to create a resume out of it.
To be more specific, you can also pass references like which sector you are trying to apply for and what type of tone you want to use in your sentences. These small things help the model understand your requirements better and come up with an appropriate structure for your resume. But this is not it. If you are looking to get hired for your dream job, it is going to take more than that.
Once you are ready with a satisfying result, you have completed the first step. Now, you need the get going with the following steps to come up with the perfect resume you are looking for.
2. Check out other Essentials to Add to your Resume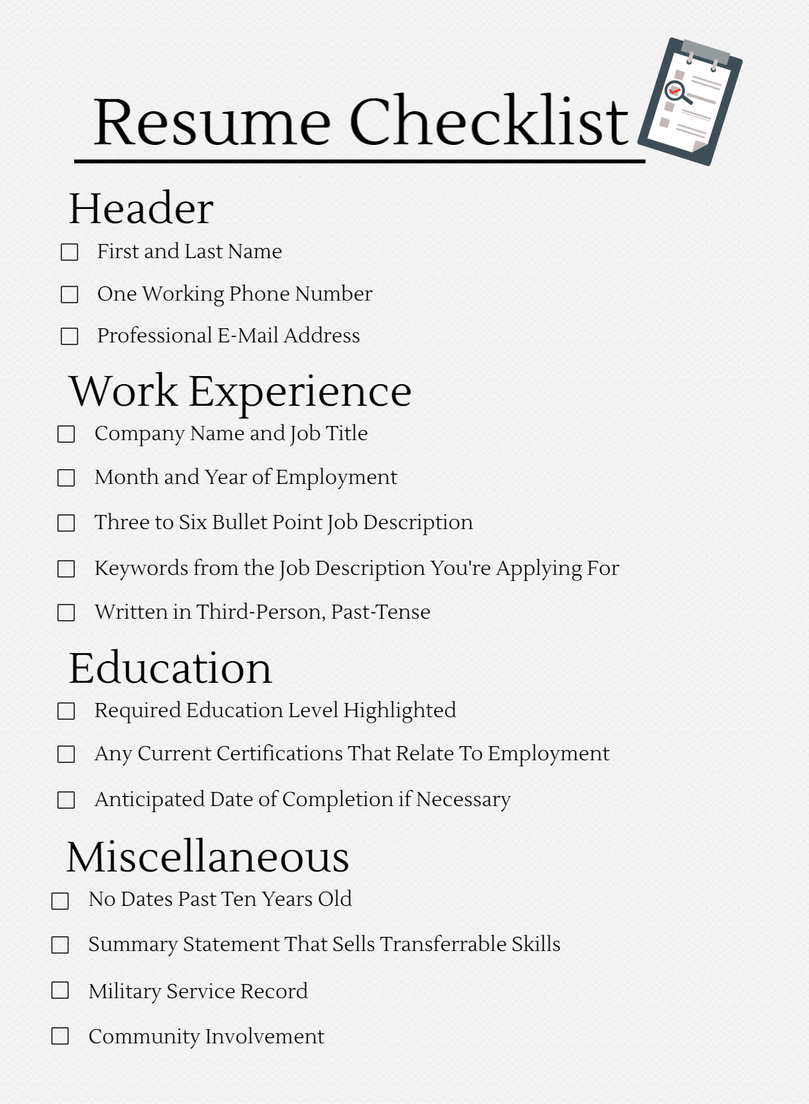 Unlike a regular Resume builder, AI can help you with further suggestions to create better results. So, once you get the sample resume, you can ask the tool what else to add to make it look more engaging. AI has worked with a massive number of datasets. Hence, it always has something better to provide. You can look for more topics to add about yourself to make it look more complete.
For instance, apart from the basic introduction, qualification, experience, and skill set, you can also talk about your hobbies, extracurricular activities, certifications, etc. If you have a good record in outside things, it also leaves a good impression on the interviewer.
3. Look for the Right Layout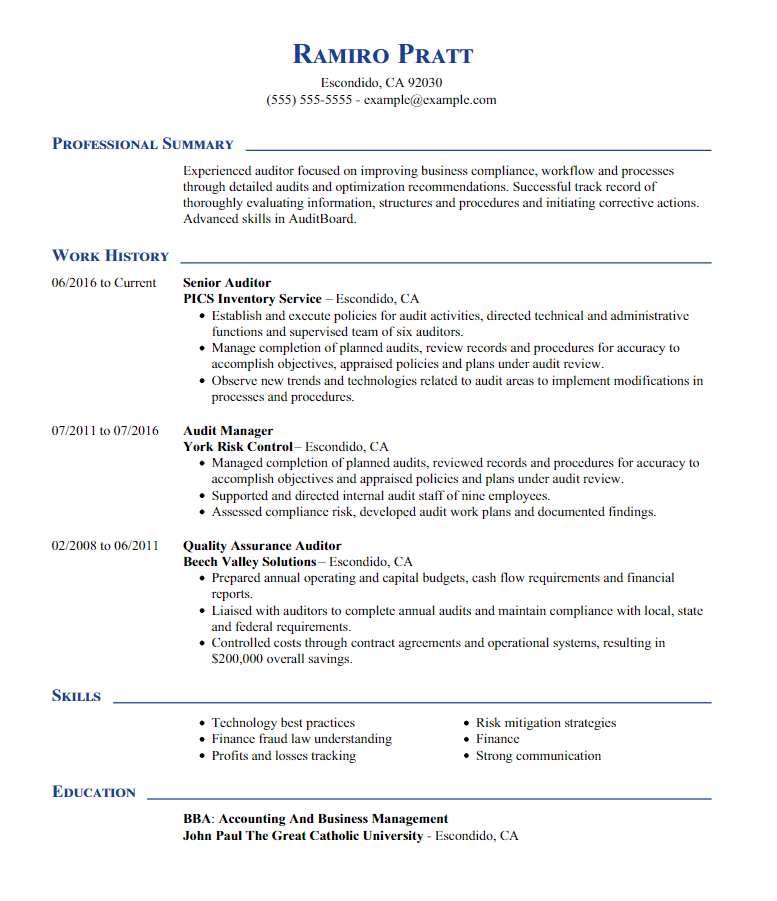 Once you are done with the content, now comes the important part to deal with. Based on the amount of information you are providing in your resume, you need to select an appropriate layout for it. In order to catch someone's attention, you need to make it presentable. However, you need to come up with a design that goes with both physical and online interviews.
Surely, for a physical interview, you can design your resume the way you want. But when you are applying online, all your data is converted into the text; hence, no matter how attractive you make it, the end result is a plain series of text. So, the best choice is to go with a layout that looks simple and organized. You can find a lot of free templates on the internet. Plus, there are AI-based tools that generate your complete resume along with a suitable template as well.
Additionally, while designing your resume, you need to avoid too much fancy formatting. For example, using graphics, customized bullet points, images, etc. These things only take up extra space on your resume while contributing no value to it. There keep it as simple as possible. Avoid using too many images or graphics, bold/ italic/ underlined/ highlighted text, etc. You can rather go with the traditional black-dotted bullet points and mention the details without any graphics.
4. Customize your Resume
As you reach this point, half of your job is done. Now, you simply need to make some customizations to make your resume job-ready. By customization, we mean choosing the most appropriate words based on the job you are looking for. This not only makes the resume look more presentable but also helps you get a job at the earliest.
Note that while applying for an online interview, the applicant tracking system scans the keywords to help you find the most relevant jobs. And this is exactly where the synonyms play a big role. For example, if your employer is looking for an applicant with an international business background, but in any case, you end up writing global business on your resume, it might not get selected.
We advise you to first do market research to find out the keywords mostly used in the hiring ads and add them to your resume accordingly. Likewise, make sure you haven't made any typos or used the wrong vocabulary.
5. Check out for Preferred Jobs
And lastly, after coming up with the final result, it is now time to look out for your dream job. Unfortunately, in today's market, you will hardly come up with the one you have been looking for. However, there are dedicated platforms, such as LinkedIn, Naukri.com, etc., to ease your job search. You can seamlessly use the keywords, job type, and location to come up with more accurate job options.
Best Resume Building AI Tools to Use
Today, as AI is spreading its influence in every sector, we have access to a variety of tools. Certainly, the same goes for AI resume-building apps as well. There are quite a few apps to consider for building a quality resume using the power of AI. However, to narrow down your search, we have made a list of some of the best AI tools available today.
1. ChatGPT

Well, starting off with the one on trend today, ChatGPT is the first name that comes to our mind when we talk about modern AI tools. Among all the things it can do, writing an attractive resume is also one of them. All you need to do is ask GPT to write you a resume along with your personal details and other requirements. It will instantly generate an eye-catching piece. However, make sure to be specific with your requirements to get a more accurate response.
Besides, if you don't like the result, simply click on the regenerate button or else try to pass your request in a different way. It might take a few trials before you get your desired response.
2. Zety Resume Builder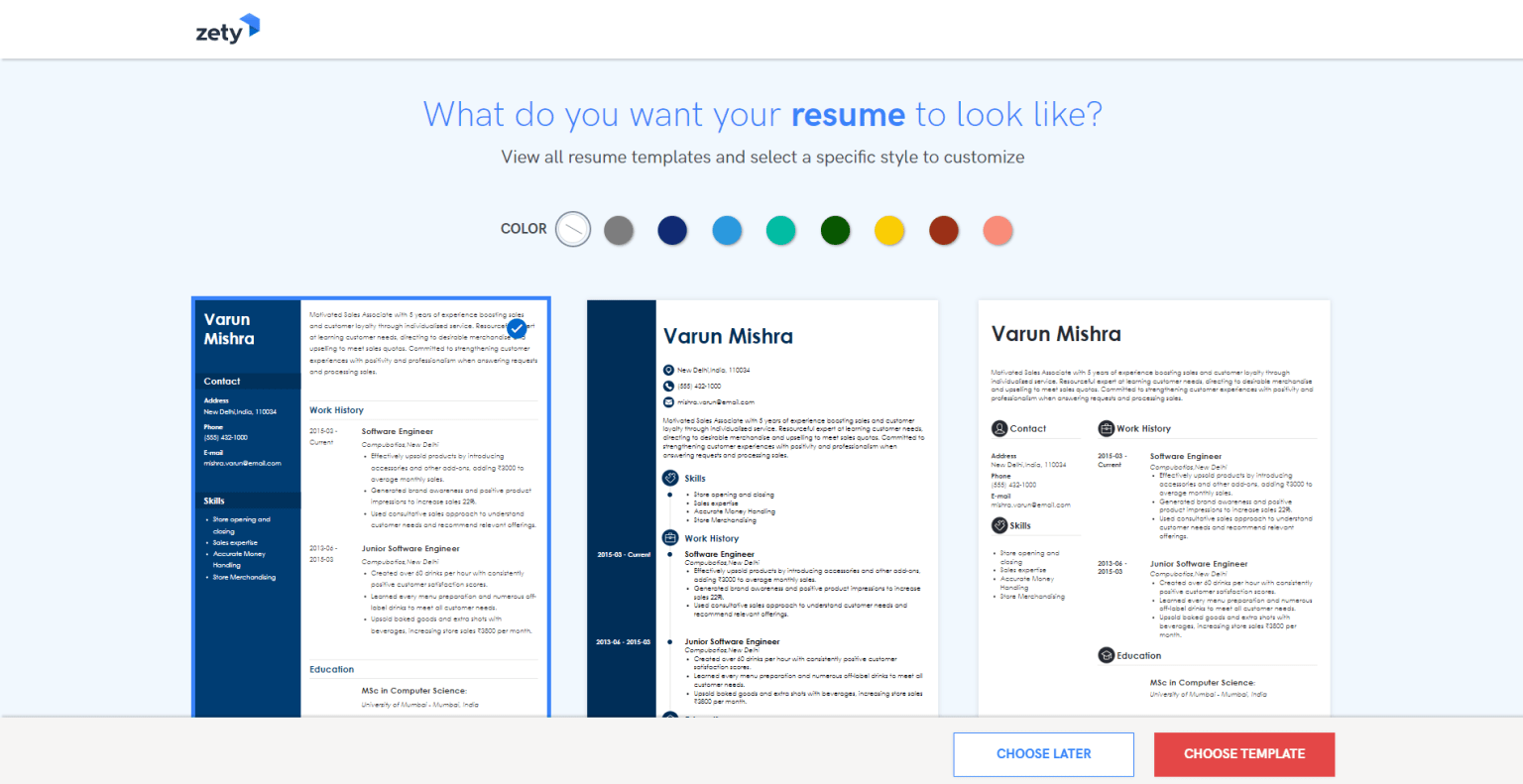 Zety is an AI-based online resume builder known for creating professional-level resumes in just a matter of seconds. Unlike GPT, Zety is a dedicated resume builder that focuses on building necessary professional documents like Resumes, CVs, and Cover letters. It simplifies your requirements by providing different features to select the correct template, and format, and check your resume score with a single click.
Besides, if you are not sure about your format, it also provides you with a variety of example resumes to help you go with the right option. Once you choose a template, you can start filling in your details, and Zety AI will automatically generate the final result.
3. MyPerfectResume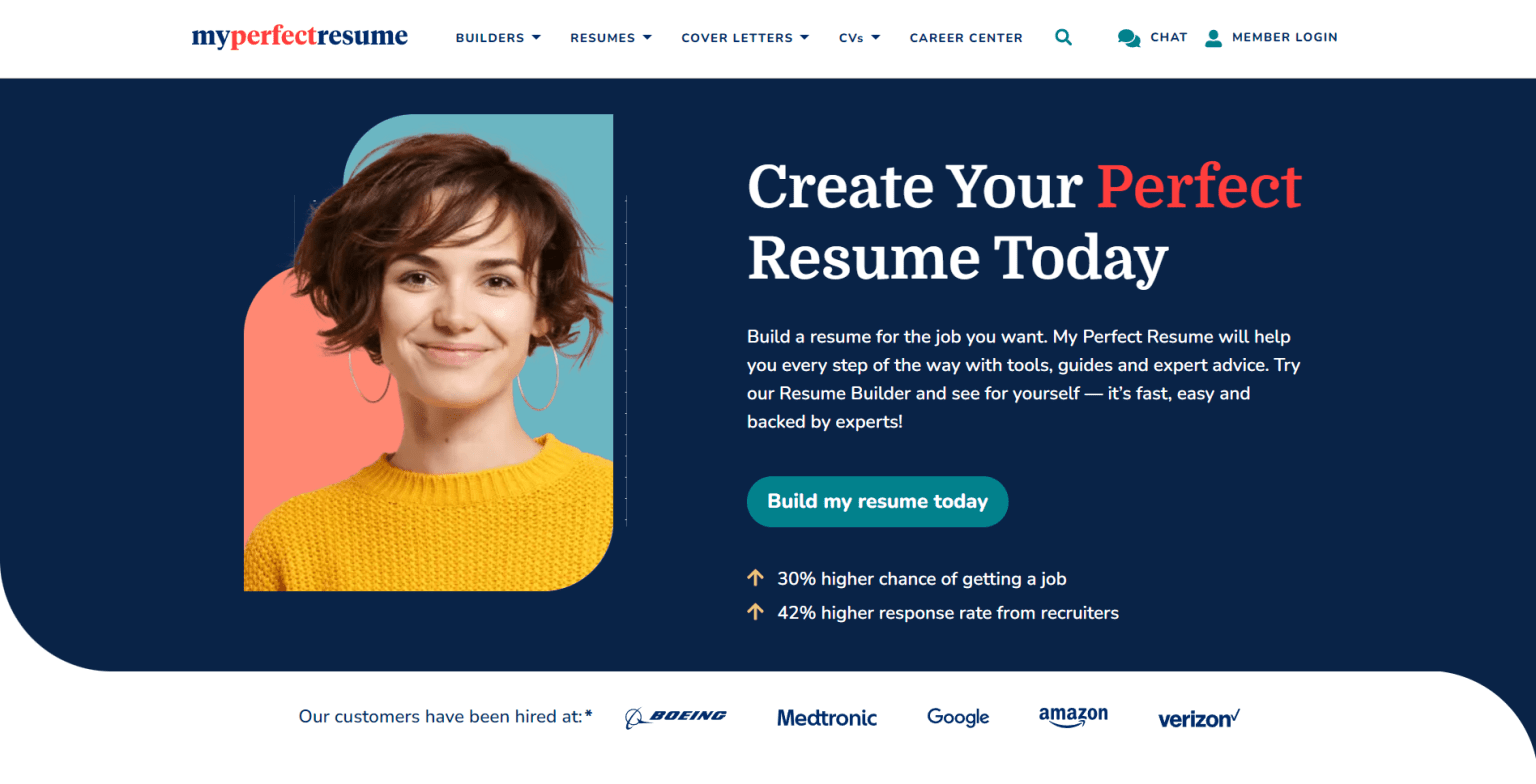 MyPerfectResume is very much like Zety. However, it gives you a lot more customization options. For instance, you can select from a variety of templates, formats, or examples categorically. Besides, it also helps you with tips on creating a better resume and offers a three-step resume creation process. Moreover, it
Final Words
Resume writing is a true art, the more creative and straightforward you get, the more attractive result you come up with. Fortunately, AI is a complete blend of creativity and logic, and so it comes up with the best tricks to develop the most effective result. Today's AI tools are so enhanced that they can generate the right format, tone, and layout for your resume with just a few clicks. No more going through the hard shifts to decide everything on your own. Simply follow the steps above, and AI will create the perfect resume for you in no time. However, note that you might not always get the perfect result, so you might have to do some touchup to get what you want.
If you've any thoughts on How to Use AI to Write Better Resumes for your Dream Job?, then feel free to drop in below comment box. Also, please subscribe to our DigitBin YouTube channel for videos tutorials. Cheers!