We all know that iOS does not have an open-source nature like the Android OS. On one hand, Android OS provides ample options to customize, install third-party apps, etc. Apple's iOS is almost alien to the words customization or third-party apps. The good thing is iOS developers have come up with multiple third-party app stores for iOS from where iPhone users can install apps for free.
TuTuBox is one of the best and popular app stores for iOS users. You can get all of the apps you desire without the need of jailbreaking your iPhone. In this post, we will give you a complete guide on TuTuBox. So, without any further ado, let us jump straight into the article.
What is TuTuBox?
Just like any third-party app store you have for Android from where you download any of your favorite paid or free apps/games on your phone, TuTuBox gives the same freedom to iOS users. It is an App Store alternative that features the most wanted jailbreak tools, emulators, tweaked apps for iOS, and hacked games. The good thing about TuTuBox is you do not need to jailbreak your phone.
You can download thousands of apps and games with the direct links provided within the app. In fact, you can download tweaked or hacked versions of popular social media apps as well to enjoy the premium features offered by those apps. TuTuBox has a clean and minimal user interface, making it easier for iOS users to browse through all the features of the app store. FYI, TuTuBox also has a very low percentage of certificate revokes compared to its competition.
Is TuTuBox Safe?
One of the first things that would come to your mind, if you are an iOS user, is TuTuBox safe? Well, the answer to this is both Yes and No, Tutubox lies in a legal grey area. For starters, downloading and installing TuTuBox on your iPhone does not put your device at risk. At least not directly. But there is no guarantee regarding the apps that feature within this app store. Why are we saying this? Because TuTuBox has modified or hacked versions of apps and services. So, there is a great risk of your ID getting banned by these services.
Moreover, if a developer can provide you a hacked version of an app, can also easily put malware or virus that could affect your phone. There is no guarantee about the safety of the app listed in TuTuBox. Besides, TuTuBox also requires an excessive amount of permissions in order to let you in. All in all, it depends on you and how desperately you need the app.
Features of TuTuBox
No jailbreaking or Apple ID required: One of the best things about TuTuBox is you do not need to go through the hassle of jailbreaking your iPhone to use it. Moreover, you do not need to validate any information from the App Store. It is as simple as clicking a button to download your favorite apps.
Updated app library: TuTuBox continuously keeps on updating its app library. Meaning that you will be able to download all the latest apps/games, and app version of these apps/games.
Less revoke compared to the competition: There are several users that prefer AppValley over TuTuBox. But one advantage of using TuTuBox is it gets fewer revokes than AppValley.
Everything is available for free: Well, the idea of downloading apps from third-party sources is to get the apps/games for free. TuTuBox also lists all apps and games within the app for free.
Trusted connection: When you download apps and games from this app, they will be delivered using a secure SSL connection between your phone and the Tutubox store.
How To Install TuTuBox?
If you are reading this section, then you have already decided that you want TuTuBox. Follow the steps below if you want to know how you can install TuTuBox on your iPhone, iPad, etc. because sometimes installing third-party apps on an iOS device can get tricky. Below, we list the steps that you have to follow to bypass the certificate check and install TuTuBox on your iPhone.
Note: We do not recommend downloading or installing apps from a third-party source. You can do that at your own risk. DigitBin cannot be held responsible for any damage to your phone or data.
Prerequisites
First of all, go take your iPhone and head over to the System app and tap to open it.
Now, from the main menu, you need to select Wi-Fi Network.
Navigate to ⓘ > Configure Proxy > Automatic.
In the same window, type http://ffapple.com in the URL field and then click Save.
Once done, disconnect the current Wi-Fi connection and reconnect it again.
You need to ensure the internet connection is active.
Clear the history and cookies from the Safari browser, and head to Settings > Safari, and tap Clear History and Website Data.

How to Download TutuBox App on iPhone?
Step 1. Open Safari & go to tutubox.io/install.html (The site has a number of click pop-up ads and redirects, make sure you click the download file till you see the install option).
Download the Signed or No Revoke file (This are Working TuTuBox Stores), if it doesn't work download any other file from the site and check if it works.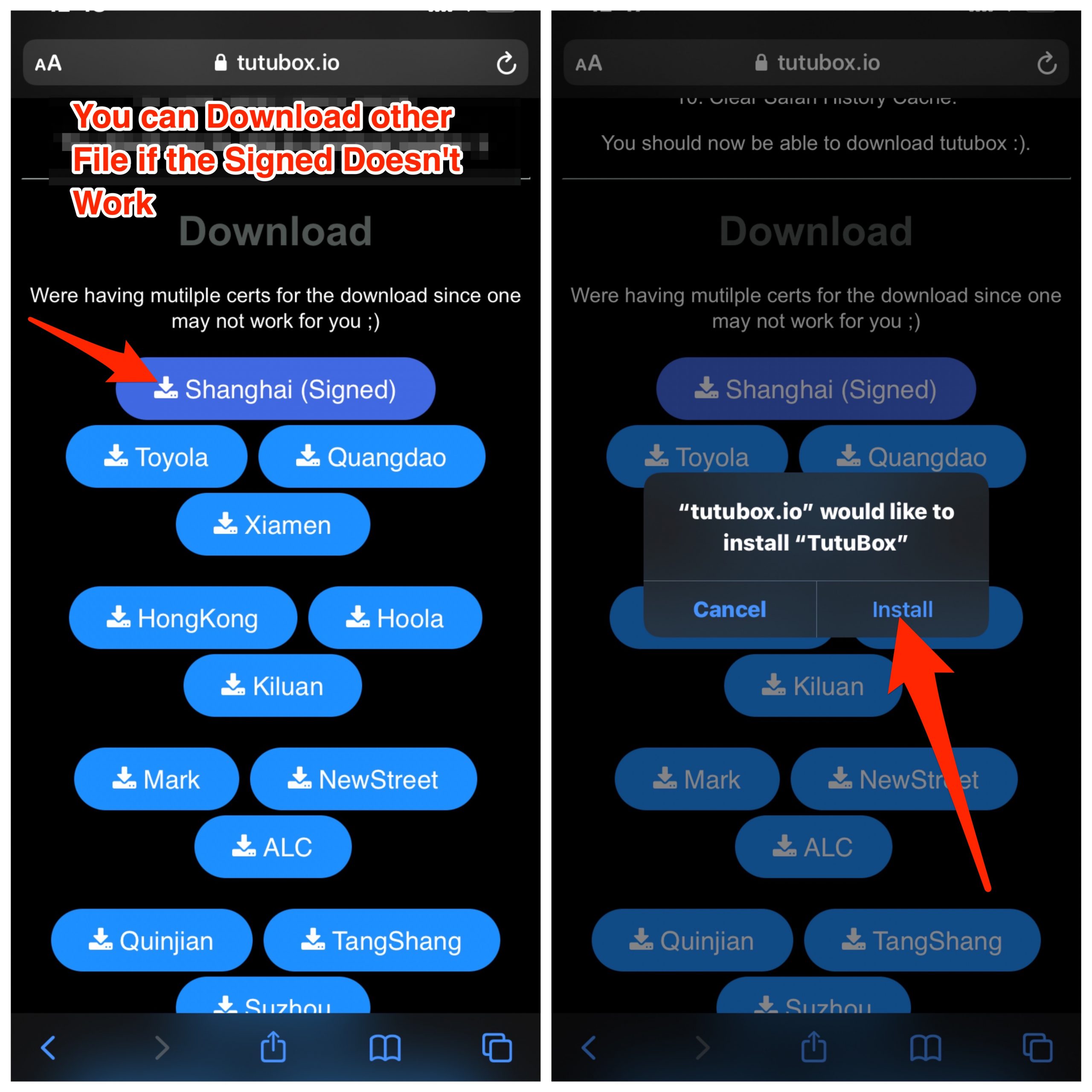 ---
Step 2. Once you click install, the TuTuBox starts downloading and install on your app drawer. You can check the app loading and get installed on the iPhone home screen.

---
Step 3. Now when you try to open the app and you will see the "Untrusted Enterprise Developer" pop message.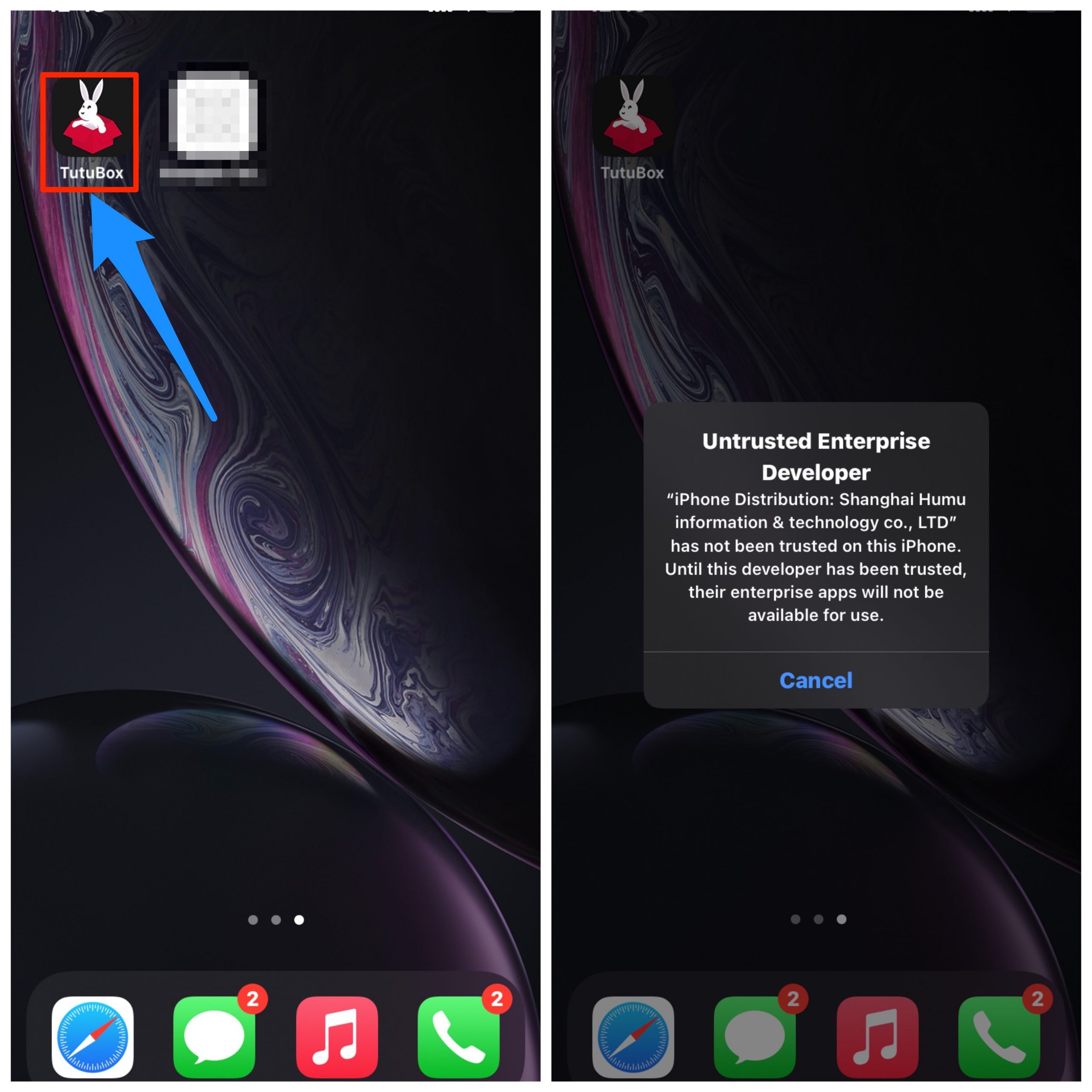 ---
Step 4. To fix the error message, open Settings and go to General, and check Profiles & Device Management. Here look for the Developer, you will see the app is being shown Unverified.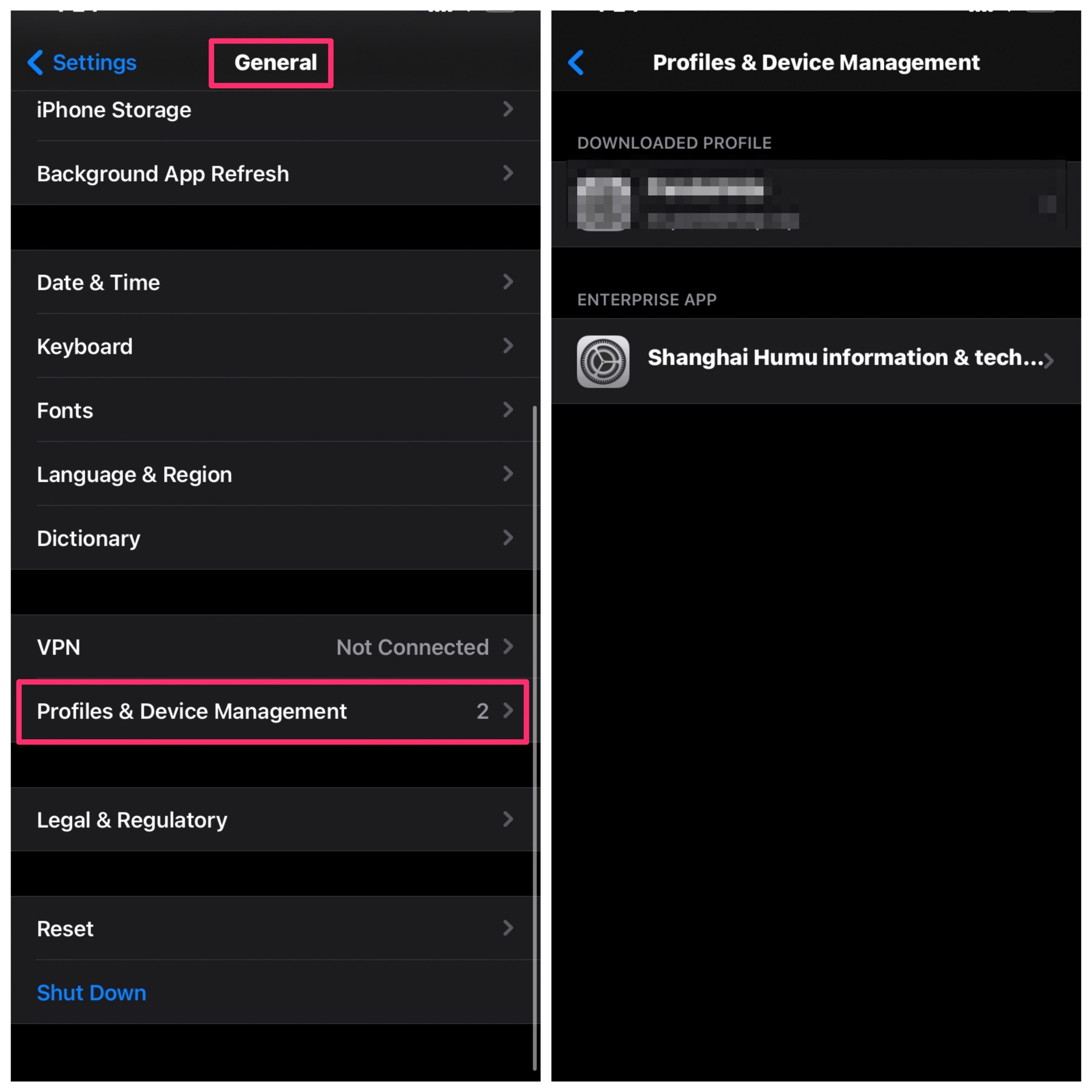 ---
Step 5. Click the Developer and tap on Trust to confirm.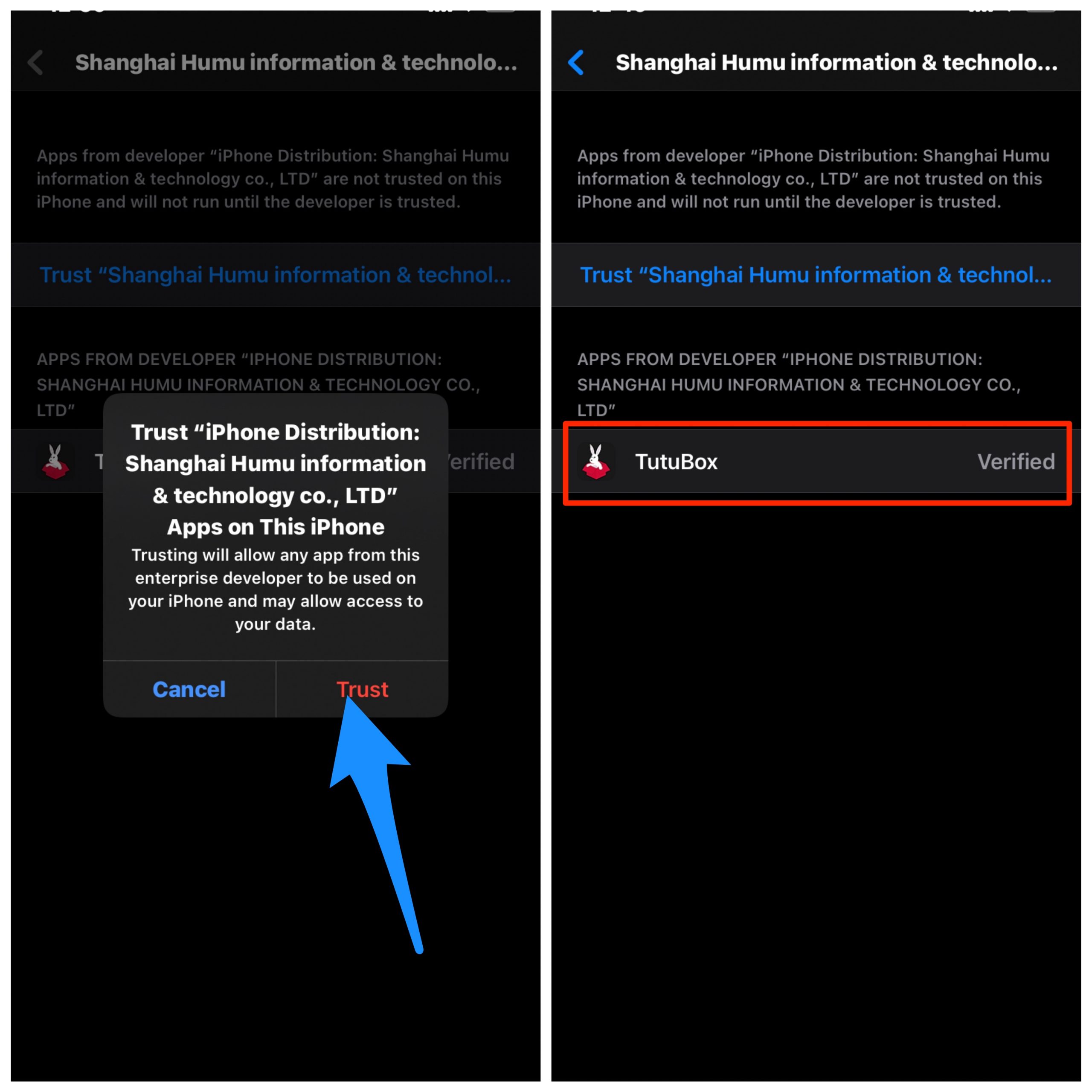 ---
Step 6. Once done, close settings, and all running tabs, now open the app it will work without error.
---
Step 7. You can now download tweaked apps on your iOS device for free from TutuBox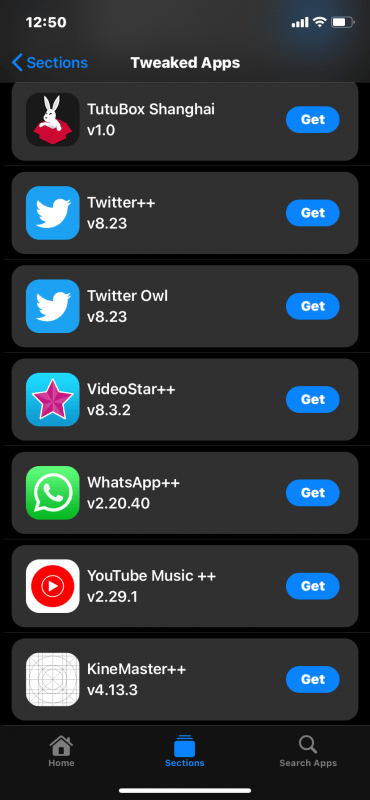 Note: When you click the "Get" button in the TuTuBox to download any app, you can check in the home screen app drawer to see the app downloading and installed.
The tweaked store takes some time on first open, so just be patient.
TuTuBox Alternatives
Though TuTuBox is one of the best third-party app stores for iOS devices, there are some that would like to know the alternatives to this source. Besides, there could be several apps that may not be available on TuTuBox but are available on other sources. So, here are some of the alternatives that you can opt for if you do not like TuTuBox.
Best TutuBox Store Alternatives for iOS
AppValley: It is also a decent app store alternative that provides free apps, games, ringtones, tweaks, emulators, and many more. Apps are compatible with iOS 7 and above, it provides regular updates, and just like TuTuBox, you do not need to jailbreak your iPhone to use AppValley.
TweakBox: Another unofficial app store for iOS devices that does not require jailbreak, safe to use, provides a huge list of apps and games, and is used by millions of users. One good thing about this app is the customer support is available if you come across any issues.
TopStore: This is another good alternative to TuTuBox. It provides faster and direct download links to all the popular apps/games. It is easy to use and does not require a jailbreak to use it.
How To Download Apps From TuTuBox?
After installing TuTuBox on your iPhone, open the app.
You can either browse through the app or game list or use the search bar to search for a specific app.
Select the app you want to download.
Simply tap the Get button to download the app on your phone. That's it!
Conclusion
So, there you have it from my side in this post. Note that there are other AppStore alternatives that you can try out. But TuTuBox is one of the highly used and trusted third-party sources of downloading free apps and games on iPhone. You can let us know your experience of using TuTuBox in the comments below. If you find this content useful, make sure to check out our DigitBin YouTube channel for more awesome coverage. Until the next post…Cheers!
If you've any thoughts on TuTuBox Tweaked App Store | Complete Guide, then feel free to drop in below comment box. Also, please subscribe to our DigitBin YouTube channel for videos tutorials. Cheers!