Mobile phones have become smart. They have come a long way from being a device just used for communication to a device that can capture high-quality images/videos, an entertainment device, to many other things. However, one of the most common things that mobile phones have been doing traditionally is allowing users to use their phones as a torch.
Even back in the good old days, when phones weren't smart, brands used to fit their phones with a small LED that would help users to cut through the darkness and use their phones as a torch. While modern-day smartphones come with a powerful flashlight, that helps take brilliant images during the night, they double up as a powerful torch as well. But they can either be turned ON for as long as your want or they can be turned completely off.
There is no in-between, meaning you cannot set a timer for the flash on your Android phone. Thankfully, there are several apps available in Google Play Store, which you can download and add a timer to go with the flash. If that is what you are looking for, then you are in the right place. In this guide, we will share with you some personally tested apps that will add a timer to your Android phone to control the flash. Let us check them out.
1. Flashlight Timer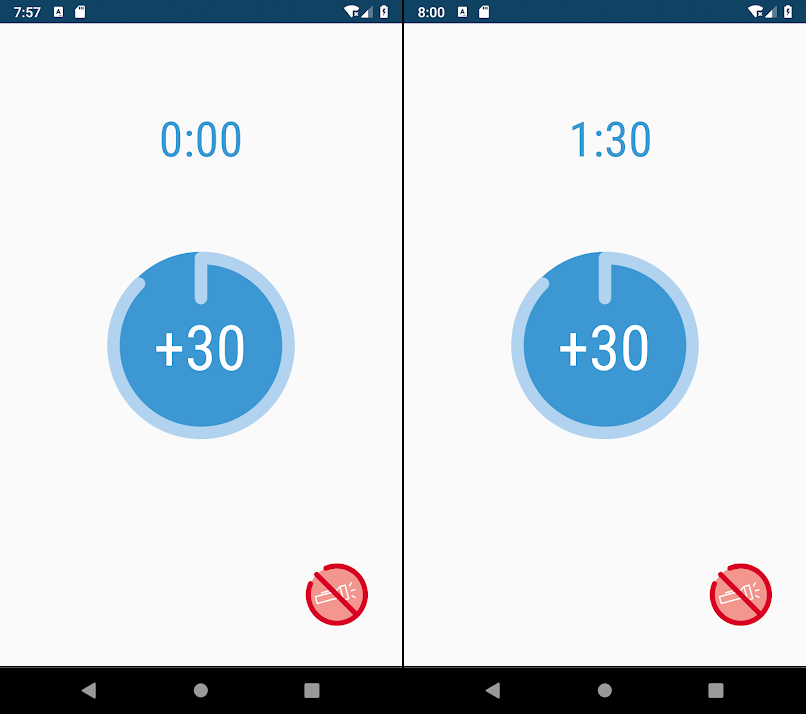 One of the simplest flashlight apps available on the Play Store which gives you the option to set a timer to it. Notably, this app provides only a single option of 30 seconds, to which the flash will remain on. After 30 seconds, the flash on your phone will automatically turn off.
Using this app is also pretty easy. All you need to do is tap on the +30 button in the middle of the app interface and the countdown will begin. Besides, each new tap on the +30 button adds 30 seconds more to the timer, which means you can increase the timer time to as much as you want.
2. SmartTorch – Torch with Timer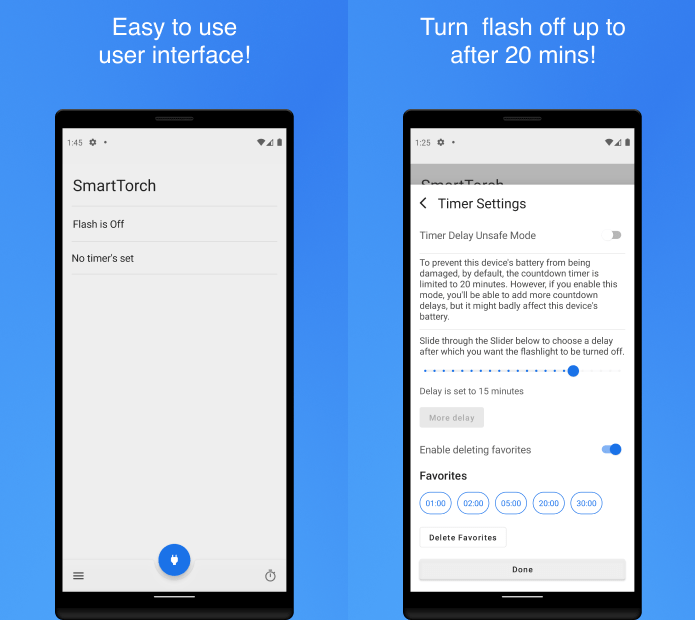 Another simple and easy-to-use app that does the job of providing you with a timer for the flashlight is SmartTorch – Torch with Timer. There are no ads, so that's a relief. Straightaway, after opening the app, you will be given two options to choose from. The first shows the status of the flashlight, whereas the next one allows you to set a timer for it.
The app also provides you with the option to set your favorite times as Favorites. This negates the need of setting your preferred timer settings again and again. Once you have set a timer, all you need to do is tap on the START button to begin the flashlight timer. At any time, you can press the CANCEL button to turn off the flashlight.
Download SmartTorch – Torch with Timer
3. Flashlight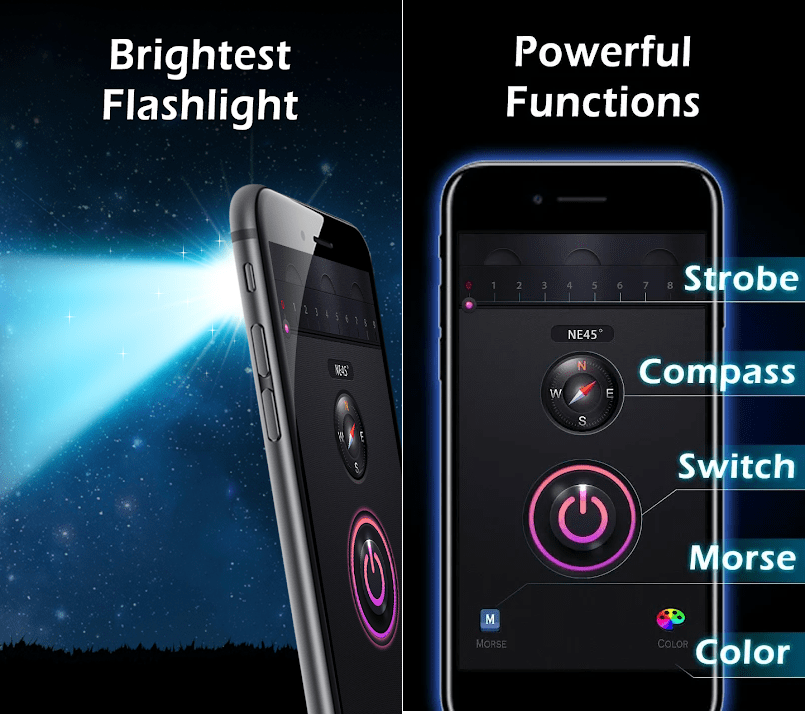 Another alternative to the above two apps, you can check out the Flashlight app. It is available free of cost and offers a bunch of cool features apart from a flashlight timer. It lets you change the color of your screen to anything you want. There are other features such as sending a morse code with the flashlight, widget, compass, and more.
You can enable shake to switch on the flashlight, and also select the option to turn off the flashlight when your device's battery goes below 10%. Do note that there are ads and they may annoy you whenever you touch on the app's features. But considering the features, they are very much avoidable. You can set the flashlight timer from 10 seconds to 30 minutes.
If you've any thoughts on How to Set a Timer on Flash for Android?, then feel free to drop in below comment box. Also, please subscribe to our DigitBin YouTube channel for videos tutorials. Cheers!