Stickman Games have always managed to carve out a niche fanbase of itself. Although it doesn't have the cut-throat competition that we are likely to witness in battle royale games, it still presents some unique challenges. They aren't usually focused on any specific domain. While some have their eyes set on actions and combats, others divert their attention towards the sports fanatics.
Even though there aren't too many controls or missions to shift your focus to, yet whatever these games have to offer, they are equally impressive in their rights. In this guide, we will have a look at some of the best Stickman games that you could try your hands on. The icing on the cake? None of these games requires an active internet connection and is offline. So without further ado, here are the top 10 stickman multiplayer games. Follow along.
Best Stickman Multiplayer Games
Here are the Best Offline Multiplayer Stickman Games for Android and PC.
1. League of Stickman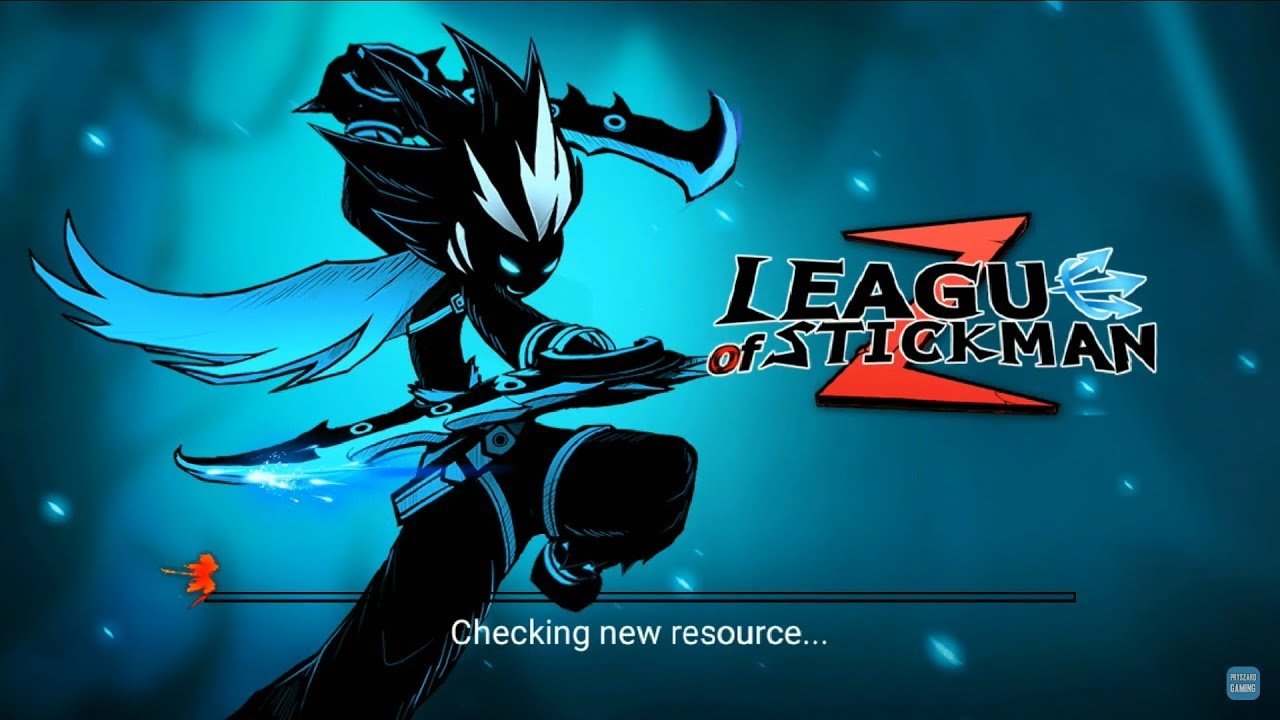 League of Stickman is one of the stickman style cross-action mobile games. The game is available for multiplayer offline gameplay over local Wi-Fi Hotspot. A classic fighting game with stickman elements makes it the best multiplayer game to play offline.
Each of these fighters has their own unique skill sets and special powers, so it might prove to be quite a challenge in resting your decision on that perfect fighter.
2. Stick War Legacy
Born in the world of Inamorta, your nation is surrounded by countries that know only one language- the words of war. They are all proud of their armies, weapons, and combative methods and worship them as their gods. With the sole motive of making every nation worship their God, they will go to the maximum possible extent. You and your team will have to be upon your tips to stop this infiltration.
In this regard, there are tons of special weapons, armors, and skins that might come in handy. Talking about the latter, you could make full use of Leaf skins, Ice Skins, Savage skins, Lava skins, Vamp skins- each with their own unique skill set. The game offers a Campaign mode with six bonus levels, a survival mode, and the ever-challenging Campaign mode to prove your capability.
3. Stick Cricket Super League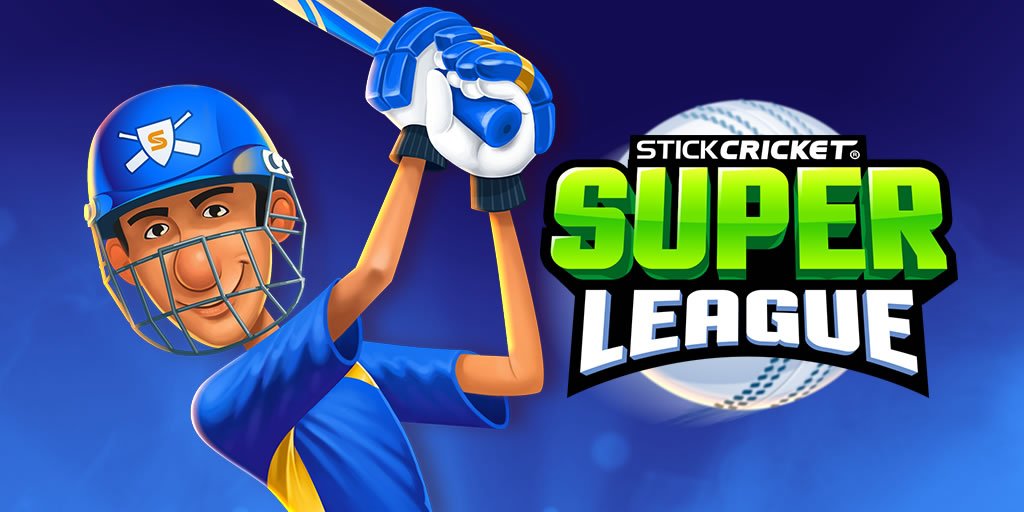 Did the IPL auction ignite a sense of euphoria among you? Well, the game creates a similar atmosphere, allowing you to create your team from scratch, invest in players, and create a perfect 11 member team. Well, not only the special on-field abilities but you also have full control over each player's avatar as well.
Talking about controls, there are just two buttons- one to hit to your right and the other to your left. Whether it ends up being a single or a massive six depends on the timing of the shot. There's also an option of fast-tracking the part of the game that you wish to skip. This one is for the Big Bash and IPL lovers!
4. Stick Fight Infinity
One of the most fast-paced games in this list, StickWar Infinity is a physics-based fighting game that sometimes doesn't seem to obey the laws of motion. The only complaint that a few users could have is the rapid pace at which the entire game is based on, but that is its standout trait as well.
The endless campaign levels along with 110 unique and challenging levels add up to be a perfect explosive action game. To further complement your journey, you get around 18 different types of weapons. Furthermore, some in-app purchases end up giving the spenders an added advantage.
5. League of Stickman Shadow
While the name leaves no brownie points in guessing the platform for which it is built, yet that is the only thing that you could predict. There are quite a lot of uninvited guests along the way that might prove to be a tough nut to crack. In this regard, your initial decision about choosing the perfect stick man might pave the easy for the future course of action.
This game is also part of the hack and slash genre and that could prove to be a little bit repetitive. But the mission set and intriguing challenges are worth appreciating.
6. Anger of Stick 5: Zombie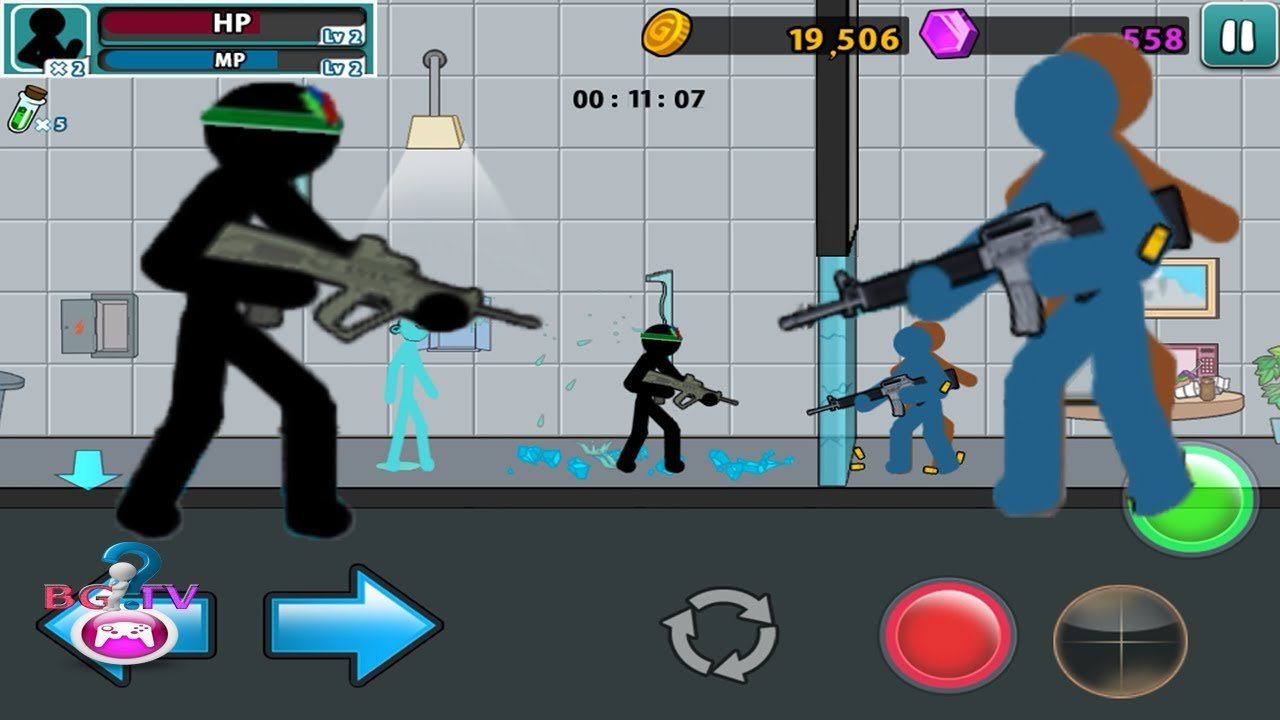 One of the most popular stick games of all time, the game has been downloaded over 100 million times on Android alone. Well, the reasons for the same are hardly any one's guess. The game offers some pretty interesting challenges. The story is somewhat along the same lines as what other stick action games have in store, but the method of delivery is top-notch.
A bunch of people have landed in your town and have started converting everyone into zombies. Your aim stands simple- make a team of six people and embark on a journey of stopping these people from making the conversions.
For that, there are quite a few RPG elements, unique movement, and a wide variety of combative styles to help you out. The weapon sets, helicopters, machine guns are equally impressive as well. And if you wish to go all guns blazing, then consider purchasing robots and firepowers and upgrading your guns and armors to the highest levels. With a Single and Zombie mode to try out, you wouldn't be left disappointed a bit.
7. Supreme Duelist Stickman
The game has among the easiest controls on offer. But that is where the easy factor takes a full stop. This 2D physics stickman boasts of some real action-packed fights, giving you the option to choose from a plethora of maps. You could either select from Single Player, 2 Players, or the Survival Mode, each having different challenges to deal with.
There's also the ability to switch off the gravity, which for the noobs is a recommended tactic. The player by default wears an Energy Shield, which although useful, causes extreme difficulty in the player's flexibility moves. So decide on this trade-off accordingly. What we loved about this game are the added customization features that offer tons of avatars and skins.
8. Stickman Hook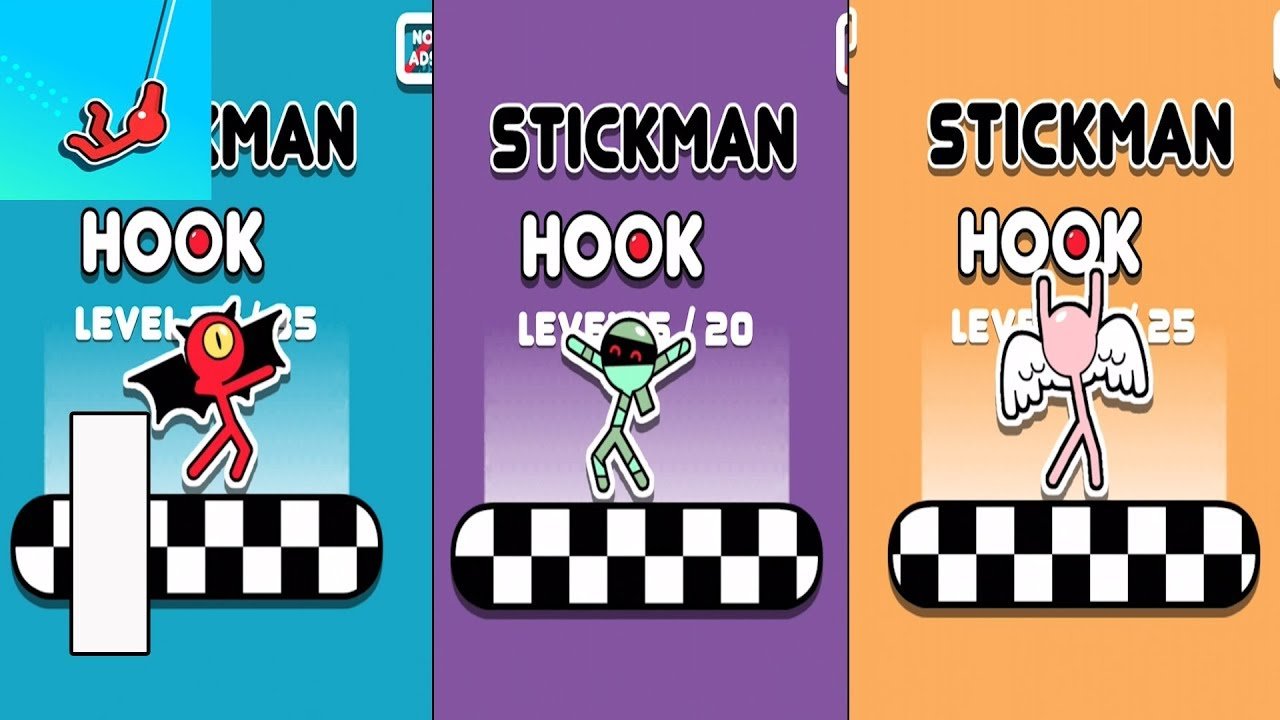 In this game, you have to invoke your spider senses and make up for some amazing jumps via the hooks. Similar to how the Spiderman goes around with his everyday routine, you have to stick your hook at one place, jump over the obstacles, and carry on with your acrobats. While it might sound quite easy on paper, trust us, it definitely provides some tough challenges.
There are a plentitude of hooks to choose from, each offering a unique special ability as well as a different UI touch. The only complaint that you could have from this game is its repetitive nature. As far as ads are concerned, well you could turn off the mobile data and WiFi, otherwise, get ready to be bombarded with loads of them.
9. Stick Tennis
While the Rafal Nadal vs Roger Federer debate is evergreen, this game gives you a complete authority in becoming the absolute legend of the game. It is just a single swipe control, but even that is enough to hit the ball in the preferred direction, respecting the laws of physics. There are many different game modes to choose from: show your strengths in World Domination, give Grand Slams a try or make out for the slightly easier Daily Challenges.
If you found it tough during the initial phases, we would recommend you to get yourself enrolled in the Causal Set Tennis Cub and practice day in and out. There are around ten different types of courts to play on and over 70 different types of players to choose from.
10. Stickman Legends: Shadow of War Fighting Games
Stickman Legends: Ninja Warrior - Shadow of War
Just as its name goes, the entire gameplay is itself quite lengthy!. On a  serious note, the game incorporates three different game modes: Action, Role Playing and Player vs Player. The mission is spelled out in clear words, you will have to fight it out against evil bosses and monsters. To help you out, there are quite a few shadow fighters to choose from -each with its skillset.
Likewise, there are some nifty weapons sets that you could get a hold-off, as the game progresses ahead. Then there's also a global leaderboard to compare your performance against other players. Although the entire gameplay is based on hack and slash style, yet it still manages to provide quite an intriguing gameplay experience.
11. Draw a Stickman Epic 2
Your character has no clue whatsoever regarding the uncharted territory that he is about to set its foot in. You have given complete authority in this regard. Chalk out an interesting pathway and help him reach the destination via the shortest possible route. Along the way, there will be quite a few roadblocks and challenges that you have to deal with.
The game's drawing toolbox offers an ocean of tips that should help you out, but it all ultimately depends on your artistic approach and your ability to make the creative juices get going. This may or may not look aesthetically pleasing, but should at least make your character reach its destination alive.
Concluding Remarks
So with this, we conclude this list of top stickman multiplayer offline games. Each one of them has something unique and interesting to offer. Furthermore, while some focus on the combative aspect, others test out your sporting abilities. On that note, we would love to hear your views on the one that managed to impress you the most. Drop-in your views in the comments below.
If you've any thoughts on Top Best Stickman Multiplayer Games Offline, then feel free to drop in below comment box. Also, please subscribe to our DigitBin YouTube channel for videos tutorials. Cheers!