Live Net TV is one of the most popular Live TV APK for Sports, Movies and TV Show Streaming on Android OS. The Live Net TV App hosts channels from many countries that including UK, US, Middle Eastern Countries, India, Iran, Pakistan, Turkey and many more countries.
Many online streaming apps on the internet are deceiving in nature and they just try to inject adware into your device. These apps ask for permissions which are not required for their normal functioning. For example, apps may ask for contact permissions which of course is not required to stream your favourite channels.
The apps which are not downloaded from reliable sources like Google Play Store or Amazon Store could be potentially harmful and malicious for your phone and also to you as a user by harassing the privacy. So, I recommend you to grant the permissions which you think is best suited for the functioning of the app. You can find permissions under settings on your Android device.
What is Live Net TV?
Live Net TV is a general purpose Television streaming App which hosts 800+ Live TV Channels including Entertainment, Movies, VOD, TV Shows, Live Sports and all popular programmings from many more than 20 countries. It is so simple to use that you will instantly love it.
Features of Live NetTV
High-quality Live TV stream support
VOD for Movies
Chromecast support
More than 800 live channels from various categories and genres.
Live Sports – Football, Cricket, Rugby, Hockey and more
A large number of External Video Player Support
All the videos are absolutely free.
The interface is simple to use.
Supports a number of External video players
Filter the channels according to comfort.
The service is absolutely FREE.
Live NetTV APK is Safe to Download
The App is developed by RaddixCore who are popular and reliable developers. The file has been scanned using various anti-virus Apps like Shield, Norton, Avast and AVG. The file is also tested on the emulator and TurstGo Ad Detector App for any malicious nature. And from our test, we can assure you that the App is Safe to Download.
Watch Live Sports like football, cricket, badminton, tennis, racing, NBA, Soccer, Rugby from all across the globe with this App. Live NetTV also hosts 100's of entertainment Apps from the UK, US, India, Europen countries, Southeast Asian countries, Australia, the Middle East and other major Latin and African countries.
The download link is hosted from the official website and is regularly updated.  You can visit the Official Site to Download the File
www.livenettv.to (Official Site)
The App hosts multiple links for a channel with normal SD links and HD links. Open the link in video player preferably MX player (the software also supports a number of other popular players). Let the buffer complete and enjoy the stream on your mobile. Watch sports, entertainment, movies and much more right on your mobile device for free albeit Ad Support. But you can buy an Ad-Free Premium Subscription paying via Bitcoin.
You can set the quality of play and default player to stream the live content. Livenettv is a very powerful App to watch live tv for free on your Android powered device whether to be a mobile, tablet or Android TV Box.
How to Download and Install Live NetTV?
Here are the simple steps to download and install the Live NetTV apk on Android.
Step 1. Enable Unknown Sources.
To do so simply go to Settings → Security → Enable Unknown sources.
Step 2. Download the Live Net TV from the direct download links above.
Step 3. Locate the file and install the App on your device.
Step 4. Open the App, make all the necessary settings if prompted on the screen. Done! Enjoy live TV for free.
Table of Content
2. LNTV Supported Devices and Installation
3. LiveNetTV Settings | Error Fix | Miscellaneous Data
Live Net TV Legal? Should I Download it?
If you are asking about the safety of the App itself than I can assure you that the files above have been scanned using various anti-virus Apps like Norton, Avast and Kaspersky. They have also been tested for any vulnerability on various devices tweaking the App permissions.
But coming to the legality of  Live NetTV App. The litigations vary and from country to country, it also on the material being presented. The App streams live TV and movies from across the internet by indexing IPTV links and m3u playlist. Streaming copyrighted material that you don't own without permission or paying for it is illegal. But mostly the governing bodies target the developers of the App. There are many other alternatives by which you can watch Live TV without any complications.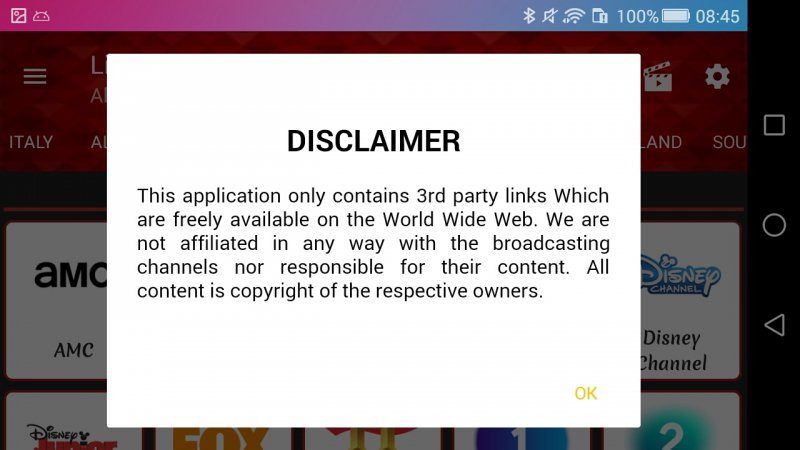 You are downloading the file at your discretion and we are not affiliated with the App or its content in any form. In many countries, there are no strict regulations on mobile Streaming. Check your local jurisdictions for more detail.
In past, many unauthorised streaming services were shut down due to lawsuits (though they later returned with a different name). The Live Net TV is no different but it indexes the IPTV links, which adds to the point that no one can curb the development of such kind of App in future in case theApp is shut down.
The App is in a "non-clear" legal area and could be affected at any time. Basically, the App provides copyrighted material without any authorisation, thus violating the laws.
The app doesn't host any of the streams by itself to broadcasts the contents but simply links to those web links or open channels that hold the streams. Most of the links in the App are public and private channels, the contents of which we can find on the Internet without any trouble as they are Free-to-Air or broadcast openly from their web pages. However, there are also paid satellite or cable TV channels also, therefore, you may need to use to use a proxy to hide your identity.
Will it Cause me Any Trouble?
Streaming illegal content is, of course, a punishable offence. But rules vary from country to country, some states have a very stern legislations while some may have nominal laws. Generally, the government attacks the publishers of the App in an attempt to pull out the root cause.
How to Be Safe?
Said that the App has a lot of programming with copyright infringement under its hood, you may be under the scanner by your government for streaming the content which is not bided by the law. But looking at the nature of the App, there may be very few who could resist themselves from the Live TV App. You can stream safely by using a VPN service. There are a number of VPN Apps and services covering all types of devices. If you wish to use this app then I would recommend you to try a proxy service to hide your identity.
What is a VPN?
VPN is a type of online services which hides your data by sending your web usage to another secure location. It forms a secure tunnel to provide end-to-end protection. Therefore, your ISP will not know what you're up to. In other words, it sends your data to a 3rd party country, making it difficult for the service provider to determine the internet behaviour of the user.
Will Live Net TV Ever Shut Down?
Yes! But not completely. If someone files a lawsuit than of course the Live NetTV will lose the battle very plain. Google and other search engines may be forced to remove the Content from its results. Even the government may impose the restriction on the Sites. In recent times many streaming Apps have been pulled down, naming a few include Terrarium TV, Megabox and more.
But we know the internet is a big place which cannot be controlled. And the App for sure will boomerang back with different name and logo, or with Mirror Apps again serving millions of users.
Official Website of Live NetTV
RaddixCore is the official developer of the LNTV App, they also developed similar natured live streaming services prior to LNTV. There is no official RaddixCore website but you can find LNTV website on Google Search and for any information related to the App you can contact them through Email or Twitter.
Is Live NetTV Supported on My Device?
The App is generally developed for Android-based devices. You can download and install it directly on your Android running device like Smartphone, Android TV or Box, Fire TV Console and other Android-powered digital systems. But to run it on any other system like Windows or Mac you need a good emulator.
ShowBox is available freely on the net with 100's of sites hosting the file. But you need to be safe because there can be spoofs which go by the same name and inject malware into the device. The App cannot be in Google Store due to ToS violation. It is better to download the App from reliable sources. As any rogue may cause serious data and privacy issues.

How to Download LiveNetTV on PC?
Download the BlueStacks on your PC.
Open the file and follow the simple instructions displayed to install the Emulator.
Hit the "Next" button to accept the terms of use.
Run and Install the App.
Sign in with a Google Account
Download the Live Net TV App on your Computer.
Now on the Bluestacks, you will see the option, "Install APK".
Locate your file and install the App.
Holla! You can enjoy the free movies and TV Shows on your laptop PC without any hassle.
Step 1. Go to Settings.
Step 2. Under settings select the option Device and then to Developer Options.
Step 3. In Developer options Turn On the Apps from Unknown Sources.
Step 4. Now go back to home screen, open search option and search for Downloader.
Step 6. Open the Downloader Page, go to settings and enable the JavaScript.
Step 7. Now open Downloader Homepage and type in the URL.
Step 8.  Install the LiveNetTV App on your Fire Console. Done!
Live NetTV is Not Working Properly
Simple solutions to fix basic errors on the Live NetTV App for Android and Fire devices.

MXPlayer Settings and More
If you face issues with the running of Live TV Channels like freezing of the video playback or not working of the channels then I recommend you to use a VPN network and change VPN location to check for the stream working.
Use MX Player as the default browser.
Enable HW+ Decoder under MX Player Setting.
You can also clear the Data & Cache of the App.
Make sure you have good internet speeds to load channels without interruptions.
If some of the functions are not working, grant all the permissions to the App under App settings.
Fix All Bugs on MX Player
Go to Settings on your Android device.
Open Apps or Apps manager.
check for All Apps.
Tap on the menu icon.
Click on 'Reset App Preferences'.
Now grant all the permissions to the Live Net TV App under the App Settings of Android.
Error Fetching Data
Sometimes the live streams may not work properly due to geological restrictions.
Download any of the VPN app listed below on your Android device.
Select the country of your preference and connect through VPN.
Once the connection is securely created, open the Android app settings and clear the App data and the cache of LiveNet TV.
Once done again open the app and you will see video loading fine.
If the stream is not working properly due to slow internet speed then change the stream quality to low/medium.
Go to settings of the App and set the quality to low or medium or SD. Restart the App and check for the fix.
Note: The VPN app may slow down your data speed so try switching to another location if facing any issues with speed.
If you face any other issues like App force closing or Link not streaming than switch to any other Video Player App like MX Player.
App Not Working | Force Close on Fire TV
Go Settings → Applications → Manage Installed Applications from the Fire TV menu.
Select the ShowBox TV App from the list.
Clear the cache and/or data, which often resolves intermittent performance issues.
Change available settings for the app.
Force stop the app.
Uninstall the app.
For Amazon Fire TV (1st and 2nd Generation) devices, you have an option to move the app between internal and external storage.
You can also check if the App has all the permissions needed for its normal working (Gen 3 and above)
Go to Settings → Applications → Manage Applications (Look for the App)  → Grant all the Permissions.
Audio Issues with the App on Fire TV
If the video is inaudible than try the following to fix the issue.
If Fire TV device is connected to an A/V receiver, make sure the receiver is ON

You can also Turn OFF the Dolby Digital Plus. Just go to Settings → Display & Sounds → Audio from the Fire TV menu.

If you're using an HDMI cable to connect your Fire TV device to your TV, unplug it and then reconnect or 

may need to try a different HDMI cable.
Alternatives to  Live Net TV
Authorised Alternatives
This is the 2nd most asked question, there are a number of Apps which work like Live Net TV. Going by some legal entities Sling TV, YouTube TV, JioTV, Yupp TV etc are the best alternatives similar to LNTV but unlike LNTV it is completely legitimate but they may be paid or country restricted. Though the App may not have comparable live streams, you are always on the safer side by using them.
Unauthorised Alternatives
Best Free Live TV Apps to Watch on Android
With an application of the likes of ThopTV, you won't miss a single one of your favourite TV programs. ThopTV hosts thousands of channels free and premium which you can stream for free without any account or subscription. You get Live sports, movies, entertainment and more on the applications.
The App hosts live tv channels from the US, UK, India, France, Germany, Canada, the Middle East and other European Countries. You can access all the live sports and general entertainment channel from across the globe. However, some of the channels may not be working in your country due to copyright reasons. In that case, it's advisable to use a VPN application to be able to access this application with a different IP address.
Unlicensed Apps are always on the radar and maybe shut down at any moment, but they offer what you are actually looking for. Few of the popular Live TV options are Mobdro, Genius Stream, Swift Streamz, Exodus, Snowsport etc. Download them and enjoy the channels for free.
Mobdro is the most popular live TV app for Android. Mobdro could be the best alternative to the LNTV. It is a one-stop destination for free live TV. The App categorizes channels into various genres namely, Movies, Entertainment, Sports, Music, Tech, Animals, gaming, anime and spiritual.
Miscellaneous Details
To use the apps anonymously then you can try any VPN services like OperaVPN which is available on the Google Play Store.
If any of the streams show any error or issues while loading then also you can try any proxy servers like VPN to stream the content.
If the app is not working or causing some issues then I recommend you to Clear Data & Cache of the app to fix it.
To reduce the load time you can connect to Google Open DNS. To change the DNS, you can download the DNS Changer app from Google Play Store.
Keep the RAM space and device storage (Up to 300MB) free for smooth running of the App.
Note & Conclusion: With the LiveNetTV App you can watch live TV on your Android phone. The App hosts channels from the US, UK, India, Middle Eastern Countries. You will instantly fall in love with the App.
I hope the post was helpful. Do comment below for any assistance or support if needed. Also, let me know if you are facing any issues with the download link.
DMCA:  DigitBin.com is in compliance with 17 U.S.C. * 512 and the Digital Millennium Copyright Act (DMCA). It is our policy to respond to any infringement notices and take appropriate actions. If your copyrighted material has been posted on the site and you want this material removed, Contact us.
We are not affiliated with LiveNet TV App in any form, DigitBin is just hosting the download link for the App. All the content, links and shows are exclusive copyright of the respective owners. You can contact the developer for any queries.
If you've any thoughts on Live NetTV APK V4.7 | All You Need to Know, then feel free to drop in below comment box. Also, please subscribe to our DigitBin YouTube channel for videos tutorials. Cheers!