Xiaomi Smartphones are a piece of excitement. This Chinese Smartphone company always comes up with new smartphones embedded with great specs and features. Xiaomi Redmi mobiles run on a forked version of Android OS developed by the company itself called MIUI. The MIUI OS is very popular and is used as a custom ROM by developers. The Android OS as you know is the most popular OS which lets you customise the phone with lots of Xposed firmware and forked ROMS. To do so you need to unlock the bootloader of your redmi device.
Unlocking bootloader is the first step to flash Custom recovery and install ROM. The bootloader is code that executes while the device is booting. It powers the operating system for the initial run. So if are aspiring to modify your device then here I have written the complete process to unlock the boot loader of Xiaomi.
You can unlock the Bootloader of all the Xiaomi phones namely Redmi 3, Redmi 3s, Redmi 3s Prime, Redmi Note 3, Redmi Note 4, Redmi 4, Redmi Note 4G, Redmi Pro Mi 3, Mi4, Mi 5, Mi 5Plus, Mi Mix, Mi Max, X, Mi6 etc.
All the phones are not listed above but you can unlock the bootloader of all the eligible Xiaomi mobiles.
Before unlocking the bootloader of phone it is important to make some necessary settings on the phone. Also, keep note that Xioami is very strict in Bootloader policy it is not easy to unlock the bootloader unless you get the permissions from Xiaomi.
Note & Prerequisites:
We will not be responsible for any damage caused. But are always here to assist you.
You will lose all your device data so take a backup of your data.
You will void your device warranty
Make sure your device has 50% charge
Use original USB cable.
How to Unlock the Bootloader of Xiaomi Redmi & Mi Phones?
Process 1: Get the Unlock Permission from Xiaomi
Step 1. Go to the Official page of MIUI unlock. I prefer you to use Chrome browser for language translation purpose.
Step 2. Here you will see the blue button named "Unlock Now". Click it.
Step 3. Now a new page will open which will ask you to enter the Login ID & Password. The page is in the Chinese language.
You can use Google Translate Chrome extension to translate the page into English.
Step 4. Now log in with your Mi Account or FB Account credentials.
Step 5. Once logged in, you'll see an Unlock Application Permissions page.
Step 6. Here enter your Name, Number and the reason to unlock the bootloader. And tap on the button 'Apply Immediately'.
I prefer you to give the reason for unlocking in the Chinese language for a quick approval. You can use Google Translate to do so.
Also, do not write a long reason, keep it short and simple. For example template you can quote the reason as 'Phone is bricked, I request you to accept my approval'. In Chinese, it writes as "电话是bricked,我要求你接受我的批准".u
Step 7. In the next page, you'll need to enter the verification code sent to you via SMS. The servers are slow so it may take some time for you to get the SMS, do not tap on re-send SMS/Code multiple times.
If you get an error message, wait and apply after 24 hours.
Step 8. Once done, you will see a page stating "Application has been successfully submitted". 
It will take around 2-10 days for approval and you will receive the confirmation via SMS. The application is approved manually.
If it is not approved then go to Help Forum and take help of the support.
Step 9. Once you get the confirmation you can proceed forward with the unlocking process.
Process 2: Steps to Unlock Bootloader
I believe you have got the SMS confirmation from Xiaomi granting to unlock the bootloader.
Step 1. Enable Developer options. To do so, Go to Settings > About phone, and then tap 'Build number' 7 – 8 times for Developers options to appear.
Under Settings, → Additional Settings→ Developer option and bind your approved Mi account under Mi Unlock Status.
Log into the Mi account which has acquired unlocking permission on your device.
Step 2. Download the FlashTool on your Windows PC.
Step 3. Now reboot your device in bootloader mode.
Turn off your device, press the Power button and Volume Down (-) button at the same time to enter into bootloader mode.
Step 4. Now in Mi Flash tool Login with the same Mi account, you used in your Xiaomi device.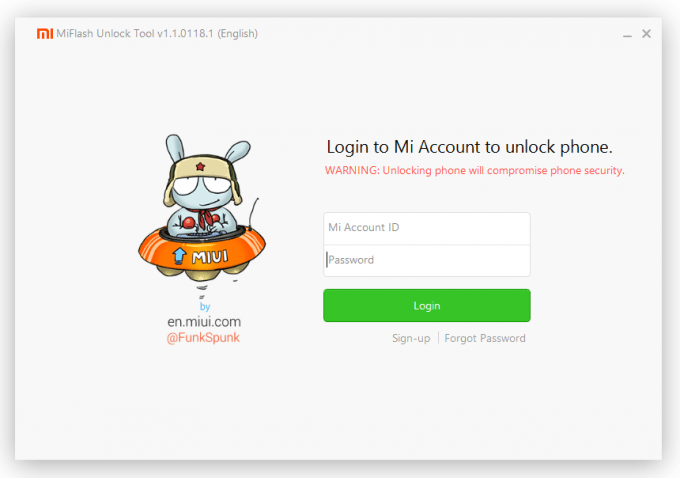 Step 5. Connect the device with the PC using the USB cable.
Step 6. Now press the "Unlock" button. It will take 10-15 seconds for the process to complete.
Step 7. Holla! You have unlocked the Bootloader of your Xiaomi mobile.
Note: 
Make sure your Mi account is not associated with 2 devices. If it is so then an error may occur.
After unlocking the boot loader your device becomes less secure and more vulnerable to malware.
Some features which require high-security level (e.g., Find device, added-value services, etc.) will no longer be available.
You might no longer be able to receive regular updates and enjoy the newest features of MIUI.
Conclusion: Do not proceed in a hurry. Read each step carefully. Do comment below for any assistance if needed.
If you've any thoughts on Unlock Bootloader of Any Xiaomi Device With Official Flash Tool, then feel free to drop in below comment box. Also, please subscribe to our DigitBin YouTube channel for videos tutorials. Cheers!