In High On Life, an unnamed protagonist fights against a drug cartel that has invaded Earth–a cartel that everyone refers to as the "Bounty Hunter." Essentially, the cartel wants to sell humanity as a drug to other alien species, which uses elaborate machines to consume it.
Our bounty hunter hero is armed with Gatlians, a race of talking guns that can attack and perform special attacks. But do you know that you can even upgrade these weapons on High on Life? No? Don't worry! Simply read this guide until the end to learn how to upgrade weapons on High on Life.
How to Upgrade Weapons in High on Life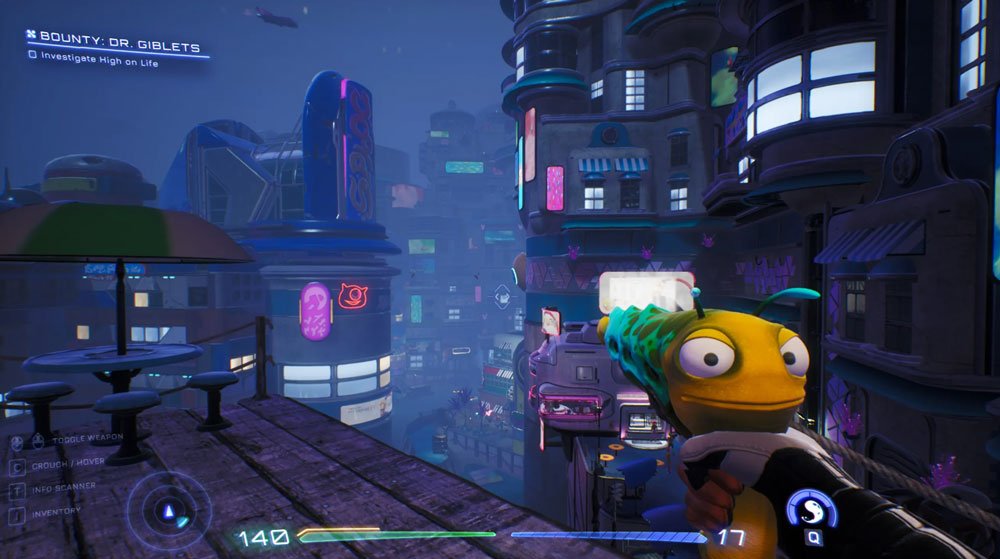 There is a common question among players concerning why they should upgrade their weapons in High on Life. Well, when the game starts, you are given a weapon that's at the beginner level. In other words, your gun is new without any upgrades. Nonetheless, you can make it better by adding some power to it.
For, initial weapons you may have to spend much time reloading the weapons, or they may have a short range, etc. You can, however, fix this problem by upgrading the weapon and preparing yourself for the next match. Therefore, you must upgrade your weapon whenever you have unlocked new upgrades, found weapon parts, or bought some pesos. So, let's check out the methods to do so:
Method 1: From The Luglox Chests
You can find the Luglox Chest on the map. There is a possibility that you will find some parts that will be useful for your weapon in those containers. Your weapon can be upgraded without spending any money by using those parts.
In spite of this, finding the right upgrades and searching through the containers is a complicated process. For people who can't afford to buy new weapons upgrades, this is going to be a good thing.
Method 2: From Shopkeeper "Mr. Keep"
Using this method, you can upgrade your weapons for the next match or bounty. It will be necessary to explore the map in order to upgrade your weapon at the shop. During your explorations, you will come across many shops that offer weapon upgrades. It would be helpful if you could locate Mr. Keep's shop. Explore the map carefully to find it.
After finding the store, visit it. When you visit the shops, you'll discover that they have a variety of cabinets available. There are cabinets for weapons in those rooms. If you are interested in upgrading those cabinets, you can check them out. Then, you must pay the required amount in "pesos" to purchase the upgrade. Weapon upgrades will take place after purchase.
From Author's Desk
It is always recommended to upgrade your weapons no matter which game you are playing, as it plays a crucial role in improving our gameplay. So, you must also upgrade your weapons in High on Life using the methods mentioned earlier in this article. We hope you find this guide helpful.
If you've any thoughts on How to Upgrade Weapons in High on Life?, then feel free to drop in below comment box. Also, please subscribe to our DigitBin YouTube channel for videos tutorials. Cheers!