Safari is the default web browser for MacBook and iOS, running on Apple's WebKit engine. Safari browser is smooth. loads the page quickly and comes with some cool customization features. Though the browser is pretty stable and works without any issues, but still some of the users may face issues while trying to access Google Search on Safari. Either the Google Search keeps loading or is not able to open.
There may be several reasons why Google search may not work on the Safari browser on your Macbook, but the most common is the issue with DNS servers or Browser cache. Today in this post, I will talk about some of the best solutions to fix Google search not loading in Safari for Mac.
1. Change DNS Address
DNS is like a directory of IP addresses that are retrieved when a browser requests one. The MacBook sets a predefined DNS taken from the ISP. This DNS can sometimes not be able to connect with certain IPs temporarily. Just change the DNS to Google DNS servers and fix the Google Search not loading issue.
Open System Preferences

Open the Network option in the preferences


Click the Advanced option from the WiFi connection tab.

Here click on the DNS tab.
Click on the plus icon and change the DNS servers to Google DNS, and hit OK.
Use the following Google DNS server.

8.8.8.8

8.8.4.4

2001:4860:4860::8888

2001:4860:4860::8844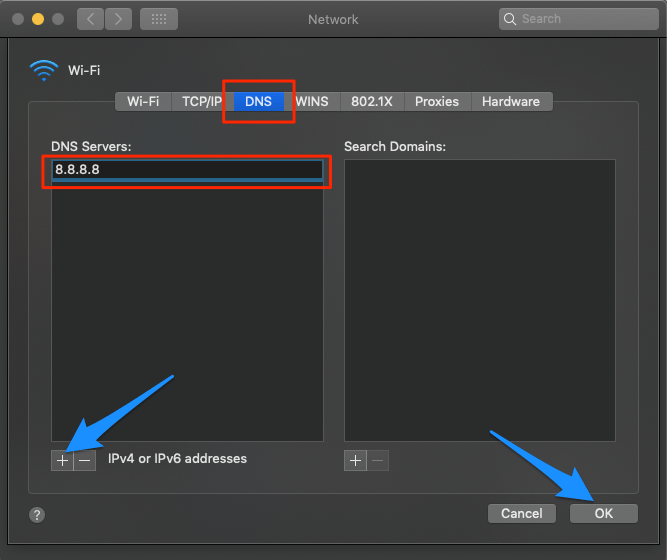 Once done, restart the browser and check if the Google Search loading issue is fixed.
2. Clear Safari Cache
The cache is a set of data that stores the site's data and other web information. If cache build-up occurs, some sites may not load; thus, deleting the Cache will fix the Safari browser error.
Open Safari and click Safari in the menu bar
Now click on Preferences.


Here click on Advanced Tab
And Right tick on 'Show Develop Menu in Menu Bar'.

Now click on Develop in the menu bar
Here Empty Cache and Restart the Safari Browser

3. Change TCP/IP4 on Mac
TCP helps establish network conversations through which application programs can exchange data. A wrong IP4/TCP can cause connection issues on Safari; the settings below can help you fix the problem.
Open System Preferences
Open the Network option in the preferences
Click the Advanced option from the WiFi connection tab.
Under TCP/IP,
Change Configure IPv4 to Using DHCP.


Click Renew DHCP Lease and hit OK.
That's it with this Simple Guide; you can fix Google Search not working on MacBook PC.
If you've any thoughts on Is Google Search Not Loading on Safari? Here's the Fix, then feel free to drop in below comment box. Also, please subscribe to our DigitBin YouTube channel for videos tutorials. Cheers!