Google Play Services is the heartbeat of any Android device. The Play Services acts as a core infrastructural framework which acts as a bridge between various Apps and Android. If you uninstall Play Services or Uninstall the updates then you may face issues with Play Store, Google Apps like YouTube, Chrome etc and other generic App updates which use Google App Engine. So, Google Play Services acts as a spinal cord between OS and Apps.
The issue with the G-Services is it consumes a lot of data and battery. People uninstall thinking it is of no use but later as the other apps start behaving absurd, they re-install the Play Services. The App not only consumes the internet data but also data mine to take up a good chunk of storage space. So, today I will talk about an alternative to Google Play Services which is a mini-clone of the App and lets you run G-Apps without virtually installing play services.
The App which I am talking about is microg. MicroG is a tiny modified version of core Google services. The App can do all the required functions needed by most of the apps without consuming battery and data. It also helps in the privacy and security of your data.
How to Install the Play Services Alternative 'MicroG'?
Before going onto installation steps let me just give you a very quick overview of the MicroG App.
Goods About MicroG
A small App with ∼2MB size
Runs in background
Not show up in App drawer
Do not consume data, storage and battery
Core Play Services Function
Works on a few individual Apps like YouTube Vanced (Premium)
Bads About MicroG
You will need Custom ROM installed to use the MicroG App
Maybe unstable for few Apps (rarely)
Requirements to Install MicroG
Unlocked Bootloader
Custom Recovery (TWRP)
Custom ROM Installed
Steps to Install MicroG on Custom ROM
Here are the Steps to Install MicroG on Unlocked Android Mobile.
Step 1. Make sure your ROM supports Signature faking. All Custom ROM's in general Support Spoofing by default, just check for the same. This is required to deceive the system to believe a real Play Services App is Installed. If all good, install the custom ROM on your device.
Step 2. Do not install GApps. The MicroG won't work if you flash GApps package. Skip installing the G-Apps file. In case if you installed G-Apps, again flash Custom ROM and wipe the data.
Step 3. Now the important step is to flash the MicroG. Just Download NanoDroid with MicroG (Zip file). Boot the device into the recovery mode (TWRP), tap on install button and locate the zip file in your device storage where you downloaded it, swipe right to install the file. Once done reboot the device.
Step 4. Once you reboot the device, you will find MicroG Settings App in the App Drawer. Open the App and grant all the permissions asked by the App.
Step 5. Now in the MicroG App Settings, you will see Self Check option. Open it and if everything is correct then you will see a right tick on almost all checkboxes. If signature spoofing is not done then change Custom ROM.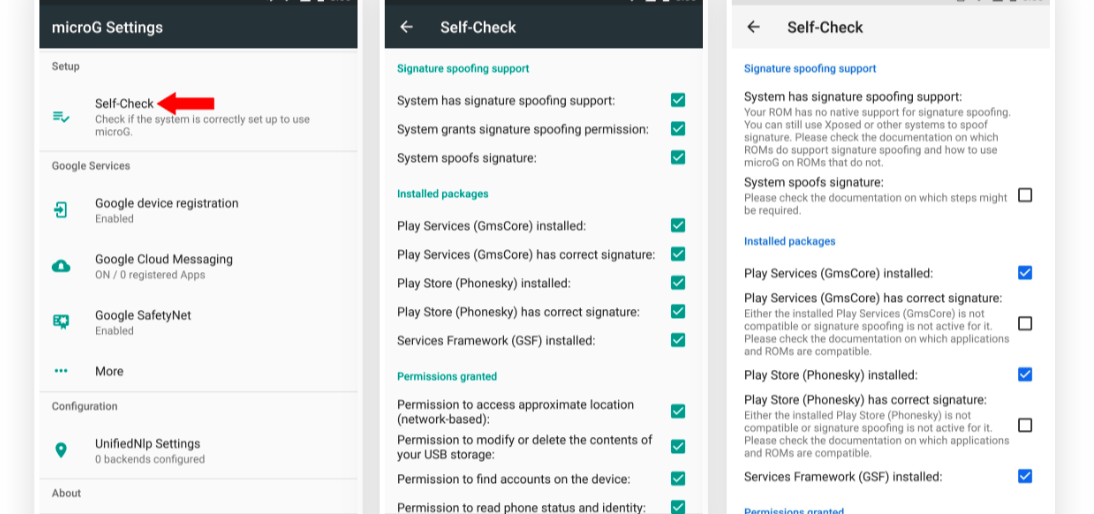 Now you can install all the Google Apps and use supported services without Google Play Services. Done 🙂
For Non-Rooted Device
For Non-Rooted devices, it is very much difficult to run Apps without Play Services. But there are certain Apps which let you use Google Apps without Play Services.
Install Apps from Play Store Without G-Services
If you don't wish to unlock the bootloader for MicroG than also you can install Apps from Play Store. The Yalp Store is one of the best alternatives to the Play Store. The store lets you download Apps from Play Store without actually using the Play Store. All you need is to download the Yalp App Store and browse for your favourite App. The Yalp Store will download the App from Google Server and also lets you download any updates if available. But you will need Play Services to run an App which needs G-Services support.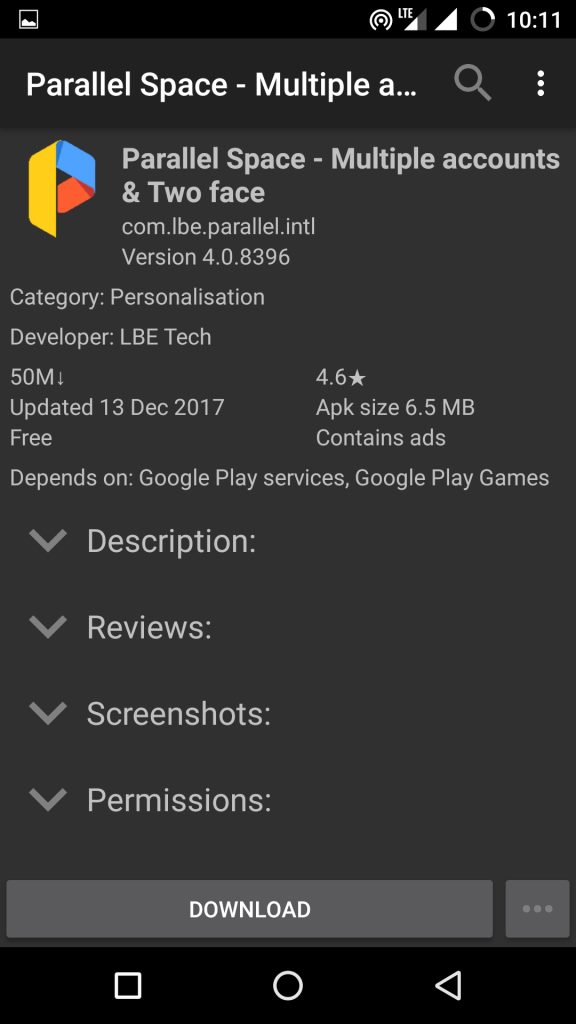 Features of Yalp Store
Downloads the Apps from Google Server
You can also download the updates for the Apps whenever a new version is released
The App does n0t require any Google services for its functioning.
If you wish you can log in to your Google Account or by default use a fake Yalp Account
The App store design is very much simple. You will love it instantly.
YouTube Vanced with MicroG
YouTube Vanced is an exact clone of the YouTube App with all the premium features. You can run the YouTube Vanced without Play Services all you need is a microG App to sign in with your Google Account. You do not need G-Services App for running of YT Vanced. So, this is a pretty simple example of using a Google App like YouTube without G-Service by using a Mini-Cloned version of Google Service
YouTube Vanced is a Premium YT App with all the features offered by subscription-based YouTube along with same core UI and App design along with powerful features like Video and Audio Downloader directly to device storage with multiple resolution support.
Conclusion: With the methods above you can skip using Play Services on your Android OS and keep your device storage and battery at good. The methods above are employed for Root and Non-Root Android devices. Both the methods have some limitations so read the post carefully.
Note: I am not liable for any damage caused. Proceed with your own discretion.
I hope the post was helpful. Do comment below for any assistance or support.
If you've any thoughts on Google Play Services Alternative | Run Google Apps without Play Services, then feel free to drop in below comment box. Also, please subscribe to our DigitBin YouTube channel for videos tutorials. Cheers!