Though you cannot use the same WhatsApp number on two devices at the same instance. But anyone can spy on you with a feature known as WhatsApp Web. WhatsApp is a popular internet messaging App and looking at the nature of the App it is one of the most private of the software present on Android. If unknowingly a rogue gets access to your WhatsApp it may create great repercussions.
WhatsApp Web is a powerful feature released which lets users send or receive a message using any device by associating their WhatsApp Account by means of scanning a QR Code. The WhatsApp Web lets users simulate the WhatsApp account on any device with a fixed web browser. This can be used to spy or hack your WhatsApp. I have found several ways to know if someone is spying on WhatsApp. Today in this post I will tell you how you can find which other phone or PC is accessing your WhatsApp. Also, I will explain how to keep yourself safe from breaches or getting hacked.
How to Know if Your WhatsApp is Being used on other Device?
Many times people are very much interested in your life and to sneak into your living, the most powerful tool they can access is your WhatsApp. All they need is a few seconds of your unlocked phone and WhatsApp Web Barcode. Boom!!
He/She can now see an exact duplicate of your WhatsApp account with all the chat and media. The WhatsApp on your cell phone will work normally. However, everything you send or receive will be reflected in the spying device.
WhatsApp Web will simulate the WhatsApp account on a device with all the chat logs, access to media, view status, and even send messages.
---
How to Know if they Spy via Whatsapp Web?
In case if you missed it, I want to let you know that the first evidence will appear on the cell phone itself in the form of a notification.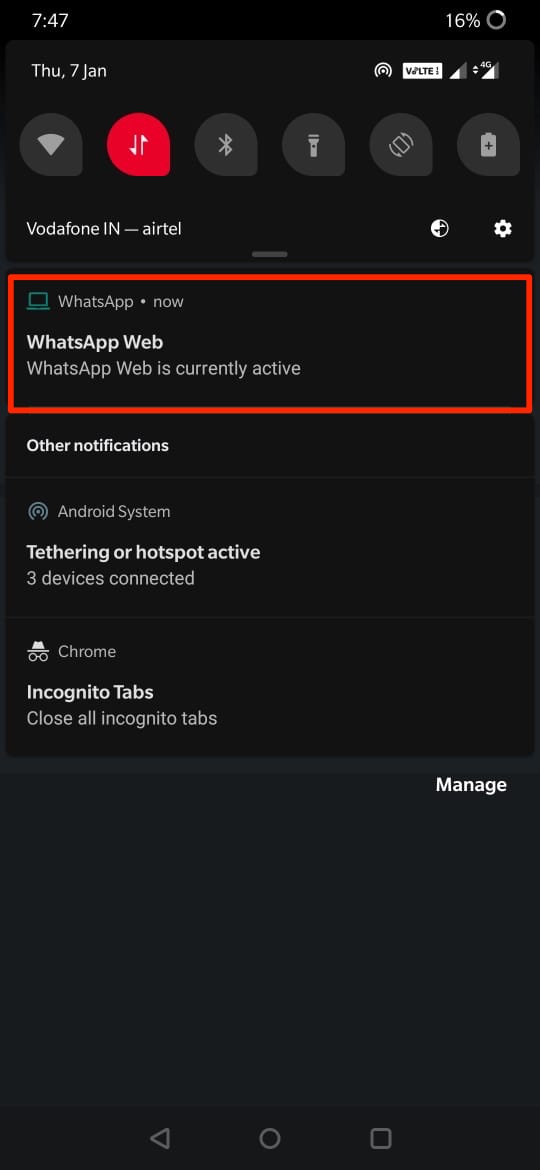 If you missed it then you can check the account usage by doing the following.
Open WhatsApp.
Click on the Menu option indicated with 3 vertical dots at the top right corner.
Here click on the WhatsApp Web option and you can check for any device or App which has access to your WhatsApp.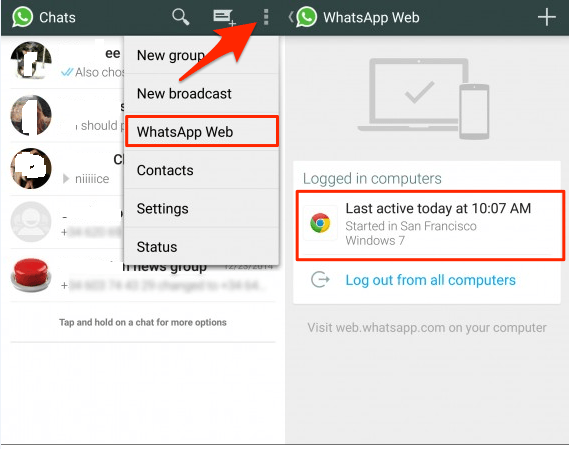 If one or several computers with open sessions appear which you have not given access to, then your WhatsApp account is compromised to another device. Your account is "intervened" and they are spying on you.
What to do if WhatsApp is Open on Another Device?
To prevent WhatsApp from being hacked you can log-out of all the sessions that are open and the person will lose access to your account immediately.
To avoid these things happens again, the most effective solution is to configure the WhatsApp with App Lock. In this way, even if someone gets your phone, they can not access the WhatsApp application and connect it to a PC or other App via WhatsApp Web.
---
Know if WhatsApp is Open on Another Device
Another way in which persons can spy WhatsApp is activating the account in another device. Basically, they register your WhatsApp number in another mobile and during their configuration, they recover all your chats or conversations saved in the application. Anyone can do this by taking your cell phone, to receive the verification code that WhatsApp sends.
If such a thing is done then on your phone then you will be greeted with the message "This phone could not be verified" because the number is registered on another device.
You can re-verify your number to regain the account access.
Protect Your WhatsApp Account from getting Activated on other Device
There is a much-sophisticated method to protect your WhatsApp from getting active on another phone. All you need to do is enable two-step verification.
To do so go to;
WhatsApp → Menu options at Top Right → Settings → Account → Enable 2 Step-verification.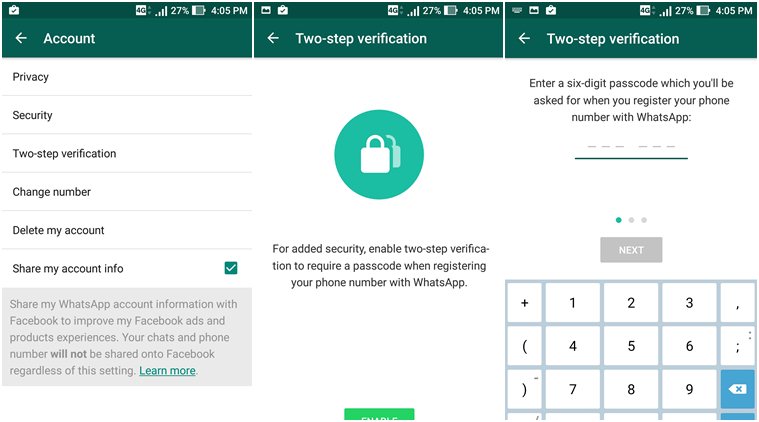 When someone tries to activate your WhatsApp on another device, he will be asked for a security code that only you know. Without that code, it will be impossible for another person to register your WhatsApp on another computer.
---
How to Know if Someone Hacked WhatsApp Files?
This is a complex method to gain access to the WhatsApp chat but it is an easy trick which can put your privacy at risk. A rouge can access the chat even with locked WhatsApp account. He/She will target the WA Chat log, images, videos and other media in the File Manager. The rouge can send the files to his/her device or they can use auto-backup apps like Backup Text for WhatsApp and directly email all your WhatsApp conversations in plain text. This is a very serious type of threat and many people don't know it.
Keep Your WhatsApp Files Safe in File Manager
The best way to be safe from this kind of threat is to update the WhatsApp regularly. The updates consist of security patches with backup encryption. Also, it is better to have an App lock for File Manager if think the person may go this far to sniff in your personal life.
Note & Conclusion: Although WhatsApp is end to end encrypted, to make sure check WhatsApp web in settings if there's some device connected remove it or else there is no other way to hack into someone's WhatsApp as of yet unless he or she has your phone with all the apps unlocked.
I hope the post was helpful. Do comment below for any assistance or support if needed. Do provide your valuable suggestions to improve this post.
If you've any thoughts on How to Know if Someone has Access to your WhatsApp account?, then feel free to drop in below comment box. Also, please subscribe to our DigitBin YouTube channel for videos tutorials. Cheers!