To be honest, we are now living in a digital world teeming with various images. To say nothing of the fact that a webpage without any images will absolutely be shunned. Besides, the rise of social media gives a platform for various pictures to release vogue vitality with unique charms. Social platforms especially designed photo sharing like Twitter and Instagram have become an indispensable part of public life. 
Inevitably we need to compress images when they take up a lot of space on our PC. Of all the picture formats, PNG and JPG are definitely the most common picture formats. Compared with JPG, however, PNG usually witnesses a larger size, particularly when you did some more work on it, which will take up more space on your PC. And you need more time to process, upload, and download them. In order to save your PC space and improve processing speed, you need to know how to reduce PNG file size 
This post will share 3 free tools, including a desktop compressor, an online program, and a local tool, for compressing PNG files.
Things to Know about PNG
Before we move on to the main part, we need to know what is PNG and what are the advantages of PNG so that we can choose the best way to compress it and gain the best effect.

What is PNG?
PNG, short for Portable Network Graphics, is a raster graphics file format that supports lossless data compression. PNG was developed as an improved, non-patented replacement for Graphics Interchange Format (GIF). 

What are the advantages of PNG?
Compared with other picture formats, PNG files give you the ability to take advantage of transparency, and you can process and save them without loss of color and quality. The ability to take advantage of transparency and lossless encoding is the reason that many web designers and web developers like to edit and save pictures in PNG formats. 
As we said before, however, in some cases the files size of PNG can get large quickly, just adding a few additional pixels to a PNG file can dramatically increase the file size. When you are using them, it will take much of your time to load. And that's why you'll like need to use a compressor to reduce PNG file size.

Three Free Tools to Reduce PNG File Size
In this section, you will know three methods to compress PNG file size. Tools like desktop software, online editor, and local image editor will help you solve this problem. WorkinTool File Compressor gives me a nice user experience. So let's talk about it first.
WorkinTool File Compressor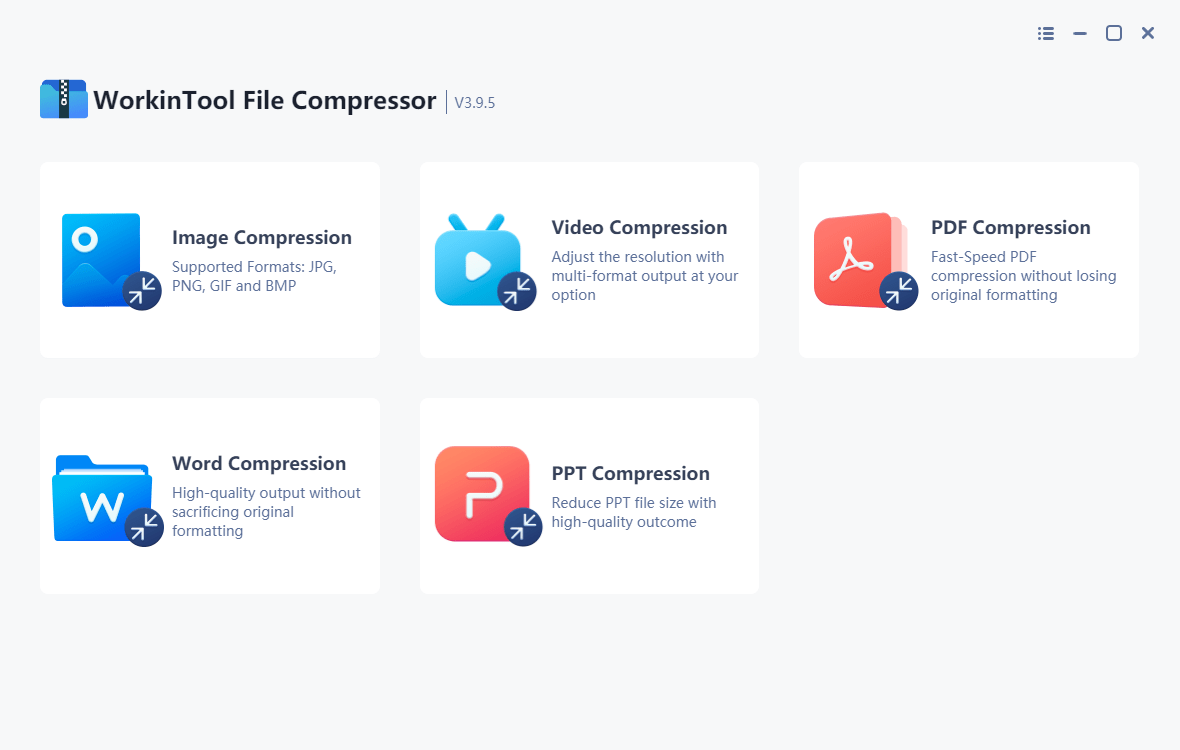 WorkinTool File Compressor is an all-in-one and utterly free file compressor software to quickly compress your multi-format files, including images, videos, PDF, Word, and PowerPoint, with minimal effort. As a lightweight offline tool, it is designed with an easy-to-use interface, therefore even a beginner image editor will find it simple and convenient to use. 
How to use WorkinTool File Compressor to Reduce PNG file size?
Step 1: Open WorkinTool File Compressor>Find Image Compression>Add file.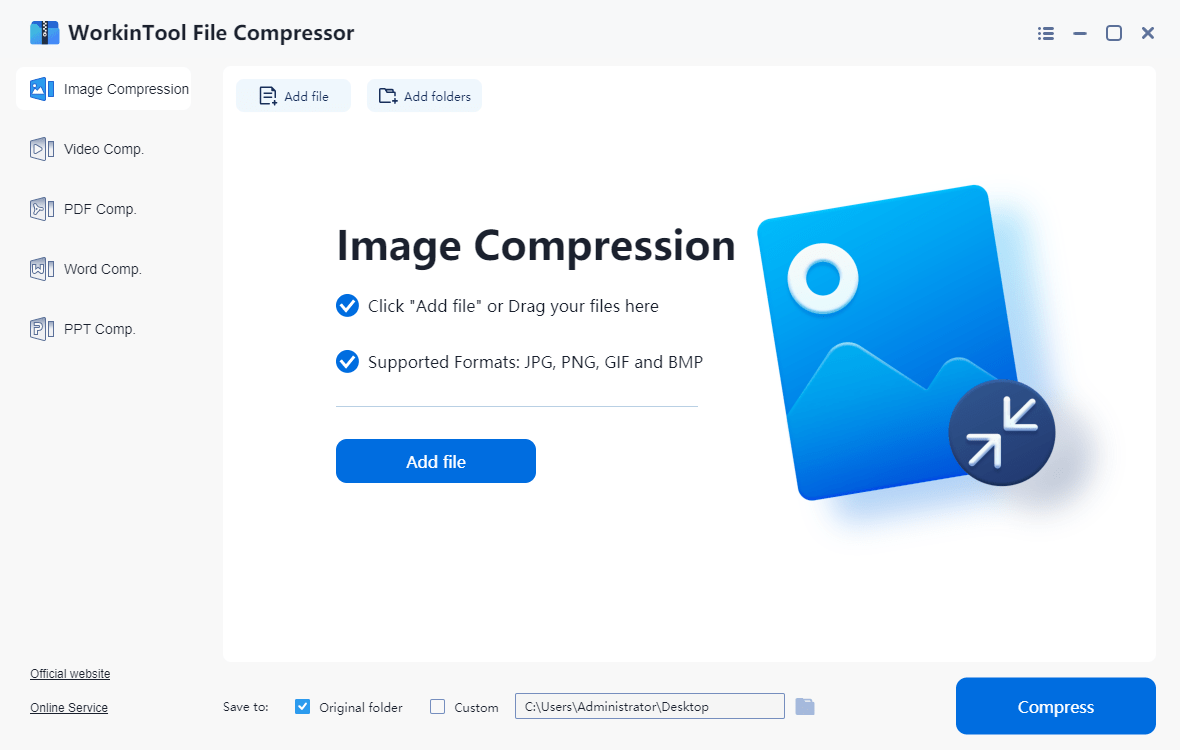 Notes: Supported compression formats are JPG, PNG, GIF, and BMP now. You can add a single PNG image or drag a folder containing different formats of images here.
Step 2: Find the Toolbar below and Make additional settings>Compress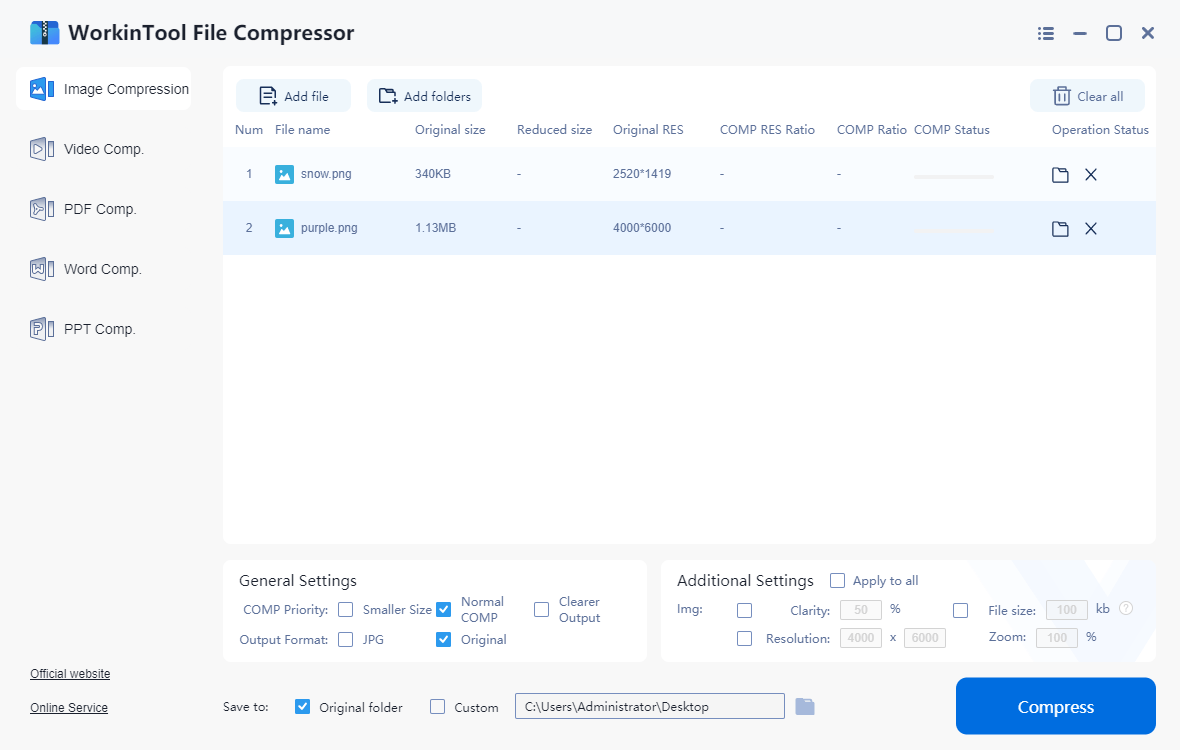 Notes: 
In General Settings, you can choose COMP priority, like better image quality or smaller size, and decide whether to convert PNG into JPG at you please.

 

In additional settings, make adjustments to image clarity (50% is enough for the vast majority of situations) and resolution. The higher resolution you sets, the sharper and the larger your image will be. Moreover, you can set file size as you like. It's convenient for what the next you plan to do with this image.
Pros
Cons
Free to use with a clean interface
Limited input formats
Batch processing supported
Additional custom settings are available
In addition to desktop software. Online programs and local image editors are of great use as well. Let's see how to use Squoosh and Windows Paint to reduce PNG file size.
Squoosh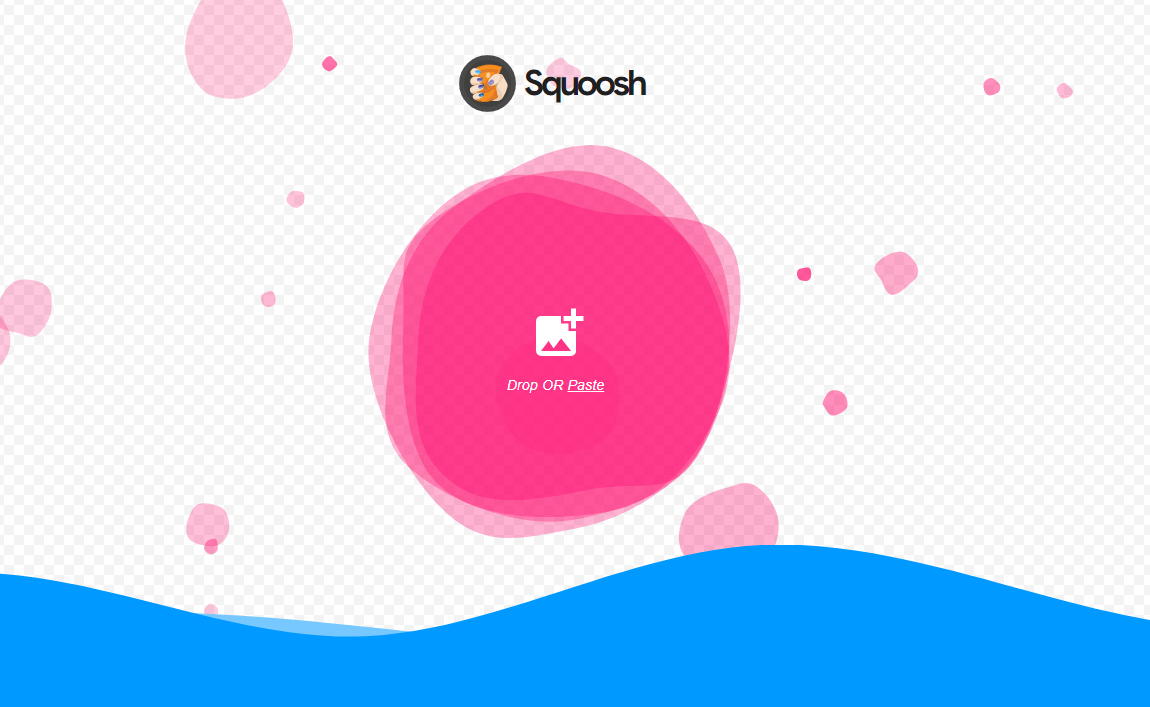 Squoosh is an amazing online program that allows users to take all the advanced features into an image. When you use Squoosh to compress images, you can select another eight different output formats. In addition, it even provides users with a lossless mode, in order to keep the clarity and texture of the image to a maximum.
Let's see how to use it.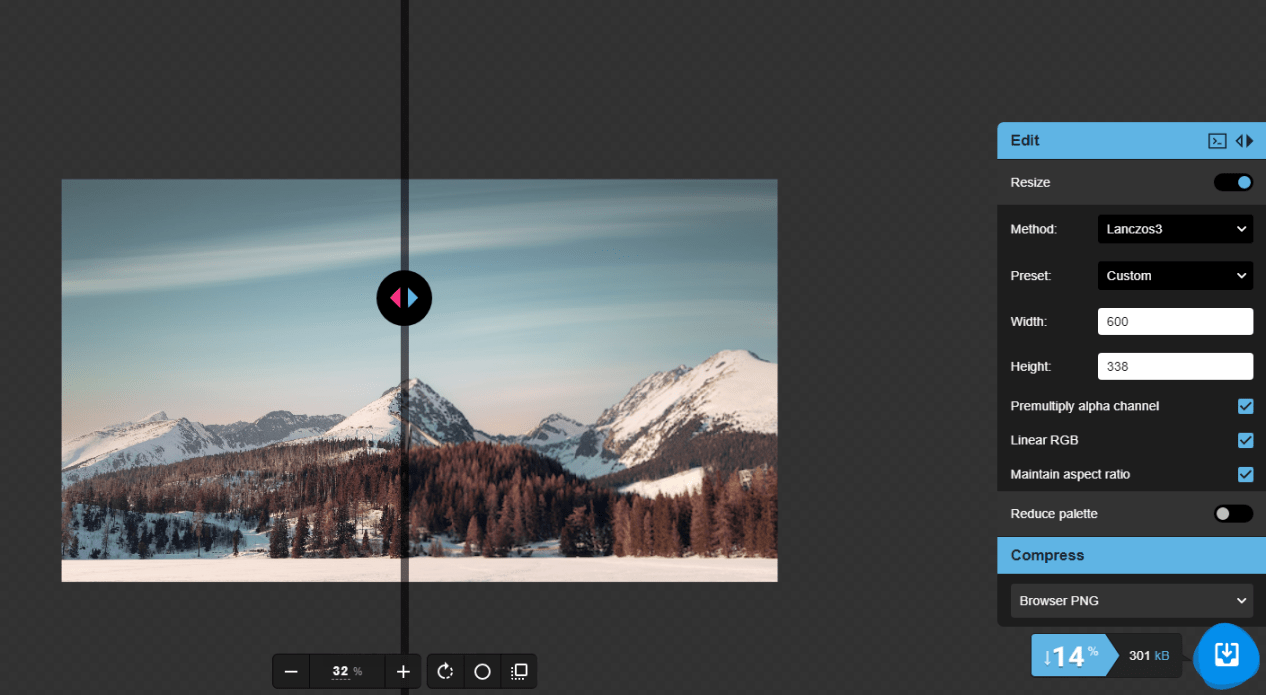 Step 1: Head to Squoosh and upload an image.
Step 2: Find Toolbar>Resize and Compress>Download
Notes: You can set parameters like width and height as you like. And click Compress to choose the output formats. In the whole process, you can move the slider to see the difference between the original image and the output image. 
Pros
Cons
Free and simple to use
You can only edit one picture at a time
Multiple output formats
Easy to see the output effect
Microsoft Paint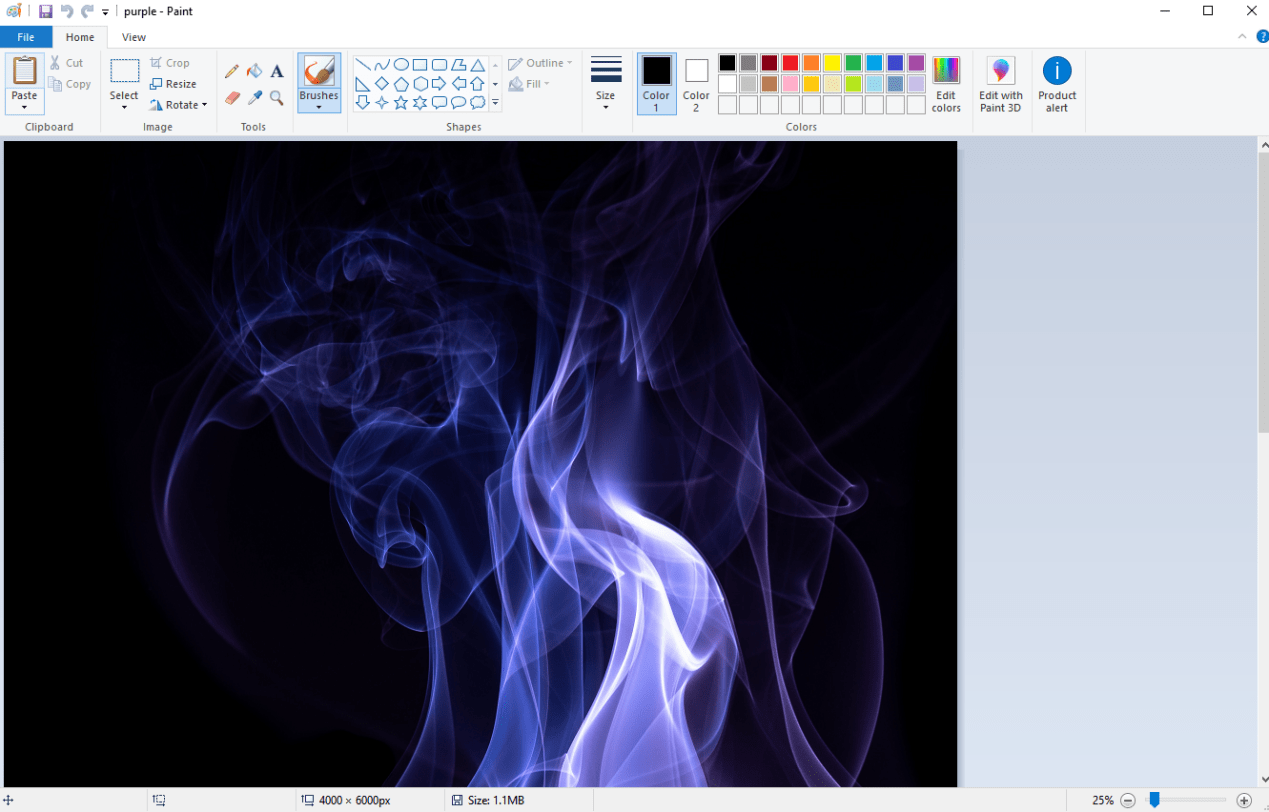 Microsoft offers support for PNG files in the Windows Paint program, which allows you to resize PNG files without requiring additional downloads. By making PNG images smaller, you gain the added benefit of reduced file size, which is important for online use.
A guide for PNG shrinking by Paint:
Step 1: Open your image with Paint and find Resize
Step 2: Change the Percentage or Pixels parameters.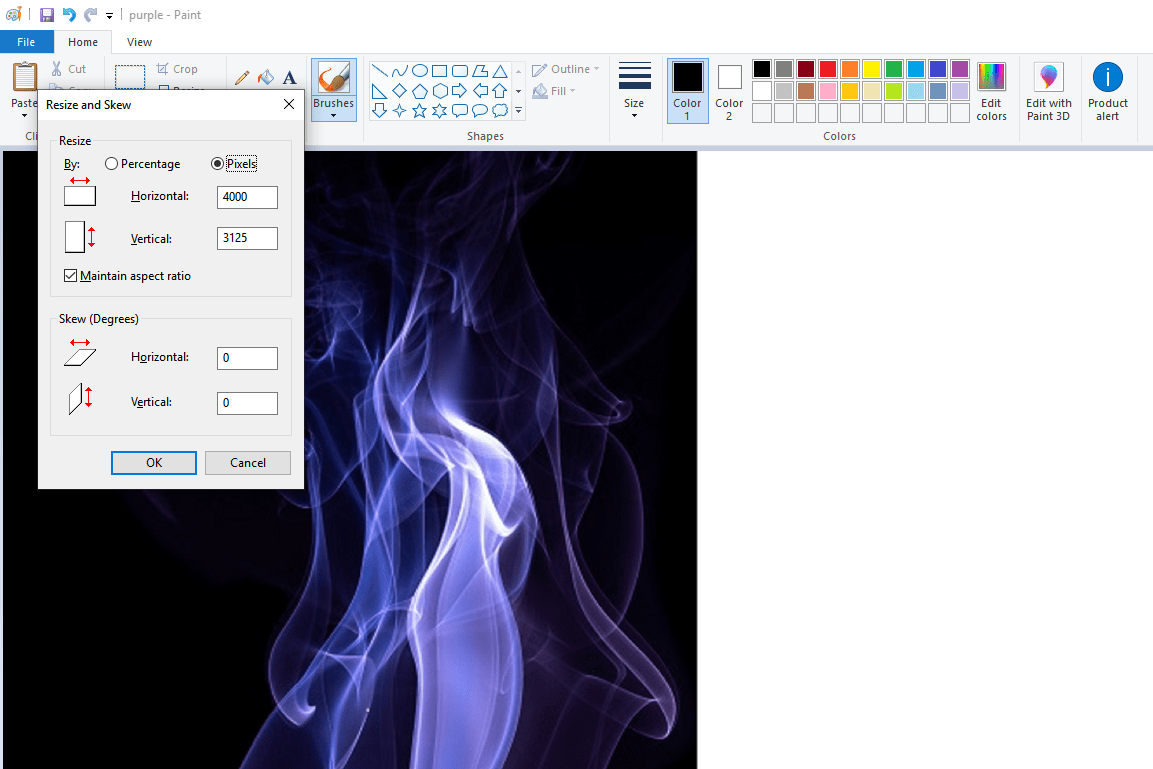 Step 3: Click OK and save it to your PC.
| | |
| --- | --- |
| Pros | Cons |
| Convenient and free to use | It won't keep the original format |
| No need to download software | Custom functions limited |
Final Thought
PNG image is an indispensable part of this digital world. Knowing how to reduce PNG file size is of great help to us. I believe you already have a clear understanding of how to compress PNG images after reading this post. 
Among all the approaches I have mentioned, I am sure you have known that WorkinTool File Compressor, with multiple features and free price, is a tool worth a try. Don't wait any longer and experience it yourself. You won't regret it!
If you've any thoughts on How to Reduce PNG File Size for Free in 2022?, then feel free to drop in below comment box. Also, please subscribe to our DigitBin YouTube channel for videos tutorials. Cheers!