Playing games is fun, especially when you earn many in-game items as you progress through the game. But sometimes the games can be annoying and boring because it might take too much time to complete the level to earn some coins or something. But don't worry, there are some methods and tools available for this exact same purpose. So using these tools and methods, you can hack those Android games and get what you want.
Although it's mostly possible with rooted devices. Because rooting your device provides extensive control over your system. Hence allowing you to make changes in games and game files to create more coins or similar in-game items.
But there are some methods that you can try on your non-rooted devices also. But the options are very few and are not that effective. However, we have included both methods for rooted and non-rooted devices.
How to Hack Android Games without Root?
There are plenty of third-party apps that can help you to hack most of the apps that are on the market. But there are only a few of them that do the task without root permission. Although it's good to try the no root method first. Because it causes very little damage if failed or improperly handled. But there are very limited possibilities when comparing it with other rooted methods that are available.
Note: Please keep in mind that these steps are for fun and educational purpose only. That being said, it's highly recommended to use it with your device after taking a backup to prevent data loss.
Let's see some of them and how to use these apps to hack Android games easily.
Lucky Patcher
Lucky Patcher is a popular app among game hackers. Since it's a very advanced app that can patch apps and rebuild apk files that you can install to enjoy the modified game on your device, rebuilding apk will not require root. But for other hacks, root privilege is required.
Download the app from external sources because this app is not available from the Google play store.
Install the app if the system blocks the installation, just enable unknown sources from settings.
Open the app and select the game you wish to hack.
From the menu, select "Create modified apk" and select the option you want.
You can do many options, like removing ads or removing license verification.
Select the hack you wish to do in this game. For instance, you can select "APK rebuilt for InApp and LVL emulation" for buying in-game coins for free.

Now click on the Rebuild app and let the process complete.


Now uninstall the existing game (this will remove your progress in the game)
Finally, install the rebuild apk file from this location using a file manager "sdcard/LuckyPatcher/Modified/."

Now you will be able to buy in-game stuff without any issues. This is how you can hack a game with Lucky patcher.
Get Lucky patcher apk from here
Creehack
This is a different type of hacking any Android app or game. Instead of changing in-game coins or items, this app tricks those apps which request payment or purchase confirmation. So if you make a request in-game for purchasing coins, this app will intercept it and trick the app into confirming the payment (Without actually making any payment). So you can buy whatever in-game item without actually paying for it.
Download and install the app on your phone.
Open the app and turn the switch on the app to "ON."
Now open your favorite app and try to make a payment.
A pop up will appear on your phone. Accept it. The payment should get cleared without paying.

Get CreeHack apk from here
Mod APK Files
There are already some mod apk files are available on the web for your games. So you can simply download them and play with unlimited coins or in-game money. But the only downside of this is that sometimes you might get some malware along with your game.
Because the source of these files is unknown, and hence it cannot be trusted blindly. Although you can try them with emulators or Virtual machines, Because if it was malware, you can simply wipe the whole system and restore it.
Because of the issues involved, we cannot give you furthermore information like the link to the websites, But you can always Google your way out. But to be honest, this is the easiest way to hack a game.
How to Hack Android Games With Root?
The whole point changes if your device has root access. Because with root access, you can modify game files and hack them very easily. For that, too, we have plenty of apps available. But if you're planning on rooting your device, it's better to take a full backup of your important stuff because it fails, you may have to reset and reinstall the OS on your phone. At that point, having a backup is better than weeping for data loss.
Let's see those apps:
SB Cracker
This is very easy to use the app because the UI and steps used here are very simple and straight forward.
Firstly download and install this app on your phone.
Open the app and provide root permission to it.
Now Minimise the app using the home button and open the game which you would like to hack.


From the app overlay on the screen, enter the value you wish to change and click on the search.
If the value is found, then provide the value to which you would change it and click ok.

The value will change, and you can use the changed coins or in-game items without any issue.
Using this app, you can add many items like coins, gems, or any in-app rewards and currencies to your game.
Get SB cracker apk from here
GameCIH
This app is also similar to the one mentioned above, and this also requires root. But this app comes with many features like if you have multiple values of the same number, you can see the no. which decreased or increased and change it easily.
Open the app and provide root permissions.
Now from the UI, select the hotkey to which you want to bind the action too.
Now open the game that you want to hack and press the hotkey.
From the menu, enter the value of the item on the screen and hit okay.

Go back to your game and either spend or make more coins and come back to the menu using the key.
Now click on the + or – icon to show the increased or decreased value from the list. Now you can find out which one is your required value,


Once you got it, click on it and change it to the desired value.

So by doing this, you can change the in-game value and use it as required.
Get GameCIH from here.
Lucky Patcher Root
It's the same app that we mentioned in the no root section. But the reason for mentioning again is that you can spend so much more on the app if you have rooted your device. We would like to mention some things that can be done on the app.
However, the step to do its always the same. So you just have to make a different choice at the beginning, and the rest is similar.
Remove Google ads in-game that are annoying.
Remove license verification for apps.
Apply custom patches for your games to get multiple features working.
Change permission for your apps.
So this one is very interesting, and you should definitely check it out.
Xmodgames
This is a very much straight forward app for hacking and modding your games. However, this app supports only a few games, including some online ones. This app also requires root access. To use this app,
Download the app and install it on your phone.
Open the app and grant superuser access (root-access).
Select the game you wish to hack and let it download the mod.
Install the downloaded mod app and start playing it.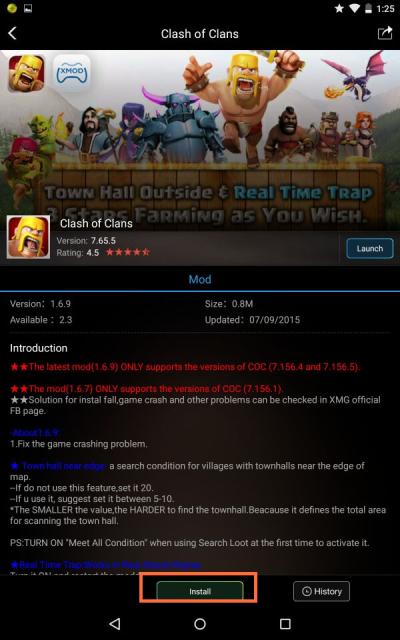 Although this app is not a hacking or modding tool, this can be used to download a modded version of apps and play them with fewer clicks. You can also download mods for existing installed games like patches and hack them.
Get xmodgames apk from here
Game Killer
Game killer is also another famous tool used by many game enthusiasts. This is also very easy to use and comes with simple controls in UI. It's also similar to other apps that can modify by searching for the in-game items.
Open the app and minimize it using the home button/key on your phone.
Now launch the game that you want to crack.
Now you should be able to see a floating window.

Tap on the window and search using the no of coins currently on the game.


Click one from the result and change them as per your need.
Once you do so, you can see the no, of coins will change, and you can use them as you like to buy or upgrade stuff on it.
Get Game Killer apk from here
Root Apps and Security
With root, you might already know your warranty is void. Although you should also keep in mind that providing root permissions to random apps from the internet is worst than that. So you should not keep any sensitive information like bank details or passwords because there are greater risks involved in doing so.
So if you plan on using such modding apps, use a different phone or emulator on your PC and ensure safety as you cheat on the game. Although there are possibilities that certain banking apps will not work on your rooted device just for security concerns. We also recommend you not to use your social media accounts on this device.
Conclusion
So, to sum up, these were some options to hack games on your Android phone. Although this might look like fun, some might say that the real fun is to play a game without cheating. But sometimes cheats make the game way more interesting. It helps to enjoy the game in a way that normally we cannot enjoy if played fairly. For instance, with some more money or coins, you can unlock a better vehicle in Hill climb racing, and you can have fun that way. Above all, who would say that cheating is not fun if they have played the Grand theft auto series of games?
At the end of the day, mostly local offline games are the ones that can be hacked easily. So you're not harming anyone. But if this was an online multiplayer game, we strongly recommend you not to do so because it's not fair against other players who are playing without any cheats. And on top of that, your account may get block which might lead you in further trouble. So be safe and enjoy gaming!!
If you've any thoughts on Hack Android Games | Root and No Root Methods, then feel free to drop in below comment box. Also, please subscribe to our DigitBin YouTube channel for videos tutorials. Cheers!