Often on the DigitBin comment section, we get bombarded with a question Snapchat keeps logging me out on the iPhone. Why is this happening, and how can we fix that? Well, to solve all your query regarding the issue here, we have come up with this troubleshooting guide. It gets very unsettling when you are trying to send or check snaps, talk to a friend, or casually browse through Snapchat, but it keeps logging you out.
There can be multifold reasons as to why you are getting logged out of your Snapchat profile. First, your account may have been taken over by some cyber-criminal. Secondly, it may be a bug in the version of Snapchat you are using. Having Snapchat connected to any third-party app may cause Snapchat to log you out to keep your account secure.
Top Ways to Fix Snapchat Keeps Logging Me Out on iOS
Here are the various fixes to fix the Snapchat app that keeps logging out on iPhone and iPad.
Change the Password of your Snapchat Account
With technology advancing rapidly, you may not even know that someone is peeping into your Snapchat account. Often getting logged out of your account can be due to someone else having control of your account. When they know you are trying to access it, then they log you out. It is unethical and wrong by all means. You can fix this by changing the password.
Now, if you are dealing with professional hackers, then they may also crack the new password that you created. So, to counter that, you can set up 2FA on Snapchat. Ensure to set up a difficult-to-guess password consisting of alpha-numeric data and special characters.
To reset the password of your Snapchat account, you can follow the simple steps mentioned here on the official support page of Snapchat.
Update Snapchat App for iOS
You need to upgrade the Snapchat build to the latest one that has been released by the developers. For that, you have to pay a visit to the App Store app.
Launch the App Store.
Navigate to the upper right corner and tap on the connected Apple ID profile.

In the list of apps waiting to get a version update, check if Snapchat is present.
Press the Update button beside Snapchat if you locate it.

Access Snapchat, post the update, and check if you are still getting logged out. Then try the other troubleshooting tips.
Reinstall Snapchat
You may try reinstalling the Snapchat app. Simply delete the existing app and make your way to the App Store.
In the iOS app library, long press the Snapchat app icon.
Then from the menu, tap on Delete App.

Now, go to the App Store.
Search for Snapchat.
Tap the download icon to get the app back on your iPhone.

After reinstalling the app, run Snapchat and check if it is logging you out again. Usually, this method has helped fix the issue for many users. So, it should also fix the Snapchat log-out error for you.
Check if Snapchat Servers are Down
Often Snapchat may be going through some critical bug issue. Then throughout the globe, users may face glitches when trying to use the app. To know if something of that scale has happened, you need to head to the Downdetector website.
Using the search field on Downdetector, check if Snapchat servers are down. There would be other users reporting similar or different issues with Snapchat. You may wait until the issues are resolved officially, and the Snapchat server is reinstated.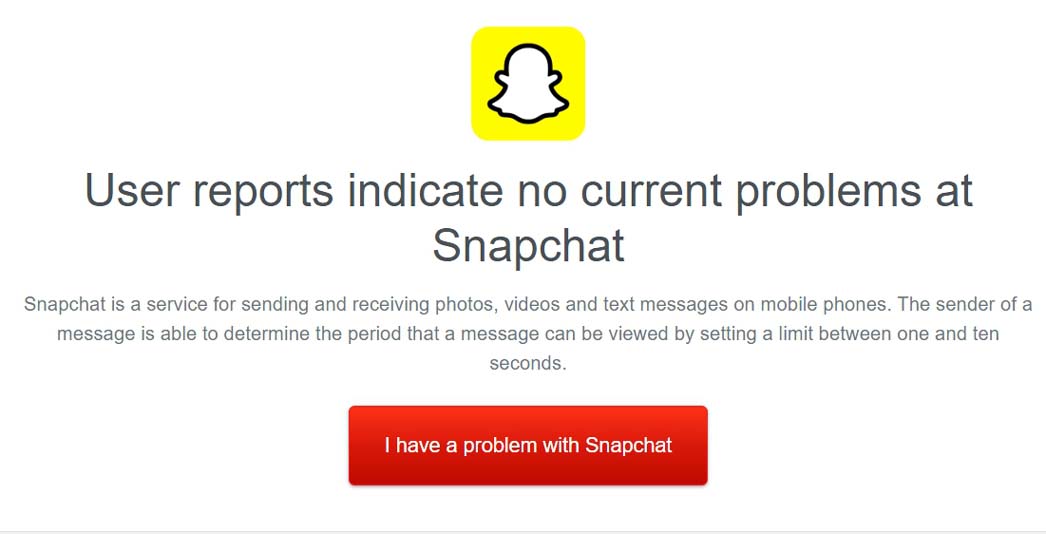 Do Not Use a VPN
Often the VPN server that you have selected that is located in some remote region may be getting overloaded with users accessing it. So, it may not work properly, and due to the instability of the network, Snapchat may log you out of the app.
Open the Settings app on iOS.
Then navigate to the VPN option and tap the switch to gray it out thus disabling it.

Alternatively, the disabling action can be performed from the VPN app.
Disable Background App Refresh on Snapchat
Here are the steps to disable the background app refresh on Snapchat. Usually, keeping it enabled fetches all the updates from an app even though you are not actively using the app. Sometimes this may glitch and log you out of a session.
Go to the Settings app.
Navigate to Snapchat and tap on it.
Under the app settings for Snapchat, scroll to Background Refresh.
Tap on the switch beside the option to disable it.

Later if the issue is fixed and you are not getting logged out anymore, then follow the steps above and re-enable the background refresh feature on Snapchat.
Disconnect Third Party Apps from Your Snapchat Account
Snapchat doesn't appreciate when you try to connect third-party apps with your profile. For account security, it may log you out until you disconnect those third-party apps from your Snapchat account. To disconnect them, here are the steps.
 Launch Snapchat for iOS.
Then at the top-left corner, tap on the avatar.
Next, tap on the gear icon to get to the settings section.


Under the My Account tab, tap on Connected Apps.
You will see the apps connected to your Snapchat account.
Tap on the app name.
On the next page, tap on Remove App.
Conclusion
Do not let some random glitch stop you from sending snaps and connecting with your friends on Snapchat. Now, you do not have to ask anymore what to do; Snapchat keeps logging me out. Simply following the tips in this guide will resolve the problem in no time.
If you've any thoughts on How to Fix Snapchat Keeps Logging Me Out on iPhone?, then feel free to drop in below comment box. Also, please subscribe to our DigitBin YouTube channel for videos tutorials. Cheers!