Football is one of the most-watched sports games on television. Thanks to online streaming platforms, you can now stay connected with your favorite games. Moreover, you can stream these football games live either on your smartphone or your PC. There are multiple live football streaming websites that are free, while others require a monthly subscription.
In this guide, we will give you the best football streaming sites where you can watch all of your favorite football sporting events live. Besides, we will include several free and paid sources, and you can choose among them based on your preference. With that said, let us jump straight into it.
Before You Start Streaming…
We would like you to know a few things before you go ahead and check out the list of the best football streaming sites. First, some of the websites mentioned below will contain ads, and these ads will be of any kind. And by any type we mean, there can be ads that are 18+. So, it is advised that you ensure you have installed an adblocker or pop-up blocker on your browser before you start streaming on these sites.
The second thing is some of the sites may not work in your region. They may be either restricted or currently not available for your region. To overcome this, you can make use of a VPN or Virtual Proxy Network to bypass and access region-restricted content. Now that these important things are known to you, let us check out the best football streaming sites.
---
Note: Few Links Below are lie in a legal gray area, use the links for streaming or viewing information at your own discretion. DigitBin only provides the information.
---
EPLSite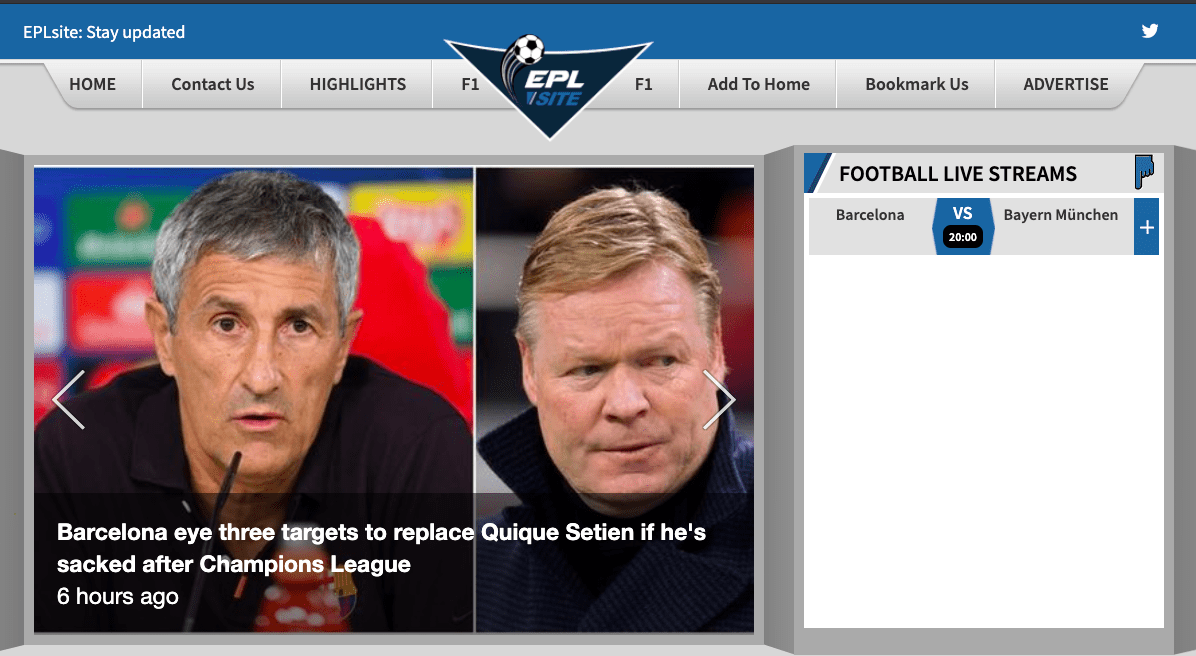 Very first on our list is the EPLSite website, which is a good football streaming website that is available for free. The site offers you multiple links, both in SD and HD quality, for all of your favorite football games. The website also has a chatbox where you can connect with football fans across the globe and interact with them while watching live football games.
You can also watch highlights of already concluded matches to keep yourself up to date with the league. There is a dedicated league table for all the different football events, including the English Premier League, Spanish La Liga, Bundesliga, and more. The only things that will annoy you are the ads and pop-ups. But if you are okay with a few ads, then this is a great website to feed your football needs.
DaddyHD
DaddyHD.com or DaddyLiveHD.SX is Live TV Streaming Site that offers over 120+ live tv channels and other sports programming from the USA and Canada. It is one streaming site that offers free streams and can be dubbed as a premium chord cutter for all your streaming needs. The site of us to streaming links in case one of the streams is not working.
DaddyHD recently gained popularity due to its vast catalog of live TV stations and premium HD quality streams, all for free. You get premium US sports networks on-site to stream and watch Live TV online.
Stream2Watch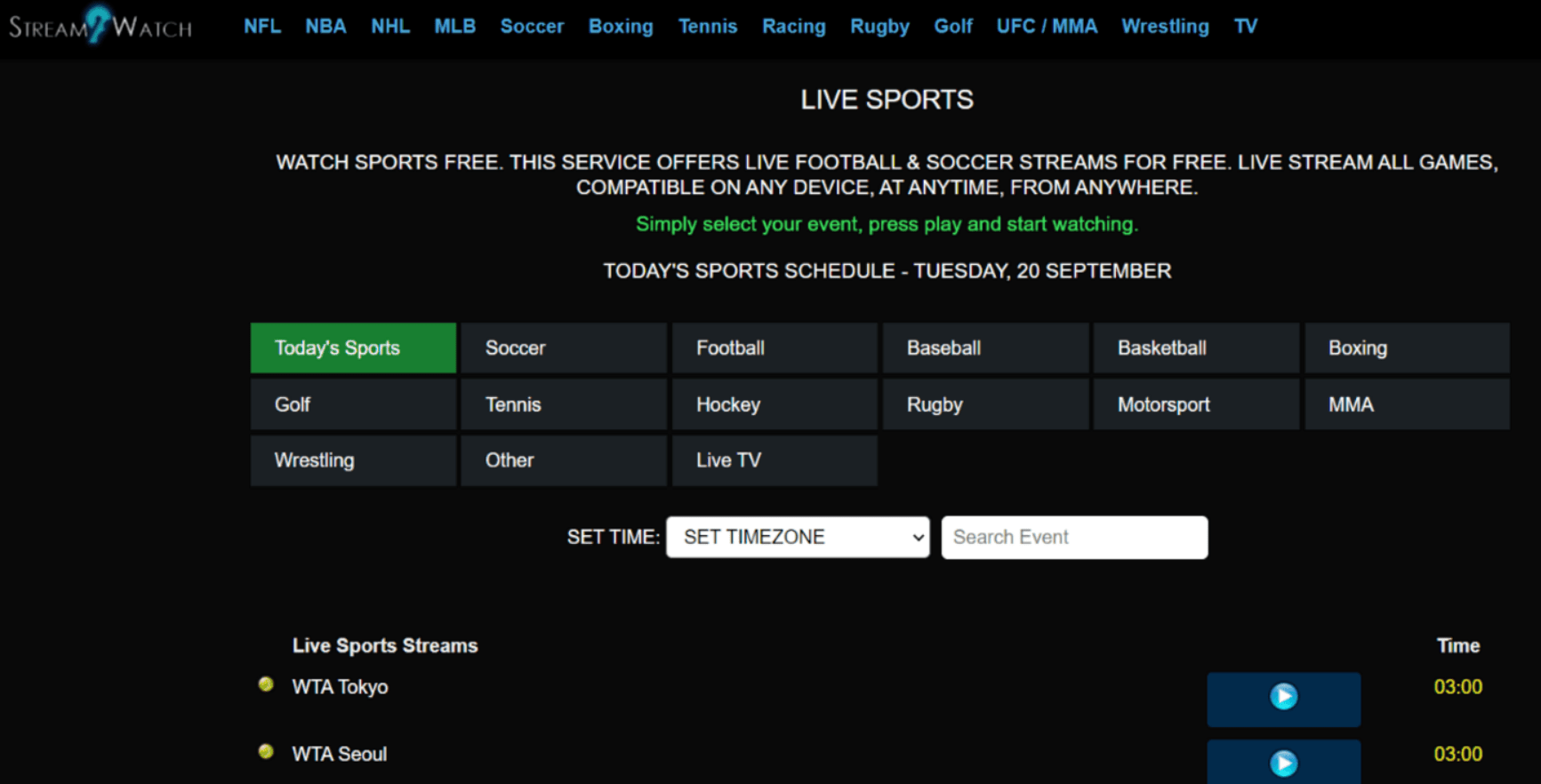 Stream2Watch is another popular alternative that you can opt for to watch your favorite football games live. The website includes channels from multiple countries such as the US, UK, Canada, and other European countries, meaning you don't have any shortage of live streams for your favorite football games.
The Stream2Watch website provides multiple sources to watch football streams. Apart from football, you can also watch NFL, hockey, cricket, tennis, and other sports live as well. There are dedicated buttons for each sport that include streaming links. The website does show ads every now and then, but it is easily manageable. Overall, an excellent website for streaming online football for free.
StreamEast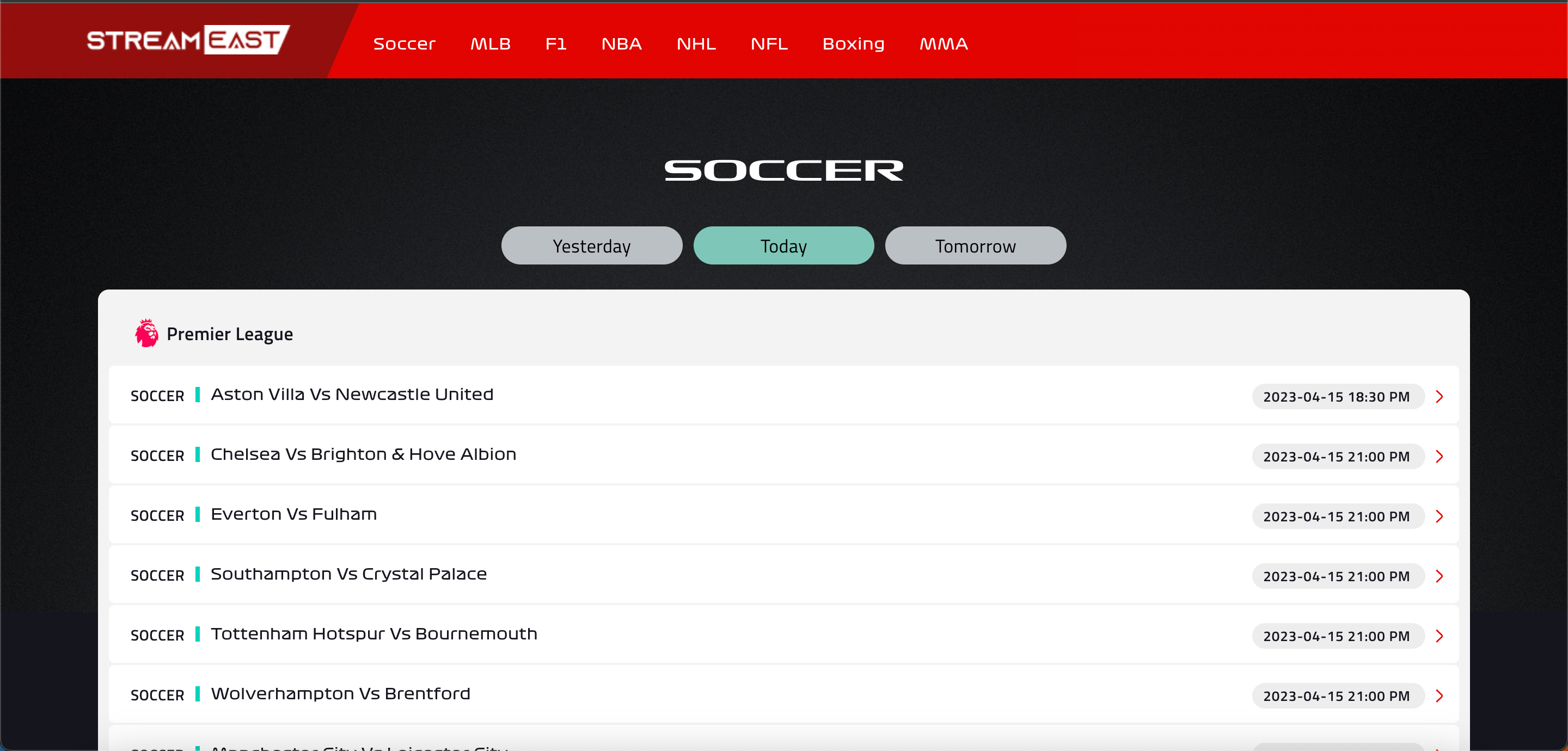 StreamEast Live is a new sports streaming site that offers soccer, NFL, MLB, NHL, Cricket, tennis, and other live streams for free. Predominantly Live Sports Streaming Sites are highly imperious as Football, Baseball, Cricket, Tennis, Badminton, Golf, Wrestling, etc., are always running on any corner of this planet.
With the sites below, you can enjoy UEFA Champions League, English Premier League, German Bundesliga, French Ligue 1, Spanish Primera Division, Italian Serie A, Cricket, Badminton, Rugby, NBA, NFL, and more.
Cricfree
Although the name has half of Cricket in it, Cricfree has a good list of streaming links for watching football games. You can watch all the football games telecasted on Sky Network, BT Sports, Eurosport, Fox Sports, ESPN, etc. At the time of writing, the website is under maintenance.
However, you can watch 24×7 live channels for the time being. You may require using a VPN to begin live streaming. The website also shows the complete schedule for the day so that you don't miss out on your favorite football game. There is a chatbox as well where you can connect with like-minded people and enjoy the live streams for free.
TV247 US
You will fall in love with the site: no Registration, No Stupid Ads, No Pop-Ups. Simply choose the channel you wish to watch and click the play button. A smooth video player that resembles of YouTube will play the desired track pretty quickly. The site also offers the schedule of running and upcoming shows.
Most of the channels are from the US and UK, you get news, sports, entertainment, kids, movies, and other infotainment shows all for free without any bullshit ads and redirects. If you are seriously looking to stream live tv on your devices, then I strongly recommend Wizler TV.
Offers: ESPN (Euro Cup), Fox Sports Channels, NBC Sports Network, NBA TV, NFL TV, TBS, TNT, USA Network, WWE Network, etc.
DAZN

Dazn is a subscription-based video streaming service. The sports service offers live and on-demand streaming of events from various properties. Dazn is operative in Austria, Germany, Japan, Switzerland, Canada, United States, Italy, Spain, and Brazil. It has digital rights for all major sports events to be broadcast in Austria, Germany, Japan, Canada, and Switzerland. You can enjoy UEFA, FIFA, La Liga, and other sporting events on the DAZN.
The service offers a 1-month free trial which you can cancel anytime. DAZN is compatible with TVs, smartphones, tablets, game consoles, and many other devices. To ensure the best viewing experience, use an internet-connected device that is compatible with streaming high-quality video.
Goods About DAZN
Legal and Free
Rights for all major events
HD Support
Multiple device support
Free Trial for 30 Days
VIPBoxTV
VIPBoxTV has links to all the live sports that you want to see, including football. You can also watch WWE, hockey, darts, bowling, snooker, badminton, MotoGP, and more on this website. We came across the only thing that it requires you to use a VPN if you are outside of the U.S.
But other than that, the website works great and will be sufficient to feed your football needs for free. You can watch your favorite game in different quality, and you can even adjust the quality while watching a live game. This is a decent free source of watching free football.
FootyBite
FootyBite is a streaming platform dedicated to football fans. You can stream live premium football from La Liga, Serie A, Bundesliga, MLS, EPL, and more. The site provides you with live-streaming URLs 30 min before the match. It offers several URLs in case some are not working. The best clean and simple platform to stream live sports.
Offers: LaLiga, Serie A, Bundesliga, MLS, EPL, and more
Fubo TV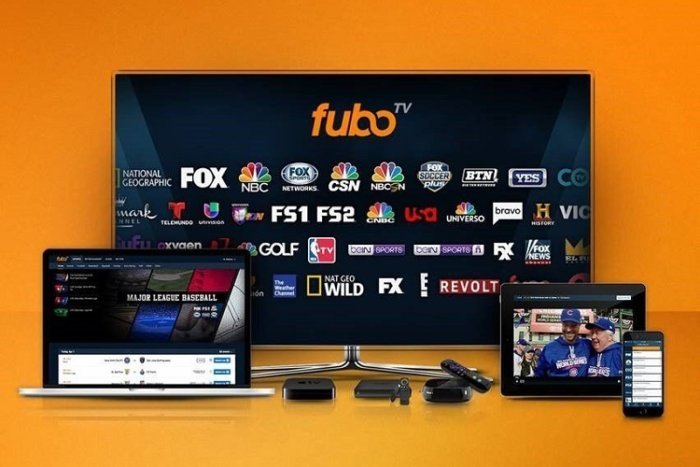 Fubo TV is a great option to watch live football games if you don't mind spending a few bucks for its subscription. The service, unfortunately, is only available for people staying in the United States. You can watch various football sporting events such as the English Premier League, Spanish La Liga, MLS, the UEFA Champions League, and Copa Libertadores, live on high quality.
Apart from sports channels, it also has a great list of entertainment as well as news channels. Overall, it provides a suitable package of media, which you can get for a subscription fee, which starts at $64.99/month. You can activate a 7-day free trial by entering your card credentials, just in case you want to test out its waters.
Hulu

Hulu is another decent alternative to paid football streaming services. It gives you a host of channels to watch live streaming of football matches. You can catch live sports from media such as ESPN, FS1, NBCSN, and more. The live TV service is available for users in the US and parts of Columbia.
Hulu gives you access to its Live TV free for 7 days, which will later cost you $54.99/month for the next 3 months, and then $64.99/month. If you wish to bundle Disney+ and ESPN+ with Hulu, you can get the package for $72.99/month, giving you access to more football sporting events on your PC.
Time4TV
Last but not least, we have on our list a free streaming website called Time4TV. The website has an excellent interface, giving you links to free streaming channels from the US and UK. There is a massive list of channels to watch from. Time4TV gives you multiple sources for a single track.
So that if one doesn't work, you can always hop onto the following source to continue streaming. The only thing to note using this website is the massive number of ads thrown at you. But that is how these free streaming websites earn their money. Make sure to use an ad or popup blocker to minimize the ads.
If you've any thoughts on 10 Free Live Football Sites: Best Soccer Streaming Sites, then feel free to drop in below comment box. Also, please subscribe to our DigitBin YouTube channel for videos tutorials. Cheers!