This guide will outline a plethora of ways to fix the YouTube battery draining issue on Android devices.
When it comes to online video sharing and streaming platforms, there were quite a few services that came forward, but none were able to claim the kind of dominance that YouTube managed to encapsulate. The fact that YouTube comes pre-installed on most Android devices only seems to have added more to its popularity.
However, there is an area of concern that needs to be addressed- many users have reported that the YouTube app is draining too much battery on their Android device. As per their concerns, the app is exhausting the battery even when it isn't being used in the foreground.
If you are also getting bugged with the YouTube battery draining issue on Android devices, then this guide shall help you out. Follow along for the various fixes.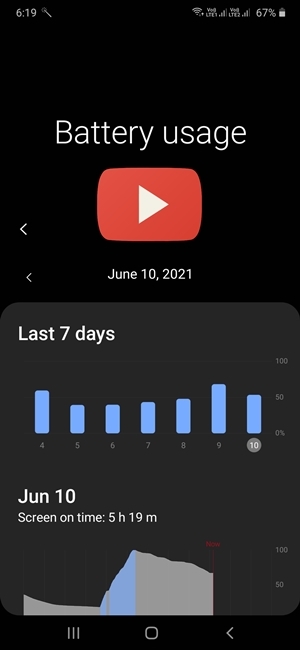 Close YouTube the Correct Way
First and foremost, once you are done using the app, make sure you close it from the Recents menu as well. Otherwise, it might continue to carry out its functionalities in the background.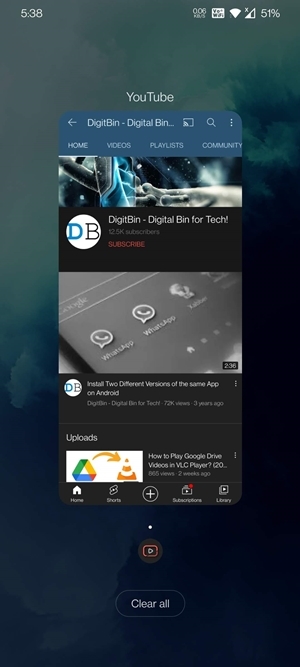 So bring up the Recents App section and perform a swipe up on the YouTube card. Make sure you do so every time you are done using the app. This shall go great length to fix the YouTube battery draining issue on Android.
Enable Battery Optimizations
Near about every Android device comes with a battery management feature. By default, their settings are set at the Balanced level for all the apps. In those cases, it would give equal weightage to both the battery usage and performance.
However, you could also opt for a more strict measure and make the device limit the app's functionality for better battery management. Here's how you could do this on a OnePlus device (other devices would also have this feature under Settings > Battery).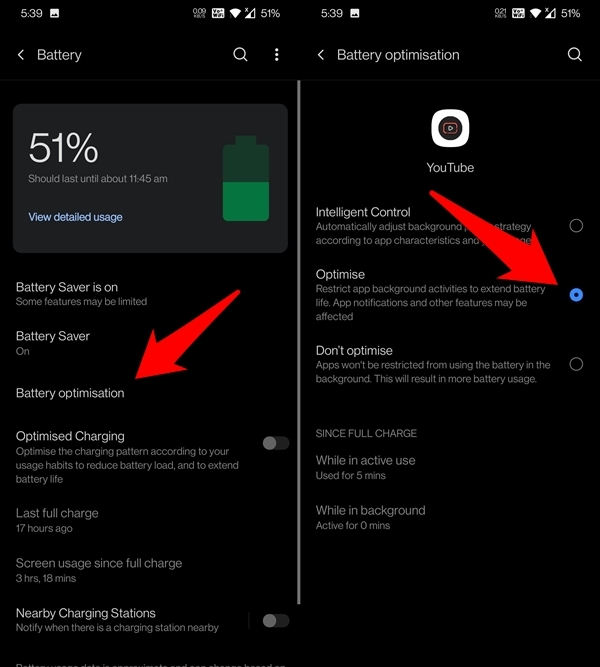 To begin with, head over to the Settings menu on your device.
Then go to Battery and select Battery Optimization.
Scroll to the YouTube app and switch its mode from Intelligent Control to Optimize.
Save the changes and then see if it can fix the YouTube Battery draining issue on Android devices.
Lower the Video Quality
This is a straightaway trade-off. You may opt for a lower video resolution and in turn, save your data. But more importantly, the lower video quality would also call for less processing power, and in turn, there will be a lower requirement for battery usage. So if you are ready to opt for this trade-off then proceed with the below steps: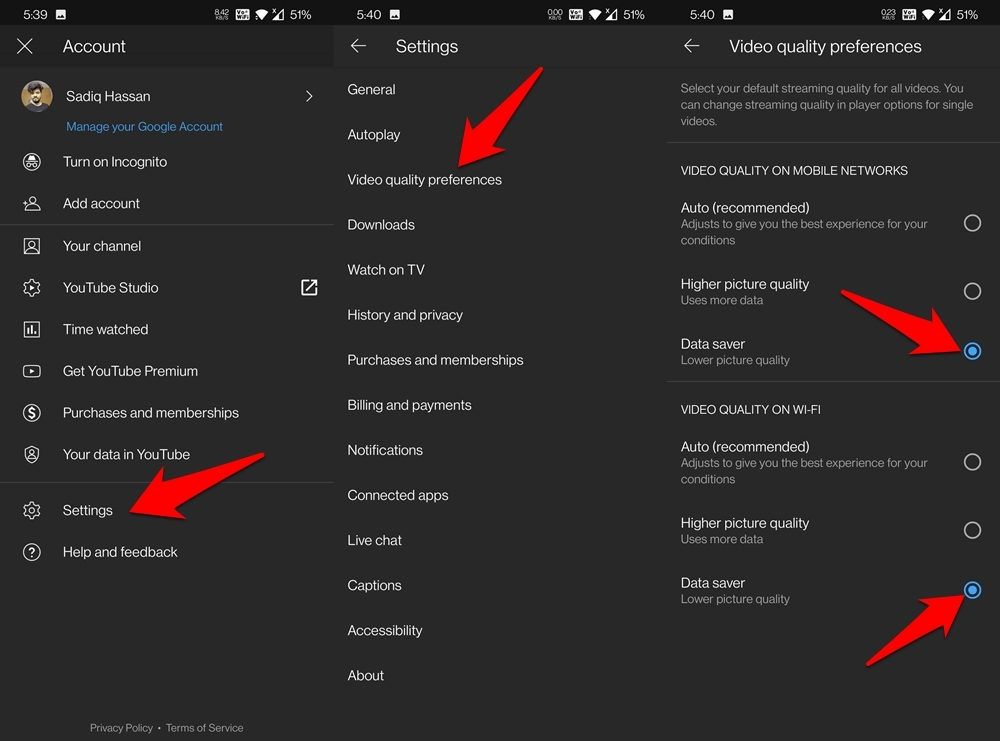 To begin with, launch the YouTube app on your device.
Then tap on your avatar situated at the top right and select Settings.
Go to the Video Quality Preferences section
Finally, select Data Saver under both the Mobile Networks and WiFi category.
Do keep in mind that you wouldn't see any considerable progress in the short run. However, in the due course of time, there could be some preservation of battery juice and hence it might be able to fix the YouTube battery draining issue on Android devices.
Disable YouTube when not in use
Opting for a more restrictive measure, you could also consider disabling the app when it's not currently in use. The downside is that you wouldn't be getting any notifications from YouTube when the app has been disabled.
Moreover, you would have to manually carry out the enable/disable process every time the need arises. So if that's well and good, then here's what you need to do to disable the app and hence fix the YouTube battery draining issue on Android:
Go to Settings followed by Apps and Notifications on your device.
Then head over to the App Info page and scroll to the YouTube app.
Tap Disable and tap on the Disable App button in the confirmation dialog box that appears.


That's it. YouTube would no longer run in the background and this might fix the underlying issue.
Furthermore, when you need to re-launch the app, just go to YouTube's App Info page and hit the Enable button.

Using Third-Party Apps
Many third-party apps claim to offer efficient app management. Taking help of them, you could instruct YouTube to hibernate itself in the background when it is not in use. However, it seemed to be a little bit counterintuitive, especially if we talk about whether or not they are able to fix the YouTube battery draining issue on Android.
Although hibernating YouTube did manage to save some battery, the fact that the host app was constantly running in the background canceled out the battery preservation ratio. Hence, there wasn't any benefit as such, but if you are willing to give such an app a try, then consider going for Greenify.
Switch to YouTube Website
While the website version of YouTube is in no way comparable with the app, but if battery saving is your top priority, then you may give it a try. To do so, launch a browser of your choice and open m.youtube.com.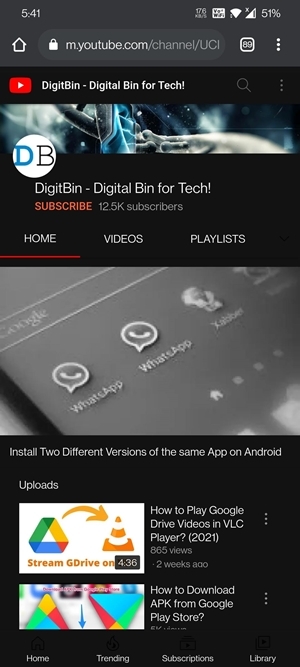 You may now be able to stream the video and carry out all the basic functionalities, such as liking the video, adding comments, sharing it, etc. Once you are done with the stream, make sure to close that browser tab as well.
Conclusion
So with this, we round off the guide on how you could fix the YouTube battery draining issue on Android. We have shared six different methods for the same, do let us know in the comments which one spelled out success for you.
If you've any thoughts on Fix – YouTube is Draining the Battery Issue on Android System, then feel free to drop in below comment box. Also, please subscribe to our DigitBin YouTube channel for videos tutorials. Cheers!