VLC is the most used open-source cross-platform media player software available for free. This media player is available on Windows, MacOS, Android, iOS, etc. But recently, many users have complained about receiving the "Your Input Can't be Opened" error on VLC. Keep reading to know how you can fix it.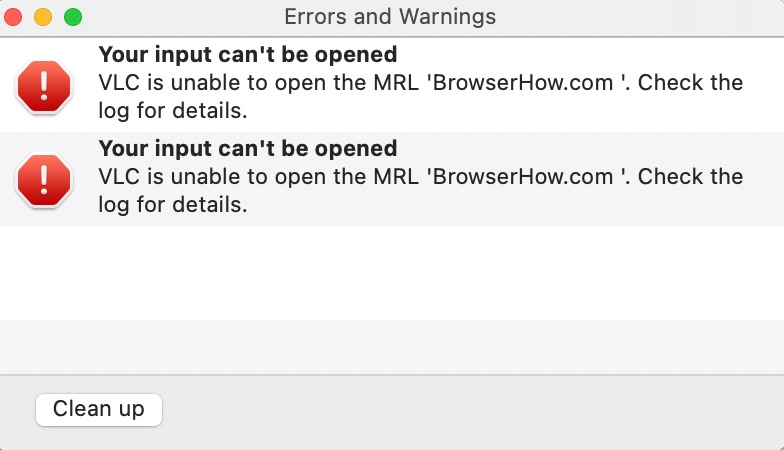 This error makes it difficult to play music and videos. As VLC is always be known for its flexibility and compatibility. This error can affect your user experience. So let's begin with some troubleshooting methods to fix this issue.
Reasons for Network Stream Error
Invalid Streaming URL
Corrupt Video File
Incompatible File Format
Encrypted Streaming Network
Best Fixes – Your Input Can't be Opened Issue on VLC
Below are some troubleshooting methods that may help you fix Your Input Can't be Opened, it is important to note that not all videos can be streamed on VLC. So, make sure you get the right streaming URL to play the video.
Reset VLC Preferences
You might have changed some settings unknowingly that may cause this issue. Reset VLC preferences and check if the error message is solved. Here is how you can do it:
Open VLC and click on Tools.
Click on Preferences.
Now click on Reset Preferences at the bottom and check if the issue is fixed.
Change Streaming Setting
Change the streaming options on the VLC player.
Open Network Stream.
Click on Turn On Stream Output and open Settings.

Enable Stream Type – HTTP.
Save the YouTube.lau File in the VLC Playlist Folder
Here is how you can do it:
Click here and copy the code from the page.
Now create a new text file and paste the code into it.
Rename the text file as "youtube.luac" and copy the file.
Now navigate to the following path in the file explorer.

C:\Program Files (x86)\VideoLAN\VLC\lua\playlist

Replace the existing youtube.luac file with the one you just created.
Restart your device and check if VLC is playing videos.
Turn off Windows Defender Firewall
Windows Firewall sometimes blocks YouTube URLs. Turn it off and check if it fixes the VLC media error. Here is how can do it:
Click on Start and search for Windows Defender Firewall.
Click on Open.
Click on Turn Windows Defender Firewall on or off in the left pane.
Now, check the option that says Turn off Windows Defender Firewall under both Private and Public network settings.
Click on Ok at the bottom.
Disable Third-Party Antivirus
Third-party antivirus softwares installed on your device can sometimes cause Your Input Can't be Opened in error on VLC. Disable your anti-virus software to check if its solves the issue. If disabling the antivirus doesn't work, uninstall it temporarily and check for the same.
Update VLC
If you haven't updated VLC to its latest version, this error might bug you. Update VLC to its latest version and check if it fixes the issue. Here is how you can do it:
Open VLC and click on Help.
Now click on Check for Updates.
VLC will now automatically scan for updates.
On Mac, to update VLC, click on the VLC Media Player option on the top menu bar and check for updates.

Reinstall VLC
If none of the above-mentioned steps were able to help you, reinstall the VLC media player. Sometimes the problem is within the software core files, and it cannot be resolved manually.
Wrapping Up
This was how you can fix Your Input Can't be Opened on VLC. We hope that the troubleshooting methods mentioned above were able to help you. Still, if you have any issues, feel free to drop a comment below.
If you've any thoughts on How to Fix 'Your Input Can't be Opened' Error on VLC ?, then feel free to drop in below comment box. Also, please subscribe to our DigitBin YouTube channel for videos tutorials. Cheers!