Apple smartwatches have gone through some rapid enhancements over a really short period of time. Today, you can perform so many functions like checking out text messages and notifications and answering calls without even having to reach out to your pocket. All thanks to these advanced smartwatches that make life simply more convenient. But even with consistent development, no technology ever comes completely problem-free. And the same applies to Apple Watches as well.
Apple Watch might have had a lot of trouble in the past also, but recently an issue has appeared that is giving all Apple smartwatch users a hard time. The Apple Watch not vibrating has become a serious trouble for users as they miss out on a lot of things for just a vibration. But the question here is, is there a way to fix this issue? Fortunately, the answer is yes. You have come to the right place as we are going to discuss the best ways using which you can fix your Apple Watch not vibrating. So, what are you waiting for? Let us get started already.
Top Ways to Fix Apple Watch Not Vibrating
If you are missing out on important messages and notifications just because your Apple watch is not vibrating to alert you, this article will end your struggle. Here are the 10 best ways to fix the Apple watch not vibrating problem.
1. Restart the Devices
When it comes to problem-solving, let us begin with the all-time solution, i.e., restarting the device. In this case, since you are working with two devices, we will restart them both. Firstly, restart your Apple watch and also the iPhone connected to it. Considering it is just a glitch, a simple restart will fix the issue for good.
2. Reconnect your Apple Watch
A lot of times, our devices are not properly connected, And certainly, this is the most common reason why your Apple watch is not vibrating. So, check if there's a Red X icon on your watch. If you see something like that, it means a poor connection between your devices. In that case, simply disconnect both the devices and then resync them again.
3. Turn off Do Not Disturb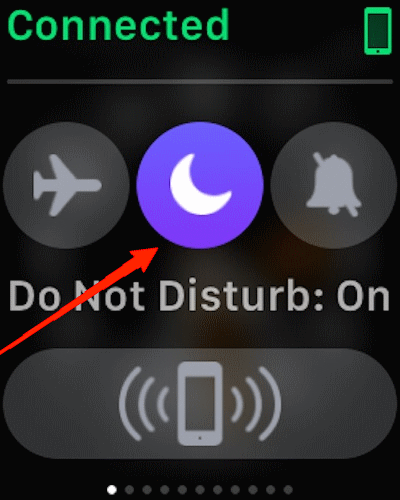 If you put your device into Do Not Disturb mode, it will prevent you from receiving any texts, notifications, or calls on your Apple watch as well. Therefore, make sure to check the Watch control center and turn off Do Not Disturb Mode. In many cases, it was found as the common cause behind the problem.
4. Turn On Haptics
Sometimes, the problem might be caused by inappropriate settings on your device. Haptics is a basic setting that takes care of everything related to the sensing part. Just like that, if the haptics settings have been disabled for your Apple Watch, it won't vibrate on your wrist. Therefore, give it a check. To turn on Haptics, you can follow the steps below.
Firstly, open Settings on your Apple Watch.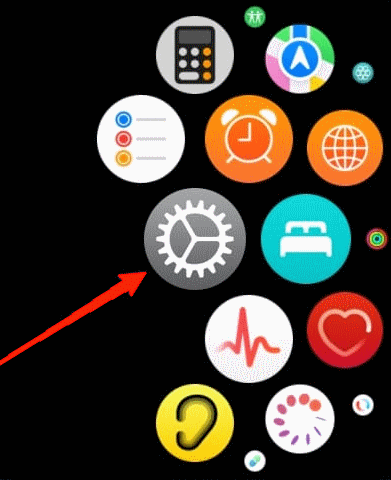 Now, scroll down and go to Sounds & Haptics.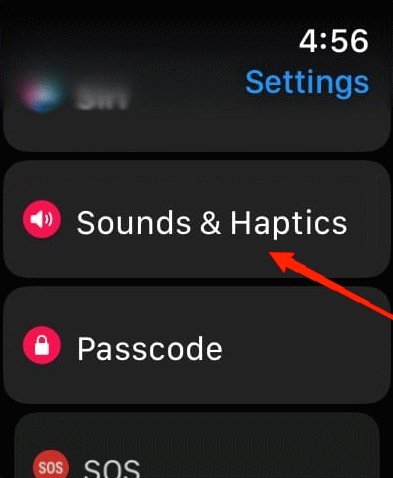 Again, scroll a bit up and Enable the Haptic alerts option.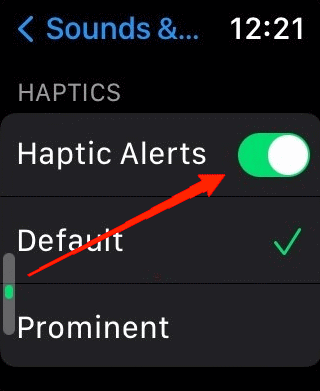 5. Turn On System Haptics
Turning On Haptic alerts only makes your Watch vibrate on receiving calls, notifications, and texts. But if your Apple Watch stopped vibrating completely even on the system controls as well, then you need to turn on System Haptics. Don't worry, the process is almost similar.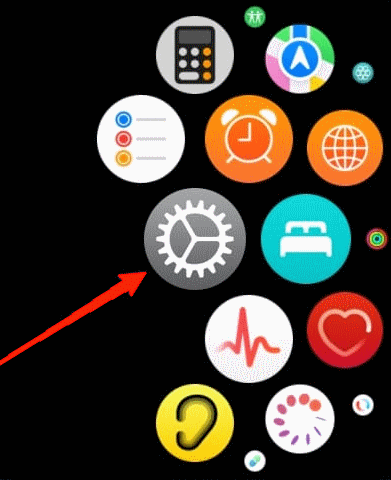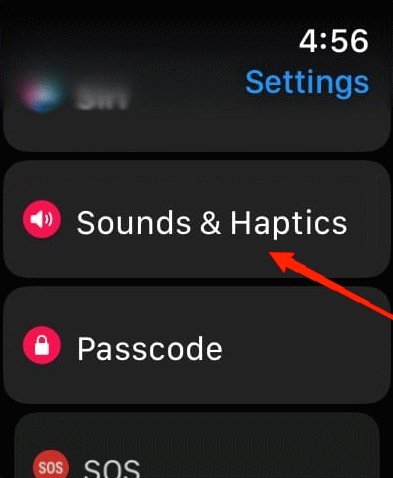 Scroll down and enable the System Haptics option this time.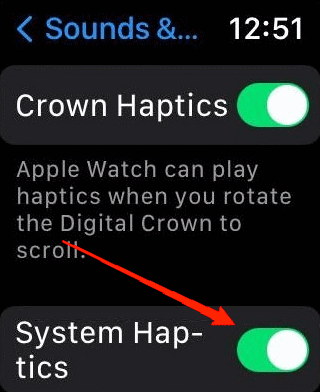 6. Check Mirror Notifications
If you have selected the Mirror My Phone option, it might hinder with settings like this. But if you would still like to keep it selected but feel vibrations on your Apple watch as well, that's possible too. Suppose your Watch is not vibrating on receiving messages then you just need to follow the steps mentioned below.
Open Settings on your iPhone.
Scroll down and click on the Messages application.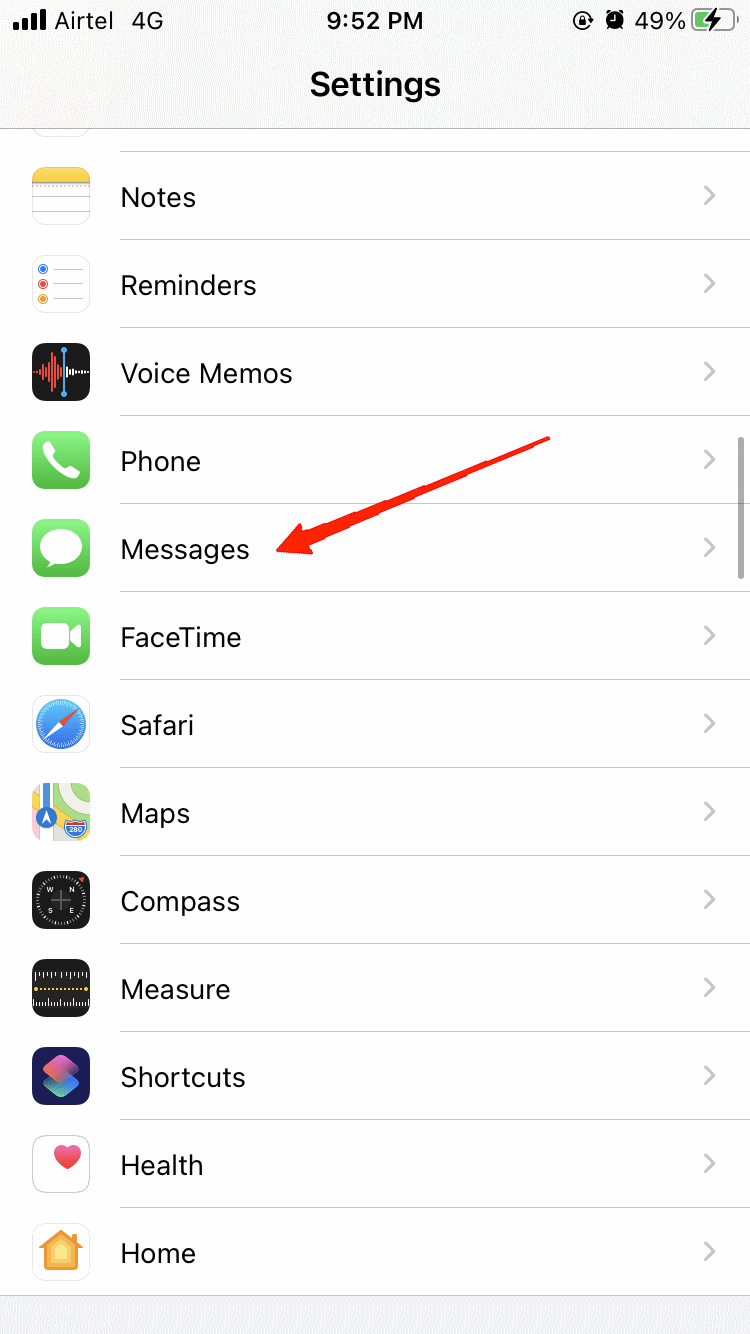 Now, go to Notifications. Tap on Sounds.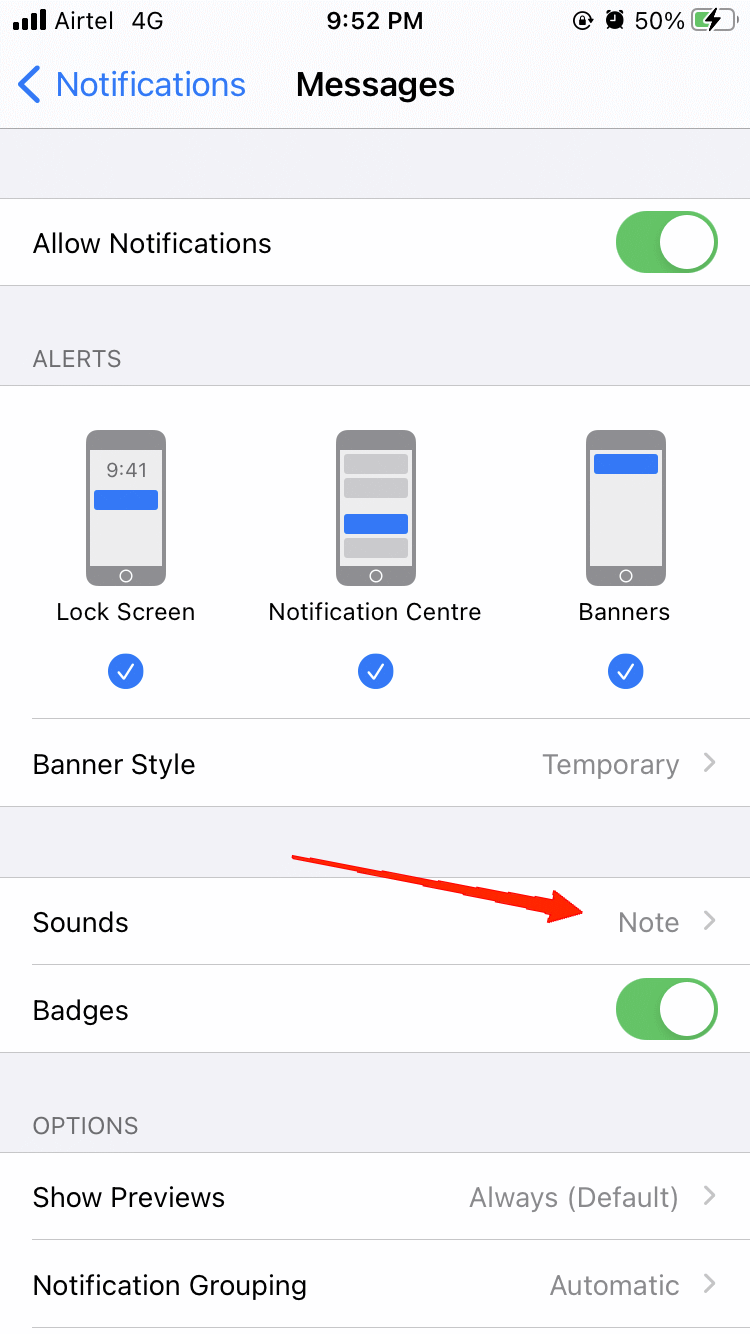 Again, tap on Vibration and select any type of vibration other than None.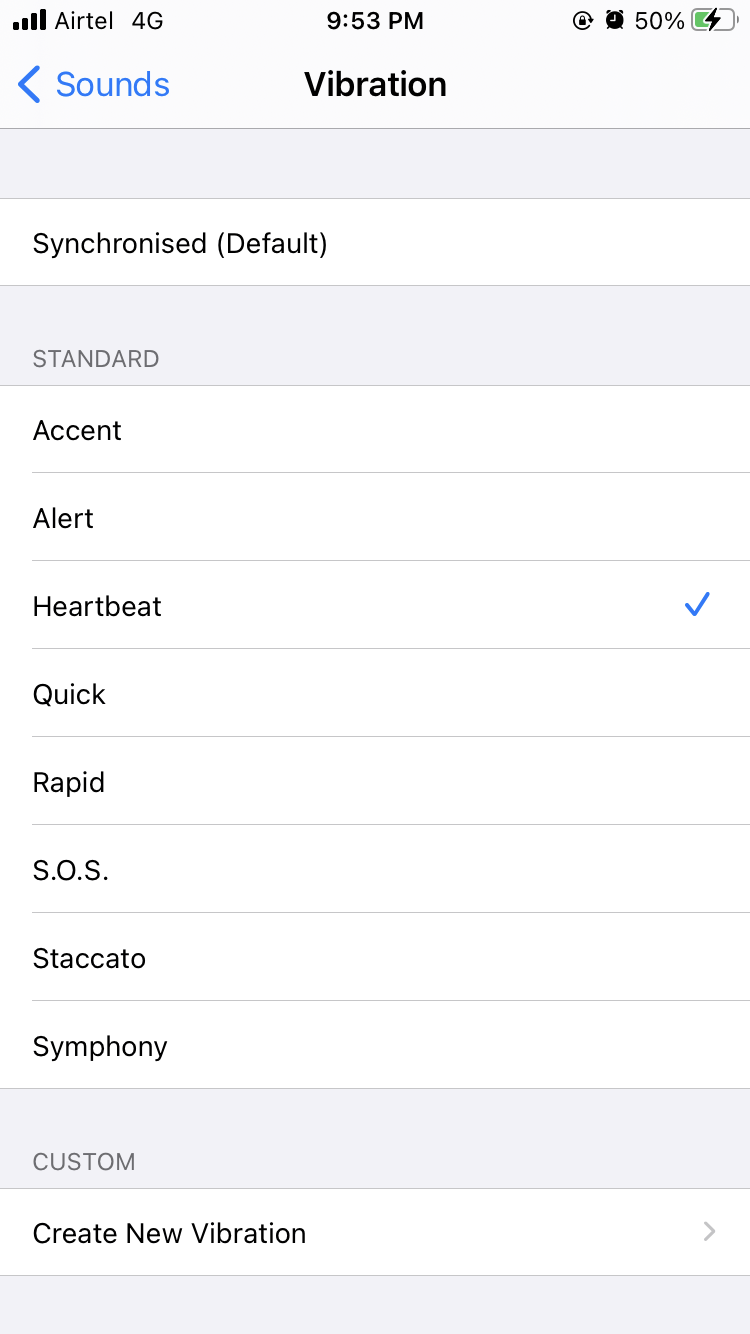 Once done, your Apple Watch will now vibrate even if Mirror My Phone is selected on your iPhone.
7. Turn off Airplane Mode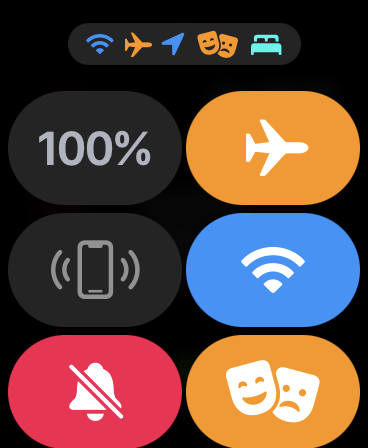 Your iPhone and Apple Watch are both connected over Wi-Fi. However, if any of these devices are in the Airplane Mode, you won't receive any updates on your Apple Watch. As a result, there would be no reason for a vibration as well.
So, if you see that apart from vibration, your Apple Watch is not showing any notifications, texts, or anything, chances are, your device is in Airplane mode. Therefore, make sure to check both devices and disable the airplane mode.
8. Check out Vibration Settings for Individual Apps
Generally, when you establish a connection between your iPhone and Apple Watch, the watch mirrors all the settings as in your iPhone. Therefore, if the vibration is turned off on your iPhone, it won't vibrate on your watch either. But what if you don't feel any vibration for a particular app only?
Suppose your Apple Watch doesn't vibrate on receiving notifications from the Messages app only. In such a case, you need to check the vibration settings for every individual app. Here's how you do it.
Open the device Settings on your iPhone.
Scroll down and click on the Messages app.
Finally, turn on Haptics for the particular app.
In this case, we have considered the Messages app as an example, You should follow the steps for the app you are having trouble with.
9. Disable Shared Focus Mode
As mentioned earlier, we talked about how enabling focus modes like DND or any other on your Apple Watch might prevent your watch from vibrating. Similarly, if you haven't turned on any focus modes on your Apple watch but maybe on your iPhone, it will have the same result again.
In that case, you need to check and disable such functions to avoid the issue. This basically happens because of the mirroring feature of focus modes between your iPhone and Apple Watch. In order to turn it off, you need to follow the steps below:
Head on to your Apple Watch Settings.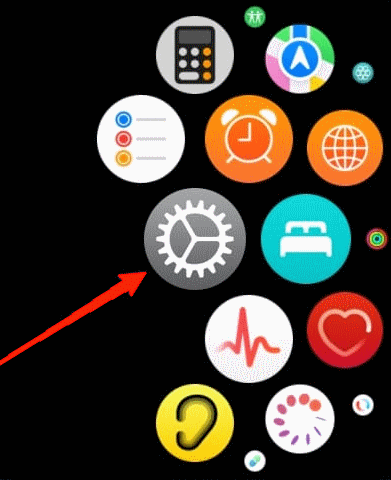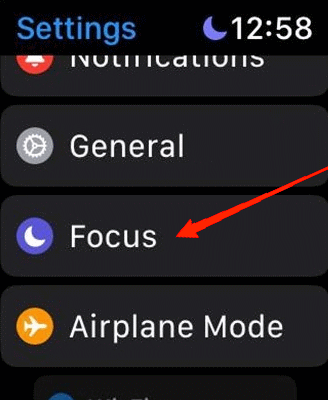 Scroll down and disable the toggle bar next to the 'Mirror my Phone' option.
For better assurance, make sure to disable any other focus modes like DND or so to end this issue.
10. Update Your Apple Watch Software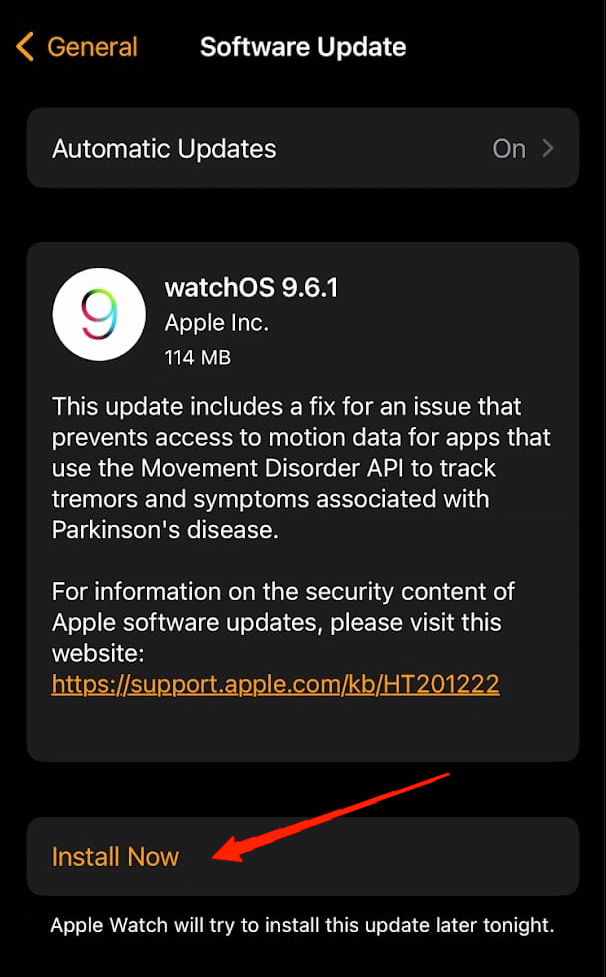 Last but not least, if none of the above tricks make a way out for you, chances are there might be some problem with your Apple Watch software itself. It is no big deal for smart systems to have minor bugs. However, to get rid of something like this, the best way is to update your WatchOS.
An older version of watchOS is more likely to contain bugs and initiate a lot of problems. Therefore, the best way to keep yourself free from such trouble is by keeping your devices up to date.
Final Words
Apple Watch not vibrating is a very common problem. However, most of the time, this issue occurs due to inappropriate settings between the two devices. Users often check their Watch settings but forget to check their phones. If you are going through such a problem, always remember that your Apple Watch mirrors all the Settings as in your iPhone. Hence, if the Settings of your iPhone are not proper, issues like these are common. Additionally, if Settings is not the issue, then go for the other fixes to find an absolute solution to the problem.
If you've any thoughts on 10 Ways to Fix Apple Watch Not Vibrating, then feel free to drop in below comment box. Also, please subscribe to our DigitBin YouTube channel for videos tutorials. Cheers!