Are you habitual of your PC more than of your Android smartphone but you stuck with your Android smartphone due to a bunch of apps that only run on smartphones? Well then there is nothing to worry about, we already have an awesome solution for that. You can actually use all of your Android apps on your PC with the help of Android Emulators. You can have all the features of the smartphone or Android operating system, by using Android Emulators on your PC.
If you are searching for something by which you can use your apps on your computer, an android emulator is your one-stop solution, it will do the job for you, you don't need to be worried!
Now, if you are searching for the best android emulators and after searching, I'm sure you have finalized a list of some good emulators and for sure Bluestack and Nox Player are in it. If not, I strongly recommend including them because both are the best android emulators to date, you can choose any one of them. But when it is about the best Android Emulator among both, let's check which stands out.
Here, In this article, we are going to discuss best between Bluestack and Nox Player in-depth, so it will be easy for you to choose one among both.
What is Android Emulator?
If you are not a techy guy or new to this concept so it is our duty to introduce all the basic concepts to you. Firstly, let me explain what an android emulator is, then we will move further to the best android emulator among Bluestack and Nox Player. You can run the Android ecosystem on the Windows and Mac PC for free with emulators. The responsiveness and ease of using the mobile Apps on the emulator depend on your system specifications.
In general, an android emulator is software that can be used or installed in the computer (Windows/ Mac/ Linux) to take advantage of apps, software, and programs that are only designed and available for android devices. An emulator is software that enables one computer system to behave like another computer system
Why Android Emulators?
An Android emulator works as a bridge between a device any other OS and an Android operating system. Installing an android emulator works as a virtual machine inside your device or computer. You can run the android emulator on your computer having Windows/ Mac/ Linux as an operating system and can run all the programs of an android smartphone that are specifically developed for the mobiles.
In simple words, if I say so, an android emulator is software that can be used to play android games and software in other operating systems. For example, if you want to play PUBG mobile on your laptop, you can use an android emulator to do so. They are easily available and can be easily installed and used over other devices.
Now, coming back to the main topic we have to discuss the best android emulator among Bluestack and Nox Player. So, let's get started and tell you an in-depth comparison of both android emulators.
Introduction
About Bluestack
Bluestack is an android emulator founded in 2011, and designed, developed, and maintained by Bluestacks company. It is a free emulator that allows you to spurt an android device into your PC. You can enjoy all of your android device games including Clash of Clan (COC), Player Unknown Battle Ground (PUBG), Fortnite, Grand Theft Auto (GTA), etc.
It claims to be 6x faster speed than your normal android device. Bluestack 4 is the latest version of Bluestacks and with each new version, Bluesatack is doing the best of its performance. This will help in enhancing the Android game playing experience and it will take its performance to the next level. The Bluestacks run on the 'latest' Nougat version.
About Nox Player
Nox Player is another free and best android emulator, which was developed and maintained by Nox company. It provides great service to its users. With Nox player, you do not need to install most of the apps and games as they are pre-installed. This is a quite handy feature, that all the useful and most played games are already available with the android emulator.
It is designed separately for Mac users because Nox Player was basically designed for Windows. One of the most amazing features of the Nox is, it comes with a rooted version of Android out-of-the-box. So, you get a completely unlocked player to gain full access to the Android.
Minimum System Requirement
Bluestacks
Operating System: Bluestack can be operated on Windows 7,8,8.1,10 and Mac.
CPU: It needs a Multi-core AMD/ Intel CPU to run.
RAM & Storage: Minimum 2GB of RAM and 4GB of Hard drive space is required to run Bluestacks.
Your computer must have a service pack 2 or higher.
For the proper functioning of Bluestacks, all drivers of your system must be updated to the latest version.
Nox Player
Operating System: Windows XP, Windows Vista, Windows 7,8, 8.1, 10. OSX-10.8+
CPU: It needs a Multi-core (at least dual-core) AMD/ Intel CPU to run.
RAM & Storage: Minimum 1.5 GB of RAM and 3GB of storage required, because it needs 1 GB for the installation path, and 1.5 GB of hard drive storage to run the player
It supports OpenGL 2.0 or above.
Gaming
Bluestacks
It is one of the more balanced emulators having the right mixture of power, graphics, and processing making it the most favorable Android Emulator for PC. Using Apps or playing games on the Bluestacks will function smoothly as the emulator is capable enough to play high-graphics games. The software has an advanced keymapping and control system you can manage key controls with the all-new game controls window.
Though it is preferable that your PC has good specs which are capable enough in handling the graphics. Nevertheless, the Bluestacks Emulator is the best and most trusted Android Client to play Android Apps and games on Windows and Mac.
Nox
Nox can handle high FPS games without any clutter and supports keypad, gamepad, and scripts record (helps to record a sequence on screen for later play). Though it may take some time for you to get acquainted with the controls, once you get along with it, Nox Player would turn out to be the best place to run Android Apps and Games on Windows or Mac.
You can customize the controls in the settings and also optimize the quality in case if you feel the graphics are higher than your PC standards.
Features
Bluestacks
Gaming Controls: Highly customized and very nice game controlling features.
Gaming Mode: Mapping can be done by Keyboard/Mouse to enhance gaming performance.
Multi-Instance: It enables you to play multiple games simultaneously.
Multi-Instance Sync: It lets you replicate multiple instances in real-time.
Smart Controls: You can lock the cursor automatically in shooting games.
Device profiles: You can change device profiles with Bluestacks android emulator.
Recording features: You can record a video and also be able to capture a screenshot.
Disk Cleanup: It offers a Disk cleanup option to clean your junk files and increase storage for better performance.
File Size: Its file size is 442 MB.
And many more smart and advanced gaming features that let you control your game very easily and effectively while enhancing your gaming experience to the next level.
Nox Player
Keyboard Controls: It provides smart keyboard controls, you can enable keyboard mapping only in one-click, you can experience real PC gaming by setting up keyboard and mouse controls.
Multi-instances: You can run multiple instances at the same time to play games.
Macro Recorder: You can record your complex operations for future execution.
Moreover, it has Virtualization technology to get better performance.
File Size: Its file size is 344 MB.
Nox Player is also quite a simple but powerful android emulator. You can easily boost up your gaming performance.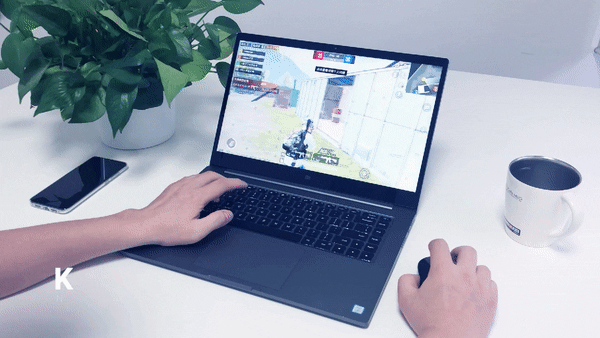 Performance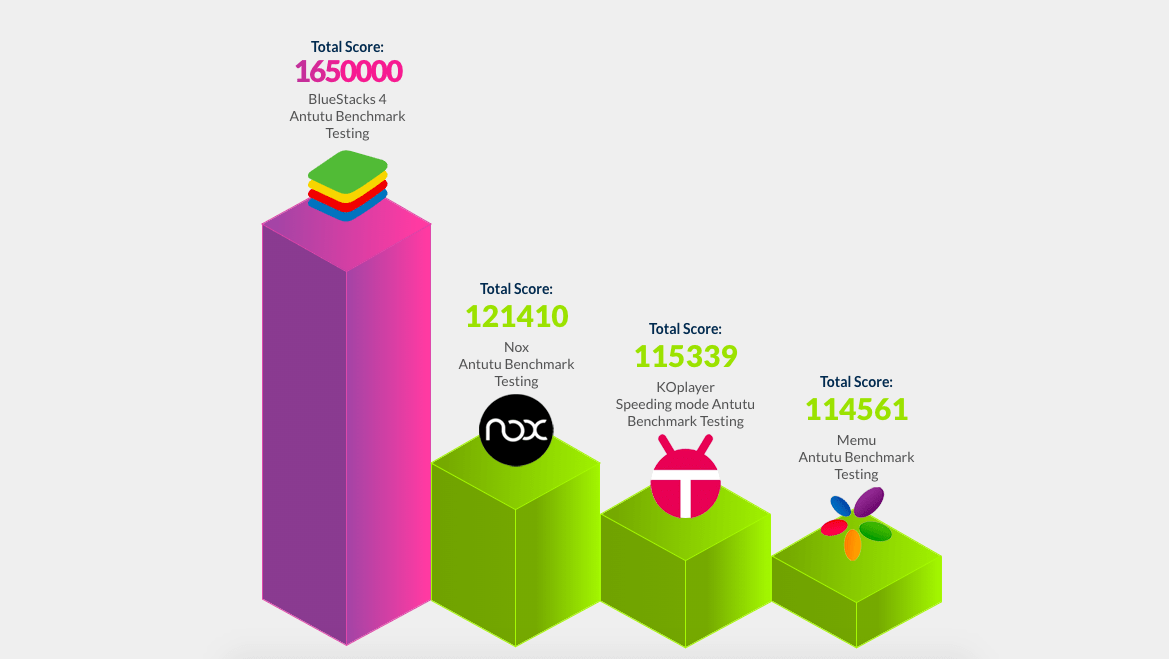 Bluestacks
In terms of performance, Bluestack is a little better than the Nox Player, benchmark performance test showed that if you have the latest system, then the performance of Bluestack is unbeatable, even in old systems it performs very well. In the performance test, Bluestack 4 scored 165000.
Nox Player
But it consumes fewer resources on your system and performs smoothly even on a mid-spec computer. And it loads faster than Bluestacks with no Ads. Nox player is best in terms of usability and UI but when it comes to performance no one can beat Bluestacks and even in the benchmark performance test, the Nox Player score was 121410, quite low than Bluestacks.
User Interface
Bluestacks
Bluestacks provides numerous features to improve better user experience, also it has a user-friendly environment for much better interaction. Users can set mapping through the keyboard and also you can customize all the controls to the keys, i.e. you can easily add a keys shortcut to control your games as you want.
But the overall performance of the emulator will depend upon your system specification. For smooth gaming performance, a little bit more RAM than the minimum requirement will be considered good.
Nox Player
Nox player is specially developed for new users who are new to android emulators. It provides a very simple yet powerful and easy-to-use UI. After the first use, you will feel like you were using an actual Android smartphone.
Moreover, with a simple and easy UI, the Nox player also supports various customization options you can set controls to keyboard and mouse for playing games. Nox player is more usable than Bluestacks.
Security & Privacy
Bluestacks

Coming to security, Bluestacks software when scanned with VirusTotal found to be totally safe. The application asks you to add your Google Account to access Play Store and other Google Services just like your Android mobile. The app collects your data and other information but claims to not sell it or share it with any 3rd party organization. But your geo-location and usage data is shared with advertisers to show you personalized ads.
Nox Player
Recently Nox Player came into the news, a hacker group gained access to the server infrastructure of BigNox and injected malware through the server. The VirusTotal scan also detected trojan malware on the software. The app is generally safe, but it is good to go away with a throwaway Google account to use the emulator.
Miscellaneous Features
Here is a comparison for security, speed, and other features
| | | |
| --- | --- | --- |
| Comparison Measures | BlueStacks | Nox Player |
| Security Features | May Need to be Disabled | Do not Need to Disable |
| Ads | Heavy Ads | No Ads |
| Google Login | Needed | No need for Google Account |
| Speed | Slow compared to Nox | Faster |
Quick Overview
A quick overview of both emulators
| | | |
| --- | --- | --- |
| Comparison Measures | BlueStacks | Nox Player |
| RAM requirement (Minimum) | 2GB | 1 GB |
| Hard drive space (Minimum) | 4GB | 3GB |
| Supported OS | Windows 7/8/8.1/10, Mac | Windows XP/ Vista/ 7/8/8.1/10, OSX-10.8+ |
| CPU | Multi-core (at least dual-core) AMD/ Intel CPU | Multi-core (at least dual-core) AMD/ Intel CPU |
| Android version | 7.1.2 | 4.4.2 Kernel |
| Key Mapping and Mouse control | Very much optimized and better | Good but not more than Bluestacks. |
| Screen Recording | Yes | Yes |
| Multi-Instance | Yes | Yes |
| Apps | Preloaded Google Play Store | Integrated play store and web browser. |
| Performance | It performs better than Nox player | It performs well on a modern computer. |
| Usability | Usable but less stable Nox Player | Far usable then Bluestacks |
| UI | Much better for the experienced user | Specially designed for new users |
| Cost | Free/Paid for Premium version | Free |
Conclusion
Both the emulators are amazing in their own perspective. It's all your choice to find one of them usable and best according to your requirements. If you are a new user or new to an android emulator so you should definitely go with Nox Player, and if you were using android emulators for a long time and now you are seeking better performance so you should go with Bluestacks.
I hope after reading the complete article you are familiar with the complete features and functioning of both emulators for you to choose best based on your preference.
Personal Choice
If it's about my personal choice between both the emulators so I would choose Nox Player for gaming and Bluestacks for gaming and other general usages.
Nox performs rooting in just a minute and we all know how painful rooting is, also it has an integrated play store so no need to download and install apps. It is a quite handful, simple, and most important it offers a very nice user-friendly user interface.
Moreover, its service is ad-free and there are no security threats while using the emulator. That's why I prefer Nox Player for gaming. Though everyone has a different choice and requirement so can prefer the best emulator of your choice.
If you've any thoughts on Nox Vs. Bluestacks | Best Emulator for Gaming, then feel free to drop in below comment box. Also, please subscribe to our DigitBin YouTube channel for videos tutorials. Cheers!