FaceTime, when launched, made a great impact on the internet community due to its popular feature to make a Video Call without any charges. Among the many stand-out apps provided by Apple, FaceTime is something that is loved by everyone. Allowing for a seamless video calling experience, it can accommodate up to 32 people in a single group video call. So if you have just switched to Android from iOS or want to try out Facetime app on Android, unfortunately, you can't do so as the American multinational technology hasn't made it available for the open-source platform Android. Being an Apple product, the company has kept the video call service close to its other Apple products.
Facetime allows free video call over the internet among all the Apple devices which support Facetime. But fret not, in this guide, we will be listing some of the best FaceTime alternatives for your Android devices. There exists tons of video calling apps on Android, but not all are in a position to compete with iOS counterpart. Therefore, we have picked some of the best Facetime alternatives from the plethora of available options and compiled this handy list for you all. So without further ado, let's check them out.
Best FaceTime Alternatives for Android
Here are the Best FaceTime Alternatives for Android to make a Free Video Call Online
1. Google Duo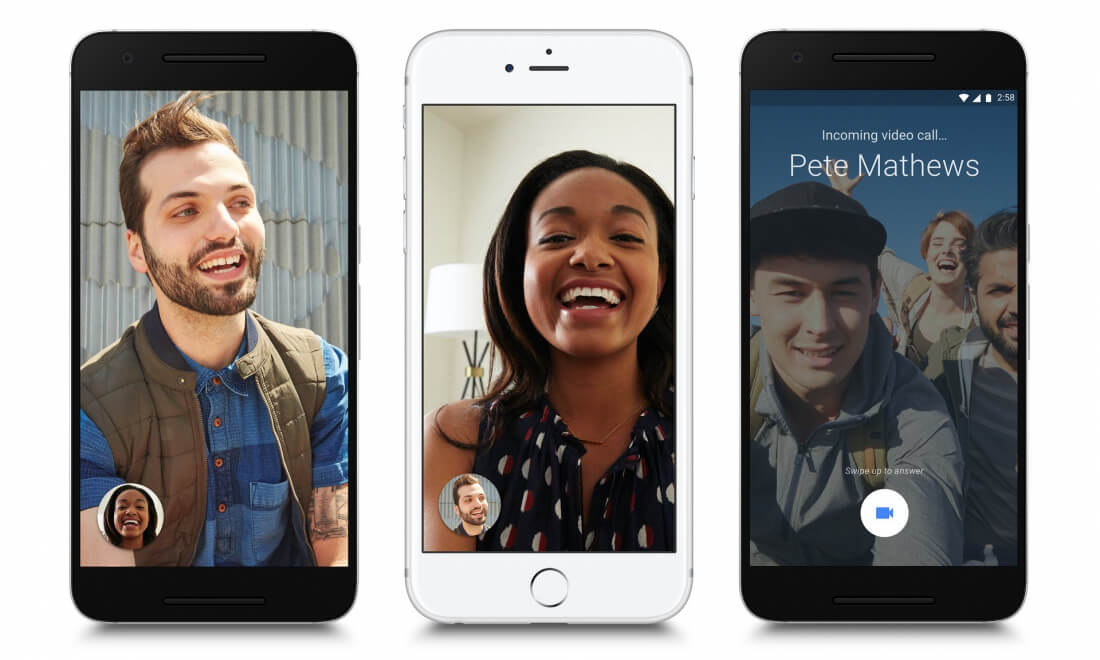 Looking for Facetime on Android, Duo is here for the Rescue. Google and messaging, apps didn't always seem to go hand in hand. Google tried many messaging services from the likes of Allo to Hangouts. But most of the apps have either failed or had only limited popularity. But this stance changed with the launch of Google Duo, a free video calling platform. This video calling platform from the Silicon Valley giant is probably the best app in its domain. Be it one-to-one or group video calls, be it on Wi-Fi or even cellular data, a stable and crystal clear performance is on the cards. Moreover, at a particular point of time, you could add up to 8 people on a single video call.
But it is the Knock Knock feature that really makes it an interesting choice in the list. The said feature gives you a live video preview of the caller, even before you actually pick up the call. On the security front, the app has end-to-end encryption to give you a secure video-calling experience. And when it comes to calling quality, you will be thoroughly surprised to notice a very clear video call even with slow internet speeds. Its definitely one of the best FaceTime alternatives for Android. And unlike Facetime it is not limited to Android devices only, you can use it on Android, iOS, Windows, Mac and even on Web Browser.
2. Facebook Messenger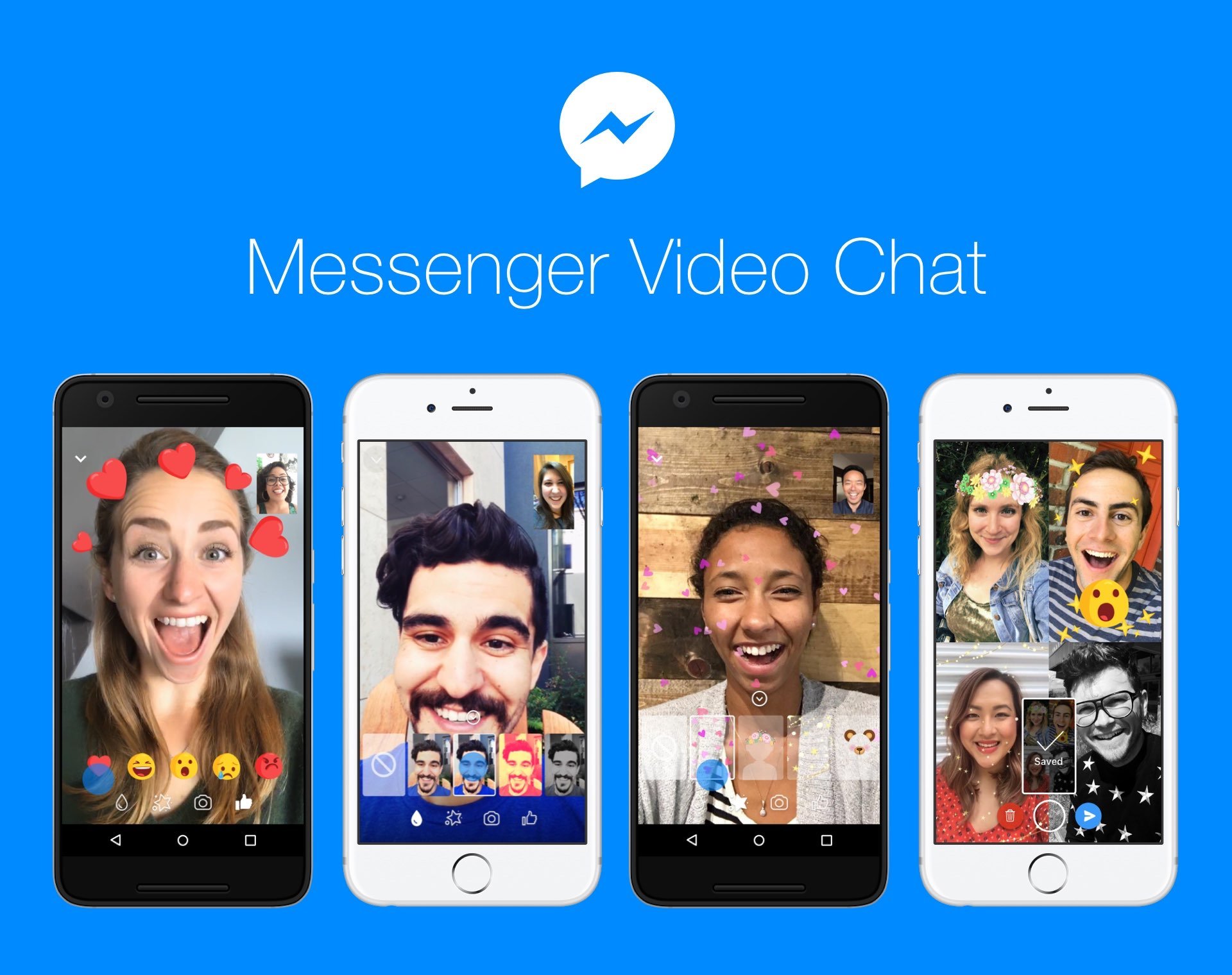 One reason why Facebook could really be called a great FaceTime alternative is the fact that it has more or less taken permanent abode in every user's device. And if you are using Facebook, which probably every one of you might, then you don't even have to create a separate ID for Messenger. You will be offered some mediocre video calling experience but if you have a great internet speed than calls are very clean.
If you're running a low-end device, then probably you should go ahead with the lite version of the app, which has recently been blessed with the video call functionality. But after the Cambridge Analytica scandal, some users wish to maintain a safe distance from any of Facebook's apps, including Messenger. And if you also echo similar thoughts, then not an issue, we have many more FaceTime alternatives lined up below.
3. WhatsApp Messenger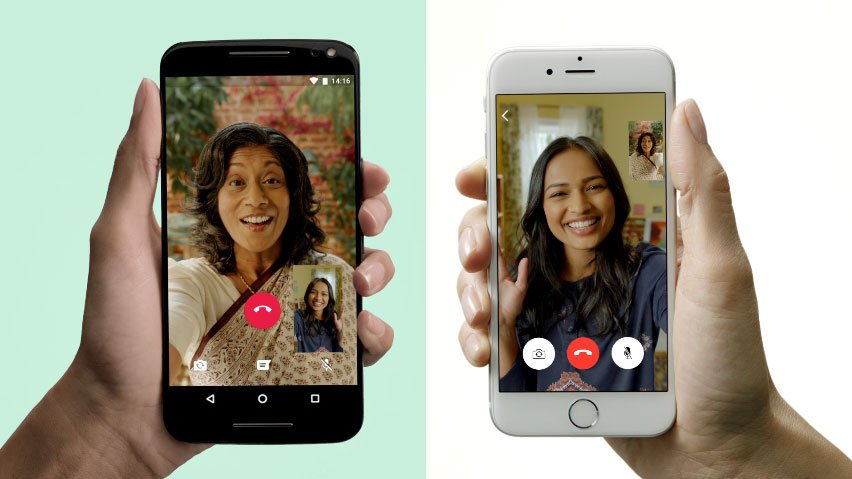 The least surprising entry in this list. The most popular instant messaging app, it is able to carry out some decent video calls as well. Although the quality is still not up to the level that Duo is able to offer, the fact that WhatsApp is currently being used by every Android and iOS user really make an easy alternative to go for. Also, its presence across all the platforms makes it a very palatable application for making video calls.
The app currently only allows adding up to 4 members for a group call, which is quite a letdown, when comparing with other apps in this list. Still, it could be counted as the most used video calling app, owing to its ease of availability on nearly every smartphone nowadays. And yes, all your video calls are end to end encrypted as well.
4. Skype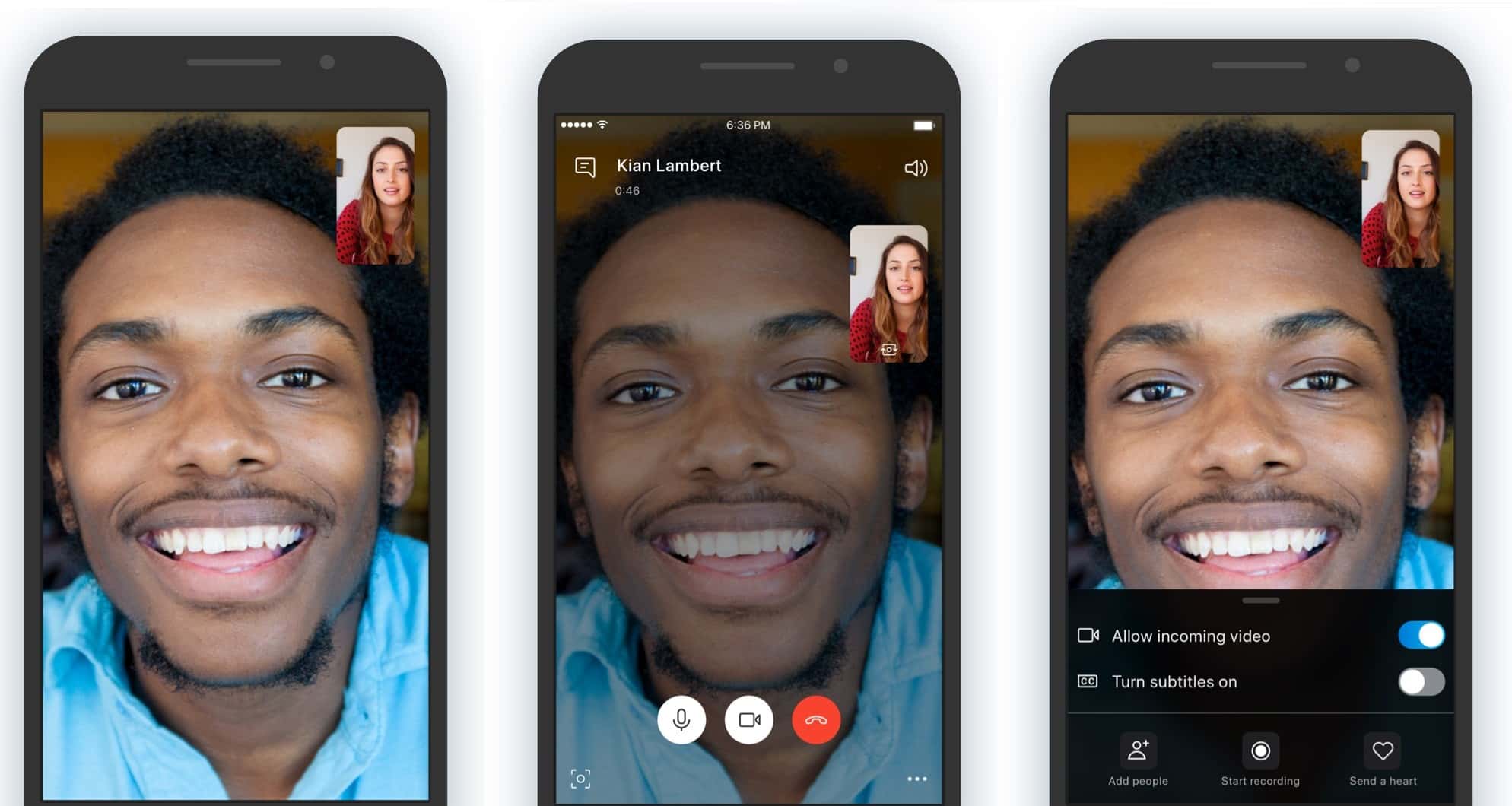 This has become the go-to app for professional purposes. Nearly all the official talks are done via Skype nowadays. One of the reasons for that is attributed to its seamless integration across the Desktop and Mobile apps. The app is now a part of Microsoft's family, but nothing much has changed, for good or worse. You could still make free skype to skype calls (video and audio group calls) all over the world. You can also SMS chat and Voice call with Skype.
Apart from that, it also boasts of an interesting feature- you could directly make a call from Skype to any landline or mobile number, but this comes at a small cost. There is also a Lite version of the app in case you are running out of storage or looking to make a temporary call. As far as group video calls go, you could add up to 24 members at one go. It has been around since ages in this domain and still loved even today.
5. Viber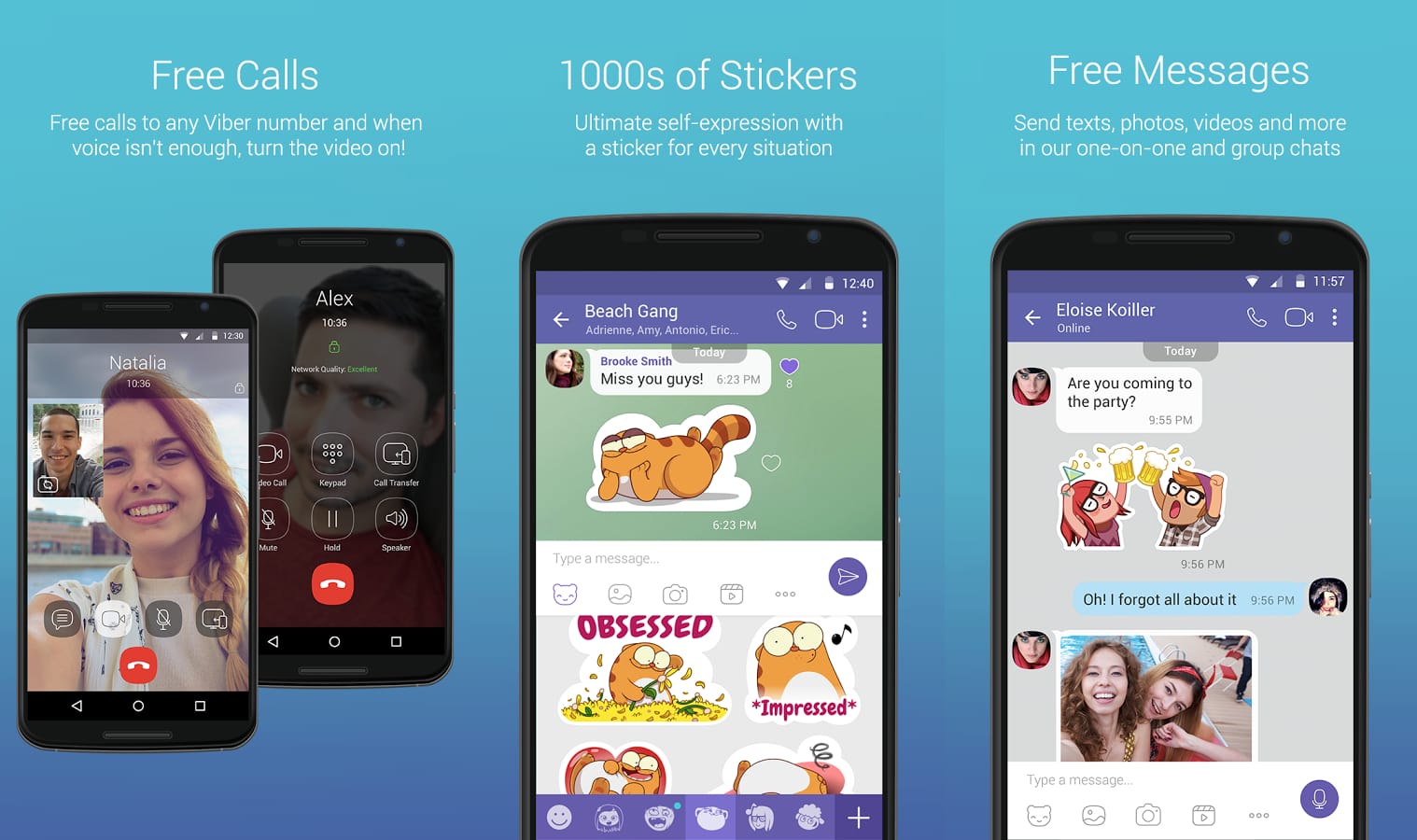 Viber isn't mentioned much when discussing video calling apps. And there is a reason for that. Viber allows for video calling, but unfortunately, you can't place group video calls through it (only group voice calls are supported). However, for what it is capable of doing (i.e. one-to-one video calls) it does so quite brilliantly. As soon as you install the app, it will scan your contacts and automatically sync with the contacts that have Viber installed on their devices.
Moreover, along the lines of Skype, you could place calls to other mobile and landline devices, albeit at some cost. It's desktop client also works quite efficiently, allowing for sending and receiving messages right from the desktop. Some exclusive features include the social category that allows you to check out what all is happening around the world at that moment. Apart from that, the support for Android Wear is an added benefit.
6. Hangouts
One of the oldest Android apps in this category, this is the second entry of a video calling app from Google in this list. Some of the reasons why this is used by many people (the only chatting app and among the few Android apps to reach 1 Billion+ downloads) is the fact that it comes pre-installed on many devices. As a result, some users don't feel the need to download an additional app just for this purpose. And it does its job pretty well.
If you are looking for a decent video call experience, then this app should do the job. Plus the security snd encryption from Google is always there. The cross-platform support across iOS, Windows, and Android is quite impressive as well. As far as video calls are concerned, it allows adding up to 10 members in a video call, which should be more than sufficient for most of our readers out there.
7. Signal Private Messenger
Supported by one of the founders of WhatsApp, Signal is the most secure instant messaging app available right now. Although most of the apps in this list provide end-to-end encryption, yet Signal still manages to outdo all in terms of Security and privacy. Well, providing tons of features was something that it wasn't in contention for. The app is created by a non-profit organization and is therefore bereft of any ads or even tracking technologies. The main aim of the app is to keep your chat activity highly secure. It provides very strong encryption without any trackers.
Another interesting feature of this app is that it allows you to send Self Destructing Messages. As the name suggests, these messages automatically disappear after a stipulated time period. For the security freak, this is the app to go for. However, if you're looking for customizations and some extra features, probably check out some of the other apps listed in the list. The video call quality is very good given your device has decent internet connectivity.
Download Signal Private Messenger
8. Snapchat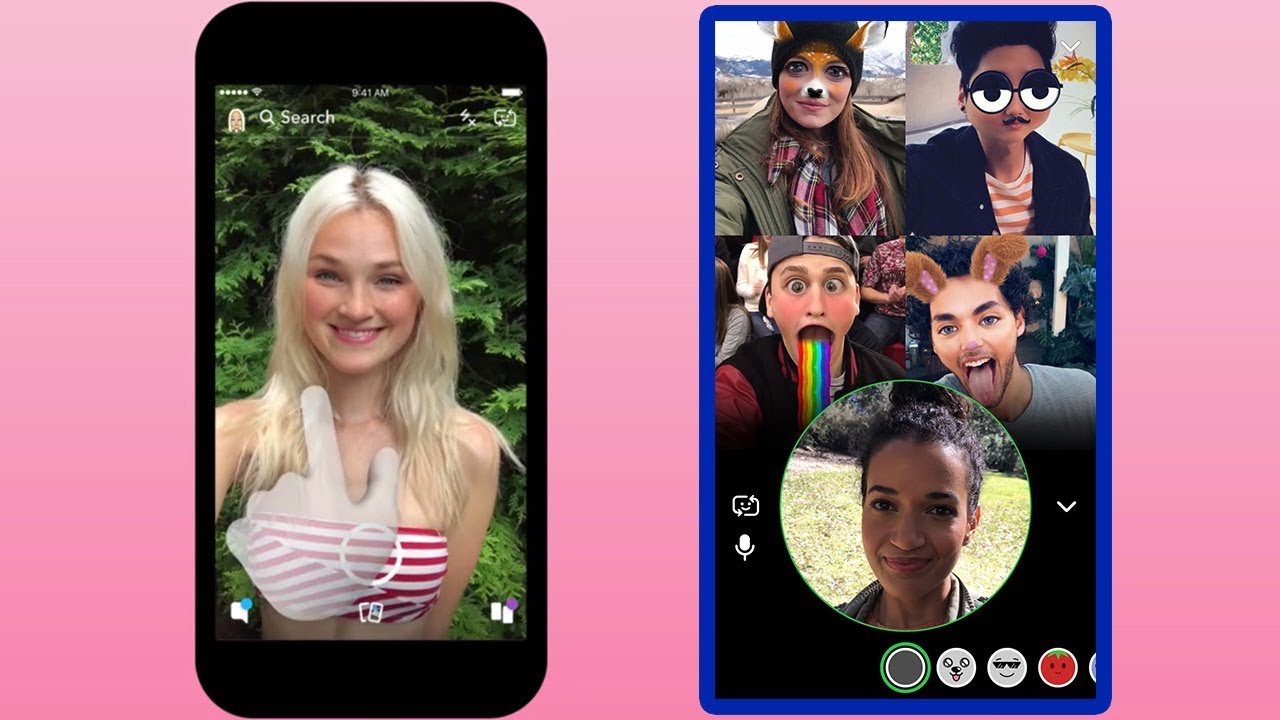 Want to add spice to your video calls than Snapchat Filters are here to make your boring call interesting. Well, Snapchat has a rather interesting journey before becoming a video calling app. It initially started as a platform for sharing self-destructing images and text sharing platform and since then there was no looking back. It kept on adding new and interesting features. And now the app allows for video calling with up to 16 members together.
To make calls more interesting and interactive. It comes pre-loaded with tons of live effects filters and stickers that could be used while in-call to completely transform your video calling experience. Some of the other features like AR stickers Bitmoji stickers (stickers of your avatars) and multimedia stickers are still loved by many. All in all, one of the most interesting FaceTime alternatives that deserve a try.
9. Line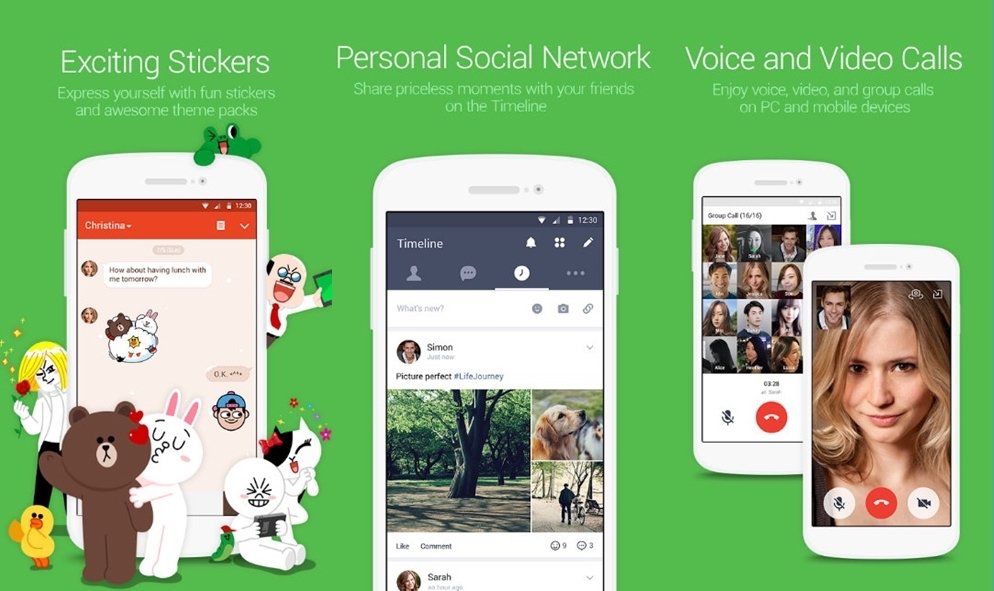 This app performs quite well in making video calls but suffers from the fact that it made a quite late entry in this domain. As a result, users were already well-equipped with their respective favourites and hence were quite reluctant in jumping ships. But it has one feature that it could proudly brag about-adding up to 200 members (yes you read that right!) in a single group video call.
Although you could see the faces of only 4 people at a time, still it is quite an impressive feat in itself. Other features like effects, stickers, a platform for chatting are also present here. The line has managed to make a stronghold in its homeland Japan and the USA as well. Apart from that, it's usually a hit and miss at other places.
10. JusTalk
This app is probably the least heard about, from all the mentioned in this list. This app majorly focuses on customizations, themes, and other related modifications. In that aspect, it might even come on par with Snapchat. You could doodle on the screen while you're busy on a video call. Apart from that, it also comes with some of the pretty interesting themes to give the app a fresh new look.
Even if that doesn't suffice your need, the app has a store through which you could buy a plethora of customization and themes, albeit at a cost. All in all, if you're more a feature and customization loving user than anything else, this might just be tailored made for you. The video call quality depends on internet speeds.
11. imo
imo is old and free to use imo is free to use Video and Voice calling app with stickers and other basic features for rich video calling experience. If you are looking for an app with good quality video calling and voice chat feature than imo is the app to look for. It also supports photo and video sharing. A simple yet clean video calling app. The mobile version supports HD-quality voice and video calling. The privacy might be some issue and the app itself has few bugs, but overall the imo is great facetime alternative for android. The Android version has been installed more than 500 million times it has an average rating of 4.3.
12. Glide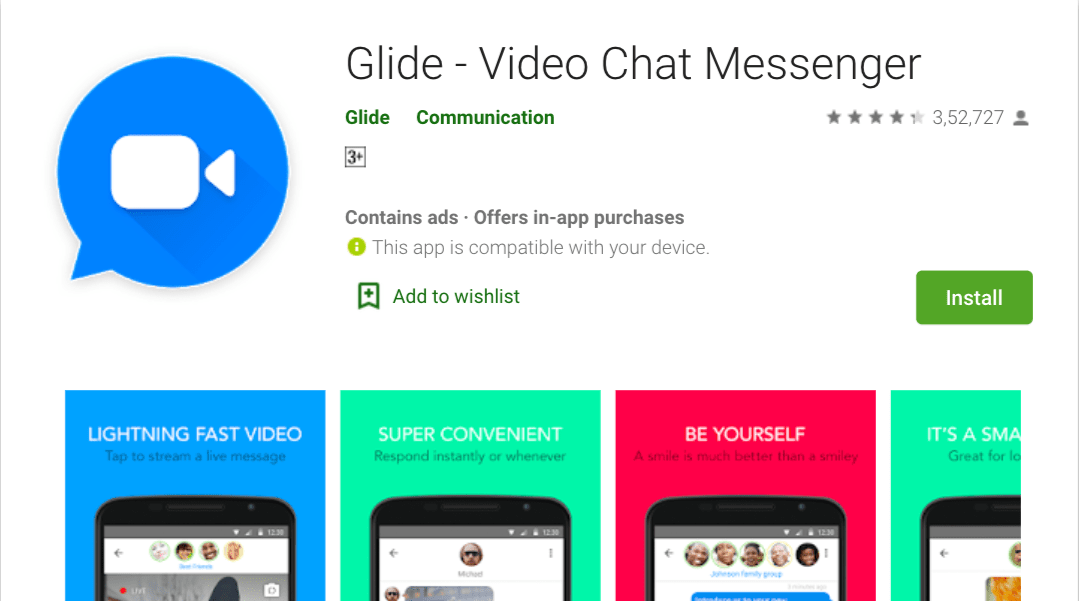 Glide claims to be the fastest live video messenger. It combines the convenience of texting with the expressiveness of video chat. Glide also supports, share videos with friends and family from everywhere to anywhere with a tap, Snap a photo in real-time or uploaded from your device, cool filters make your video messages look awesome. Glide is a very aesthetic app in terms of use and also offers features which are needed.
Conclusion: So with that, we conclude the list of best FaceTime alternatives for Android. We also mentioned all the pros and cons associated with each of these apps. What you ultimately end up choosing is your decision, but do let us know in the comment the app that you are resting your decision on.
If you've any thoughts on Best Free FaceTime Alternatives for Android, then feel free to drop in below comment box. Also, please subscribe to our DigitBin YouTube channel for videos tutorials. Cheers!