In this guide, I will share with you a few tips and tricks that you can use to download profile pictures or DP from locked Facebook accounts. Facebook, in the last few years, has changed the way we know it since late 2010 era.
Due to the misuse of Facebook by a certain section of users that took up social media for criminal affairs and other such maligned interests, the Palo Alto-based social networking company has enforced strong security measures for the safety of its users.
The two major changes include a profile picture guard and a locked Facebook profile. A profile picture with a guard on it cannot be downloaded. However, the rest of the profile and a few posts by the user can be viewed by other Facebook users. Also, the algorithm doesn't allow you to capture screenshots. There are a few caveats though that you can use to view an image locked with a profile picture guard on Facebook.
Secondly, on a locked Facebook profile, the entire section of the user is protected, including the profile picture. You can still use the source code of the webpage to view the profile picture of Facebook DP, which sits with a profile picture guard. There are also some other ways by which you can access the locked profile pictures, which I have explained in this guide. Let's check them out.
Top Ways to Download Profile Pic/DP from Locked Facebook Account
Disclaimer: This is just an informative post shared for tech enthusiasts. We at DigitBin always encourage netizens and social media users to respect the concept of privacy and we abide by the same discipline. If on Facebook or any other platform you find a locked or private profile, respect the decision of that user and try not to tamper with the profile picture. DigitBin or its team will not be responsible for any misuse of the information shared here for technical knowledge.
Mind you that there is no official or straightforward way to download the pictures of any locked Facebook account. That is only possible on Facebook accounts on which the respective content is set to public access.
1. Using Inspect Mode to View and Download Locked Facebook DP
If you are accessing Facebook on a desktop browser, then you can use the browser inspect or developer mode feature to copy the profile photo URL and then paste it into a new tab this way, you can open the picture and download it.
Open the Locked Facebook page.
Right-click on the profile picture or Display Picture.
Click on Inspect.

Now select the URL starting from "HTTPS://xxxxxx" (without inverted commas)
Copy the URL and paste it in the browser, the profile picture will load.


You can now view or download the photo.

2. Use Phone Browser to View Locked Facebook Profile
Another effective trick to view the profile picture of a locked Facebook account is to use the browser to open the basic version of the Facebook profile. Follow these steps to view the same using this method.
Open a Facebook profile on a mobile browser, preferably Chrome.
Try incognito mode to avoid redirecting if you have a Facebook app.
Now long press on the profile photo.

A menu option will pop up, and click on the Download image. Done!

3. Using Facebook DP Downloader Tool
You can use 3rd party FB DP downloader online tool to download the Facebook profile. Here is a simple tool; paste the Facebook profile link in its search bar to view the full-sized profile picture of a locked account.
Visit Profile Viewer Online Tool. The tool comes with some pop-ups and ads.
Now paste the Facebook profile link. And hit Get Profile Picture.

The profile pic is ready to download.

What if the Locked Facebook Profile Has A Custom URL?
This means the Facebook account may have a URL such as www.facebook.com/newmuzik. Notice that there is no id number is mentioned here. So, we have to extract the id number. It is very easy to do.
Copy the custom Facebook URL.
Paste it on a new browser tab.
Before the URL, add view-source:
It means the URL will now look as view-source:www.facebook.com/newmuzik
You will now see the source code which will consist of the Facebook profile id number.
If you are using a PC browser, use Ctrl + F and type in the search term entity_id
On the other hand, if you are using a smartphone browser, then use Menu and Find to search for the same term entity_id.
Entity_id is the Facebook profile id number.
Once you get the id number, use it in the URL below by replacing the id.

https://graph.facebook.com/id/picture?width=800

You will see the profile picture, which you can save and download as per the options available on your smartphone or PC.
View and Download Profile Picture from Locked Facebook Account Using Smartphone Browser
If the first method was a bit technical for you, then you can follow this easy method to view the profile picture of any locked Facebook account.
Open any browser of your choice on your smartphone.
Log in to your Facebook account [via browser and not the app]
You may also use desktop site mode to view the webpage as you do from your PC. Every browser has this option.
Then visit the locked Facebook account which you wish to know more about.
At this point, only the profile picture(with picture guard) will be visible, and the rest of the elements of that profile will be locked.
Use the two fingers on the screen to zoom in on the webpage. If your smartphone has a good display you will be able to view the profile picture of the locked Facebook account.
Of course, it won't be the full-fledged version of the picture you get in the first method.
What About the Third-Party Apps That Claim to Download Locked Profile Pictures of Facebook?
Most of these apps and services are scams to take your email ID and other data. Some may even charge you money for nothing and your credit card keeps debiting money even though the service was not utilized by you. Be careful while approaching any of these applications.
Most of these websites will keep redirecting you to other websites through click-baiting. So, it's not worth your time. Hence, skip such apps or services that claim to download the locked Facebook profile picture for you. Facebook's algorithm is too strong to be bypassed by third-party services.
How to Download Cover Photo of a Locked Facebook Account?
If you are using a desktop browser, then this is a simple and easy method to download the cover photo of a locked Facebook profile. Right-click on the cover photo and click on open in a new tab.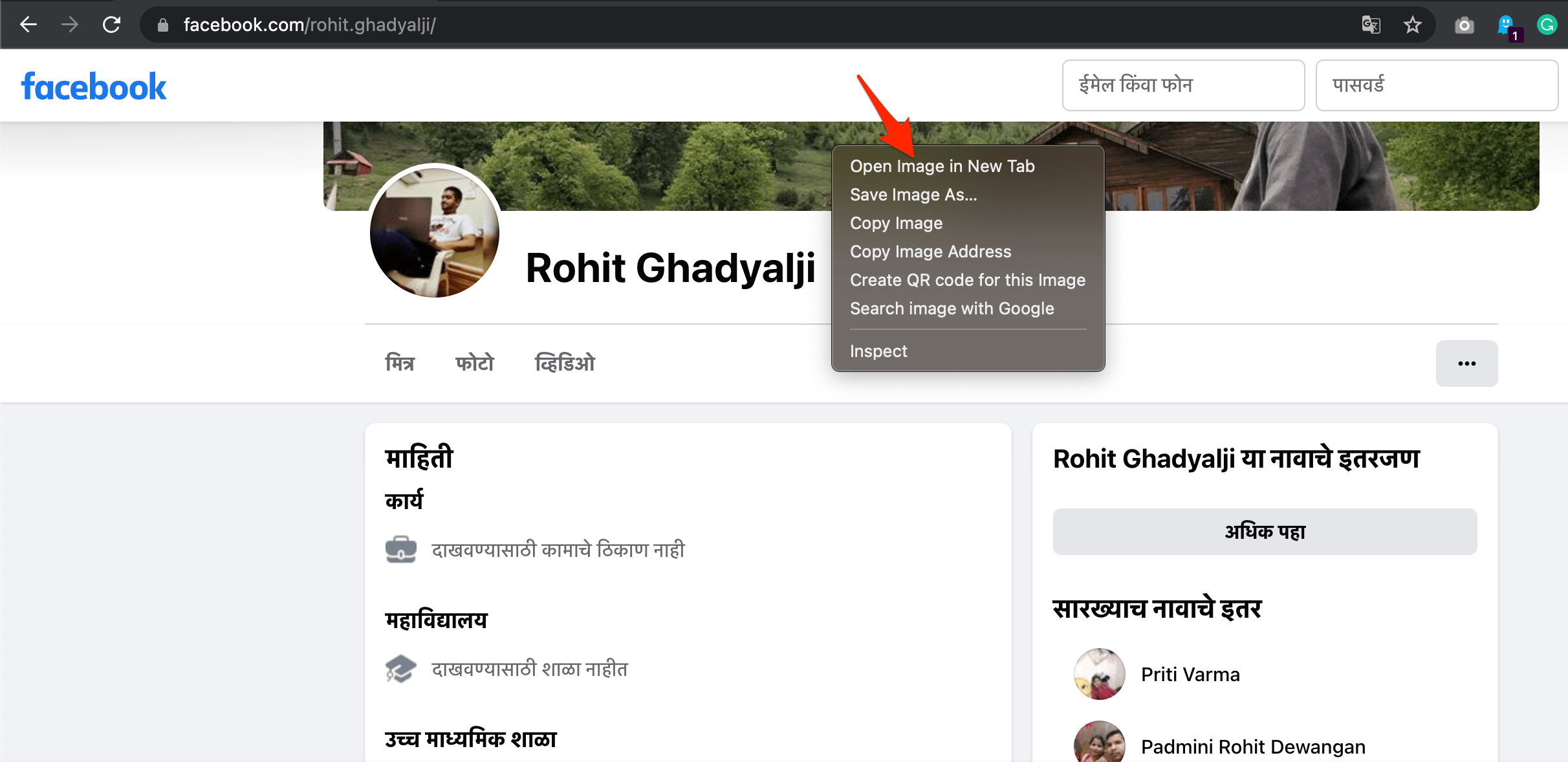 For mobile devices, open the browser and open the profile link. Change the URL from https:// or https.m.fb.com/profileid to mbasic.facebook.com/profileid. Once the page loads, long press on the cover photo and download the picture.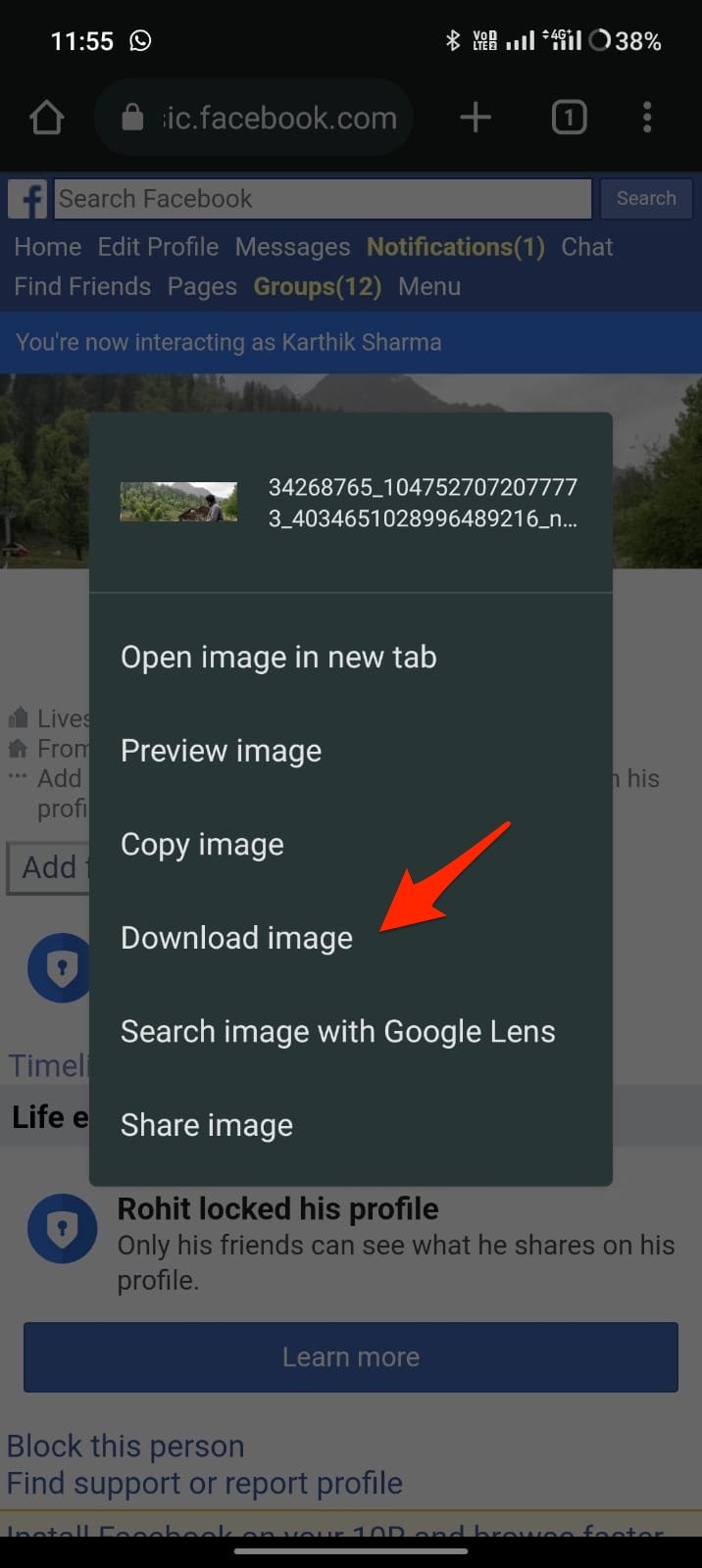 Conclusion
Privacy is an important concept these days for social media users, and due to misuse by cyber miscreants, the Facebook profile picture lock and locked profile were introduced. I guess in the coming days, Facebook may also tighten up the loopholes to make the locked profile only accessible to those users whom the locked Facebook account owner knows or who sends a friend request.
If none of the above-mentioned tricks did the job for you, then I suggest sending a friend request (if it is allowed by the locked profile) and getting connected to the person on Facebook with whom you are interested. That's the best method to access a locked Facebook profile and view profile pictures with a picture guard.
If you've any thoughts on View Full Size Locked Profile DP from Facebook Account [Guide], then feel free to drop in below comment box. Also, please subscribe to our DigitBin YouTube channel for videos tutorials. Cheers!