Looking to Play Battlegrounds Mobile India on your Windows PC? The best option available for play is Gameloop. A gaming-centric emulator for windows, Gameloop is the best option available in the market to play the BGMI game on your Windows 10, 8.1, 8, 7 PC.
Gameloop is specifically designed for playing games, unlike other emulators that can install general-purpose apps. Thus the Gameloop comes with a  very powerful gaming Turbo AOW Engine that integrates well with the PC system to make the most use of resources to play the BGMI on Windows PC.
How to Install BGMI on Windows PC?
Here are the Simple Steps to Download and Install Battlegrounds Mobile on Windows PC.
Download and Install Gameloop on Windows PC.

Open the emulator and click F9 on your Windows Keyboard to open a hidden Browser.


Now in Browser search for Play Store.
Open the link of Google Play Store from search results.

Once you click the link you will be redicted to Google Play Store Application inside gameloop.
Login with your Google Account.
Now search for BGMI in the Play Store.

Download the application and open the game.


Now the game will download other resoucre files online.

Once done! login with your social media account.

Once done the game will complie resoucres and you play the BGMI on Gameloop. 😀
You can also Migrate your PUBG Mobile Data to BGMI and Play the Game with Achievemts, Rewards and Progress from PUBGM.
How to Fix Server is Busy, Error code: restrict-area?
Battlegrounds Mobile is restricted to India only, if you are outside India and trying to play the game, you will see the error "Server is busy, please try again later. Error code: restrict-area" when they are trying to load the game. Though you may be accesing the Gameloop from India but the emulator is restrcited and has its parameters.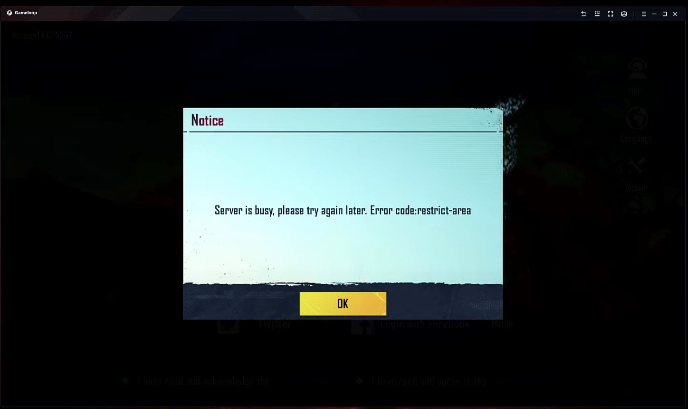 To fix the issue, you can try a VPN in your Windows PC and access the game for free without any error message.
Download any Good VPN .exe application and install it.
Open the VPN and connect to a Indian Server.

Now restart Gameloop and Play BGMI for Free without Server Busy Error.
If the said VPN do not work try a different VPN provider.
Note: Your account may get banned, first try a throwaway aacount and once if it works good then you can switch to your original BGMI account and play.
Conclusion
With this Simple Method Above you can Play the Battlegrounds Mobile on your Windows PC without any issues using Gameloop Android Emulator.
If you've any thoughts on How to Download Battlegrounds Mobile on Windows with Gameloop?, then feel free to drop in below comment box. Also, please subscribe to our DigitBin YouTube channel for videos tutorials. Cheers!