The subject of the post may seem little distinctive but you can download the APK of the App from Google Play Store without any Google Account. Play Store hosts millions of useful apps to choose from and if you wish to download & save them in form of apk on your Android or PC for later use, you can do that for sure. Why would someone want APK's? Many times the situations arrive where your Google Account may not log in to the Android, Play Store App get some issues or you don't want to use Google Account? In any, case this article will surely be helpful.
In order for a phone to have access to the Google Play Store, the full suite of Google apps known as Google Mobile Services, or GMS must be installed on the Android which in general is pre-installed on all the devices. The GMS apps include the likes of Google Maps, Google Framework Network, Google Account Services, Google Cloud Services along with the much 'irritant' Google Play Services.
Download APK's on PC and save the space on the phone. Today in this post I will tell you a few methods to download apk from Google Play Store onto your Android Mobile or Windows or Mac Laptop PC.
How to Directly Download APK from Play Store?
Downloading APK from Play Store may not a very legit way to gain access to the original nature of the app due to Google's Policy but yet if you are willing to download the same, below are the best ways to download APK files of Apps from the Store.
Here are the best methods to download APK from Play Store on your Android and PC.
1. Yalp Store | Android
The Yalp Store is one of the best alternatives to Google Play Store. The store lets you download Apps from Google Play Store without actually using the Play Store. All you need is to download the App Store and browse for your favourite App. The Yalp Store will download the App in the form of APK from Google Server and also lets you download any updates if available.
The App Store is a functional replica of the Play Store without any intervention by Google.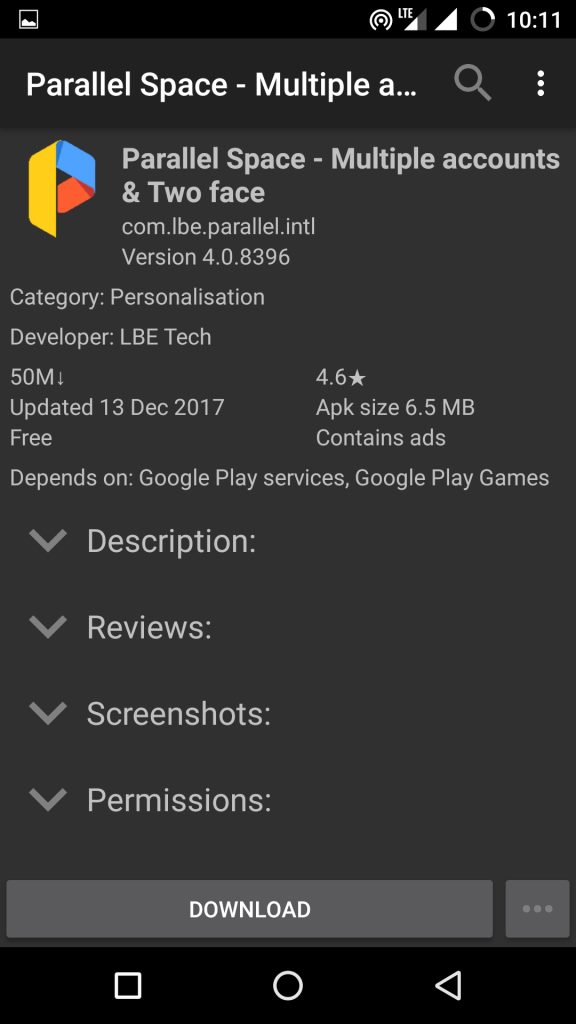 Features of Yalp Store
Downloads the Apps from Google Server
You can also download the updates for the Apps whenever a new version is released
The App does n0t require any Google services for its functioning.
If you wish you can log in to your Google Account or by default use a fake Yalp Account
The App store design is very much simple. You will love it instantly.
How to Use the Yalp Store?
1. Download and Install the Store.
2. Open the Yalp Store and you will see a Pop-Up message "How would you like to log in to Google Play Store?"
3.  Select 'With a fake Yalp Store account'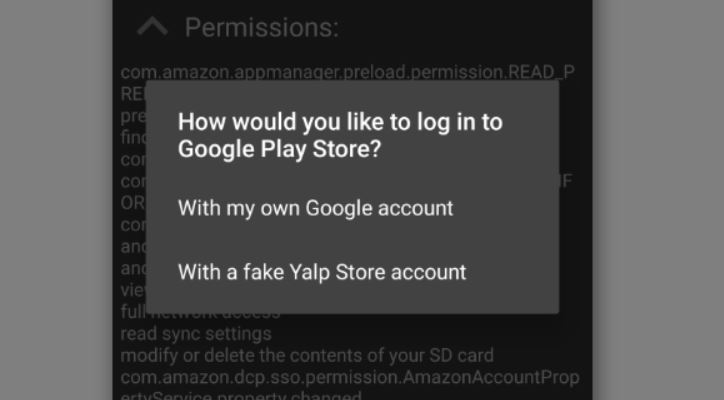 4. Search for the App, update the Apps and install the APK's with ease. Boom! You can download APK from 'Play Store' without using the Play Store. Thanks to Team – FDroid.
How to Download Apps from Play Store without Gmail Account?
2. Browser Extension | Windows and Mac
You can directly download APK from Google Play to your Computer PC with the help Chrome Extension.
You need Chrome browser on your Laptop PC to download the APK's from Play Store.
Open the Browser and Download the APK Downloader Zip file.
Now open chrome://extensions and enable Developers Mode.
Now click Load Unpacked and upload the zip file.
Once done the APK Downloader will be added to Chrome.
A login page will open in a new tab and add the email address which is associated with your Google Play Account to save it with the APK Downloader.
Also, you need to provide a device ID to the extension. To get the device ID, download the Device ID App from Google Play Store.
Copy the Device ID and paste it into Plugin.
Once done, open the Google Play Website and search for your favourite App. Here you will see the download button. Hit the button to download the APK.
3. Aurora Store | Play Store Client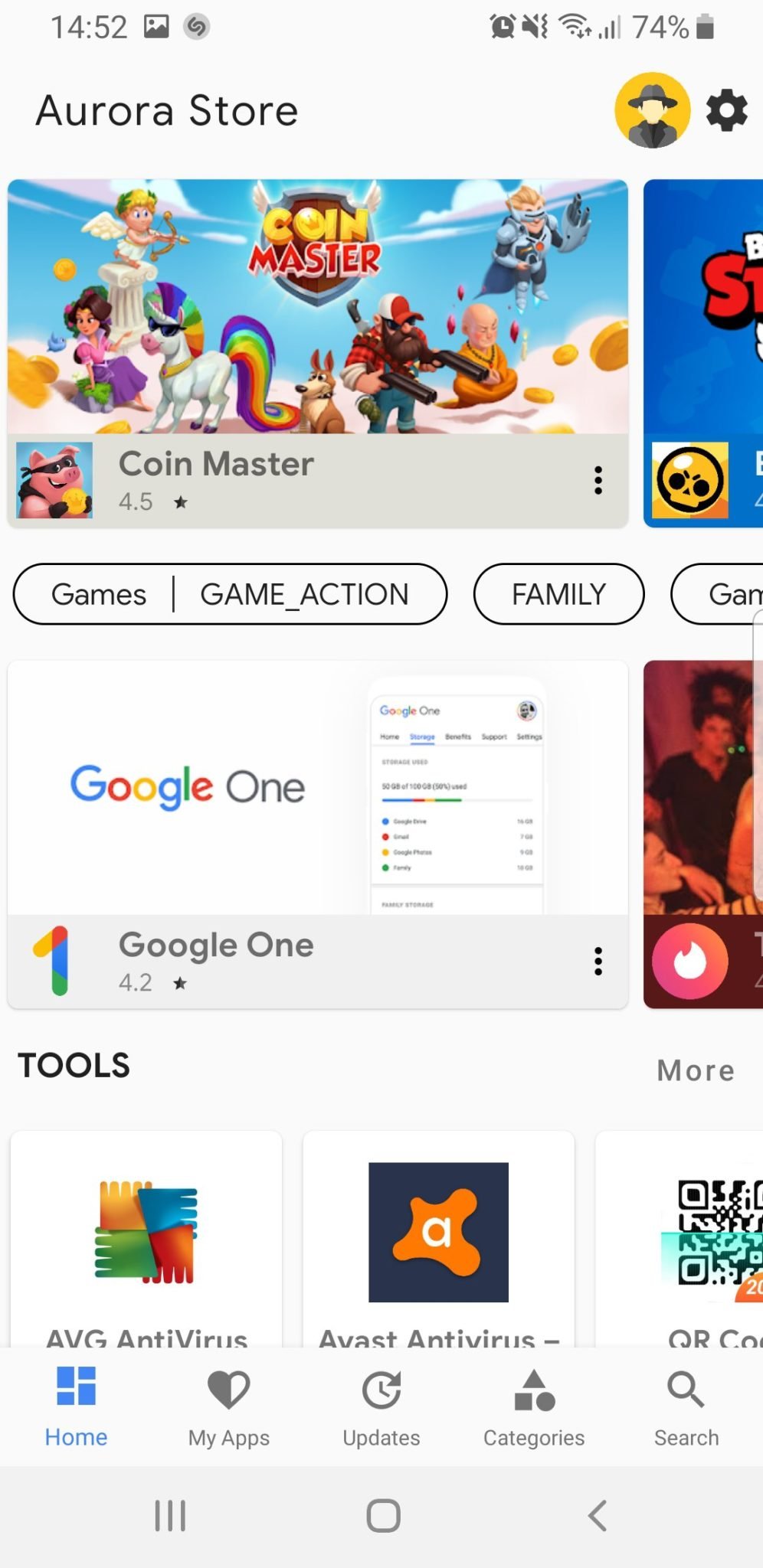 Aurora Store is a FOSS client to Google's Play Store, it loads Data from Google Play Store with an email disguise. The Aurora has an elegant design, using Aurora you can download apps, update existing apps, search for apps, get details about app tracker & adware and much more. You can also Spoof your Device Information, Language and Region to get access to the apps that are not yet available or restricted in your country or Device. Aurora Store does not require Google's Proprietary Framework to operate and works perfectly fine with or without Google Play Service or Micro G. It is best Google Store Alternative for Android.
Features of Aurora Store
1. You can use Anonymous Aurora Gmail to hide your identity. Using your G-account may violate Google T&S so it is better to go with throwaway Google Account.
2. The App is Built on Google API, you download and update apps from Google servers.
3. Get details about app tracker & adware which are implemented to retarget your online activity.
4. Spoof your Device Information, Language and Region to get access to the apps that are not yet available or restricted in your country or Device.
5. Aurora works without Google's Proprietary Framework, it works perfectly fine with or without Google Play Service or Micro G.
6. Multiple Interface Customisation including Dark Theme Support and Cards Layout.
7. You can enable Proxy and Custom tokenizer.
8. Apps Available in Categories and you can also update & check My Apps and Games.
4. APK Generator
This method may not be much reliable as it provides the file from 3rd party source but the file is the same as that on Google Play Store. If you wish to have a quick download of the App then go for it.
Step 1. Open play.google.com/store/ in your web browser and search for the Application that you need.
Step 2. Copy the URL/Address of the App page.
Step 3. Now go to apps.evozi.com/apk-downloader/ and paste the Google Play URL in the box.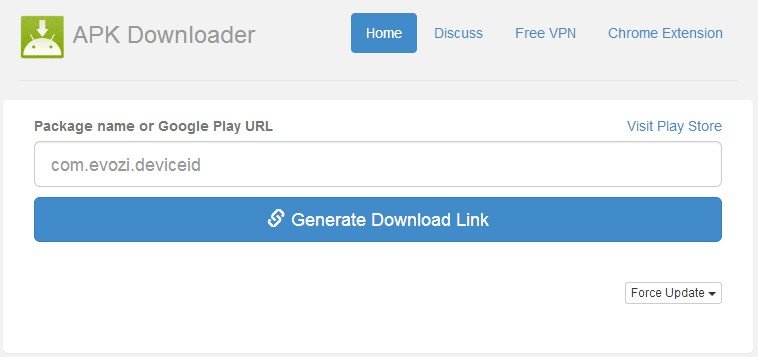 Step 4. Click on Generate Download Link and then Click on Click here to download to start the download of your APK file. Done!
Note: This website serves App from 3rd party sources but claims to provide the same file like that on Google Play Store, you can check for MD5 file or developer certificate for the same.
5. Raccoon | Windows
Raccoon is a Google Play desktop client that will enable you to download APK files from Google Play and cache them locally on your desktop computer. You can have a number of cache files and with the ability to hold apps in multiple versions. The Raccoon collects data from the Play Store by configuring with your Google Account and hardware profile to check compatibility.
Raccoon APK Downloader
How to Install and Use Raccoon?
Download Raccoon App from the link below.
Run and install racoon.exe on your windows
Enter your Google ID and password. (Use a throwaway G-account for safety)
Follow instructions on the screen and allow access if firewall blocks.
Once done, in the search box type your favourite App.
Download your App as APK and install on compatible devices.
6. Using a 3rd Party Website
If you're looking for a simpler way to access APKs from Play Store, you can download the APK's from third party sites which offer App files for Free. Though you won't be downloading the APK directly from Google, the APK hosting websites like APKMirror are safe and trusted sources. They let you download the files which are freely available on Google Store but you cannot get access to paid ones as they have strict policies against piracy and unethical app hosting. But you can get access to some Apps which cannot be hosted on Google Store due to ToS and also get access to Beta and old versions of the App. Though not exactly APK extraction from Play Store, but the files are checked and saved over a secure server for users to download.
7. Using 3rd Party Apps
Aptoide
Aptoide App Store is a community managed App store which lets you download apps directly on your Android mobile, Some of the features offered by Aptoide store will make you love it instantly. The App offers all the apps which are scanned for virus or malware. The concept is inspired by the APT packaging manager, which can work with multiple sources (repositories). When the user wants a package, they can use the client to search for sources where the application is stored.
Get all paid apps for free.
Also, get free apps for free.
No need to register an account as you do for Play Store (If you wish you can)
Inbuilt malware and a virus scanner
Get Mod and Hack Versions of the Apps
You can get updated apps even before it is released for your country.
Download country-restricted Apps
Amazon Underground Appstore
Amazon App Store offers the best way to download paid apps for free legally & piracy free. Underground by Amazon regularly partners up with developers to offer paid apps for free. Under their program, the developer gets paid for their app, while the customer is able to get the full version for free. Amazon Underground offers selected apps and games totally free with no-strings-attached, unlike Google Play Store where you may find in-app purchases.
The free apps aren't from any 3rd tier developers but are from top developers like Artifex, BigFish, Mundi, Mediocre. They even offer premium full version apps of some big developers like Microsoft, Kingsoft etc.  Another positive note is they update their free "Underground" apps/games on a regular basis.
*The Extension Violates the Google Play Store ToS
3.3 You agree not to access (or attempt to access) Google Play by any means other than through the interface that is provided by Google unless you have been specifically allowed to do so in a separate agreement with Google. You specifically agree not to access (or attempt to access) Google Play through any automated means (including the use of scripts, crawlers, or similar technologies) and shall ensure that you comply with the instructions set out in any robots.txt file present on the Google Play website.
Conclusion: With the methods above you can download the APK from the Play Store. This will help you minimize the dependency on G-Apps and GMS Services. Also, you can receive updates whenever released on Play Store with the help of Yalp Store a freeware App Store by the F-droid organisation. Save the space on your Android phone by downloading the Apps on your PC which you can later sideload on your Smartphone.
I hope the post was helpful. Do comment below for any assistance or support if needed. Cheers!
If you've any thoughts on Download APK File from Google Play Store | Android or PC, then feel free to drop in below comment box. Also, please subscribe to our DigitBin YouTube channel for videos tutorials. Cheers!