Android is the most popular Smartphone OS with around 85% market share in handheld devices. Thanks to its open-source nature of the business, and tons of customizable features. Being an electronic device, Android may encounter a few technical snags. And one of the most common issues faced is Android Hotspot connected but no Internet Access. You might also say — why does my hotspot say connected but no internet.
In this article, we will learn how you can fix this annoying issue about mobile hotspots connected but no internet in Android.
The general problem which we are talking about here is that your device is connected to internet data and it's working. But when you share as the Hotspot, the WiFi connected device alerts as No Internet Access and also displays an exclamatory. This problem may occur to a variety and range of devices like Samsung, Motorola, OnePlus, Pixel Phones, and even iPhones.
It's the same problem with your Android hotspot that showing limited access or no internet access when connected to other devices.
Here are some of the Fixes to issue with your Android hotspot showing limited access when you connect to other devices like another Android Phone, Windows PC, Macbook, etc using WiFi Hotspot.
Fix Limited or No Internet Access issue

Basically, there are multiple ways to troubleshoot these issues and you may need to follow the below solution one after the other.
Just in case any of the one work, then you can stop following the subsequent ones.
Note: please make sure that your mobile data is enabled in order to have network access. I know this is very basic, but sometimes I personally forget about this basic check.
Turn ON & OFF Airplane Mode
This is one of the most suitable and working solutions for most users. All you need is to turn ON the airplane mode until the signals are gone and turn it OFF.
Airplane mode just reset the network adapter which receives the mobile signals. The ON & OFF action will quickly restart the adapter to make the mobile data working.
Here are the steps for Aeroplane Mode:
Pull down the notification drawer
Lookup for the Airplane icon
Tap on the icon to activate the Airplane mode and wait until you see no mobile signals


Now tap on the same Airplane mode icon to deactivate offline mode
As I mentioned, this first solution itself will help in resolving the issue with a hotspot connection no internet access.
Change Hotspot Band
If your hotspot is connected with an older mobile and if you are using a 5 GHz AP band then it may not be possible to use the internet on the older mobile. Older devices generally use the 2.4 GHz band, while modern mobiles come with both 5 GHz and 2+ GHz.
5GHz might be a great idea to speed up the mobile hotspot, but it lacks the range, also the connected device(s) must have the supports for this frequency. White 2.4 GHz transfers data slightly slow, it has a good range and supports almost all devices.
Try switching the band and check if the internet is working. To do so;
Go to Android Setting
Here click on the Hotspot and Tethering option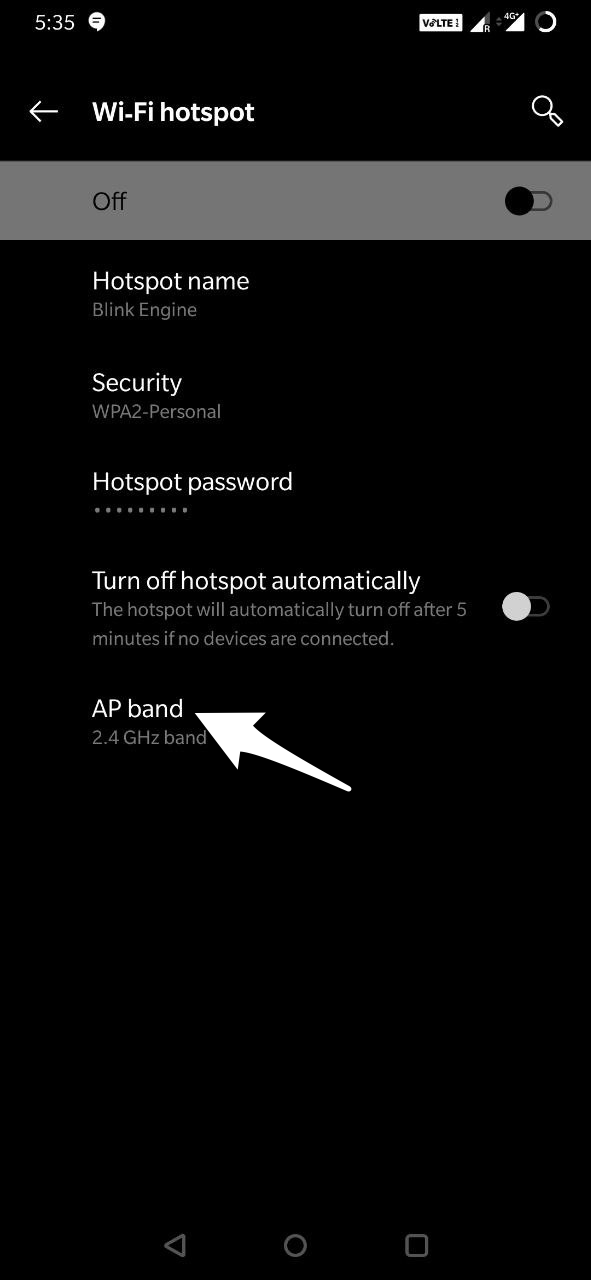 Now open the Hotspot option and change the AP band

Clear Wi-Fi Setting Cache
The system collects cache to store small information. Android also collects system app cache and you need can delete the cache of Wi-Fi Application from your Android setting. This is clear any issues if caused due to obsolete cache build-up.
Just delete the cache of the Wi-Fi Setting app, it is absolutely safe but do not clear the data, clearing data may cause issues with the Wi-Fi Internet. To do so;
Go to Android Settings.
Here open Apps and Notification
Now under all apps enable Show System Apps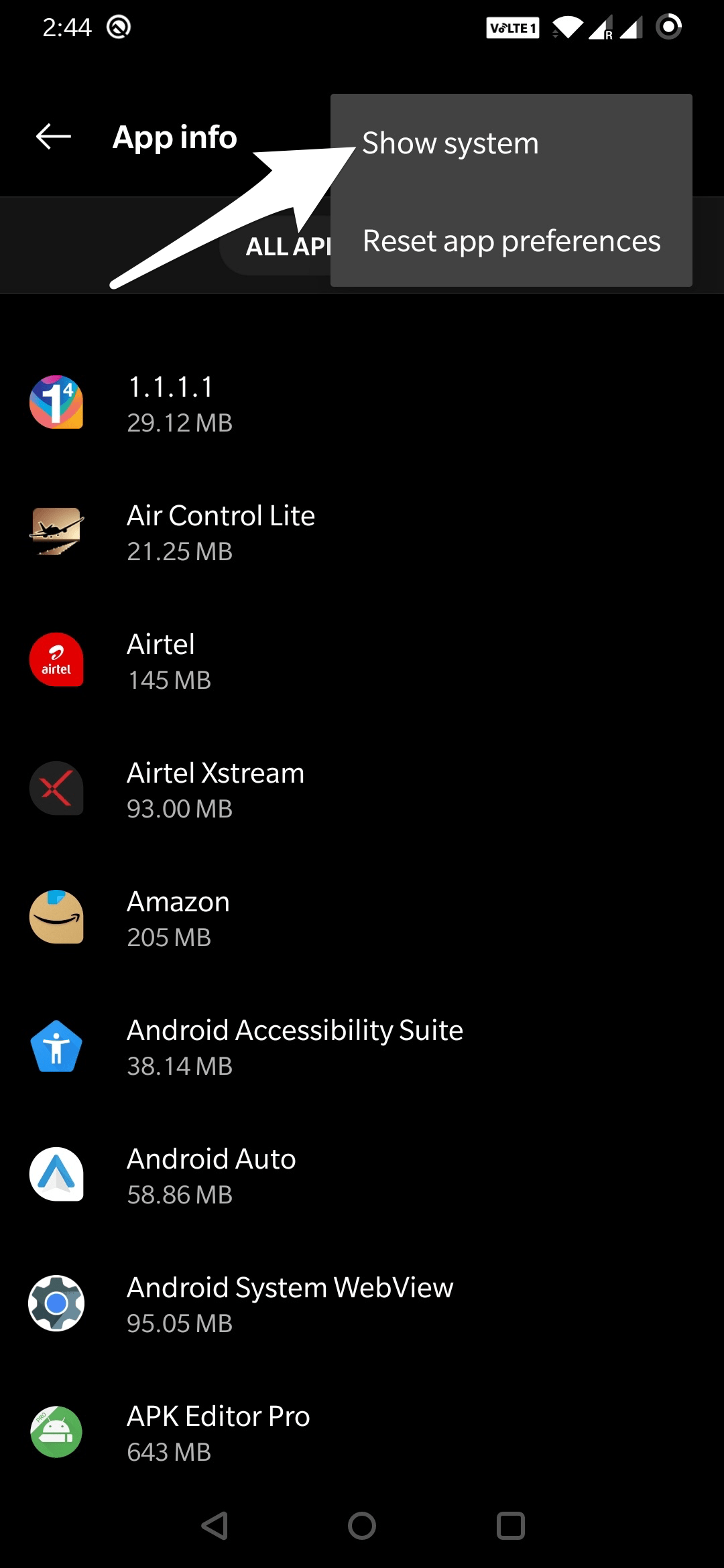 Here search for Wifi or Hotspot (app may vary with manufacturer/model)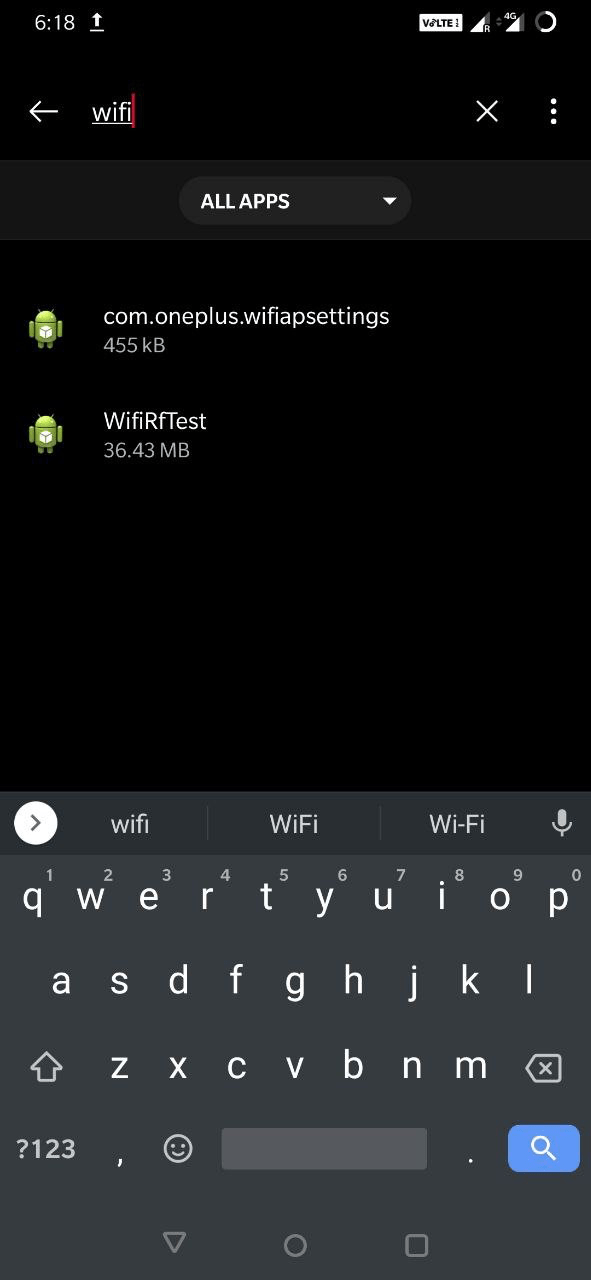 Open the app and click on the Storage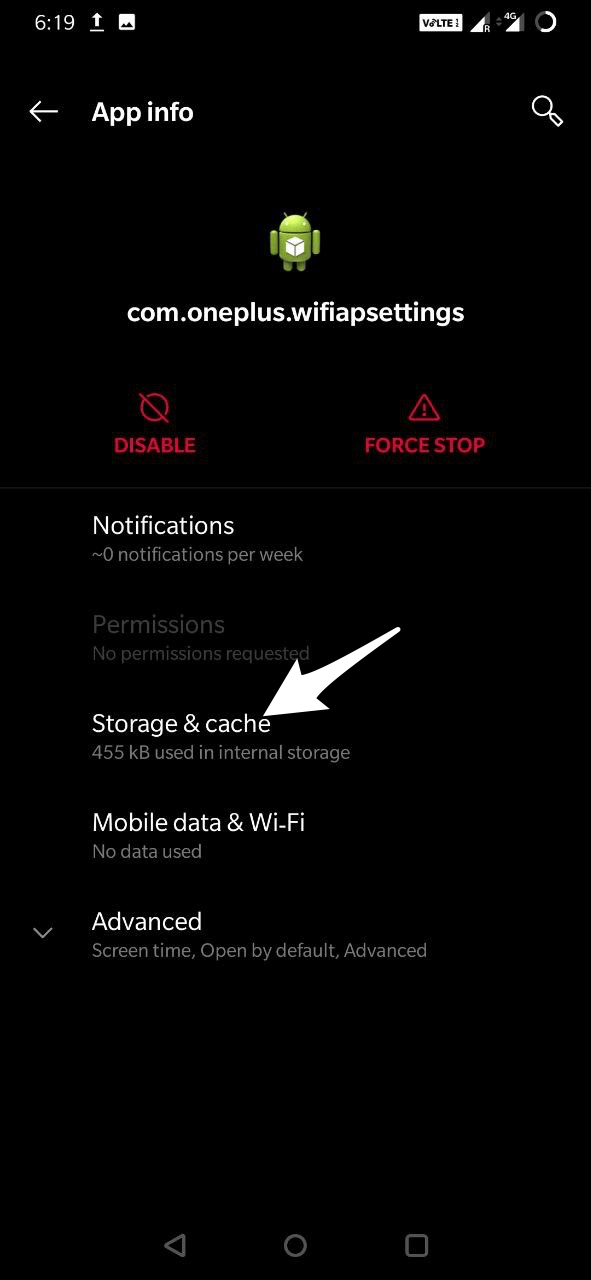 Here just clear the cache of the Wi-Fi/Hotspot Setting App.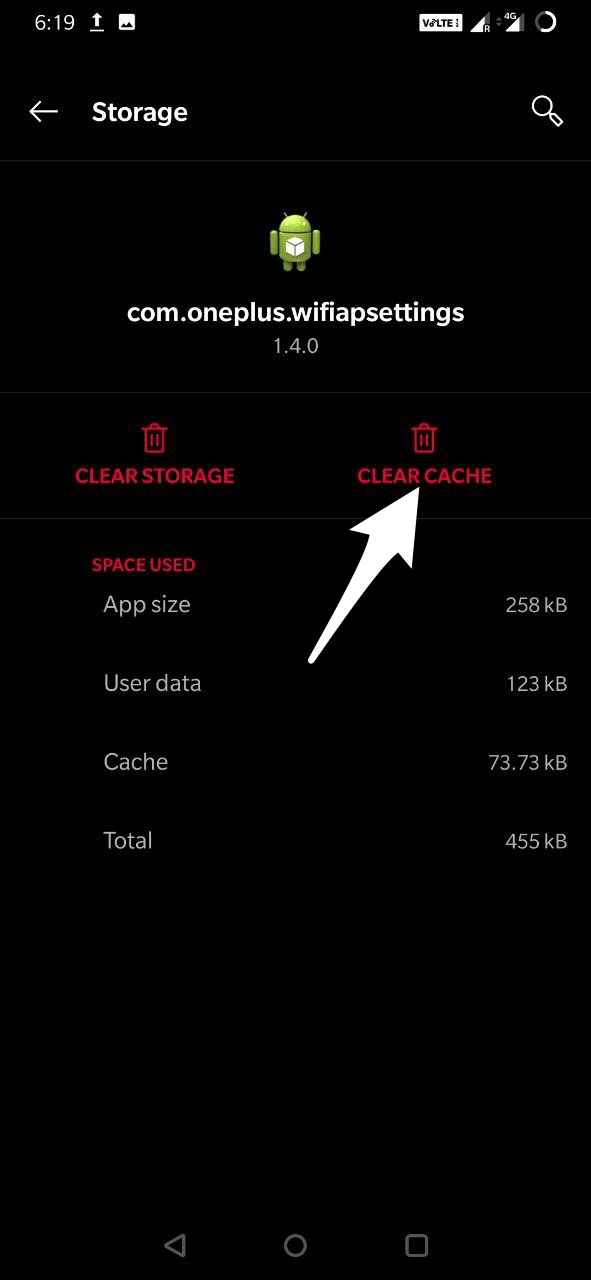 Clear the System Cache
Clearing the system cache of the device providing Hotspot will help delete all the cache data of Wi-Fi, resolving the Hotspot – Wi-Fi issue.
Reboot in the recovery mode of your device and from there Wipe Cache. The steps to reboot in recovery mode is different for different devices. So, have a Google search for steps to enter in recovery mode for your own device.
In general, the steps to boot in recovery mode is as follows:
Switch OFF the device
Now press the Power Key + Volume Down Key simultaneously
The Phone will reboot in the recovery mode window
Now look for an Option named Wipe Cache
Select the option and Wipe the Device Cache
Reboot the device normally with the Power button this time
And issue should be resolved
If the issue isn't resolved yet, follow the next solution.
Select Static IP Address
Generally, mobile data has a dynamic IP address that keeps on changing every time you turn it on. So setting up a static IP address should sometimes solve the problem with the connection.
But, most of the time static IP could also lead to no internet connection issue. Just give this solution a try and revert back the changes if it's not working.
Here are the steps for setting a static IP address in your Android mobile:
Open the Wi-Fi connection
Here look for your desired Android Hotspot network
Long press on the WiFi network and look for an option Advanced Settings. 
You may also find this option under Modify Network or just by clicking on the network
Here change the IP setting from DHCP to Static
Now assign the IP Address 192.168.1.*** (Add any number from 1 to 225  at ***)
Leave everything else untouched
Save the changes and you will notice that your WiFi is connected with Internet Access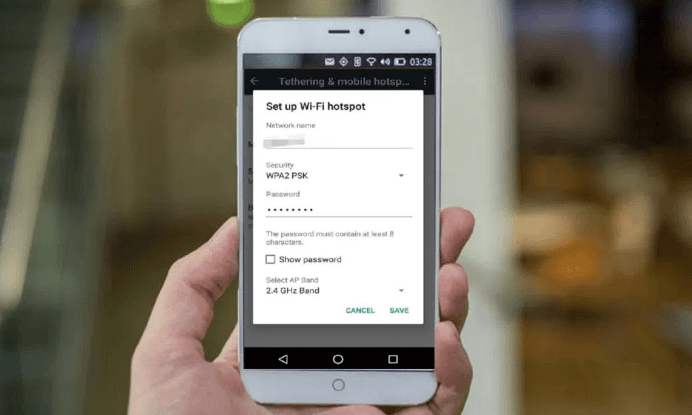 Like I mentioned, you might lose the connection in the Android mobile itself. If you encounter, then revert back the changes to Dynamic IP and head over to the next solution.
Delete Obsolete Files
Every time you connect with a WiFi connection a log file is created that contains the data like usage and even password. Deleting obsolete files that have an old authenticating password should also help in resolving the issue.
Note: This solution only works for a rooted device as it requires Root access to an access system file.
Here are the steps to delete Android System files using ES File Explorer:
Download and install FX File Explorer on your device
Grant root permissions when requested
Go to Root explorer from Menu
Go to 

/data/misc/dhcp/

Delete all the files present in the folder
Reboot the device
After rebooting, just reconfigure your WiFi hotspot name and new passcode. This time the issue should be solved and any external device should be successfully connected to the Android hotspot.
Conclusion: 
These were a couple of solutions to fix the Android hotspot with no internet access. Please drop in the below comment if you're able to resolve hotspot connected but no internet issue or found any other working solution that will be useful for others as well.
Bonus read: Learn how to enable the dark mode in Android mobile Google apps.
If you've any thoughts on Mobile Hotspot connected but no internet Access on Android [4 Solution], then feel free to drop in below comment box. Also, please subscribe to our DigitBin YouTube channel for videos tutorials. Cheers!