Do you want to access those websites on your iPhone that are banned in your country? Do you want to hide your internet presence while surfing the internet? If yes, then you need a Virtual Proxy Network or VPN. There are several VPN apps available on the App Store.
However, it is quite difficult to choose the best one among the huge number of apps. Thankfully, in this post, we will give you the 17 best VPN apps for iPhone that you can try and stick with the best one as per your needs. With that said, let us jump straight into the article itself:
Free VPN Proxy Apps for iPhone
Here are the Best Free VPN Apps for iPhone to Create a Secure Tunnel Hide your IP Address and Search data from ISP
1. HotspotShield VPN & Wifi Proxy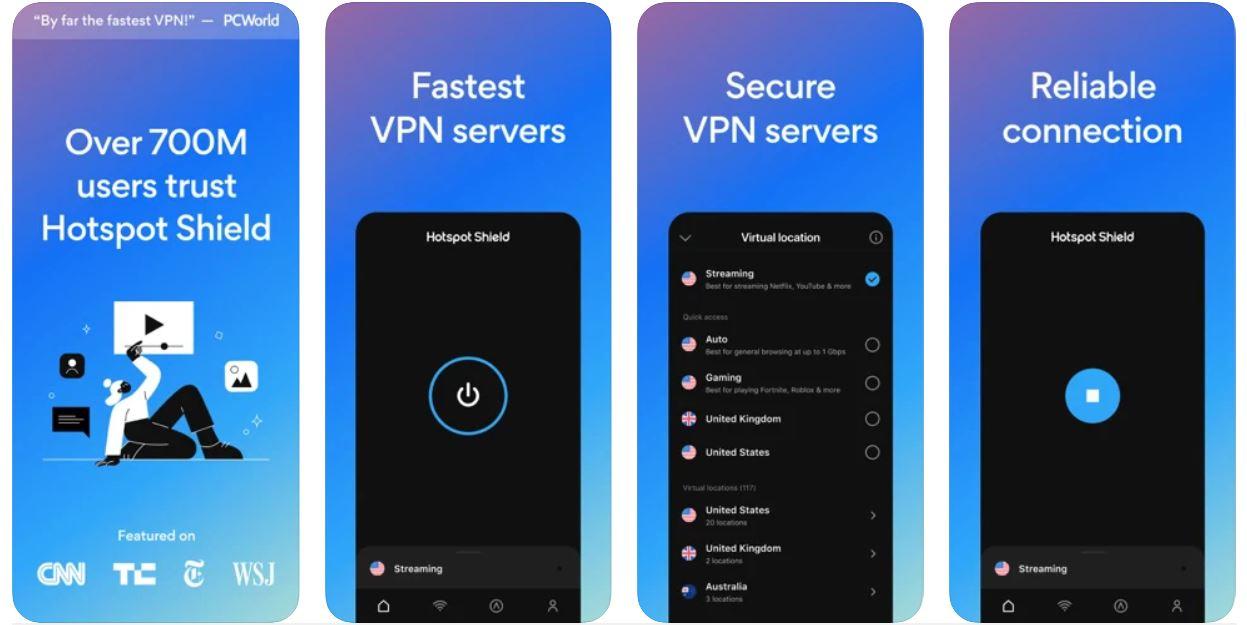 The first app on our list is the HotspotShield VPN & Wifi Proxy which is available for free from the Apple App Store. The best thing about this VPN app is that you can use it even without creating an account. There are a bunch of fast VPN servers that you can connect to, which total more than 70 countries.
HotspotShield VPN & Wi-Fi Proxy offers military-grade encryption to safeguard your traffic on the web. It also has an inbuilt password manager called 1Password. Moreover, there is a spam call blocker as well. Although the free version does a decent job, it does not have much to offer. The one-year plan costs $7.99 per month, and the monthly plan starts at $12.99 per month.
Download: HotspotShield VPN
2. Betternet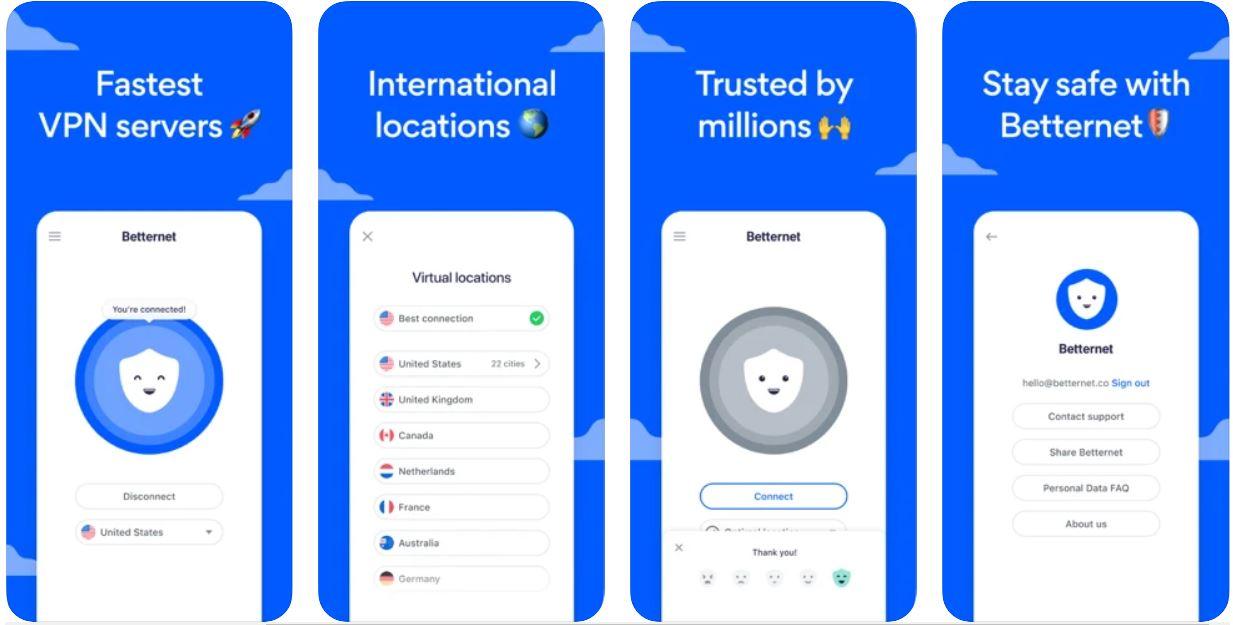 Another top-rated VPN app available on the App Store is the Betternet. The app offers a minimal user interface, so it is easy to get going with the app. Betternet has ads, which can be removed by a one-time in-app purchase. The traffic between your device and the connected device is encrypted by data trackers.
It connects to the fastest servers automatically, so you don't have to fiddle around finding the fastest server. Betternet is one of the easiest VPN apps that do the job very smoothly. If you do not opt for the premium subscription, then it is free forever. Besides, you do not need to register or log in to use the app, and it does not save your log. The monthly subscription costs $12.99, and the yearly charges are $95.99.
Download: Betternet
3. SurfEasy VPN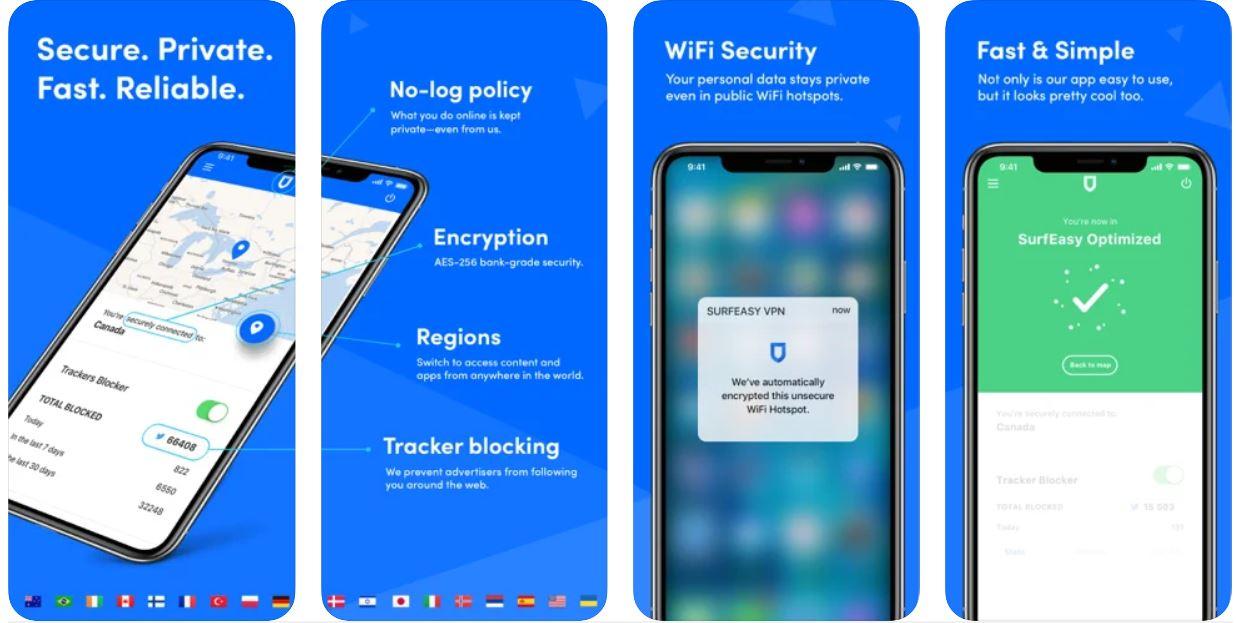 SurfEasy VPN is another great choice if you are looking for a VPN app for your iPhone. It automatically chooses the best server to route your traffic. There is a no-log policy that does not save your log data. The app provides A-256 bank-grade security to safeguard your data. SurfEasy VPN also features a tracker-blocking algorithm that keeps cookies blocked to avoid data tracking.
It offers support for over 28 countries. Note that the app is available for free for the first 7 days, after which the length of the subscription is 1 month. It costs around $1.99/month. The freemium version of the app has several limitations, and to get its full experience, you need to go for the premium version of the app.
Download: SurfEasy VPN
4. TunnelBear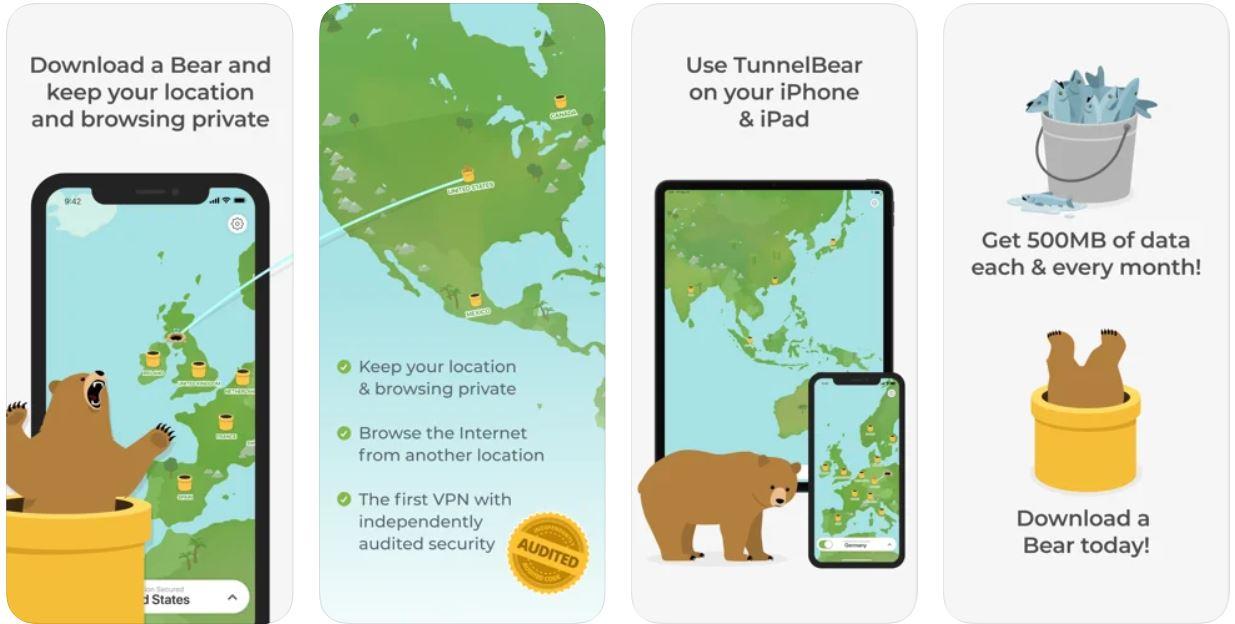 TunnelBear is a popular VPN app that you can use to access restricted websites on your iPhone. There are multiple locations that you can choose to connect to and hide your internet presence from the prying eyes of hackers. Notably, it also connects to the best server automatically. Of course, you can select the locations manually.
However, the downside of the TunnelBear free version is that it only allows you 500MB of data per month, which is extremely low, even for the freemium version of the app. The good thing about this VPN app is that it protects the traffic from your iPhone via AES-256-bit encryption. The app interface is pretty neat but offers only 22 countries' servers. The unlimited plan starts at $3.33/month. For businesses and teams, TunnelBear offers unlimited browsing at $5.75/month.
Download: TunnelBear
5. Nord VPN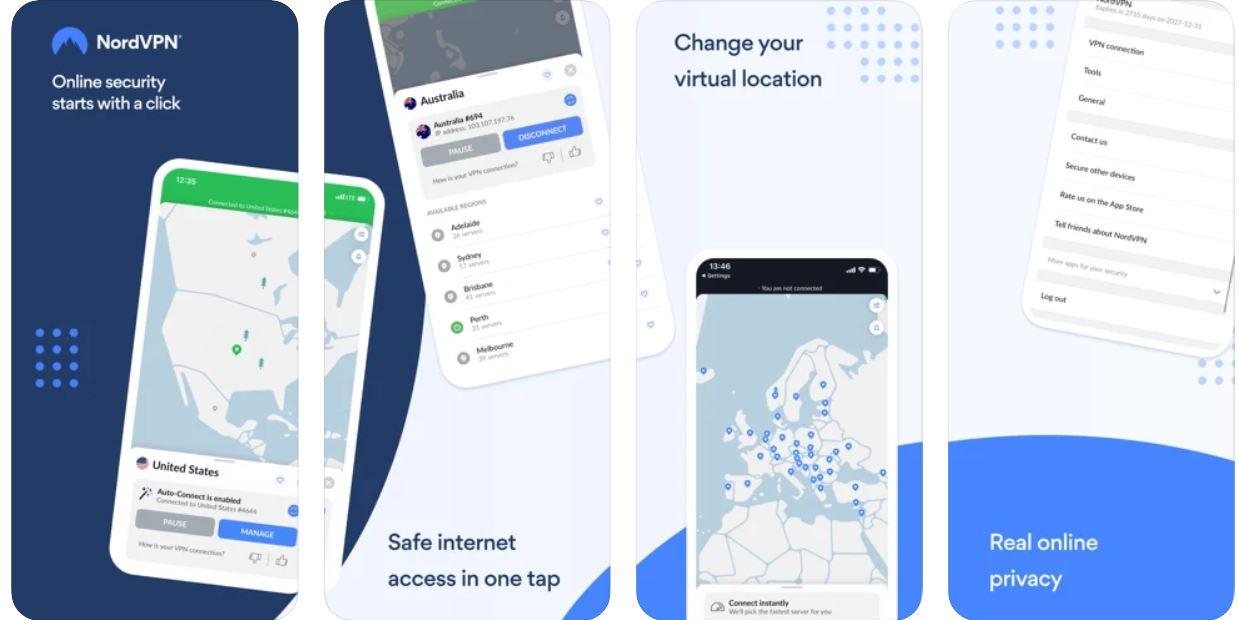 Well, you might have definitely come across Nord VPN's advertisement. It turns out, NordVPN is a very popular VPN app among iPhone users. The app offers features such as quick connection to the quickest servers, a simple user interface, a transparent policy, and unlimited bandwidth for premium accounts. None of your data is stored by the app servers, so you can be sure about your privacy.
All you need to do is download the app, log in, and connect. The support team is also pretty prompt, and you can get your queries resolved almost instantly. There are multiple servers to choose from. To be exact, there are 59 server locations and 5500+ servers worldwide. Those who know what they are doing, i.e., advanced users, can get their hands on features like extra protection. Double VPN, Obfuscated, P2P, etc.
Download: Nord VPN
6. ProtonVPN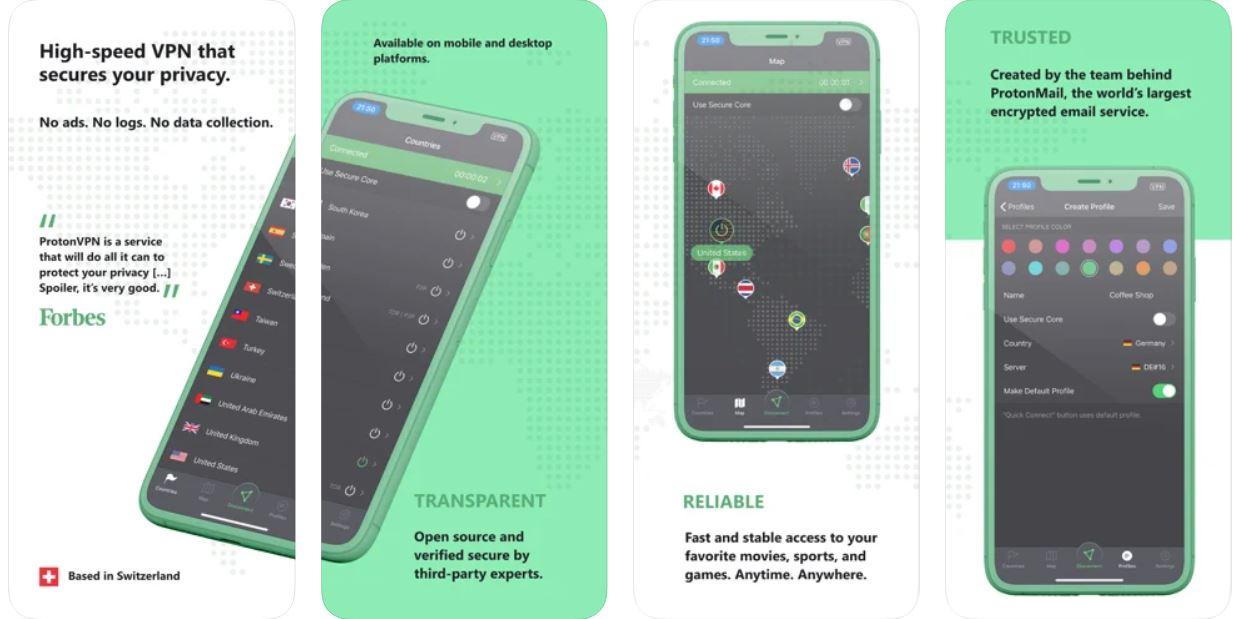 Next up on our list is ProtonVPN. It is an unlimited VPN app that offers free VPN servers. However, that is limited to only three locations. The app does not keep track of your browsing history, nor will it display any ads that invade your privacy. Your data is protected with AES-256 and 4096 RSA, and it offers 577 high-speed servers in 44 countries.
Premium members will have access to high speeds of up to 10 Gbps and can connect with up to 10 devices at the same time. The freemium version does have some drawbacks, such as you can connect to one device at a time, VPN servers are limited to only three countries, and there is no P2P support.
Download: ProtonVPN
7. Daily VPN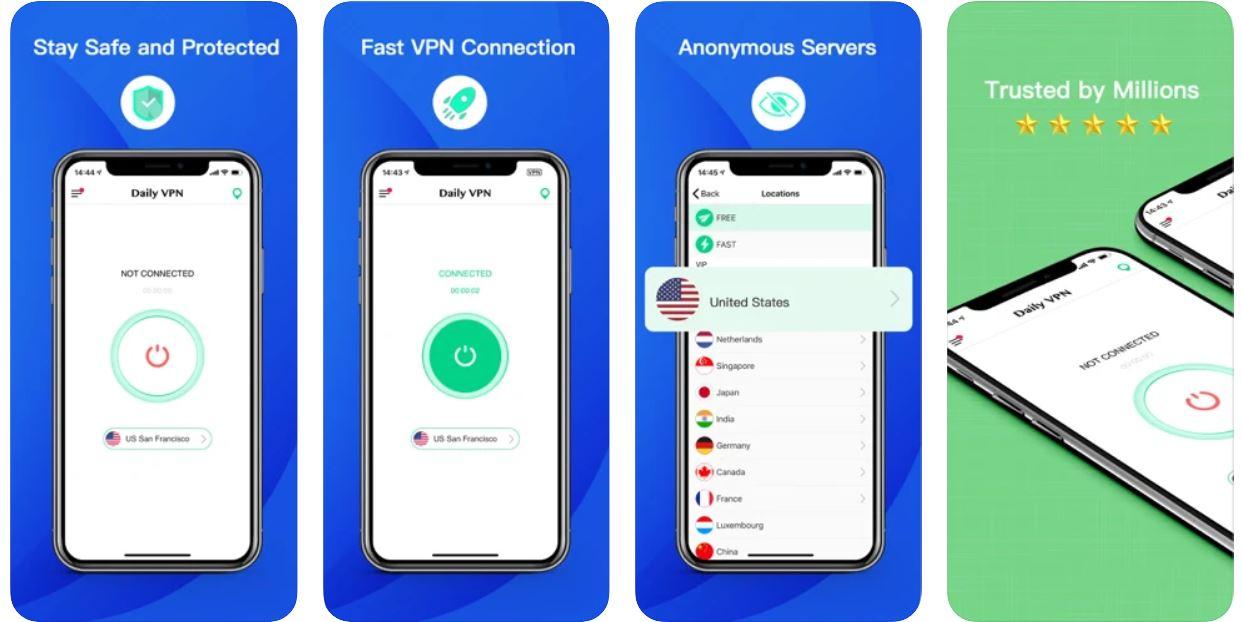 Daily VPN is a nice VPN app for iPhone users who want to get access to their favorite restricted websites without a little hassle about subscriptions and everything. The free version of the app is pretty capable. The app has a clean user interface, lets you surf the internet without any bandwidth limitations, etc. Moreover, it has over 100 servers spread across 20 countries which is quite nice.
The premium version of the app is available at $7.99/week, $12.99/month, and $69.99/year. All your log-in sessions are kept private, and you can be sure about visiting any websites without worrying about your privacy. Users have reported that the servers are stable, and they had no issues accessing their favorite websites.
Download: Daily VPN
8. Larva VPN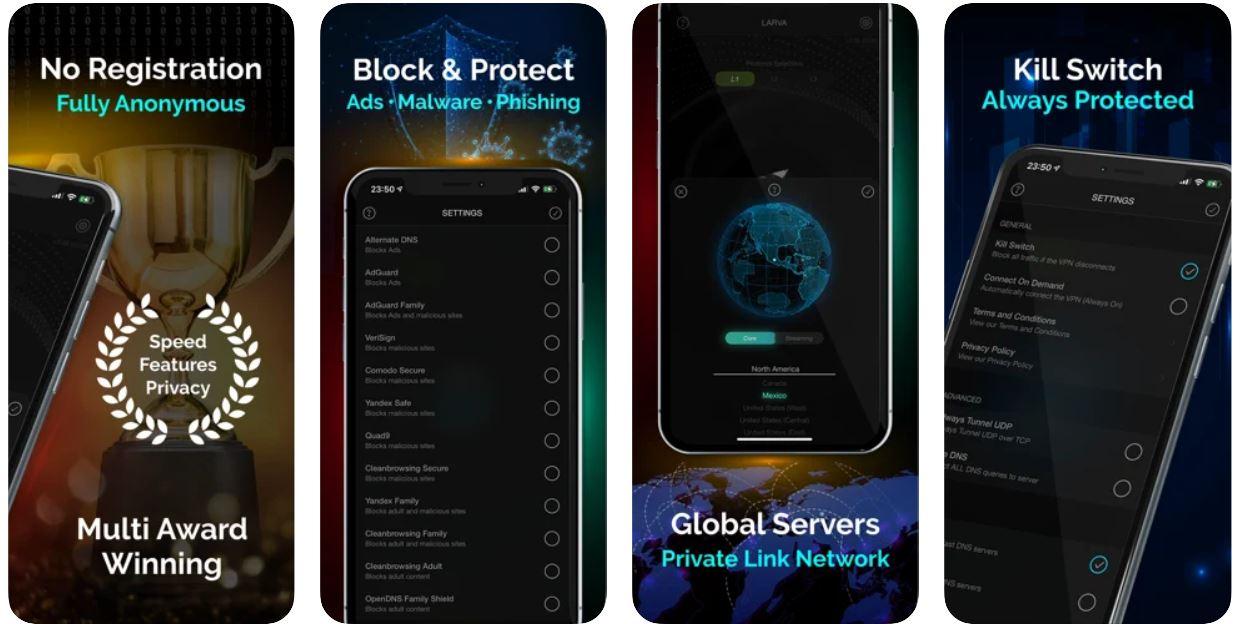 Larva VPN is another great VPN for iPhone users. The app has an easy-to-use interface, and you can get the hang of it without any issues. Basically, it is a one-tap VPN app where you just open it and tap the button to connect to a safe and secure server. On top of this, it does not require any registration or login.
You can connect to servers in more than 40 countries, and the servers are high-speed and stable. Larva VPN also helps in blocking ads, malware, and phishing sites. So, it provides peace of mind when surfing the internet from all corners. It also does not store your data log. The app provides unlimited bandwidth, which is ultra-fast.
Download: Larva VPN
9. VPN Proxy Master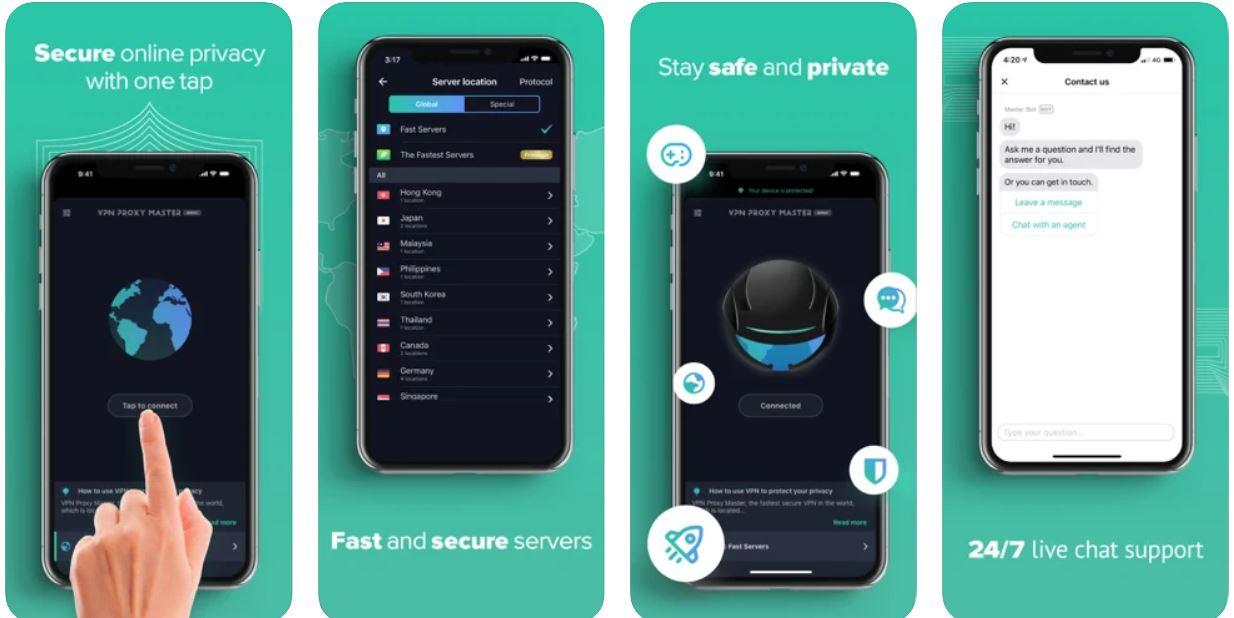 VPN Proxy Master is one of those apps that go under the radar. However, once discovered, the app offers a minimal user interface and works very fast by connecting to high-speed servers. Once you open the app, it automatically connects you to the best and strong server so that you do not have to go through the hassle. There are multiple locations to choose from, which you can also select manually.
The free version of the app lets you connect to a limited number of locations, but that is accepted as they are pretty stable. The VIP plan offers you access to all the premium features of the app, and it starts at $11.99/month. It also has Wi-Fi hotspot security and tracking prevention. A ton of ads can ruin your experience, though.
Download: VPN Proxy Master
10. VPN in Touch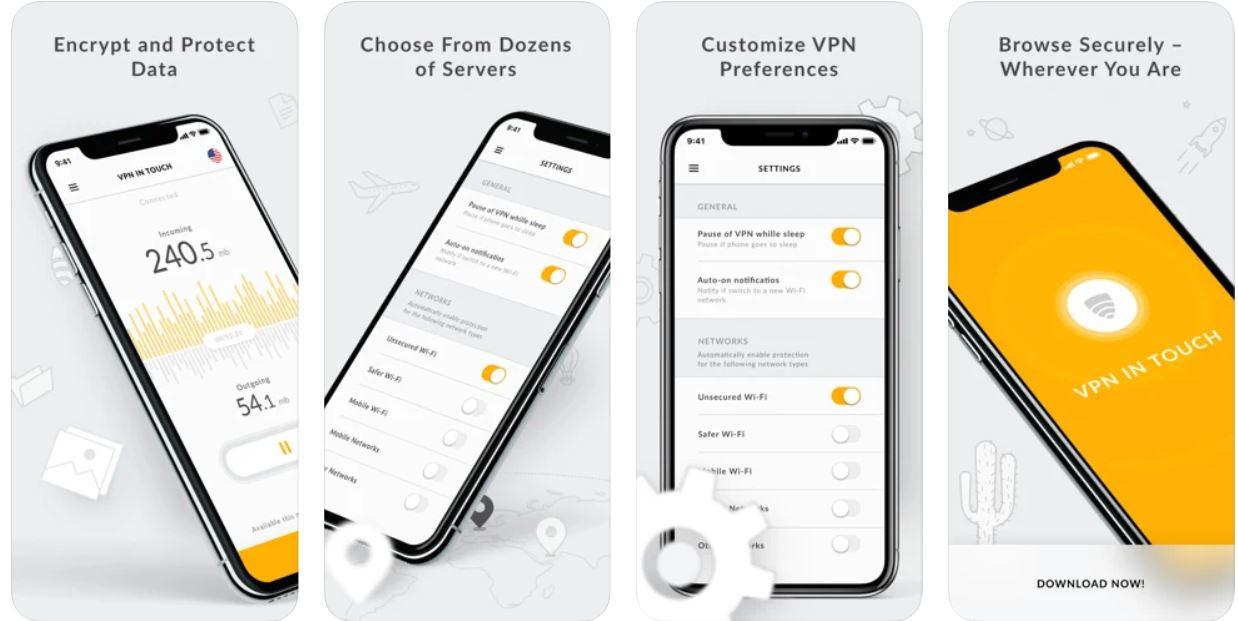 VPN in Touch is a fairly simple VPN app for iPhone users. The app comes with all the basic features that one needs to connect and protect his internet presence while surfing online. It has a one-of-a-kind data compression algorithm, which would be beneficial for users who want to stay anonymous but with low data usage.
Further, the app also features an ad blocker that would come in handy if you are visiting any website that serves a truckload of ads. Overall, the VPN in Touch app has all the features, but you need to spend some dollars to get ahold of all the premium features. Which starts at $12.99/month, $47.99/6 months, and $71.99/year.
Download: VPN in Touch
11. PureVPN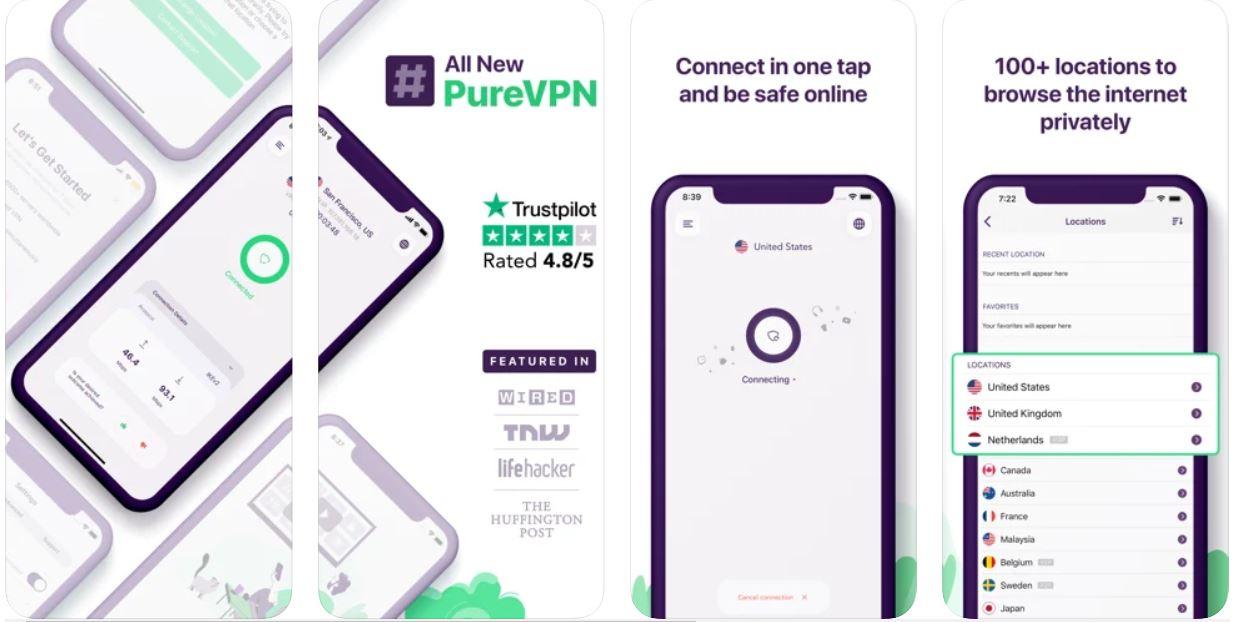 PureVPN is another option if you, on your iPhone, want to surf the internet, hide your internet presence, and get rid of the ads on the way. The app helps reduce ISP throttling, allowing users to connect to stable servers. PureVPN comes with P2P support, making it safe and easy to transfer files between devices.
It features over 2000 secure servers and has locations in 140 countries. With the premium plan, users can connect to up to 10 devices at a time. It does not keep your log data and offers VPN security protocols such as OpenVPN and IKEv2 to keep your identity safe online. There is a 7-day free trial, while for a month, it costs $10.95.
Download: PureVPN
12. Windscribe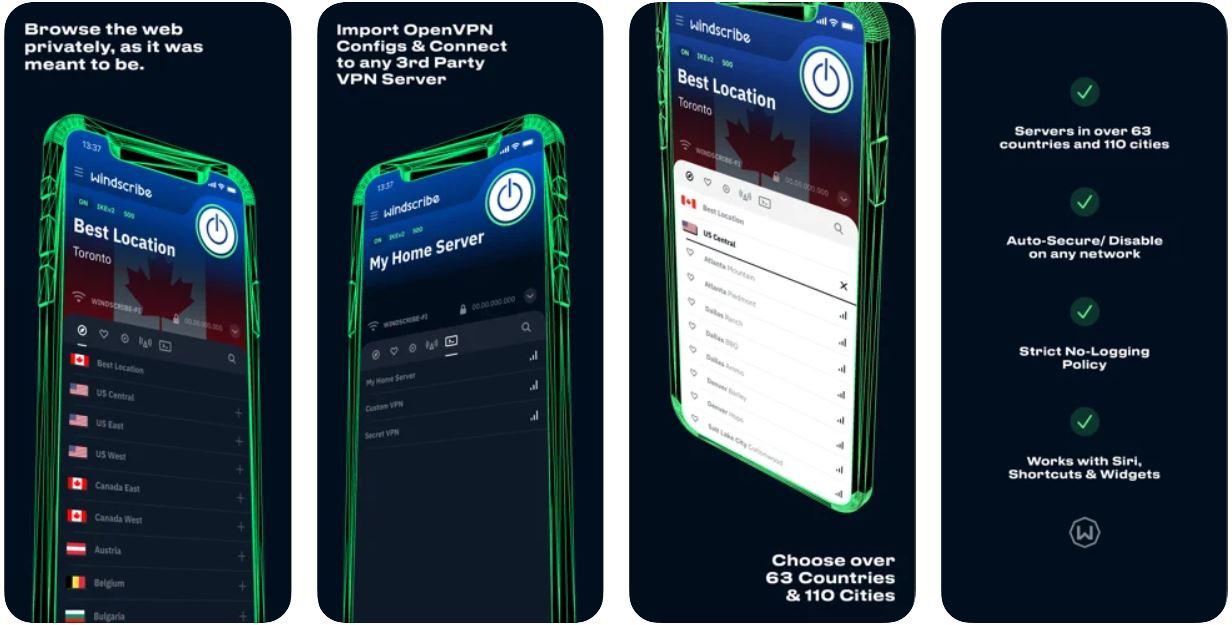 If you do not want to waste money on a VPN app and think around 10GB of data bandwidth would be enough for you, then Windscribe is your best bet. Thanks to its generous offering of 10GB of data for free users per month, Windscribe VPN has quickly become one of the trusted VPN apps for iPhone users. The app interface is quite easy to understand; it allows torrent downloads, has an inbuilt adblocker, etc.
It works with popular apps like YouTube and HBO GO to play restricted content and much more. One good thing about the app is that if you exhaust all of your 10GB of data, then a simple tweet to the company can get you an additional 5GB of data. Do note that the free servers can be a bit slow sometimes, but they are good enough to get your job done. You can access servers in 10 countries for free and 60 countries with the premium plan.
Download: Windscribe VPN
13. VPN – Clean Super Proxy Master
VPN Clean is the most secure and advanced VPN app. The app has a very easy UX and UI. You can see the list of premium servers and choose to opt for a premium server as per your needs. The app offers unlimited bandwidth & VPN session length.
One USA-based server is totally free for a lifetime.
You get an encrypted, secure connection
Your ISPs and insecure WiFi Networks won't see your browsing activity.
50+ VPN Servers from 15+ countries (and increasing)
Download: VPN Clean
14. hide.me VP‪N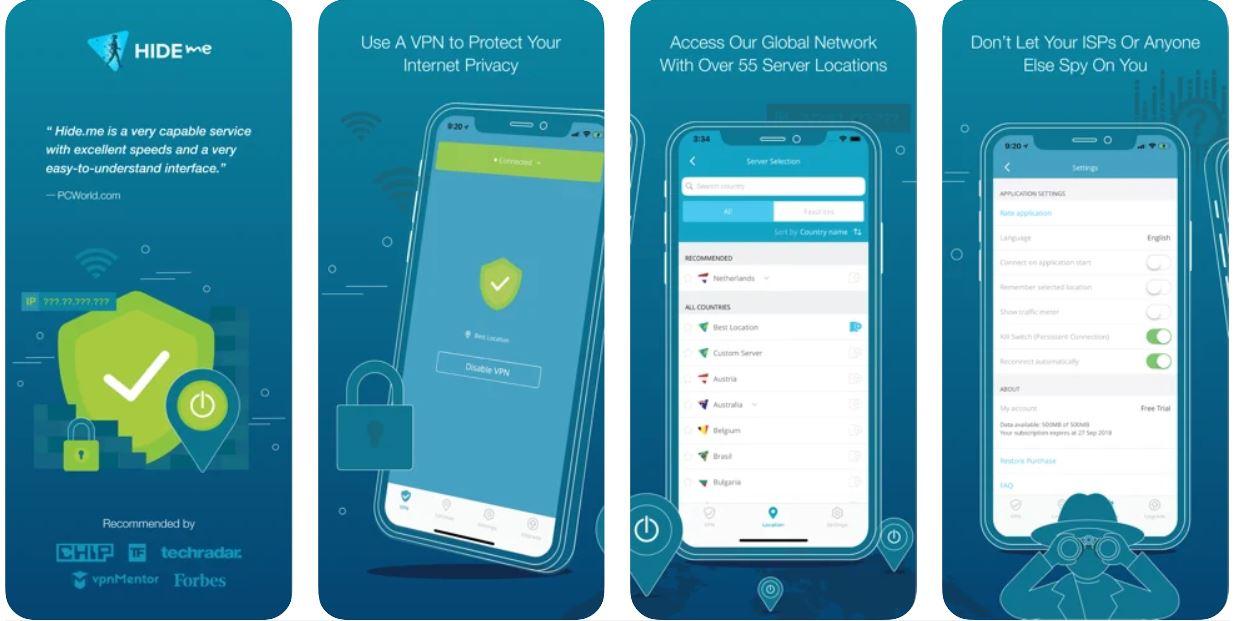 This app literally tells you what it does. The hide.me VPN app, just like Windscribe, offers some free data for free users. Apparently, it gives the users 2GB of data bandwidth per month to use, which is a good thing as some of the VPN apps straightforwardly require you to buy their premium plans. Free users can access servers in 5 countries, it has a built-in ad blocker to get rid of those pesky ads.
You can use this VPN with apps such as HBO GO, Netflix, Amazon Prime Video, and YouTube. The hide.me VPN features 256-bit AES encryption to keep you safe and secure online, and it doesn't store your connection logs. The premium subscription starts at $12.99/month.
Download: hide.me
15. Speedif‪y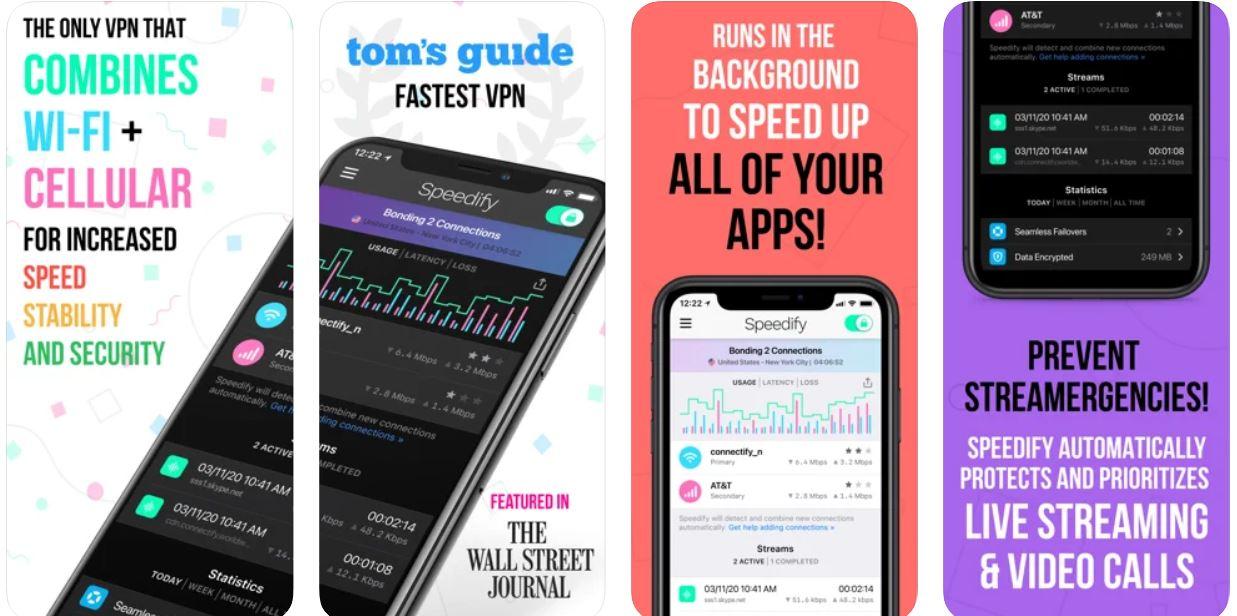 Speedify is a popular VPN app that has garnered appreciation from popular websites like Tom's Guide, The Wall Street Journal, etc. It boasts the quality of being the only VPN that combines both Wi-Fi and cellular data for increased speed along with the VPN service. It also offers a 2 GB of free data limit per month for free users.
It has servers in over 70 locations. Speedify does not store your connection logs and offers high-speed and stable servers with the utmost security. You do not need to register in order to use the app. Moreover, it connects you to a torrent-friendly server so that you can download the torrent. The servers can be slow at times, but overall it was ok.
Download: Speedify VPN
16. Turbo VPN

Turbo VPN is a free-to-use VPN service that gives you access to head toward all your favorite sites. It offers high-speed and anonymous connectivity. With Turbo VPN installed on your iOS device, you can keep yourself anonymous while browsing through different websites, streaming online, and using public Wi-Fi.
Turbo VPN relies on Military-grade AES 128-bit encryption to keep your data secure from any unauthorized access. The Turbo VPN proxy servers allow access to blocked websites and platforms for free.
Download: Turbo VPN
Conclusion
So, there you have it from my side in this post. Note that there are other VPNs, both free and paid, available. But as far as our testing, these VPN apps were worthy enough to make it to our list. Let us know in the comments below which one of the above-listed VPN apps you make use of on your iPhone. For more such awesome coverage, do follow our DigitBin YouTube channel. Until the next post…Cheers!
If you've any thoughts on 15 Best VPN Apps for iPhone, then feel free to drop in below comment box. Also, please subscribe to our DigitBin YouTube channel for videos tutorials. Cheers!