When it comes to Spotify vs YouTube Music, half of the people will choose Spotify, while the other half will go with YouTube. Although Spotify has established itself as the industry standard for music streaming, YouTube Music presents a compelling option that stands out from all other music services.
But what sets YouTube Music apart from its competitors, and how does it compare to the emerging Spotify music globally? You can see below how the two stack up on the important measures.
Spotify vs YouTube Music: Free version
Not many streaming platforms offer a free trial, with some willing to paywall everything, but YouTube Music and Spotify have cost-free options for their users to try and later go for the full service. Although they are less fully featured than paid ones along with a few different options. 
For Spotify, it is only about speed, ease of use, and the recommendation engine; it does not provide many options for music pickups or choices for the quality of music you want. It also reduces the number of skips and breaks that frequently occur during live music, with commercials intervening.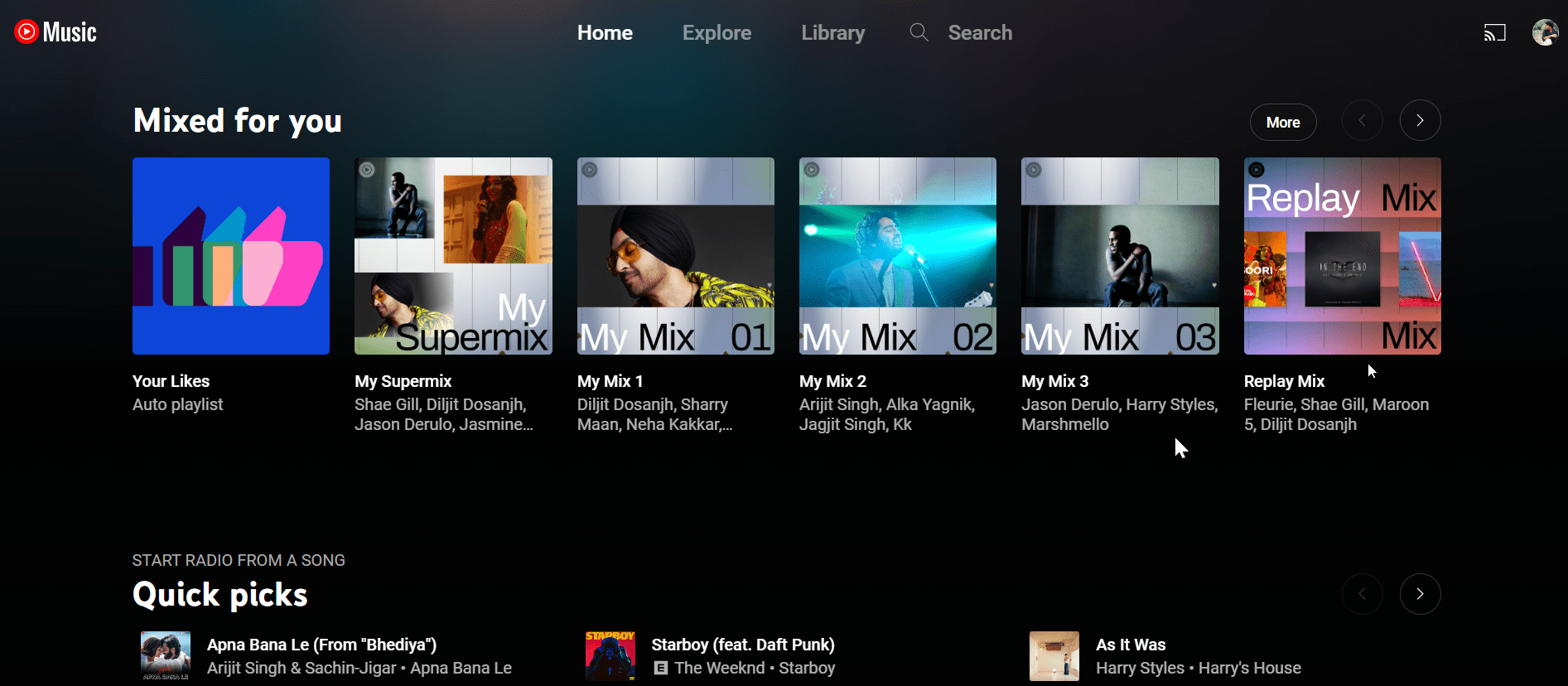 On the other hand, YouTube Music follows a different approach, as it is ad-supported; you get to pick any song of your choice and skip as many as you like. The only problem is, when using your phone, you must keep the screen on because, in the free edition, the music stops when the screen goes off; also, there is no option for offline download.
Now you know why it's Spotify.com vs YouTube Music.!
Spotify.com vs YouTube Music: Subscriptions and Pricing
Subscription resolves issues for Spotify and YouTube and enables offline music downloads. This means you won't need to have an internet connection while listening to your favorite set of songs anytime anywhere.
But for YouTube Music, the introduction of background play—which enables the music to continue playing on your phone or tablet while you use other apps or switch your screen off—is the true game changer. Generally, if you listen to music mostly on your desktop computer, this will be of little value to you, but for mobile users, it's essential.
Like every other music streamer out there, the default price rate for both services is $9.99 per month, with a discounted offer of $99.99 per year available and a $4.99-per-month tier for students in particular. Both of these services also offer a family plan that extends to up to six members with different user IDs. Know that it's $14.99 for YouTube Music and $15.99 for Spotify.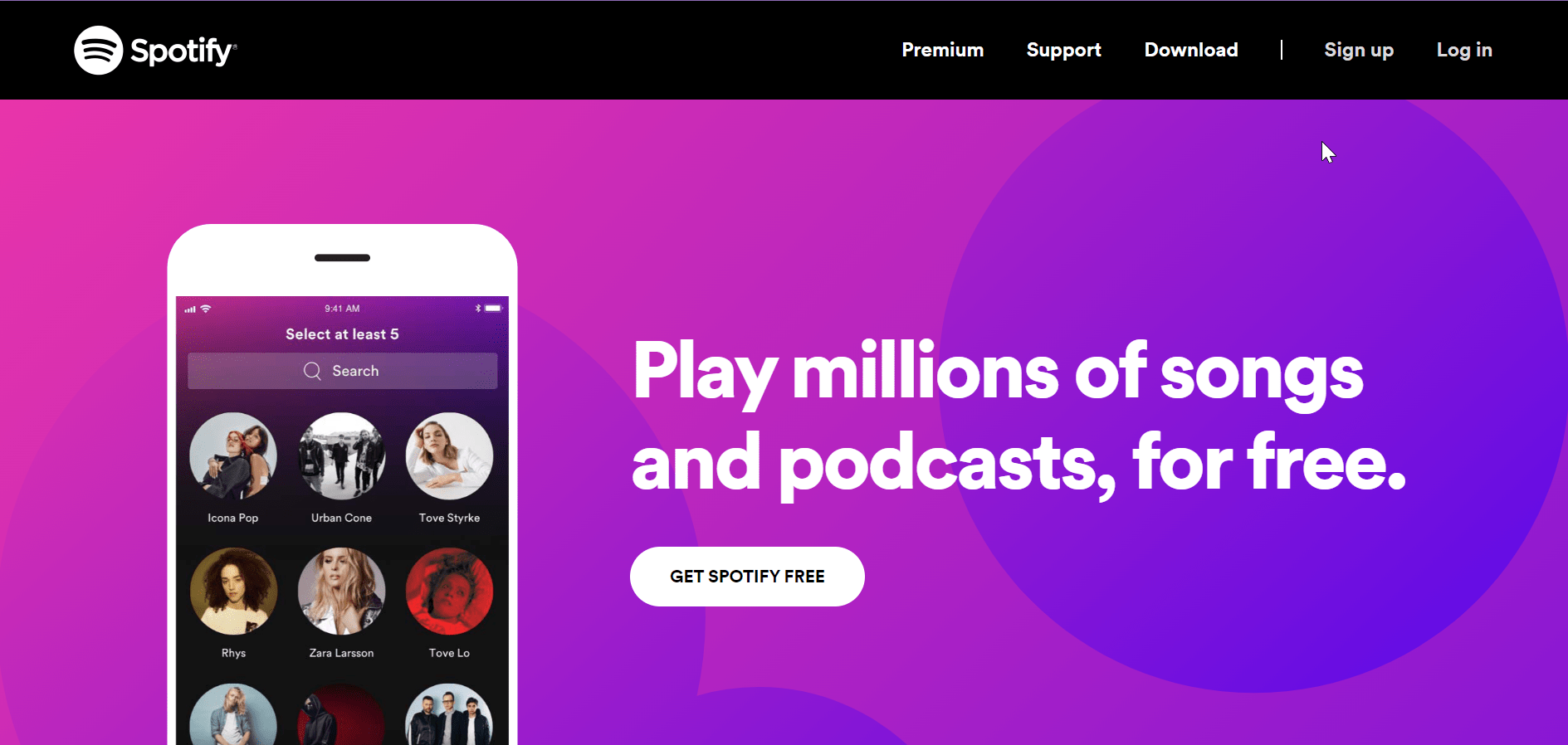 For couples living together, Spotify also offers a package named "Duo," which is a distinct service with a monthly cost of $12.99. This not only covers the cost of two Premium accounts but also creates a shared playlist that incorporates the most-played music of both spouses, which is a lovely touch.
However, YouTube Music has one hidden feature where, for an additional $2 per month, you can add YouTube Premium to your package, which disables commercial ads on YouTube and lets you watch YouTube Originals without any interruption. If you watch a lot of YouTube videos, this seems like a no-brainer at $11.99 or $17.99 a month.

Spotify.com vs YouTube Music: Libraries
Neither of them has completely revealed their libraries, but you can guess what Spotify has. Spotify claimed to have more than 70 million tracks on the service in February 2021, but it supposedly keeps adding 60,000 songs a day, and to date, it has crossed the 90 million mark by now.
On the other hand, YouTube music does not manifest any transparent data, which is because it's really impossible to track all the songs available there. YouTube Music is a user-generated content website, which means that a variety of content is constantly being uploaded by its users every minute, including live recordings, amateur covers, and remixes. YouTube Music has agreements in place with the major record labels to ensure that all the albums you want are available simultaneously.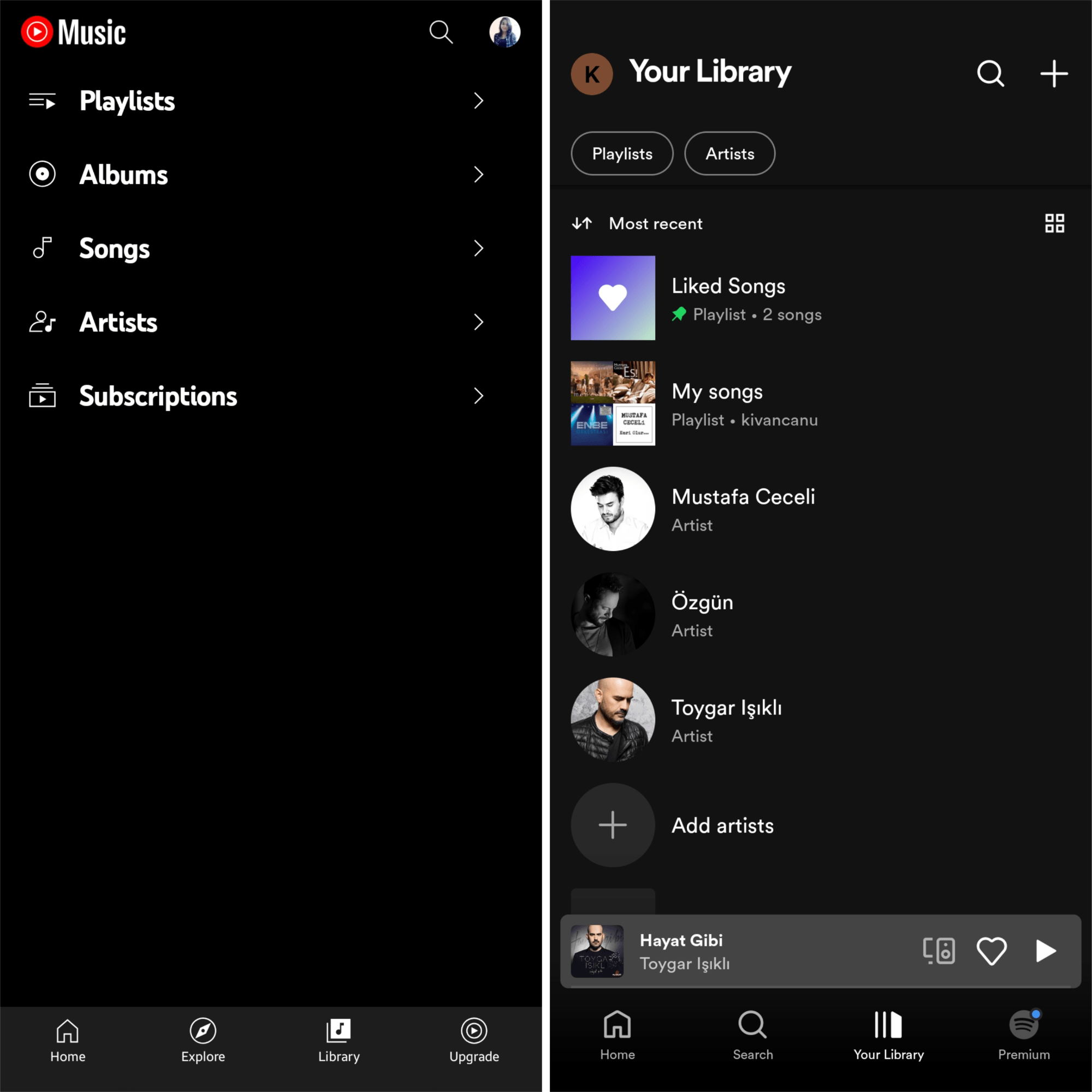 This gives you mixed options, as you get access to thousands of pieces of music and are highly likely to find what you're looking for, even obscure recordings from companies that are no longer in business and are no longer able to negotiate with streaming providers. Sometimes some songs might not have been approved by the artist or label, which simply means they might not be around for long. As a result, finding what you're looking for will be difficult due to unofficial and subpar copies in accordance with the legal terms. 
Spotify.com vs YouTube Music: Auditory Range
Even if it's Spotify.com vs YouTube Music, both of them have turned out to be among the best sound-quality music services, but Spotify aced this race. You can stream at up to 320 kbps with Spotify Premium, which will be improved in the near future with the introduction of Spotify Hi-Fi, which will offer CD-quality lossless audio. This service has been in development since 2021 and will be released soon, though the exact date is unknown.
On the other hand, YouTube can support a maximum sound quality of 256 kbps. It has been stated by Google that it has no plan to go higher than this auditory quality or introduce lossless streaming, but who knows what the plan may be in the coming time.
Spotify.com vs YouTube Music: Connectivity
Spotify has had no competitive rivals since its launch in 2008, which has helped it establish its dominance in the market for all music lovers worldwide. Not only that but it's been designed for all the apps that can support it, like IOS, Android, Windows, Mac OS, Xbox, PlayStation, etc. It's equally supported by Amazon Echo, Alexa, and Google smart speakers for voice control. Additionally, Spotify provides this feature for controlling one device from another at the same time. 
However, YouTube Music does not have any such feature and is not flexible to this extent. But there is a browser version for both iOS and Android. It does offer one major benefit of being a Google product: it supports Chromecast, allowing you to stream playback from your Chrome browser or app to a compatible smart TV. For voice controls, it also functions flawlessly with Google Nest Audio smart speakers.
Spotify.com vs YouTube Music: Additional Info
Spotify subscribers are very interested in its podcast and have spent a lot of money on buying the show, The Joy Rogan Experience, and so on. Although it does crowd the UI, people these days are into podcasts, which is a big plus for Spotify and is what sets it apart from every other music app.
Besides, its ability to find you any music based on your listening history is also a phenomenon. But it's not just Spotify, as YouTube Music also offers the same
However, YouTube Music has some distinct advantages of its own. One of which is Google's ability to look for songs by lyric is a pretty cool feature that has been introduced. It also recommends songs based on the weather and your mood swing is extraordinary. 
But the biggest advantage that YouTube music has is its capability to upload up to around 1 lakh tracks to your own personal YouTube music library which is amazing. Which gives a big advantage over Spotify. However, it has never consistently functioned effectively and requires a physical copy of the file on each device you use to listen to music, as opposed to streaming from the cloud. Spotify has similarly allowed you to play locally saved mp3 files in the app.
Final Takeaways
Spotify.com vs. YouTube Music: It's difficult to say which service is superior because they are so different. Spotify provides a smooth and fluid feature for playing music on almost all devices. YouTube is best known for providing the largest music library that can be widely navigated with limited flexibility. Its free version, in particular, appears to be very generous to all of its users, particularly those using it on desktops. So it's hard to make a call between the two.
Meanwhile do comment below in our comment section to let us know your view on this discussion. Also, do not forget to visit and subscribe to our Digitbin YouTube channel.
If you've any thoughts on Spotify Vs. YouTube Music | Best Streaming Platform, then feel free to drop in below comment box. Also, please subscribe to our DigitBin YouTube channel for videos tutorials. Cheers!